New Age Islam News Bureau
10 Nov 2016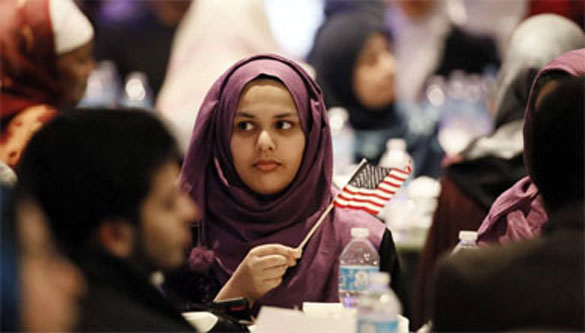 American Muslim Women: An uncertain future. (AP Photo/Tony Gutierrez)
--------
• "My Heart Literally Hurts": Muslims, Women, And People of Color on Donald Trump's Victory
• Five-Year-Old Muslim Girl Cries When She Sees Donald Trump Winning US Election
• A Push to Reform Islamic Divorce Could Make Sharia Councils Redundant In Britain
• Solution to Triple Talaq Should Come From Within Muslims: RSS Women Wing
• Afghan President Welcomes Back Nat Geo Famed 'Afghan Girl' In Kabul
• US Muslim Women's Strength In The Face Of Injustice
Compiled by New Age Islam News Bureau
URL: https://www.newageislam.com/islam,-women-and-feminism/new-age-islam-news-bureau/american-muslim-women-are-now-afraid-to-wear-the-hijab-in-public/d/109065
--------
American Muslim Women Are Now Afraid to Wear the Hijab in Public
10 November 2016
There are many things to fear about the coming presidency of Donald J. Trump, but many of the obvious nightmare scenarios won't roll out until after the inauguration in January. For some people, however, the fear starts today. Muslim women have been posting on Twitter about how they are now afraid to wear the Hijab in public.
These fears are perfectly rational. Trump did not just dabble in "politically incorrect" language about Islam; he turned the hatred and fear of Muslims into a key theme of his campaign. Last December, he issued a statement calling for "a total and complete shutdown of Muslims entering the United States," explaining that "the hatred is beyond comprehension." (In case there's any confusion, he was referring to the supposed hatred of Muslims toward America.) He supported special scrutiny of mosques and suggested he was open to establishing a database to track all American Muslims. His mantra was "we have to be vigilant."
There's a thin line between vigilance and vigilantism. So for believers in a religion that our next president has gone out of his way to vilify, the prospect of being alone in public wearing a visible symbol of their faith is understandably terrifying. It's worth adding that Trump has made a point of denigrating Muslim women in particular. When Khizr Khan, the father of a Muslim American soldier killed in Iraq, made his indelible speech at the Democratic National Convention, Trump responded by mocking his hijab-wearing wife. "Maybe she wasn't allowed to have anything to say. You tell me," he said in an interview with George Stephanopoulos. "She was extremely quiet, and it looked like she had nothing to say. A lot of people have said that."
A lot of people have said that. If Trump were just one crazed Islamophobe shouting in his marble-walled penthouse, it would be different. But his fans didn't just tacitly condone his animosities; they whole-heartedly endorsed them. When he boasted about his unconstitutional plans at his rallies, crowds erupted in cheers and applause. A poll of Trump supporters in North Carolina late last year found that 67 percent of them supported the creation of a national database of Muslims, and 51 percent wanted to see American mosques closed down. Less than a quarter of them thought Islam should be legal in the United States. A national poll found 77 percent of Trump supporters saying Islam is "at odds" with American values. As Will Saletan argued presciently almost a year ago, "One of America's two ruling parties is controlled by voters who are ready to turn the government against a religious minority."
It's no surprise, then, that hate crimes against American Muslims have skyrocketed in 2015 and 2016 to their highest levels since the immediate post-9/11 era. Hundreds of attacks have taken place since the beginning of last year. Mosques have been burned and defaced and shot at, men beaten, women spat on. And soon we will have a president whose default stance to religious minorities is not ecumenical warmth but stone-cold hate. Muslim-American women who woke up this morning afraid to wear their hijabs aren't being paranoid about their safety in Donald Trump's America. They know exactly where they stand.
http://www.slate.com/blogs/xx_factor/2016/11/09/muslim_women_are_now_afraid_to_wear_the_hijab_in_public.html
--------
"My heart literally hurts": Muslims, women, and people of color on Donald Trump's victory
Nov 9, 2016
Immigrants. Women. Muslims. People of color. The list of groups that Donald Trump insulted, condescended to, and threatened during his presidential campaign is long. How did it feel to be a member of one of those groups on election night, as Trump's victory became increasingly certain?
Here are some answers to that question.
And readers: if you want to tell us how you felt when Donald Trump won, email us at firstperson@vox.com. Include your name, age, profession, location, and identity. Keep your answer to 250 words. We'll let you know if we decide to publish it.
Jose Antonio Vargas, 35, founder and CEO of DefineAmerican.com, Los Angeles, undocumented immigrant
Of all places, I was in the green room of the Fox News headquarters in New York City, just a few shoulders away from the likes of Karl Rove, George Will, and Tucker Carlson, when I realized that Donald Trump was going to win this thing. Fox News had just called Wisconsin for Trump, and everyone in the room was stunned.
As the only "illegal" in the room — this is what Fox News and Donald Trump call people like me — I sat there, feeling visibly invisible. Effectively, Trump made immigration a central part of his campaign, building a "wall" and securing the "border" that has nothing to do with me. (I'm Filipino. My wall and border was the Pacific Ocean.) The need to humanize this most political and partisan of issues is more essential and urgent than ever — it may be the only thing that saves us from the smallness of our politics. I feel like the voters who elected President Trump understand little about people like me.
Farha Tahir, 29, foreign policy professional, Washington, DC, Muslim
I worked as an election officer in Northern Virginia on Election Day, filled with a sense of excitement and hope in our democratic process. I was quickly deflated as I watched the returns come in: seeing forecasts quickly turning in his favor, watching stock futures plummet, reading hate-filled tweets from his supporters. My first reaction was denial. There was no way that all the polls (state-level and national), the pundits, the academics … there's no way they could all be wrong, right?
The sadness quickly set in: for the country, for those he's insulted, for Hillary Clinton, and for women who thought this was their historic election. And then fear. For the first time in my very privileged life, I felt a deep sense of fear for myself as a scarf-clad American Muslim woman and the many I love, whether they're Muslims, African Americans, immigrants, women, persons with disabilities, or identify with any other groups Trump has targeted.
I felt fear that they and I may have to worry about our physical safety in the country we call home. And I even had a brief bout of anger. But now, after a night of tossing and turning, I am just heartbroken. My heart literally hurts. And it will take time for that to heal, and for our nation to heal.
Sherry Rujikarn, 32, editor, New York, Asian-American
I went to bed when things were looking bleak, but hadn't been settled yet. This morning I ran downstairs, almost tripping on my robe, calling out to my husband, "What happened? What happened?" His somber response of, "he won," had me doubled over, sobbing in a way I hadn't in a very long time, wailing, "How could they do this?!" I felt broken under what felt like the sheer weight of America's misogyny and ignorance.
I understand that it'll take weeks, months, maybe even years, to unpack what happened last night and the months leading up to it. And I understand that last night's outcome was a result of a bunch of really complex and nuanced factors, but in that moment, hearing that Trump had won felt like America (men and women alike) had said to all women (and minorities and the LGBTQ+ community): You don't matter. You don't matter as much as money, as much as terrorism, as much as a wall. It felt like we were being told to get to the back of the line, as we always have been.
Jalal Baig, 31, physician, Chicago, Muslim
As votes trickled in on the evening of November 8 and the impossible went from improbable to inevitable, I shuddered alongside my Muslim friends. Donald J. Trump was now president-elect of the entire United States. The Islamophobia that Trump had marshaled throughout the primaries and the national election had now become part of his mandate. Sixty million of my fellow Americans had chosen "yes" to fear and loathing of Muslims on the ballot and I now had to reconcile my place in their America.
In this second, all the reservations I had about Hillary Clinton never seemed more misguided or selfish. I only hoped that 11/9 would not prove to be as devastating and consequential for Muslims as 9/11 was.
Trump's vision to "Make America Great Again" was built on the dehumanization, exclusion, and suspicion of Muslims. His words incited some of this nation's darkest demons and made much of what was once considered unconscionable wholly permissible.
I worry today for mosques and all those who appear "Muslimy," and I fear for the Muslim kids who may spend their formative years steeped in hatred and intolerance. For now we cannot explain Trump away to them as an isolated spectacle unreflective of this country's values. But this election wasn't about just us. My Latino, African American, and LGBTQ brothers and sisters are also hurting today. I can only hope that this is the point of confluence for all of our individual struggles.
Sarina Bajwa, 27, graduate student, New York, Muslim
I feel broken. Eight years ago I felt so inspired as a college sophomore when I saw the first African-American man become president on a platform of change and hope, only to have him followed by a man endorsed by the KKK.
As a Muslim, I am hurt and in fear for my physical safety and for that of my loved ones.
As a woman, I am horrified that the first woman candidate has conceded to a man that embodies everything that has hindered women throughout history.
As a child of two immigrants I am in tears at the thought of my parents moving to this country and giving so much up for a "better" future for their children, and am horrified for my young nieces and what their future holds.
I am in shock that I once had dreams of someday having my own family and living a life of liberty and prosperity. That seems like a joke now. It feels like apathy wins. That relationship building was for naught, or not enough was done. I literally feel like I should not have gone to grad school and instead devoted my time to voter education in Florida. The scope of the work that needs to be done seems too overwhelming and impossible, but somehow that's what I will do.
Peter Kim, 33, Chicago, comedian, queer Korean-American
The worst part about last night is that most of America will be just fine. You will go back to your jobs, your happy hours, and your Sunday brunches. After the shock of white mediocrity wears off, you will adapt and adjust and continue to lie to yourselves about how far we've come on the issues of racism, misogyny, and homophobia.
Most of America is shocked about how many people voted for Donald Trump. To me, that's the most offensive part of this. Wake up: An overwhelming part of this country is hateful and dumb, and the rest of it is willfully ignorant. If you are not a woman, a person of color, or queer, your life will be unchanged as the rest of us tremble with the thought of fighting for our civil rights in 2016.
http://www.vox.com/first-person/2016/11/9/13574080/donald-trump-election-muslims-women-people-of-color
--------
Five-year-old Muslim girl cries when she sees Donald Trump winning US election
November 10, 2016
A man has shared a video online of a five-year-old Muslim girl crying at the news Donald Trump was defeating Hillary Clinton to become President of the United States.
As the Republican politician, who once said he would ban Muslims entering the country, stormed to a shock victory, Muslim Americans across the country expressed fear and sadness, as well as defiance, on social media.
YouTube personality Adam Saleh, 23, tweeted the video of his niece Reema late on Tuesday night in the United States, as Mr Trump first pulled into the lead. Overnight his post was retweeted more than 5,500 times.
Following the Paris attacks in December, Mr Trump wanted to stop Muslims from entering the United States entirely until he could "figure out what is going on". He later backtracked slightly, saying during the second presidential debate: "The Muslim ban is something that in some form has morphed into extreme vetting from certain areas of the world."
But Muslim Americans do not appear to have been comforted.
Iranian American actor Pejman Vahdat wrote on Twitter on Wednesday: "I'm a MUSLIM AMERICAN and I am terrified to my core. I'm scared 4 my family 4 my country 4 my friends. Please please stay safe."
Following the Paris attacks in December, Mr Trump wanted to stop Muslims from entering the United States entirely until he could "figure out what is going on". He later backtracked slightly, saying during the second presidential debate: "The Muslim ban is something that in some form has morphed into extreme vetting from certain areas of the world."
But Muslim Americans do not appear to have been comforted.
Iranian American actor Pejman Vahdat wrote on Twitter on Wednesday: "I'm a MUSLIM AMERICAN and I am terrified to my core. I'm scared 4 my family 4 my country 4 my friends. Please please stay safe."
Many feared Mr Trump's victory, which has been applauded by members of the Klu Klux Klan, could see an increase in racism and hate crime.
Mr Trump has also previously said Mexicans are rapists and has suggested building a wall to keep them out.
The President-elect's supporter base was overwhelmingly white, with the majority of Hispanic, Black, and Asian voters favouring Hillary Clinton.
A national survey of 800 Muslims in October suggested 86 per cent would vote for Ms Clinton.
Bill Doherty, Professor of Family Social Science at the University of Minnesota and a practising psychotherapist, launched a "Citizen Therapists Against Trumpism Manifesto" during the summer, which has been signed by more than 3,000 US psychotherapists. He said it was possible that Mr Trump's win would lead to a rise in hate crime, as happened in the UK after the anti-immigration Brexit campaign.
"Clients are coming in with a lot of emotional distress related to Trump and the campaign," he told Refinery29. "Anxiety is the top one, particularly among minority people and immigrants. There is fear that they will be deported, and a fear that they will be ostracised in the country.
"We're also seeing women who have had experiences of sexual abuse [experiencing] a triggering of flashbacks of their experiences."
He said although he did not know yet if hate crime had increased, it appeared anecdotally that it could.
"I don't know if there's data yet on hate crimes but we are certainly hearing the stories," he says. "Bullying is increasing, an example being a high school basketball game with a school that had a lot of Latino athletes and people in the crowd from the team were chanting 'Trump Trump Trump' and 'Build the wall,' that sort of thing."
http://www.independent.co.uk/news/world/americas/us-elections/donald-trump-president-us-election-win-american-muslims-reema-adam-saleh-girl-5-crying-a7407141.html
--------
A push to reform Islamic divorce could make Sharia councils redundant in Britain
November 9, 2016
Controversy over Sharia councils in Britain has resulted in an ongoing parliamentary enquiry on their role and remit. Some of those giving evidence before MPs on the Home Affairs Select Committee suggest Sharia councils should be abolished altogether, while others are calling for reform or for a code of conduct to be introduced to regulate these institutions. A separate independent review is also ongoing about whether Sharia law is being used to discriminate against women.
As these debates continue, it is worth looking at the main use of Sharia councils in Britain: to carry out religious divorces by an "Islamic institution". Yet I argue that an English court can clearly provide an "Islamically" valid divorce – but that conservative members of some Muslim communities are not doing enough to inform people about the options available to them.
Sharia councils emerged in Britain in the 1980s as informal, extra-legal bodies. They are not a replacement for English law, nor are they courts – though they are often mistakenly called them in the media.
Estimates of the number of Sharia councils in Britain vary between 30 and over 80. These range from councils with a single member to a formally constituted council with multiple members. Most of the councils are all-male, although there is one woman member, Amra Bone, in the Birmingham Sharia Council.
Matrimonial matters
Sharia councils were supposedly created to provide "Islamic" advice and assistance to Muslim communities, but have been primarily used for issuing religious divorce certificates to Muslim couples. In my own research, I have studied three of the largest Sharia councils operating in Britain today. Their websites acknowledge that the vast majority – as many as 95% – of cases before them deal with matrimonial matters.
Muslim women seeking divorce also constitute the largest group accessing Sharia councils, approaching them to terminate their marriages rather than using the English courts. This is usually the case when couples have entered into an unregistered Muslim marriage through a nikah ceremony which is not recognised by English law.
There are no reliable statistics on the percentage of all Muslim marriages which are only performed in this way, but anecdotal evidence from my own research suggests that it is quite high. This means that if a husband or wife wishes to dissolve their marriage, they must turn to a Sharia council. Muslim women also seek the assistance of Sharia councils to obtain a religious divorce if they have a civil divorce but also wish to make it religiously valid, a process that would allow them to remarry.
Registered marriages provide protection
Unregistered Muslim marriages place women at a disadvantage. If they want to seek a divorce they must approach a Sharia council which is unregulated and may apply the rules surrounding religious divorce in an inconsistent way. If a woman has been married using a nikah service she has no choice but to seek divorce through a Sharia council – but it means she is not afforded rights available to a wife under English law.
So I argue that Muslim women should have to register their marriage under English law. In Islam, marriage is a civil contract that must be formalised before state and society in order to protect the wife and any children, and for the state to place responsibility of maintenance on the husband.
Research has shown that Sharia councils often apply the most conservative and rigid interpretation of Islamic law, which regularly favours the husband. For instance, the abusive behaviour of a husband is a religiously valid cause for divorce and requires that he pays up the mahr or marriage gift to the wife. But women, even if they have been abused, are often reported to have been told that they must opt for khul , a type of divorce seen as the initiative of the wife and which means she gives up her marriage gift. As a result, Muslim women have had to bargain away some of their rights.
Other options are available
The reason this issue persists is that British Muslims have not been made aware of the variety of Islamically valid options of engaging with English law, including those relating to marriage and divorce. For instance, parties to a Muslim marriage contract may enter legally binding stipulations whereby the wife is given the right to divorce herself or a clause is included in the nikah to accept the civil court as the forum for divorce. Were this to be the case for every Muslim marriage in Britain, the role of the Sharia councils would in due course become redundant.
Another way forward would be for more mosques to be encouraged to obtain a licence to conduct marriages in accordance with civil law, in the same way that a Church is. This would mean that rather than having two marriages – a religious and a civil one – one ceremony would suffice. These suggestions are within the boundaries of Islamic law and are common in Muslim countries including Pakistan, Malaysia, Bangladesh and Indonesia.
I think there should be a robust and rigorous information campaign telling British Muslims how to proceed with marriage and divorce in ways that are Islamically valid. A simple handbook on Islamic family law for civil society organisations, activists, lawyers, legal aid workers and Muslim resource centres would be a useful starting point. And a code of conduct could be agreed for mosques and imams to follow for marriages and divorces.
At the heart of this debate are the rights of Muslim women as equal citizens of Britain and it is they who must be empowered and enabled to make informed choices. Yet at the moment, Sharia councils are mainly used by women who have no other recourse to end their marriages.
While Sharia councils should not be their only means to seek a divorce, it does not mean that these institutions should be banned outright, as prohibition will simply drive them underground. But if more couples are given information about marriage and divorce, then one of the main reasons why Sharia councils still exist in Britain could begin to fade away.
http://theconversation.com/a-push-to-reform-islamic-divorce-could-make-sharia-councils-redundant-in-britain-68023
--------
Solution to triple talaq should come from within Muslims: RSS women wing
November 9, 2016
Amid a raging debate over instantaneous triple talaq, the RSS's women wing says that the solution to the issue should come from within the Muslim community. Seetha Annadanam, All India General Secretary of Rashtriya Sevika Samiti, said, "All women should have uniform justice and there should be no discrimination in that.
"We have also passed a proposal on the issue of triple talaq in the past. From the point of view of safety of women and what is currently going on in the community, this must happen. The problem has risen from the community so the answer will also come from within."
To a question on whether there should be a codified muslim personal law, she said, "That is something the Muslim community has to think about. The question has risen from there and the answer too will come from there. As a woman I will say there should be justice for everyone. But we can't interfere in there personal laws and with Quran."
Rashtra Sevika Samiti is organising a three-day conclave from November 11 for its volunteers. The theme of the programme is the role of the family in nation building and cultural preservation through family. Nearly 2,500 participants are expected at the event.
The event will be inaugurated by RSS chief Mohan Bhagwat. Lok Sabha Speaker Sumitra Mahajan and Goa Governor Mridula Sinha will also be attending it. Paralympic silver medalist Deepa Malik will be felicitated at a valedictory function.
http://indianexpress.com/article/india/india-news-india/solution-to-triple-talaq-should-come-from-within-muslims-rss-women-wing-4366228/
--------
Afghan president welcomes back Nat Geo famed 'Afghan girl' in Kabul
November 10, 2016
Afghanistan's President Ashraf Ghani on Wednesday welcomed back Sharbat Gula, the green-eyed woman immortalised on a National Geographic cover, in Kabul after she was deported from Pakistan.
The president and first lady Rula Ghani honoured Gula and her children at a ceremony at the presidential palace in Kabul.
"Pleased to have welcomed Sharbat Gula and her family back to (Afghanistan), her life inspires us all and she represents all the brave women of this land" said President Ashraf Ghani on Twitter.
Ghani had promised to provide Gula, 45, with a furnished apartment to ensure she "lives with dignity and security" in Afghanistan.
Gula revealed that she first arrived in Pakistan an orphan, some four or five years after the Soviet invasion of 1979, one of millions of Afghans who have sought refuge over the border since.
Pakistani officials handed over Gula, whose haunting eyes were captured in a cover photo taken in a refugee camp in the 1980s, to Afghan border authorities after escorting her from a Peshawar hospital where she was being treated for Hepatitis C.
Gula, arguably Afghanistan's most famous refugee, was arrested last month for living in Pakistan on fraudulent identity papers.
Since July hundreds of thousands have returned to Afghanistan ahead of a March 2017 deadline for the final return of all Afghan refugees.
Last month UNHCR Refugee Agency revealed that more than 350,000 Afghan refugees ─ documented and undocumented ─ had returned from Pakistan so far in 2016, adding it expects a further 450,000 to do so by the year's end.
http://www.dawn.com/news/1295342/afghan-president-welcomes-back-nat-geo-famed-afghan-girl-in-kabul
--------
US Muslim Women's Strength In The Face Of Injustice
09 November 2016
With the world reeling from the shock win of Donald Trump's US Presidency, Muslim women are fearing the worst but many have shown fearing the worst if they step out in public
World Bulletin / News Desk
Back in December 2015, Trump called for a total ban on Muslims entering the US making reference to claims some American Muslims support violence against the United States.
But with the shock win of Donald Trump for the US Presidency, many people have taken to social media to warn Muslim women not to wear the hijab, niqab or burka in public, with many citing the 41 percent rise in race and religious hate crimes following the Brexit referendum. Ilmfeed quotes one particuarly terrifying statistic: With Donald Trump announcing his presidency bid, anti-Muslim crimes shot up by 500%. With him now being the President elect, many are left wondering what will happen now that he has won. Many fear that his win may now further embolden racists and bigots.
Some people have shared the advice given to them by family members. One Muslim woman in the U.S. tweeted that her mother had texted her advising her not to wear the hijab in public.
However an American Muslim womans' message has sent a strong message of hope, calling out that the win of Donald Trump is a call for strength in the face of adversity and hate. Linda Sarsour, a Palestinian-American-Muslim women born and raised in Brooklyn is a civil rights activist and media commentator. Speaking on a video through her Facebook page, Ms Sarsour's message is one that speaks of strength in the face of adversity, to see the silver lining behind every dark cloud and is a beacon of hope for many people.
However an American Muslim womans' message has sent a strong message of hope, calling out that the win of Donald Trump is a call for strength in the face of adversity and hate. Linda Sarsour, a Palestinian-American-Muslim women born and raised in Brooklyn is a civil rights activist and media commentator. Speaking on a video through her Facebook page, Ms Sarsour's message is one that speaks of strength in the face of adversity, to see the silver lining behind every dark cloud and is a beacon of hope for many people.
http://www.worldbulletin.net/todays-news/179905/us-muslim-womens-strength-in-the-face-of-injustice
--------
URL: https://www.newageislam.com/islam,-women-and-feminism/new-age-islam-news-bureau/american-muslim-women-are-now-afraid-to-wear-the-hijab-in-public/d/109065
New Age Islam, Islam Online, Islamic Website, African Muslim News, Arab World News, South Asia News, Indian Muslim News, World Muslim News, Womens in Islam, Islamic Feminism, Arab Women, Womens In Arab, Islamphobia in America, Muslim Women in West, Islam Women and Feminism, Moderate Islam, Moderate Muslims, Progressive Islam, Progressive Muslims, Liberal Islam