New Age Islam News Bureau
20 Jan 2014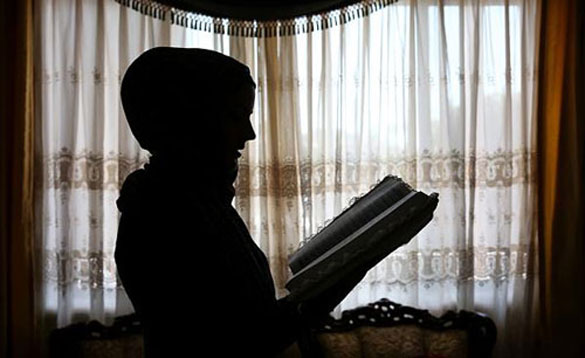 Muslim convert Julia Moukhallalati 22, converted from Catholicism to Islam four years ago. Source: News Limited
------------
• Anbar Women Declare War on Iraq PM Maliki
• Pakistan: Politician and Others Challenge Taboos Hiding Rise of Breast Cancer
• Women Seek Al-Qaeda Fighter Husbands in Syria Online
• Yemeni Takes Husband to Court Over WhatsApp 'Addiction'
• Ex-Sultanah Fails in Bid to Set Aside Court Order, Syariah Court Bound by Fatwa: Judge
• Women's Rights Treaty Approved In Bahrain
• Women's Rights undermined in Egypt's New Draft Constitution
• Rights Group: Laws Failing To Protect Girls from Forced Early Marriages in UAE
Compiled by New Age Islam News Bureau
URL: https://newageislam.com/islam-women-feminism/almost-two-sydney-women-week/d/35357
-----------
Almost Two Sydney Women a Week Are Converting To Islam
January 20, 2014
MORE THAN100 people - most of them women - are converting to Islam in Sydney each year, and ­experts warn some new converts are more likely to adopt extremist elements of the religion.
Such radicalism was highlighted by the death last week in Syria of former Queensland Anglican schoolgirl turned Muslim jihadist Amira Karroum, 22, who is believed to have been killed by rebel fighters in Aleppo alongside her US-born husband Yusuf Ali.
Ms Karroum had adopted an extremist form of the faith, praising terrorist Osama bin Laden and supporting the ­violent Muslim riots in Sydney in 2012.
The pair were based in Granville before travelling to Syria to fight in December.
Another Granville man, Caner Temel, 22, has been named as the latest Australian victim of the civil war in Syria.
The Australian New Muslim Association estimates two-thirds of the converts they see each year are female, with more than 60 per cent converting because of their husbands or partners.
Julia Moukhallalati was just 18 when she swapped her Orthodox Christian upbringing for the mosques of western Sydney.
Soon after, Mrs Moukhallalati, 22, converted to Sunni Islam. She met her Lebanese-Australian husband Raed while asking about Halal meat in a restaurant. They married just three months later and live in a granny flat behind her in-laws.
Mrs Moukhallalati, originally from Sutherland Shire, said her relationship with her family was still a "work in progress".
"My parents pushed me to be Orthodox but they never had answers to my questions," she said, adding she had always been fascinated with Islam and believed it put women on a pedestal, rather than oppressing them.
"As soon as I started studying it I knew I had to be a part of it," she said. "I loved how a woman was treated. She is treated like a rare diamond, she is honoured in the family."
Mrs Moukhallalati said ­although she believed it was her duty to spread the word of Islam, she didn't agree with travelling overseas to fight.
"It's pretty sad. There are some Muslims who are extreme, but I believe in moderation," she said.
"It's the best thing I have done, but make sure they (converts) go to the right source. A lot of information on the internet could not really be what Islam teaches.
"You want to learn the truth as Islam is, not how some people portray it to be."
Mrs Moukhallalati said she did not feel obligated to wear the face-covering niqab but did wear a headscarf.
"I put in more pride and effort with the scarf on.
"Now that I'm scarfed I feel more beautiful," she said.
Australian Muslim Women's Association head Silma Ihram converted from Christianity during a trip to Indonesia in 1976 at 24.
She said converts were sometimes guided by more extreme interpretations.
That meant they fell out with their families and were susceptible to radical elements., she said.
http://www.dailytelegraph.com.au/news/nsw/almost-two-sydney-women-a-week-are-converting-to-islam/story-fni0cx12-1226804853598
-----------
Anbar women declare war on Iraq PM Maliki
World Bulletin / News Desk
20 January 2014
A group of women in Iraq's violence-wracked Anbar province has announced that it has taken up arms against Prime Minister Nouri al-Maliki's government.
"We, the free women of Iraq, tell the rats of the Green Zone [the seat of the Baghdad government] that their time is up and their reign of tyranny has come to an end," the group, which calls itself the "Granddaughters of Al-Khansaa," said in a statement mailed to Anadolu Agency.
Al-Khansaa was a celebrated Arab poet and a contemporary of Prophet Muhammad (peace be upon him), known for her elegies for her brothers who had fallen in battle in the early years of Islam.
In their statement, the women declared war on government troops deployed in Anbar.
The province has been rocked by violence since Iraqi security forces dismantled a months-old anti-government sit-in outside provincial capital Ramadi in late December.
Meanwhile in separate developments, a journalist and four Iraqi security forces were killed in the Anbar city of Ramadi as government forces clashed with rebel fighters.
"A police force, backed by armed tribesmen and accompanied by two journalists, went to an area in northern Ramadi [provincial capital of Anbar province] to liberate the local police station captured by ISIL militants, but was ambushed by the latter," the source, who preferred anonymity, told Anadolu Agency.
The slain journalist had been working for the state-run Fallujah satellite channel, the source added.
Iraqi authorities have yet to comment on the incident.
http://www.worldbulletin.net/?aType=haber&ArticleID=127258
-------------
Pakistan: Politician and Others Challenge Taboos Hiding Rise of Breast Cancer
THE ASSOCIATED PRESS
JANUARY 20, 2014
ISLAMABAD - In Pakistan, a country where breast cancer kills more women than terrorist attacks, an awareness group couldn't even say the word "breast" while talking at a university about mammograms and how to check for lumps.
They had to use the euphemism "cancer of women" to discuss a disease often shrouded in social stigma in this majority Muslim nation.
One in nine women in Pakistan will face breast cancer during their life, with the country itself having the highest rate of the disease across Asia, according to the breast cancer awareness group PinkRibbon, oncologists and other aid groups.
Yet discussing it remains taboo in a conservative, Islamic culture where the word breast is associated with sexuality instead of health and many view it as immoral for women to go to the hospital for screenings or discuss it even within their family.
Now, women like breast cancer survivor and prominent Pakistani politician Fehmida Mirza and groups are trying to draw attention to the disease and break the silence surrounding it.
"There's nothing to be shy about it," Mirza told The Associated Press in a recent interview. "No woman, no woman should die of ignorance and negligence."
No national database tracks breast cancer statistics but people who combat the disease say it kills nearly 40,000 women every year in Pakistan. That's about the same rate as in the U.S., though Pakistan only has 180 million residents to the U.S.' 313 million.
With a health care system in shambles and more young women getting the disease, breast cancer rates only are expected to get worse. World Health Organization official Shahzad Aalam in Pakistan said it was difficult to determine the exact magnitude, but that the disease is rampant.
"It is the leading cancer killer among women," Aalam said.
Among Pakistani women there is very little knowledge about the disease. A study done at Rawalpindi General Hospital about breast cancer awareness among 600 women found nearly 70 per cent totally ignorant of the disease, while 88 per cent did not know about breast self-exams and 68 per cent did not understand the significance of finding a lump in the breast.
"If women are being diagnosed with breast cancer, they don't even share the news with their family members," said Omar Aftab, who heads PinkRibbon in Pakistan, which put on the university presentation where organizers couldn't even say "breast."
"So, we're trying to break these taboos," he said.
Those cultural taboos have been one of the biggest issues preventing women from seeking treatment or even knowing about the disease. During an awareness event in Pakistan's capital, Islamabad, female students attending a breast cancer lecture demanded the men leave.
"It will take very long for us to discuss these issues openly," said one female student who requested anonymity because she feared her family wouldn't like her speaking about the issue.
Another challenge is Pakistan's abysmal health care sector that is starved for money, the latest technology and drugs. Oncologist Saira Hasan at Shifa International Hospital in Islamabad said most major hospitals lack a screening centre or mammogram facility. Many patients first go to a traditional healer and by the time they visit a reputable doctor, the disease is often too far advanced to treat, Hasan said.
Women in the developing world, like Pakistan, tend to die at greater rates than in more developed countries because the disease is generally detected later and health care options aren't as good.
Hasan said several factors have contributed to the rise in the disease — above all the cultural taboos. Breast cancer survivor Sameera Raja, who owns an art gallery in southern Karachi and supports women facing breast cancer, says that it has to be changed.
"You're surprised to hear how women actually sit on things," Raja said. Recalling how a woman would feel too embarrassed to talk about it even with her husband, she said: "Don't hide behind closed doors."
Unlike in the U.S. where celebrities like singer Sheryl Crow or actress Christina Applegate have freely discussed their fight with breast cancer, few such public figures have come forward in Pakistan. That's changed with Mirza, though she had to delay her treatment for three months after she was diagnosed in March 2012 to handle her work, which included how to rule on whether a criminal conviction against the serving prime minister should disqualify him from politics.
"There was lot of pressure on me, work pressure," she said. "Everybody (would) say it's an excuse I'm using to run away."
Mirza described her friends and family being shocked by the diagnosis, as the cancer is considered by many as a death sentence. But during her diagnosis and treatment, she attended international conferences, ruled on the then-prime minister's case and later ran for re-election and won while undergoing chemotherapy.
She now uses her position in parliament to advocate for women's health issues. She plans to propose a bill making it mandatory for women to have breast cancer screenings and mammograms yearly, as well as to teach girls in schools to do breast exams themselves. She also pushed the health ministry to explain why there is no national database on breast cancer deaths.
"I think the role models will have to come forward," Mirza said. "That is one reason I had to."
Associated Press writers Adil Jawad in Karachi, Pakistan, and Zaheer Babar in Lahore, Pakistan, contributed to this report.
http://www.calgaryherald.com/news/world/conservative+Pakistan+politician+others+challenge+taboos/9406342/story.html
-----------
Women seek al-Qaeda fighter husbands in Syria online
January 20, 2014
Women have been going online to forge links with British extremists fighting with al-Qaeda in Syria in the hope of finding a husband.
Female al-Qaeda supporters have sought advice on how to join the militants and what they require in a wife, The Times reported.
Some women have contacted a British blogger, who writes about his life fighting with the Islamic extremists in Syria, demanding romantic tips while others have travelled to Syria to support al-Qaeda's Islamic State of Iraq and Syria (ISIS).
The move is being encouraged by ISIS which aims to create an Islamic state in Syria but faces a challenge because so many of its fighters are single young men from foreign countries including Britain.
News of efforts to lure foreign women to Syria comes as an ISIS defector told the Telegraph British fighters in the war-torn country were being trained as "jihadists" then encouraged to return to the UK to launch attacks.
Al-Qaeda is believed to have set up a special base for women who make the journey to Syria to support its work.
The British blogger appears to have answered a number of queries from women who appear to be from the UK in the last week alone.
Last Tuesday he wrote: "We had two sisters delivered in safely yesterday. As for now the borders are closed but we will do our best to keep you all informed."
His update just days after stricter controls were placed on foreigners crossing the border from Turkey into Syria.
After being asked where unmarried 'sisters' stayed, the blogger revealed there was a separate 'sisters' base.
One woman wrote: "I'd love to marry a mujahid wallah [a fighter, I swear] but idk [I don't know] if I could handle it or maybe it's just shaytan [the devil] whispering . . . what characteristics does one require if one wants to?"
"Aqeedah", he told her, meaning religious faith.
He went on to claim mujahideen fighters struggled to find suitable wives among Syrian women because they lacked "aqeedah".
He wrote: "No one here wants these Syrian women because the majority lack in aqeedah or have none."
The blogger was asked if he knew any "sincere brothers" who wanted to marry then "make hijra" [emigrate].
He said that if the woman sent him a private message he would "see what I can do".
The move to lure foreign women to Syria has sparked criticism among several radical scholars who claim it encourages them to enter the battle-field.
Security sources claim women are not involved in frontline fighting in Syria but help with transporting funds, equipment or cooking for the men, while others travel there to find husbands.
Shiraz Maher, from the International Centre for the Study of Radicalisation at King's College London, said: "Although some fighters don't have a problem with taking their wives, apart from the logistical hurdles, the issue of single women is far more controversial, because many jihadists don't believe women have a role on the battlefield."
http://www.telegraph.co.uk/news/worldnews/al-qaeda/10583393/Women-seek-al-Qaeda-fighter-husbands-in-Syria-online.html
-----------
Yemeni takes husband to court over WhatsApp 'addiction'
World Bulletin / News Desk
20 January 2014
A Yemeni woman from the southern city of Adan has sued her husband for spending too much time on the WhatsApp mobile messaging application, judicial sources told Anadolu Agency on Sunday.
In an unprecedented case in Yemeni court history, the woman, in her 30s, has accused her husband of "neglecting his marital duties" and preferring to spend his time using WhatsApp.
The wife claimed that her husband has become "addicted" to the messaging application.
The woman, who filed the lawsuit earlier this week, is asking the judge to oblige her husband to divide his time equally between her and WhatsApp.
The cross-platform instant mobile messaging application was developed for smartphones in 2009.
It has since been upgraded to allow sharing multi-media content such as photos and videos.
In a December statement, the California-based WhatsApp Inc. said the application has over 400 million active users every month.
http://www.worldbulletin.net/?aType=haber&ArticleID=127228
---------
Ex-Sultanah Fails in Bid to Set Aside Court Order, Syariah Court Bound by Fatwa: Judge
January 20, 2014
The former Sultanah of Johor, Tuanku Zanariah Tunku Ahmad, today failed to set aside an earlier court order which states that the late Sultan Iskandar Sultan Ismail had divorced her.
Judge Muhammad Khaldun Mohd Sharif said the Johor Syariah Court is bound by a fatwa on the matter.
Tuanku Zanariah had filed an application in the Syariah Court on January 1 to set aside the court order.
During the hearing today, there were no representatives for the late Sultan Iskandar.
After the decision was delivered, Tuanku Zanariah's youngest daughter, Tunku Masera Sultan Iskandar and her siblings broke into tears.
She later reprimanded a representative from the state Fatwa Council who was present in the court.
"You will be punished by God for all your deeds...Allauakbar," she said.
Earlier, in the morning, the lawyer for the former Sultanah had told the Syariah High Court that the "talaq" (divorce proclamation) said to have been pronounced by the late Sultan Iskandar was invalid by Islamic laws.
Counsel Afshah Arifin had also alleged that the state fatwa council had gravely abused its powers for "invading" the Johor Syariah Court's jurisdiction.
"From the facts given, we don't know who became the prosecutor in the divorce application.
"It is also impossible that the Almarhum (Sultan Iskandar) came back eight months after his death to file the case," she said.
Afshah also questioned the validity of the "talaq dua", which is said to have been pronounced by the late Sultan Iskandar in the Royal Ward at the Puteri Specialist Hospital on January 23, 2009, as stated in an affidavit.
"When Almarhum (Sultan Iskandar) expressed the talaq, was he in a right state of mind? Was there any medical condition which may have affected his reasoning abilities?
"There is also no statement from any witnesses for the talaq pronouncement," Afshah said.
Afshah also questioned the relevance behind former Johor Menteri Besar Datuk Abdul Ghani Othman's powers for stripping the ex-Sultanah of her royal title.
Tuanku Zanariah had filed an application on January 1, to set aside an earlier court order that her late husband, Sultan Iskandar Sultan Ismail, had divorced her on January 23, 2009.
She also wants the ruju' (resumption of conjugal relationship) pronounced a week later after the purported divorce be declared invalid.
In her affidavit in support of the application, she alleged that the state administration, especially the religious authorities, were used in an attempt to defame her and Sultan Iskandar.
Tuanku Zanariah said that the late ruler did not make any application to verify the alleged divorce, adding that she and the late sultan were both living together as lawful husband and wife in peace and harmony until Sultan Iskandar died on January 22, 2010.
Sultan Iskandar was named as plaintiff in that case while Tuanku Zanariah was the defendant, meaning that the late ruler had initiated legal action against his wife.
http://www.themalaysianinsider.com/malaysia/article/talaq-pronouncement-invalid-fatwa-council-abused-its-powers-says-lawyer-for
-----------
Women's Rights Treaty Approved In Bahrain
January 20, 2014
BAHRAIN's government has approved full rollout of a United Nations (UN) convention that protects women's rights - ignoring opposition from MPs who claimed it could have "dangerous repercussions" for society.
The Cabinet yesterday approved a proposal to lift reservations that were included when the country acceded to the Convention on the Elimination of all Forms of Discrimination against Women (CEDAW) in 2002.
This is despite parliament seeking to block the move in November, when all 35 MPs present - including female members - voted against the idea.
Minister of State for Information Affairs and official government spokeswoman Sameera Rajab told journalists after yesterday's Cabinet session that Bahrain was committed to gender equality.
"Everyone agrees that in real life Bahrain is beyond those reservations," she said.
"The government made the reservations when it was not sure it could comply with them (certain articles of CEDAW), but now everyone can see that women in Bahrain have full rights as guaranteed by the constitution and international conventions.
"Lifting the reservations doesn't contradict Sharia (Islamic law) as propagandised, it is actually in line with it."
However, the full version of the CEDAW convention must now be referred to the National Assembly - where it will be voted on by parliament and the Shura Council.
When Bahrain signed up to CEDAW it listed reservations on granting women equal rights with respect to passing on their nationality to their children, as well as gender equality when it came to people's freedom to move and choose their home.
The country also stated one of the convention's articles, which called for measures to eliminate discrimination against women in matters relating to marriage and family relations, was "incompatible with the provisions of the Islamic Sharia".
A reservation was also made against an article calling on countries to condemn discrimination against women and adopt a policy to eliminate discrimination "in order to ensure its implementation within the bounds of the provisions of the Islamic Sharia".
Finally, Bahrain included a reservation against an article stating that disputes between countries over interpretation of the convention could be settled by arbitration.
Bahrain's Supreme Council for Women is behind efforts to remove those reservations, but in November MPs tried to stop the Cabinet even discussing it.
"Lifting the reservations will have dangerous repercussions on Bahraini society," said a written submission to parliament from MPs opposed to the move.
"The Bahraini government shouldn't have considered looking into the council's request in the first place, but early indications show it is poised to have them (the reservations) lifted."
It is not the first time the Bahrain government has met resistance as it sought to improve women's rights.
In 2006, the government submitted a draft Family Law to parliament that for the first time set out women's rights when it came to domestic issues such as divorce and inheritance cases.
At the time all such cases were handled by Sharia courts, which critics accused of handing down judgements that favoured men based on male judges' interpretation of Islam.
However, in the end a Family Law was passed only for Sunni Muslims due to opposition from Shi'ite clerics. This means domestic disputes involving Shi'ite Muslims are still settled in Sharia courts.
Yesterday's Cabinet meeting was chaired by Deputy Premier Shaikh Mohammed bin Mubarak Al Khalifa. mohammed@gdn.com.bh
http://www.gulf-daily-news.com/NewsDetails.aspx?storyid=369042
-----------
Women's Rights undermined in Egypt's New Draft Constitution
20 January 2014, Press Release
Women's Rights Enshrined in Egypt's New Draft Constitution that is Born from a Regime that Assaults and Terrorises its Daughters is as Worthless as Dust!
On 28th December 2013, the Associated Press and other media reported that female students at Al-Azhar University, protesting against the oppressive rule of Egypt's brutal military regime were assaulted by Egyptian security forces. Riot police raided the prestigious Islamic institution on Saturday to break up protests and fired teargas at the crowd, turning the centre of Islamic learning into a battlefield. In one incident, it was reported that plainclothes security with sticks grabbed a woman by her veil, then kicked and manhandled her away.
Other footage and pictures also show female students being brutally beaten and terrorized by security forces, one student being dragged away in a headlock by a police officer, while a video from a previous demonstration at the institution shows a man with a wooden board with nails attacking female protestors. The Interior Ministry stated that 15 women had been arrested during this recent crackdown. All this is taking place at a time when the regime is preparing the ground for a referendum in January on a new draft Egyptian constitution which mentions the guarantee of various political, economic, and social rights for women, including ironically protection to women from "any form of violence". This clearly does not include state-instigated violence! What hope can the women of Egypt ever have for a secure and dignified future from a secular constitution and system born from and ruled over by a dictatorship that carries a total disregard for the dignity of its daughters and unleashes its forces to terrorise, abuse, and arrest them in the most brutal fashion for simply raising their voices against oppression?
O Courageous Sisters of Egypt! Your brave stance against this ruthless dictatorship is truly inspiring. However, alongside calling for its removal, the women of Hizb ut Tahrir urge you to make your struggle one of replacing it with the system of Allah (swt), the Khilafah. This state alone will guarantee the protection of your dignity and facilitate rather than fight your right to express your political voice and account those who govern you, as well as offer sound solutions to all your economic and social problems through the rule of Islam. Do not accept your heavy sacrifices to be lost by allowing the non-Islamic, illegitimate democratic system to pollute your land that will govern through the flawed laws of men rather than those of Allah (swt), leading to nothing but disaster and humiliation. You have witnessed with your own eyes how this fickle, discredited system can be manipulated, discarded and overthrown by those who champion it and how it has utterly failed to secure dignity, basic needs, and justice for millions living under its dark shadow in the West and East. So reject further cycles of this democratic experiment that only promises further cycles of bloodshed, turmoil, poverty and fear, only to end up with the same oppressive rule!
O Sincere Sons of the Egyptian Army! How can you witness the abuse of your sisters without response when Allah (swt) has entrusted you with the heavy responsibility of protecting them from harm? Moreover, how can you bear to serve behind a merciless, cowardly leadership that is willing to terrorise, dishonour, and imprison the honourable daughters of Islam but has refused to raise a single gun to the murderous Israeli state to protect your Palestinian brothers and sisters, rather it has colluded with the Zionists in their oppression? Embrace your true honourable role as protectors and liberators of your Ummah and regain your dignity, high status, and great rewards in the Hereafter by giving your Nusrah (material support) to the establishment of the Khilafah, that will mobilise you to make your legacy one of bringing great victories for Islam, making you heroes of the people, and not those they despise.
http://www.scoop.co.nz/stories/WO1401/S00237/womens-rights-undermined-in-egypts-new-draft-constitution.htm
-----------
Rights Group: Laws Failing To Protect Girls from Forced Early Marriages in UAE
The Associated Press
January 20, 2014
DUBAI, United Arab Emirates -- Cultural traditions and a lack of legal protections are driving tens of millions of girls around the world into early marriage, subjecting them to violence, poverty and mistreatment, an international human rights group says.
Equality Now, citing the United Nations Population Fund, said in a report issued over the weekend that more than 140 million girls over the next decade will be married before they turn 18.
"When a young girl is married and gives birth, the vicious cycle of poverty, poor health, curtailed education, violence, instability, disregard for rule of law ... continues into the next generation, especially for any daughters she may have," the report said.
The 32-page report found that despite laws that set a minimum age for marriage in many countries, social norms continue to provide a veneer of legitimacy to child marriage in remote villages and even in developed countries. Child marriage is defined as a marriage before age 18.
"Child marriage legitimizes human rights violations and abuses of girls under the guise of culture, honour, tradition and religion," the report said.
The report gave examples of cases in countries such as Afghanistan, Cameroon, Guatemala, India, Jordan, Kenya, Malawi and Mali.
Often when child brides are married off to older men, it is to restore or maintain family honour, or to settle a father's debts or obtain some other financial gain. A girl married off is seen as one less mouth to feed, and the wedding dowry is spent by her family to support itself.
In some countries, families encourage early marriage to protect young girls from premarital sex and to uphold a family's honour, according to the report.
In one case, a young girl named Mariam was born in France to parents from Mali. She had never been to Mali until her father sent her at age 14 and her sister at 16 to a village while they were on vacation from school.
When they arrived, their father took their passports, and Mariam was told to marry her father's cousin. Her sister was to marry the local imam, or preacher. Mariam eventually escaped with the help of a policeman she met during a visit to the village market, but her sister remains in Mali, the report said.
Equality Now said it uses pseudonyms for girls for their safety.
In another case in Afghanistan, a 3-year-old girl's father killed a man. To avoid prison, he handed his daughter over to the victim's family, which regularly beat her and forced her to do household chores. At 10 she was raped by an older man in the family, and that same year she was married to a teenager from the family.
Her husband divorced her when she was 12, and she was forced to marry the uncle who had raped her. It was not until she managed to run away that police helped her find shelter with a women's organization. The uncle was arrested and is serving a 13-year sentence for rape, Equality Now said.
Equality Now said child marriages often lead to young brides who are isolated and, because of their marital status, have little access to education and other services generally provided to children. In cases where a girl has the legal right to void her marriage, it is difficult to do so without knowledge of the law, education and financial support.
The U.N. population fund says rates of child marriage are highest in the West African nation of Niger, where 75 per cent of girls are married before they turn 18, and a third are wed before age 15. Under Niger's law, the minimum age for marriage is 15, but traditional customs often prevail in villages.
In Bangladesh, the rate of child marriage is 66 per cent, and in Central African Republic and Chad it is 68 per cent. In India, 47 per cent of girls are married before they turn 18.
In the Middle East, Saudi Arabia and Yemen are the only Arab countries that do not have laws that set a minimum age for marriage. According to a December 2011 Human Rights Watch report, approximately 14 per cent of girls in Yemen, the Arab world's poorest nation, were married before age 15, and 52 per cent were wed before they turned 18.
http://www.ctvnews.ca/world/rights-group-says-laws-failing-to-protect-girls-from-forced-early-marriages-1.1646247#ixzz2qtSDpksF
-----------
URL: https://newageislam.com/islam-women-feminism/almost-two-sydney-women-week/d/35357