New Age Islam News Bureau
16 March 2013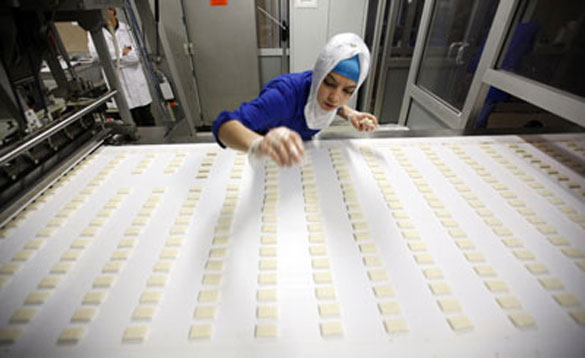 Photo: A worker checks the chocolates on a production line at Konya Seker Sugar Factory in Cumra (photo by REUTERS/Umit Bektas)
------------
• Teenage Girl Allegedly Raped by Man She Met on Facebook
• Boutiques Spur in Jeddah Demand for Fashion Graduates
• Head of Tunisia's Ruling Islamist Party against Female Circumcision
• India: Panchayat 'bans' girls from dancing
• 'Pizza terrorist' wanted to impress ex-girlfriend
• Women in Middle East and North Africa Enter Labour Market at Half of Global Rate
• Taslima Nasreen Revolts Again, Urges All to Become Un-Islamic
• Turkish Women Still Face Challenges In the Workplace
• Iranian Film Director Tackles Paedophilia
• Lebanese Women Demand Government Protection from Domestic Violence
• 'Manifesto for Change' For Women in Higher Education
• Missing Relatives Will Come Back One Day, Hope Iraqi Women
Compiled by New Age Islam News Bureau
URL: https://newageislam.com/islam-women-feminism/allow-girls-marriage-16-line/d/10790
-------------
Allow girls' marriage at 16 in line with age for sexual consent
Mar 16, 2013
ROHTAK: Claiming that the Union government's decision to lower the age for sexual consent to 16 has vindicated their stand, the khap panchayats of Haryana on Friday reiterated the demand for reducing the marriageable age for girls from 18 to 16.
The khaps had first raised this demand about six months ago when the state had witnessed a spurt in rape cases, but UPA chairperson Sonia Gandhi had slammed the idea stating that the law was decided by judiciary and not by a bunch of people.
The khaps had stated that girls were attaining puberty early and to check crimes against them, they should be married off by 16 years as unmarried girls were more vulnerable in the society and could be easily lured or assaulted.
In the wake of the Centre's decision, the khap leaders held a meeting in Rohtak on Friday and demanded that marriage should also be linked to the age for sexual consent.
"The government's decision reflects the views of khap panchayats, raised by us about six months ago. It indicates that girls attain puberty and become biologically mature to have physical relations by 16," said Sube Singh Samain, spokesperson of Samain khap.
"If the age of consent can be brought down, why not the age of marriage," asked Samain.
It would be absurd if a girl was allowed to enter into sexual relations at age 16, but not allowed to get married at the same time, he said.
"For instance, if a girl gets physical with anybody and it becomes known to all, what would be her situation? Obviously, her image and honour would be hurt. But in case she is allowed to get married, she can escape this humiliation," Samain reasoned.
President of Jat Mahasabha, Om Prakash Mann, opposed the government decision arguing that it would encourage adultery and immorality in Indian society. "Rather, the government should bring down the age of marriage," said Mann.
"The khaps are vehemently against illicit relations and this decision to lower the age for sex will encourage adultery and immorality at a tender age. What's wrong if a girl wants to get married with the consent of her parents even at the age of 16? Instead of providing this relief, the government's new law has paved way for immorality in society," said Mann.
Pratap Singh Dahiya, leader of Dahiya khap, also echoed similar sentiments, stating that if the age of sexual consent is being brought down, the marriageable age should also be reduced.
"The sexual age decision has been taken in view of the society's demand as youngsters are getting sexually active at an earlier age. That's what we have been arguing while asking the government to lower the marriageable age," he said.
http://timesofindia.indiatimes.com/india/Allow-girls-marriage-at-16-in-line-with-age-for-sexual-consent-Haryana-Khaps/articleshow/18998435.cms
-------------
Teenage Girl Allegedly Raped by Man She Met on Facebook
SP/Fana F.S. Putra | March 14, 2013
A 15-year-old girl from East Jakarta was allegedly raped by several men on Saturday night, after the teenager decided to meet with a man she met on Facebook.
Sr. Comr. Mulyadi Kaharni, chief of the East Jakarta Police, said 14 men were arrested on Wednesday for their alleged involvement in the rape case. He said six people had already been questioned while the rest were serving as witnesses.
The man who befriended her on Facebook, who has not been identified, was charged as a suspect.
"We don't think they all did it [the rape] we are still studying the case, let's wait until they are all questioned," he said.
The junior high school student decided to meet with a man she met on Facebook on Saturday night following several online chats.
The man took the victim to an abandoned place in Cijantung, East Jakarta, where more than 10 men were waiting for them. The student was then allegedly raped several times by the perpetrators.
Mulyadi sad the police had not been able to question the victim because she was still traumatized by the attack.
The victim's family filed a report to the East Jakarta Police's Women and Children's Protection Unit (UPPA) on Monday, where a medical examination performed at the police hospital revealed that the teenager had suffered severe injuries to her genital areas.
"The victim is still very traumatized, we are having difficulties to ask the chronology of the rape, we will conduct a more thorough investigation after her condition is better, only then we can find out how many people were guilty," said Adj. Endang, head of the East Jakarta Police's UPPA unit, on Thursday.
Ari Wahyono, the forensic doctor who performed the examination on the victim, said she was physically getting better and her injuries were healing. But he said that psychologically she was seriously shaken.
"We are still focusing on stabilizing her mental and psychological condition, this is a very horrifying case for a girl her age," he said.
The National Commission for Child Protection (Komnas PA) reported at least 27 cases in 2012 where underage children were abducted after meeting their captors on Facebook.
http://www.thejakartaglobe.com/home/teenage-girl-allegedly-raped-by-man-she-met-on-facebook/579789
-------------
Boutiques Spur in Jeddah Demand for Fashion Graduates
16 March 2013
Dozens of fashion boutiques have popped up in Jeddah in recent years. Not all designers at these boutiques are qualified enough to run them as they lack an academic background in fashion. This is despite an increasing number of Saudi female students who want to study fashion academically and pursue a career in this field.
Nabila Nazer, a 29-year-old local designer, said: "Having interns who did not study this major properly makes it harder for boutique owners to reach their expectations."
Nazer graduated from King Abdulaziz University with a bachelor in marketing. Later, she launched her own fashion boutique that sells evening gowns and Islamic clothing. "Since I am interested in fashion, I was motivated to take courses in this field. I'm experienced in sewing but I wanted more," she said.
Nazer traveled abroad to get a diploma from the London College of Fashion, besides a couple of courses in fashion design from the Future Institute in Jeddah.
Many Saudi students in Jeddah say there are not enough colleges that teach fashion design at bachelors level. They say they have to study abroad if they want to pursue a career in fashion.
Razan Alsharief, a student in Dar Al-Hekma College said: "One of the reasons I'm studying fashion design, besides being passionate about it, is because I want to develop this field for the upcoming generation."
Alsharief took fashion design diploma courses at the Millennium Institute for Technology and Management (MITM) and the Future Institute in Jeddah. When Dar Al-Hekma College first launched the Fashion Design Department in 2010, Asharief applied to get a higher education certificate.
Noora Alharthi, another DAH student, said: "There are not enough teachers in this field at a higher education level, since the department is new."
Dina Kattan, director of Fashion Design at Dar Al-Hekma College, said the curriculum is still under construction. "We are currently looking at improving the curriculum by incorporating lectures on mass production for manufacturing, marketing and by including photography as an elective course," she said.
The shortage in teachers makes Kattan turn to her students. "I observe when I teach," said Kattan. "You can see how some students have the talent to teach, and others have the talent to become a designer."
To test her theory, Kattan let her students take the stand to lecture their classmates. "We encourage student presentations. I don't spoon-feed them the information. We share and exchange knowledge," said Kattan.
Kattan said DAH could offer bachelors graduates a job as a class assistant. "If I sensed a student had strong teaching skills and would be passionate and motivated by it, they could be accepted."
Alsharief said she is content with the experiences that Dar Al-Hekma offers. "The drawings and history of arts classes are definitely strong. The trips abroad to museums offer students a wealth of experience."
Alharthi appreciates the inspiration and creativeness the college cultivates in their students. "They always let you know what competition lies ahead and the workshops they provide help us in many ways."
Kattan does not only want to generate graduates. She aims to refine the strength of knowledge of pioneers and leaders. "When we launched this department, the faculty and I agreed that we don't want students to graduate with insufficient knowledge in any way. Unfortunately, a lot of people think that by studying fashion design, one will end up in a boutique."
"DAH approached me for a teaching job three year ago, when they were initiating the Fashion Design department," said Nazer.
"My immediate answer was that I support and encourage the youngsters who want to pursue fashion design, especially at a higher education level."
http://www.arabnews.com/news/445040
-------------
Head of Tunisia's Ruling Islamist Party against Female Circumcision
March 15, 2013
TUNIS — The head of Tunisia's ruling Islamist party Ennahda insisted Friday that his group was opposed to female circumcision, after one of its MPs caused a storm by reportedly saying the operation was "aesthetic."
"We do not approve of female circumcision, a practice supported neither by Ennahda nor by religion, and which is not a part of our culture," Rached Ghannouchi told a news conference in Tunis.
"Whoever approves of female circumcision cannot remain within our ranks," he added.
Ennahda MP Habib Ellouze sparked outrage in the north African country with comments he reportedly made last week in an interview published in an Arabic newspaper.
"In the (African) regions where it is hot, people are forced to circumcise girls ... because in these regions clitorises are too big which affects the spouses," Ellouze was quoted as saying in the Sunday edition of Maghreb.
"There are more circumcisions but it is not true that circumcision removes the pleasure for women. It is the West that has exaggerated the issue. Circumcision is an aesthetic surgery for women," he reportedly said.
But Ellouze Monday accused the newspaper of distorting his quotes, saying the journalist "attributed remarks to me that I have not said."
Ennahda, which heads the Tunisian government, is regularly accused of orchestrating a creeping Islamization of society and seeking to limit the rights of women. It denies the charges.
http://www.saudigazette.com.sa/index.cfm?method=home.regcon&contentid=20130316157058
-------------
India: Panchayat 'bans' girls from dancing
Mar 15, 2013
ROHTAK: A panchayat in Haryana has banned dancing saying it leads to crime against women.
An elected panchayat in Jind district on Wednesday banned girls from taking part in dance competitions and programmes.
The Kinana village panchayat also warned schools against letting girl students participate in cultural activities which promote dancing.
Panchayat leaders said, "Dancing results in perversion of the mind, which in turn leads to incidents of crime against women like molestation and rape."
The decision to ban girls from dancing in functions was taken unanimously on Wednesday and the panchayat sent letters to two private and a government school on Thursday directing them not to organize cultural activities with dances.
Sources said that the people who handed over the letters also told the school heads to not make their girl students dance in school functions in future. "Our sisters and daughters are allowed and made to dance in the name of cultural activities in the schools. This is absolutely wrong and corrupting our youths," reads the signed resolution handed over to three schools of the area.
The village sarpanch Raja Ram said that the villagers were upset over a recent incident in which some people were found drinking in a school function where schoolgirls took part in dance programmes. "By allowing girls to dance on the stage you are just promoting the so-called liberalism which corrupts society and causes crime to grow especially against women," he said.
"We want the girls to get education and succeed in life but not dance on stage," he added.
"We have no option but to stick to their instructions. We organize cultural programmes and celebrate national functions like Republic Day and Independence Day", said the principal of one of the schools.
The district education officer Vandana Singh said that so far she had not received any complaint about instructions from the village panchayat. "I would definitely look into the matter as the schools have to organize functions as part of the extra curricular activities calendar and the villagers cannot interfere," she said.
http://articles.timesofindia.indiatimes.com/2013-03-15/gurgaon/37743632_1_girl-students-dance-panchayat
----------
'Pizza terrorist' wanted to impress ex-girlfriend
Former Russian army commando demanded money, car and a pizza
March 16, 2013
Moscow: A former Russian army commando who took several hostages in a city in Russia, demanding money, a getaway car and a pizza, wanted to impress his ex-girlfriend, an official said.
The 17-year-old teenage girl was among the three people held at gunpoint by Alexander Kuptsov for several hours in a college in Astrakhan.
Kuptsov, who threatened to blow the place up, was dubbed the "pizza terrorist" by Russian media, because a pizza and a soda were initially his only demands.
Full report at:
http://gulfnews.com/news/world/other-world/russia-pizza-terrorist-wanted-to-impress-ex-girlfriend-1.1159058
--------------
Women in Middle East and North Africa Enter Labour Market at Half of Global Rate
March 16, 2013
BEIRUT – The Middle East and North Africa (MENA) region has taken admirable strides over the past four decades to bridge gender gaps, especially in the areas of education and health. But, paradoxically, these investments in human capital have not been matched by increases in women's economic and political participation and women enter the MENA labour market at half the average global rate, the World Bank said in its new report entitled "Opening Doors: Gender Equality in the Middle East and North Africa" unveiled Friday at an event jointly hosted by the Carnegie Middle East Centre in Beirut and the Carnegie Endowment for International Peace in Washington DC in collaboration with the World Bank.
Full report at:
http://www.saudigazette.com.sa/index.cfm?method=home.regcon&contentid=20130316157003
-------------
Taslima Nasreen Revolts Again, Urges All to Become Un-Islamic
March 16, 2013
Bangalore, March 16: Controversial Bengali author Taslima Nasreen seems to have been irked by the ongoing practice of the world where women rights, freedom of speech allegedly being buried citing religious constrains. Raising her voice against the practices preached against women, Taslima on Saturday, March 16 tweeted, "Women's rights, free speech, plurality of thoughts are un-Islamic. Everyone who believes in human rights must be un-Islamic. Be un-Islamic." Taslima's tweet immediately received huge response from different parts of the world. Supporting her statement and views, others tweeted, "not only un-Islamic, non-catholic also. Muslim brotherhood of Egypt and Vatican has also opposed proposed UN resolution on women rights.
Full report at:
http://news.oneindia.in/2013/03/16/taslima-nasreen-revolts-urges-all-to-become-un-islamic-1173080.html
-------------
Turkish Women Still Face Challenges In the Workplace
March 16, 2013
The results of Grant Thornton International's annual survey on women in senior management show that we are being unfair to ourselves in this realm. According to the survey, women represent 40% of senior managers in Baltic countries, but 21% in the G-7 group of developed Western nations. In Turkey, on the other hand, the rate is 30%. Another striking outcome is that Turkey holds the 15th place in the global ranking in the ratio of women managers. China is the champion with 51%, followed by Poland with 48%, Latvia with 43%, and Estonia and Lithuania with 40%. Countries like Japan and France trail behind, ranking somewhere between 30th and 40th place.
Full report at:
http://www.al-monitor.com/pulse/culture/2013/03/turkey-women-employment.html#ixzz2Ng4TDaWK
-------------
Iranian Film Director Tackles Paedophilia
15 March 2013
A leading female director in Iran is not afraid of tackling difficult issues on the big screen.
Pouran Derakhshandeh's latest movie ' Hush, Girls don't scream' won Best Film at the Fajr International Film Festival.
The story tackles the controversial subject of paedophilia.
Derkhshandeh has been producing movies over the past four decades. Born in Kermanshah in western Iran in 1951, Derkhshandeh is challenging the role of woman through the cinema lens.
Full report at:
http://english.alarabiya.net/en/life-style/2013/03/15/-Hush-girls-don-t-scream-Iranian-film-director-tackles-pedophilia.html
-------------
Lebanese Women Demand Government Protection from Domestic Violence
By Asma Marwan
March 15, 2013
Lebanese women are taking to the streets to demand that the government takes domestic violence seriously, by introducing laws to protect women from abusive partners.
Nadine Mouwad, a founder of feminist collective Nasawiya, says the prevalence of unveiled, glamorous women in Beirut can create the impression that Lebanon is more liberated from patriarchal cultural attitudes than neighboring countries. But that's merely an illusion, she says.
Full report at:
http://bulletinoftheoppressionofwomen.com/2013/03/15/lebanese-women-demand-government-protection-from-domestic-violence/
-------------
'Manifesto for Change' For Women in Higher Education
Katherine Forestier
16 March 2013
Hong Kong: zero. Japan: 2.3. India: three. Kuwait: three. Turkey: seven. UK: 14. Australia: 17. The numbers tell a story. They are the percentages of universities that have women as leaders in a range of jurisdictions around the world.
Knowledge that women are under-represented in the upper echelons of higher education is not new. But after academics from countries in Asia, Europe, the Middle East and North Africa shared experiences and information, they came up with an action plan for change.
On 6 March the "Manifesto for Change" was resoundingly endorsed by participants attending the session "Action for Women in Higher Education Leadership" at the Going Global 2013 conference, the culmination of a year of workshops held by the British Council in Hong Kong, Japan, Kuwait and finally Dubai, supported by new research.
Full report at:
http://www.universityworldnews.com/article.php?story=20130313132344590
-------------
Missing Relatives Will Come Back One Day, Hope Iraqi Women
March 15, 2013
BAGHDAD — Qawthar Shihab Ahmed fervently hopes her brother, who she said was seized in Baghdad in 2007 by men in police uniforms, is being held in a secret prison — probably the only hope that he is still alive.
Her brother Arkan is just one of thousands of Iraqis still missing from the past 10 years of conflict. Some were hauled off as relatives watched, while others disappeared in unknown circumstances.
Full report at:
http://www.saudigazette.com.sa/index.cfm?method=home.regcon&contentid=20130316157052
-------------
URL: https://newageislam.com/islam-women-feminism/allow-girls-marriage-16-line/d/10790