New Age Islam News Bureau
13 March 2018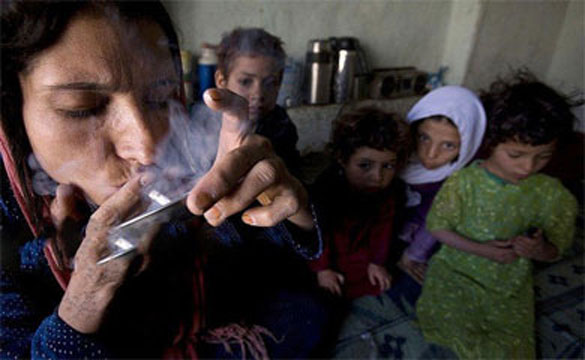 On Sunday, March 11, 2018, the Ministry of Health in Kabul said that the country has nearly one million female narcotics users or addicts. (Photo: Via Social media)
---
• Indonesia University Revokes Niqab Ban after Criticism
• Afghanistan Has Nearly 1 Million Female Drug Users, Admits Government
• Qumra Talks Focuses On Arab Women in Cinema, Sports
• Campaign for Saudi Women to Apply For Individual ID Cards
• Islam Gives Honourable Position to Women: Chairperson IMWU, Pakistan
• Muslim Women Hold Protest in Rajasthan's Sikar against Triple Talaq Bill
• My Father Has Become A Tool in Hands of Anti-National Forces, Says Hadiya
• Turkish Family and Social Affairs Minister Tackles Violence against Women at UN
Compiled by New Age Islam News Bureau
URL: https://www.newageislam.com/islam-women-feminism/all-india-muslim-women-personal/d/114578
--------
All India Muslim Women's Personal Law Board Seeks Amendment in Triple Talaq bill
13th March 2018
LUCKNOW: The All India Muslim Women's Personal Law Board (AIMWPLB) President Shaista Amber has written to Prime Minister Narendra Modi seeking amendment in the Muslim Women (Protection of Rights on Marriage) Bill, 2017, popularly known as the Triple Talaq bill.
Amber said that she "urged him to do changes to present bill as it will lead to conflict and disunity in family instead of resolution."
"We support the bill but there should be amendment to it," she added.
The bill, if enacted, will make triple talaq a criminal offence. It proposes a three-year jail term for a Muslim man who divorces his wife in any form of spoken, written or by electronic means such as email, SMS, and WhatsApp.
http://www.newindianexpress.com/nation/2018/mar/13/muslim-women-board-seeks-amendment-in-triple-talaq-bill-1786111.html
--------
Indonesia university revokes niqab ban after criticism
Mar 12, 2018
YOGYAKARTA (INDONESIA): An Indonesian university whose ban on niqab face veils made global headlines has reversed the policy following criticism that it trampled on personal choice.
Sunan Kalijaga State Islamic University in Indonesia's cultural capital Yogyakarta issued the edict last week to more than three dozen niqab-wearing students - and warned they could be expelled for non-compliance.
The school, which has about 10,000 students, had said the now-cancelled rule was aimed at countering religious extremism in the world's biggest Muslim majority country.
"The guidance concerning students using a face veil will be revoked in order to maintain an academic climate that is conducive to fairness," said a statement issued by the university at the weekend.
Backers of the new rules said wearing the full veil with a small slit for the eyes was not a religious obligation, but critics saw the anti-niqab appeal as impinging on individual rights.
Another school in Yogyakarta, Ahmad Dahlan University, has also urged students not to wear the niqab - without penalty for non-compliance - while several Indonesian universities have issued niqab bans in the past.
Although niqabs are common in ultra-conservative Saudi Arabia and some other Gulf states, they're rare in secular Indonesia, where around 90 per cent of its 260 million people have traditionally followed a moderate form of Islam, and are often seen as an unwelcome Arab export.
https://timesofindia.indiatimes.com/world/south-asia/indonesia-university-revokes-niqab-ban-after-criticism/articleshow/63270707.cms
--------
Afghanistan has nearly 1 million female drug users, admits government
12 March 2018
SAYED SALAHUDDIN
KABUL: Laila Haidari, a volunteer from Bamyan province in central Afghanistan, helps to treat female drug addicts in Kabul. She used to spend what she earned from her restaurant and carpet factory on addicts.
"The majority of the children of women we treated were also addicts. These women had turned to drugs because of poverty, violence and war, and wanted to forget daily grief by using drugs, without knowing that the drugs will bring them lifetime calamity," Haidari said.
In 2013, she opened the 'Mother Camp' center to help children and women struggling with drug abuse, but she had to shut it down the same year after she received threats. "I was threatened by dealers and smugglers by phone," she said.
Haidari at that time had another center for men. She said that her center treated 4,000 men addicts: 1,000 of these resumed normal life and gave up their addition for good, which did not sit well with the smugglers and drug dealers.
She said the government had not helped to protect her against the threats. "The government isn't after the main dealers," she said. "Drugs have become a lucrative business for some people, even within the Afghan administration."
Opium cultivation and the use of drugs have become widespread in Afghanistan in recent years, despite an anti-narcotics drive costing hundreds of millions of dollars.
On Sunday, the government said that there are nearly 1 million female narcotics-users or addicts in Afghanistan, a legacy of war, poverty and social disorder.
A survey conducted mostly in rural areas in 2015 showed that about 3.6 million people either consumed drugs, were addicts or were directly affected, officials at the Ministry of Counter-Narcotics said.
"Based on the survey, 1 million of the users were boys and girls under the age of 18, while some 850,000 were women," the ministry's chief spokesman Mohammad Haneef Daneshyar told Arab News.
There has been a rise in the number of drug-users since the survey. He said Afghanistan produced 9,000 tons of poppy last year, which is refined into opium then turned into heroin.
The ministry said that it did not know how much hashish was produced annually in the country. It has launched an intensive campaign to prevent the spread of addiction and expand its rehabilitation centers, Daneshyar said.
"Its treatment is complex. Some don't receive the necessary support and love in society and from their families after rehabilitation, and there you see a relapse," he said.
Haidari said the government's push to treat addicts is mostly symbolic and ineffective. "The government arrests addicts, herds them into buses and takes them to rehabilitation centers. Except for a few, many resume their addiction because … you need psychologists to help them give up their addiction rather than force them," she said.
Lawmaker Nazifa Zaki said some donor money targeted to treat addiction was squandered due to corruption.
"In some areas, you see an entire family becoming addicted to drugs," she told Arab News. "Drug addiction is far more dangerous than a suicide attack, because addiction passes from one generation to another."
http://www.arabnews.com/node/1264666/world
--------
Qumra Talks focuses on Arab women in cinema, sports
March 13 2018
The first of the Qumra Talks, led by acclaimed photographer Brigitte Lacombe, was defined not only by a journey down 40 years of her illustrious career but also her inspiring work on behalf of Qatar in documenting international film talents and Arab women in sports.
In an inspiring presentation that featured mesmerising photographs of celebrities – from Leonardo DiCaprio to Meryl Streep and Mick Jagger, as well as Malala, Barack Obama and more – Lacombe took audiences through the story behind the portraits, underlining that she looks "for that moment of authenticity" in every frame.
This was part of the second edition of Qumra Talks. Leaders from film, television, technology and online worlds take part in insightful discussions with the first talk presented in partnership with the Northwestern University in Qatar.
Lacombe was also joined on stage by her sister, renowned documentary filmmaker Marian Lacombe, and together, they also presented two of the illustrious projects championed by Qatar – I am Film, a visual archive of filmmaking talent – from the Arab world and beyond – as well as Hey'Ya: Arab Women in Sport, an inspiring take on the female athletes from the region.
For Hey'Ya: Arab Women in Sport, the Lacombe sisters had set up an outdoor studio at the Athletes Village at the Arab Games in Doha in December 2011, and was shot over a period of seven months.
They also travelled through the Gulf and North Africa and worked with female athletes of all ages and levels of achievement.
Arabic for 'Let's Go,' Hey'Ya had 31 Qatari girls engaged in different sports form swimming to shooting.
"Our association with Brigitte goes back many years, when she was here in Doha for the Brigitte Lacombe Mentoring Programme for young photographers," DFI CEO Fatma al-Remaihi said.
"We also worked together on I Am Film, which documented over 350 cinematic icons and on In Production, which captured the action behind the scenes at DFI's co-productions,:" she noted.
"She is a true friend of Qatar and DFI, who inspires legions of young talents around the world through her dedication and commitment to photography."
Sharing her story, Lacombe said she was introduced to the world of photography after her father gifted her a camera.
"I had no idea that it (photography) would become my entire life. There was not much of a natural propensity the first time around but gradually I became obsessed and it became my vocation," she said.
A turning point in her life came when she decided to cover the Cannes Film Festival, at a time when there were very few women photographers. She said she places "100% attention on the subject" and is particularly focused on defining space and light, and ensuring that every work is like a one-on-one meeting.
http://www.gulf-times.com/story/584905/Qumra-Talks-focuses-on-Arab-women-in-cinema-sports
--------
Campaign for Saudi women to apply for individual ID cards
March 12, 2018
Manama: Saudi authorities are encouraing families to apply for ID cards for the women in the family.
Several conservative families have a tendency not to obtain individual identity cards for their daughters under the claim there was no need for it and that the collective family ID was sufficient
However, with the new drive to modernise all the institutions of the state, women can no longer do without their own personal identity cards
"No father or brother has the right to prevent his daughter or sister from getting a national identity card when she reaches 15," Mohammad Al Jasser, the spokesperson for the civil status, said. "If they do not allow her, she can do it herself by going to any Civil Status office in her residence area without the need for a father, brother or husband and she can identify herself through her mother, sister or grandfather or aunt or uncle," he said in remarks carried by Saudi daily Al Watan on Monday.
Authorities have gone to great lengths to explain the need for IDs for women, but the move is still being resisted by some families.
Some conservatives have objected to having personal pictures on the identity cards.
The latest measures allow women to obtain their individual cards through a family identifier.
Esam Al Mulla, a lawyer, confirmed the significance of the new measures.
"Women have been given the right to go to the offices of the Civil Status and with the testimony of the mother or a sister can obtain their own personal national cards," he told the daily.
"All they need is a birth certificate, a recent picture without the veil or colored contact lenses, and a work certificate. If she does not have a job, she will be registered as a housewife. Divorcees can confirm their status by bringing a copy of the document stating they were divorced."
Interior Ministry officials last year said they were developing the Saudi national identity card by using modern technologies and adding a number of technical features to keep pace with the electronic transformation.
The developments are in line with the Kingdom's Vision 2030 which called for investing in modern technologies and expanding the scope of services.
http://gulfnews.com/news/gulf/saudi-arabia/campaign-for-saudi-women-to-apply-for-individual-id-cards-1.2186407
--------
Islam Gives Honourable Position to Women: Chairperson IMWU, Pakistan
March 13, 2018
International Muslim Women Union Chairperson Dr Samia Raheel Qazi Monday said social values were the basic principles of any society and the real protector of the civilization was woman.
She was addressing a conference held at a local hotel to highlight social aspect of women which make them the 'Pillars of Civilization.' She said, "Woman is responsible for the grooming and education of the future generations, therefore, the main pillar of civilization and society is woman".
Islam has given the woman an honourable position as mother, sister, daughter and wife and has made her the most prestigious entity of the universe by making her responsible for the upbringing of the new generation, she added.
Secretary General JI women wing, Ms. Durdana Siddiqui said that no notion of development of nations could be conceived without the active participation of women. She said women must play their role in nation building but within the boundaries of their natural obligations.
Durdana said that women have immense potential for effective deliverance of multidimensional roles adding that men and women together strengthen the foundation of society.
Dr Rabia Yalmaz from Turkey said a lot women and children were affected due to war and worst type of violence against women could be witnessed in this age and we together have to stop this. Secretary General IMWU, Dr. Affaf Ahmed Mohammad Ahmad Hussain threw light on his efforts on the rights of women in Sudan.
Ms. Halima Wakabi from Uganda, Ms. Erva Molla-Ibrahim-ogla from Turkey, Dr. Shagufta Umar from IIUI Pakistan, Ms. Durdana Siddiqui IMWU Pakistan, Dr. Amany Lubis from Indonesia and Dr. Kausar Firdous pattern in chief IMWU addressed the conference as well. During the conference dialogues and group discussions on 8 different topics were held and according to these discussions, the attendees of the international women conference agreed that the women is the actual guardian of civilization and the protector of the values and traditions.
The woman is very powerful if she realizes the greatness of her responsibility, she could revolutionize the civil society. We feel that the physical, emotional and mental tranquillity of a woman is vital for her efficient contribution towards the prosperity of her family and society. In Syria, Yemen, Palestine and Burma and many other countries women were suffering because of war and terrorism.
https://pakobserver.net/islam-gives-honourable-position-women/
--------
Muslim women hold protest in Rajasthan's Sikar against triple talaq bill
March 13, 2018
Scores of burkha-clad women held a protest march against Triple Talaq Bill in Rajasthan's Sikar on Monday, which criminalises the practice of instant divorce.
The women demanded that no changes should be made to the Muslim Personal Law.
They covered the city raising slogans against the move.
On March 10, Burkha-clad women from Maharashtra's Pune, along with All India Muslim Personal Law Board (AIMPLB), also held a rally on the same issue.
Earlier on March 7, Muslim women hit the streets of Kolkata protesting against the bill.
The 'Muslim Women Protection of Rights on Marriage Bill' proposed a three-year jail term for a Muslim man who divorces his wife via talaq-e-biddat (instant triple talaq).
The bill has been passed by Lok Sabha is yet to be passed by Rajya Sabha to become a law.
The Supreme Court has set aside instant triple talaq or talaq-e-biddat as a "manifestly arbitrary" practice.
http://www.business-standard.com/article/current-affairs/muslim-women-hold-protest-in-rajasthan-s-sikar-against-triple-talaq-bill-118031300095_1.html
--------
My father has become a tool in hands of anti-national forces, says Hadiya
March 12, 2018
Days after the Supreme Court restored Hadiya's marriage with Shefin Jahan, she said today at Calicut that her father "has become a tool" for "anti-national forces." Hadiya said some people were trying to manufacture issue out of her conversion and marriage with a Muslim man.
Hadiya was accompanied by her husband as she appeared before media-persons today.
She said, "I embraced Islam on my own free will. But some people wanted to make this a controversy. Initially I didn't have any issues with my family. I know how much they love me and I love them too. But I had to move out after they started to obstruct my religious practices."
"The six months that I spent with my family were literally the period of house arrest. Many people whom I didn't wish to see visited me and those I wanted were never allowed to come. In fact my father has become a tool in the hands of anti-national forces. We live in a country where we can follow any religion out of our free will. But some people are trying to create issues out of this," said Hadiya.
Hadiya had earlier alleged that she was being harassed by her family. She had once alleged that her mother tried to poison her. However, during her press conference today, Hadiya apologised to her parents for having said such things in public.
She urged people and groups involved in the alleged Hadiya-Shefin Jahan love jihad case of Kerala, to put an end to all the controversies surrounding their marriage.
Prior to her conversion, Hadiya was known as Akhila. The 24-year-old medical student hit the headlines after her father alleged Hadiya was a victim of so-called love jihad. He further claimed that certain groups having links with jihadi outfits like Islamic State were involved in luring and brainwashing vulnerable girls for conversion in Kerala.
Hearing the petition, the Kerala High Court had annulled the marriage of Hadiya with Jahan, who challenged the judgment in the Supreme Court. The apex court allowed a probe into the allegations that jihadi groups are active and trapping girls for conversion but set aside the Kerala High Court verdict annulling Hadiya's marriage with Jahan.
Earlier, the Supreme Court had allowed Hadiya to join her medical course in Kerala. She had to discontinue her studies after Kerala High Court had placed Hadiya in her father KM Ashokan's custody. After getting another favourable verdict from the Supreme Court, Hadiya will be returning to her college in Salem tomorrow.
https://www.indiatoday.in/india/story/my-father-has-become-a-tool-in-hands-of-anti-national-forces-says-hadiya-1187646-2018-03-12
--------
Turkish family and social affairs minister tackles violence against women at UN
March 13 2018
Turkish Family and Social Affairs Minister Fatma Betül Sayan Kaya stressed late on March 12 the importance of tackling the issue of violence against women in a speech at the U.N. 62nd session of the Commission in New York.
"The gleam of every raising civilization has been primarily women. Because women guarantee an environment of love, compassion and tolerance," Sayan Kaya said in a round table meeting with other delegates of the member countries.
"For us, rural women represent this environment in tradition and are treasures to be protected," she added.
Sayan Kaya noted that violence against women was a great obstacle to female empowerment.
Describing such violence as a "problematic issue that pushes women into poverty and to lower standards of life," she noted that Turkey had established special units focusing on women and children who were exposed to violence in rural areas.
"Thus we made sure that more women report the violence they were exposed to and increase their access to judicial mechanisms," she continued, adding that her ministry also provides guidance for victims of violence by providing shelter as well as socio-economic, psychological and legal support.
She also put forth the set of regulations called "The Strategy Paper and Action Plan" on female empowerment for the 2018-2023 period in the areas of education, health, economy, participation in decision-making mechanisms and media.
"We have aimed to ensure equal rights for women, as well as opportunities and facilities," she added.
Sayan Kaya also met her Australian and French counterparts, Kelly O'Dwyer and Marlene Schiappa.
She will also be attending a panel organized by the Turkish American Businessman Association (MUSIAD USA) and the Women and Democracy Association (KADEM) on the subject of "Women Empowerment and Economic Development" on March 13.
http://www.hurriyetdailynews.com/turkish-family-and-social-affairs-minister-tackles-violence-against-women-at-un-128654
--------
URL: https://www.newageislam.com/islam-women-feminism/all-india-muslim-women-personal/d/114578
New Age Islam, Islam Online, Islamic Website, African Muslim News, Arab World News, South Asia News, Indian Muslim News, World Muslim News, Women in Islam, Islamic Feminism, Arab Women, Women In Arab, Islamophobia in America, Muslim Women in West, Islam Women and Feminism