New Age Islam News Bureau
17 Dec 2012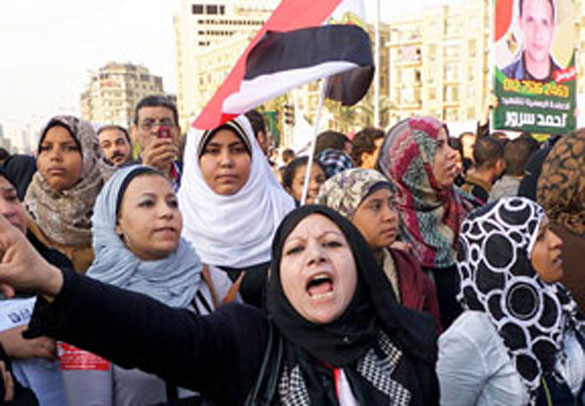 • Dubai festival awards Saudi feminist film 'Wadjda'
• Afghan bomb blast kills 10 girls
• High maternal mortality rate linked to early pregnancies
• Tunisia Loses Ground on Safe, Affordable Abortion
• 'Women self-help groups can bring peace, development to J-K'
• Saudi Arab: Court of Grievances gets ready to appoint women
• Media takes a knock for stereotyping women
• Two Years Later, Arab Women Weigh Ongoing Risks
• Women and Islam: Pushes and Pulls From All Directions
• Punjab Girl Guides sustain pace despite odds
• Love online challenges Pakistan taboos
• Minor cancer patient needs liver transplant to survive
Compiled by New Age Islam News Bureau
Photo: Two Years Later, Arab Women Weigh Ongoing Risks
URL: https://newageislam.com/islam-women-feminism/all-girl-uae-space-team/d/9710
-----------
All-girl UAE space team ready to blast off to Houston
December 16, 2012
Abu Dhabi: Space Ed-Ventures, a locally-based educational platform and space exploration programme, opened applications for an all-girl cohort of aspiring engineers, researchers and astronauts between the ages of 12 and 18 in November.
After a rigorous screening process, and weeding through an extensive list of applicants, 24 students have made the cut and are on their way to this once-in-a-lifetime experience at Space Centre Houston.
"We have had a lot of interest from the students and the parents for this educational trip. I am proud to say that the selected students are all perfect student ambassadors for the UAE, and will positively represent our country and all its endeavours in educating and supporting women," said Hussain Al Ansari, CEO of Space Ed-Ventures.
Dr Abdul Latif Al Shamsi, Director General of the Institute of Applied Technology (IAT) said: "The mission consists of 24 women local students all Applied Technology students who were selected after passing thorough a qualifying process, to identify their special scientific level and verify their fluency in English, in order to ensure they take full advantage of the mission. Pointing to the fact that the institute is keen to have its students participate in this programme — in which the UAE is a leader among other GCC countries — refers to the fact that the programme aims to develop talent and encourage young men and women from the country between the ages of 18 and 22 to study aerospace science and specialise it in the future."
http://gulfnews.com/news/gulf/uae/general/all-girl-uae-space-team-ready-to-blast-off-to-houston-1.1119511
-----------
Dubai festival awards Saudi feminist film 'Wadjda'
17 December 2012
Saudi movie "Wadjda," a tale of a girl's quest to own a bicycle in the kingdom where women are deprived of many rights, won the best Arabic feature film at the Dubai Film Festival on Sunday.
Directed by Saudi Arabia's first female filmmaker, Haifaa al-Mansoor, and shot entirely in the ultra-conservative kingdom where cinemas are banned, the film won the "Muhr" award.
Ten-year-old Waad Mohammed, who plays the girl named Wadjda and who is also testing the boundaries of a woman's place in a highly conservative society where her love for Western music and fashions land her in trouble, bagged the best actress award at the festival.
"Being awarded at a festival in a Gulf country means a lot to me," said Mansoor, tears welling up in her eyes.
Born in 1974, Mansoor studied literature at the American University in Cairo and film at the University of Sydney.
Mansoor was often forced to direct what was her first feature film from a van with a walkie-talkie in some of the more conservative neighborhoods where she could not be seen in public together with male crew and cast members.
In some areas she also had to face screaming local residents who would totally block her film's shooting.
The film also shows how Wadjda's mother is challenged by restrictions, as she must hire a driver to travel in the world's only country where women are banned from driving.
The film also shows how the mother, unable to give birth to more children, must silently accept the decision of her husband, under pressure from his family, to marry a second wife in order to have a son.
Egyptian film "Chaos, Disorder", by Nadine Khan -daughter of director Moahmmed Khan -- won the Special Jury Prize in the festival that opened on December 9.
Turkish film "Yerlati" (Inside) by Zeki Demirkubuz, meanhwile, won Muhr award for the best Asia-Africa feature film.
http://english.alarabiya.net/articles/2012/12/17/255499.html
-----------
High maternal mortality rate linked to early pregnancies
December 17, 2012
PESHAWAR: The high maternal mortality rate is fundamentally linked to early pregnancies in Pakistan, said an expert.
"Early pregnancies put enormous pressure on the underdeveloped body of a girl. It is the leading cause of death among the young girls aged between 15 and 18 years in Pakistan and other countries, "senior gynaecologist Dr Iqbal Begum said.
She was speaking at a meeting of the Civil Society Organisations coalition working as a taskforce under the Noor Education Trust platform with members of the provincial assembly, Law Department and Women Rights Commission. The coalition members are from SPARC, Blue Veins, CRSD, Child Protection and Welfare Commission and Provincial Commission on the Status of Women and Media.
Hosted by Members of the Provincial Assembly Munawar Sultana and Zubaida Ihsan, the meeting was meant to strengthen provincial parliamentarian group's initiative to lobby for proposed amendment bill on Child Marriage Restraint Act, 1929 introduced by Munawar Sultana.
Dr Iqbal Begum said early marriage was a cause of great stress and trauma for a child leading to early conception with ultimate affects to mental and physical health complications of her patients which she has witnessed repeatedly throughout her professional experience.
Munawar Sultana, affiliated with the ruling Awami National Party (ANP), lamented the adverse effects of child marriages in Khyber Pakhtunkhwa as it was a common occurrence both in the urban and rural areas. She called for amending the Child Marriages Restraint Act 1929.
Deputy Speaker of the Provincial Assembly Khushdil Khan welcomed the initiative by the two female MPAs and committed to supporting them when the bill was tabled in the assembly. A religious scholar Abdul Rahman provided Islamic perspective of the issue in the light of teachings of the Holy Quran and Sunnah. He said Islam defined broader principles of life in major areas including marriage.
http://www.thenews.com.pk/Todays-News-7-148877-High-maternal-mortality-rate-linked-to-early-pregnancies
-----------
Tunisia Loses Ground on Safe, Affordable Abortion
By Hajer Naili
December 12, 2012
The new Islamist government isn't shoring up abortion access, but a women's rights activist says the loss of access to public abortion began five years ago, when the Ben Ali regime began cutting social costs and privatizing services.
(WOMENSENEWS)-- Tunisia is rapidly losing its reputation as a regional leader of safe, legal and affordable abortion. The country that decades ago lowered maternal mortality after legalizing abortion has sharply cut public access to the procedure.
"Women are now obliged to go hundreds of miles away from their homes to get a surgical abortion," Fathia Hizem, head of public relations of the Tunisian Association of Democratic Women, said in a recent phone interview. "Some women find even themselves with no other options than to go to private clinics where the costs of abortion are expensive."
Twenty-two abortions were performed in North Africa for every 1,000 pregnancies in that region in 2003, but the only procedures that occurred in safe conditions were those in Tunisia, according to the Guttmacher Institute.
But in the past five years those safe conditions have been mainly lost to budget cuts.
Surgical and medical abortions used to be available in the country's 24 family planning centers, one in each governorate. Now, only five centers offer surgical abortions, said Hizem.
A few months ago a pharmacy shortage of the subsidized birth control pill Microgynon fuelled rumors of growing government restrictions on subsidized birth control, according to the Tunisian website Nawaat. That in turn sparked doubts about the government's commitment to keeping abortion legal.
Falling Fertility Rate
Hizem doubts that a major push to ban abortion in Tunisia is on the horizon, but she said women may face growing arguments against undergoing the procedure as authorities worry about the declining birth rate. The current fertility rate of about 2.1 children per woman is down from 3.4 in 1990.
The Islamist-led government is adding political and moral pressure on women as leaders of the more conservative states have begun comparing the banning of abortion to the abolition of the death penalty.
"Women who come to have an abortion are sermoned with a moral and religious discourse to discourage them," said Hizen.
But while the new Islamist leadership of the country doesn't help abortion access, the trend predates the revolution of 2010-2011 that deposed then-president Zine el Abidine Ben Ali.
The difficulties started with the global economic crisis of 2008, said Hizem, and are linked to the push to privatize public services under the previous regime. "In his last years, Ben Ali's government leaned toward a liberalization of the economy, hence limiting the state funding of public services."
The country's south and the northwest regions seem to be most affected, with residents there complaining that abortion services have not been available since the revolution.
At a private clinic an abortion costs about $130, a sizable chunk of the average monthly income in Tunisia and a price too high for many low-income women to pay.
Addressing Access
The problem of dwindling abortion access was addressed in early November at a gathering held at the Tunis headquarters of the Tunisian Association of Democratic Women, which attracted representatives of both the organization itself and the Coalition for Sexual and Bodily Rights in Muslim Societies, an international network of human rights groups working to advance sexual and reproductive health and rights in Muslim-majority countries.
Tunisia started to legalize abortion in 1965 by making it available to women with more than five children who were within the first three months of pregnancy with their husband's approval.
In 1973, Tunisia passed a second law allowing any woman to have an abortion within three months of pregnancy without the husband's approval. That same year, Tunisia became the first Arab and first African country to begin establishing family planning centers throughout the country that offered abortion services.
Legalization of abortion in Tunisia has neither led to its trivialization nor to a decrease in other forms of contraception, according to a 2010 UNFPA report. Authors of that report found that state-provided abortion services helped save women's lives. The maternal mortality rate fell to 36 for every 100,000 births in 2006 from 61 in 100,000 in 1994, the UNFPA found.
Hajer Naili is a New York-based reporter for Women's eNews. She has worked for several radio stations and publications in France and North Africa and specializes in Middle East and North Africa.
http://womensenews.org/story/abortion/121211/tunisia-loses-ground-safe-affordable-abortion#.UM73fuRthm4
-----------
'Women self-help groups can bring peace, development to J-K'
Dec 15 2012
Hyderabad : Union Minister for Rural Development Jairam Ramesh today said peace and development could be ushered in Jammu and Kashmir through women self-help groups.
He was speaking at a function at the Chief Minister's camp office here on the occasion of signing of MoU between AP's Society for Elimination of Rural Poverty, and the State Rural Livelihood Missions of Jammu and Kashmir and Haryana under the National Rural Livelihood Mission.
Full report at:
http://www.indianexpress.com/news/women-selfhelp-groups-can-bring-peace-development-to-jk/1045785/
-----------
Saudi Arab: Court of Grievances gets ready to appoint women
JEDDAH: ARAB NEWS
17 December 2012
The Court of Grievances will conduct recruitment tests to employ women candidates to work in their various offices across the country.
"Initially female employees will be assigned tasks such as manning inquiry desks, registering cases and delivering copies of verdicts and checking the identity of female clients," spokesman of the court Bandar Al-Falih said in a statement.
The female section will be furnished to suit the needs of women employees and equipped with advanced devices, an official said.
Full report at:
http://www.arabnews.com/court-grievances-gets-ready-appoint-women
-----------
Media takes a knock for stereotyping women
December 16, 2012
LAHORE: Female journalists, young and old, were encouraged to use the social media to "amplify their voice". However, at the same time, they were urged to secure themselves online.
The advices were offered by Afia Salam, a media and outreach consultant, who led the second day session of a training organised by Uks, an NGO that focuses on gender equality and women's development, and the Centre for International Private Enterprise (CIPE).
Full report at:
http://tribune.com.pk/story/480306/media-takes-a-knock-for-stereotyping-women/
-----------
Two Years Later, Arab Women Weigh Ongoing Risks
By Hajer Naili
December 17, 2012
Two years after the start of the Arab Spring, Hajer Naili interviews three post-revolutionary women about the increasingly radical Islamist forces that are smothering their hopes. "I don't even know what their aims are," says one woman.
(WOMENSENEWS)--Two years ago today, Mohamed Bouazizi set himself on fire in Sidi Bouzid, Tunisia, sparking what came to be called the Arab Spring.
Authoritarian rulers in Tunisia, Egypt, Yemen and Libya fell one after another, with the hope for change.
Full report at:
http://womensenews.org/story/the-world/121214/two-years-later-arab-women-weigh-ongoing-risks#.UM70UuRthm4
-----------
Women and Islam: Pushes and Pulls From All Directions
December 4, 2007
Women's eNews launched an eight-part series exploring how Muslim women manage customs, religious practices and women's rights. This series is supported by a grant from the Rockefeller Brothers Fund and the Carnegie Corporation of New York.
(WOMENSENEWS)--Burkas. Veils. Stoning. Powerlessness. Weeping mothers of children killed in sectarian violence. These are the images prominent in the U.S. media and that of other Western nations when it comes to Muslim women in the Arab region.
Full report at:
http://womensenews.org/story/muslim/071204/women-and-islam-pushes-and-pulls-all-directions#.UM73eeRthm4
-----------
Punjab Girl Guides sustain pace despite odds
Mansoor Malik
17 December 2012
Though prevalent socio-political pressures, teachers' heavy commitments as well as lengthy educational curriculum are adversely affecting Girl Guides activities in the country, the Pakistan Girl Guides Association (PGGA), Punjab, has managed to retain its previous year's membership, besides making efforts to establish new units and companies in the existing as well as new institutions.
Full report at:
http://dawn.com/2012/12/17/punjab-girl-guides-sustain-pace-despite-odds/
-----------
Love online challenges Pakistan taboos
17 December 2012
MUZAFFARABAD: Sania was just a schoolgirl when she logged onto an Internet chat room and met a young college student called Mohammad. They fell in love and decided to get married.
Internet dating in the West is now so common that it is no longer considered an act of shameful desperation but an acceptable way for busy professionals to discover a like-minded partner.
But for Sania, the 22-year-old daughter of a conservative truck driver in Pakistan, online romance and her subsequent marriage has meant repeated beatings and death threats at the hands of her relatives.
Full report at:
http://dawn.com/2012/12/16/love-online-challenges-pakistan-taboos/
-----------
Minor cancer patient needs liver transplant to survive
17 December 2012
HARIPUR: Riddled with cancer, a minor girl is in dire need of healthcare facilities that her family cannot afford.
Four-year-old Ameesha Hafeez was diagnosed with liver cancer two years back when she complained of frequent urination, insomnia and swelling in the belly.
When she developed symptoms, her worried father, Hafeez, a daily wage labourer, took her to a private clinic in Mansehra and later to the DHQ hospital but the doctors could not diagnose her illness.
Full report at:
http://tribune.com.pk/story/480289/call-for-help-minor-cancer-patient-needs-liver-transplant-to-survive/
-----------
URL: https://newageislam.com/islam-women-feminism/all-girl-uae-space-team/d/9710