New Age Islam News Bureau
15 March 2022
• Abd al-Aziz, First Female Afro-Iraqi TV Presenter Says 'Time to See All Iraqi Colours'
• Iran, Qatar Stress Enhancing Ties In Empowering Women Field
Compiled by New Age Islam News Bureau
URL: https://www.newageislam.com/islam-women-feminism/aliya-assadi-gold-medallist-hijabi-hijab/d/126576
--------
Aliya Assad, a Karnataka Gold Medallist Hijabi: My Hijab Is At a Stake, and As an Indian, I See My Constitutional Values Have Been Violated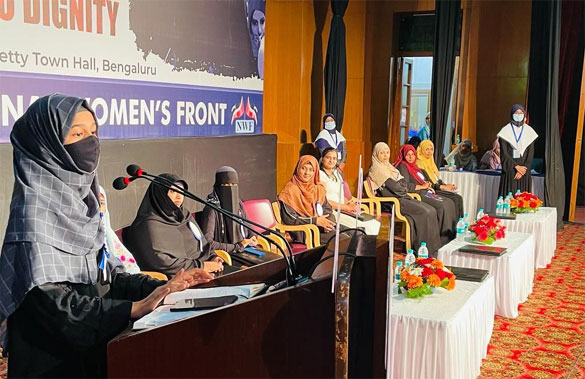 Aliaya Assadi speaking on International Women's Day
-----
By Sheikh Saaliq
15 March 2022
UDUPI, India -- When Aliya Assadi was 12, she wore a hijab while representing her southern Indian state of Karnataka at a karate competition. She won gold.
Five years later she tried to wear one to her junior college, the equivalent of a U.S. high school. She never made it past the campus gate, turned away under a new policy barring the religious headgear.
"It's not just a piece of cloth," Assadi said while visiting a friend's house. She wore a niqab, an even more concealing garment that veils nearly the entire face with just a slit for the eyes, which she dons when away from home. "Hijab is my identity. And right now what they're doing is taking away my identity from me."
She's one of countless Muslim students in Karnataka who have found themselves thrust into the center of a stormy debate about banning the hijab in schools and the Islamic head coverings' place in this Hindu-majority but constitutionally secular nation.
The issue has become a flashpoint for the battle over the rights of Muslims, who fear they are being shunted aside as a minority in India and see hijab restrictions as a worrying escalation of Hindu nationalism under Prime Minister Narendra Modi's government.
On Tuesday, an Indian court upheld the ban, saying the Muslim headscarf is not an essential religious practice of Islam.
The hijab is worn by many Muslim women to maintain modesty or as a religious symbol, often seen as not just a bit of clothing but something mandated by their faith. Opponents consider it a symbol of oppression, imposed on women. Hijab supporters deny that and say it has different meanings depending on the individual, including as a proud expression of Muslim identity.
The furor began in January in India, where Muslims make up just 14% of the country's 1.4 billion people but are still numerous enough to make it the second-largest Muslim population of any nation, after Indonesia.
Staffers at a government-run junior college in Udupi, a coastal city in Karnataka, began refusing admission to girls who showed up in a hijab, saying they were violating the uniform code.
The students protested by camping outside and holding their lessons there, arguing that Muslim students had long been allowed to wear headscarves at school. More schools in the state soon imposed similar bans, prompting demonstrations by hundreds of Muslim women.
That led to counter protests by Hindu students wearing saffron shawls, a color closely associated with that religion and favored by Hindu nationalists. They shouted slogans like "Hail Lord Ram," a phrase that traditionally was used to celebrate the Hindu deity but has been co-opted by nationalists.
At one campus a boy climbed a flagpole and hoisted a saffron flag to cheers from friends. At another a girl in a hijab was met by shouted Hindu slogans from a group of boys; she raised her fist and cried, "Allahu Akbar!" — "God is great," in Arabic.
To quell tensions the state, governed by Modi's Bharatiya Janata Party, shut schools and colleges for three days. It then slapped a statewide ban on the hijab in classes, saying "religious clothing" in government-run schools "disturbs equality, integrity and public law and order."
Some students gave in and attended with their heads uncovered. Others refused and have been barred from school for nearly two months — students like Ayesha Anwar, an 18-year-old in Udupi who has missed exams and is falling behind her peers.
"I feel like we are being let down by everyone," Anwar said while surrounded by friends in a dimly lit cafe, her voice barely a whisper from behind her cloth veil.
Six students sued to overturn the state's ban, now upheld by the court, arguing it violates their rights to education and religious freedom. One of the plaintiffs to the challenge was Aliya Assadi.
"I'm an Indian and a Muslim," she said. "When I see this with the point of view of a Muslim, I see my hijab is at a stake, and as an Indian, I see my constitutional values have been violated."
There's a cost to her activism: Hindu nationalists' doxxed her personal details on social media, unleashing a flood of online abuse and harassment. She lost friends who depicted her actions as Muslim fundamentalism.
But she's steadfast about wearing the hijab. She first did so as a child, imitating her mother, carefully arranging the headscarf in front of the mirror each morning. Today she enjoys the privacy it affords and the sense of religious pride it conveys: "It makes me confident."
Ayesha Imtiaz, another student barred from school, said she wears it as a token of devotion to Islam but acknowledged that opinions vary even among Muslim women.
"There are so many of my friends who do not wear hijab inside the classroom," said Imtiaz, 20. "They feel empowered in their own way, and I feel empowered in my own way."
In her eyes, the bans segregate women according to faith and contravene core Indian values on diversity.
"It's Islamophobia," Imtiaz said.
Hijab restrictions have surfaced elsewhere, including France, which in 2004 banned them in schools. Other European countries have enacted regulations for public spaces, usually aimed at the more concealing garments such as niqabs and burqas. Usage of head coverings has divided even some Muslim communities.
In India, the hijab has historically been neither prohibited nor limited in public spheres. Women donning the headscarf is common across the country, which has religious freedom enshrined in its national charter with the secular state as a cornerstone.
But critics of Modi say India has steadily drifted from that commitment to secularism and today is deeply fractured along religious lines. The prime minister and top Cabinet officials often perform Hindu rituals and prayers on television, blurring the lines between religion and the state.
Since coming into office in 2014, Modi's government has passed a raft of laws that opponents call anti-Muslim, though his party rejects accusations of being discriminatory.
Meanwhile calls for violence against Muslims have moved from society's fringes toward the mainstream. Watchdog groups such as Human Rights Watch and Amnesty International have warned that attacks could escalate against Muslims, who are disproportionately represented in India's most impoverished neighborhoods and in prisons.
Some of the anti-Islam sentiment has specifically targeted women — recently many in the country were outraged by a website that was set up offering a fake "auction" of more than 100 prominent Indian Muslim women, including journalists, activists, artists and movie stars.
Muslim students allege that behind the counterprotests in Karnataka was Hindu Jagran Vedike, a nationalist group associated with Rashtriya Swayamsevak Sangh, a far-right Hindu organization ideologically linked to Modi's political party.
Mahesh Bailur, a senior member of Hindu Jagran Vedike, denied that his group organized demonstrations and said it only offered "moral support" to the saffron shawls and their cause.
"Today these girls are demanding hijab in colleges. Tomorrow they will want to pray there. Finally, they'll want separate classrooms for themselves," he said. "This is unacceptable."
Bailur, 36, is a proponent of a discredited conspiracy theory that holds Muslims are plotting to convert India's Hindu population and eventually remake it as an Islamic nation. Demands to wear the hijab in classes, he argued, are part of that.
Manavi Atri, a human rights lawyer based in Bengaluru, the capital of Karnataka, said the hijab ban is among many assaults on expressions of Muslim identity in India today, violates principles of state neutrality on religious matters, and inflates an "us-versus-them philosophy" in a country already riven by sectarian divisions. Most troubling, she said, is the pressure it puts on girls and young women in their formative years.
"This choice (between education and faith) that people are being forced to make is not a choice one has to be exercising at that age," she said.
In the court case, lawyers for Karnataka state argued that the Quran does not clearly establish wearing the hijab as an essential spiritual practice, so banning it does not violate religious freedom.
Many Muslims reject that interpretation.
On a recent Friday, Rasheed Ahmad, the head imam of Udupi's grand mosque, delivered a sermon before hundreds of worshippers. His voice thundering through loudspeakers mounted on the minarets, he railed against the bans as an attack on Islam.
"Hijab is not just our right," he said later in an interview, "but an order from God."
Assadi said she and the others are determined to prevail.
"We are brave Muslim women," she said, "and we know how to fight for our rights."
Source: ABC News
https://abcnews.go.com/International/wireStory/hijab-bans-deepen-hindu-muslim-fault-lines-indian-83450318
--------
Abd al-Aziz, First Female Afro-Iraqi TV Presenter Says 'Time to See All Iraqi Colours'
Randa Abd al-Aziz reading the news on autocue screen inside Al-Iraqiya Channel news studio in Baghdad on December. 13, 2021. Photo by: Azhar Al-Rubaie. -
-----
Azhar Al-Ruabie
March 12, 2022
BASRA, Iraq — The Afro-Iraqi population is estimated to be 1.5 to 2 million (out of around 40 million Iraqis) and exists in many Iraqi cities — with the majority living in the port city of Basra, the second-largest city in Iraq after Baghdad. They also live in some of Baghdad's neighbourhoods such as the Sadr City district.
In fact, Iraqis of African descent are a big community and are barely visible in the public space or in Iraqi media. They struggle for rights, job opportunities and representation in the government.
Now, some see signs of hope with the appointment of a Black woman, 27-year-old Randa Abd al-Aziz, as a TV presenter on state media.
Abd al-Aziz, a TV news anchor with Al-Iraqiya TV, said the job opportunity — her first — came "out of the blue" when in 2021 state-owned Iraqi Media Network announced the job vacancy. She applied, along with many others, and was offered the position. "My expectation to be a journalist or TV presenter was only 6%, but when that person offered me this chance, I discussed the matter with my family and close friends, and all of them agreed and were happy to take this step."
"It was so difficult for me to enter the journalism field as no one in my family or relatives is a journalist; it's such a challenge. But it is a wonderful adventure to take," she added.
Before ever going live on air, she experienced intensive training under the supervision of senior journalists at the network for a period of six months. "The network employees were so happy to have me. They treat me in a special way that I feel we are a family and not just colleagues," she said. "I was chosen not because of my skin color but because of my skills. [The administration] found me to be a good addition to the network."
Iraq's first TV station was established in 1956 and was the first Arab television during that time period. Iraqi media outlets had never employed Black Iraqi journalists until Abd al-Aziz.
Abd al-Aziz has a bachelor's degree in agricultural economics from the University of Baghdad, but journalism was always her passion. "If you have a desire and the will to work in any field, you can make it … but with hard work. Nothing is free," she said.
Abd al-Aziz added, "I am still doing my best to go on air in the most professional manner, as Iraqis want to watch me. Furthermore, my appearance on TV will inspire many Iraqi women, regardless of their color, to follow my path."
"I do not face discrimination at work; on the contrary, they treat me fairly. I am still remembering that moment when I read all the briefs/newsflashes with zero mistakes. Everyone behind the camera was happy, and my family and friends were very glad," she said.
Abd al-Aziz's smartphone does not have any social media apps, and the only application she uses is WhatsApp for making calls and chatting. She doesn't know what people write about her, and her family and friends keep her updated on what others comment.
"Of course, there is a reason why I do not have social media accounts. Actually, I would like to focus on my career and reaching my goals, and I know social media needs a lot of time. [I can spend that time developing] myself — and God willing, [I can] reach the world," she added.
Nabil Jassim, head of the Iraqi Media Network, told Al-Monitor in an interview, "Since 2003, Al-Iraqiya TV has reflected only one color — and one opinion, which is affiliated with the government or certain parties. That's why when I took the position to run the network, I took into consideration making TV represent everyone."
He added that Iraqis of African origin are "a big community and deserve to be part of the Iraqi Media Network."
The presence of Afro-Iraqis in the country goes back to the Abbasid era when many immigrants came to Iraq and were farmworkers and also worked in fishing.
Saad Salloum, a professor of political science at Mustansiriyah University in Baghdad, told Al-Monitor, "Afro-Iraqis have been part of the community for centuries, but they have suffered social discrimination due to their skin color."
Salloum added, "And there is no law or legislation in the constitution that guarantees their rights. The Iraqi Constitution recognize only a few ethnic and religious groups."
Despite the plight of Afro-Iraqis, they continue to preserve their cultural heritage, customs and traditions that were brought to the country. Many of them established bands to celebrate events and weddings.
Majed al-Khalidi, spokesperson of the Black People Society in Basra, said to Al-Monitor, "We face all kinds of discrimination, either by government or by people. Many people still call us 'abd,' which means 'slave' in Arabic — not only do people call us that, but we also are called that in comedy shows and TV series. They intentionally show Black people as slaves or make fun of them."
Khalidi added, "We struggle to get the rights of our community met, but what makes it hard is because we have no support by Islamic parties nor any affiliation with any politicians."
"Seeing Randa Abd al-Aziz on TV is a wonderful step, and she shed the light on our community. But this is not what we dreamed. It is not a big deal compared with what we deserve."
Source: Al Monitor
https://www.al-monitor.com/originals/2022/03/first-female-afro-iraqi-tv-presenter-says-time-see-all-iraqi-colors
--------
Iran, Qatar stress enhancing ties in empowering women field
Mar 15, 2022
Iranian Vice-President for Women and Family Affairs Ensieh Khazali met and held talks with Qatari Minister of Social Development and Family Mariam bint Ali bin Nasser Al Misnad on Tuesday on the sidelines of the 66th Session of UN Commission on Status of Women (CSW).
During the meeting, the Iranian Vice-President pointed to the recent visit of President Ebrahim Raeisi to Doha to sign several Memoranda of Understanding (MoUs).
Khazali proposed Qatari side for setting up a special Working Group for women for realizing most objectives in this respect.
Qatari diplomat welcomed the cooperation plan as proposed by Iran's Vice-President and stressed the importance of the role of women in the family and the need for a multidimensional view of the role of women in the family.
The two sides also discussed women's empowerment, the outstanding role of women in the family unit and children and exchanged views on new ways of educating children.
Qatari minister pointed to the cultural similarities between the two countries of Iran and Qatar in terms of the role of women in the family and highlighted the key role of women in family and childcare, especially during the COVID-19 pandemic.
Khazali also held talks with Italy's Minister for Equal Opportunities and Family on the vulnerability of women in calamities and the necessity for helping them.
During the talks, Khazali said Iranian women have been among those who could well help vulnerable strata in the society in critical conditions.
Khazali made the remarks while referring to the pandemic conditions when women more than others helped and supported the patients by providing face masks for them and giving cash help.
Source: Mehr News
https://en.mehrnews.com/news/184884/Iran-Qatar-stress-enhancing-ties-in-empowering-women-field
--------
URL: https://www.newageislam.com/islam-women-feminism/aliya-assadi-gold-medallist-hijabi-hijab/d/126576
New Age Islam Islam Online, Islamic Website, African Muslim News, Arab World News, South Asia News, Indian Muslim News, World Muslim News, Women in Islam, Islamic Feminism, Arab Women, Women In Arab, Islamophobia in America, Muslim Women in West, Islam Women and Feminism