New Age Islam News Bureau
8 March 2014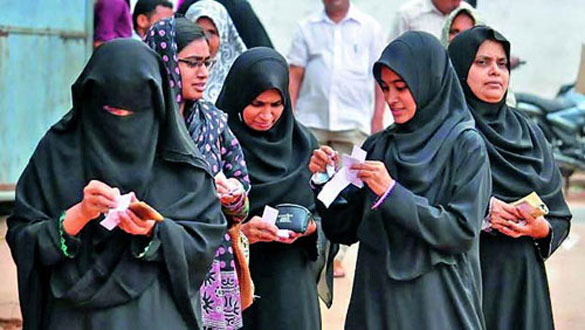 'Students of AMU' putting up a Purdah banner on Friday
-------------
• For Expat Women, the Abaya Is A Real Blessing In Disguise
• 'Women Can Be Better Security Advisers than Men': Dr Bassima Al Saedi
• Women's Participation in Politics 'Still Low' In Turkey
• Women's Opportunities in Turkey Hinge on School and Marriage
• Philippines Bid To Set Record for Biggest 'Woman' Symbol
• Women Ambassadors and UN Officials to Perform in a Play on Women's Rights
• Italian Divas in Istanbul for Concert against Domestic Violence
• Police Bust Women's Robbery Gang in Makkah
• Gulf Airlines Defend Female Cabin Crew Policies
• Govt to Do Legislation to Empower Women: Pak Punjab Law Minister
• Pakistan Women Are Headed Towards a Dark Tunnel: Human Rights
• Pakistan Women Media Complaint Cell Ensures Gender Responsiveness within Media
• Palestinian Women Join West Bank Anti-Riot Force
• Frustration in Afghan Women's Rights Struggle
• Spirit of Womanhood Is to Be Launched by the Women's Interfaith Network
Compiled by New Age Islam News Bureau
URL: https://www.newageislam.com/islam,-women-and-feminism/new-age-islam-news-bureau/aligarh-muslim-university-group-extols-purdah,-'islamic-solutions'-on-women's-day/d/56052
-------------
Aligarh Muslim University Group Extols Purdah, 'Islamic Solutions' On Women's Day
Written by Saba Rahman | New Delhi | March 8, 2014
Women students in flowing Burqas talk about how Purdah is the "purest form of existence for a woman". They explain how capitalism — with its notions of financial independence or a career for women — is anti-women.
Models are on display to help explain how Purdah is to be observed.
And then, apparently in a concession to more "modern" views, the women also speak about dowry, foeticide, sexual violence and women's health.
All this is part of a three-day exhibition that started on Friday at one of Aligarh Muslim University's women's hostels, Abdullah Hall, to — ironically — marks International Women's Day.
The exhibition, which apparently has the permission of the vice-chancellor, has been organised by a students' group named 'Students of AMU'.
Anam Rais Ansari, one of the organisers, and a student of law, said they were providing "Islamic solutions" to women's problems.
The group has organised a talk titled 'Women Empowerment: An Alternative in Focus', at Kennedy Hall on the campus on March 8.
Fliers on campus, and a huge poster at the university gate, show senior lawyer and feminist Vrinda Grover as one of the speakers.
However, when contacted, Grover said she had pulled out of the function after she came to know about the group and its activities.
"I am no longer part of (the AMU) function. The views of the organisers are extremely regressive. They are trying to tell women how to dress and how to live," Grover said.
But Abdul Rauf, a representative of the group, who is a research scholar at the biochemistry department, said: "We have invited Grover. She will come."
The other two speakers at the event are Zohra Asma, member of the Muslim Personal Law Board in Hyderabad, and Brother Yahya Nomani, founder of the Institute for Higher Islamic Studies in Lucknow.
'Students of AMU' was formed in 2010, and has significant influence on the campus now. It enjoys the support of some teachers and students and, apparently, of AMU authorities as well. The group is known for its regressive views on women and women's rights.
A recent post on its Facebook page reads: "Sisters, even though our brothers are responsible for their own gaze, we are responsible for what we give them to gaze at!!" One of the posts profiles four Western women who recently converted to Islam.
One of the over 30 lectures the group has organised in the past was titled 'Hijab: The beauty of Islam'. The group is alleged to have recently scuttled an initiative to get men and women students of the campus together on a single platform to protest against the alleged molestation of a Kashmiri student by a teacher.
A student of the law faculty said: "'Students of AMU' is subverting the secular discourse at the university, and is promoting conservatism on campus. They prefer to call themselves an Islamist body."
Attempts to contact the university V-C and registrar failed.
http://indianexpress.com/article/india/india-others/amu-group-extols-purdah-islamic-solutions-on-womens-day/
------------
For expat women, the abaya is a real blessing in disguise
March 8, 2014
The majority of expatriate women in the Kingdom undergo an adjustment period as far as wearing the full body shroud, locally known as the abaya, is concerned.
Out of respect for the customs, traditions and laws of their host country, women are expected to wear the abaya in public. While many women initially complain of the difficulties involved in wearing the abaya and the accompanying headscarf known as the tarha, however, with time they develop an appreciation for the privacy and certain level of respect it affords them, Al-Riyadh newspaper reported.
When Sherry, a British expatriate, came to the Kingdom to work, wearing the black abaya in the desert sun amplified the effects of the heat, yet wearing the abaya made her feel safer.
"Wearing the black abaya causes one to feel the heat more than the actual temperature. I faced a lot of difficulty in the beginning since I did not understand how to wear it correctly. This led to numerous embarrassing situations. For example, one day when I went to the mall, part of the abaya became stuck in the wheel of my shopping cart. I was greatly embarrassed before other shoppers," she said.
"I got used to wearing the abaya after that incident and now I have three abayas, all black. I prefer different colored abayas; however, I have noticed that the prevailing color in the Kingdom is black, so I decided to wear black abayas instead of colored ones."
Bushra, a French expatriate, said it took her five months to learn how to properly wear the abaya. But after she learned the proper technique from a friend, she said she appreciates how both the abaya and tarha hide many details of a woman's body and face.
"The black abaya adds something to a woman's beauty and attractiveness. It also makes the woman feel safe and respected when going from one place to another among pedestrians. Adding other colors to the abaya is better in my view instead of leaving it all black."
Many question why black, a color that absorbs heat, is preferred over white. The answer to this is not entirely clear. There was a time when women in many Muslim societies wore white abayas but this has changed and Bushra believes the abaya's black color was adopted from the Persian chador.
Georgette Madins, a Kenyan expatriate who teaches English at an international school, said she was initially against wearing the abaya because she believed it hindered her movement but with time she realized this was not true.
"I did not accept or like the idea of wearing the abaya in the beginning. I used to feel like I was tied up by a rope around my body that prevented me from moving freely. I felt it was a big obstacle that prevented me from living a normal life. In general, there is great difficulty for a foreign woman to accept wearing the abaya on a daily basis. However, it is necessary for people to respect the prevailing customs, traditions and norms in any country they come to work in," she said.
"It is well known that black is the king of colors and this black color adds respect to the abaya. Through my travels to several cities of the Kingdom, I have noticed that women wear abayas in different colors, hence making it more like a loose dress."
Katie Marx, a British national, said despite her initial reservations on the impracticality of the abaya, after a year of wearing it she feels it has become a part of her identity. She did admit that other colors should be adopted, however.
"For a foreign woman to get used to the abaya is simply a matter of time. It is not a matter of difference in customs and traditions. Despite the splendor of the black color for abayas, it gives them a kind of sadness. The issue of changing the color of the abaya needs attention. It should be similar to the colors of other clothes that differ depending on the occasion the woman is attending."
http://www.saudigazette.com.sa/index.cfm?method=home.regcon&contentid=20140308197950
-------------
'Women Can Be Better Security Advisers than Men': Dr Bassima Al Saedi
March 8, 2014
Dubai: It is not every day that one finds an Arab woman in the sensitive position of security adviser to the commander of a country's army.
Meet Dr Bassima Al Saedi, member of Iraq's parliament, who has cemented her place in a field dominated by men in military uniforms and high rankings. As a former security adviser to Prime Minister Nouri Al Maliki, Dr Bassima has been instrumental in stabilising the situation in Iraq in the difficult period from mid-2007 to the end of 2011.
Dr Bassima does not mince words when talking about the actions of the Islamic State in Iraq and the Levant (Isil) as well as the guerrilla elements in Ramadi and Fallujah against the Iraqi army. She is of the opinion that Isil is but another name for Al Qaida that harbours nothing but hatred for life, and loves destruction.
"I don't think its members are human beings," she days. "They are rather beasts with no religion because Islam has nothing to do with their barbaric acts. After all, they cannot be more than a gang which is defying a government, and their end is imminent at the hands of the sovereign state. Al Anbar is sure to be their graveyard and this gang will be defeated at the hands of the genuine people of Al Anbar."
From July 2007 to April 2008, Dr Bassima worked as secretary to the Reconciliation Follow-up Committee. In that position, she was able to resolve the issue of armed forces personnel whose services were terminated by a decree from the Civil Governor Paul Bremer (the administrator of the Coalition Provisional Authority of Iraq, effectively the occupation's government in the country). Following her work, those who wished to return to the army were allowed to return, while those who refused were offered retirement.
There was also the problem of military industrialisation personnel after Bremer dissolved the sector. It was resolved by attaching the personnel to other ministries on an individual or collective basis, following a decree by the prime minister. The Republican Presidency personnel were retired.
Arguably, Dr Bassima's biggest achievement was to bring about reconciliation with citizens in 'hot areas' by addressing feelings of marginalisation and alienation and integrating them as partners in the political process. This task was accomplished through 'rescue councils' established in areas such as Al Anbar, which worked to re-integrate disgruntled citizens into society.
Dr Bassima was always clear what she wanted to do in life. She did her Master's degree thesis on 'National security and the College of National Defence's strategy'. Her thesis at the College of National Defence, which works in collaboration with NATO, was based on the effect of national reconciliation, how transitional justice was applied and the latter's role in achieving peace and security, particularly in 2005-07. During that period, many had been betting that Iraq would slide into civil war.
Dr Bassima does not accept that a military career is a male bastion or that the army is a difficult place for women. "I am of the view that tackling this issue is not the prerogative of men nor is it a male-dominated or a male specialty. I don't agree with such views. It is only the culture of our Arab society which imposed such beliefs upon us. I think that women are, like men, capable of innovating excelling and achieving success."
She added that there are certain areas in which women do better than men even though society deems them to be difficult, hazardous, or impossible for women to get into. She cites her case as a classic example. "I don't deny that I have suffered due to male jealousy. There have been attempts to cause me to fail at all levels because of the wrong belief that I have broken into a sphere which is their prerogative," he says.
Dr Bassima is used to meeting challenges head-on. In 2006, she worked as a rapporteur for the Parliamentary Security and Defence Committee at a time when Iraq was on the verge of civil war.
"We were able to contain the security challenges in collaboration with the prime minister, although Iraq was occupied by multinational forces during this period," she recalls.
The committee contributed to rebuilding the Iraqi Armed Forces through cooperation, follow-up action, and capability-building exercises for the armed forces, police and units combating terrorism.
"We have studied the political, social and security aspects from various perspectives and are convinced that Iraq is not a country which exports or believes in terrorism. All this chaos in Iraq is the result of Bremer's rule," she says. "He dissolved the institutions of the army, Ministry of Information and other security institutions. Those who generated this policy of chaos were persons who were inimical to the political process. Moreover, many of them were engaged in terrorist organisations, the aim of which was to kill their Iraqi brothers for nothing, but money, malice and rejecting the change which occurred in Iraq."
http://gulfnews.com/news/region/iraq/women-can-be-better-security-advisers-than-men-1.1300758
-------------
Women's participation in politics 'still low' in Turkey
March 8, 2014
Although Turkey took important steps toward gender equality, areas such as women's political participation, reproductive health, education and labor force participation still need improvement, the United Nations has said.
Turkey ranked 68th out of 187 countries in gender disparities, according to the United Nations Development Program (UNDP) 2012 Gender Inequality Index Rank. Women's participation in the workforce, politics, and education are some of the key areas that Turkey needs to improve in order to decrease gender inequality.
Only 14 percent of Turkish Parliament members are women, or 79 MPs out of 548. Turkey therefore ranks 92nd out of 188 countries according to the Inter-Parliamentary Union's (IPU) latest data on Women in National Parliaments. With Turkey just three weeks ahead of the local elections, the U.N. particularly stressed that Turkish women's participation in local politics was quite low.
Only 0.9 percent of mayors, 4.21 percent of members of the Municipal Council and 3.25 percent of members of City Council are women, according to the results of the 2009 local elections.
Female employment rates are also low in Turkey. In 2013, only one woman in four was employed, a 26.6 percent female employment rate. Meanwhile, those women who are employed face discrimination through low wages and unsecured, low-status and vulnerable jobs, compared to their male colleagues, U.N. Turkey stated. As of November 2013, only 30.4 percent of Turkish women are in the labor force, well below the global average of 50.3 percent, as well as the Developed Economies' and EU's average rate of 52.9 percent. Some 71.1 percent of Turkish men are in the labor force.
Two out of five women victims of violence
Meanwhile, violence against women continues to be a serious problem. Two out of five women in Turkey are victims of violence during their lifetime, according to the U.N.'s Turkey report. One out of the three brides is younger than 18-years-old. This year's March 8 International Women's Day has been declared by the U.N. with the slogan: "Equality for women is progress for all."
The U.N. called on the international community to "facilitate women's increased participation in decision-making processes, end violence against women and eliminate the prevalence of negative gender stereotypes" in order to globally and locally achieve gender equality.
"It is known that it is not just a gender gap that is blocking progress; it is also a gap between laws and implementation. In this respect, it is not enough to adopt laws and policies; they have to be effectively implemented," said the U.N.
With regard to Turkey, the U.N. said "political will and leadership is critical for generating sustained action for gender equality." It also emphasized that Turkey had the necessary elements needed to eliminate gender inequality - a determined government, a strong private sector, effective NGOs and a vibrant media and vowed to continue to cooperate with all parties for gender equality in the country.
http://www.hurriyetdailynews.com/womens-participation-in-politics-still-low-in-turkey.aspx?pageID=238&nID=63323&NewsCatID=339
------------
Women's opportunities in Turkey hinge on school and marriage
March 8, 2014
Umit Boyner's career might seem exceptional in a predominantly Muslim country often associated with patriarchal values.
In 2002 she joined the executive board of her husband's family business group, Boyner Holding, Turkey's largest non-food retailer, and in 2010 she was elected chairwoman of Tusiad, Turkey's leading business association. Her term ended last year.
Yet Ms Boyner's rise to the top is hardly unusual. Women are a regular presence in Turkish boardrooms. According to the World Bank, 12 per cent of chief executives in Turkey are women. The 2014 Grant Thornton International Business Report found 25 per cent of senior managers at Turkish companies are women.
Arzuhan Dogan Yalcindag runs Dogan Media Group, the country's biggest media empire. Guler Sabanci, recently named the world's second most powerful woman by Fortune Magazine, chairs Sabanci Holding, an industrial and financial conglomerate with revenues of nearly $15bn in 2012.
But the success of these women – all members of prominent business families – as well as thousands of other businesswomen, remains hard to square with the fate of millions who are shut out of the job market.
At 29 per cent, Turkey's female labour participation rate is about half the OECD average. In the World Economic Forum's most recent gender gap index, the country was placed 120th out of 136, earning an even lower grade (127th) for women's economic participation and opportunity.
One reason is the lack of opportunities for women without a degree. Turkish men, regardless of whether they finish primary, secondary school or university, find it easier to enter the job market. But for women, the level of schooling makes a difference. A woman with only a primary school education will have a relatively low chance of finding and keeping a job over a sustained period of time. A university graduate will fare better.
Education is only part of the picture. Arguably, the biggest factor, says Ipek Ilkkaracan, an economics professor at Istanbul Technical University, is marriage.
Among single urban women of prime working age with eight years of schooling the labour participation rate is 48 per cent, she says. For similarly educated married women, the corresponding rate drops to 18-19 per cent. "Women drop out of the labour market as soon as they get married or have children."
To a large extent, says Ms Ilkkaracan, it is material conditions that are to blame. Many Turkish women, particularly those without a degree, are employed in the shadow economy with no access to maternity leave, salaries too low to afford private childcare and no legal entitlement to return to work after childbirth.
Mr Erdogan's Islamist-rooted Justice and Development Party (AKP) insists it is committed to putting more women into work, says Ms Ilkkaracan, but its policies, combined with the prime minister's own exhortations for women to have at least three children, leave much to be desired.
The perspective the government takes is women can participate in the labour market as long as they continue to take care of the children and [other] dependants."
Zeynep Hasoglu, founder and editor of Hayyat, one of a growing number of Islamic lifestyle and fashion magazines, takes a more sympathetic view of Mr Erdogan's decade in power.
"For veiled women, including myself, life wasn't easy 10 or 15 years ago," she says. The Muslim headscarf, worn by at least half of Turkish women, was banned from public universities and state institutions.
"We couldn't find jobs as teachers or doctors or nurses," she says, "and even in the private sector we were discriminated against."
Today, with the government having chipped away at the ban before dismantling it almost entirely in 2013, and with a so-called "Islamic bourgeoisie" on the rise, covered women are much more visible in the workplace.
"At public hospitals, they used to be the ones bringing tea, the ones doing the cleaning," says Ms Hasoglu. "Now they're the doctors."
Whatever its eventual impact, the law lifting the headscarf ban is no panacea. It may increase the number of working women, says Ms Ilkkaracan, but only slightly. What needs to change, says Ms Hasoglu, is how women are taught to perceive their role: "Girls are told from early on, 'Don't worry, you'll grow up, you'll become beautiful, you'll find a rich husband, and he'll look after you,' as if they're princesses."
This, she says, "is true of conservative families, secular families, poor families, and of rich families".
"Mine, fortunately, didn't raise me like this," she adds. "They raised me to improve myself, to try to succeed."
http://www.ft.com/intl/cms/s/0/71b2da26-8e58-11e3-98c6-00144feab7de.html#axzz2vQ4gJaue
-------------
Philippines bid to set record for biggest 'woman' symbol
(AFP) / 8 March 2014
The women's symbol puts a spotlight on how women are poised to become the social and economic powerhouses of the future.
Over 10,000 people gathered in the Philippine capital on Saturday in a bid to set a world record for the largest formation of the gender symbol for "woman", as part of International Women's Day.
The event, sponsored by the government's commission on women and the local bottler of Coca-Cola, brought together 10,168 men and women who formed the giant symbol in Manila's main public park, organisers said.
"The women's symbol puts a spotlight on how women are poised to become the social and economic powerhouses of the future," Adel Tamano, the Coca-Cola Philippines vice-president, said.
Organisers of the event said that it would still take a week before the record is officially validated by Guinness World Records.
There is no previous record for the largest human formation of a gender symbol, although the Guinness website lists 10,563 people as taking part in a giant formation of a droplet in Haryana, India in November, 2013.
http://www.khaleejtimes.com/kt-article-display-1.asp?xfile=data/international/2014/March/international_March195.xml&section=international
-------------
Women ambassadors and UN officials to perform in a play on women's rights
March 8, 2014
Seven female ambassadors and UN officials are set to perform a documentary play titled "Seven," to speak up against violence on women and to raise awareness on the global issue of women's rights.
To celebrate the International Women's Day, Brazilian Ambassador Wanja Campos Da Nobrega, Canadian High Commissioner Heather Cruden, Swedish Ambassador Anneli Lindahl Kenny, Danish Ambassador Hanne Fugl Eskaer, Norwegian Ambassador Merete Lundemo, Representative of UNFPA Bangladesh Argentina Matavel Piccin and Representative of UN Women Bangladesh Christine Hunter will perform the play on March 10 at Chhayanaut.
"Seven" is based on the real-life stories of seven women's rights activists: Hafsat Abiola (Nigeria), Farida Azizi (Afghanistan), Annabella De Leon (Guatemala), Marina Pisklakova (Russia), Mukhtar Mai (Pakistan), Inez McCormack (Northern Ireland) and Mu Sochua (Cambodia).
The drama conveys the message that a woman who faces violence once, do not need to bear the consequences her whole life; instead she must overcome it with strength and also try to help other women overcome similar struggles.
The first rehearsal of the play was staged before journalists at the residence of the Danish ambassador in Gulshan 2 yesterday.
"The drama will be performed to remind all, that there are still lots of work to be done for women," said Danish Ambassador Eskaer.
Tove Erikson, producer and director of "Seven" in Dhaka, said: "Theatre play is the bridge to society for bringing massive change."
"Violence on women is a big problem for all countries," said Swedish Ambassador Kenny, while Brazilian Ambassador Nobrega narrated the story of Mukhtar Mai, who was gang-raped and forced to walk home almost naked through the streets of her hometown as retribution for an alleged crime committed by her younger brother.
Canadian High Commissioner Cruden said: "Lack of women's access to education and child marriage are the major drawbacks in Bangladesh. After marriage, women are tortured for dowry, which eventually leads to domestic violence. Advocacy and raising awareness is the solution."
UNFPA Representative Piccin said any male should think about his mother, daughter and sister before being violent towards women, while Christine Hunter, the representative for UN Women, said: "Recent statistics of Bangladesh shows, 80% women experienced violence. Seventy percent women were harassed in university level. The situation must change."
Norwegian Ambassador Lundemo said: "Women in Bangladesh are important, as 75%-80% of the workforce in RMG are women."
http://www.dhakatribune.com/arts-amp-culture/2014/mar/07/women-ambassadors-and-un-officials-perform-play-womens-rights#sthash.rBshBflu.dpuf
-------------
Italian divas in Istanbul for concert against domestic violence
March 8, 2014
LE DIV4S, made up of four Italian sopranos, arrived in Istanbul on March 5 to take the stage for the 10th Year Concert of daily Hürriyet's campaign against domestic violence.
The band will perform in Turkey for the first time tonight at the Zorlu Center Stage. The revenues of the concert will be donated to the emergency line that supports victims of domestic violence.
The band members Denise, Isabella, Vittoria and Sofia, who came from Miami, came together with press members in the Atatürk Airport. Upon the request of press members, they performed the famous Neapolitan song "O Sole Mio."
"We are in Istanbul for the first time. The problem of domestic violence does not only exist in Turkey, but also in Italy and many countries in the world. We have previously performed for cancer hospitals.
We are proud of helping the fight against the problem of violence against women," the group said.
They also noted that they knew the legendary late Turkish soprano Leyla Gencer.
In 2013, 28,000 women were exposed to violence in Turkey, and more than 50,000 women have been protected from their husbands or partners with precautions such as restraining orders, official data showed.
http://www.hurriyetdailynews.com/italian-divas-in-istanbul-for-concert-against-domestic-violence.aspx?pageID=238&nID=63281&NewsCatID=383
-------------
Police bust women's robbery gang in Makkah
March 8, 2014
MAKKAH — Four women were apprehended in Makkah for allegedly committing several robberies, according to Makkah Police spokesman Lt. Col. Ati Al-Qurashi. The women from an unidentified African country formed a gang and attacked women who were waiting in cars alone. The gang used knives to scare victims and snatch their purses and possessions. Most of the robberies took place outside mosques while the victims were sitting in the car waiting for their husbands or fathers to return from prayer. Following several theft reports, Makkah Police dispatched secret agents who nabbed the thieves. The women confessed to their crimes during questioning.
http://www.saudigazette.com.sa/index.cfm?method=home.regcon&contentid=20140308197958
-------------
Gulf airlines defend female cabin crew policies
March 8, 2014
BERLIN, March 8 (Reuters) - Qatar Airways and Emirates Airline have defended their policies on pregnancy and marriage for cabin crew after the Qatar carrier came under fire over its working conditions.
The International Transport Workers' Federation (ITF) is running a campaign against Qatar Airways over its monitoring of staff and rules preventing women from becoming pregnant and getting married.
It has called on women across the globe to speak out against the airline on Saturday, International Women's Day.
"The treatment of workers at Qatar Airways goes further than cultural differences. They are the worst for women's rights among airlines," Gabriel Mocho, civil aviation secretary at the international grouping of transport unions, told Reuters.
A Swedish newspaper last year published a report entitled "The truth about the luxury of Qatar Airways", which described restrictions imposed on cabin crew.
At the ITB travel fair in Berlin, Qatar Airways Chief Executive Akbar al Baker reacted furiously to questions about the article and said people were attacking Qatar because it had won the right to host the 2022 soccer World Cup.
Qatar has been criticised for its treatment of migrant workers helping build facilities for the World Cup.
"All this was a big sensational (effort) to target my country because of 2022, saying people have no human rights. It is not true," he told reporters.
Qatar Airways contracts forbid any member of the cabin crew, the vast majority of whom are female, from marrying during the first five years of their employment with the firm.
"You know they have come there to do a job and we make sure that they are doing a job, that they give us a good return on our investment," Al Baker said.
EMPLOYEE BENEFITS
He said because local regulations prevented pregnant cabin crew from flying and the company did not have many ground jobs available for them, pregnant women must often leave.
"We are not in the business where we can guarantee ground jobs or let people stay away ... and don't do anything for the airline," he said.
Cabin crew across the world may not work on board airplanes once pregnant due to health concerns, although some countries allow them to work for up to three months into the pregnancy.
Most airlines then find them work on the ground or put them on maternity leave. In Europe, pregnant women are protected from being fired or made redundant.
Emirates said it has a policy whereby female cabin crew that become pregnant in the first three years have to leave.
"If you are hired by Emirates as a cabin crew, during the first three years we expect from you to fly," Chief Commercial Officer Thierry Antinori said.
Cabin crew who have been employed for more than three years have the option of taking paid maternity leave.
Antinori and Al Baker highlighted the other benefits offered to employees, such as tax-free income and paid-for accommodation. Antinori, a French native who previously worked for German carrier Lufthansa, also said Emirates offered profit-sharing schemes.
"Last year, we had 129,000 applications for cabin crew at Emirates. I do not think these are conditions that are making people reluctant to work for us," he said.
Al Baker said Qatar Airways was recruiting 250 to 300 cabin crew every month and that each open recruitment session saw around 800 and 2,500 candidates.
Back in the 1970s and 1980s, sexism in the industry was a common issue, especially towards cabin crew, but the ITF said such times were long past.
"You can't see that deep level of sexism anywhere now except at these airlines in the Gulf," Mocho said.
International Women's Day has been observed for just over 100 years. According to the United Nations, it is a day when women are recognised for their achievements without regard to nationality, ethnicity, language, economics or politics. (Reporting by Victoria Bryan and Tim Hepher; Additional reporting by Maria Sheahan; Editing by Alison Williams)
http://www.trust.org/item/20140308075150-qdxvm/?source=hptop
-------------
Govt to do legislation to empower women: Pak Punjab Law Minister
March 8, 2014
LAHORE: PUNJAB Law Minister Rana Sana Ullah Khan has claimed that the government is going to do legislation for empowering the females on March 8 under which around 2994 women will be made part of the decision making bodies in the BoGs, BoDs and statutory bodies of different administrative departments and allied wings.
Addressing the press gallery on Thursday, he stated that the provincial government would observe the Women Day on March 8 in line with the PML-N manifesto when the government would convene a special session of the assembly. He hinted at bringing women's specific legislation which would be announced by the CM on that day through which the women would be made part of decision making bodies. He claimed that the PML-N leadership had moved a step ahead of merely raising slogans and adopted practical measures through bringing the legislation.
Moreover, he claimed that they would hold debate of budget in this pre-budget session where the members would give their recommendations and suggestions to the ministers concerned. He stated that the PML-N wanted inputs from the members before making the budget to dispel the impression that the budget was made by the bureaucrats instead of politicians. He was of the view that the government would ensure that all the ministers concerned would attend the session and take notes.
Rana Sana claimed that Imran Khan would prove as another Asghar Khan before 2018 elections due to his continuous mistakes. He claimed that Amjad Dasti should take specific names instead of tarnishing the images of the entire parliamentarians.
He advised the government that the army should be taken into confidence on the dialogue process and it should apprise masses of the outcome of the dialogue process as well.
gender subordination: The women comprise more than 50 percent of Pakistan's total population, but the situation of Pakistani women vis-à-vis men is one of the systemic gender subordination. Although there have been attempts by the government and enlightened groups to elevate their status in the society.
In 2012, the World Economic Forum ranked Chad, Pakistan and Yemen as the worst in their Global Gender Gap Report. Having said that, several Pakistani womenfolk, especially in the rural areas, have suffered rape, acid throwing, honour killings, forced marriages and forced prostitution. So, a major remedy to the problem is women's empowerment.
This was said at a seminar, which was organised by Lahore College for Women University on Thursday.
The topic of the seminar was "women protection through women empowerment" which was held under the series of International Women Day celebrations at the student service centre. Students and teachers of different faculties were present.
According to a press release issued on Thursday, Dr. Alia Aftab, Member Punjab Assembly, (PML-N), Director ( Women in Struggle for Empowerment) Bushra Khaliq , famous women's rights activist Fouzia Viqar, Director Students Affairs, LCWU Shireen Asad andDirector Women Institute for Leadership and Learning, LCWU, Prof. Dr. Sarah Shahed were the speakers who highlighted the socio- psychological impact and other aspects of women's empowerment package in the contemporary socio-cultural settings of Pakistan.
Speaking on the occasion, Dr. Aliya Aftab, MPA (PML-N), said the Punjab government was striving hard to provide equal opportunities to women for their employment and promotion. She said through proper legislation curse of cultural practices would be brought to an end. She explained that 15% job quota had now been allocated for women in each public service, which was an attempt of the Punjab government for its commitment regarding women's empowerment. She asked the girls to apply for jobs after completing their education. She further said the government had planned to build more hostels at each district for working women. In addition to that, daycare centres for children of working women are also in pipeline, she added.
http://www.thenews.com.pk/Todays-News-5-236728-Govt-to-do-legislation-to-empower-women:-Sana
-------------
Pakistan Women Are Headed Towards a Dark Tunnel: Human Rights
March 8, 2014
International Women's Day 2014
A pact with the Taliban will destroy what little freedoms remain for women
The shadow of darkness shrouds Pakistan. In a country that already has a repressive attitude towards women; the possibility of upholding women's rights shrinks further. In an environment in which a woman's worth is considered to be only half that of a man, the government is now in negotiations with the Taliban, the influence of which grows stronger.
Much has already been written about the repressive actions of the Taliban and their insistence on Shariah law, especially with regard to women. The case of Malala Yousufzai and the flogging of women in public places are but two such examples. When the Taliban becomes a stake holder in the process of policy making the repression will worsen. All women will be forced to wear Burqas. They will not be allowed to work, attend schools, or be allowed out in public without their being accompanied by a male family member.
There is concern that the policy of appeasement towards the Taliban and the virtual government invitation for the Taliban to take part in the decision making process will drastically affect half of the population that is already vulnerable. It is fairly obvious that, within a very short time, they will, indeed, become stakeholders.
In a country where women are victims of domestic violence, discriminated against on the basis of their sex, sexually abused without any hope of redress from the government, any lessening of their existing rights will turn them into slaves. They are victims of acid attacks, deprived of education, denied freedom of expression and movement and voting rights.
In a country where they are victims of Jirgas, illegal courts where young women and even minor girls are traded off in settlement of feuds, the local elders have the power of life and death over them. The customs of Winni and Sawara (the tradition of trading girls in exchange) are treated as Islamic law and the civil courts are not interested in getting involved.
Pakistani women are burned alive, buried alive, and beaten mercilessly. And when the survivors are able to seek help and assistance of the authorities, often the authorities return them to their torturers. Honour killings of women suspected of dishonouring their tribe and failing to adhere to custom occur frequently and it is rare for authorities to act against the perpetrators.
In a country where they are used as pawns by the police to obtain confessional statements from suspected criminals, women face both physical torture and humiliation by supposed guardians and enforcers of law and order. It is not uncommon for wives and daughters to be stripped naked and paraded in front of their husbands and fathers. They are even raped in front of their husbands and fathers to force confessions from the men.
In a country where they are treated as chattels and have even less value than animals, women are often handed to feudal lords to be used as they desire. The government has shown its inability to offer protection and respect for their right to life and dignity. When the girls are able to escape they often commit suicide. If they do not and are unfortunate enough to be recaptured they are treated worse than animals.
In a country where arranged marriage is the norm, and marriage by choice considered sin, something against Islamic teachings, girls from religious minority groups are abducted, raped, and forced to convert to Islam. Such events abound under the patronage of the authorities.
In a country where every Friday, and at least once a week, Muslim fundamentalist leaders deliver sermons suggesting that women are responsible for the vast majority of sins committed by males, there is little or no support for them from society.
In a country where women living in rural areas cannot attain more than three years of formal education, which enforces a societal policy of female illiteracy, women subsist under the thumb of male chauvinism.
In a country where laws that are by chance created for the protection of women are not implemented and enforced in order to keep women in virtual slavery.
One may ask the Nawaz Sharif government: what else does it want from the women of Pakistan?
It is not hard to imagine the reason why the government is keen to appease the Taliban and allow it greater influence. For, then, blame for acts of medieval barbarity on women, in addition to the all round repression already in operation, can squarely be made to fall on the Taliban rather than the government.
Does the government of Nawaz Sharif want to bombard girl's schools, flog women in public places, have women raped as Islamic punishment, and girls seeking higher education to be reminded of what happened to Malala Yousufzai? If the government enters into an agreement with the Taliban it will create a nightmare for the entire country, particularly for women.
After becoming a stake holder in government policy making the Taliban will be able to dictate rules and the way of life in Pakistan. And once they are ensconced they will be impossible to dislodge. And then whatever happens, women will suffer.
The policies of the Nawaz Sharif government are already repressive when it comes to women. By entering into any agreement with the Taliban, Sharif will ensure greater repression so that, with the Taliban's help, he may become an Amir-ul-Momeen (the absolute leader of an Islamic sultanate). In such a state, there will be absolutely no chance for employment for women, no education, and no freedom of movement. Women will be nothing but chattels to their husbands and male members of their families.
Physical and sexual violence, honor killings, forced marriages, and structural inequalities within society make Pakistan one of the worst countries in terms of the gender gap. Out of 58 countries, Pakistan stands at number 56. With this statistic in mind, it must be conceded that although the International Women's Day began as a day in which women are reminded of the battles they have fought, the achievements that have been won, and the small, but certain, steps that have been taken, only a beginning has been made. Though this is a day to celebrate the rights women acquired over the years and to remember the efforts still to be made towards equality between men and women, in Pakistan women have nothing to be celebrate in this regard. Their rights and safety are continuously restrained by repressive laws and customs.
In an environment that has consistently narrowed their window of opportunity, a pact with the Taliban will destroy what little freedoms remain for women. A dire situation for women fast approaches.
Even if there is no pact with the Taliban but their dictates become law in an act of appeasement so the government may show that it is loyal to the Taliban version of Islam, greater darkness will shroud the nation.
Women and the human rights organisations only face greater challenges in their fight against the Talibanisation of Pakistani society, when such Talibanisation is assisted by acts of the Nawaz Sharif government.
http://www.humanrights.asia/news/ahrc-news/AHRC-STM-041-2014
-------------
Pakistan Women media complaint cell ensures gender responsiveness within media
March 8, 2014
ISLAMABAD: Pakistan Women Media Complaint Cell (PWMCC) is helping to promote and ensure gender responsiveness within media houses and the journalistic endeavours.
Complaint Cell, a joint effort of National Commission on the Status of Women (NCSW) and Uks Research Centre became functional from March 1, 2014- as a trial run for three months and may be extended afterwards, official sources told APP, here on Wednesday.
"NCSW is working in various directions with different partner organisations to improve the status of women in the country".
Official said PWMCC aims to respond to the 2010 Global Media Monitoring Project's (GMMP's) findings on the perpetuation of gender-biased media, gender stereotyping and women's significant under-representation in the Pakistan's news media.
"The GMMP results show that there is growing concern for gender responsiveness in journalistic practices," said he adding, "Now is perhaps the best time to put forward a forceful and persuasive advocacy planning to strengthen gender-sensitive portrayal of women in content as well as gender balance in representation.
The PWMCC will use Gender Sensitive Code of Ethics designed for this activity as the guideline.
The Cell will be an independent body that hears the concerns or complaints of the public against the print and electronic news media.
The Cell will also be responsible for the self-regulation of the news media through the Gender Sensitive Code of Ethics for Media.
"Cell will not be entitled to deal with a complaint or impose any penalty or adjudicate compensation in an issue that is subjudice in a court of law.
The decisions and findings of the Cell will be published/broadcast.
The publisher or broadcaster found to be in breach of the Code will have an obligation to publish or broadcast the relevant decision.
The Cell is divided into two committees namely Media Committee and Public Committee.
Renowned personalities from media and civil society are part of the Cell whereas Khawar Mumtaz, Chairperson NCSW will be the overall Chairperson of the Committees.
The Code of Media Ethic Committee will review the Code of Media Ethics periodically. The Committee will take account of public and Parliamentary comment as well as reports from the Pakistan Women Media Complaints Cell itself.
The Cell is established with active collaboration of various public sector universities and students who have volunteered for the Cell.
The Complainant will be asked to write to directly to the editor or director news and in case of unsatisfactory answer or no reply; the complainant may contact PWMCC Cell through helpline.
"Our aim will be to resolve any matter concerning a violation of the Code of Ethics to the satisfaction of complainant," he said adding," This resolution may take the form of an explanation from the editor/director of the publication of channel concerned or by the publication/broadcast of a correction or an apology in the form of a letter to the aggrieved party and or to the complainant."
http://www.dailytimes.com.pk/islamabad/06-Mar-2014/women-media-complaint-cell-ensures-gender-responsiveness-within-media
-------------
Palestinian women join West Bank anti-riot force
March 8, 2014
Jericho: Instructors bark orders to a column of Palestinian women recruited to an anti-riot unit, part of an effort to tackle problems caused by conservative attitudes in the West Bank force.
Decked out with helmets, assault boots, batons and shields, the students at the Jericho police school weather a barrage from stone throwers, before rushing to arrest the "troublemakers".
"There is no difference between the training for men and women for combat abilities and searching cars and houses," said one of the instructors, Lieutenant Naama Shalalfat.
"Law enforcement is not reserved for men," she said.
The recruits, who are taking classroom lessons to supplement the training exercises, belong to a new all-female anti-riot unit, which will be made up of 220 members and will be deployed across the West Bank when it is operational.
Colonel Ramadan Awad, deputy police chief for the West Bank, says the unit was formed in response to problems caused by old attitudes towards women in the territory.
"The idea behind training this unit goes back to 2009, when a women's demonstration in the streets of Hebron [in the West Bank] degenerated into acts of vandalism, while the police couldn't intervene because we live in a conservative society," Awad said.
Lieutenant Osama Awda, 28, says he is "training police officers of both sexes in martial arts and self-defence before moving on to law enforcement".
He says that with his three colleagues, two men and a woman, he trains 500 female recruits every year.
Rashida Brahma, a 22-year-old recruit at the Jericho school, says she wanted to be one of the first to work in a profession long seen as off-limits to women.
"My main reason for joining the police after school was to serve the homeland and to get a job that only men had been able to do until then," she says, just after practising how to disarm an attacker.
Only three per cent of the Palestinian police force's 8,000 members are women, but other branches of the security forces are making tentative steps to boost women's numbers in their ranks.
This week, a group of 23 women finished their training to join the presidential guard, which protects key figures and carries out special operations.
But despite signs of limited progress, the level of women's participation in the Palestinian labour force remains low, at about 17.3 per cent compared with 69.3 per cent for men, according to figures from the Central Statistics Office published ahead of International Women's Day on Saturday.
The ratio is a little more balanced in the public sector, where 40.6 per cent of employees were women and 59.4 per cent men in 2012, according to the same source.
But in 2013 there was a marked rise in violence against women in the Palestinian territories: 27 women were killed, 15 in the West Bank and 12 in the Gaza Strip, compared with 13 killings in the two territories in 2012, the statistics office said, quoting a women's rights group.
http://gulfnews.com/news/region/palestinian-territories/palestinian-women-join-west-bank-anti-riot-force-1.1300929
-------------
Frustration in Afghan women's rights struggle
March 8, 2014
In 2009, the United States gave Wazhma Frogh the International Woman of Courage award for her women's rights activism in Afghanistan. Prominently displayed in Frogh's office is a picture of then-Secretary of State Hillary Clinton granting her the award as First Lady Michelle Obama smiles, clapping by her side.
Four years later, the United States denied her a visa when she was trying to get away from an Afghan militia commander who she says was persecuting her.
For Frogh, the experience underlined the state of the women's right movement in her country. Thirteen years after the fall of the Taliban, billions of dollars have been spent, there have been countless words of support from the West and from the Afghan government, yet the successes that have been achieved remain vulnerable. Ultimately, women still have nowhere to turn when their battle for equal rights puts them on the firing line, she said.
"They give you an award but they don't support you when you need them," she told The Associated Press. "I always thought that if my government didn't help me I would always be able to turn to the United States. I never thought that they would turn their back on me."
Gains have been made. Gone are the rules imposed by the Taliban forcing women to wear the all-encompassing burqa and barring girls from school. Now, as many as 4 million girls are in school, and women sit in Afghanistan's parliament.
But Frogh and other women's activists said those changes, while important, are superficial. Women's equality was a priority when the memory of the Taliban was fresh, but over the years the commitment has waned. It became a mantra recited by the Afghan government and non-government organizations to get international funding, and a flag for Western governments to wave as a symbol of success over the Taliban, said Frogh and Afghan parliamentarian, Fawzia Koofi.
"Women's rights is the most politicized issue in Afghanistan, before even talks with the Taliban, and I am not happy with it," said Koofi, referring to the Afghan government's attempts to negotiate with Taliban insurgents, raising women activists' fears authorities will compromise on their rights if necessary to reach a deal.
Koofi said she is proud and grateful for the successes. But "after 13 years I am still being forced to ask for my basic rights."
Many of the victories have major caveats. Girls are back in school, but most are pulled out by their families as they near puberty to ready them for marriage, she said.
A hard-fought Law on the Elimination of Violence against Women was passed. More women are reporting cases of abuse and are aware of their right to speak out, said Georgette Gagnon, director of Human Rights with the United Nations Assistance Mission in Afghanistan.
But, she said, few cases make it to court and prosecution is rare. Instead most end up in mediation, often through jirgas - a traditional council of elders - or other community councils, which rarely work in favor of the woman.
"Often this mediation doesn't fully protect woman's rights and often leads to more violence against the woman," said Gagnon.
The few Afghan businesswomen are paraded as success stories, while women are still having their lips cut off for perceived offenses, as happened recently in northern Afghanistan, said Frogh.
More than 80 percent of the women in prisons are jailed for so-called "moral crimes," like leaving an abusive husband. Shelters for abused women have been set up, but most men in conservative Afghanistan, even those in the Ministry of Interior, see shelters as "immoral," and women who seek sanctuary there are often banished from their communities, Frogh said.
Afghan President Hamid Karzai's first Cabinet featured five female members, the next only two. The quota for women in district councils was 25 percent, but has been reduced to 20 percent. The government set up a Women's Affairs Ministry but doesn't give it the money to hire the staff it needs.
Frogh's Women Peace and Security Research Institute works with the Interior Ministry to get more women in ministry jobs and holds training sessions with female police, many of whom face sexual harassment. Frogh counsels women on their rights, and her institute compiles statistics and researches abuses against women.
Last year, she tried to go temporarily to the U.S. to gain some distance from a militia commander who she says was terrorizing her after she identified him in a report to NATO as a repetitive rights violator.
The commander had her followed. He drowned her in text messages, warning that he knew her every move. Frogh said she would be at the airport and a text message would arrive from the commander: "Welcome home."
He threatened her sisters and paid her neighbors to complain to the police, alleging that the many women who visited her office were immoral, Frogh says. She had to relocate her office.
Aware of the harassment, the U.S- based Institute of Inclusive Security invited Frogh to spend six to 12 months as a visiting fellow. Frogh said she was told the visa was denied because of fears she would overstay. But she said she neither wanted asylum nor to overstay her visa, only a respite from the harassment.
The U.S. Embassy spokesman in Kabul, Robert B. Hilton, refused to comment, saying the embassy does not discuss visa matters.
"Certainly, we were disappointed when her visa was denied," Evelyn Thornton, chief executive officer of the institute told The AP. "We have enormous respect for Ms. Frogh's activism for human rights, peace, and security in Afghanistan. She's a courageous leader who has made a significant difference in the lives of many."
Finally, Frogh's family turned to a traditional Jirga to mediate with the commander, offering a number of goats and cows in exchange for his forgiveness, the activist says.
"I was forced to apologize to someone who was ruining my life and, on a daily basis, the lives of other people, including women," Frogh said. "If I had to apologize to someone who abuses our rights, and I met the wife of the president of the United States, what hope does an Afghan woman in a village have?"
Marry Akrami, head of the Afghan Women Skilled Development Centers, said a long-term approach is needed to women's rights, one that goes beyond the cycle of waxing and waning interest.
"We want a clear commitment. We want women's issues separated from political issues."
Frogh advocated a "less sexy" approach, one that doesn't bask in quick fixes and feel-good moments, but does the hard work of finding solutions for women within the family, giving them a voice in the home and protection outside.
"We made a big mistake isolating women and not looking at the woman within the structure of the family, as mother, sister, wife, and involving the whole family," she said. "So the men are often against the rights of women because they see them as against the family."
http://english.alarabiya.net/en/perspective/features/2014/03/08/Frustration-in-Afghan-women-s-rights-struggle.html
-------------
Spirit of Womanhood Is to Be Launched by the Women's Interfaith Network
March 8, 2014
A one-off exhibition entitled Spirit of Womanhood is to be launched by the Women's Interfaith Network in celebration of International Women's Day.
Hundreds of female artists from around the world were invited to submit their personal takes on the show's title in an effort to spark a global, interfaith dialogue.
Leading figures from the art world have selected the winning pieces to be displayed at London's Oxo Tower Wharf from 20 March, with English artist Tracey Emin and leading QC Cherie Blair backing the event.
Spirit of Womanhood presents artists' personal takes on their womanhood, including a wide range of paintings, drawings, sculptures, photography and ceramics.
Sebnem Ugural's "Pinhole" offers a striking insight into 'the individual and universal soul of womanhood', while Aileen Kelly's "School Number One" pays tribute to women's resilience in the midst of mayhem.
Siddiqa Juma's Islamic-centred paintings are colourful and intricate, presenting her devotion to life as a Muslim and her yearning to complete the Hajj pilgrimage.
A Muslim woman is portrayed in Sally Faure's intriguing "Une Fenêtre". "Regarding my ethnicity paintings, my women (as I like to call them) are free," she says. "They simply embrace their ancestors' customs, what their oral society has been able to preserve despite all kinds of invasion even from their own country.
"In another point of view, what one should think about 11-year-old brides, presented at a summer fair like 'livestock sales'..."
Speaking of her own multicultural background, Emin, whose most famous works include "My Bed" and "Everyone I Have Ever Slept With 1963-1995", said: "My great great grandfather was a slave in the Ottoman Empire. My father was a Turkish Cypriot. He was a Muslim who grew up in a Greek village and spoke Turkish with a Greek accent.
"My mother is British. She grew up in London's East End. She comes from a family of long-time gypsies.
"Me, I am an international artist. I exhibit all over the world. I am very happy to take part in this exhibition."
Founded in 2004 by Lady Gilda Levy and Pinky Liliani, the Women's Interfaith Network fights to promote understanding and tackle prejudice between women of different faiths across the UK.
Spirit of Womanhood, which marks the organisation's 10th anniversary, is intended to embody its strong spirit and values.
The exhibition runs from 20-30 March at gallery@oxo with above images courtesy of the Women's Interfaith Network
http://www.independent.co.uk/arts-entertainment/art/features/international-womens-day-2014-spirit-of-womanhood-exhibition-sees-women-create-personal-artworks-sparks-interfaith-dialogue-9177495.html
-------------
URL: https://www.newageislam.com/islam,-women-and-feminism/new-age-islam-news-bureau/aligarh-muslim-university-group-extols-purdah,-'islamic-solutions'-on-women's-day/d/56052