New Age Islam News Bureau
11 Oct 2013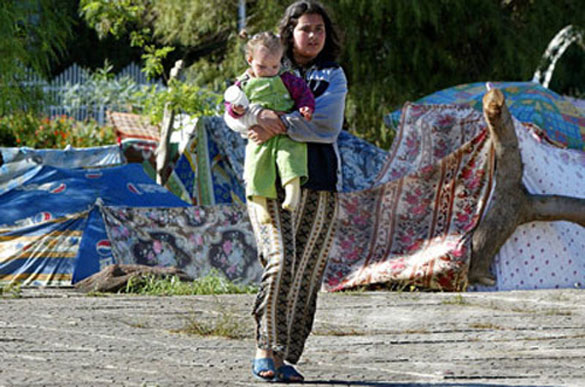 An Algerian girl holding a baby walks in the Algerian town of Boumerdes. (photo by REUTERS)
----------
• Malala Wants To Be PM, Says Nobel Would Be 'Great Honour'
• First Female ASP from Lower Sindh Ready To Clean House
• Shoura Says No to Move on Women Driving Ban
• Saudi Women Defy Driving Ban in Online Photos, Video Clips
• 10-Year-Old 'Bride' Argues Marriage Not For Children
• Friday Sermon: Respect Women, Avoid Extremism
• Women's Majlis: Balancing Cultures Is Key to Education in the UAE
• New Islamic Fashion Exhibition Challenges Stereotypes
• First Fashion Institute to Open In Saudi Kingdom
• US TV host Jay Leno tweets over dismissed Turkish presenter after low-cut dress crisis
Compiled by New Age Islam News Bureau
URL: https://www.newageislam.com/islam,-women-and-feminism/new-age-islam-news-bureau/algeria-wrestling-with-aftermath-of-jihadists--temporary-marriages/d/13949
-------------
Algeria Wrestling With Aftermath of Jihadists' Temporary Marriages
By: Kaci Racelma
October 11, 2013
Zawaj mu'aqqat (temporary marriage), commonly known as pleasure marriage or Nikah Mut'ah marriage, is a concept that is not new in the jargon of jihadist Islamists who believe they are fighting for the cause of Allah. They also suppose that they have the right to the carnal enjoyment of young girls considered to be booty.
Algerian human rights activists have been denouncing the pleasure marriages allowed in Salafist circles. Lawyer Amar Zaidi told Al-Monitor, "Women deserve their freedom and their right to choose the man who suits them. Marrying a woman by force or using her as a means of pleasure is immoral and no modern society should accept this. None of us must turn blind eye to this growing phenomenon. Women are suffering from being used for sex acts."
The private and verbal temporary marriage between a man and an unmarried woman is often contracted forcibly as opposed to on the basis of mutual acceptance. In many cases the groom does not need to get the approval of the bride.
Also, the marriage contract does not require having witnesses, a written contract or permission from a country's legal authorities.
In most cases, the length of the contract and the amount of consideration are unspecified.
Algeria was the first Arab country to experience the phenomenon of forced "marriage" on this scale. More than 1,600 cases of sexual assault have been reported since 1993, according to the government's figures.
When abduction of women appeared as a new form of violence, the situation became tense and nobody could turn blind eye; the phenomenon obliged the country's authorities to authorize abortion in April 2004 in spite of its noncompliance with the country's laws.
Abduction of girls was occurring in each attack in which terrorists took everything they could find, and the girls were part of the loot. Abducted girls were called sabaya, which means "the youngest and most beautiful girls."
Only an emir (the top leader of jihadist groups) has the right to have sex with the women.
A large number of the women's lives were further complicated when they became pregnant and gave birth out of legal wedlock. They have faced tremendous legal and other problems in their attempts to reintegrate into society.
Even though Article 2 of the Algerian Constitution enshrines Islam as the state religion that provides the society with its central social and cultural identity and gives most individuals their basic ethical and attitudinal orientation, Islam's absolute application conflicts with unfortunate social realities in regard to the matter of abortion.
Section 304 of the penal code states that whoever obtains or attempts to procure the miscarriage of a pregnant woman can get a 10- to 20-year prison sentence. Still, women who become pregnant during their abductions are allowed to have abortions.
Many women were raped in their homes or even while they were on the street.
In the jihadist philosophy, the husband is never financially responsible for any children resulting from the union. This has given rise to another, more-complicated, problem for Algerian authorities: The so-called "mountain children" born into the families of terrorists who were living outside the law during the 1990s. Their fate continues to be surrounded by an awkward silence, and their cases have become a burden to the Algerian state, caught between legality and religious constraints.
Nadia Bourokba, president of SOS Children Without Borders, told Al-Monitor, "The children are striving to have their own identity. Their confused social and legal situation causes them suffering and they face enormous difficulties to be integrated completely in the society. We deal also with unmarried mothers who are also suffering the impact of negative societal interpretations of their cases. We are helping them to recover their joy and the moral power to be an integral part of the Algerian society."
Those children born of a union during the "dirty war" with only a reading of the Fatiha — a ritual required by law, but not sufficient for a legal recognition of marriage — lack legal status. There are around 500 of them and their ages range between 3 and 15, according the commission responsible for carrying out the provisions of the Charter for Peace and National Reconciliation.
The government is striving to facilitate their integration into society, but it is a confusing situation. "The integration of these people needs a lot of time because their suffering is so great," Bourokba said.
The Civil Harmony Act and Charter for Peace and National Reconciliation passed on Sept. 29, 2005, provided amnesty for most crimes committed in the course of the war. It was meant to turn the page on the black decade, but did not address the problem of the mountain children. It focuses on stopping litigation against individuals who have decided to end their terrorist activities and their involvement in terrorist-support networks in Algeria.
This has inspired jihadists leaving for Syria in the fight against President Bashar al-Assad's army. In Syria, the jihadists have been entering into temporary marriages. Tunisian young women in general and Maghrebians in particular have been enticed to Syria by jihadists and imams, who tell the women they will be the wives of jihadists. The women then become virtual hostages and are offered to al-Qaeda fighters in Syria in order to help put the jihadists into a "state of ecstasy."
In reality, this type of marriage is not authorized in the Quran, but it is contracted with reference to Fatwas emanating from wicked imams.
Abdelaziz Bouchetta, a lawyer who teaches Shariah at the university level, told Al-Monitor, "This type of marriage is immoral and has no legitimacy and authenticity in the Islamic faith. There's no doubt that in … Islam this relationship has no ethical foundation." Supporters of this idea believe that Mut'ah cannot be compared to drinking intoxicants and justify the authorization of temporary marriage to satisfy the carnal desires of the jihadists.
http://www.al-monitor.com/pulse/originals/2013/10/jihadist-carnal-marriage-algeria.html#ixzz2hP3m0VtZ
-------------
Malala Wants To Be PM, Says Nobel Would Be 'Great Honour'
Oct 11, 2013
NEW YORK CITY: Teenage rights activist Malala Yousafzai told an audience in New York Thursday that she would like to become prime minister of Pakistan to "save" the country.
In an interview with CNN's Christiane Amanpour at a sold-out public event, she also said winning Friday's Nobel Peace Prize would be a "great honour." Asked about her conflicting dreams of becoming a doctor or a politician, and whether she would like to become premier, Malala said she wanted to help her homeland.
"I want to become a prime minister of Pakistan," she told Amanpour to cheers from the audience.
"I think it's really good because through politics I can save my whole country," she added.
"I can spend much of the budget on education and I can also concentrate on foreign affairs."
Malala was shot in the head by the Pakistani Taliban on October 9, 2012, for speaking out against them, demanding that girls have the right to go to school.
She was flown to Britain for specialist care and made a remarkable recovery, going on to become a global ambassador for children's rights.
The 16-year-old has written an autobiography, addressed the United Nations and set up the Malala Fund.
On Thursday, she won the prestigious Sakharov human rights prize from the European parliament and has been tipped as a firm favorite for the Nobel Peace Prize.
"If I get the Nobel Peace Prize I think it would be such a great honor and more than I deserve," she said.
"The Nobel Peace Prize would help me to begin this campaign for girls' education."
The real prize, she said, would be to see every child, black or white, Christian or Muslim, boy or girl, go to school and "for that I will struggle and work hard." She paid tribute to previous Nobel laureates, including scientist Abdus Salam who in 1979 won the prize for physics — Pakistan's only Nobel to date.
"Everyone who has got a Nobel prize, they deserve it but when I think of myself I think I have a lot to do," she told Amanpour.
The Pakistani Taliban have threatened to try to assassinate her again and security was tight for her public event in New York late Thursday.
"They can only shoot a body, they cannot shoot my dreams," Malala said.
Her appearance coincided with the International Day of the Girl Child.
According to Unicef, around one in three females in the developing world is forced to marry as a young teenager or child, making them more likely to leave school early.
Providing mothers with even just a primary education could save 1.7 million children from stunted growth and malnutrition each year, the United Nations says.
http://www.dawn.com/news/1048975/malala-wants-to-be-pm-says-nobel-would-be-great-honour
----------
First Female ASP from Lower Sindh Ready To Clean House
Oct 11, 2013
KARACHI: ASP Suhai Aziz Talpur, the first woman from lower Sindh to join the police at this rank, was once shunned by her relatives. And only because her parents thought she deserved to be educated.
"When my parents decided to enroll me at a school, most of our relatives started taunting my family. So much so, that my family had to leave our village and move to a nearby town," she recalled. "But the moment I cleared my Central Superior Services (CSS) exams and was told that I'd be joining the police department as an assistant superintendant police (ASP), the same people started approaching me by claiming to be my long-lost relatives. This is the power of education and being a female, I am proud to have this power."
At the age of 25, Suhai will be the first woman from lower Sindh [Thatta, Badin, Tando Muhammad Khan, Mirpurkhas, Umerkot and Tharparkar districts] to join the police in November. "My first preference was district management group and the police force was second. My percentage in the exams, however, qualifies me to join the police force. I know the uniform has its own power and I will try my best to use it for good."
Strong roots
Suhai belongs to a lower middle class family of Bhai Khan Talpur village in Tando Muhammad Khan district. Her father Aziz Talpur, a political activist and writer, always dreamt big for his daughter. "My relatives cut off ties with me because I wanted Suhai to study as they were only in favour of religious education," Aziz told The Express Tribune. "But I vowed to provide my daughter quality education. Now I know my efforts were successful."
Suhai started her primary education at a private school in Tando Muhammad Khan and joined Bahria Foundation for her intermediate studies.
Her educational path then led her to pursue BCom from the Zubaida Girls College, Hyderabad. "My family wanted me to become a chartered accountant but I found the job to be very dull as it had no social value," she said. "That is when I appeared for CSS and cleared it in first attempt."
She credited her success to hard work and her upbringing. "My parents are nationalists. As a child, they used to emphasise that I memorise Sindhi poetry. This developed my interest in literature and history, leading me to secure top marks in both the subjects in the CSS exams."
(Un)suitable candidates
Although small in number, female officers have managed to make it to the top on their own.
Earlier, only two women in Sindh cleared the CSS and were working in the police department on senior posts – ASP Irum Awan and Shehla Qureshi.
Awan was the first female ASP to be posted in Ghotki, a district known for tribal clashes and dacoit culture. "I worked hard to stop honour killings as I could understand the plight of the victims," she said.
Three other female officers enjoy senior positions but they joined through the Sindh Public Service Commission (SPSC) or were political appointees. Naseem Ara Panhwar, from Mirpurkhas, serves as the SSP in the driving licence branch. She was appointed in 1995 when the Pakistan Peoples Party-led government had directly recruited DSPs in the police through the SPSC. "It's a tough but appealing job," she said. "More young and vibrant women should come forward because not only do they have equal potential as their male counterparts but they would also be in a better position to solve women's issues."
SP Traffic Jalees Fatima and Establishment ADIG Noushaba Kausar are two other female officers who have been given high ranks in the department.
http://tribune.com.pk/story/616315/dedicated-public-servant-first-female-asp-from-lower-sindh-ready-to-clean-house/
----------
Shoura says no to move on women driving ban
October 11, 2013
RIYADH — The Shoura (Consultative) Council on Thursday rejected a move by three female members to put the ban on women driving up for discussion.
The Council, which counts 30 women among its 150 members, rejected a move by one female member to raise the issue during a discussion on Thursday of transport ministry matters, the official SPA news agency reported.
It said the issue was "irrelevant" to the discussions and "not within the transport ministry's remit."
On Tuesday, three female Council members filed a recommendation that the ban be lifted, one of the three, Latifa Al-Shaalan, said.
Their recommendation urged the Council to "recognize the right of women to drive a car in accordance with the principles of Shariah (Islamic law) and traffic rules".
A petition signed in March by 3,000 Saudis had urged the Council to launch a debate on the ban in the only country where women are not allowed behind the wheel.
Shaalan said: "There is no law that bans women from driving. It is only a matter of tradition."
http://www.saudigazette.com.sa/index.cfm?method=home.regcon&contentid=20131011183369
-------------
Saudi Women Defy Driving Ban in Online Photos, Video Clips
10 October 2013
Angus McDowall, Reuters/Riyadh
Saudi women's rights activists posted online photographs and video clips of themselves defying a ban on female driving on Thursday, two days after members of the influential Shura Council called for an end to the prohibition.
Saudi Arabia is the only country in the world where women are barred from driving, but debate about the ban, once confined to the private sphere and social media, is increasingly spreading to public forums too.
There is no specific law to prevent women from driving in the kingdom, but they cannot apply for driving licenses and have previously been arrested on charges relating to public order or political protest after getting behind the wheel.
The photos and footage showed various women driving on busy streets in the capital Riyadh. One clip, dated Wednesday, showed a woman driving in the traditional veil, with only her eyes showing, as other motorists slowed and gave a thumbs-up sign.
One of the women, posting on Twitter as Eman al-Najfan, tweeted a photograph of herself being stopped by police. She was taken to a police station, activists said, though it was not immediately clear whether she would face further action.
One female activist, speaking on condition of anonymity, said the publication of the video clips and photographs was the first part of a two-stage campaign designed to change attitudes.
In the second stage, women with international driving licenses will be asked to get behind the wheel on October 26.
"To drive with a license should not be against the law," she told Reuters, adding that many Saudis, including senior officials, had become more open to the idea of women driving.
"The authorities, the country, how people think has changed," she said.
Conservative supporters of the ban, including members of Saudi Arabia's powerful clerical establishment, have said allowing women to drive will encourage the sexes to mix freely in public and thus threaten public morality.
Opponents of the ban say it means families have to employ expensive private drivers and makes it difficult for women to work or to do many other basic daily tasks.
They also point out that women in rural areas of Saudi Arabia frequently drive without being stopped by police.
A female member of the Shura Council - a body appointed by King Abdullah to advise the government - proposed on Tuesday lifting the ban on women drivers.
The Council's transport committee must now decide whether to accept her recommendation and put it to the transport ministry.
Her proposal was widely reported in more liberal parts of the Saudi press and some newspapers published opinion pieces arguing that women should be allowed to drive.
http://english.alarabiya.net/en/News/middle-east/2013/10/10/Saudi-women-defy-driving-ban-in-online-photos-video-clips.html
----------
10-Year-Old 'Bride' Argues Marriage Not For Children
October 11, 2013
Yemeni debate also features cleric, who 'would marry her off'
A stunning debate has been captured on video that features a 10-year-old Yemeni "bride" who was ordered by her parents into a "contract" marriage and an Islamic cleric who argues that such arrangements are ordinary and he would "marry her[off] for sure" if she has "reached puberty."
The video comes from the Middle East Media Research Institute, which monitors, interprets and analyzes media reports from the region. The video was aired Sept. 16 by the Lebanese Al-Jadid/New TV channel.
The girl, Nada al-Ahdal, now 11, actually didn't marry the 26-year-old man she had been designated for, because she ran away to her uncle, who didn't share the girl's parents views about marriage for her.
She said children in her position need help.
"My final words are directed toward the Arab world," she told the Lebanese outlet. "I hope that all the girls will do what I did, but there is nobody there to help them. I hope that an organization will be set up, and then 90 percent of the girls will flee (forced marriage]. That will happen if there is an organization to protect children, not act against them. It should protect them from everything, not just marriage."
Responding to questions from the interview, Nada al-Ahdal said she ran away from the arranged marriage because she wanted to study.
"When they told you they wanted to marry you off, what did you know about marriage," the interviewer asked.
"They told me it was a game, but it isn't. It turns you into a servant, and places a burden that is greater than you can bear on your shoulders."
She said her parents told her, "You're going to get married. You'll get a new dress."
She said she learned the suitor paid her parents $2,000 for her.
The uncle who helped his niece, Abd Al-Salem, said Nada could have ended up like her sisters, ages 12 and 14, both to be married soon.
The cleric, Sheikh Abu Yahya, however, said a contractual marriage is perfectly acceptable.
"From the moment the baby girl is born, takes her first breaths, and is given a name, her guardian, who is her father only – and there is consensus about this in the Muslim world – is allowed to marry her off," he said. "This is an accepted custom, and perhaps even my grandparents and your grandparents married this way."
He said the marriage is not consummated until the girl is prepared, anywhere from age 9 to 25.
The interviewer questioned him, "If you had a girl who reached puberty at nine years of age…"
"I would marry her for sure…" Yahya said. "If I had a daughter who reached puberty, I would marry her off. People must understand that there is a distinction between contractual marriage, which is permitted by Islamic law, and consummated marriage…"
Yahya claimed that the Vatican permits marriage at 12, Spain at age 13, Japan at age 13 and America at age 14.
The interviewer questioned the accuracy of Yahya's numbers.
http://www.news.nom.co/10-year-old-bride-argues-marriage-not-6565896-news/
-------------
Friday Sermon: Respect Women, Avoid Extremism
October 11, 2013
The Prophet Mohammed's last instructions to his followers were to be good to women and avoid religious extremism and racism, this week's sermon reminds worshippers.
The sermon reminds Muslims of the last Haj sermon the Prophet gave before he died – "hujjat Al wada'a", which he delivered on the ninth of Dhu Al Hijjah, the day pilgrims spend on Mount Arafat.
"Regard the life and property of every Muslim as a sacred trust. Return the goods entrusted to you to their rightful owners. Hurt no one so that no one may hurt you," the Prophet said.
"All mankind is from Adam and Eve, an Arab has no superiority over a non-Arab nor does a non-Arab have any superiority over an Arab; also a white has no superiority over a black nor a black any superiority over white except by piety and good action."
These words set the basis of society on cooperation, humility and brotherhood, explains the sermon.
The Prophet reinforced women's status in Islam, saying: "O People, it is true that you have certain rights with regard to your women, but they also have rights over you. Remember that you have taken them as your wives only under Allah's trust and with his permission.
"If they abide by your right then to them belongs the right to be fed and clothed in kindness. Do treat your women well and be kind to them for they are your partners and committed helpers."
Women should be appreciated for their productive roles in society and have rights to education, inheritance and work.
The Prophet also warned Muslims against division from within and following Satan's path: "Beware of Satan, for the safety of your religion. He has lost all hope that he will ever be able to lead you astray in big things, so beware of following him in small things."
http://www.thenational.ae/uae/government/friday-sermon-respect-women-avoid-extremism#ixzz2hOyVQbBv
-------------
Women's Majlis: Balancing Cultures Is Key to Education in the UAE
October 11, 2013
Each month, Weekend will pose a different question to be debated on by a series of female Emirati columnists. This month, we ask Ayesha Al Khoori:
Do you feel that the school systems, both public and post-secondary, are adequate for learning? What would you change, if anything?
Even though the UAE's leaders aim to develop education and make it a priority, the system still requires adjustments to achieve maximum improvement.
In high school, most classes are uninteresting and follow the same teaching style. Teachers recite the lesson, jot down a few notes and call it a successful class. Most of the time, students' questions go unanswered.
Public or government schools fail to provide basic English skills to the students, since most teachers cannot speak adequate English to begin with. The reality is that these students will join a university after graduation, and the universities or colleges that they will attend will surely require them to speak and write in English.
Private schools, on the other hand, focus so much on teaching in English that the students' Arabic, their mother language, is neglected. Not many schools focus on both languages equally, which is a problem stated by many authorities. Students are unable to communicate in their own mother tongue, and the Arabic language is set to effectively disappear in the coming years. Concerned parents are worried over the neglect of the language, and serious reform is needed immediately.
Both systems fail to teach students how to think critically, instead using memorisation as a tool for students in exams. Memorisation is needed in some courses, but experts believe that students must learn to explore and reason on their own.
Another problem is that there isn't enough focus on Islam. We live in an Islamic country, and share Islamic values and law. So, why don't the students know much about their religion?
International history and issues, as important as they are, cannot be more important than the Arabic history and culture. I grew up not knowing much about our culture, heritage or even language. To me, that's a shame, and now I am struggling to speak and write in my own language.
The initial changes to the education system should first start with proper administrations that understand the students, their parents and the educational track that the students must take to reach their goals in life.
Teachers must also be prepared to change their techniques, listen to the students' concerns and reach every student individually. Different students have different capacities, and not all excel in certain classes.
Changing the curriculum to fit most students, both local and foreign, is a must. Both languages should be taught equally, as the English language is needed to be able to converse with others, and our mother language is needed for us to hang on to our heritage and culture.
The education system needs immediate adjustments for the students to reach their potential.
Ayesha Al Khoori is an Emirati intern at The National.
http://www.thenational.ae/lifestyle/womens-majlis-balancing-cultures-is-key-to-education-in-the-uae#ixzz2hOxPt2JZ
-------------
New Islamic fashion exhibition challenges stereotypes
October 11, 2013
Traditional Islamic dress for women, particularly headwear, is a topic often surrounded by misconceptions and assumptions including fierce debate about oppression and subjugation.
It's not always recognised that there are huge differences in the way Islamic women dress, particularly in Australia where there's a great deal of cultural diversity.
An Australian exhibition is choosing to celebrate that diversity by showcasing Muslim designers and their work.
One of the exhibition's curators, Tasneem Chopra, told it aims to overcome a range of stereotypes.
"Often people see the scarf and not the person .. So what this exhibition does, is it certainly uses fashion as a hook to get people in, because the fashions are beautiful, they're glamorous, they're colourful. They're very contemporary, but modest at the same time", Ms Chopra said.
Faith and fashion
The exhibition is called "Faith, Fashion, Fusion: Muslim women's style in Australia".
It was first developed by Sydney's Powerhouse Museum and is also at Melbourne's Immigration Museum.
Ms Chopra says the exhibition is about more than fashion.
"Once they're in, they actually see another whole dimension to the exhibition which is .. women who've achieved spectacular things in their own right".
"We have poets, academics, writers, sports stars, a marathon runner, a Masterchef contestant. We have a gamut of women portrayed, all of whom are Muslim, some of whom may look Muslim, others not necessarily. And that's the whole point", Ms Chopra said.
Freedom to choose
It's not just the fact that Australian Muslims come from many different countries and cultures that makes the Australian context unique.
It's also the changes in style that Australian Muslim women and designers, many of whom were born in Australia, have chosen to adopt.
"It is a democratic country here. We have the freedom of choice to express our views, our dress code, that other countries don't", Ms Chopra said.
"I think where laws exist that .. impose a dress code, there are prohibitive laws, where headscarves are banned or where headscarves are imposed. I think that takes away from the human rights of women across the world - be it Saudi Arabia, be it Turkey, be it France, be it Belgium," she said.
The most controversial Islamic headwear is the niqab and burqa which cover most or all of the head and face.
Ms Chopra says both get a disproportionate amount of attention in Western countries, given that hardly any women wear them.
"I don't think I've ever seen a woman in a burqa in Australia that's covering of the entire face. I've seen women wear the niqab .. the numbers are so miniscule", she said.
"Hijabify"
Ms Chopra says the exhibition shows the creativity of designers and their skills in adapting a wide range of styles to outfits that will appeal to Islamic women.
"As one of our designers says .. she sees an amazing outfit, she really wants to wear it and the first thing she thinks of is, "How can I hijabify that?"".
The exhibition will run at Melbourne's Immigration Museum until June next year.
http://au.news.yahoo.com/a/19351790/new-islamic-fashion-exhibition-challenges-stereotypes/
-------------
First Fashion Institute to Open In Saudi Kingdom
October 11, 2013
RIYADH — The first institute to teach fashion and design will be opened the beginning of next year in Riyadh, according to Wafa Al-Rashid, CEO of Raffles Education Middle East, Al-Eqtisadiah reported.
"This is the first institute of its kind here that will teach students fashion and how to design clothes professionally using global standards," Al-Rashid said during a press conference held recently in Riyadh.
She spent over two years working on obtaining a license to run such institute. She tried to get a license for a college to teach fashion but she could not. The first batch of female students, about 25, will have to choose among the following majors: management of fashion, basic design and sewing, and interior design. The students will have to enroll in English program because all courses are taught in English.
Princess Reema Bin Bandar, CEO of Alfa International Group, said a strategic partnership was forged between Harvey Nichols and Raffles Education Middle East, to educate Saudi female students about the arts of design and fashion.
"Saudi girls should be provided with tools to help them venture into the retail industry and help Saudize jobs," Princess Reema said.
http://www.saudigazette.com.sa/index.cfm?method=home.regcon&contentid=20131011183325
-----------
US TV Host Jay Leno Tweets over Dismissed Turkish Presenter after Low-Cut Dress Crisis
Oct 11, 2013
Famed comedian and television host Jay Leno has posted a tweet about Turkish TV presenter Gözde Kansu's dismissal from a TV show after a government official criticized her low-cut dress.
"The Turkish government ordered a TV show host to be fired because she showed too much cleavage. The good news: She's been hired by Fox News!" Leno wrote, needling Fox News which faces criticism due to its broadcasting policy in the country.
The company that produces the show dismissed the presenter after ruling Justice and Development Party (AKP) spokesperson Hüseyin Çelik criticized Kansu's costume during a TV program. While refraining from giving a name, Çelik said he found the dress "extreme" because of its open cleavage. He defended his right to express an opinion and described the discussion on the issue as "ill-intended."
Later, the company released a statement to explain why it no longer wanted to work with Kansu, saying her manner of presentation and style were not in line with the show's aims.
Gözde Kansu objected to the show producer's claim that they had parted ways because of "her way of presentation and style." She said her firing was political, as nobody at her station was "willing to stand against the political will."
"Look, if they didn't like my performance they would tell me, right? They are investing a lot of money in this business. But they didn't tell me anything. When [Hüseyin] Çelik talked, things changed," Kansu said, insisting that her presenting had previously been praised and encouraged by the producers. "This is only the excuse. The ratings were not bad. But nobody wanted to act contrary to the political will that slammed my décolleté. This is obvious," she said.
http://www.hurriyetdailynews.com/us-tv-host-jay-leno-tweets-over-dismissed-turkish-presenter-after-low-cut-dress-crisis.aspx?pageID=238&nID=56082&NewsCatID=341
-------------
URL: https://www.newageislam.com/islam,-women-and-feminism/new-age-islam-news-bureau/algeria-wrestling-with-aftermath-of-jihadists--temporary-marriages/d/13949