New Age Islam News Bureau
21 Jun 2016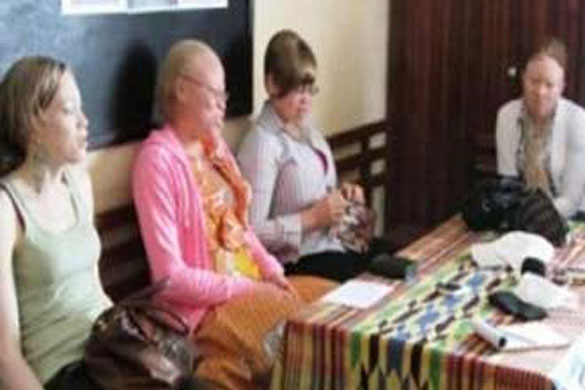 Photo: Sheikh Ustaz Sham-una Jibril who is known globally for his accurate predictions on both local and international issues says politicians ahead of November 7, elections will do 'whatever it takes' to win the election.
---------
• PPP Condemns All Kinds of Violence against Women: Zardari
• UK Muslim Woman Defended By Fellow Passenger against Man on Bus Who Demanded She 'Speak English'
• Indian School in Kashmir Bars Muslim Female Teacher from Wearing Burqa
• 'Muslim Feminist' Inspires Georgia High Schooler's Winning Essay
Compiled by New Age Islam News Bureau
URL: https://newageislam.com/islam-women-feminism/albinos,-pregnant-women-life-danger/d/107719
--------
Albinos, Pregnant Women Life in Danger for Rituals-Islamic Cleric
June, 20, 2016
He told Peacefmonline.com that – Ghanaian politicians are hungry and thirsty for power at all cost, "As a result of that, they will find their way out by foul means whether physically or spiritually to suit their Political ambitions and desires."
"I foresee that, Albinos, Pregnant women and Lilliput's are needed badly for Sacrifices by the Politicians. To illustrate more, 19 Albinos, 11 pregnant women and 9 Lilliput's are needed for Sacrifices."
". . So far so good, on the part of the Politicians, 5 albinos were missing from February till now and they are nowhere to be found. From now till November 7, the above victims should be careful of their movements and interactions most especially at night and the places that they go. They should not be in isolated places and where they think they are not safe," he lamented.
Sheikh Ustaz Sham-una Jibril however called on the police service to offer some protection to 'Albinos, pregnant women and liliputs' ahead of the elections.
"Who will the politicians rule if they kill them?" he questioned – adding that, "we must pray for the victims, preach to our politicians and massive education should be carried out on radio, television and all other social platforms to stop this evil plots."
newsghana.com.gh/albinos-pregnant-women-life-in-danger-for-rituals-islamic-cleric/
--
PPP condemns all kinds of violence against women: Zardari
June, 20, 2016
He further said that his party condemns' people inciting violence against women in the name of religion.
Two days ago, a pregnant women along with her husband was killed in Faisalabad by her family. According to details, the suspect came to the victim's home three days ago and took them to some undisclosed location; they were later found dead.
The council for Islamic Ideology in its 'model Women Protection Act' had suggested that "light beating" of women was legitimate. After the Punjab provincial assembly's passage of Women Protection Act, violence against women has risen. Two days ago, The Council for Islamic ideology condemned the honor killing calling it un-islamic.
channel24.pk/breaking-news/2016/06/20/ppp-condemns-kinds-violence-women-zardari/
--
UK Muslim Woman Defended By Fellow Passenger against Man on Bus Who Demanded She 'Speak English'
June 20, 2016
When Nigel Farage complained about the number of foreign languages spoken on public transport in Britain he probably didn't imagine the following scenario:
Tom Bradbury, a 26-year-old events organiser, described how he witnessed the "perfect" moment a Niqab-clad woman was defended from a man who confronted her for not speaking English.
In a post on Facebook, Bradbury said the Muslim woman was sat playing with her toddler son, speaking to him in another language while on a rail replacement service between Newport and Cwmbran, in south Wales.
As she chatted to her child, an aggrieved fellow passenger sat in front of them turned around to challenge her.
"When you're in the UK you should really be speaking English," he demanded.
The response from another woman passenger would have certainly come as a shock - as she revealed the lady was in fact speaking...Welsh.
Bradbury told The Huffington Post UK after his post went viral that he was "surprised" to hear the angry passenger "come out and say something like that so directly".
But when the Muslim woman responded - immediately, he recalled -"it made the few of us in the surrounding seats laugh".
The instigator, Bradbury continued, "seemed to shrivel up a little bit and mumble something to himself, but stayed quiet afterwards".
huffingtonpost.co.uk/entry/muslim-woman-defended-speak-english-welsh_uk_5767f68ce4b0a4f99adc3d12
--
Indian school in Kashmir bars Muslim female teacher from wearing Burka
June 20, 2016
The female teacher was asked by the Delhi Management school to choose between an abaya and her hob. She later resigned from her job which triggered protests in the area. The protesters demanded that the teacher should be reinstated. "The principal was absent for two months. After she returned, she sent a message that I should not wear an abaya," said the suspended teacher.
The school's decision has been termed similar the of the French government which has barred Muslim women from wearing abaya in public.
"We live in a multi-religious, multi-cultural set-up. We have a secular fabric [and] no force on any such issue will be accepted," State education minister, Akhtar said while addressing the Jammu and Kashmir Assembly.
channel24.pk/pakistan/2016/06/20/indian-school-kashmir-bars-muslim-female-teacher-wearing-burka/
--
'Muslim Feminist' Inspires Georgia High Schooler's Winning Essay
JUNE 20, 2016
When 15-year-old Sania Shaikh looks at Hadayai Majeed, she sees not just a domestic-abuse survivor, but one who turned her tragedy into a greater purpose: Helping others avoid the same fate, and fostering discussion about women's issues often seen as taboo in Islamic cultures.
Ms. Majeed was one of 100 Influential Georgia Muslims named by the Islamic Speakers Bureau in 2014, who formed potential subjects for this year's "Making a Difference" high-school essay contest focused on inspiring personas in the state's Islamic community.
Miss Shaikh, a student at Cambridge High School in Milton and an aspiring author, won first prize at the high school level and $500 with a piece about Ms. Majeed's role in breaking down stereotypes of Muslim women held in Georgia and beyond.
"Ms. Majeed is proof that women in Islam, contrary to popular Western belief, are empowered, innovative and independent," Miss Shaikh wrote in an essay discussing Ms. Majeed's Baitul Salaam Network, a shelter in Stone Mountain for domestic abuse victims, many of them hailing from other parts of the world but finding themselves in metro Atlanta. Baitual Salaam provides more than lodging: It also helps with legal expenses and rehabilitation.
Global Atlanta received permission to reprint Miss Shaikh's essay below, which discusses the courage required to be a Muslim feminist in today's political environment, the need to address stigma on mental health issues and other topics through the lens of Ms. Majeed's contributions.
First Prize, High School – 2016 "Making a Difference Essay Contest"
Sania Shaikh from Cambridge High School in Milton
Broadening the boundaries of culturally and Islamically accepted colloquies, Ms. Hadayai Majeed has been consistently determined to aid those who have been through emotionally and physically traumatic experiences, namely domestic abuse. Even with the tense political climate today, especially directed towards Muslims in America (and more particularly, the South), Ms. Majeed has risen above what people might think of her. Rather than worrying about the stigma that being a Muslim feminist has, she has created the Baitul Salaam Network, a "shelter program" that focuses on rehabilitating, legally assisting, and medically aiding domestic abuse survivors, etc. Hadayai Majeed is truly a beacon for social change, helping over one thousand people not only across Georgia, but across the entire United States, assisting women with origins from all over the world.
Ms. Majeed is proof that women in Islam, contrary to popular Western belief, are empowered, innovative and independent. Not only is she the co­founder and the administrator of the Baitul Salaam Network; additionally, she is also emphasizing the importance of talking about ostensibly 'banned' topics of discussion. Domestic abuse is not generally spoken about anywhere in society, nevertheless a taboo in conservative communities. Women like Hadayai Majeed, will always set the precedent for future generations of Muslim girls to take pioneering initiatives in their own lives. For these reasons, I chose her as my inspiration.
Feminism is a big facet of Ms. Majeed's organization, and this is reiterated in her personal beliefs as well. She has spoken out before, saying that she wants the issue of domestic violence "not to be hidden". This had raised concerns for conservatives, Muslim and non­-Muslim alike. The demographic that was most hesitant to support the shelter was, surprisingly, females. They were worried about possible scrutinization and, consequently, opprobrium from the male population. Regardless of all these inevitable setbacks, Ms. Majeed persevered, determined to create a world "for people to be able[…] to rebuild their lives in dignity." Having been subject to domestic abuse herself, it is no wonder why Ms. Majeed is so passionate about the work she does.
I myself– though I have not gone through what Ms. Majeed has– am similarly passionate about my own personal beliefs and work, which is why I connected so deeply with her endeavors. I feel that society has aversion to discussing another subject: mental health– more specifically, mental illnesses. Unfortunately, those with mental disorders and illnesses are looked down upon in society and deemed as unfavorable. Being an anxious teenager, I understand the negative effects of this on a personal level. Out of fear of being judged in their respective communities, people suppress any mental problems they have and are hesitant to seek the help of a therapist; this can prove dangerous in the long run. Awareness is key to promoting change, whether the issue at hand is domestic abuse or mental health. In addition to being a sophomore in high school, I am also on my way to becoming a published author. My young adult novel, "Silence Interrupted," is due to be released this year. It is a gargantuan step for me as a writer, and it is something that frightens and excites me at the same time because I am afraid of people vituperating me as an author or the book itself. "Silence Interrupted" brings about the same theme of mental health in an American high school setting, and is going to be regarded as atypical for a Muslim girl to write.
Knowing that there are Muslim women like Hadayai Majeed that are constantly pushing the boundaries of what a Muslim woman can do, it brings much needed comfort to young women like me that are trying to figure out what we are going to do with our lives. Ms. Majeed is certainly an exceptional role model; she is in a leadership position in an organization that she herself co­founded. She is still an extremely avid activist, and is a regular on social media.
Understanding that there was so much adversity facing Ms. Majeed– her own personal experiences combined with tedious cultural restrictions– it makes my own personal goals seem just as feasible as hers. Just as Hadayai Majeed can advocate for what she is passionate about, I am capable of doing the very same.
The fact that there are numerous examples of truly amazing Muslim women in the state of Georgia is awe­-inspiring. Typically, people regard the leaders of innovation as being almost ethereal, and practically impossible to find in real life. However, this is evidently not the case; samaritans such as Ms. Majeed consistently prove that extraordinary people are simply ordinary people that strive to better themselves and the environment around them. It is everyday people that mold the world into what it has become, and the catalyst of this change is their determination. Following in the footsteps of Ms. Majeed, I can raise awareness of issues that I feel strongly about while simultaneously retaining my religious and cultural identity. I can be comfortable about continuing my Young Muslim group I conduct twice a month. I am going to start incorporating the topic of mental health in our discussions, and also into conversations with adults, including my parents.
Hadayai Majeed's activism evokes a profound sense of pride, but it also incites inventiveness and ingenuity. She highlights the parts of society that most people do not like discussing, the seemingly forbidden aspects of communities. This unorthodox approach to social issues is what sets her apart from others. Conventional traditions being more fluid rather than insurmountably solidified is a concept that is just starting to emerge, but they are being bolstered by innovators such as Ms. Majeed. Instead of immediately regarding a topic as taboo, she has been open about the fact that domestic abuse, amongst other serious issues, is a problem that the general public has downplayed heavily. Regardless of this 'cultural' fallacy, Ms. Majeed has not stopped her endeavor to ensure the safety of as many women as possible; this in itself leaves no doubt that Hadayai Majeed is a selfless woman and a benevolent humanitarian.
—
Winners came students in Georgia middle and high schools, with the top three writers at each level receiving $500, $250 and $150 in prize money, respectively. The middle school winners were:
–Fatima Safdar from Fulton Science Academy in Alpharetta, writing about "Influential Georgia Muslim" Henna Inam, first place;
–Alizeh Subhani from ILM Academy in Roswell, writing about "Influential Georgia Muslim" Dr. Rana Hajjeh , second place; and
–Ozair Khan from ILM Academy in Roswell, writing about "Influential Georgia Muslim" Ahmed Salim, third place.
The high school winners were:
-Sania Shaikh from Cambridge High School in Milton, writing about "Influential Georgia Muslim" Hadayai Majeed, first place;
-Alaa Elasser from Milton High School, Milton (GA), in second place, writing about "Influential Georgia Muslim" Maria Ebrahimji; and
-Faiz Syed from Walton High School in Marietta, third place, writing about "Influential Georgia Muslim" Farooq Mughal.
globalatlanta.com/muslim-feminist-inspires-georgia-high-schoolers-winning-essay/
URL: https://newageislam.com/islam-women-feminism/albinos,-pregnant-women-life-danger/d/107719
New Age Islam, Islam Online, Islamic Website, African Muslim News, Arab World News, South Asia News, Indian Muslim News, World Muslim News, Womens in Islam, Islamic Feminism, Arab Women, Womens In Arab, Islamphobia in America, Muslim Women in West, Islam Women and Feminism