New Age Islam News Bureau
20 March 2014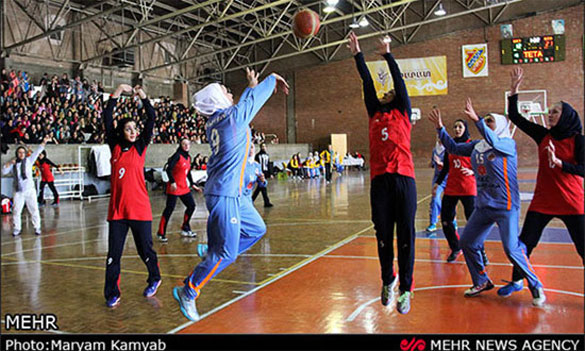 Photo: Iran's Top Women Basketball Players in Action
------------
• Saudi Women's Eatery Shut for Violations
• Iranian Women Use Parkour to Navigate Obstacles and Prejudices
• IHC Moved For Making Laws Flexible For Female Applicants
• Holocaust Heroine Motivated By Islam
• Muslim Women Threaten To Leave Central African Republic
• Pakistani Women Turn Against Imran Party
• Wadjda's Saudi Director Says: 'Conservatives Don't Want To See Women Being Filmmakers'
• Children of Saudi Women Should Have Saudi Nationality
• Hoops And Headscarves: Iran's Top Women Basketball Players in Action
• Women Half As Likely As Men to Study Science, Finds Survey
Compiled by New Age Islam News Bureau
URL: https://www.newageislam.com/islam,-women-and-feminism/new-age-islam-news-bureau/al-qaeda-women-use-websites-to-entice-youth/d/56209
---------------
Al-Qaeda women use websites to entice youth
20 March 2014
Saudi Arabia's Ministry of Islamic Affairs' dialogue initiative called "Assakina" has found that female al-Qaeda members are using websites to recruit young people, al-Hayat daily reported on Wednesday.
Their aim is to target young men and women who surf websites, particularly sports and music sites.
Sources at the Assakina campaign confirmed that al-Qaeda had started a new "invasion," led by second-generation women members, targeting websites and forums.
The aim is to attract a largest number of people in an organized and covert manner, the sources said, adding that these women came to prominence after the first generation dispersed as a result of death, escape or arrest. The sources said they operate from within Saudi Arabia and abroad.
They hinted that female activists in the kingdom who have been campaigning online have decreased, but they still lead various campaigns that aim to recruit new followers and publish articles, statements and films to promote the organization.
Their method is to individually participate on many websites and forums and interact with people.
The sources claimed these women avoid dialogue and discussions that could embarrass their organization or expose its weaknesses, especially since Assakina has achieved much success in engaging them with peaceful discussion.
The sources said that an article, written and posted on al-Qaeda websites by one of these women, reiterates the determination of al-Qaeda supporters to go ahead to achieve their goals.
Rabeebah al-Selah is the nickname of these women used on many al-Qaeda sites.
This article was first published in the Saudi Gazette on March 20, 2014.
http://english.alarabiya.net/en/News/middle-east/2014/03/20/Al-Qaeda-women-use-websites-to-entice-youth.html
---------------
Saudi women's eatery shut for violations
March 19, 2014
A women restaurant launched five months ago as the first only-women dining place in the western town of Taif was shut down for massive violations of health rules.
Health inspectors raided 'Banat Biladi' (Girls of My Country) restaurant following a report by some of its workers that it was selling bad meat.
"Inspectors decided to shut down the restaurant after discovering meat not fit for human consumption," the Saudi Arabic language daily Okaz said.
"The inspectors also found that some workers do not have health certificates while others have not been paid since the restaurant was opened."
Saudi women are gradually losing their rights and laws enacted to support them have remained in the drawers, a prominent Saudi female activist has said.
Aziza Al Yousuf said the situation of Saudi women during the 1970s and 1980s was much better than now and that they have no channel of contacts with officials.
"We are losing our rights every year. Our situation during 1970s and 1980s was far better than now. We have no open channel of contacts with the officials," she told the Saudi 'Rotana Khaleejiya' television channel.
"The government has issued many laws supporting women but they have remained inactive. When a woman goes to the police or court, they just do not listen to her."
Al Yousuf criticised government laws curbing the travel of women abroad without a custodian, saying this is a private affair.
"Whether the woman goes out of her home or travels abroad, this is a private affair. The state must not interfere in homes and families," she said.
http://www.emirates247.com/news/region/saudi-women-s-eatery-shut-for-violations-2014-03-18-1.542181
---------------
Iranian women use parkour to navigate obstacles and prejudices
March 19, 2014
TEHRAN // In a Tehran park, a group of young women brave sneering men and shocked looks as they perform flips, mid-air somersaults and bound from pillar to pillar.
The group has discovered parkour, the fast-moving sport blending acrobatics and gymnastics that has become their outlet for evading social constraints and dealing with stress.
"As a woman, it's a bit complicated," says their teacher Maryam Sedighian Rad, 28, who earned a master's degree in physiology.
She and the others wear the hijab and her group often has a male escort when they practise outside to ward off unwelcome company – and sometimes police.
Conceived in France in the late 1980s, parkour involves getting around or over urban obstacles, with a fast-paced mix of running, jumping and gymnastic rolls and vaults.
Offering a cocktail of excitement, danger and risk, it caught on around the world thanks to blockbuster movies like Yamakasi and District B13.
Now, it has gained a foothold in Iran – and not only among the usual young male aficionado.
Ms Sedighian Rad and about 50 women, teenagers and young adults, are among the hundreds of Iranians practising this non-competitive discipline that morphed from military obstacle course training into a mainly urban sport.
The parkour motto: "Never move backwards", seems to hold particular resonance here.
Three times a week, Ms Sedighian Rad trains her groups at three indoor sports complexes.
"We encounter problems but we try our best to cope with them because we love doing parkour," she says.
While their baggy outfits allow for ease of movement, the jogging, jumping and somersaulting can cause hair to fall loose.
Unperturbed, Helia Goharbavar, 16, readjusts her hijab after every move.
"It doesn't bother me," she said. "It's cold anyway and you have to wear something. Besides, we are used to it."
One of the most agile in the group, Arefeh Shoari, 17, admits she often fears that certain moves might expose parts of her body.
But she and the other girls say parkour, often billed as a holistic discipline, has given them freedom and confidence.
"There was a jump I couldn't do at first ... learning it made me realise I am capable of doing anything and defeating any obstacle," says Ms Sedighian Rad. "I feel free."
Arefeh says parkour allows her to cope with everyday life.
"I am really stressed out because of my studies but parkour helps me a lot to deal with the stress. I feel happy."
"Practising parkour shows that even if you are a woman, you are not bound to stay at home," says Helia.
Apart from the risk of injury, the women also brave derision in a country where mixed activities are banned.
"Sometimes people criticise us saying this isn't a sport for girls. They say we're supposed to knit ... They can't imagine a girl exercising like a boy," Ms Sedighian Rad says.
Athena Karami, 19, recalls how she once had to leave the park during practice after a crowd of teenage boys "made fun of us and filmed us with their mobile phones".
To head off such problems, Ns Sedighian Rad usually takes along male members of Hitall, the parkour club she joined in May 2012, when her group trains outside.
At times police have interrupted their workout.
"But when they see that it's just a sport and that we are really exercising, they let us be," Ms Sedighian Rad says.
"Sometimes they even express interest in parkour and ask where they can get training."
http://www.thenational.ae/world/middle-east/iranian-women-use-parkour-to-navigate-obstacles-and-prejudices
---------------
IHC moved for making laws flexible for female applicants
March 20, 2014 SHAHID RAO
ISLAMABAD - The Islamabad High Court (IHC) Wednesday issued notices to the principal secretary of prime minister and president National Bank of Pakistan (NBP) in a petition seeking formation of some special laws so that the youth loan scheme could be made easier, particularly for the female applicants.
In this regard, Chief Justice IHC Muhammad Anwar Khan Kasi also directed both the respondents to submit their reply within a fortnight.
The court issued these directions in a petition moved by Zahida Sami through her counsel Ahmad Nawaz Bhatti and made Prime Minister Secretariat through its principal secretary, secretary cabinet division, chairperson prime minister youth business loans, president National Bank of Pakistan and president First Woman Bank as respondents.
The petitioner told the court that the scheme contained various aims and objectives enabling the people to get employment and boost up the level of self-reliance. "The aims and objectives are very much attractive and it is appreciated that the respondents were pleased to introduce such high aimed objectives in the public interest but unfortunately, the policymakers and the introducers of the instant scheme failed to touch difficulties at the grassroots level as the major portion of the population is illiterate and poor," contended the petitioner.
Her counsel informed the court that every application was supposed to be supported with Rs 100 as processing fee, which was non-refundable. "The petitioner has gathered information that till date 2,700,000 applications have been received. It has also come into knowledge of the petitioner that after cutting off these applications, the respondent number 4 has entertained 5,000 applications while the respondent number 5 has entertained only 50 applications," the counsel added.
He continued that the amount of processing fee was worked out to the tune of Rs 270 million, meaning thereby that this scenario made profitable for the respondents 4 and 5 and the general masses stood looser for getting reward from the scheme.
He further told that 50 per cent ratio of the facility was allocated to the female gender but the conditionality of the guarantor for availing of loan was not formulated for the females while the females were not in a position to present the guarantee to the respondents as per condition imposed in the application form.
"This deviation is alarming and the person who enjoys to be declared guarantor victimises the female applicants and they are compelled even to immoral/ unethical act," maintained the petitioner. Therefore, she prayed the court that the petition might be allowed with the directions to the respondents that the unwarranted condition of guarantee be waived off for being female as the applicant was unable to produce the surety at par with the male applicant and this concession could be made favourable in consideration of the other laws belonging to female gender.
The petitioner further prayed that respondents be directed to frame special laws so that the scheme could be made easier for the achievement of the high aimed objectives in the best interest of justice.
http://www.nation.com.pk/islamabad/20-Mar-2014/ihc-moved-for-making-laws-flexible-for-female-applicants
---------------
Holocaust Heroine Motivated by Islam?
March 20, 2014
by Deborah Weiss
In a recently released film titled "Noor Inayat Khan: Enemy of the Reich," the heroine was touted as a devout Muslim, motivated by her Islamic faith to save Jews during the Holocaust. But the truth is that Khan was not a practicing Muslim at all.
In 1940, Khan joined the WAAF (Women's Auxiliary Air Force) and became a wireless operator. Subsequently, she attended bomber training school and eventually became Assistant Section Officer. Finally, she was recruited to join the SOE (Special Operations Executive) in France, where she was posted to the Air Ministry and adopted the code name "Nora Baker."
During the course of her service as a wireless operator in Nazi-occupied France, Khan assumed numerous identities, among which were "Madeline" and "Jeanne-Marie Renier."
The work of wireless operators was critical in assisting the Allied cause. The possibility of detection and capture by the SS was always lurking in the background. Khan knew the dangers prior to accepting her mission, but went forward anyway.
After all the other operators in her unit were arrested by the SD (Sicherheistdienst; i.e. the Nazi intelligence agency), Khan was offered, but declined an opportunity to return to Britain. As the sole remaining French operator, she was sought after by the SD which tried to track her down in common everyday places like subway stations. However, she moved from place to place under various assumed identities, thus avoiding arrest and furthering the cause of freedom.
Eventually, someone who knew Khan betrayed her and turned her in to the SD. She was arrested by the Gestapo on September 13, 1943 and was interrogated for over a month. She refused to provide the SS with any information. Unfortunately, she had kept notebooks with records regarding her wireless messages to Britain. The SD eventually seized the notebooks and continued sending messages to Britain under Khan's code name.
On November 25, 1943, Khan made what constituted a second attempt to escape SD headquarters. She was captured nearby. The SD requested that she sign a declaration of refusal to make future escape attempts. She declined and was therefore classified as "highly dangerous." She was sent to Germany on November 27, 1943 where she was imprisoned at Pforzheim. She was labelled as a "Nacht und Nebel" (Night and Fog), a designation for those who would disappear into the night.
For ten months she sat in solitary confinement, with her hands and feet shackled. A wire ran between her hands and feet, tying them together so she was curled up, unable to feed herself, clean herself or properly lie down. Other prisoners were able to hear her cries at night, but in the presence of Nazis she remained stoic and refused to cooperate.
On September 11, 1944, Khan and three other SOE agents were taken to Dachau concentration camp. There is some contention about whether or not Khan was singled out for overnight torture or beating. Two days later, the SOE agents were fatally shot in the back of their heads and subsequently cremated. Khan's last recorded word was "[L]iberté!"
She was 30 years old when she was executed at the hands of the Nazis. She was posthumously given numerous awards including the British George Cross and the French Croix de Guerre. She was commemorated on a British stamp themed "remarkable lives." And, on November 8, 2012, a bust of Khan was unveiled in London's Garden Square.
So what motivated Khan's acts of bravery and courage?
According to Unity Production Foundation's (UPF) Alex Kronemer, a Muslim convert and the co-founder of UPF, Khan's courage, integrity, and zeal in her quest against Nazism was motivated by her Muslim faith. Though "Enemy of the Reich" does not expressly make this assertion, the film, which consists primarily of interviews, is replete with this insinuation.
Additionally, in his opening statements at the film's Washington, DC screening in February, 2014 at the Warner Theatre, Kronemer asks why Khan would risk her life and what would compel her to put herself in potential danger to save the Jews. His answer was her faith. "What compelled her was her great sense of humanity for other people, religions, other races, and Nazi ideology was opposed to her beliefs." Kronemer explained that in recent years, some stories had come to his attention of Muslims hiding Jews to save them during the Holocaust. He wondered why he had never heard of any stories about the role of Muslims in World War II. He claims that he produced this film, as well as other pro-Muslim and pro-Islam films to "tell the full story" of Muslims. Enemy of the Reich is the tenth such film.
Many interviewed in the film asserted that Khan's motivation was "idealism" and "her ideology." She believed that all life has value and she had a tolerant view of all religions. Her nephew, who is Sufi, assumed "it must have been her faith. Only that faith could have carried her….. Her message is that the human soul is of Divine Source, all humans must be free, and every human is sacrosanct." Indeed, prior to becoming a British spy, Khan built a career writing children's stories, which taught that all conflict should be resolved through love and non-violence.
However, there are numerous flaws with the film's assertions. While it is true that Khan appeared to be motivated by her belief system, as many people are, it is inaccurate to assume that only people of "faith" have virtue and courage. And, research reveals that Khan was not a devout Muslim.
Khan grew up in a home with an Indian Sufi father and an American mother. Her father's brand of Islam was a far cry from traditional or authoritative Islam and indeed, it would be considered heretical by traditional Islamic standards.
Contrary to the film's proclamation that "Sufis are first and foremost Muslim," Khan's father's version of Sufism expressly disavows belonging to any particular religion including Islam. He belonged to the Christi Order within the mystic tradition, which emphasizes love, tolerance and openness. It is known for welcoming seekers of all faiths, and confines itself to no particular doctrine or ideology. It emphasizes the universality of all faith traditions, not favoring one over another. It seeks to spread the message of unity and the divinity in all living beings. Her father believed that there is really only one universal religion and there are many paths to God and he was primarily concerned with inner soul. So even if Khan were "religious" in the same sense that her father was, it would be inaccurate to conclude that her faith was "Islamic" in any true meaning of the word.
The producer of the film could only conclude that Khan was Muslim by assuming that all Sufis are Muslim and then extrapolating that Khan's father was Sufi and thus Muslim, so Khan must have been also. However, according to Sharabani Basu, author of Khan's biography titled "Spy Princess: the life of Noor Inayat Khan," Khan was not a "practicing Muslim" despite the fact that she was influenced by her liberal Sufi upbringing.
Additionally, the film conspicuously omits the fact that Khan was engaged to a Jew prior to the outbreak of World War II. It's hard to believe that this was an accidental oversight on the part of UPF, rather than the intentional omission of information that would tip off the audience to the fact that Khan could not have been the devout Muslim that UPF claims she was. Islamic doctrine dictates that while Muslim men are permitted to marry Jewish or Christian women, Muslim women are confined to marry Muslim men only.
That Khan's marriage to her fiancé never came to fruition is of no consequence. What is important is the fact that Khan, while certainly motivated by a loving, virtuous ideology, was not motivated by Islam as UPF producers would have you think. The film holds itself out as honoring this courageous Holocaust heroine. But on some level, it stains her memory by attributing to her false motives, in a narrative that constitutes nothing more than an Islamist propaganda lie.
http://www.frontpagemag.com/2014/deborah-weiss/holocaust-heroine-motivated-by-islam/?utm_source=rss&utm_medium=rss&utm_campaign=holocaust-heroine-motivated-by-islam
---------------
Muslim women threaten to leave Central African Republic
March 20, 2014
Bangui: More than 100 Muslim women in Bangui, the capital of the Central African Republic (CAR), are threatening to leave amid tension between the self defence militia commonly referred to as anti-Balakas and supporters of ex-Seleka rebels.
A spokesperson for the group of Muslim women in danger, Hadja Aissatou, said Tuesday that Muslims have been forced to live between Bangui's central mosque and a market located 5 km away, Xinhua reported.
"We no longer live freely and that is why we are asking to be moved out of the country," Aissatou said.
The CAR has been experiencing unprecedented insecurity since Dec 5, 2013, when the Christian-dominated anti-Balaka militia launched an offensive against positions of ex-Seleka rebels, who are mostly Muslims.
It was the ex-Seleka rebels, led by Michel Djotodia, who overthrew the regime of Francois Bozize March 24, 2013.
Djotodia was forced to resign Jan 10 under the pressure of regional leaders, months after becoming the first Muslim to lead the CAR since its independence in 1960.
In the southwestern town of Boda, Muslims have also threatened to leave if violence by the anti-Balaka militia persists.
Moussa Adam, a Muslim living in the town, said that the security situation remained volatile and living conditions for Muslims have deteriorated.
"We are always threatened. We need to leave this town," he declared.
http://zeenews.india.com/news/world/muslim-women-threaten-to-leave-central-african-republic_919032.html
---------------
Pakistani women turn against Imran party
MARCH 20, 2014
AMANDA HODGE
IMRAN Khan has always been popular with the ladies.
But just 10 months after he led his Tehrik-e-Insaaf Pakistan (PTI) party to government in north west Khyber Paktunkhwa, largely on the back of the women's and youth vote, the former heart throb cricketer is looking less attractive thanks to the antics of his party's provincial administration.
This week, PTI provincial chief minister Pervez Khattak asked female MPs to stop concerning themselves with male development schemes such as construction, and concentrate instead on women's issues.
"In addition to legislation oriented towards the welfare of women and ensuring their rights, female MPAs should also suggest projects that would directly benefit women and create employment," Mr Khattak advised the elected representatives in a handout.
"Through imparting different skills including computer courses, sewing, tailoring, embroidery, flower making, cooking, rearing livestock, keeping bees, silk worms and other skills, employment opportunities can be created for women."
The instructions coincided with an appeal from a senior minister in the KPK government for separate women's assemblies in both the national and provincial parliaments to "protect women's rights".
Siraj ul-Haq, deputy chief of the conservative Islamic party Jamaat e Islami, a key PTI ally in the province, claimed that female MPs' voices were being drowned out in parliament — and that therefore they needed their own space to solve women's problems.
Barely a fortnight earlier, party president Imran Khan used his Twitter account to wish the women of Pakistan a happy Women's Day on behalf of his party, adding "we salute r women & recognise the vital role they play as mothers, mentors and professionals breaking new ground every day".
In light of recent events it looks as though Mr Khan may have unwittingly been employing the royal "we", though the PTI is hardly the only organisation seeking to wind back women's rights in Pakistan.
Last week the country's Council of Islamic Ideology called for the rescinding of a law requiring a husband to seek permission from his first wife before seeking the hand of a second — or third.
It also ruled as unIslamic laws that outlaw underage marriage.
Perhaps the only good thing to come from such a string of attacks is the pushback from Pakistani women themselves.
Among the most furious was an opinion piece published in the Daily Times newspaper by columnist Aisha Fayyazi Sarwari.
"It is 2014, Pakistani women are soaring the skies in F-16s, conquering Everest, winning Oscars. In rural Pakistan they support the economy in fields and in homes, bringing up children while they work," Ms Sarwari wrote.
"They are not voiceless beings to be marginalised at birth. Beware of the time they avenge themselves for the burdens that society has bequeathed them for eons."
http://www.theaustralian.com.au/news/world/pakistani-women-turn-against-imran-party/story-e6frg6so-1226859538189#
---------------
Wadjda's Saudi director says: 'Conservatives don't want to see women being filmmakers'
Catherine Armitage
March 22, 2014
Some film directors make a habit of scowling for the camera. Fame, fortune and fraught financing deals seem to weigh heavily on them until they are clutching the Oscar.
That Haifaa al-Mansour always smiles when in the frame – on the red carpet, on stage, even on set – is all the more remarkable when you know the conditions under which she works.
Unique is a word used wrongly too often, but it is the right word for al-Mansour. She is the first female film director in Saudi Arabia, she directed the first feature film shot entirely in the kingdom, and she always smiles in photographs. Tick, tick, tick.
For her breakthrough film, Wadjda, she had to direct all the outside scenes from a van, using a walkie-talkie and a monitor. That is because in Saudi Arabia women are not allowed to work outside with men. In the segregated society, women are not meant to be with men in public at all, and ''good'' women cover their faces outside the home.
Advertisement
It is enough to make a woman's blood boil, surely, but al-Mansour counsels calm. ''It is very important if you really want to push for change not to be accusing or angry,'' she says from Bahrain, where she lives with her American husband and two children. ''It is about being open and honest and trying to start a dialogue. That is the kind of art needed in a place like Saudi Arabia, to make people more tolerant and accepting.''
The film's eponymous lead character is a sweet and street-savvy 10-year-old who lives with her mother in the suburbs of the Saudi capital, Riyadh. She is still young enough to be able to freely explore the streets between her home and school and hang out with her friend, Abdullah. He chases her and steals her lunch, but the contest is unfair, because he has something she cannot have: a bicycle.
Bicycles are taboo for females. Even Wadjda's comparatively liberal mother fears a bicycle might compromise her daughter's virginity. But Wadjda wants to race Abdullah and win, so when she sees a green bike for sale, she plots and schemes to raise the money.
Complex themes about contemporary Saudi life, relationships and politics ride on this bicycle story, but its whimsy and humour ensure they rest lightly on the handlebars.
In the routines of Wadjda's life – her walk to school, the classroom and playground, home with her mother – we see how the women as much as men enforce the social rules that constrain them. The eye al-Mansour trains on this hidden world is sharp, yet fond.
When Wadjda and a friend run laughing into the school from a playground, a teacher scolds them: ''A woman's voice reveals her nakedness. What if a man had heard you?'' By day, the headmistress enforces strict codes of Muslim piety, imposing shame and punishment for transgressions such as wearing nail polish. Yet word is out that a ''thief'' breaks into the headmistress's home at night, which is to say she secretly receives a male visitor.
The pressure is growing on Wadjda to take up the ayaba (full-length body covering) and veil. It is seen as a coming-of-age milestone, but for Wadjda, it looms like impending doom. In the meantime, she pushes at the boundaries of her world to see what she can get away with, just as, you might say, al-Mansour has done with the film.
She did ''a lot of charming and hustling'' to get it made. After a lot of knockbacks, she teamed up with a German production company, Razor Film. Given the obstacles they faced in Saudi Arabia, the producers thought they might have to shoot the film elsewhere in the Arab world, but al-Mansour told them it was not forbidden to shoot in Saudi Arabia; it had just never been done.
She wanted to show new imagery from the kingdom to the world, ''because people don't know much about it''.
The frustrations of remote directing were so great that she usually braved the street to direct in person. ''I occasionally had to run and hide in the production van in some of the more conservative areas where people would have disapproved''. But she wasn't too worried. ''We had all of the proper permits and permissions.''
Asked by a United States reporter why she did not choose to work more publicly ''as a statement'', she replied: ''I wasn't trying to clash with people. I was trying to make a film. I'm making a film in Saudi Arabia – I'm a woman – about a young girl who wants a bicycle. That's enough.''
So, is it autobiographical? Yes and no. The film is ''true to the world where I came from'' and reflects a lot of her experiences and those of her friends and family, al-Mansour says.
She grew up in a small town, where ''the concept of the big world ended at the cities a few hours away''. Unlike the sassy Wadjda, she was a nerdy kid, and she had a bicycle.
Her family was supportive and liberal. ''When I was a kid, my father took me along with my brothers to get bicycles and I chose a green one. I am extremely lucky to have a father who wanted me to feel dignified as a woman, but it was definitely a different story for my classmates and friends.''
Wadjda's character – entrepreneurial and always ''scheming to make money'' – is modelled on her niece. Al-Mansour made the film for girls such as her, who will reshape Saudi Arabia's future, she says. The flow of information from outside, especially as people travel, makes change inevitable, she believes.
Consider her case. She wrote the screenplay as part of her master's degree at the University of Sydney on an Australian government scholarship. ''It was really amazing, just to be able to write and get the feedback and be in a place that appreciates art.''
Saudi Arabia has female politicians now, women can vote in municipal elections and female Saudi athletes debuted at the London Olympic Games. Even in al-Mansour's small home town, the role of women is changing, ''slowly and surely, even within the household''.
A generation is emerging ''that wants to be happy''. ''The girls don't want to be segregated. They want to fall in love, so that creates this kind of buzz and need for change,'' she says.
The universal theme at the heart of the film is ''the idea of being labelled different or deviant''. Saudi culture can be ''especially brutal and unforgiving to people who fall out of step'', so there is ''a real fear of being labelled an outcast''. In her home country, her work is both praised and vilified. ''It depends where they come from. Of course, conservatives don't want to see women being filmmakers.''
With no tradition of casting calls in Riyadh, finding the girl to play Wadjda depended on word of mouth. The idea of allowing their daughters to appear on camera was unthinkable to most parents, al-Mansour says, but she got lucky the day 12-year-old Waad Mohammed turned up, one of the last of 50 girls to audition. Waad came in Wadjda's signature Chuck Taylor sneakers, ''with her headphones on her head, wearing jeans and with tattoos on her hands''. She also brought with her Wadjda's cheeky, rebellious attitude.
Al-Mansour says both men and women are constrained by the system, but she makes a distinction between public and private life. In their homes, Saudis ''sing and flirt and laugh and eat'', she says. ''In public they have this more serious kind of look that can hide how warm and kind they are.'' So there is the secret. Al-Mansour is making private Saudi Arabia public. It is revolution with a smile.
http://www.smh.com.au/entertainment/movies/wadjdas-saudi-director-says-conservatives-dont-want-to-see-women-being-filmmakers-20140320-353n3.html
---------------
Children of Saudi women should have Saudi nationality
20 March 2014
I am writing with regard to the article "Gulf citizens lead the way in marrying Saudi women" (Mar. 18). Once a Saudi woman marries a non-Saudi man, her children are not given Saudi nationality. This creates problems for the family and exposes them to discrimination and problems in all areas of their life. Being citizens, Saudi women have equal rights with Saudi men in their own country and they should be allowed to transfer their nationality to their children just like Saudi men.
http://www.saudigazette.com.sa/index.cfm?method=home.regcon&contentid=20140320199217
---------------
Hoops and Headscarves: Iran's Top Women Basketball Players in Action
Mar 19, 2014
The championship game of the Iranian Super League—Iran's WNBA—was a nail-biter. Here are some highlights
The Keshavars of Qazvin, a city in northwest Iran, squeaked past Ararat of Tehran 77-75, shutting the door on a late-game rally to claim the championship trophy of the Iranian Super League, or Iran's WNBA.
Wearing loose-fitting, full-body uniforms and sporting headscarves, the women played physical basketball in front of a loud all-female crowd. Supporters of both teams cheered fiercely, rising from the bleachers of the high school-size stadium to clap and wave.
Women's basketball actually has a long history in Iran, dating back to Shah Pahlavi's reign in the '60s. The uniforms of that era even mirrored those in the West, as women were free to show bare skin and hair without facing government retribution. But the heyday of Iranian women's basketball came in the decade that would culminate in the Islamic Revolution. In 1974, the Iranian national team placed fourth in the Asian Games.
Once the revolution took hold, all sports, but especially women sports, took a backseat to politics and war. Ayatollah Khomeini's activist conservative government made winning the war with neighboring Iraq and the country's liberals its top priority, and near complete international isolation made it difficult for Iranian athletes to compete abroad. Yet over the last decade, women's sports have reemerged in a new Islamic form. Now female teams, including basketball teams, are officially sanctioned. They have salary caps, management, a dedicated female fan base and increasing coverage from the Iranian press.
http://www.vocativ.com/world/iran/hoops-headscarves-irans-top-women-basketball-players-action/
---------------
Women half as likely as men to study science, finds survey
March 20, 2014
PARIS: Women are being put off careers in science by stereotypes and are less than half as likely as men to apply for degrees in the field, said a study published yesterday.
A young woman in Britain, France, Germany, Japan, Spain and the United States has on average a 35 percent probability to enrol in a scientific undergraduate degree, compared to a 77 percent chance for young men, the research found.
"Parity is still far from being reached," said the report by The Boston Consulting Group, blaming the disparity on pervasive "stereotypes" about the sector.
The proportion of women engaged in scientific research has risen by three percentage points since the 1990s to 29 percent of the workforce, the data showed. But women are on average only a third as likely as a man to graduate with a science doctorate.
The disparity continues all the way to the top, with women holding only 11 percent of the highest academic positions in Europe.
http://thepeninsulaqatar.com/news/international/276799/women-half-as-likely-as-men-to-study-science-finds-survey
---------------
URL: https://www.newageislam.com/islam,-women-and-feminism/new-age-islam-news-bureau/al-qaeda-women-use-websites-to-entice-youth/d/56209