New Age Islam News Bureau
08 November 2021
• Mumbai SBI Bank Branch Faces Flak for Prohibiting Customers 'Burqa, Scarf' For 'Safety'
• Pakistan PM's Special Representative Objects to Women Appearance in Advertisements
• Houthi Court In Yemen Sentences Model Entesar Al-Hammadi To Five Years In Prison
• 'Muslim Women Live in Fear of Racism': London Mosque Head
• Al-Azhar Says Hijab Ban in Spain's School Racist
• Postgraduate Indian Woman, Nazneen Began Aspire To Be Andhra Pradesh Road Transport Corporation Bus Driver
Compiled by New Age Islam News Bureau
URL: https://www.newageislam.com/islam-women-feminism/ibnat-qaeda-feminist-traditional/d/125730
--------
Al-Qaeda to Women: Be Traditional, Not A Feminist, In The Latest Edition Of Magazine Ibnat al-Islam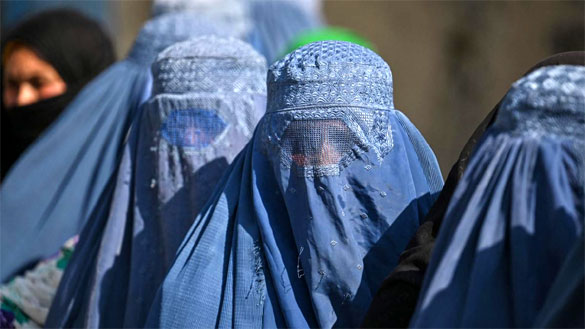 Al-Qaeda are seeking to roll back the clock on the relative freedom enjoyed by women in recent times
Hector Retamal/Afp/Getty Images
-----
By Melissa Klein
November 6, 2021
The al-Qaeda woman should not exactly be a revolutionary.
A magazine affiliated with the terrorist organization advised women not to be modern "of the 'strong, independent' variety," according to a report in the Sunday Times of London.
"Marriage is not a 50-50 egalitarian partnership of two leaders," a magazine tip says. "Your husband is the leader. Sit back and enjoy it."
The guidance was shared in the latest edition of the magazine Ibnat al-Islam, which is Arabic for "Daughter of Islam," the newspaper reported.
The female author of the article, who used an alias, told readers "Ladies, we need to detox – we need to unlearn the toxic and damaging messages we've been programmed to believe by feminism."
She advised that women choose to be wives and mothers, not "corporate slaves." and as a wife, "you are not in charge."
One terrorism expert told the newspaper that al-Qaeda and other extremists may feel threatened by an increase in women refusing to be treated as inferior beings.
"I think they are genuinely scared that these ideas could start to take root," said Dr. Elisabeth Kendall, a senior research fellow at Oxford University who monitors jihadist propaganda.
Source: New York Post
https://nypost.com/2021/11/06/al-qaeda-to-women-be-traditional-not-a-feminist/
--------
Mumbai SBI Bank Branch Faces Flak for Prohibiting Customers 'Burqa, Scarf' For 'Safety'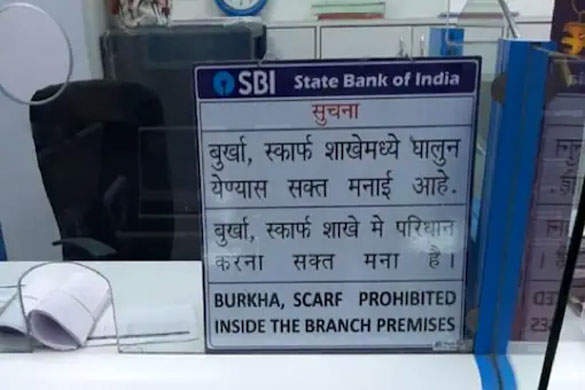 The notice in SBI's Nehru Nagar branch in Mumbai' Kurla area. (Image Credits: Twitter/@BaitKhan1)
-----
November 08, 2021
A State Bank of India branch in Mumbai is facing flak after it put up a notice on its counter asking customers not to wear Burqas. A burqa is worn by Muslim women which covers their entire body. The branch in question is SBI's Nehru Nagar branch in Mumbai' Kurla area. The notice put up on the counter inside the bank read, "Burkha, scarf prohibited inside the branch premises." Residents of Nehru Nagar, said they raised concerns with the bank officials regarding the notice but were not informed why it was put up. Sheikh Sajeed Akbar, a resident of the area, told Scroll, "Several of us tweeted this and raised this concern with bank officials. We still do not know why such a notice was put up." It was after several people raised their concerns on social media platforms that the bank revealed that the notice was put up "for safety during cash withdrawal." Replying to a tweet by a user named Bait Khan, who expressed his anger over the notice, SBI wrote, "We regret the inconvenience caused to you. We understand from the branch that the Board has been removed from the counter. It was placed earlier for safety during cash withdrawal and other financial transactions only and the branch did not have any other intention for keeping the Board. Regards."
According to Scroll, the notice has been removed from the bank last week following the backlash.
While in this incident wearing a burqa was banned inside the bank, in a recent incident in a different part of the country, a shopkeeper in Assam allegedly hurled verbal abuses at a 22-year-old woman as well as manhandled her for wearing jeans instead of a burqa. The man allegedly told her that she should be wearing "decent" clothes as she was a Muslim. Following the alleged attack, police detained the man and his son, who allegedly beat up the woman's father for questioning the shop owner for abusing his daughter.
Source: News18
https://www.news18.com/news/buzz/mark-zuckerberg-celebrates-facebooks-transition-into-meta-with-pretty-sweet-cookies-4418186.html
--------
Pakistan PM's Special Representative Objects to Women Appearance in Advertisements
November 08, 2021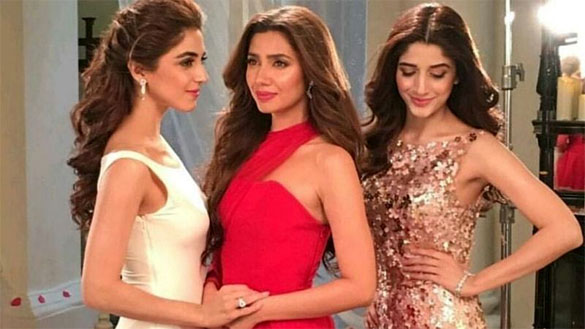 Photo/ Dawn.com)
-----
LAHORE - Prime Minister's Special Representative on Religious Harmony Maulana Tahir Ashrafi said Sunday condemned the appearance of women in advertisements saying that despite having so many good looking men in the country, the advertisers still hire women to represent their brands.
While addressing a press conference at the Punjab Institute of Quran and Seerat Studies here, Tahir Ashrafi further said that women should not be "unnecessarily featured in advertisements, he said, adding he is against such practices.
Ashrafi also shed light on other important matters and said that upon the instructions of Prime Minister Imran Khan, Pakistan is internationally combating the rise of Islamophobia. "For this purpose, the government has started reaching out to different Islamic scholars across the globe," Ashrafi said, adding that those who have been posting blasphemous content on websites have been taken into custody.
He also talked about the growing menace of sexual crimes in the country and said that perpetrators must be sentenced to harsh punishments as these crimes cannot be ignored. "The Ulema have a role to play in eradicating obscenity, terrorism, and extremism from the country," Ashrafi said. Also, appealed to the Muslim world leaders to play their role for peace and development in Afghanistan.
He said that stability in the region was essential for establishment of peace both in Afghanistan and Pakistan. He said that the anti-state elements were trying to create chaos in Pakistan by fanning sectarianism, but they would never succeed in their nefarious designs. He said that the Pakistan Ulema Council (PUC) would arrange the 5th Paigham-e-Islam conference on Feb 30, 2022 at the Islamabad Convention Centre, in which around 5,000 ulema and mashaikh would take part from all-over the world.
Ashrafi said that Imam-e-Ka'aba and Palestine's chief qazi had also participated as chief guests in the previous four conferences. He said: "We hope for their participation in the upcoming conference as well." He said that the conference would be arranged with an aim to make Muslim world free from Islamophobia, terrorism and sectarianism.
He said that a series of ulema and mashaikh conventions would be arranged by the PUC in various cities of the country to educate youth about Seerat-un-Nabi and to eradicate negative trend of obscenity and immorality. He urged ulema to help protect the youth through their knowledge and play their role in that regard. He said that people witnessed the Ashra Shan-e-Rehmatul-lil-Alameen was celebrated on official level and the Seerat Authority was being established to take Pakistan in the right direction and making it a welfare state like Madina. Ashrafi said that Prime Minister Imran Khan pursued the case of Namoos-e-Risalat on every national and international forum in an effective manner, adding that no other Muslim leader in the past could fight the case in that way.
He offered condolences of the death of police personnel, who scarified their lives for establishing peace in the country. He prayed for the injured police personnel and said that may Allah Almighty grant them speedy recovery. Hafiz Ashrafi said that Pakistan had always condemned the attacks on Saudi Arabia and it would always stand with the leadership and people of Saudi Arabia for its security, defence and stability. He said that the PUC also condemned the bomb blast at Kabul and armed drone attack on Iraqi prime minister in Baghdad last night.
To a question, Ashrafi said that the PUC had formed its legal committee, which would engage Pakistan Electronic Media Regulatory Authority (PEMRA) and other government bodies for eradication of obscenity in the advertisements and dramas.
Source: The Nation Pakistan
https://nation.com.pk/08-Nov-2021/leading-cleric-objects-to-women-appearance-in-advertisements
--------
Houthi court in Yemen sentences model Entesar al-Hammadi to five years in prison
08 November, 2021
A court controlled by the Iran-backed Houthi militia sentenced a Yemeni model to five years in prison on Sunday after she was held for eight months.
For the latest headlines, follow our Google News channel online or via the app.
Entisar al-Hammadi, 20, and a friend were sentenced to prison by the West Sanaa Court, Al Arabiya reported, citing Yemeni legal sources.
The pair were detained on their way to a photo session on February 20.
Two other women were arrested in an apartment in Sanaa and charged with prostitution and sentenced to prison for three years and one year respectively.
Al-Hammadi's lawyer reportedly claims she was physically and verbally abused by interrogators, subjected to racist insults, forced to sign a document while blindfolded, and threatened with a "virginity test" by prosecutors, the BBC reported.
Human Rights Watch said in an earlier report that the Iran-backed Houthis are trying al-Hammadi unfairly.
In May, human rights organization Amnesty International stated that she was forced to confess to several crimes, including drug possession and prostitution.
Born to a Yemeni father and an Ethiopian mother, the young woman worked as a model for four years and acted in two Yemeni television series in 2020.
At the time of her detention, members of her family told Human Rights Watch that she was the sole breadwinner for her family of four, including her blind father and her brother who has a physical disability.
Rates of violence against women in Yemen are high, with more than 2.6 million girls and women having been victims of violence according to a 2020 report by the United Nations Population Fund.
The Houthi militia has been fighting a war against the internationally recognized government since 2015.
Source: Al Arabiya
https://english.alarabiya.net/News/middle-east/2021/11/08/-Houthi-court-in-Yemen-sentences-model-Entesar-al-Hammadi-to-five-years-in-prison-
--------
'Muslim Women Live in Fear of Racism': London Mosque Head
November 06, 2021
Mohammed Kozbar, from the Finsbury Park Mosque in St Thomas' Road, has called on the government to now "recognise Islamophobia is real".
He told the Tribune this week: "We hear a lot from women who are the main targets of Islamophobia. They look like Muslims because of their hijab or headscarf and sometimes they can't defend themselves. Many of them are targeted when they are out in public, when they take their children to school, in work or at university."
He added: "Unfortunately it is happening especially for women and this is very serious because some of them stop going out alone because they think they might be attacked at any time.
"For them to feel that here in the UK and in London particularly, where we have a multicultural society, is quite disturbing and quite frightening."
The mosque responded to the Covid-19 crisis by opening its doors to run a vaccination clinic, running a 24 -hour helpline for those suffering bereavement and mental health issues and distributing leaflets abut social distancing. It also ran a community centre giving out meals for the homeless.
November marks Islamophobia Awareness Month.
Mr Kozbar said the mosque itself has experienced hate crime recently via prank calls. In the past an attempt to set fire to the mosque failed due to heavy rainfall in 2015. In 2010 a pig's head was placed outside on the railings.
"There are different types of Islamophobia and different ways of attacking," said Mr Kozbar. "This is why Islamophobia Awareness Month is important. It is about awareness, it is about educating the society and the communities about what is happening."
He added: "In one way or another, people normalise Islamophobia. People accept Islamophobia. Some of these women who were attacked, no one helped them to show support or solidarity. They felt alone as if no one cared for them. This is difficult for these British citizens to feel that way – to be marginalised in their society and normalising the attack on them."
Prime minister Boris Johnson launched a report in 2019 following complaints of Islamophobia in the Conservative Party. This year the long-awaited review was published and did not find evidence of "institutional racism", although found anti-Muslim sentiment was present at individual levels.
Mr Kozbar said: "The way forward is for the politicians to recognise Islamophobia is real. It is there.
"They have to deal with it as if it is any other form of racism, like antisemitism or racism in general. It is happening in both of the main parties, Conservative and Labour, and we haven't seen any real action to fight it."
He added: "We've seen talk from our politicians, one of them is our prime minister, talking about Muslim women as bank robbers and mailboxes and so on."
The mosque is holding an awareness-raising event on November 26 with guest speakers and a tour of the mosque.
It is also working with the council and the police to contact schools and hold assemblies raising awareness about Islamophobia.
Islington's community chief Councillor Una O'Halloran said: "At Islington Council, we recognise that everyone has a part to play in calling out discrimination and injustice. There is simply no place for hate here – we are proud to be a welcoming, inclusive borough that celebrates diversity, champions inclusion and challenges inequality."
Source: IQNA
https://iqna.ir/en/news/3476366/%E2%80%98muslim-women-live-in-fear-of-racism%E2%80%99-london-mosque-head
--------
Al-Azhar Says Hijab Ban in Spain's School Racist
November 06, 2021
The Islamophobia Watch Office of Al-Azhar condemned the decision by the school to bar a Muslim student from wearing hijab and threatening her of expulsion in case of wearing hijab, Arabi21 website reported.
It said such moves are racist and a threat to social cohesion and peaceful coexistence.
According to Periodico CLM, a rally was held in support of the Muslim student in the city where the school is located.
The participants carried banners and chanted slogans against anti-Muslim discrimination.
The school has not changed its decision despite the protests.
Source: IQNA
https://iqna.ir/en/news/3476370/al-azhar-says-hijab-ban-in-spain%E2%80%99s-school-racist
--------
Postgraduate Indian Woman, Nazneen Began Aspire To Be Andhra Pradesh Road Transport Corporation Bus Driver
7th November 2021
Hyderabad: It is quite common for Burqa clad Muslim women to drive two-wheelers and cars. But it is uncommon to see Muslim women driving a heavy-duty vehicle. Nazneen Begam of Kadapa in Andhra Pradesh had learned to drive an RTC bus and aspired to serve the Road transport corporation as a bus driver.
The Road transport corporation imparted bus driving training to 16 people and Nazneen Begum was the only lady driver among them.
According to the trainers, she had learned bus driving within a week.
She is an M.A. B.Ed and worked in a private college as a lecturer for one year. A desire to get a government job spurred Nazim Begam to learn bus driving. Now she is striving to work as a bus driver in APSRTC.
Source: Daily Siasat
https://www.siasat.com/postgraduate-woman-aspire-to-be-rtc-bus-driver-2221841/
--------
URL: https://www.newageislam.com/islam-women-feminism/ibnat-qaeda-feminist-traditional/d/125730
New Age Islam, Islam Online, Islamic Website, African Muslim News, Arab World News, South Asia News, Indian Muslim News, World Muslim News, Women in Islam, Islamic Feminism, Arab Women, Women In Arab, Islamophobia in America, Muslim Women in West, Islam Women and Feminism