New Age Islam News Bureau
3 Feb 2014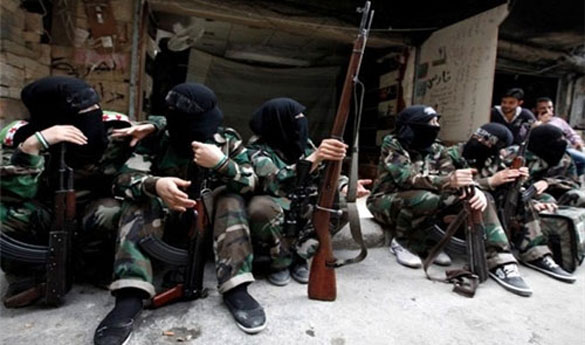 Photo: Al-Qaeda Forms Girls Brigades in Syria's Raqqa
-----------
• Adoption of Muslim Girl, 3, By Lesbians Is Halted After Protests In UK
• Successful Saudi Businesswoman Seeks Swiss Expansion
• Fair Play to Sharjah's Vision of Organising All-Women's Games
• Nigeria: Allow Use of Hijab to Curb Vices - Muslim Women
• World Hijab Day Ceases Operations in Singapore
• Iranian Women Fight Efforts to Restrict Travel Abroad
Compiled by New Age Islam News Bureau
URL: https://www.newageislam.com/islam,-women-and-feminism/new-age-islam-news-bureau/al-qaeda-forms-girls-brigades-in-syria's-raqqa/d/35574
------------
Al-Qaeda Forms Girls Brigades in Syria's Raqqa
Feb 03, 2014
TEHRAN (FNA)- A group of Al-Qaeda-linked militants in Syria have formed two female brigades for helping them inspect people better in case they try disguising themselves as women, media reports said.
According to reports linked to Syria's foreign-backed opposition forces, militants from Al-Qaeda's Islamic State of Iraq and Levant (ISIL) set up 'al-Khansa' and 'Um Riyan' brigades in Syria's Raqqa, one of the group's main bases located in North central part of the country, Al-Alam reported.
The new brigades only accept single women aged between 18 to 25 and give them a monthly salary worth 25 thousands SYP (Syrian pound).
They are mainly used for inspecting women in Raqqa, where the group has been imposing its own version of law marked with extremist religious beliefs for months now.
The al-Sharq al-Owsat quoted an opposition commander named 'Ibrahim Muslem' as saying that, "There have been reports of some anti ISIL activists wearing women clothing such as niqab to pass through security checkpoints".
"Setting up female brigades was the only solution for ISIL to confront this issue, because ISIL could not inspect women, but now it has become possible by forming women brigades," he was quoted as saying.
The ISIL first came into Raqqa on May 15, 2013, and swiftly executed men they said were working for the government.
According to locals, at first they seemed a rebel group and a better-organized alternative to the rebels who occupied the city earlier but failed to bring governance or peace for months.
A broader agenda slowly emerged afterwards and began to gather pace each week with Al-Qaeda getting more power and more extreme.
http://english.farsnews.com/newstext.aspx?nn=13921114000180
------------
Adoption of Muslim Girl, 3, By Lesbians Is Halted After Protests in UK
Feb 03, 2014
A lesbian couple's adoption of a Muslim child was put on hold yesterday following demonstrations outside a town hall.
The protests and a series of complaints last week persuaded social services to 'review' whether the three-year-old girl should join her new parents.
She is at the centre of a public row between the north-west London Somali community of her birth family, who argue that her adoptive parents should share their religious and cultural values, and council chiefs who said the girl 'isn't helped if this process drags on'.
Education Secretary Michael Gove is currently pressing for adoptions to be carried out more quickly and for racial or cultural barriers – often used to block the process – to be swept aside.
However, Tony Blair's 2002 Adoption Act, which opened the system to same-sex couples, has sometimes led to complaints from the biological relatives of adopted children. The birth mother of the Somali girl in Harrow suffers from mental health problems and is considered unfit to raise her.
The girl's father is believed to be absent from the home and her two older sisters have been taken into state care.
Her mother was told that adoptive parents had been chosen and that she could have a final meeting with the three-year-old last Wednesday.
But the family and Somali community members objected and 50 people staged a demonstration outside Harrow Civic Centre.
Supporters of the mother contacted the Victoria Climbie Foundation, a pressure group set up by the parents of the eight-year-old girl murdered by an aunt and her boyfriend in Haringey in 2000.
Mor Dioum, of the organisation, told the Sunday Times: 'The family wish that their religious and cultural values are taken into consideration when making such an important decision. They are saying that this is in the best welfare of the child. The family's issue in this case is not about the sexual orientation of these two individuals.'
He added: 'The Somali community have for the first time come out because they believe this case has a wider importance. We don't believe any community is beyond reach.'
A member of the family said that four relatives of the mother were willing to adopt the girl, but that social workers had told the mother that no Muslims had come forward as possible new parents. The adoption was halted after the town hall demonstration and the family have until the end of the week to put forward names of potential adopters among relatives of the girl.
Susan Hall, leader of Harrow's Tory council, said: 'Clearly there is always an ideal that a child could be matched with parents from a similar background and heritage. But the reality is the ultimate choice is governed by the kind of adoptive parents who are available.
'The most important thing is that the child goes to a loving and supportive home and to people we believe … are best suited to look after them.'
Mrs Hall said the need for adoptive parents from different ethnic backgrounds was 'only going to intensify', adding: 'The careful search for the right adoptive parents also has to be matched against the fact that the child isn't helped if this process drags on.'
In 2012 a couple belonging to Ukip had three foster children taken away.
Rotherham council said they had concerns over the party's immigration policy as the children were not white British.
Figures show the number of children adopted from care rose to a 20-year high of almost 4,000 last year.
A 28 per cent increase in such adoptions over a two-year period followed the abolition of rules that stated new families must be the same race, religion and culture as the child's birth parents.
http://www.dailymail.co.uk/news/article-2550317/White-lesbian-couple-allowed-adopt-three-year-old-Muslim-girl-against-wishes-family.html#ixzz2sCgaYOXz
------------
Successful Saudi businesswoman seeks Swiss expansion
Feb 03, 2014
HAIL — A female cafe entrepreneur is looking forward to expand her business into Switzerland after the success she has achieved in Hail.
Ibtesam Al-Zaqdi realized there was no sense waiting for a government job and opened her "My Coffee Z" business, which has become the most famous women's cafe in Hail.
In addition to coffee, she also serves pastries and sweets that she prepares herself.
She said that she obtained her university degree in home economics and spent five years studying the feasibility of her business.
Al-Zaqdi applied to the Riyadah Society for a loan and also attended their training course on preparing a feasibility study.
She waited for five years until her loan was approved and she received SR240,000, even though her project would cost much more.
Al-Zaqdi chose a suitable location for her business in an area frequented by women and chose to add the letter Z to the name of the café, as it is the first letter of her family name.
She pointed out that her sisters and relatives have helped her in preparing the pastries and sweets and serving customers in the cafe.
Eight months later she was able to recruit workers and trained them on preparing pastries and sweets.
The café offers cheesecakes, cupcakes and other sweets in addition to pizzas and hot and cold drinks.
Al-Zaqdi claimed that one of the most difficult obstacles she dealt with was getting paperwork done at the labor office.
She submitted her papers and two weeks later found that nothing had been done.
Al-Zaqdi also claimed that she requested visas to recruit women workers but after six months they issued her visas for male workers instead. She had to reapply and waited another six months.
Al-Zaqdi hopes to open a branch in the Swiss town of Interlaken because of its beauty and the fact that residents appreciate Arab tourists.
She believed such an endeavor would take time but that would not deter her from realizing her dream.
http://www.saudigazette.com.sa/index.cfm?method=home.regcon&contentid=20140203194536
------------
Fair play to Sharjah's vision of organising all-women's games
Feb 03, 2014
It may not host the glamour sporting events that Dubai and Abu Dhabi do, but Sharjah is home to one progressive competition not even their southern neighbours can claim.
Last night saw the opening ceremony of the second Arab Women Sports Tournament (AWST) 2014, the biggest event of its kind in the Arab world.
Around 900 athletes from 14 Arab countries – made up of the UAE, Jordan, Bahrain, Algeria, Sudan, Iraq, Oman, Palestine, Qatar, Kuwait, Lebanon, Libya, Egypt, and Yemen – will take part in seven disciplines, hosted at nine different venues across the emirate.
Basketball is first off the mark, followed by volleyball, table teams, fencing, shooting, and athletics.
The archery teams, scheduled to land in the UAE tomorrow, will be the last to begin competing.
Most of the athletes are ready and waiting. "We've stepped up our training in recent weeks," Alia Nasser, of the Sharjah Ladies Club volleyball team, says. "We have been training twice a day [a total of six hours]."
The volleyball team had just returned from a closed training camp in Perugia, where they took part in three practice games against local Italian teams Monini, Acquasparta and Pal Trevi.
"We played three matches against very strong teams," Nasser said. "We lost them but they were very tough matches. Each team we played against was better than the previous one, but our performances improved as well."
Previously, the team participated in a local event at Al Wasl Club in Dubai, and had then stepped up their preparation with a camp in Bahrain.
"We played their national team three times and won all three," she says. "We also played against a local men's side in Sharjah, we didn't get a result but it was important practice."
Arwa Al Omari, part of the administrative team behind the squad, says that Sharjah Ladies Club will be going all out to retain the title they won in 2012.
"Our goal is winning AWST 2014's title, as a step towards other regional and international titles," she says.
The AWST has come a long way in just under two years. Initially, the Sharjah Ladies Club had hosted a series of smaller competitions under the title of Gulf Countries Competition (GCC), open to other female Gulf athletes.
The success prompted other Arab countries to seek participation, leading Sheikha Jawaher bint Mohammed Al Qasimi, wife of the Ruler of Sharjah, to expand the format of the event to provide a larger platform and embrace women from across the Arab world.
The AWST, became the first, and now the largest, of its kind in the Middle East.
"We are very proud of this event, especially after the success of the first championship two years ago," Nasser says of her home emirate's achievement. "The organisation and preparation have improved from last time. There are more sports and competitions, and in terms of press conferences and media facilities, there has been a clear improvement."
Part of this upgrade was to raise the profile of the event and of the strides that women's sports have taken in the UAE, and the Arab world, over the last few years.
Thanks to an agreement with Sharjah Media Centre, the international coverage for the tournament will this year be enhanced by the establishment of short-term media centres at the 10 venues hosting the different sports.
Najat Bu Rahima, of Sharjah Ladies Club's basketball team, echoes Nasser's views and is looking forward to reaping the benefits of the excellent facilities their club has offered.
"Of course we're very proud of the event, but we also want to keep moving forward and get results as well," she says.
The basketball squad, like their volleyball counterparts, had completed part of their preparations overseas.
"Earlier in January we went on a training camp in Turkey," says Bu Rahima.
"We were there for 10 days and we won two out of our three matches in that time. When we came back, we had one last training camp here in the UAE."
The facilities available in Sharjah have played a big part in promoting women's sports in the emirate, and Bu Rahima does not hesitate to put them up with the best the world has to offer.
"The [Sharjah Ladies] club provides us with our very own facilities, specially introduced for women," she adds.
"Other clubs have facilities that are shared by men and women, but our club is the first to provide these kind of professional standards just for women athletes."
akhaled@thenational.ae
http://www.thenational.ae/sport/uae-sport/fair-play-to-sharjahs-vision-of-organising-all-womens-games#ixzz2sCuAT0jc
------------
Nigeria: Allow Use of Hijab to Curb Vices - Muslim Women
Feb 03, 2014
Ado-Ekiti — Muslim women in Ekiti State have called for the use of hijab by Muslim females in public schools in the state as a measure to reduce social vices.
They expressed concern over the increase in the violence against women, urging government at all levels to allow the use of Hijab among Muslim female students. Muslim female students made the call at the weekend in Ado-Ekiti during activities to mark the 2014 World Hijab Day held at the Ansar-Ud-Deen Central Mosque, Odo-Otu, Ado-Ekiti. They expressed regret that most females are now vulnerable to violence, rape, kidnap and other forms of assault.
http://allafrica.com/stories/201402030452.html
------------
World Hijab Day ceases operations in Singapore
Feb 03, 2014
The celebration of World Hijab Day (WHD) yesterday turned out to be a controversial affair in Singapore with the country's representative declaring having to "cease operations" today.
Singapore's WHD ambassador Seri Fatmawati Hambali posted a final status update on the official Singapore WHD Facebook page today, citing difficulties such as continued pressure and scrutiny from the Singapore government.
Her statement specifically highlighted the difficulty the Singapore WHD group faced "during ground research and meet ups", and of "members of the group receiving threats that being involved may jeopardise their livelihood and affect their families".
Seri Fatmawati called for understanding and hoped everyone would continue to spread awareness despite the "shutdown".
Singapore is the only country where the event was met with resistance.
The World Hijab Day celebration sees women, both Muslim and non-Muslim, around the world donning the hijab and posting their pictures online.
Its founder, a young New Yorker named Nazma Khan, said that the objective of the day was to allay some of the myths and controversies surrounding why Muslim women choose to wear the hijab.
In a live interview with The Huffington Post, Nazma said she wished to foster religious tolerance and understanding by inviting women, either Muslim or non-Muslim, to experience the hijab for one day.
Celebrations were modest in Malaysia, as Selangor ambassador Murshidah Said joined Nazma Khan in the live interview while participants gathered near Sunway Pyramid Mall, with locals and foreigners trying on the hijab for the occasion, as shown in the Malaysia WHD Facebook page.
According to the World Hijab Day website, many countries have appointed ambassadors for the celebration, including the United States, Canada, Belgium, Holland, Brunei, India, Lebanon.
http://www.themalaysianinsider.com/malaysia/article/world-hijab-day-ceases-operations-in-singapore
------------
Iranian women fight efforts to restrict travel abroad
Feb 03, 2014
Mahboubeh, a 62-year-old Iranian schoolteacher, was forbidden from traveling outside the country a couple of weeks ago. She has been separated from her husband for three years, after what she describes as over three decades of constant fighting. Since her husband has not agreed to divorce her, he has taken revenge by preventing her from leaving the country, even for a short trip to the United Arab Emirates with a couple of her old friends. Mahboubeh told Al-Monitor she's fed up with the system that hands over so much authority to men, allowing them to rule women's lives, even when they are no longer living under the same roof.
Married Iranian women, even if they hold a valid passport, require their husband's permission to depart the country, regardless of age. For obtaining or renewing a passport, a notarized permit from the spouse is required. Husbands can easily refrain from allowing their wives to obtain or renew their passport.
These terms differ for single Iranian women applying for a valid passport. On Nov. 19, 2013, Majles (parliament) passed a bill — introduced in February 2013 — and thus modified the requirement for women's travel that existed until then. This amendment required single women to obtain a notarized permit from their father or male guardian each time they were to depart the country. So even though they would possess a passport, they still needed the official permission each time they wanted to travel abroad.
The new requirement angered many women, women's rights activists and even a few female parliament members (MPs) — who are generally conservative and a few of whom had not even originally taken issue with the amended requirement. After much criticism, parliament members started throwing the ball into the government's court, claiming the bill had been introduced to the Majles followed by pressure from government officials. The government shot right back and denied the claim. After much ado, the amendment was revoked.
In justifying the revocation, a few members of the Majles' Women and Family Affairs Committee explained, "They have investigated cases of misconduct and have found them to be few and therefore not worth modifying the existing law." Additional official paperwork and the need for extra resources was also another point that was brought up.
Mehdi Davatgari, an Iranian MP and member of the Majles' National Security and Foreign Policy Committee, told ISNA news agency, "It is an achievement of the Majles that single Iranian women over the age of 18 can obtain a passport with their father or grandfather's official permission. Thus, contrary to the previous requirement, once a woman has her passport, she is cleared to exit the country, and there is no need for male permission to be obtained for every departure."
According to Davatgari, this measure would save a considerable amount of red tape. However, if the male supervisor feels strongly about the woman's travel and is against it, predicting "wrong-doing or misconduct," he could submit a request to the government to prevent her from leaving the country.
Fatemeh Rahbar, head of the Majles' Women and Family Affairs Committee, also gave her two cents on the matter, saying that the number of women who have misbehaved while traveling outside Iranian borders is too small to restrict every woman's travels: "Around 76 women who have traveled outside the country have behaved inappropriately, and therefore are forbidden from departure without an eligible male's notarized permission for each individual trip. Passports are equal to international birth certificates and cannot be denied to women, unless there is hard evidence proving a woman's misbehavior outside the country, which we obviously take quite seriously."
Shahla Mirgalou-Bayat, a physician and member of the Majles' Women and Family Affairs Committee, said passing and implementing these regulations are vital to protecting women and ensuring their safety while traveling.
In a recent interview, Mirgalou-Bayat said that since men could easily tend to their sexual needs through concubines and women cannot, it is safer for women to travel only if they must, and only if cleared by their male guardian. Mirgalou-Bayat added, "Women have different desires and needs than men, and implementing further restrictions for women is actually beneficial to women themselves. I approach this fact as a physician, from a physiological standpoint and considering the difference between male and female bodies."
Simin is a 33-year-old Iranian divorcee whose divorce decree has still not been issued seven months after the finalization of her divorce. She is pursuing a job opportunity for which she has received an initial offer and needs to travel to Greece for a job interview.
In a phone interview, Simin told Al-Monitor, "I am so frustrated. I'd have no issue if I were either single or had the divorce decree. But since I'm in neither of these positions, I have to suffer. I personally believe that if female members were not elected to the Majles, we women could have a better chance of enjoying basic rights — at least the bare minimum. I think female Majles members are more bigoted toward their own gender than their male colleagues are."
http://www.al-monitor.com/pulse/originals/2014/01/iran-women-restrictions-travel-rights.html#ixzz2sCyHqJkW
------------
URL: https://www.newageislam.com/islam,-women-and-feminism/new-age-islam-news-bureau/al-qaeda-forms-girls-brigades-in-syria's-raqqa/d/35574