New Age Islam News Bureau
14 Sept 2016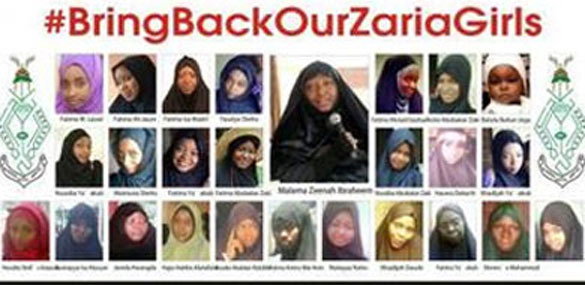 The 50 young Nigerian Shi'a women abducted by Buhari's cowardly, 'Israeli'-trained, Saudi-funded, US-backed military. Where are these sisters and what the hell are the Nigerian regime's goons doing to them?!
--------
• Fifty Nigerian Shia Women Abducted by Buhari's Cowardly Israeli, Saudi Military
• ISIS White Widow Sally Jones Leading Secret Gang of Female Jihadis
• 'Burkini Ban Example of How Not To Treat Minorities'
• Muslim Women Attacked As Hate Crime Rises in UK
Compiled by New Age Islam News Bureau
URL: https://www.newageislam.com/islam,-women-and-feminism/new-age-islam-news-bureau/al-qaeda-doesn't-want-muslim-women-to-carry-out-attacks/d/108555
----
Al-Qaeda Doesn't Want Muslim Women to Carry Out Attacks
Sep 14, 2016
In a new publication, al-Qaeda tells its male followers to keep women away from terrorist attacks and stop them from being part of any operations in France. The call, which appeared in the third issue of "Inspire," an online publication al-Qaeda in the Arabian Peninsula puts out, was in reference to the recent news of three Muslim women being arrested in France for allegedly planning an attack.
Titled: "Comment on arresting our Muslim sisters in France," the article said: "we guide and advise our Mujahideen brothers in the West not to allow our Muslim sisters to participate in any lone jihad operation. All this, to preserve our virtuous Muslim sisters' honuor."
At the same time, the terror group warned France to "stop your aggression upon our virtuous Muslim sisters in the name of countering terrorism," and urged "brothers in France, the heroes of lone jihad, not to sit silent on this incident," and to strike back at "this criminal state."
The issue touched also on the controversy in France over banning of the burkina, the all-encasing swimwear Muslim women donned to swim in French beaches. "France is not satisfied with cursing our Prophet and closing mosques. It bans Muslim women from wearing their veils."
Reuters reported last week that three French women were arrested after a car loaded with gas cylinders was found near the cathedral of Notre Dame in the center of Paris. Officials said the women had been planning to attack a railway station in the capital under the orders of ISIS leaders in Syria. Paris Prosecutor Francois Molins told reporters the cell had been dismantled.
http://www.vocativ.com/359072/al-qaeda-doesnt-want-muslim-women-to-carry-out-attacks/
--
Fifty Nigerian Shia Women Abducted by Buhari's Cowardly Israeli, Saudi Military
September 14, 2016
The 50 young Nigerian Shi'a women abducted by Buhari's cowardly, 'Israeli'-trained, Saudi-funded, US-backed military. Where these sisters and what are the hell are the Nigerian regime's goons doing to them?!
Nine months! Nine months now! A brutal nine months have passed since the tyrannical Buhari regime carried out the inhuman Zaria Massacre and unjustly locked up Sheikh Ibrahim Yaqoub al-Zakzaky, the saintly and knightly founder and leader of the Islamic Movement of Nigeria (IMN), for no other "crime" than being a revolutionary incapable of holding his tongue on injustices committed against the Palestinian, Syrian, Iraqi, Yemeni and Bahraini peoples by the US-'Israeli' Empire, and still the deafening, atrocious, infuriating silence from so-called "Muslim Solidarity" activists and "human rights" organizations persists. In light of this horrific indifference, it is time we raise our voices about perhaps the darkest aspect of this atrocity–as if the wanton slaughter of hundreds (possibly thousands) of Nigerian Shi'a and the Zionist-style bulldozing of the Husseiniyah Baqiyatullah weren't dark enough–and shed beaming sunlight, moonlight and starlight upon its ugly head: The 50 young Nigerian Shi'a women abducted by Buhari's cowardly, 'Israeli'-trained, Saudi-funded, US-backed military. Where are these sisters and what the hell are the Nigerian regime's goons doing to them?! We quiver at the mere thought.
Notice that the colonial feminists, who normally never miss a beat when it comes to exploiting the suffering of Black and Brown females in the Global South, have taken a powder on the Zaria Massacre and the unspeakable violence–including rape–inflicted on the women of the IMN. Peep the conspicuous absence of all the "leftist" White and Jewish "savior" types on the payroll of the Sorosite NGO-Human-Rights-Industrial-Complex who couldn't be bothered to even issue a tweet or an Instagram picture about Sheikh Zakzaky, let alone a full-scale social media campaign. And on that note, isn't it grand that the US Imperialist-In-Chief's wife, Michelle Obama, ridiculously adored by so many Muslim and African-American sellouts and lemmings, is also completely out-to-lunch on the missing 50 Nigerian Shi'a girls? But it was Mrs. Obama who was at the very heart of the "Bring Back Our Girls" fiasco, was she not? So what is the difference between the "276 missing schoolgirls" from the Borno State town of Chibok and the viciously kidnapped sisters of the IMN and why are the aforementioned individuals speaking about one but not the other? Very simple: The former is a US-Zionist-manufactured saga designed to justify heightened US militarism not only in Nigeria but Africa as a whole, while the latter is an actual act of incomparable barbarity committed by an American ally, thus making it off-limits to criticize in mainstream spheres… According to the official rules of the Yahoudling-Owned Corporate Media Metanarrative.
From day one of the Chibok event, the fingerprints of International Zionism were easy to pick up on. From the photo of the US ZOG's First Lady holding up the famous "Bring Back Our Girls" hashtag sign which went viral in a blatantly contrived Zionist mass press disinformation blitz, to 'Israeli' filth Rita Katz's SITE and Ben Venzke's Intel Center putting out videos of Boko Haram's alleged "capture" of the girls along with subsequent calls from these two Mossad-Aman havens for American intervention, to 'Israel' sending its occupation army to "assist" in the "counter-abduction" operation, and then the kicker, Mossad-CIA-MI6-linked Takfiri terrorist groups LIFG and AQIM declaring that they not only helped kidnap the Chibok girls (and others), but also provided arms to Boko Haram, which, for the record, was sired by Moshe Ram, the shadowy 'Israeli' Mossadnik ex-ambassador to Nigeria.
Since this sideshow, not only has 'Israel' poured forces into Nigeria–there are even rumors that 'Israeli' death squad officers participated in the Zaria Massacre–but so has AFRICOM. The very concept of an American military command in Africa mind you was conceived by none other than the Institute for Advanced Strategic and Political Studies (IASPS), the same 'Israeli' think tank that produced the notorious "Clean Break" papers. As for the Chibok girls, to call their current status fishy–as in Gefilte fishy–would be an understatement. Some reports say they fled Boko Haram's custody within weeks of being taken; other reports say some fled, some died and some remain captive; and some alternative media analysts say, with increasingly large amounts of evidence due to the Hollywoodist nature of the Katz/Venzke videos, that the girls never existed at all and every bit of this was just a PSYOP to open a backdoor that the usurping Zionist entity and its American attack dog could sneak through to deepen their hegemony on the continent.
The missing IMN girls of Zaria on the other hand, most of whom are bright undergraduates of Nigeria's highest learning institutions and represent their nation's future in important fields like law, political science and medicine, have REALLY been violated, have REALLY been abducted and are in REAL danger. The fate of these sisters is also tied to 705 other persons of the IMN who remain missing with zero explanation from the Buhari regime, not to mention Sheikh Ibrahim Yaqoub al-Zakzaky himself as well as his wife, both of whom are in terrible health due to the conditions of the dungeons they're being kept in. Zionist-Imperialist coverage is not required, nor is it even welcomed, and pointing out the lack thereof is not meant to light some sort of fire underneath these oppressors and force them to produce a story about Zakzaky and the missing IMN sisters; not even close. Rather, it is meant to set ablaze a conflagration underneath those who are waxing lyrical about defending the Moustazefeen but failing miserably to come to the aid of a people who truly are among the most oppressed, most forgotten on Earth. If you defend Palestine, Yemen, Syria, Iraq and Bahrain like Sheikh Zakzaky does, then speak up for the Sheikh, his martyred sons, his imprisoned wife, his wounded daughters, his massacred followers and missing partisans, specifically the 50 disappeared IMN young women, as they too are victims of the Zio-Empire. For if you don't, "hypocrite" is what will be branded across your forehead for the remainder of your days. Hypocrite undoubtedly, as silence and apathy are complicity.
From this moment forward, we cannot shout "Free Zakzaky!" without mentioning the missing IMN girls also. The two are inextricably linked and the torment of both the sisters and the Sheikh lie solely at the feet of Washington, "Tel Aviv", Riyadh and their stooge in Abuja who dares call himself a Muslim. In conclusion, there cannot be justice for one without the other; nor can there be liberation for one without the other. Free Sheikh Ibrahim Yaqoub al-Zakzaky now is what we chant! FREE THE 50 KIDNAPPED SISTERS OF THE IMN NOW is what we scream! To the gallows with the "democratic" despot Buhari and his generals! And lastly, but most certainly not least, DEATH to the Zionist Imperium that sanctioned this eliminationist scheme against the Islamic Movement of Nigeria and the Zakzaky family to begin with!
http://en.abna24.com/service/africa/archive/2016/09/14/778956/story.html
--
ISIS White Widow Sally Jones Leading Secret Gang of Female Jihadis
September 13, 2016
White Widow Sally Jones is heading up a secret army of female Jihadis hell-bent on launching a bloody wave of suicide attacks in the West — with their kids in tow.
Jones — who became the world's most wanted woman after fleeing Britain to join ISIS — has pledged to destroy the country she turned her back on with the help of her deadly new brigade of femme fatales.
It's believed the women — mainly war widows — will use the fact they are female to slip under the radar before launching their bloody attacks.
It's feared they could even bring their children on their merciless missions in an attempt to foil the security services.
Just days ago, it was reported that a teenager shot by cops was part of France's first-ever all-female ISIS terror cell, which planned to attack the Gare du Nord train station in Paris.
The mother of two traveled to Syria from Kent to marry high-profile terror hacker Junaid Hussain with her 11-year-old son, Joe "JoJo" Dixon.
But when her husband was killed in a US drone strike, leaving her and Hussain's other wife widowed, she began leading the female wing of the Anwar al-Awlaki battalion.
An ISIS defector confirmed her new position, saying: "ISIS respects her because she is the widow of Junaid, who was very important to the group."
The battalion is made up of foreign fighters and designed to carry out terror attacks in the West.
Jones, who now goes by the name Umm Hussain al-Britani, trains soldiers in combat and strategies for "suicide missions against Western targets."
The defector added: "Umm Hussain is also influential in her own right.
"She was the reason ISIS was able to recruit a lot of Western girls to Raqqa: It's not easy to convince a Christian, rock girl to become an extremist."
She is reported to receive a monthly salary of £520 ($685 US) as well as an occasional bonus of £226 ($298) for being a high-profile widow of a "shahid," or martyr.
Counter-terrorism adviser Michael S. Smith told the Telegraph he was not surprised by her new role.
He said, "Earlier this year, Sally Jones implied to me (on social media) she may be training female terrorists for deployment to execute attacks in the West.
"It is unsurprising that the Islamic State may be grooming female terrorists.
"The deployment of female fighters and suicide bombers, notably women whose male family members died while waging jihad, became a common occurrence after Abu Musab al-Zarqawi organized the group now called the Islamic State."
Last week, a British child assassin who featured in the latest ISIS propaganda video was reported to be Jones' son.
The terror group released sickening footage this week that showed five children, including one blue-eyed boy named Abu Abdullah al-Britani, slaughtering a group of Kurdish prisoners.
http://nypost.com/2016/09/13/isis-widow-leading-secret-gang-of-female-jihadis/
--
'Burkini ban example of how not to treat minorities'
September 14, 2016
PETALING JAYA: The French Government's recent treatment of its minority-Muslim citizens, especially those who don the Hijab, headscarves or the "Burkini", is an example of how Muslim-majority Malaysia should not treat its minorities.
In a statement, Amanah's Raja Bahrin Shah said Muslims in the country should instead lead by example and refrain from discriminating against the minorities here.
About 61 per cent of Malaysians are Muslims.
"What happened in France should be condemned and not be adopted by Muslim nations."
A small number of towns in France had last month decided to ban the burkini – a cross between a bikini and a burqa, which Muslim women would wear at the beach – for its alleged links to terrorism.
The country's highest administrative court later ruled that the bans were illegal, but the mayors of 30 French coastal resorts refused to lift the restrictions.
Raja Bahrin, who is also the Kuala Terengganu lawmaker, then alluded to a picture taken in the 1950s which depicted a French policeman issuing a fine to a non-Muslim woman for wearing revealing clothes.
"There are many nuns who take a dip in their habits, yet no action is taken against them. This clearly shows discrimination against the minorities."
While Malaysians of various faiths generally live peacefully side by side, there have been various incidents in the past that strained race relations.
This includes the tug-of-war over the usage of Allah, which the apex court has since declared as exclusive for Muslims despite Catholics, especially those in East Malaysia, using the Arabic term for God decades ago.
The controversy over the use of the word Allah not only saw Bibles seized by religious authorities but also led to several churches being vandalised.
The country also witnessed two interfaith custody battles involving Hindu women and their Muslim convert husbands after their children were unilaterally converted to Islam.
http://www.freemalaysiatoday.com/category/nation/2016/09/14/burkini-ban-example-of-how-not-to-treat-minorities/
--
Muslim Women Attacked As Hate Crime Rises in UK
September 14, 2016
Earlier today Thames Valley Police, UK, arrested a man in connection to a racist attack that took place in August when a Muslim woman lost her baby. The man directed racial abuse at the 34-year-old woman at a Co-op store in Bletchley, Milton Keynes, followed her to her car then kicked her in the torso. The woman was taken to Milton Keynes General Hospital but they were unable to save her baby.
The same man also hit a 40-year-old man over the head with a bag of ice and a bottle.
The news comes at around the same time a 36-year-old Muslim woman was set fire to on Fifth Avenue in Manhattan, New York, and two Muslim women in Brooklyn were assaulted as they pushed their babies in prams. Emirjeta Xhelili, who was arrested and charged for second attack, tried to remove one of the women's headscarves and pushed one of the prams to the ground.
At the beginning of September a 60-year-old Muslim woman was stabbed to death in the Jamaica Hills area of Queens, New York City.
https://www.middleeastmonitor.com/20160914-muslim-women-attacked-as-hate-crime-rises/
--
URL: https://www.newageislam.com/islam,-women-and-feminism/new-age-islam-news-bureau/al-qaeda-doesn't-want-muslim-women-to-carry-out-attacks/d/108555
New Age Islam, Islam Online, Islamic Website, African Muslim News, Arab World News, South Asia News, Indian Muslim News, World Muslim News, Women in Islam, Islamic Feminism, Arab Women, Women In Arab, Islamophobia in America, Muslim Women in West, Islam Women and Feminism