New Age Islam News Bureau
4 Apr 2016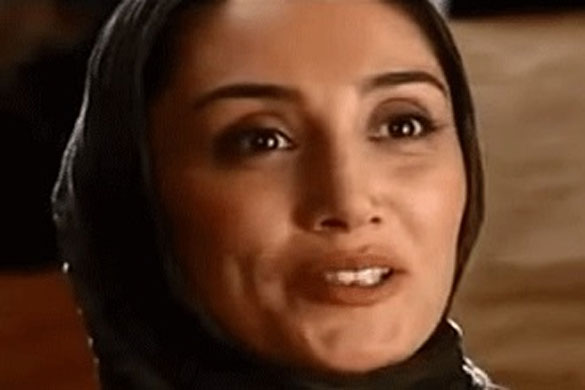 Photo: Famous Iranian actress Hedieh Teherani arrested by security forces in Tehran for campaigning for animal rights.
-----------
• Iranian Film Actress Arrested for Animal Rights Protest
• Religious Parties Plan to Table 'Women Bill' In NA, Senate in Pakistan
• Honour Crimes on the Rise in Pakistan
• Woman Professionals Chant 'Bharat Mata Ki Jai' During PM Modi's TCS Visit in Riyadh
• Job Opportunities for Women in Islamic Banks in Pakistan
• Is France Xenophobic About Its Veiled Muslim Women?
• Is France Xenophobic About Its Veiled Muslim Women?
• Award-Winning Show about Muslim Women Heads to Barnoldswick
• Muslim Womenpreneurs Expo Attracts GTA-Wide Visitors in Mississauga
Compiled by New Age Islam News Bureau
URL: https://newageislam.com/islam-women-feminism/air-france-faces-staff-mutiny/d/106866
---------
Air France faces staff mutiny in Iranian headscarf row
Mon, Apr 4, 2016
Air France is facing a mutiny after instructing female crew to wear trousers during flights to Iran and to don a "loose-fitting jacket and headscarf" before leaving the plane in Tehran.
Staff representatives have accused the airline, which will resume flights to the Iranian capital later this month, of forcing women staff to wear clothes that are an "ostentatious religious sign" that goes against French law.
Union leaders said the dress code was an attack on individual freedoms and insisted the measure had to be voluntary; Air France said the rules were not new and already applied to cabin crew during stop-overs in Saudi Arabia where hostesses were required to wear an abaya covering their body.
Air France will begin three daily fights to the Iranian capital on April 17th, eight years after they were stopped following the imposition of international sanctions against Tehran. These were lifted in January after Iran agreed to dismantle its nuclear programme.
Air France's clothing advice was contained in an internal note to staff.
Christophe Pillet, of the SNPNC union and a member of the Air France staff committee, said the instructions had sparked widespread concern. "Every day we have calls from worried female cabin crew who say they do not want to wear the headscarf," Pillet told AFP.
He said airline management had raised the possibility of penalties against staff who refused to follow the dress code.
Francoise Redolfi, another union leader, told RFI radio, "They are forcing us to wear an ostentatious religious symbol. We have to let the girls choose what they want to wear. Those that don't want to must be able to say they don't want to work on those flights."
She added: "Many female members of flight crews have told us that it's out of the question they be obliged to wear headscarves. It's not professional and they see it as an insult to their dignity."
Since the 1979 Islamic revolution, women in Iran have been required to cover their heads.
In France, headscarves are banned in schools and colleges and full veils are outlawed in public places.
In a statement, Air France said: "Iranian law requires the wearing of a veil covering the hair in public places for all women present on its territory. This obligation is not required during the flight and is respected by all international airlines serving the Iranian Republic."
The row comes days after the French women's rights minister, Laurence Rossignol, sparked controversy after comparing women who choose to wear the veil – including the Burqa and Niquab – to "American negroes who supported slavery". Rossignol had been asked about fashion companies producing clothing for Muslim women, including Marks & Spencer, which has included 'burkinis' – all-covering swimming costumes - in its 2016 summer collection.
In 2010, Laurence Ferrari, one of France's most famous television news presenters, caused outrage after wearing a headscarf to interview the Iranian president, Mahmoud Ahmadinejad.
On Sunday, leading French feminist philosopher Elisabeth Badinter called for women to boycott companies including Dolce & Gabbana, H&M and Marks & Spencer for producing "Islamic fashion".
irishtimes.com/news/world/europe/air-france-faces-staff-mutiny-in-iranian-headscarf-row-1.2597012
---
Iranian Film Actress Arrested for Animal Rights Protest
Sun, April 3, 2016
A famous Iranian actress was arrested by security forces in Tehran for campaigning for animal rights. Authorities said Hedieh Teherani, was present at a gathering in Tehran's central Lala Garden for participating in a gathering that was not authorized by the ministry of the interior.
The arrest was announced by the Iranian news outlet tabnak.ir, which is connected to the Iranian Revolutionary Guards. The arrest was also reported by the Iranian website of the Young Journalists Club.
The issue of animal rights came to the fore recently after several Iranian municipalities a large number of street dogs by shooting or burning the animals to death.
clarionproject.org/news/iranian-film-star-arrested-animal-rights-protest
----------
Religious parties plan to table 'women bill' in NA, Senate
Sun, April 3, 2016
LAHORE: Religious parties have decided to propose a new women protection bill in the National Assembly and Senate in place of the Punjab Protection of Women Against Violence Act, 2015.
A 24-member steering committee, headed by Jamaat-i-Islami leader Liaquat Baloch, has authored the bill.
"The new bill proposes protection and empowerment of women of Pakistan in light of Islam, doing away with the Punjab government's women protection law which is un-Islamic," a Jamaat-i-Islami leader told Dawn after the Nizam-i-Mustafa Conference attended by 35 religious parties at Mansoora here on Saturday.
He said the steering committee had thoroughly examined the Punjab Protection of Women Against Violence Act, 2015, and reached the conclusion that no amendment was required (to this law). "The government has only one option — repeal this law and pass the one proposed by the steering committee (of the religious parties) which will completely be based on Islamic tenets," he said.
The conference declared that there would be no compromise on the Punjab's women protection law and vowed to continue struggle for enforcement of the Nizam-i-Mustafa in the country.
According to a joint declaration adopted in the conference, the Punjab women protection law is an "attack on the Muslim family system".
"This moot condemns maltreatment of women, but the government cannot be permitted to disturb unity of the (Muslim) family system through the new law passed by the Punjab Assembly," it said.
According to the declaration, the Punjab women protection law had been "totally rejected" by women across the board and Ulema of all schools of thought. "The Council of Islamic Ideology has also termed it against Shariah. Under the constitution, any law violating Shariah has no legal status."
Last month, religious parties had warned the government to withdraw the women protection act or face 1977-like movement. The government, however, paid no attention to the warning and asked them to propose amendments.
Then the clerics decided to form a steering committee to come out with a new draft law. "If the government creates hurdles in the passage of our bill we will certainly be on the roads," the JI leader said.
The declaration reiterated the stance of all clerics of all schools of thought on blasphemy laws. "Any amendment to the blasphemy laws is unacceptable. Execution of Mumtaz Qadri is a judicial murder."
The conference demanded release of those arrested in Islamabad (in connection with a protest against the execution of Qadri) and withdrawal of cases against them.
The declaration denounced efforts of a section of the media to ridicule Islamic rites, causing provocation and promoting Indian culture, besides obscenity and nudity, and stressed that this tendency must be checked effectively.
It condemned the recent suicide bombing in Lahore, besides all forms of terrorism and extremism, and observed that these were aimed at weakening the country's ideology, solidarity and economy.
It said Indian intelligence agency's terrorist network was aimed at weakening Pakistan and demanded that RAW agents or spies taken into custody must be handed down exemplary punishment under the law.
The declaration condemned the government's propaganda against seminaries and linking them with terrorism.
It criticised efforts aimed at pushing the Kashmir issue on back burner and the government's silence over victimisation of the pro-Pakistan people in Bangladesh.
Jamaat-i-Islami Emir Sirajul Haq, chief of his own faction of Jamiat Ulema-i-Islam Maulana Fazlur Rehman, Jamaatud Dawa chief Hafiz Mohammad Saeed, JUI-S head Maulana Samiul Haq, Dr Abul Khair Zubair, Prof Sajid Meer, Hafiz Aakif Saeed, Allama Sajid Naqvi, Pir Ejaz Hashmi, Pir Abdur Rahim Naqshbandi and Pir Haroon Gilani were prominent among those who attended the conference.
dawn.com/news/1249672/religious-parties-plan-to-table-women-bill-in-na-senate
--
Honour Crimes on the Rise in Pakistan
Sun, April 3, 2016
Honour crimes in Pakistan were on the rise last year according to the country's independent Human Rights Commission.
Close to 1,100 women and 88 men were the victims of honour crimes, including 170 who were minors. Crimes included being killed for marrying a man or woman of choice, rather than submit to a marriage arranged by one's family.
Most victims were shot, but many also died or were severely disfigured by acid attacks or through being set on fire.
In addition, there were 833 reported cases of women being kidnapped.
But the numbers belie the reality of these crimes in Pakistan as an unknown number of these crimes in Pakistan remain undocumented.
In addition, the report states that that, "Despite the volume of cases, the rate of prosecution remained fairly low."
The report also notes that, "Gender justice in access to education health, economic opportunities and political empowerment continued to elude women in 2015."
In February, the legislature of Pakistan's largest province, Punjab, passed a bill prohibiting all forms of violence against women. The bill was denounced by more than 30 Islamic groups, including all the mainstream Islamic political parties.
A prominent cleric, Muhammad Naeem, head of Jamia Binoria International, called the bill a "tragedy" and said it would suppress men at the hands of women. He also denounced the bill, saying it was against the Quran and the Sunnah.
clarionproject.org/news/honor-crimes-rise-pakistan
--
Woman Professionals Chant 'Bharat Mata Ki Jai' During PM Modi's TCS Visit in Riyadh
03 Apr 2016
Riyadh: PM Narendra Modi on Sunday paid a visit to an arm of Indian IT major Tata Consultancy Services (TCS), a rare all women workplace in Riyadh.
PM was received with a warm welcome at the BPO centre where several women professionals were seen taking selfies with the Prime Minister.
Crowd also chanted 'Bharat Mata Ki Jai' and Modi during PM's visit.
The organisation employs 1000 women work in BPO Operations, 85% of whom are Saudi Nationals.
In the strictly conservative country where women are not even allowed to drive, this is the first such private company office where women are working in such large numbers.
Women constitute just 18 per cent of the labour force in Saudi Arabia, up 5 per cent in the last decade or so.
TCS is also the only foreign employer with an all-women workplace in the kingdom.
Addressing the gathering, PM Modi said, "I am meeting those professionals who are now the glory of Saudi Arabia."
"This atmosphere that I am witnessing here today has the potential to give a strong reply to the world," PM Modi said.
Inviting the woman professionals to India, PM said, "All of you must come to India, I assure you a very warm reception."
Earlier, immediately after his arrival here, Prime Minister Narendra Modi on Saturday had visited the Masmak fortress, a clay and mud-brick complex built around 1865 that is a major symbol of recapture of power by the Al Saud royal dynasty which has been running the country for over a century.
indiatvnews.com/news/world-pm-modi-addresses-women-professionals-in-riyadh-says-you-are-glory-of-saudi-arabia-322187
----
Job Opportunities for Women in Islamic Banks in Pakistan
April 4, 2016
LONDON: With the success stories of Malala Yousufzai (Nobel Laureate), Sharmeen Obaid-Chinoy (two-time Oscar winner) and Fiza Farhan (member of UN's panel on women empowerment), Pakistan is fast becoming an attractive place for women.
Women are increasingly becoming visible and economically active, although they own only 3% of businesses in the country. However, apart from few professions, like education and health, women are still not so much visible in financial services but it is perhaps a matter of choice and not a result of some deliberate discrimination or misogyny.
The best and worst places in the world to be a working woman
In the Islamic banking sector of Pakistan, women representation is rather low.
London-based quarterly Islamic finance magazine, ISFIRE recently conducted a global survey to find reasons for low employment of women in the over $2 trillion global Islamic financial services industry.
Leadership in Islamic finance
Contrary to a view promoted by some people that Islamic banking and finance (IBF) discriminates against women, the industry offers ample opportunities to smart and intelligent women.
According to Stella Cox, Managing Director of DDCAP and a veteran in IBF, it may in fact be easier for women to excel in IBF. Perceiving or portraying IBF to be anti-women is at best primitive thinking. The industry has in many cases endogenised cultural sensitivities of non-Muslim female personnel to ensure that they are provided with a level-playing field.
KFH Research former managing director and vice chairman Baljeet Kaur Grewal symbolised this trend before she left her previous job.
Survey on female employment
The survey asked just one question through social media. There were 10,337 responses from 33 countries of the world. The question asked was: Why has there been low female employment in IBF?
The survey results confirm that the low female employment in IBF is not due to any systematic bias but it is rather owing to some other socio-economic factors. The main reason is the low female participation in the labour force, as suggested by one-third of the respondents.
Moreover, women themselves do not prefer banking and finance, in general, as a viable profession for them.
Male dominance in banking and finance (including IBF), dress code for women, and lack of availability of suitable academic and professional qualifications are major barriers to entry for women. These three factors collectively account for one-third of the reasons for low participation of women in IBF.
Levelling the playing field: Female government job quota to be increased to 7%
However, those working in financial institutions put less emphasis on the barriers to entry, as evidenced by the response of respondents who are currently in the financial services industry.
Some 81% respondents say that low female participation in the labour force and women's own preference away from financial services are main reasons for the low employment of women in the sector.
This is obviously a view against 53% of those not working in the financial sector (including those out of jobs), who consider the above-mentioned barriers to entry as the main reasons for lack of employment of women in IBF. Women believe even more that there are real barriers to entry for them (59%).
More than half of the respondents (57%) from Pakistan are of the opinion that barriers to entry exist for women participation in IBF.
These results clearly suggest that there are barriers to entry into IBF, however, the factors responsible for women-specific barriers to entry must further be scrutinised.
An overwhelming majority of respondents in the global sample reject the hypothesis that there are real and credible barriers to entry into IBF for women. Slightly over one-quarter respondents recognise these barriers.
No discrimination
Employees of Islamic banks and financial institutions do not believe that women have faced any kind of discrimination in matters related with employment and human resource development. If this view is correct, then the question arises why women are not interested in working for Islamic financial institutions.
There seems to be a grudge effect when it comes to the responses of those who are not working for Islamic financial institutions, the unemployed and the female, as they tend to believe that there are definite entry barriers for women. Pakistanis also tend to put weight on their side.
The ISFIRE report concludes by asserting that there is no evidence of any systematic discrimination against women in IBF and that there are no credible barriers to entry. However, there is a need to encourage more representation of women in IBF in countries like Pakistan, Bangladesh, Indonesia and Turkey where women in the sector are the least visible.
The writer is an economist with PhD from the University of Cambridge
http://tribune.com.pk/story/1078259/equal-chances-job-opportunities-for-women-in-islamic-banks/
-----------
Is France xenophobic about its veiled Muslim women?
April 04, 2016
Dr Noureddine Miladi
The statement made on Thursday 31 March 2016 by France's Families and Women's Rights Minister, Laurence Rossignol, added fuel to the far right Islamophobic attacks against Muslims. It also provides further ammunition for the large part of French media which are already notorious for their negative portrayal of Muslims. It is a contradiction in terms for a minster who attacks the freedom of dress in democratic country like France to, at the same time, head the ministry whose raison d'être is essentially defending women's rights.
In the type of liberal democracy which the minister believes in, it seems that every form of freedom to choose one's dress, including miniskirts or very tight leggings, which are both sexually explicit should be respected, except the liberty to choose to wear the Muslim woman's dress.
In a statement to Monte Carlo and BFM TV, while commenting on the increasing trend of selling collections to Muslim women by famous brands such as Dolce & Gabbana and H&M, she described Muslim veiled women as "slaves who prefer slavery".
Although this is out of a free choice she went further by adding, "There are women who choose to wear the hijab. There were African Americans too who preferred to be enslaved"!! (theguardian.com)
This is by all means a racist spat which by modern standards is intolerable. Will the minister dare to make the same inflammatory comments about Jewish women who abide by the codes of conduct described in Judaic scriptures? How about Christian sisters who abide by the teachings of Jesus in terms of their dress codes?
Do Jewish, Catholic, and Protestant women "prefer slavery" too? In a similarly arrogant fashion Rossignol claims that these brands of Muslim women's dress are dangerous "…those same brands, with such Islamic collections, give an image of women that is dangerous for the rights and freedom of Muslim women in France." (CNN.Com)
The minister, who has provoked rage and exasperation, claims that the hijab "…promotes the shutting away of women's bodies".
While the minister has been concerned about French women from the Muslim faith who choose freely to follow the Islamic dress codes, it is remarkable that we don't hear a critical stance about the exploitation of women's body in advertising campaigns for instance. The modern advertising industry capitalizes on the woman's body as a marketing tool. Sophisticated ads display almost bare bodies in order to sell a product such as an expensive car, a watch, perfume or an electronic devise to name a few. Adverts which portray women in bikinis are actually selling two products. One is the merchandise, and the second is women's naked bodies as part of a consumer culture.
Or maybe the French Families and Women's Rights minister should have a say on the alleged 'sickening sex abuse' which a few French UN soldiers have been recently accused of in the Central African Republic. The Al-Jazeera.com reported on Friday 1 April 2016 that the 'UN and French peacekeepers (were) accused of grim abuses in the restive African nation, including bestiality with children'. The news also reads that 'A report by a US-based advocacy group said three girls in CAR told UN staff they were tied up and forced to have sex with a dog by a French military commander in 2014' (Aljazeera.com).
Furthermore, we wish to hear a critical stance from the minister on how women's bodies are disgustingly exposed and exploited in tens of sex magazines sold all over France, available to youth and children.
We also wish to hear an echo of wisdom from the minister about the exploitation of women's bodies as a sex object in the film industry. In France as well as many other parts of the world, scores of adult TV channels can also be accessed by children and youth. If any, the hundreds of explicit sex films are appalling in the way they present graphic hard core sex acts; which are certainly not healthy for the morale and psychological development of children and youth.
By making the inflammatory remarks about women, the French minister, Rossignol, aims to further alienate French Muslims. This leads to a widening in the gap between communities and furthers the discourse of the 'us' and 'them'. The debate recalls the epoch of colonization and the post-colonial area which legitimated its raison d'être in the colonies based on the "us" civilized and the 'them' backward; the "us" masters and the "them" as slaves.
The fear mongering media campaigns against Muslims in Europe are already leading to a tense atmosphere of increasing panic in which right-wing groups thrive. On Saturday 2 April 2016 a far-right activist decided to run over a Muslim woman with a car in Brussels Molenbeek. Such hate-driven actions are expected to increase because of the simmering and tense atmosphere.
Will policy makers take pro-active measures to deter the upsurge in Islamophobia?
thepeninsulaqatar.com/views/political-views/377079/is-france-xenophobic-about-its-veiled-muslim-women
---
Award-winning show about Muslim women heads to Barnoldswick
April 03, 2016
THE award-winning New York show, Dirty Pakistani Lingerie, about Muslim-American women, is coming to Barnoldswick next week.
The show, which is suitable for ages 14 and above, will be performed at the Rainhall Centre at 7pm next Friday, April 8.
Written and performed by Aizzah Fatima and developed and directed by Erica Gould, the show interweaves the stories of six Muslim-American women, all portrayed by Fatima, in a show that aims to break down stereotypes of Muslim women in America.
Fatima said: "I felt as if I was surrounded by all these amazing women who had remarkable stories to tell – first- and second-generation immigrant women – who just happened to be Pakistani Americans."
Erica added: "The play addresses the inherent tension between the impulse to assimilate and the desire to maintain one's cultural identity."
Tickets, priced at £6 and £4 concessions, are available from the Rainhall Centre and can be booked by calling 01282 345200.
cravenherald.co.uk/news/14400696.Award_winning_show_about_Muslim_women_heads_to_Barnoldswick/
---
Muslim Womenpreneurs Expo Attracts GTA-Wide Visitors in Mississauga
By Nouman Khalil
Mississauga became the epicenter of attraction this weekend for Muslim entrepreneurs across the GTA region.
Featuring exceptional calligraphy, arts and artifacts, the fifth annual Muslim Womenpreneurs Expo held in Mississauga on Sunday, April 3.
"Women in business is a tradition in our faith," said the event founder Ibtissam Sebbahi, an entrepreneur herself. "(The expo) is a venture to feature the socio-economic contribution Muslim women are making in their local communities and neighborhoods." She said the focus is also to dispel certain myths about Muslim women and provide an opportunity for visitors and vendors to network.
"The expo is to promote Muslim women who are in business. We also invite ladies from other religions and cultures to join us," said Sebbahi.
At the event, more than 50 womenpreneurs exhibited arts, artifacts, painting, life coach services, insurance brokerage services, beauty salons, jewelry, fashion apparel, toys, books, perfumes and health products.
Sebbahi said the event is getting tremendous support from the community and getting bigger and better every year.
mississauga.com/news-story/6438125-muslim-womenpreneurs-expo-attracts-gta-wide-visitors-in-mississauga/
URL: https://newageislam.com/islam-women-feminism/air-france-faces-staff-mutiny/d/106866
New Age Islam, Islam Online, Islamic Website, African Muslim News, Arab World News, South Asia News, Indian Muslim News, World Muslim News, Womens in Islam, Islamic Feminism, Arab Women, Womens In Arab, Islamphobia in America, Muslim Women in West, Islam Women and Feminism