New Age Islam News Bureau
4 Oct 2018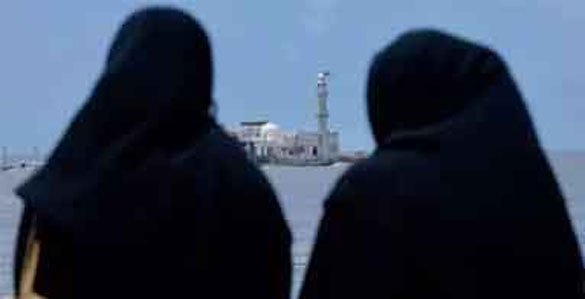 Photo: Criticising the ordinance, Asma Zehra, AIMPLB executive member said it would create more confusion instead of providing solutions.
---------
• Saudi woman barred from marrying 'religiously unfit' man because he plays musical instrument
• Female and mounted police used to prevent women from entering stadium
• Muslim Council of Britain to train women to run mosques
• Women actively participated in protests in Tehran, Karaj, Rasht and Bam
• Deaths of Instagram model, other women shock Iraq
• Notices issued to ombudsman, IGP, SBBU VC in girl's harassment case
• Bullet that killed schoolgirl in Saeedabad fired by policeman: probe
• Enforcing Austria's burqa ban a delicate matter in Alpine resort
• 100 days at the wheel ... Saudi women drivers feel exhilarated
• Amnesty International slams 'sickening' execution of domestic and sexual violence victim in Iran
• Settlement reached after Muslim woman says deputies forcibly removed her hijab
• ISIS execution of Druze woman enrages community
• Under the poverty line, Iran's female teachers struggle to live
Compiled by New Age Islam News Bureau
URL: https://www.newageislam.com/islam-women-feminism/aimplb-advise-women-settle-marital/d/116560
--------
AIMPLB to advise women: Settle marital disputes within family, avoid police & courts
by Ravik Bhattacharya
October 4, 2018
Avoid approaching the police or a court against your husband, try and settle marital disputes within the family under Sharia law, know your rights under Sharia law — this is the advice the All India Muslim Personal Law Board (AIMPLB) is planning to give Muslim women through a series of workshops across the state.
The move comes after the central government passed an ordinance criminalising instant triple talaq. After holding workshops in the state, the AIMPLB plans to do the same across the country.
Speaking to The Indian Express from Hyderabad, Asma Zehra, AIMPLB executive member and head of the women's wing, said workshops — in Bengali and Urdu — and awareness camps will be initiated in a few months at the district level.
"We feel there is a need for social reform and not (reform of) law… We will make them (women) understand that instead of rushing to court or police at the drop of a hat, one should settle marital disputes within the family in the presence of elders. We will also make women aware of the rights they enjoy under Sharia law, like the right to property, right to return to her father's home if she is unhappy with her husband, right against violence," said Zehra.
Criticising the ordinance, she said it would create more confusion instead of providing solutions.
"It has been aimed at empowering only the wife. What about the mother-in-law? She is a woman too. This empowerment of the wife will have a lot of repercussions for all ladies of the family. Do I want my son or brother to be jailed? If my son is in jail, I am also suffering. It will cause irreparable damage to a husband-wife relationship," she said.
She said women should be made aware of better solutions under Islamic law. "We are all in favour of sitting down, counselling, finishing it off rather than going for legal complications," said Zehra.
AIMPLB convenor Uzma Alam said districts are being shortlisted, with Ranigunj in Asansol among the first.
She said camps are likely to be conducted in winter because it is easier to travel during that season.
Referring to the case of Ishrat Jahan, one of the first petitioners against triple talaq, Alam said she had been misled by a certain group. "If she comes, we will surely help her. Our doors are always open for her. We will support her."
https://indianexpress.com/article/cities/kolkata/triple-talaq-ordinance-aimplb-to-advise-women-settle-marital-disputes-within-family-avoid-police-courts-5385478/
--------
Saudi woman barred from marrying 'religiously unfit' man because he plays musical instrument
October 4, 2018
A Saudi Arabian couple were reportedly barred from getting married after the prospective husband was deemed unsuitable because he played a musical instrument.
The bride-to-be's family had objected to their relationship, arguing the man was not "religiously compatible" with her because he played the oud – a pear-shaped stringed instrument commonly used in Middle Eastern and North African music.
Although the woman launched a legal challenge against her relatives' decision, a judge backed the family after her brother submitted evidence that the man had once played the instrument at a festival in the city of Unaizah.
An appeal court confirmed that verdict, meaning the marriage cannot go ahead.
"Because the suitor plays a musical instrument he is unsuitable for the woman from a religious point of view," Saudi newspaper Okaz quoted the court as saying.
The unnamed woman, a 38-year-old bank manager, said her prospective husband, a teacher, had a "good reputation" and was "very pious".
She said she would seek an intervention from the country's "highest authorities", in reference to the country's royal court.
Saudi lawyer Abdul Rahman al-Lahim said the man had been prevented from defending himself in court.
In parts of the Saudi kingdom, including the woman's home state of Qassim – a conservative region north of the capital Riyadh – some believe music is forbidden under Islamic law.
Playing an instrument is deemed an inferior profession and police in the state have previously arrested groups for listening to music.
Under the country's guardianship system, male relatives or husbands have control over almost all aspects of women's lives.
They must still seek permission to fulfil basic needs such as travel, study and opening a bank account.
Saudi Arabia's King Salman issued a royal decree last November announcing women would be able to drive from June 2018 for the first time since 1990.
Lifting the driving ban is one of a host of social and economic reforms that have been unveiled in the kingdom since Mohammed bin Salman was appointed crown prince by his father last June.
He has reined in the power of the country's notorious religious police, reopened cinemas and promised a return to a more "moderate" Islam.
https://www.independent.co.uk/news/world/middle-east/saudi-arabia-woman-marriage-ban-music-instrument-religion-islam-qassim-a8566241.html
--------
Female and mounted police used to prevent women from entering stadium
03 October 2018
Female police and mounted police officers were deployed to prevent women from entering the Azadi Stadium in Tehran to watch the game on Thursday, September 27, 2018, between Persepolis and Esteghlal teams.
The state-run ROKNA news agency wrote, "The women police are present at the Azadi Stadium gates to identify female fans dressed in boys' outfits to intervene and deal with the issue if anyone was suspected." (The state-run ROKNA news agency – September 27, 2018)
According to other reports, 500 CCTV surveillance cameras were used to identify and prevent women from entering through the gates.
Despite tight control by the State Security Force, a brave girl was able to enter the stadium with a boyish make-up to watch her favorite team in person.
The Iranian regime bans women from entering stadiums to watch sports competitions. The authorities have repeatedly stressed the ban on women entering sports stadiums.
Regarding the ban preventing women from entering sports stadiums in Iran, Makarem Shirazi said, "This plan was also put forward in the previous government, but both the leadership and the authorities opposed it, and unfortunately despite having knowledge of this issue, some are still seeking approval of the directive. Mentioning this issue again will be a deviation from our path." (The state-run ISNA news agency – November 28, 2017)
Mullah Nouri Hamedani also tried to justify the ban on women's presence in sports stadiums saying, "It is not permissible for men and women to be present in the same sports event because women cannot properly hold on to their veil." (The state-run Razavi news agency – November 29, 2017)
Last May, several women who tried to enter a stadium in Khorramshahr with male outfits and make-up, were identified and arrested. (The state-run Aftab website - May 3, 2018)
In the same month, during victory celebrations of Qaem Shahr's textile team, a woman who tried to go to the top of a power post to look into the stadium, was abusively insulted and attacked by government officials.
https://women.ncr-iran.org/iran-women-news/5500-female-mounted-police-prevent-women-entering-stadium
--------
Muslim Council of Britain to train women to run mosques
4 Oct 2018
Britain's leading Muslim organisation has launched a scheme to train women for leadership positions in mosques and community bodies.
Twenty women have embarked on the six-month intensive programme run by the Muslim Council of Britain, aimed at equipping them for leadership positions. As well as one-to-one mentoring, the women will visit "best-practice mosques" and be given media and public speaking training.
A national conference in Manchester this weekend on the future of mosques, organised by the MCB, will include a session on the participation of women on boards of trustees and other bodies running places of worship and community programmes.
Few mosques in the UK have women on their trustee or management boards, and men outnumber women on all charity trustee boards by two to one, according to the Charity Commission.
The MCB said: "This lack of diversity is unacceptable and it is essential for the management boards of mosques and third sector organisations in general to reflect the communities that they serve in order to function effectively."
The initiative comes as some Muslim women are demanding equal access to and greater involvement in running mosques. More than a quarter of mosques in the UK have no facilities for women, and in the remainder access is often restricted and the space they are allocated is limited.
In August, Scottish Muslim women launched a campaign for equal prayer space and inclusion in decision-making bodies.
The Scottish Mosques for All campaign said: "It is unfortunate that many mosques fail to provide basic access for Muslim women to use the facility to pray, or the quality of the space can often be inadequate and not suitable.
"It is also unfortunate that many mosques have limited or no women present at mosque trustee or managerial level, either intentionally preventing women from taking up these roles or not sufficiently providing a welcoming atmosphere where women feel comfortable to get involved. The place and role of women in mosques is in real crisis in the UK and elsewhere, and this status quo must change."
Another organisation, Open My Mosque, is calling for a commitment from mosques to equality, and the Bradford-based Muslim Women's Council is raising funds for a mosque led and governed by women, "based on the principles of openness, inclusivity, social justice and sanctuary".
Andleen Razzaq, a former trustee of Al Manaar mosque in west London, who is running the MCB's women in mosques development programme, said: "Muslim women are doing amazing work in the community, but often have no experience of being trustees or on decision-making bodies. We need to have big conversations around the barriers to women. Most are cultural; in Islam, men and women have equal spiritual standing.
"We can see the direction things are moving in. Women are feeling more empowered – their voices cannot be ignored, the momentum is definitely there. Young women in particular are hungry for change. If men won't welcome them, women will be tempted to create their own spaces."
All mosques should "reflect the values of equality, inclusivity and diversity", she added.
Ghazallah Hussein, who is taking part in the programme, said it was helping her build her confidence and "believe in myself a bit more". "A lot of mosque committees don't understand what women want or need. But I think they know times are changing, and they have to change too," she said.
In a speech on International Women's Day in March, Harun Khan, the MCB's secretary general, backed calls for gender equality. It was "time to ensure that everyone understands their own responsibility in achieving equal access and opportunities for men and women in British society today", he said.
Referring to domestic violence, pay inequality, abuse and harassment, he said: "Closer to home, why is Muslim civil society still full of many mosques that only have prayer spaces for men and none for women, as if to imply that prayer and a sense of community is only for men?"
The marginalisation of women in mosques was "simply unacceptable", Khan added.
https://www.theguardian.com/world/2018/oct/04/muslim-council-of-britain-women-leadership-training
--------
Women actively participated in protests in Tehran, Karaj, Rasht and Bam
03 October 2018
Iranian women actively participated in the recent protests of various sectors of society in the cities of Tehran, Karaj, Rasht and Bam. The employees of Khomeini Hospital in Karaj stopped working from September 29 to October 3, 2018, for five consecutive days, in protest to the nonpayment of 11 months of their salaries. Women actively participated in this protest. They chanted, "Karaj does not need a shopping mall, it needs a medical center."
The women who work in the hospital, including nurses, doctors, and the rest of the staff, have repeatedly protested against their undetermined situation. Previously, on July 23 and 24, 2018, the employees of the Khomeini Hospital in Karaj held a sit-in for two days at the emergency department of the hospital in protest to the nonpayment of their salaries.
A group of women and men defrauded by the IRGC-backed Caspian Credit Institute in Mashhad, gathered outside the company's branch on Vakilabad Ave. on Wednesday, October 3, 2018, demanding a response from officials to their inquiries.
On Sunday, September 30, 2018, clients plundered by the Caspian Credit Institute held a protest gathering outside the mullahs' parliament in Tehran. Women actively participated in this protest. They chanted, "The government is not Muslim, they should return our money."
On the same day, the applicants for the Adineh Residential Housing Complex in Rasht held a protest against the 8-year delay in the assignment of the complex units. They protested against the plunder of their advance payments for these units by the city's Friday prayer leader.
On Tuesday, October 2, 2018, Ph.D. students held a protest gathering outside the Ministry of Sciences, Research and Technology in Tehran, inquiring about their demands for student-rate foreign currency. Women actively participated in this protest.
Students of the University of Tehran held a protest on Wednesday, September 26, 2018. Young women actively participated in this protest against university's demanding tuitions for compensation courses. One student said the university wants to compensate for its lack of funding in this way, and we are protesting their ways.
The students held up banners that read, "Brain drain from Iran is a result of ungratefulness and disrespect," "No to forced payments."
Also, on Tuesday, September 23, 2018, women actively participated in a protest by a number of workers in the Sepehr Cooperative Company in Bam. These workers were victims of devastating Bam earthquake in 2012.
https://women.ncr-iran.org/iran-women-news/5501-women-actively-participated-protests-tehran-karaj-rasht-bam
--------
Deaths of Instagram model, other women shock Iraq
October 04, 2018
BAGHDAD: She was a 22-year-old former beauty queen, fashion model and social media star, whose daring outfits revealed tattoos on her arms and shoulder.
Tara Fares won fame and 2.8 million Instagram followers in conservative, Muslim-majority Iraq with outspoken opinions on personal freedom, such as: "I'm not doing anything in the dark like many others; everything I do is in the broad daylight."
It was also the way she died.
Last week, she was shot and killed at the wheel of her white Porsche on a busy Baghdad street during the day, apparently by a man who leaned in briefly and opened fire before speeding away on a motorcycle with an accomplice. The killing, caught on security camera video, followed the slaying of a female activist in the southern city of Basra and the mysterious deaths of two well-known beauty experts.
The violence has shocked Iraq, raising fears of a return to the kind of attacks on prominent figures that plagued the country at the height of its sectarian strife.
"These harrowing crimes are worrying us," said Iraqi human rights activist Hana Adwar.
"There are groups that want to terrify society through the killing of popular women and activists ... and to tell other women to abandon their work and stay at home."
It is not clear whether the deaths of the women are connected, and reports that they knew each other could not be confirmed.
Fares, with an Iraqi father and a Lebanese mother, first became famous in 2015 when she won an unofficial Baghdad beauty pageant organized by a social club. A YouTube channel drew more than 120,000 followers in addition to those on Instagram, where she shared makeup tips.
She gave details of a brief marriage at 16 to an abusive husband who posted intimate photos of her on social media and took away their now three-year-old son. Fares said the experience taught her "strength ... and how not to let anyone control me in anything."
While many young Iraqis shared her videos and pictures, others criticized her lifestyle as racy and un-Islamic. She lived in Iraq's self-ruled Kurdish region with her family, visiting Baghdad from time to time.
Hours after she was gunned down on Sept. 27, a video on social media showed her body being carried away by a group of young people, with her face and white shirt stained with blood. She was buried in Najaf, her grave decorated with a black-and-white photo of her, along with red plastic flowers.
In August, Dr. Rafeef Al-Yassiri, a plastic surgeon labeled "Iraq's Barbie," died under mysterious circumstances. Authorities initially called it a drug overdose but have not offered an update in over a month, leading to rumors she might have been poisoned.
A week after her death, Rasha Al-Hassan, the owner of a well-known beauty center in Baghdad, was found dead in her home. Authorities initially said she suffered a heart attack.
On Sept. 25, a gunman killed Soad Al-Ali, a prominent activist in the southern city of Basra. Al-Ali had organized protests demanding better services and jobs and decried the growing influence of Iran-backed Shiite militias in the area. Police said the killing was "purely personal" and had nothing to do with the protests.
Last weekend, another former beauty queen, Shaimaa Qassim, posted a video on Instagram in which she tearfully said she had received threats through social media.
Prime Minister Haider Abadi has ordered an investigation into what he called "well-planned kidnappings and killings." He said organized groups are "carrying out a plan to destabilize the security situation under the pretext of fighting perversion."
Security agencies have not yet commented on the investigation into Fares' death and no group has claimed responsibility.
Iraq once boasted a liberal society and progressive laws for women and the family, going back to the 1950s. Those gains were eroded after the 2003 US-led invasion, which toppled Saddam Hussein and led to the emergence of powerful religious parties and a rise in extremism.
Posters on some streets, particularly near shrines, exhort women to cover their hair and wear an abaya — a long, black cloak that covers the body from shoulders to feet.
"After the killing of Tara Fares, I feel speechless," columnist Mohammed Ghazi Al-Akhras wrote on his Facebook page. "We've reached the moment of total anarchy. They will kill everyone they don't like... The state of death is taking shape."
http://www.arabnews.com/node/1382216/middle-east
--------
Notices issued to ombudsman, IGP, SBBU VC in girl's harassment case
October 04, 2018
HYDERABAD: The Hyderabad circuit bench of the Sindh High Court on Wednesday issued notices to provincial ombudsman on protection against harassment of women at workplace, Sindh IGP, DIG of Shaheed Benazirabad, vice-chancellor of Shaheed Benazir Bhutto University (SBBU) and a lecturer, directing them to appear in court on Oct 3.
The notices were issued on a constitutional petition filed by Farzana Jamali, a student in English department at SBBU, her father Aijaz Ali and brother, Zohaib Ahmed through Ali Palh advocate.
The petitioners said that Ms Farzana was harassed allegedly by the lecturer, head of the English department, and she reported it to DIG. Many other students had also suffered harassment from the lecturer but they did not report it for fear of further victimisation and bad impact on academic career, they said.
They said that Ms Jamali was forced to have a relationship with the lecturer and was told that she would be awarded highest marks in examination in lieu of the 'relationship'. She was asked to share her cell phone number which she declined. Later, she was blackmailed by the lecturer and when she reported it to the vice chancellor he grabbed her by the hand and told her that she "would have a bright future", they said.
They said the incident happened in the VC's office which left her dumbstruck. She immediately informed her parents about it but the lecturer and the VC were greatly annoyed when she went public with her ordeal. They lodged a fake FIR against her father and had him arrested, they said.
They said that she then reported the matter to provincial ombudsman for protection of women against harassment at workplace. SHO of Khadar police station was not at first ready to lodge the FIR but had to register it later when the issue was highlighted in media, they said.
They said that they were being threatened by the lecturer and VC while Ms Jamali's brother Zohaib Jamali was booked in a case at B-section police station after he suffered injuries in a cracker explosion on Sept 28.
They said that Ms Jamali was unable to appear in examination as the private respondents who were still holding their positions were threatening her of dire consequences. The controller of examinations of SBBU should be directed to facilitate Ms Jamali so that she could appear in examination in a conducive environment at any place other than the university, they said.
The petitioners requested the court to direct the provincial ombudsman for the protection of women against harassment at workplace, Sindh IGP and DIG of Shaheed Benazirabad to ensure protection to the petitioners and restrain SHOs of police stations of Airport, B-section, Shaheed Benazirabad taluka and Khadar from registering any FIR against her, her father and brother without making enquiry and seeking permission from DIG and SSP.
https://www.dawn.com/news/1436613/notices-issued-to-ombudsman-igp-sbbu-vc-in-girls-harassment-case
--------
Bullet that killed schoolgirl in Saeedabad fired by policeman: probe
Imtiaz Ali
October 04, 2018
KARACHI: A policeman was on Wednesday arrested for firing a bullet from his house that hit and killed a seven-year-old girl in her school in the Saeedabad area a couple of days ago.
On Sept 28, the minor girl, Aqsa, was playing along with other girls inside a private school when a stray bullet fired from an unknown location hit her in the shoulder. She was initially taken to Dr Ruth Pfau Civil Hospital Karachi and later moved to the National Institute of Child Health, where she died on Sept 30.
The police registered a murder case against unknown persons on the complaint of the girl's father and initiated a probe.
During the probe, it transpired that the bullet was fired from a house close to the school.
"The police have arrested Constable Waseem Saiful Maluk," said Saeedabad SHO Arz Mohammad.
He said that the held policeman was posted at the Ittehad Town police station. "He lives near the private school and told investigators that he was cleaning his licensed pistol inside his home when it accidentally went off."
Karachi police chief Dr Ameer Ahmed Sheikh had taken it as a test case as he had directed all stakeholders to determine as to why incidents involving stray bullets had become rampant.
Suspect shot dead in 'encounter'
A suspected criminal was shot dead while another arrested in an injured condition in North Nazimabad area late on Tuesday night.
The Hyderi Market police said that two suspects snatched a motorbike at gunpoint from a citizen within the remit of the Samnabad police station.
When they reached the KDA Chowrangi near Saifee Hospital, the Hyderi Market police intercepted them and in an ensuing encounter, one suspect was killed while another was arrested in a wounded condition, said SSP Central Irfan Baloch.
The snatched motorcycle, seven mobile phones, two TT pistols and eight rounds were recovered from their custody, said area SHO Arshad Janjua.
The wounded suspect was shifted to the Jinnah Postgraduate Medical Centre, where doctors said his condition was critical.
The body of the deceased was moved to the Edhi morgue for want of identification.
The area SHO said that the police were trying to ascertain the identity of both the suspects.
https://www.dawn.com/news/1436629/bullet-that-killed-schoolgirl-in-saeedabad-fired-by-policeman-probe
--------
Enforcing Austria's burqa ban a delicate matter in Alpine resort
October 04, 2018
ZELL AM SEE, Austria: With its pristine waters, snow-covered mountains and breathtaking Alpine views, the Austrian lakeside town of Zell am See is one of the top European destinations for visitors from the Gulf region.
And it aims to remain so, even though Austria introduced a ban on face-covering burqa or niqab veils a year ago.
The picturesque little town south of Salzburg with a population of 10,000 is regularly described as "paradise" in Arabic-language reviews online. It draws tens of thousands of visitors from Saudi Arabia, the United Arab Emirates or Oman every year.
They make up more than a quarter of all annual visitors and holiday brochures are readily available in Arabic.
So, when Austria banned the wearing of burqas or niqabs in all public spaces in October 2017 — under pain of fines of up to €150 ($170) — the town's authorities knew that enforcing the rule could be a delicate matter.
The aim of the ban, according to the government, is to further integration among Austrian Muslims at a time when fears about immigration and radical Islamists are sharply dividing society.
But in resorts such as Zell am See, police are having to enforce it against tourists, fueling fears that the high-spending Arab guests, and the valuable revenue they represent, might be scared off.
"I've heard some people say they don't want to come back now," said one restaurant worker who asked not to be named, even if he said hadn't particularly noticed a drop in business this year.
Local police chief Kurt Moeschl said more than 200 fines had been handed out between June and September alone. But his officers were always at pains to remain respectful.
"We have been trying to implement the law with as much tact and sense of proportion as possible," he said.
Austrian embassies and missions abroad had been working to raise awareness of the new law, Moeschl said. And the police chief himself had hosted the Saudi ambassador in Zell am See to discuss the issue.
Moeschl estimated that in around 90 percent of cases, the women had agreed to remove their veil after police officers explained the new law to them.
Walking along the lakeside, one couple from Saudi Arabia — who did not wish to be named — said they had been approached by police during their stay.
"Yes, the police did talk to us about the niqab law. But we are leaving tomorrow," the husband said, as his wife, still wearing the veil, stood beside him.
A little farther along the shore, Barbara Scheicher, who operates a boat-rental business, said the law had not had a noticeable impact.
"I haven't noticed any difference, either in the number [of people] coming, or in how many of them are veiled," she said.
"I asked one woman whether she knew it was illegal, but she reacted so badly that since then I haven't. I've seen the same reaction when the police have tried to tell people," Scheicher said.
Police chief Moeschl said his officers had also encountered locals and even other holidaymakers who insisted that women's veils be forcibly removed.
One Norwegian tourist, for example, went so far as to send the police photos of niqab-wearing women at various locations around the town, complete with the times they were taken, and the message: "Do your job."
Moeschl insisted that most interactions passed off without incident and that his officers followed interior ministry guidelines.
And he is optimistic that, over time, the situation will become easier.
"I expect that in a few years from now, this won't be an issue."
http://www.arabnews.com/node/1382291/world
--------
100 days at the wheel ... Saudi women drivers feel exhilarated
October 04, 2018
JEDDAH: Nearly 100 days after women began to drive in Saudi Arabia, Arab News asked new motorists in major cities of the Kingdom for their experiences since the historic lifting of the ban.
The first women to drive in Saudi Arabia have spoken of their relief at being able to be self-reliant. They were full of praise for the way in which the ban was lifted, singling out new traffic laws for creating a safe environment. They referenced the anti-harassment law that accompanied the lifting of the ban, crediting it with creating a safe atmosphere for the wave of new women drivers.
Saudi women are driving themselves to work, transporting their families around cities — and discovering roads in the main cities of the Kingdom are full of courteous male drivers. One even spoke of the humility of male drivers.
Not all the experiences were immediately positive. One woman reported a man who tried to crash into her vehicle to the traffic police who quickly arrested him. But even this experience gave her confidence that she would be able to drive safely.
"No male driver has irritated me on the road. They are all cooperative and supportive," said one.
Dr. Sharifa Al-Rajhi, a professor of statistics at King Abdul Aziz University in Jeddah, has no hesitation in describing what the move means — for her, driving means freedom.
"We had some social obstacles that have long prevented women from driving, despite the fact that Saudi women have achieved great jobs on all levels. To me, driving means that you feel independent," she said.
She began learning to drive in California when she was studying for her higher education programs. Returning to Saudi Arabia, she was "shocked" as she had to have a driver to take her everywhere.
"I had to take my driver's wishes into consideration otherwise he would refuse to work. He got angry many times and asked to leave. I even beseeched a driver to stay as I needed his services. I have never begged a person like that," Al-Rajhi said. It was a struggle for her to learn to drive, as her ex tried to give her lessons but it was not a success.
"I do not recommend a woman asks her husband, brother or even relative to teach her how to drive. A relative would easily get stressed over your mistakes, and this will have a negative impact on the trainee. She should seek the assistance of a professional instructor," she said.
In frustration, she joined a driving school and started lessons with a male instructor in his sixties. "He kept encouraging me until he succeeded... (he managed) to break down my fear in just two hours," she added.
She was then aged 26 she said that she mastered the basics of driving in a further two hours.
"The most important thing is to overcome fear, and everything else will go smoothly. I did not pass the test the first time due to being a bit reckless, but I made it at the second attempt," she said.
She expressed gratitude for the royal decree allowing women to drive in Saudi Arabia and noted that the anti-harassment law that accompanied the lifting of the ban meant there was a good atmosphere for women drivers.
"Truly speaking, no male driver has so far irritated or annoyed me on the road. They are all cooperative and supportive. I remember a security man at a checkpoint in the north of Jeddah stopped me and asked for the license and the vehicle's registration card. I showed them to him. He smiled and said: 'You are a heroine. You can now go,'" she added.
Wassal Al-Dosari, from Dammam, described the day the ban was lifted. "On the morning of Sunday, June 24, I drove to work and back home. For the first time in my life, I did all my work myself without being harassed or annoyed," she said.
She was surprised by what she found — all the male drivers she passed were helpful and encouraging.
"The new traffic laws have contributed to making our first driving experience in our country not only safe but also enjoyable. With these regulations, men drivers have obviously become more attentive, cautious and have shown humble driving behavior," she said.
She added that the decision to lift the ban on women driving came at the right time, paving the way for women to drive in a secure atmosphere. "I extend my thanks to the Custodian of the Two Holy Mosques and the Crown Prince for making Saudi women's dreams come true."
Another driver, based in the eastern region, said her father had insisted she join a driving school to learn to drive.
"I was sent to California in 2012. When I arrived there, my father insisted that I enroll in a car-driving course. I completed the training hours and succeeded in the first test," said Dai Al-Eidi, a US university business administration and marketing graduate. She got her license in 2012 and had five years' driving experience abroad. She learned of the lifting of the ban before returning to the Kingdom.
"I was delighted with the news when I was abroad. I returned to Saudi Arabia and was offered several jobs. I got a job as a driving instructor," she said.
Before taking up the job, she was asked why she wanted to become an instructor. "My answer was because driving a car in my country has always been a dream that has recently been made a reality."
She added that she is very proud of the extraordinary support Saudi women are being offered in all fields. She also expressed her gratitude for the leadership for its trust and support.
"We women are all enthusiastic to make our precious country the best," she added.
Likewise, Ghadeer Tayseer Al-Senan, another female driver from the Eastern Province, spoke of the relief at being able to drive your own car when you want, anywhere you want, without having to worry about how you will get there.
"When King Salman granted women the right to drive, it was an indescribable moment for us as Saudi women because finally a woman can rely on herself to secure her needs," Al-Senan said. She added that she started driving eight years ago when she was living in the US, where she had her own car.
"I was independent for my rides when I was in the States, and I now know how it feels to have your own car to travel around and do your own rides. My father used to give me lifts, but he got tired of it after many years," she said.
She has also noticed that male drivers show great respect to female drivers. "The decision is new and it was welcomed by men and women alike. This is quite clear from the female motorists' joyfulness and the men's respectful driving behaviors," she said.
For Alkhobar driver Reham Al-Shamrani, there was some trepidation at first.
"There was certainly some hesitation and fear and I was wondering if the Saudi street would accept seeing a girl driving. Some eight hours after the decision became effective I picked my sister's children up on a ride to the nearby supermarket to buy them ice cream," she recalled.
She said a male driver next to her at a traffic signal looked at her in awe. "Even when the green arrow of the traffic light appeared, he kept stopping where he was for a while. It was an experience I will never forget." she added.
Similarly, Sarah Al-Sakran, from Riyadh, said at the beginning she found it strange, especially as she was one of the first female drivers to get behind the wheel.
"It was awkward on the street. I had difficulties, so I got annoyed first, but things went well later. No annoyance, no harassment," she said.
http://www.arabnews.com/node/1382231/saudi-arabia
--------
Amnesty International slams 'sickening' execution of domestic and sexual violence victim in Iran
October 03, 2018
LONDON: Amnesty International have responded to reports that a 24-year-old Kurdish woman was executed on Wednesday morning in Urumieh central prison in the country's West Azerbaijan province, calling it "sickening."
Zeinab Sekaanvand was sentenced to death under 'qesas' (retribution in kind) in October 2014 after a trial before a criminal court in West Azerbaijan province, which convicted her of the murder of her husband. Amnesty International said the trial was "grossly unfair."
She was arrested in February 2012 at a police station where she confessed to the murder of her husband. She was held in the police station for the next 20 days where she said she was tortured by male police officers through beatings all over her body.
She confessed that she stabbed her husband after he had subjected her to months of physical and verbal abuse and had refused her requests for divorce. She was only provided with a state-appointed lawyer at her final trial session, at which point she retracted her confession, telling the judge that her husband's brother, whom she said had raped her several times, had committed the murder. She said that the judge told her that, if she accepted responsibility, he would pardon her.

Philip Luther, Amnesty International's Research and Advocacy Director for the Middle East and North Africa, said in a statement: "The execution of Sekaanvand is a sickening demonstration of the Iranian authorities' disregard for the principles of juvenile justice and international human rights law. Zeinab was just 17 years old at the time of her arrest. Her execution is profoundly unjust and shows the Iranian authorities' contempt for the right of children to life. The fact that her death sentence followed a grossly unfair trial makes her execution even more outrageous.
"Sekaanvand said that, soon after she was married at 15, she sought help many times from the authorities about her violent husband and alleged that her brother-in-law had raped her repeatedly. Instead of investigating these allegations, however, the authorities consistently ignored her and failed to provide her with any support as a victim of domestic and sexual violence.
"After the murder of her husband, Zeinab Sekaanvand said she was interrogated under torture by male police officers without a lawyer present. During her final trial session, where she was allowed a lawyer for the first time, she retracted her earlier 'confession' that she had murdered her husband, saying that she had been coerced to make it. Despite this, the judge refused to order a further investigation and instead sentenced her to death.
"It appears the Iranian authorities are increasingly scheduling the execution of people who were children at the time of the crime at very short notice to minimize the possibility of effective public and private interventions. We are horrified by their continuous use of the death penalty against people who were under the age of 18 at the time of the crime, which is a violation of international human rights law. This is the fifth execution of a juvenile offender that we have recorded this year and we fear that it will not be the last unless urgent action is taken by the international community.
"We continue to urge the Iranian authorities to immediately establish an official moratorium on executions, commute all death sentences with a view to abolishing the death penalty, and prohibit the use of the death penalty against people below the age of 18 at the time of the crime."
Amnesty International opposes the death penalty in all cases without exception regardless of the nature of the crime, the characteristics of the offender, or the method used by the state to kill the prisoner.
http://www.arabnews.com/node/1382056/middle-east
--------
Settlement reached after Muslim woman says deputies forcibly removed her hijab
Oct 3, 2018
LOS ANGELES — Settlement terms have been reached in a federal lawsuit filed against the Ventura County Sheriff's Office in May after deputies removed a Muslim woman's head scarf while she was in custody.
Ventura County and the Sheriff's Office reached a $75,000 settlement with Jennifer Hyatt, the Sheriff's Office announced this week. The settlement also includes a new policy in the written manual for the Sheriff's Office that accommodates religious head coverings.
The settlement, which is pending signatures from all parties, was reached in order "to save taxpayers the expense of further litigation, including exposure to attorneys' fees," according to the Sheriff's Office.
"The County and Sheriff's Office believe this settlement reflects a fair outcome for both sides and is a good result for the citizens of Ventura County," authorities said in a statement.
Hyatt, a 44-year-old registered nurse from Newbury Park, previously stated that a deputy snatched her hijab head covering and refused to give it back or provide her an alternate form of cover when she was detained for several hours on New Year's Day in 2017.
In the Islamic faith, some observant women follow an interpretation of the Quran that requires them to cover their heads and much of their bodies for the sake of modesty and dignity.
When Hyatt protested that she could not be in the presence of men without her hijab because she is a practicing Muslim, a deputy replied, "Not in here, you're not," according to the suit.
"I was spoken to like I was trash and deserved everything that was happening to me while in custody," Hyatt said in a statement issued in May by the Council on American-Islamic Relations. "My hijab was yanked off my head in front of many men despite my continued requests to wear it. I felt naked and humiliated the entire duration of my custody."
However, in the release announcing the settlement, the Sheriff's Office disputed Hyatt's characterization of her treatment.
"Video and audio footage from the jail's camera system show that her hijab was not 'violently yanked' from her head and she was not treated poorly or intentionally shamed by deputies due to her religious beliefs," authorities said.
The Sheriff's Office acknowledged that because the hijab was for religious purposes, Hyatt should have been offered an accommodation, "such as an alternative form of head covering."
Following Hyatt's detention, and before she filed her lawsuit, the Sheriff's Office made paper hijabs available in the jail to improve existing policies and practices regarding religious accommodations, according to the agency.
Marwa Rifahie, an attorney with CAIR in Los Angeles, said Hyatt was arrested after a dispute with her husband in Thousand Oaks.
An off-duty Los Angeles County sheriff's deputy noticed the two arguing and separated them before calling local authorities, Rifahie said. But when Ventura County deputies arrived, they ignored Hyatt's complaints of injuries and arrested her on suspicion of domestic battery, according to Rifahie.
"We are pleased that we hopefully have been able to come to a resolution that not only benefits our client, but would provide protection for other Muslims detained in Ventura County," Rifahie said in a statement. "This policy change made in Ventura County joins others throughout Southern California municipalities that have adopted policies protecting the right to wear religious head coverings while in custody."
https://www.heraldmailmedia.com/news/nation/settlement-reached-after-muslim-woman-says-deputies-forcibly-removed-her/article_ad2cf11a-e49b-5d9d-99c7-ec645ed70ea1.html
--------
ISIS execution of Druze woman enrages community
October 3, 2018
In a gruesome video posted on social media, two ISIS fighters, their faces covered, prepare to shoot a 25-year-old woman in the back of the head as she kneels in front of them. The camera pans away to a blank wall as the shots are heard, a few seconds after one of the men ends his speech.
"If the campaign against our brothers in the region of Al Safa doesn't end, and our Muslim brothers are not freed from prison in the next three days", he shouts, then the rest of the hostages will know "the same fate as this apostate Druze woman".
Tharwat Abu Ammar was captured on July 25, along with 29 other people from her village in the predominantly Druze region of Sweida in Southern Syria. Nearly 250 people died during the attacks led by ISIS that day.
Her October 1 execution follows the beheading of the only male member of the group in early August. Muhannad Toukan Abu Ammar, a 19-year-old engineering student, had been captured with his mother. Like many other religious minorities, the Druze, an ancient offshoot of Islam, are vilified by ISIS.
These past few weeks, the Syrian army has launched a major offensive against the extremist group in the region, particularly around the volcanic and barren area of Al Safa, east of Sweida. But the hostages are believed to be held in the town of Hajin, one of ISIS' last pockets near the Iraqi border, Nour Radwan, the head of local news website Sweida 24, told The National.
Pictures of Tharwat's body, covered in blood, have widely circulated on social media, angering locals in Sweida, who are still reeling from the shock of the July attacks. Yesterday, people took to the streets, firing live bullets in the air.
On the same day, a committee headed by religious Druze figures that had been set up to negotiate the hostages' releases resigned, apologising for having failed in its mission. In a press release, it accused the "terrorists" of not making their demands clear.
"The committee resigned one hour before the video of the (latest) execution was sent out in order to avoid taking responsibility", argued Mr Radwan.
Locals continued voicing their anger on Wednesday, fearing that ISIS will follow up on its pledge of executing the rest its captives in the next few days. Sweida 24 published a video showing a woman screaming in front of the Sweida governorate's building as protesters blocked its entrance.
"There is great tension in the streets", local resident, Kinan Al Yassin, wrote in an email to The National. "Small groups of people are blocking roads".
The climate of distrust and fear has been enhanced by the recent release of Bedouin women captured by local militias as a "gesture of good will", adds Mr Al Yassin. Their husbands were suspected of collaborating with ISIS. However, Mr Radwan argues the Bedouin women were "innocent".
Some think that the Druze community is being punished for staying neutral in the Syrian conflict and not sending its young men to the army. Military conscription is obligatory for all Syrian men between the age of 18 and 42 across the country.
In a detailed report published early September, The Daily Beast quoted a Druze leader as saying: "We think there is complicity between Daesh and the regime" in Damascus, using an Arabic acronym for ISIS.
"Some activists believe what is happening in Sweida has been orchestrated to force young people to serve in the army", Mr Radwan said. "But there is no proof of this on the ground".
The fate of the remaining women and children in captivity looks grim.
"I don't think Daesh is interested in negotiating", said Mr Al Yassin. "They just want to create dissent between the Druze and the Bedouins in order to embarrass the Russians", who are allied with the Syrian regime and are negotiating to release the hostages.
https://www.thenational.ae/world/mena/isis-execution-of-druze-woman-enrages-community-1.776935
--------
Under the poverty line, Iran's female teachers struggle to live
October 4, 2018
October 5 marks the World Teachers' Day to honor the services of teachers whose efforts bear the greatest impact on the spirit and thoughts of future generations. In Iran, the situation is just the opposite. Teachers live under the poverty line and they do not receive any form of support.
Women make up more than half of the teachers' population in Iran. They live on salaries which are way below the poverty line and at the same time face numerous social and legal discriminations because of their gender. Despite tremendous work pressure, they do not receive a fair salary.
An activist teacher just recently pointed out, "Every year, the budget ratified for education only suffices to pay for basic expenses and the teachers' salaries, which are already half the poverty line." (Mojgan Bagheri, the state-run salamatnews.com, September 26, 2018)
A member of parliament revealed, "The Literacy Movement's educators systematically do not receive their wages for several months while being deprived of job security. The livelihood of teachers hired by the Education Ministry is also far from decent. Teachers are struggling to earn their living and at the same time fulfill their professional obligations… In a good educational system, teachers must enjoy the most value and importance… However, this has not happened for Iranian teachers and they face a plethora of problems, particularly economic problems." (Seyed Mohammad Javad Abtahi, member of the Education and Research Committee of the mullahs' parliament, the state-run salamatnews.com, September 26, 2018)
Teachers officially and permanently employed by the Ministry of Education earn 1.4 million toumans per month ($140) while the poverty line stands at 5 million toumans ($500). This is less than one-third of what they need to subsist. The majority of teachers, however, work on temporary contracts.
The monthly salary of contract teachers is between 300-450,000 toumans ($30-45) which is way below the minimum wage of 930,000 toumans ($93), which is itself less than one-fifth of the poverty line. They do not enjoy any benefits, either.
Nevertheless, it frequently happens that teachers do not receive any salary for months.
Contract teachers fill in for the shortage of teachers at schools. The Ministry of Education has for years prevented leakage of any information on the number of contract teachers and their gender. In light of the numerous legal obstacles women face in employment in Iran, given that the majority of Iranian women are engaged in jobs in the private and unofficial sectors, and by analyzing the combination of participants in the protests, it could be concluded that women comprise a large portion of contract teachers.
To take further advantage of women, the Iranian regime does not retire women who have more than 25 years of work experience. (The state-run Afkar news, May 2, 2016)
With most teachers working two or three shifts a day to provide for the needs of their families, they are so preoccupied that obviously have not much energy to concentrate on the education of children.
The Teachers Association has called for numerous nationwide protests over the past three years, to voice their demands and general needs of teachers. Most recently, the association launched a campaign where teachers tore up their pay slips.
The teachers' nationwide protest on May 10, 2017, held in 32 cities, was just an example of teachers' widespread dismay at low salaries, difficult living conditions, lack of insurance and other job benefits, as well as the non-payment of past their due wages for consecutive months.
In Tehran, the teachers' protests met with security forces' violence where teacher activists were arrested. Six of the teachers including Ms. Aliyeh Eghdam-Doost were arrested outside the Budget and Planning Organization's building and subsequently condemned on September 15, 2018, to nine months of jail and 74 lashes for "disrupting public order through participation in illegal gatherings" and "defying on-duty officers." This while the teachers' protest was to demand increase of their salaries which are under the poverty line.
Use of violence against peaceful gatherings of teachers was so disgraceful that it aroused criticism in the mullahs' parliament and received widespread press coverage.[1]
Despite great risks and intimidations, women have always been at the forefront of teachers' protests to demand and gain their rights.
[1] Fatemeh Saeedi, MP from Tehran, told an open session of Majlis on Sunday, May 13, "The peaceful gathering of teachers in protest to their horrible living condition turned violent because of aberrant intervention in disregard for Article 27 of the Constitution, and a group of protesters were arrested. During the events in December and January where various strata of people played a role in them, it was emphasized that the people's complaints must be listened to. Today, as a teacher, I would like to use this podium so that the voice of teachers is heard… Is it wise to beat and arrest a teacher who is only demanding improvement of their living conditions and the quality of education?" (The state-run SalamatNews.com - May 13, 2018)
https://women.ncr-iran.org/articles/5498-under-the-poverty-line-iran-s-female-teachers-struggle-to-live
--------
URL: https://www.newageislam.com/islam-women-feminism/aimplb-advise-women-settle-marital/d/116560
New Age Islam, Islam Online, Islamic Website, African Muslim News, Arab World News, South Asia News, Indian Muslim News, World Muslim News, Women in Islam, Islamic Feminism, Arab Women, Women In Arab, Islamophobia in America, Muslim Women in West, Islam Women and Feminism