New Age Islam News Bureau
26 Feb 2019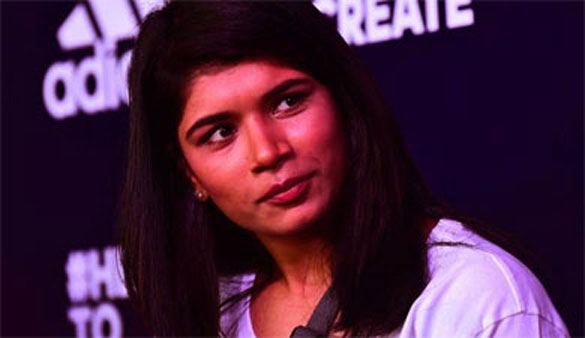 Nikhat Zareen (Express Archive), World boxing governing body AIBA approved new uniforms for female boxers to wear for religious reasons
-----
• 'I Felt Powerful': Afghan Trailblazer, Fawzia Koofi, Who Confronted Taliban on Women
• Haila Al-Farraj Is First Saudi Female Sports Commentator
• Women Managing 400 Knowledge-Based Companies In Iran
• Three Indonesian Women Arrested For Same-Sex Marriage Video
• 'Iranian Women Running Economic Campaign against US Bans'
• Jewish and Arab Women Come Together Over Embroidery
• Dubai Police Send Women Cops For Umrah
• Yemeni Women, Children Slaughtered By US-Made Ammunition: Houthi
Compiled by New Age Islam News Bureau
URL: https://www.newageislam.com/islam-women-feminism/aiba-released-statement-ruling-previous/d/117859
--------
AIBA Released a Statement Ruling Out Previous Objection on Hijabs, It Will Inspire More Muslim Boxers, Says Nikhat Zareen
By Nitin Sharma
February 26, 2019
Nikhat Zareen calls herself lucky. Unlike the "Muslim women boxers all over the world who stayed away from the sport," the 2011 junior world champion always had her family's support when it came to competing in a t-shirt and shorts.
"My father supported me in this journey as he understood the requirement for boxing, being a sportsperson himself. When I was young too, a lot of friends and relatives would tell my father to make me stop the sport but he made sure that I fulfilled my dream," the 22-year-old told The Indian Express on Monday, shortly after world boxing governing body AIBA approved new uniforms for female boxers to wear for religious reasons.
"There are women boxers in India as well as other countries, who wanted to compete but could not because of the previous rule. It is up to an individual to make a choice. I believe this rule change will inspire more Muslim women to continue their career, " added Zareen, who won the 51kg gold in the Strandja invitational last week.
After an executive committee meeting in Istanbul last week, AIBA released a statement on Monday, ruling out previous objection on hijabs and also indicated a possibility for boxers to wear their respective national colours on their shorts and vests as long as it complies with the official guidelines.
While male boxers were directed to compete without headgear at the 2016 Olympics, AIBA had announced its plans of doing away with the headgear for women and youth boxers by 2017.
The decision was not approved by AIBA's executive committee, and the association too objected to the material of hijab head coverings "which was not designed to fit the body and had potential to come off and interfere in the competition."
"Earlier also, women had to wear a net gear under their headgear so that there hair do not fall out. I have seen many boxers from countries like Syria, Iran and Morocco who wanted to box and had to shift to some other country," said Shiv Singh, former national women's chief coach.
According to AIBA, the new "hijabs and full body form-fitting uniforms" have been designed to "not compromise the competition and therefore the health of the boxers." "Technically speaking, it will be like a cloth connected to the T-shirt and it will not hamper their movement," added Shiv.
No relief for bearded men
While AIBA made the changes regarding women boxers citing religious reasons and its commitment to gender equity and religious tolerance, the male boxers are still not allowed to compete with beards and moustaches, a rule opposed by Sikh competitors. Last year, the Amateur Boxing Association of England allowed Sikh and Muslim boxers with beards to compete at the national level.
"It is good that AIBA has made a rule change for women boxers citing religious reasons. But it should also be done for the Sikh boxers, who have been fighting a long battle to fight with beards in India as well International level," said GS Sandhu, former national men's chief coach.
"I remember 2007 Super Heavy national champion Pushpender Singh quit after he was not allowed to compete with a beard in 2008 and 2009. Before that, it was allowed at the national level. AIBA should consider the cases for Sikh boxers too on the same lines."
https://indianexpress.com/article/sports/sport-others/nikhat-zareen-women-boxing-india-aiba-5600580/
--------
'I Felt Powerful': Afghan Trailblazer, Fawzia Koofi, Who Confronted Taliban on Women
February 26, 2019
KABUL: Fawzia Koofi was hesitant to face the Taliban militants who jailed her husband, threatened to stone her for wearing nail polish, and — when she became a high-profile MP and women's rights champion — tried to assassinate her.
But the trailblazing politician and mother of two daughters could not refuse a rare invitation this month to stand before her oppressors and declare unequivocally that their brand of misogyny and prejudice would never again take root in Afghanistan.
"It was not that I wanted to do it, but I was doing it for the women of Afghanistan," she told AFP in an interview at her Kabul home.
"I felt powerful. It was a room full of people, all male... For me, it was important that I make myself visible and my message clear to them."
Koofi was one of just two Afghan women invited to a grand hotel in Moscow earlier this month for informal meetings with the Taliban.
The talks came days after other, separate negotiations between the militants and the US in Qatar raised expectations of a breakthrough in the 17-year conflict.
Washington, which resumed talks with the Taliban in Doha on Monday, is seeking a way out of its longest war — but Afghans and many observers fear a hasty departure could see the Taliban return to power, or the country fracture into civil war.
Many women, in particular, are afraid of being forced back under Taliban rule, beneath burqas and behind walls, without access to education or jobs.
In Moscow, in scenes unthinkable under the Taliban regime, the mullahs sat in silence as Koofi defended her daughters' rights to thrive in a modern Afghanistan, free from harsh limitations.
The other 48 delegates at the unprecedented conference in the Russian capital were all men, Afghan political heavyweights and bearded Taliban officials, none used to being addressed so assertively by a woman.
"You cannot just put her in her house and deprive her, like you did me, seeing the world through the small window of their burqas," Koofi said, recalling her defiant speech before the delegation.
"She has now much more connectivity. She will not go back to your time."
One of Koofi's fellow passengers on the flight to Moscow was the Taliban's head of vice and virtue — the dreaded moral police who cruised the streets in white pickup trucks flogging women accused of indecency.
"I remember how dangerous... the Hilux pickup car sound was to every woman when we heard it. That sound is still in my ears," said the 44-year-old widow.
"I tried to be friendly with him, and I tried to be open and cool. I didn't try to hide my hair, or whatever... I was just making fun, trying to tell them 'you might not be happy the way I am, but I am the way I am'."
Not everyone was pleased Koofi was given a seat at the table in Moscow.
Squarely in the minority, she had to lobby to get into smaller discussion circles. At the official press conference, she was stuck at the back, given no chance to speak while the men addressed foreign media at the front.
But that was nothing new for the female lawmaker, who has developed a thick skin in a country often described as the most dangerous on earth to be a woman or a politician — let alone both.
As an unwanted newborn girl, Koofi was left to die in the sun by her exhausted mother, one of seven wives in a family of 23 children.
She lay screaming and sunburned for almost a day until her mother relented and took her back in.
From that moment on she thrived under her mother's love and support, becoming the first girl in her family to attend school — though her education was interrupted when she was forced out of medical college in 1996 as the Taliban stormed to power.
But after the US invasion she rose in a new Afghanistan to work for UNICEF, before entering politics in 2005 and becoming the country's first female deputy speaker of parliament.
She has spent her political life tussling with male parliamentarians trying to water down women's rights, and is used to not being popular.
"My fight is not a very pleasant fight... It's not something that people like, especially politicians in Afghanistan. I see that as a positive sign," said Koofi.
"I am perhaps most hated because I make many people unhappy. Which is OK, you cannot make everybody happy."
One fight she did not take up in Moscow — the Taliban's outright refusal to consider a female president for Afghanistan.
"Why should I beg them to get what I deserve? It is a right that is guaranteed in our constitution," she said.
"I see myself eligible for any position, regardless of my gender."
http://www.arabnews.com/node/1458261/world
--------
Haila Al-Farraj Is First Saudi Female Sports Commentator
2019-02-25
JEDDAH — Haila Al-Farraj will become the first Saudi woman sports commentator when she will sit in the commentary box on Friday reporting on the Gulf women's soccer tournament at the Green Hall in Dammam.
A total of about 200 female football players will participate in the competition with 16 teams from five GCC member states — Saudi Arabia, Kuwait, the United Arab Emirates, Bahrain and Oman.
Al-Farraj is a radio program presenter and holds a B.A. degree in anthropology. She is also an instructor accredited by the Public Corporation for Social Communications and Electronic Marketing. She is a good orator with a sweet voice.
Al-Farraj was chosen to be the official commentator of the GCC women soccer competition by the organizing committee.
"It was by a stroke of luck that I was chosen to be the official commentator of a major GCC women's event, which will include football players, coaches, referees and others," she said.
Al-Farraj said she became acquainted with the sport terminologies from her father and brothers who always talked about sport.
"My father is a big fan of Al-Nasr Club while my brothers support Al-Hial," she added.
She said she was proud to be the first Saudi woman sports commentator and hoped to continue in the career especially at this time of women empowerment.
Al-Farraj said she would be extremely happy to sit behind the microphone in the commentary box, reporting on women soccer.
She said she was looking forward to commentate on private TV channels to give Saudi spectators a complete picture of what was going on in the pitch.
Al-Farraj said she was happy and proud that Princess Rima Bin Bandar had become the first Saudi woman to be appointed as an ambassador. "I am equally proud that I have been selected to become the first Saudi woman sports commentator," she said.
http://saudigazette.com.sa/article/559945
--------
Women Managing 400 Knowledge-Based Companies In Iran
February 26, 2019
Iran enjoys a brilliant performance for women's presence in developing knowledge-based economy, IRNA quoted Hamidzadeh as saying.
According to the latest report released by World Economic Forum on gender gaps, Iranian women enjoy equal level of high education in different levels with men, the official added.
The annual income of knowledge-based companies in Iran is 4 trillion rials (nearly $95 million) and about 136,000 people are active in these companies, she explained.
Iran also enjoys a satisfactory situation in innovation index, noted Hamidzadeh adding, Iran's rank in this area has reached to 60th from 120 and it has the highest rate of innovation.
Referring to formation of different successful start-up in Iran, Hamidzadeh noted that many start-ups are running by women and the role of women in managing start-ups is essential.
The program of returning non-resident elites has also been considered as one of the successful programs of the scientific deputy, stated the official adding during the last four years, 1,109 Iranian specialists have returned to the country including 220 female elites.
NM/MGIran enjoys a brilliant performance for women's presence in developing knowledge-based economy, IRNA quoted Hamidzadeh as saying.
According to the latest report released by World Economic Forum on gender gaps, Iranian women enjoy equal level of high education in different levels with men, the official added.
The annual income of knowledge-based companies in Iran is 4 trillion rials (nearly $95 million) and about 136,000 people are active in these companies, she explained.
Iran also enjoys a satisfactory situation in innovation index, noted Hamidzadeh adding, Iran's rank in this area has reached to 60th from 120 and it has the highest rate of innovation.
Referring to formation of different successful start-up in Iran, Hamidzadeh noted that many start-ups are running by women and the role of women in managing start-ups is essential.
The program of returning non-resident elites has also been considered as one of the successful programs of the scientific deputy, stated the official adding during the last four years, 1,109 Iranian specialists have returned to the country including 220 female elites.
https://www.tehrantimes.com/news/433396/Women-managing-400-knowledge-based-companies-in-Iran
--------
Three Indonesian Women Arrested For Same-Sex Marriage Video
February 26, 2019
Police in Indonesia have arrested three women after they posted a video online claiming President Joko Widodo would legalise marriage equality if he's re-elected this year.
In the video, shared thousands of times online, two women can be seen using the threat of marriage equality in the majority-Muslim country as a scare tactic, telling an elderly man Widodo would legalise same-sex marriage if re-elected, Agence France Presse reported.
They also told the man that if Widodo is re-elected, he would end the call to prayer, performed five times a day by those of Muslim faith, and force women to remove their hijab in public.
Ahead of the April presidential elections, authorities have said that the country has been battling against misinformation campaigns and the spread of fake news.
Local police spokesperson Trunoyudho Wisnu Andiko said false claims about Widodo are intended to confuse voters and weaken his chances of re-election.
"[The arrests are] a preventative measure because this could potentially trigger anxiety and conflict in our society," Andiko said.
East Java provincial police arrested the women linked to the video's creation and publication of the video online, citing their spread of misinformation as grounds for the arrest.
Due to Indonesia's laws on electronic information and hate speech, the women might face up to six years jail time if proven guilty.
But Widodo, a practicing Muslim, has not supported any LGBTIQ policies since being elected in 2014.
Homosexuality is not illegal in most of Indonesia but for the last three years, the country has been engulfed in "government-driven moral panic" over LGBTIQ people, according to human rights groups.
Human rights advocates have warned that regional Indonesian authorities have ramped up anti-LGBTI rhetoric and activities ahead of elections this year.
Throughout 2017, police across Indonesia raided saunas, nightclubs, hotel rooms, hair salons and private homes on suspicion that gay or transgender people were inside.
The country has seen a growing number of by-laws and initiatives from local authorities oppressing LGBTIQ people, including a by-law in the West Sumatran city of Pariaman to fine gay or transgender people for immoral behaviours or "disturbing public order".
The Indonesian election is set to be held on April 17. Widodo's main opposition is former general Prabowo Subiantom of the Great Indonesia Movement Party.
https://qnews.com.au/three-indonesian-women-arrested-for-same-sex-marriage-video/
--------
'Iranian Women Running Economic Campaign against US Bans'
Reza Khaasteh
February 26, 2019
Iranian Vice-President for Women and Family Affairs Massoumeh Ebtekar says women in Iran are actively engaged in an economic campaign aimed at cushioning the impact of the cruel sanctions imposed by the United States against the Iranian nation.
She made the remarks in an address to the second edition of International Event on Women, Sustainability, Peace, and Security held on Tuesday in Tehran.
Ebtekar said women in Iran play an important role in countering the US sanctions, and are currently promoting an "economic campaign" against the bans.
"Many women in Iran are working in the economic sphere as entrepreneurs," she said.
"We are very proud that Iranians have taken all these steps," she noted, praising the role played by women during the past four decades.
She said the Islamic Republic has not achieved a utopia since its establishment in 1979, but the country has progressed towards a "future of hope" for women and their security.
"Iranian women have stood and progressed since 1979…. Imam Khomeini drew a roadmap for progress of Iranian women within a paradigm in which women could flourish while protecting their dignity," she added.
Ebtekar said the majority of the international community is currently standing by Iran on promoting these objectives.
The majority of the world is with Iran because they look for a future of peace and security and look forward to working with Iran economic and politically, the vice-president said.
Ebtekar further highlighted women's important role in global peace today, and said great work needs to be done to address such issues as atrocities against women, sexual abuse, refugees who are mostly women and children, the sufferings, and the pain they endure.
She further noted that despite efforts made so far, violence, terror, and extremism affecting women's lives still exist in Middle East and other parts of the world.
"We have to be the voice of the voiceless. The voice of women in Yemen, Palestine and Gaza – the girls imprisoned in Gaza Strip, girls dying of hunger in Yemen, we should be the voice of women in Syria who have been forced to move from their cities for fear of ISIS and other groups," she said.
"We have to listen to the voice of people in Rohingya who have been displaced from their homes. We have to be voice of Afghan women who suffered a lot of pressure; those in Iraq and in Libya, and many others."
She said the world must stand up and speak for the importance of peace and take action against those selling arms and increase conflicts in the region.
"These weapons will have collateral damages, including damage to families, because male soldiers and men who die are sons and husbands initially."
Ebtekar regretted that the UN Security Council Resolution 1325 and other international treaties on women have been mostly overlooked, and highlighted the need to understand that women are targeted both specifically and through collateral damage in war, instances of terror, and violence.
"We recently experienced a terrible case of attack on our young soldiers [in Sistan and Baluchestan]," she said, adding that as a target of terror, Iran has been playing an important role in confronting terrorism in region.
"We've worked with neighbours to confront terror and the ideology that has nothing to do with Islam," she said, adding that Islam is a religion that calls upon us to resist pressure, to understand brotherly and sisterly relations.
https://ifpnews.com/exclusive/iranian-women-running-economic-campaign-against-us-bans/
--------
Jewish and Arab Women Come Together Over Embroidery
FEBRUARY 23, 2019
A creative grassroots approach to discovering the common interests between Jews and Arabs is on display at Hansen House in Jerusalem.
The "Embroidered Scaffolds" exhibition, curated by Gaby Hamburg Fima, presents a collection of art – mostly embroidery – created by Jewish and Muslim religious women. In Hebrew, the exhibit is called Rikmat Hibur (Connective Tissue).
"In its purely physiological definition, the term refers to tissue that supports organs or other tissues," explained Fima. "One of the functions of such tissue is to provide structural support to other tissues, as well as to connect, separate, protect or cushion them."
The exhibition, she said, also seeks to act as a sort of connective tissue in a reality of conflict and separation, as it sums up and examines a series of meetings that took place over the past almost three years between Jewish and Palestinian women artists and craftswomen who come from across the religious and political spectrum.
"On the surface, this would seem to be a fruitless meeting between two groups among which dialogue could hardly be imagined, owing to their different sociological situations and the language barrier between them," said Fima. "However, during the long process, we realized that it really was possible to begin to find common ground and even create delicate and intimate connections.
"The exhibition reveals how the women's feminine, national and religious identities are bound up in and even overlap with one another," she continued.
The exhibit is spearheaded by Studio of Her Own and its founder, Zipi Mizrachi.
Studio of Her Own was originally started in 2010 to provide religious women artists with the most necessary basic needs for professional and economic advancement: work space, basic business education, marketing tools, a supportive environment for professional feedback and the development of a wider professional artistic network for continued career development. Over the past decade, the women have put on more than 30 exhibitions. This is the first one with Arab artists.
Mizrachi said the exhibit is meant to elevate the craft of embroidery and to leverage art as a tool to promote social change.
AT HANSEN HOUSE, the artwork of the Palestinian embroiderers is intertwined with that of the Jewish artists, on the walls and tables and even hanging from the ceiling. Pieces range from traditional embroidery and responses to the act of embroidery, and even to embroidery that is done by a three-dimensional printer.
Fima said that when she was first asked to curate this exhibit, she struggled to find a connection between the pieces. At one point, she considered asking the women to work on a communal project. Ultimately, she determined that would be superficial. Instead, she found the "thin and delicate threads" that interweave the artists and their works.
On one wall, for example, a black-and-white sketch by Yael Serlin displays a woman with a large hoop earring, which is the focal point of the piece. On the adjacent wall, Fima hung a pair of earrings made by one of the Arab artists, and nearby is a three-dimensional depiction of embroidery hoops.
In another area of the exhibition, there is a Palestinian wedding scene hung prominently on the wall.
"I felt like, in that piece, you see a wedding, but it also looks like they are going out to war," Fima said. "I thought about the concept of marriage and relationships and how on the one hand this is such a happy scene, but on the other marriage is complex and challenging."
Next to it, Fima displayed a work by a Jewish artist that uses military handkerchiefs that include an amulet the artist had designed for her husband when he went to war in 1969. And near that, there are two flour sifters embroidered with a depiction of embryos – the circle of life.
"It's the connection between man and woman or the intense connection between us and the Palestinians," said Fima, describing it as potentially beautiful but also "full of bloodshed."
The exhibition likewise centers on the idea of passing down the craft of embroidery from generation to generation.
"In the past, when women passed down the knitting craft, they were passing down the identity and essence of the family," Mizrachi said.
https://www.jpost.com/In-Jerusalem/Artful-connection-581329
--------
Dubai Police Send Women Cops For Umrah
February 25, 2019
An initiative as part of UAE's Year of Tolerance campaign.
The Dubai Police surprised their female officers with a special gift recently as part of UAE's Year of Tolerance campaign.
Under the directives of Major General Abdullah Khalifa Al Marri, Commander-in-Chief of Dubai Police, the Women's Police Council for Community Happiness launched the Umrah initiative for female staff in various departments of Dubai Police.
The Umrah trip, an initiative for female staff members who had not performed the pilgrimage previously, was launched in collaboration with the Dubai Police Community Happiness Department and the Security Awareness Department, as part of the Year of Tolerance.
https://www.khaleejtimes.com/year-of-tolerance/video-commander-in-chief-surprises-dubai-female-cops-with-special-gift
--------
Yemeni Women, Children Slaughtered By US-Made Ammunition: Houthi
Feb 25, 2019
The leader of Yemen's Houthi Ansarullah movement says Yemeni women and children are being brutally killed by US and Western-made munitions in the ongoing Saudi-led military campaign against the impoverished Arab country.
Delivering a televised speech broadcast live from the Yemeni capital Sana'a on Monday afternoon, Abdul-Malik al-Houthi said, "The main goal of the enemies of Islam from the ongoing aggression against Yemen is to get full control over us. However, the most important outcome of Islam … is to protect us against slavery and exploitation."
He added, "The enemy has focused its primary attention on women as they hold an important position both in the family and the society. Islam brought independence to us, and freed us from the grips of reliance and dependence."
Speaking on the occasion of birthday anniversary of Prophet Muhammad's daughter, which is observed in Islamic countries as Women's Day, Houthi noted that those who claim to be advocates of women's rights are indeed posing the greatest threat to women through their policies.
"Yemeni women and children are being viciously killed by American and Western military hardware," the Ansarullah leader pointed out.
He then described fomenting ethnic tensions as an evil act rooted in ignorance, condemning attempts to create religious discord as a heinous move by Takfiris and extremists.
"The United Arab Emirates is Saudi Arabia's main partner in the ongoing aggression on Yemen. The Abu Dhabi regime is seeking to fan the flames of division in Yemen in order to bring the country's southern provinces under its rule," Houthi commented.
"The Saudi regime is the chief sponsor and supporter of terrorists who wish to target our nation. Saudis' bids meant to sow the seeds of discord and division among Yemeni people are wicked," he said.
The Ansarullah head also pointed to the latest round of UN-sponsored Yemen peace negotiations in Sweden, saying, "The deal struck there envisioned significant strategies and mechanisms. All those bids, however, reached a deadlock as the enemies did not honor any of their obligations and tried to abdicate them instead."
Ansarullah delegates and representatives loyal to former Yemeni president Abd Rabbuh Mansur Hadi held face-to-face peace negotiations in Rimbo, north of the Swedish capital city of Stockholm, late last year. The talks resulted in the announcement of a break-through agreement.
The document includes three provisions: a ceasefire along the Hudaydah front and the redeployment of armed forces out of the city and its port; an agreement on prisoner exchange; and a statement of understanding on the southern Yemeni city of Ta'izz.
Elsewhere in his remarks, Houthi also stressed that Ansarullah fighters will not hesitate to respond befittingly to any escalation of military campaign in Yemen's strategic western coastal province of Hudaydah.
Saudi Arabia and a number of its regional allies launched a devastating campaign against Yemen in March 2015, with the aim of bringing Hadi's government back to power and crushing Ansarullah.
According to a new report by the Armed Conflict Location and Event Data Project (ACLED), a nonprofit conflict-research organization, the Saudi-led war has so far claimed the lives of around 56,000 Yemenis.
The Saudi-led war has also taken a heavy toll on the country's infrastructure, destroying hospitals, schools, and factories. The UN has already said that a record 22.2 million Yemenis are in dire need of food, including 8.4 million threatened by severe hunger. According to the world body, Yemen is suffering from the most severe famine in more than 100 years.
A number of Western countries, the US and Britain in particular, are also accused of being complicit in the ongoing aggression as they supply the Riyadh regime with advanced weapons and military equipment as well as logistical and intelligence assistance. https://www.presstv.com/Detail/2019/02/25/589527/Yemeni-women-children-being-slaughtered-by-USmade-ammunition-Houthi
--------
URL: https://www.newageislam.com/islam-women-feminism/aiba-released-statement-ruling-previous/d/117859
New Age Islam, Islam Online, Islamic Website, African Muslim News, Arab World News, South Asia News, Indian Muslim News, World Muslim News, Women in Islam, Islamic Feminism, Arab Women, Women In Arab, Islamophobia in America, Muslim Women in West, Islam Women and Feminism