New Age Islam News Bureau
20 Oct 2019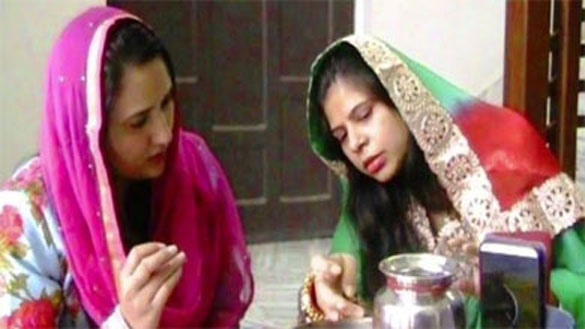 This Karwa Chauth, many Muslim women in Agra observed the fast for the long life of their husbands.
-----
• More Female Muslim Travellers Choose To Travel Solo: Report
• Saudi Arabia May Allow Women to Perform Hajj without Male Guardian
• A Group of Latina Women Are Building a Shelter For Muslim Migrants In Tijuana
• From Ajman To America: How Haute Hijab Is Making Sustainable Headscarves Mainstream
• Moroccan Journalist Released but Debate Over Women Rights Continues To Escalate
Compiled by New Age Islam News Bureau
URL: https://www.newageislam.com/islam-women-feminism/agra-known-city-sulh-e/d/120041
--------
Agra Is Known As the City of Sulh-e-Kul: Muslim Women Observe Karwa Chauth in Agra
Siraj Qureshi
October 17, 2019
Agra is known as the city of Sulh-e-Kul, a principle of communal harmony postulated by Emperor Akbar, which seeks unification of ideas and thoughts of Hindu, Muslim, Christianity and countless other faiths. This idea of Sulh-e-Kul gave birth to 'Deen-e-Illahi', a religion that combined the good parts of all religions, although it did not gain many followers.
However, the spirit of Sulh-e-Kul has lived on in Agra, where a lot of Muslim women still observe Hindu festivals and customs, including the fast of Karwa Chauth for the long life of their husbands.
Talking to India Today, Fathima Naseem, a housewife from the Sadar Bhatti area of Agra, said that she observes the 30 fasts of Ramzan as well as the fast of Karwa Chauth every year. "Ramzan is my duty towards Allah and Karwa Chauth is my prayer to Allah to keep my husband safe," she added.
According to Fathima, Karwa Chauth fast gives her a sort of mental peace and reminds her of the day she had come to her husband's house, decked up with jewelry, wearing a wedding dress.
Khatun Jahan, a housewife from Shaheed Nagar, claimed that she has been observing the fast of Karwa Chauth since the first year of her marriage. She said that this fast does not have any connection to religion as it is a prayer to the Almighty to keep her husband safe, which is a sentiment shared by women across religions. "As far as religion is concerned, I pray five times a day and even fast for 30 days of Ramzan," she said.
While 60-year-old Noorjahan Begum has been observing Karwa Chauth ever since she got engaged to her husband Hafeez Khan. She had started it hiding from her parents. And since then, she continued with the fast and added that her husband has been healthy throughout. She further said that while Hindu women celebrate Karwa Chauth like a festival, Muslim women observe it with simplicity, praying for their husbands' good health.
Meanwhile, social activist Vijay Upadhyay said that the fast of Karwa Chauth has a deep cultural significance for Hindus across the globe, but it is heartening to see that this fast has crossed religious boundaries to become a universal fast for the husband's health.
https://www.indiatoday.in/india/story/muslim-women-observe-karwa-chauth-in-agra-1610409-2019-10-17
--------
More Female Muslim Travellers Choose To Travel Solo: Report
October 20, 2019
Amid an increasing number of countries readying their destinations to welcome Muslim tourists, female Muslim travelers are considered to be an important contributor to the rise of the halal tourism industry.
According to a recent report released by financial technology company Mastercard and halal tourism industry service provider CrescentRating, 71 percent of these Muslim women were found to travel with family members in 2018, while 29 percent went on trips with female companions.
Interestingly, out of approximately 63 million female travelers, two-thirds of whom were age 40 years or below, up to 28 percent embarked on solo journeys, indicating an increasing passion among this particular segment to explore the world.
In terms of spending, these young Muslim female travelers contributed quite significantly to the industry. According to a statement on Friday, these women spent more than US$80 billion in total during their journeys last year, a number that is predicted to increase in the future.
In accordance with the behavior of young people, more than half of these solo travelers turn to social media to find information regarding accommodations, supplies and restaurants.
Dining at halal places is naturally important, with up to 94 percent of survey respondents mentioning it as a priority. Additionally, access to praying rooms for women (86 percent) and female-only spas and salons (79 percent) are also high on their itineraries, as well as eco-friendly destinations when they travel abroad (73 percent).
"Female Muslim travelers are set to explore the world. With their young age and high motivation, they are ready to interact with the tourism industry providers [who are prepared] to welcome them and provide travel experiences that focus on their values and community," said Mastercard market product management vice president Aisha Islam in the statement.
"This report aims to give information that could help tourism industry players create products and services for this segment," she added. (kes)
https://www.thejakartapost.com/travel/2019/10/19/more-female-muslim-travelers-choose-to-travel-solo-report.html
--------
Saudi Arabia May Allow Women to Perform Hajj without Male Guardian
FATIMA MUHAMMAD
October 20, 2019
JEDDAH: Women could be allowed to perform the Hajj without a male guardian, Arab News has learned, with the government studying various visa options. Women are currently required to travel to Saudi Arabia to perform pilgrimages with a mahram (male guardian), or be met by him on arrival in the Kingdom, although women over the age of 45 may travel without a mahram if they are in an organized tour group.
If women travel with a group and without a mahram they must submit a notarised letter of no objection from someone who could be considered their mahram, authorizing travel for Hajj or Umrah with that group.
But Arab News has learned that the Ministry of Hajj and Umrah is conducting studies to issue visit visas for both tourism and Umrah purposes, and that this process is expected to pave the way for allowing women to come without the need for a mahram.
It is one of a number of developments in the Hajj and Umrah sector, with Arab News also learning that the ministry was urged to intervene in the sector to save businesses.
Umrah firms have raised their concerns about the impact of regulations, saying they are losing out and warning around 200 companies will be leaving the market if authorities do not step in.
Marwan Abbas Shaban, head of the National Committee for Hajj and Umrah, said each Umrah company was obliged to have two branches, employ 20 staff and spend at least SR1 million ($266,666) annually even if it did not receive a single pilgrim. The majority of companies operating in this sector were small and could not bear such costs, he added.
"We always seek officials to interact with us and we call on higher authorities to consider our demands," he told Arab News.
Shaban said there were about 750 Umrah and Hajj companies with licenses, but only about 500 of these were in the market and they were only running at 1 percent of their capacity.
The Umrah sector was more profitable than the industrial sector, he added, and pointed to the value of land in the holy city of Makkah.
Saudi Arabia's Minister of Hajj and Umrah Dr. Mohammed Saleh Benten approved updates to Umrah services following a meeting with the National Committee for Hajj and Umrah to discuss updates to regulations and instructions for Umrah companies.
Deputy Minister of Hajj and Umrah Abdulfattah Mashat said after the meeting that the updates included allowing all IATA membership categories — including travel agencies, WTO certificates, or a certificate of membership of the World Travel and Tourism Council — as a requirement for the eligibility of an external agent.
The ministry updates also include giving pilgrims greater flexibility on transport options, Mashat added, and can be accessed on a portal that allows Muslims around the world to apply for an Umrah package digitally.
The Maqam portal is an online platform, designed so that Muslims from around the world can apply for an Umrah package digitally.
Almost 1.1 million people used Maqam in its trial phase last year, allowing them to choose between over 30 companies providing travel, accommodation and other necessities for trips to Makkah and Madinah.
https://www.arabnews.com/node/1571366/saudi-arabia
--------
A Group of Latina Women Are Building a Shelter For Muslim Migrants In Tijuana
By GUSTAVO SOLIS
OCT. 19, 2019
Every week, Muslim migrants from Africa and the Middle East gather at the Playas de Tijuana neighborhood to worship in the city's only mosque. Asylum seekers from Syria pray alongside migrants from Togo, Somalia and Ghana.
Among them are Bala, 33, his wife and their 2-year-old daughter. The Ghanaian family has spent four months in Tijuana and the mosque reminds them of their community back home in Accra, the capital.
"We all feel very happy to see each other," said Bala, who declined to share his last name because he is still working out his immigration status in Mexico.
That mosque helps Tijuana's Muslim migrants feel at home in a foreign land, he added.
For some migrants — particularly women who chose to wear a hijab — Mexico can be a confusing place. People often don't understand why they cover their hair. Finding a place to pray five times a day can also be a challenge, especially for migrants living in shelters, said Sonia Garcia, founder of the Latina Muslim Foundation.
"They don't know the food, the culture, the language," Garcia said. "It is very difficult for them."
To help them out, the Latina Muslim Foundation is currently raising money to build a shelter for Muslim migrants and deported women, Garcia said.
She envisions the shelter as a community hub that will connect migrants and deportees with social services, medical care, and a space to pray.
Garcia, who was born in Mexico raised a Catholic and converted to Islam, has been volunteering in Tijuana's orphanages and migrant shelters for years.
When she started, people would stare at her, see her wearing a hijab, and ask odd questions.
"People though I was Arabic," she said. "They asked why I was in Tijuana."
Over time, she and Mayte Gutierrez, another Latina who converted to Islam, established relationships in Tijuana. They made a habit out of bringing donations from members of the Islamic Center of San Diego across the border.
Garcia and Gutierrez see themselves as uniquely suited to welcome Muslim migrants to Tijuana.
"There exists a big gap of misunderstanding, of ignorance," Gutierrez said. "Being Latino, being Muslim, we can connect."
Migrant shelters call Garcia whenever Muslim migrants arrive. If they don't speak English or Spanish, she will bring volunteers from the Islamic Center of San Diego who speak Arabic to translate. When there aren't any translators, they find other methods — like using Google Translate to speak with a group of Somali women, Gutierrez said.
The original idea behind the shelter was for it to be for deported mothers and their children. But, after Garcia and Gutierrez realized there was a growing Muslim community in Tijuana, they decided to serve that population as well.
Now, their plan is to buy a warehouse about 10 minutes away from the border and convert it into a two-story shelter with offices for social workers and lawyers, a kitchen, restrooms, space for medical space, and a prayer room stocked with copies of the Quran.
The organization already has the location, plans designed by an architect, and a team of volunteers ready to provide legal and social services for free, Garcia said.
"The only thing we need is the money," she added.
The Latina Muslim Foundation has raised $32,000 but said it needs a total of roughly $250,000 to complete their vision. They are currently raising money online.
As more and more migrants arrive to Tijuana every day, the need for a shelter continues to intensify, Garcia said.
The existing shelters are struggling to house all of the migrants heading north, deportees heading south and the hundreds of asylum seekers forced to return to Mexico under the Remain in Mexico policy, officially known as Migrant Protection Protocols.
Bala, the Ghanaian migrant, and his family are an example of how much of a difference stable housing can make. When they arrived in Tijuana in June, the family lived in a crowded shelter.
But Bala found work in a car wash and was able to save enough money to rent a one-bedroom apartment. The family now has privacy and is feeling more at home in Mexico, he said.
Now the family is trying to decide whether they will stay in Mexico or try to request asylum in the United States.
Although he and his family are in a better situation, there are Muslim migrants in Tijuana facing homelessness and more migrants are heading north. Just this week, Bala spoke with a small group of Ghanaians who crossed the Mexico-Guatemala border and are headed toward Tijuana.
Because he has gone through the experience of being a new migrant in Tijuana, he supports what the Latina Muslim Foundation is trying to do.
"It is a good thing because there are a lot of Muslims without a place to stay," he said. "The shelters are full and the hotels are very expensive."
https://www.sandiegouniontribune.com/news/border-baja-california/story/2019-10-19/a-group-latina-women-are-building-a-shelter-for-muslim-migrants-in-tijuana
--------
From Ajman To America: How Haute Hijab Is Making Sustainable Headscarves Mainstream
Hafsa Lodi
Oct 20, 2019
In a small factory in Ajman, stacks of salmon-hued scarves are lined up for a final quality control check before being packaged and shipped to a warehouse in Texas. Here, they'll await online orders from the cult American-Muslim following Haute Hijab has attracted over the past nine years.
Scarves may seem too simple a product to build an entire brand around, but that's what Melanie Elturk has done with Haute Hijab, now the leading hijab brand in the United States. Elturk is both the founder and face of the label, which offers a wide range of chiffon, viscose, silk, georgette and jersey scarves, along with breathable "underscarves", which are intended to be worn underneath fashionable scarves. The scarves retail from Dh75 for jersey and chiffon, while a pure silk one costs Dh240.
"About 90 per cent of our orders come from the US and after that from other western countries like Canada, the UK and Australia, and then outside of that we have pockets in the Middle East and South-east Asia, but we've focused on being an American brand," says Elturk, who was as a lawyer before turning to fashion full time, and worked in Dubai for four years before relocating to New York.
After a whirlwind trip to the Maldives to celebrate her 10th wedding anniversary with her husband – Haute Hijab's chief operations officer – Elturk recently touched down in Dubai for some fabric shopping, production checks and meetings with investors. She wears shades of white and khaki when we meet, paired with a white chiffon Haute Hijab scarf with a tropical floral print. She tells me the print was sourced locally, from deadstock fabrics. Sustainability, after all, is deeply ingrained in the brand's ethos, though Elturk isn't keen on discussing it in the context of a trend.
"It's hard to talk about this because I don't like to use it as a buzzword, since it's so part and parcel of our values as Muslims that it should be a given with any Muslim-owned company," she says. "This is a constant topic that we're working towards because we want to be part of the solution and not the problem. We're custodians of this Earth and we're going to have to answer for everything we did here.
"When it comes to labour, wages, fair trade, sustainability, all those things are Islamic principles that we should all be adhering to," she adds. The printed chiffon that Elturk sources for Haute Hijab is unwanted, leftover fabric from larger brands and suppliers that would otherwise be thrown away. "That's part of making sure this cycle continues, rather than contributing to all the waste," she says.
Delving further into the idea of eco-friendly textiles, Elturk recently hired a director of design and innovation who is an expert in the field of sustainability. "Something that she's starting to do is look at our everyday products to see how we can replace these with sustainable materials, like rose petals, mushrooms and coffee grounds, rather than creating new fabric out of synthetic materials," Elturk says.
Haute Hijab may be a fashion brand, but its ideology is driven by a deep-rooted sense of faith, and by Elturk's ambitions to serve Muslim women in deeper ways than by providing them with stylish headwear. "I love fashion, but I would not have sustained or been along for this journey this long if it wasn't for the overarching goal of empowering our community," she says. "What I was always trying to do was elevate and empower a woman to make her comfortable and confident in her hijab – and to do that, you have to cultivate a community and then give her resources and inspiration."
Haute Hijab started with a blog, which Elturk and other contributors maintain to this day. Current popular posts on the site cover topics such as choosing the right hijab colour for your skin tone, children's books that will make young people feel proud to be Muslim and problems with racism within the community. Other stories discuss helping the families of converts to understand Islam, the challenges of single motherhood and a call for private holiday resorts where hijab-wearing women won't need to cover up.
Subscribers to the Haute Hijab newsletter receive weekly links to these blog posts, in addition to news about the latest products. "To [build a community], you have to have these different channels. The blog was one of them, YouTube was one and the email newsletter was definitely one, because it was always more than just a product," says Elturk.
While the American market is Haute Hijab's main consumer base, Elturk has plans to expand internationally once she has secured a round of funding, to "improve the hijab experience" for women in the Middle East. "We'd like to open a fulfilment centre here to cater to this market, and to give local women a better solution for the shayla that often comes with their abayas, and slips off," she says. She's also working on launching athletic scarves – a sector that has become increasingly popular since Nike launched its sports hijab in 2017. Slated to be released in the second quarter of 2020, the three designs from Haute Hijab will serve a variety of athletic requirements. "Some girls need something that will not budge, even if they're upside down; others want something that's more athleisure, like for yoga," says the entrepreneur.
Elturk's hard work and motto – to make the hijab mainstream – has paid off over the past decade; in August, Haute Hijab even appeared in video advertisements in New York's Times Square. But Elturk says one of her proudest moments thus far was when The Gap enlisted Haute Hijab to provide headscarves for a campaign about diversity and inclusivity two years ago. "It doesn't get more mainstream than The Gap," she says. Beauty brand Glossier also used Haute Hijab designs in a campaign earlier this year.
Modest fashion has steadily infiltrated the mainstream over the past half-decade, and while some Muslim brands may resent that hijabs are being commodified by big labels from non-Muslim majority countries, potentially drawing consumers away from start-up home-grown Muslim brands, Elturk welcomes the arrival of the headscarf in the mainstream industry.
"I think the impact of mainstream brands coming into the hijab space is incredible because it validates and acknowledges the power of our consumer base," she says. "There's this incredible group of women who need to be heard and catered to, so to see mainstream brands coming into this space is an affirmation of all this work that we've been doing."
https://www.thenational.ae/lifestyle/fashion/from-ajman-to-america-how-haute-hijab-is-making-sustainable-headscarves-mainstream-1.925731
--------
Moroccan Journalist Released but Debate Over Women Rights Continues To Escalate
Saad Guerraoui
19/10/2019
CASABLANCA - The battle between conservative and liberal politicians over individual rights in Morocco heated up following the conviction and sentencing of journalist Hajar Raissouni to one year in prison on charges of having had an "illegal abortion" and sexual relations outside marriage.
Raissouni, 28, was sentenced September 30 to one year in jail despite denying having an abortion. She said she had been forced into a medical examination without her consent. Prosecutors insisted she had been seen by a medic and showed signs of pregnancy and of having undergone a "late voluntary abortion."
She was sentenced under a Moroccan law that deems sexual relations out of wedlock illegal and forbids abortions unless the mother's life is in danger.
Hundreds of activists and journalists protested October 2 in front of the parliament building in Rabat seeking Hajar's release.
Raissouni was freed October 16 after being granted a royal pardon. The convictions against her fiance, gynaecologist, anaesthetist and a medical assistant were also overturned.
The Justice Ministry said Moroccan King Mohammed VI wanted to preserve the future of the couple, "who wanted to establish a family in line with our religious and legal precepts despite the error they made."
Heba Morayef, Amnesty International's Middle East and North Africa director, hailed the pardon, saying: "Hajar Raissouni's release comes as a huge relief and is undoubtedly a cause for celebration for her and her family but the fact remains that she and the four others involved in this case should never have been detained or convicted in the first place.
"A royal pardon does not erase the grave injustice they have suffered. Their convictions should be quashed and their records cleared."
Moroccan opposition MP Omar Balafrej, from the Federation of the Democratic Left, called in a podcast for the removal of penal code Articles 489, 490 and 491, which criminalise homosexuality, sex outside marriage and adultery.
Balafrej said he would table his party's proposed bill to change the articles, which he said undermine Morocco's efforts to promote individual freedoms.
The deadline of tabling the amendments proposed by members of the Committee of Justice and Legislation was extended to allow majority groups to agree on them. However, only the Party of Progress and Socialism was vocal about the issue.
"The revision must embody the principles of human rights as they are internationally recognised and consolidate individual and collective freedoms and gender equality," said the party, which quit the coalition government October 1.
The claim sparked Islamists' outcry and conservative politicians' criticism.
Salafist preacher Aissam al-Bashir al-Marrekchi slammed Balafrej's recommendations on Facebook, urging Muslims to sound the alarm.
"Your Islam, your treasure, is in danger and these people have the plan to ruin it, stone by stone, so that nothing remains," Marrekchi warned.
He said he considered Balafrej's proposal "an invitation to pederasty" and to "spread debauchery on Earth."
Moroccan Prime Minister Saad Eddine El Othmani, who has taken a public stance against any amendment to abortion laws, was critical of Balafrej during a speech to his Islamist Justice and Development party September 29.
"Some seize every opportunity to target the religious constants," Othmani told news site Al3omk.
He said a committee set up by Moroccan King Mohammed VI resolved the issue of abortion after the involvement of the National Council for Human Rights, the Ministry of Islamic Affairs, the Ministry of Justice and the Supreme Scientific Council.
Abdessalam al-Aziz, secretary-general of the National Ittihadi Congress, said all leftist parties and currents were for individual freedoms.
"There are apparently some powers that are hindering the discussion of the amendments of some articles of the penal code because of the sensitivity of the issue," said Aziz.
"The real problem is that laws are issued without a national debate which transcends politicians and parliament because the current situation makes it easier for people who call for change to be targeted by conservatives," he said.
Aziz said the bill was taking so much time in parliament that it was stalling Morocco's progress on human rights.
"Illegal abortion is a very sensitive issue in our society and can have grave consequences on families. Wealthy Moroccans can go abroad and do it but what about women from a poor background?" he asked.
https://thearabweekly.com/moroccan-journalist-released-debate-over-women-rights-continues-escalate
--------
URL: https://www.newageislam.com/islam-women-feminism/agra-known-city-sulh-e/d/120041
New Age Islam, Islam Online, Islamic Website, African Muslim News, Arab World News, South Asia News, Indian Muslim News, World Muslim News, Women in Islam, Islamic Feminism, Arab Women, Women In Arab, Islamophobia in America, Muslim Women in West, Islam Women and Feminism