New Age Islam News Bureau
22 Jul 2019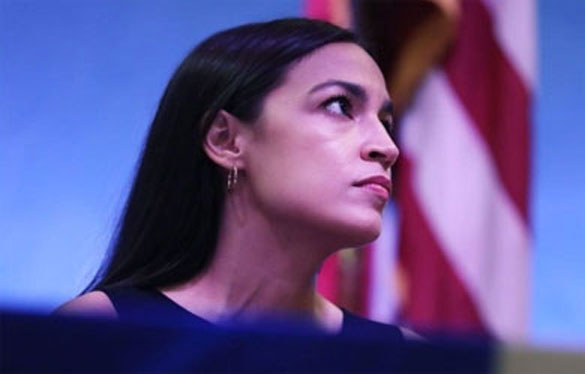 Democrat Alexandria Ocasio-Cortez, a New Yorker with Puerto Rican roots who is among four non-white Congresswomen US President Donald Trump wants to "leave" the country.
-----
• Burkini-Clad Muslim Women Turned Away From Henderson Pool, New Zealand
• X-Ray May Be Waived For Pregnant Women during UAE Visa Application
• Amid Rising Hate Crimes, Muslim and Jewish Women Travelled To Auschwitz Together
• Why Are Big Brands Buying Into Muslim Fashion?
• US-Backed SDF Militants Caught Smuggling Daesh Women in NW Syria: SOHR
• Most Admired Women in Saudi Arabia
• Iranian Women Actively Participate In Rally in Sweden
• Micro Loans Changing Lives Of Syrian, Turkish Women In Southeast
Compiled by New Age Islam News Bureau
URL: https://www.newageislam.com/islam-women-feminism/after-trumps-racist-slur-four/d/119263
--------
After Trump's Racist Slur About Four Non-White Congresswomen, Ocasio-Cortez, Ilhan Omar, Rashida Tlaib And Ayanna Pressley, US Cop Threatens Alexandria Ocasio-Cortez Facebook Post
22 Jul 2019
A Louisiana police officer has threatened to shoot Democrat Alexandria Ocasio-Cortez, a New Yorker with Puerto Rican roots who is among four non-white Congresswomen US President Donald Trump wants to "leave" the country.
In a Facebook post, the police officer in Gretna area said that Ocasio-Cortez, whom he characterized as a "vile idiot", should be shot.
The lawmaker "needs a round... and I don't mean the kind she used to serve", officer Charlie Rispoli posted.
Nola.com first reported on the post by the Gretna police officer on Sunday.
According to Slate.com, the department's police chief Arthur Lawson called the post "disturbing" that violated social media policies.
"I'm not going to take this lightly and this will be dealt with on our end. It's not something we want someone that's affiliated with our department to make these types of statements. That's not going to happen," Lawson was quoted as saying.
"Trump is going to get one of these Congresswomen murdered. This is terrifying. I'm legit scared for them," posted one user.
Trump has doubled down on his widely criticised suggestion that four non-white Democratic Congresswomen should "leave" the country because they "hate it", while the Democrats and some Republican lawmakers have accused him of racism and white supremacy.
The targeted Congresswomen are Ocasio-Cortez, Ilhan Omar of Minnesota, Rashida Tlaib of Michigan and Ayanna Pressley of Massachusetts.
While Omar was born in Somalia and later moved to Minnesota, the other three were born in the US.
https://www.nationalheraldindia.com/international/after-trumps-racist-slur-about-four-non-white-congresswomen-us-cop-threatens-one-of-them-in-facebook-post?utm
--------
Burkini-Clad Muslim Women Turned Away From Henderson Pool, New Zealand
21 Jul, 2019
By Simon Collins
Auckland Council has apologised to a Burkini-clad Muslim woman who was told to leave a public pool at the weekend.
A woman who witnessed the incident at Henderson's West Wave pool said lifeguards laughed about it afterwards.
She said three Muslim women were at the pool with their children about 11am on Saturday wearing swimming costumes that fully covered their bodies.
"They were wearing a Burkini that was covering the head right down to the arms and legs. It's a full cover, but it's tog material," the woman said.
"They had their kids with them, they were supervising their kids. Then one woman went into the pool with her kids and that's when she was singled out by the lifeguard and told to leave.
"It just felt very public and very singled out. Another man in the pool tried to talk to the lifeguard too. It was very upsetting to see."
She and a friend then overheard the lifeguard laughing with the two other lifeguards on duty at the time on their walkie-talkies.
"The three of them laughed and continued to roll their eyes, laugh and discuss the situation," she said.
"I do feel for the lifeguards because no manager was coming down to handle the situation, that's partly where the laughing and sniggering comes from."
She said the lifeguard's action seemed unfair because other swimmers who were wearing shorts and other clothing were not singled out, even though the council bans shorts below the knee and other street clothing from its pools.
Auckland Council's acting head of active recreation Jane Aickin told the Herald the incident was "unacceptable" and that all swimwear was allowed at Auckland pools.
Earlier, the woman who reported the incident saw one of the Muslim women, who was pregnant, being turned away from the pool at reception.
"We witnessed a pregnant Muslim woman wearing tog-material swimwear that covered her head, arms and legs (this is sometimes referred to as a Burkini) being told at reception that she could not come into the West Wave Pool because she was not wearing swimwear that adhered to the rules," she told the council.
"We heard the receptionist speaking to a manager on a walkie, and then promptly saying that she did not make the rules and if she let her in, the lifeguards would just pull her out.
"The woman was with her daughter and was visibly upset by this. We let the woman know that she should complain and that it was unacceptable."
The incident is the second time in three months that a complaint has been laid against swimwear rules at an Auckland pool. A North Shore woman, Yvette Harvie-Salter, complained in April after she was pulled aside at the council's Albany pool because her bikini was judged to be too skimpy.
A "Burkini ban" by about 30 French towns became an issue in French presidential elections in 2016.
Islamic Women's Council spokeswoman Anjum Rahman asked West Wave Pools to reconsider its swimwear policy to allow for swimwear that covers the full body.
"As long as it is made of lycra and designed specifically for swimming, such swimwear does not pose a safety risk and is used by millions of women worldwide," she said.
Aickin said the lifeguards' action "does not reflect our swimwear guidelines or the behaviour we expect from our staff".
"I would like to offer all involved a sincere apology," she said.
"All swimwear is allowed at Auckland Council pools. Our customers should feel free to wear any swimwear they are comfortable in, without judgement.
"I would like to encourage the customers involved to contact me, so I can apologise directly and give them the opportunity to report the incident in full.
"We will be following up with the team that were on duty on Saturday morning and will be reminding all staff about our customer service expectations and that all swimwear is allowed at our pools."
https://www.nzherald.co.nz/nz/news/article.cfm?c_id=1&objectid=12251453
--------
X-Ray May Be Waived For Pregnant Women during UAE Visa Application
Ashish Mehta
July 22, 2019
It is compulsory to undergo medical fitness tests which include X-rays of the chest for all individuals.
Q-I am in the process of applying for UAE residence visa for myself and my wife, who is pregnant. She has been told that undergoing medical tests through X-rays during pregnancy are not advisable.
A-You have not mentioned the emirate where you have applied for residence visa. We assume that you and your wife are applying for the visa and undergoing medical fitness tests for the first time in the UAE. It is compulsory to go through medical fitness tests which include X-ray examination of the chest for all individuals, who are seeking a residence visa in the UAE. Since your wife is pregnant, you may request for a waiver for the X-ray. You may contact the health authority concerned in the emirate where you have applied for the residence visa for more clarification on this issue prior to your wife's medical fitness tests.
Know the law
It is compulsory to undergo medical fitness tests which include X-rays of the chest for all individuals, who are seeking a residence visa in the UAE.
Ashish Mehta is the founder and Managing Partner of Ashish Mehta & Associates. He is qualified to practise law in Dubai, the United Kingdom, Singapore and India. Full details of his firm on: www.amalawyers.com. Readers may e-mail their questions to: news@khaleejtimes.com or send them to Legal View, Khaleej Times, PO Box 11243, Dubai.
https://www.khaleejtimes.com/legalview/remember-this-exemption-for-uae-visa-application
--------
Amid Rising Hate Crimes, Muslim and Jewish Women Travelled To Auschwitz Together
By Samantha Facciolo
JUL 18, 2019
Sheila Sonnenschein had never been to Auschwitz, but last week, she and her daughters gathered at the infamous concentration camp for a memorial service honoring those who had been killed there. They stood hand-in-hand with 50 other Muslim and Jewish women and teen girls, the first-ever North American contingent to make such a trip. Sonnenschein, a Jewish woman from Kansas City, Mo., had grown up with the legacy of the Holocaust and carried with her the loss of her father's extended family, who were murdered by Nazi and Latvian soldiers.
The Sisterhood of Salaam Shalom — the organizer of these Building Bridges trips — is the brainchild of Sheryl Olitzky and Atiya Aftab. The Sisterhood strives to build trust and respect between Muslim and Jewish women and teenage girls across Canada and the United States. They hope to foster relationships that will, in turn, encourage greater understanding among these communities, and to promote collaboration against an increasing tide of hate.
"I knew I could not change history," Olitzky explained. "But…it was my goal to ensure that the hate of the past was not continued into the future." Since that first meeting ten years ago, the Sisterhood has grown to over 170 local chapters and more than 3,000 members.
The group gathered in Berlin, where women met one another and shared their reasons for participating. They toured memorials, learned about non-Jewish victims of the Nazis (including Muslims), and visited Syrian refugees. They attended prayer services at synagogues and mosques and spoke with a local organization developing curricula to combat anti-Semitism. In Krakow, they met with Muslim, Jewish, and Christian leaders and helped clean up a vandalized Jewish cemetery.
Margaret Johnson, a convert to Islam from greater Washington, D.C., said she wouldn't have made the trip without the support of her Muslim and Jewish sisters. "I wanted to be there to support my Jewish sisters and [understand] the Shoah from their perspective," Johnson explained, acknowledging that the experience hits that much harder "when you know people affected [by the horror]."
Recently, Johnson was a guest in the home of an older Jewish woman she befriended on a previous Building Bridges trip. As a child, this woman lost several of her extended family members in the Holocaust and has dedicated her life to honoring their memory. Touched by her friend's devotion, Johnson carried the names of those family members with her and read them aloud at the memorial service at Auschwitz.
Though much of the trip was spent studying the past, at no point was the connection to present day more striking than when the group returned to their hotel after Auschwitz and turned on CNN. The news segment featured the detention centers along the U.S.-Mexico border and the deplorable conditions there. Though Johnson is quick to point out that in today's "call-out culture" people should be mindful of their words, she maintains that the dynamics that gave rise to the Holocaust inform what is happening today. "Some of what happened to the Jews early on in Germany is now happening to asylum seekers in the U.S.," she said. Johnson insists that she doesn't believe that the United States' end game is anywhere near comparable to that of Germany in the 1930s, but whether it's the current administration's handling of refugees, the persecution of Muslims in Myanmar and China, or the rise in hate crimes since the 2016 presidential election, the theme is the same, the dehumanization of others.
Miniimah Bilal-Shakir, a Muslim sister from New Jersey, agrees. "Though the majority of the victims of the Holocaust were Jewish, the Nazis didn't only kill Jews. Theirs was an attack against all of humanity." A warning, in other words, about what happens when we don't stand up to hate.
Dr. Mehnaz Afridi, Director of the Holocaust, Genocide and Interfaith Education Center of Manhattan College and the trip's resident educator, sees particular significance to this trip being taken at this moment in time. Both the U.S. and Europe are experiencing elevated Islamophobia and anti-Semitism, making this trip a "perfect synergy in bringing Jewish [and] Muslim women to historical moments of persecution, suffering, and reconciliation.
Both Johnson and Sonnenschein participated in the Sisterhood's 2018 Building Bridges trip to the American South, and since then, they've noticed encouraging change. Meeting with former leaders of the Civil Rights movement, Sonnenschein was struck by the idea of reparations to African-American communities. Upon returning home, she connected with a mentoring program and now volunteers weekly in a predominantly African-American elementary school. Three other women from local Sisterhood chapters have joined her.
Johnson reports that the group from the 2018 trip are in constant communication about ways they can act upon what they learned and are engaging in initiatives dedicated to getting out the vote, educating the public about civil injustices — particularly surrounding the disproportionate incarceration of African Americans — and supporting those targeted by hate crimes.
Participants in this year's program have barely touched down after their overseas flights, but the group texts are already flying. Women want to know how to act upon what they've spent the last week immersed in: standing up to hate and being an ally to those in need.
"What we learned was devastating," said Bilal-Shakir. "But it's important to move past that horror and find hope."
Several sisters have committed to helping children and asylum seekers at the border, and others wish to help Muslims being victimized in China. Gabriella Sonnenschein, a student at the University of Minnesota, wants to create projects to dismantle Islamophobia and promote better Muslim-Jewish relations on campus. As an organization, the Sisterhood of Salaam Shalom has committed to opening its first-ever chapters in Krakow and Berlin, spreading its mission of respect, understanding, and relationship-building to these communities.
Heather Ciociola, a Jewish woman from New Jersey, knew she had to attend this trip, both for its historical significance and relevance today. "We have both the knowledge and the responsibility to make sure that the horrors of the past don't even come close to repeating themselves," she said. One day, Ciociola anticipates someone asking her what she did in these times of turmoil and hate. She is dedicated to ensuring her answer is one she can be proud of. Those who understand the origins and legacy of the Holocaust must do all they can to prevent the perpetuation of hate. In Ciociola's words: "Our history is being written today."
https://sojo.net/articles/amid-rising-hate-crimes-muslim-and-jewish-women-traveled-auschwitz-together?fbclid=IwAR1XuV42UwWq4sOLx41WhDRuw_R9w1XJW8ez3HHIP-LhhSXR2yu0IoG-T1w
--------
Why Are Big Brands Buying Into Muslim Fashion?
21 Jul 2019
Burberry, Dolce & Gabbana and DKNY have all attempted to crack one of the fastest-growing markets - Islamic fashion.
What started as brands targeting wealthy Muslims with one-off fashion lines for religious occasions, has grown to a global trend for women who prefer to dress conservatively.
According to the Pew Research Center, Muslims are the world's fastest-growing major religious group. By 2050, it estimates there will be 2.7 billion Muslims worldwide, making up 29.7 percent of the global population.
And when it comes to the Islamic or modest fashion sector, spending is forecast to grow five percent annually to $361bn by 2023.
Turkey is the biggest spender on modest fashion: $28bn a year. This is followed by the United Arab Emirates (UAE) and Indonesia. But it is not a one-size-fits-all-trend; what is popular in Indonesia may not have the same appeal in the Middle East.
"This is not a new thing, it's not a passing fancy. It's been around since the beginning of time and it will be until the end of time," says Alia Khan, chairwoman of the Islamic Fashion Design Council, talking about the rise of the Islamic fashion industry. "It's actually surprising that we didn't see a platform like this years ago."
She credits social media, and the presence of "Muslim fashionistas" and "modest social influencers", as having a lot to do with global fashion brands beginning to take notice.
"The opportunity has always been there. We've had a huge consumer market for a long time, primarily led by the Muslim global population ... It's indeed a coveted consumer. And finally, this consumer is being noticed and getting a nod from brands like D&G, DKNY, Victoria Beckham, Tommy Hilfiger - all of them now. Zara has come up with their own Ramadan collection."
"There is some due diligence required" in brands understanding this audience, Khan says. "It's a completely different mindset, it's a different audience, it's a different consumer behaviour. And if the brand can understand that, they will succeed."
According to Khan, some of the Ramadan collections that went out "didn't quite get the point and consumers spoke about that. There was a lot of chatter on social media where the fashionistas were feeling like they weren't represented correctly ... So there's certain guidelines that need to be respected. This is a lifelong journey for them ... if you do get this audience, you've got this consumer for life."
Some of those most keyed into the demands of consumers are, of course, young Muslim entrepreneurs; she points out: "The young Muslim designers and start-ups that are succeeding are doing so because they understand this market and perhaps they are the market as well."
https://www.aljazeera.com/programmes/countingthecost/2019/07/big-brands-buying-muslim-fashion-190720112602238.html
--------
US-Backed SDF Militants Caught Smuggling Daesh Women in NW Syria: SOHR
Jul 21, 2019
Kurdish-led militants from the so-called Syrian Democratic Forces (SDF) have reportedly been caught smuggling women with affiliation to the Daesh Takfiri terrorist group in Syria's northwestern province of Aleppo.
The so-called Syrian Observatory for Human Rights (SOHR) reported that two SDF members were caught at a checkpoint in the city of Manbij, located about 70 kilometers northeast of the provincial capital city of Aleppo, while attempting to smuggle out five female members of the terror outfit.
The Britain-based monitor group further noted that SDF forces rounded up the two fellow militants, as they were smuggling Daesh women in exchange for 10,000 US dollars each.
The women were smuggled out of the al-Hawl refugee camp, which lies on the southern outskirts of the town of al-Hawl and close to the Syria-Iraq border, said the Observatory, adding that it is not the first time such smuggling attempts have taken place in the camp.
Al-Hawl camp is largely inhabited by Daesh militants and their family members, particularly after the Takfiri terrorists were driven out of their last bastion in eastern Syria.
Over the past few months, several rallies have been held in northern and eastern Syria in protest against SDF practices, calling for their expulsion from the regions, with protesters chanting slogans against the SDF occupation, which has led to chaos, kidnapping, killing and monopoly of Syria's oil.
The Syrian Foreign Ministry said in letters addressed to the UN Secretary-General and the head of the Security Council on May 13 that the SDF should be compelled to respect the world body's resolutions that assert Syria's sovereignty, independence, and territorial integrity.
The ministry added that the SDF, by committing criminal acts, intends to subjugate Syrian citizens who are demanding their rights and calling for the Syrian government's resumption of carrying out its duties in the eastern part of the crisis-hit Arab country.
"The actions of the SDF and their shameful alliance with Syria's enemies prove without a doubt their criminal and terrorism nature, and that they do not express the Syrian people," the Syrian Foreign Ministry said in the letters.
It also stressed that the massacres committed by the SDF will only bring them disgrace and the contempt of the Syrian people.
The SDF illegally transports crude oil from Syria's eastern province of Dayr al-Zawr to neighboring Hasakeh province in Syria's northeast -- a move that has angered the people.
The US has long been providing the SDF, an alliance of Kurdish alliance, with arms and militants, calling them a key partner in the purported fight against the Daesh terrorist group. Many observers, however, see the support in the context of Washington's plans to carve out a foothold in the Arab country.
Such support has also angered Washington's NATO ally, Turkey, which views militants of the People's Protection Units (YPG), the backbone of the SDF, as a terrorist organization tied to the homegrown Kurdistan Workers' Party (PKK).
The PKK has been waging a destructive war inside Turkey for decades.
https://www.presstv.com/Detail/2019/07/21/601501/USbacked-SDF-militants-caught-smuggling-Daesh-women-in-NW-Syria-SOHR
--------
Most Admired Women in Saudi Arabia
July 22, 2019
Market-research firm YouGov recently released a list of the world's most admired people. Here are Saudi Arabia's most admired women, according to its survey.
Angelina Jolie
Topping the list, based on fieldwork conducted from March to June 2019, actor and humanitarian Jolie seems to be quite the popular leading lady in Saudi Arabia.
Queen Rania of Jordan
The Jordanian royal comes in second, perhaps due to her humanitarian work and high profile in the Arab World — not to mention her stylish attire.
Oprah Winfrey
US TV personality and philanthropist Oprah Winfrey came in third. Best known for her world-famous talk show, "The Oprah Winfrey Show," Winfrey has gone on to produce films and lobby for political causes in the US.
Queen Elizabeth II
The UK's reigning monarch comes in fourth place. The 93-year-old can still be spotted carrying out her official duties in her much-loved array of colorful outfits.
Angela Merkel
Germany's Chancellor Merkel is known for her anti-right-wing stance and called on German citizens this weekend to counter rising right-wing extremism.
Selena Gomez
Rounding out the top six is 27-year-old US pop star Selena Gomez, known for her hits "Wolves" and "I Can't Get Enough."
http://www.arabnews.com/node/1529126/most-admired-women-saudi-arabia
--------
Iranian Women Actively Participate In Rally in Sweden
Jul 21, 2019
Some 5,000 Iranians including a large number of Iranian women participated in a major demonstration in Stockholm on Saturday, July 20, 2019, calling for a firm policy and comprehensive sanctions against the mullahs' regime in Iran, terrorist listing of the IRGC, the MOIS and Khamenei's office and headquarters. Iranian women also called for recognition of the right of the Iranian people to resist and establish democracy in Iran.
Iranian women and participants in the rally announced their full support for the PMOI and resistance units inside Iran and supported Mrs. Maryam Rajavi, President-elect of the National Council of Resistance of Iran and her ten-point plan for the future of Iran.
The rally began at the Kungtärgården Square, with the speeches of the personalities, followed by a march in Stockholm center and then returned to the Kungtärgården Square.
In a video message to the participants in the rally, Mrs. Maryam Rajavi said that the time of appeasement with religious fascism in Iran has come to an end, and the resistance and popular uprising have brought the regime to the end. There is no place for the minimum human rights, freedom of expression, justice, equality between women and men, the autonomy and the rights of minorities and nationalities, in the clerical regime.
She called on the Nordic governments to put pressure on the Iranian regime to open up prison gates and accept an international investigation commission.
The rally featured among others a speech by Rama Yade, the former Minister of Human Rights of France.
Ms. Rama Yade said in part, "I'm coming from Ashraf 3. In Ashraf 3 I saw the impossible. A moved woman stands in front of you. This city was built in less than two years, in the middle of nowhere. You have proved through that amazing master work in Ashraf that the same could one day be done in Iran. It took your suffering and your hope and your discipline, but it was also because of your thousands of martyrs that Ashraf exists today.
"We saw pictures of hundreds of young people who were killed by the regime, the people who were killed in the massacre in Ashraf in Iraq, the victims of the 1988 massacre. Ashraf 3 is a land of hope. Ashraf 3 is a reminder of the desire of the Iranian people for change. The demonstrations in Iran show what the Iranian people want democracy, not dictatorship; freedom, not terror. We have to listen to those cries.
"The international community was skeptical of the protests; they did not recognize the revolution. They did not listen to the voices of the Iranian people? Why? Because of a nuclear agreement that is dead and buried. They didn't recognize that you can't negotiate with this regime."
"At a time when the world seeks a solution to Iran, we must think of an alternative. I think it's the PMOI/MEK. They are not only an opposition, or even an alternative, but like a state that is ready to save Iran from the destruction that the religious dictatorship has brought.
"The Iranian Resistance has identified this threat long ago. Its members have paid the price. You have proven that Islam matches its principles. You are supporting gender equality, freedom of religion. PMOI knows what women have brought to Iran. Iran would not have been a great civilization without women. Iranian women have been standing in the streets and squares, women and sisters and mothers. They go to jail; they accept harm to themselves.
"I met people there who devoted all their lives to the freedom of their people."
"Your commitment is an extraordinary, a powerful daily act of faith and determination. Thanks to you, change is coming. This incredible change has the strong voice and the beautiful face of a role model, president Maryam Rajavi."
Ms. Mahnaz Salimian, Senior Secretary of the National Council of Resistance of Iran, also addressed the gathering. In part of her speech, she said, "We are here to send a strong message to all those who are still dreaming of appeasing the Iranian regime and are thinking of constructive dialogue with this regime. The first and last message of the MEK's Resistance Units and the youth of Iran is the overthrow of this regime."
"This regime is trapped in a dead end and has no way out. The people of Iran and the Iranian Resistance are ready to answer to this situation. We tell European countries and the Swedish government that we don't want anything but ending the appeasement policy and standing on the side of the Iranian people," she added.
"For the Iranian people, any relation by the EU with the regime's Intelligence Ministry (MOIS) and the Revolutionary Guards (IRGC) or with the regime in its entirety is a red line that must not be crossed. The MOIS and IRGC must be designated as terrorist organizations. All of the regime's embassies must be closed and its diplomats expelled. The perpetrators of the 1988 massacre must be held to account," Ms. Salimian concluded.
https://women.ncr-iran.org/2019/07/21/iranian-women-actively-participate-in-rally-in-sweden/
--------
Micro Loans Changing Lives Of Syrian, Turkish Women In Southeast
July 21 2019
Hundreds of Syrian and Turkish women living in Turkey's southeast have launched their own businesses thanks to a microloans program run by the Turkish Foundation for Waste Reduction (TİSVA) and Care International.
As part of the project, a total of 788 women - 589 Syrians and 199 Turks - living in Gaziantep, Hatay, Kilis and Şanlıurfa have received microcredits of 500 Turkish Liras ($88.4) to 1,500 liras ($265) to launch businesses at home. The six-month project has provided a total 860,000 liras ($152,074) of credits to the women so far.
Michelle Nunn, president and CEO of CARE USA who recently visited the Turkish cities where large numbers of Syrian migrants reside, told daily Hürriyet that Turkey has shouldered a major part of the international community's burden in the Syrian crisis.
Nunn said that as a result of their cooperation with TİSVA, they have been supporting the Syrian and Turkish women living in Gaziantep, Hatay, Kilis and Şanlıurfa with the Grameen model, which received the 2006 Nobel Peace Prize.
Nunn stated that the economic and social change in the lives of women using microloans is promising.
"Thanks to the project, women become economically independent by doing income-generating activities," she said.
"Syrian women are trying to start their own businesses with small loans. There are those who make and sell jam, market their own beauty products, turn a room into a hairdresser's shop, make tailoring, and sell local home-cooked food. This project will provide solidarity between Syrian and Turkish women and improve their self-confidence and economic decision-making skills. I visited women in Şanlıurfa using microloans, and I found that those women were very happy," she added.
Stating that the Syrian and Turkish women came together each week within the scope of the project, Nunn said: "This project also plays an active role in ensuring social cohesion by bringing together Turkish women and Syrian refugee women in the host society."
TİSVA Trustees Chairman Prof. Aziz Akgül said the project aims to reach 900 women by the end of September, 60 percent of whom will be Syrian migrants.
"Our assessment with CARE is very positive," he said.
"During their meetings with the Interior Ministry, they stated that they would like to continue their activities in cities such as Mardin, Istanbul and Adana. If the pilot project we have started is successful, we can continue the project in these provinces after the evaluations made by the government," he added.
Within the scope of the project, the weekly microloan return rate is 100 percent, and the project is planned to continue next year, Akgül said.
http://www.hurriyetdailynews.com/micro-loans-changing-lives-of-syrian-turkish-women-in-southeast-145133
--------
URL: https://www.newageislam.com/islam-women-feminism/after-trumps-racist-slur-four/d/119263
New Age Islam, Islam Online, Islamic Website, African Muslim News, Arab World News, South Asia News, Indian Muslim News, World Muslim News, Women in Islam, Islamic Feminism, Arab Women, Women In Arab, Islamophobia in America, Muslim Women in West, Islam Women and Feminism