New Age Islam News Bureau
18 March 2019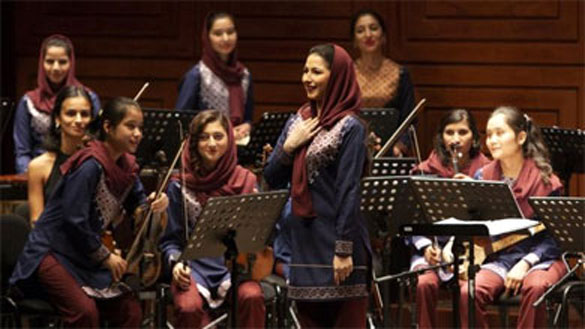 Afghanistan's First All-Female Orchestra Zohra is led by conductor Negin Khpalwak
------
• Lebanese Artist Tests Opinions of Arab Women through Her Art
• 166,000 Saudi Women Find Jobs in the Private Sector
• Special Muslim Marriage Court in Malaysia to Begin Operations in May
• Husband of Slain Woman Forgives New Zealand Mosque Gunman
• Mumbai: Hindu And Muslim Woman Donate Kidneys to Each Other's Spouses
• OIC Women's Council Expresses Solidarity with New Zealand Muslim Community
• Over 166,840 Saudi women employed in kingdom's private sector
• Empowering Egyptian Women to Be At Forefront of Entrepreneurship
Compiled by New Age Islam News Bureau
URL: https://www.newageislam.com/islam-women-feminism/afghanistan-first-all-female-orchestra/d/118059
--------
Afghanistan's First All-Female Orchestra Zohra Visits the UK
15 March 2019
Five years ago, a unique all-female orchestra was formed in Afghanistan, a nation where only a few years previously music had been outlawed and women barred from education. Now Zohra is visiting the UK for the first time.
No-one claims that in Afghanistan, the Taliban influence has been rooted out entirely. Violence continues. But two decades ago, the Afghanistan National Institute of Music would have been unthinkable.
ANIM was founded in 2008, with international support, to bring music education to young Afghans. Not long before that, the Afghan capital Kabul had finally been wrenched from the grasp of the fundamentalist Sunni Muslim Taliban.
In the Taliban years, music - once a thriving and rich part of Afghan culture, admired around the world - had all but disappeared.
Today in Kabul, ANIM teaches music skills to some 250 young people, both male and female. That figure is about to rise to 320 and there are plans to expand to cities such as Herat, Mazar-e Sharif and Jalalabad.
About 70% of the young people at the institute come from disadvantaged backgrounds - some used to work the streets selling vegetables, plastic bags or chewing gum to support their families. Ages range from 12 to around 20.But five years ago, ANIM founder by Dr Ahmad Sarmast was urged to start a new project specifically to benefit girls.
"One of our students told me we needed a group of four or five girls to play pop music," he says. "I liked the idea but almost at once it became clear most of the girls at ANIM wanted to join. Suddenly we were talking about a full orchestra.
"For Afghanistan it was a new world. It wasn't just that the Taliban had made it impossible to perform or listen to music - the whole position of women in society was one of total repression."
The orchestra was named Zohra after a Persian goddess of music. Dr Sarmast is delighted it's making a name for itself elsewhere. "But above all it sends a message of gender equality to other Afghans.
"Zohra creates a lovely sound but also it's a symbol of the freedom of Afghan women. This is the message we take around the world."
There are around 100 female students at ANIM, 23 of whom have come to Britain. Their numbers will be doubled when they play in concert with the London-based Orchestra of St John's and others. Instruments they've brought with them include the sarod, the rubab, tabla drums and the dutar.
The music performed is a combination of traditional Afghan music and western classical. For instance, their new arrangement of Greensleeves contains attractive new instrumentation probably not envisaged by Ralph Vaughan Williams in 1934.
The conductor for the Afghan pieces is Negin Khpalwak, who at 22 is one of the older musicians in the group. She joined the school not long after it opened - not initially with the idea of conducting at all. As a chorister, she performed in Dubai and has also played and conducted in the US, India, Germany and Switzerland.
"It's much easier for me to conduct when we play Afghan music," she says. "We're very familiar with it and we play together easily.
"If we perform something like Greensleeves - which I think is very well-known in England - we have to concentrate extra hard. All of us understand Western notation but we still have to practice a lot before our concerts in Oxford and London."
The ensemble's highest-profile concert in the UK will be at the British Museum on Friday. But there are other events too before they head home.
Cayenna Ponchione-Bailey of the Orchestra of St John's has arranged for University of Oxford students to mentor young musicians in Kabul - which until now has mainly been by Skype.
"What I love about Zohra is that in some ways it's like a traditional Western chamber orchestra - but also we have these marvellous Afghan instruments embedded," she says.
"There are many things which music can achieve - and empowerment is definitely one of them. In Afghanistan, women's education continues to be precarious.
"So it's important that these girls and young women know they have a global support system. There are friends and a network which will support them as they assert their human rights."
Negin Khpalwak says even in Kabul, students can still sometimes encounter people beyond the school who think it's wrong that the orchestra even exists.
"They will say that in Islam women aren't allowed to go to school, not just for music but to study anything. But it's not true - women have their own rights and those people need to be educated.
https://www.bbc.com/news/entertainment-arts-47571463
--------
Lebanese Artist Tests Opinions of Arab Women through Her Art
March 17, 2019
Lebanese artist Christina Atik has created a series of digital pictures to show expressions commonly used in Arab countries to criticize women. She hopes her creations will empower Arab women.
The project raises issues like female freedom, beauty and sexuality in societies traditionally led by men.
Atik, 27, said she thought of the project last year after her younger sister Maria was criticized by their mother.
"My sister has a big nose and my mother always made fun of her," the artist said. The mother would say things like 'when are you going to do an operation for your nose?' and 'your nose is not nice for a girl.'
Atik told the Reuters news agency, "I decided to do a drawing for my sister to show her that her nose is beautiful and she doesn't have to listen to mum. And this worked. She did not do an operation for her nose."
The picture won praise from local art supporters and quickly turned into a series. The Reuters report said there are currently seven illustrations.
Other illustrations read: "It's not nice for a girl to have (body) hair," "It's not nice for a girl to like another girl" or "It's not nice for a girl to live alone". Each saying has its own picture, digitally created by Atik, along with a comment in Arabic.
"I think it's very important to sit and talk about such subjects. So maybe we can break them or stop them and have the courage to say 'no, I won't do my nose operation' or 'no, I want to leave the house' or else," Atik said.
Her pictures have been shared across the internet. They have received many shares and have increased Atik's followers on one social media website.
"I hadn't at all expected people to share them that much, and women have started to send me things they hear from their families and societies around them. Women from Egypt, Jordan, Saudi Arabia... were touched by the illustrations I did, so that was something really nice," she said.
Atik believes the condition of women is slowly improving around the world.
"I think we have a long way to go in Lebanon and in the whole world (on women's rights) but I think we're getting there, little by little," she said.
Lebanon recently appointed the Arab world's first female interior minister. She is just one of four women in the country's government.
While some consider Lebanon a liberal country in the Middle East, it continues to permit marriages between children and adults and marital rape.
https://learningenglish.voanews.com/a/lebanese-artist-tests-opinions-of-arab-women-through-her-art/4825693.html
--------
166,000 Saudi Women Find Jobs in the Private Sector
2019-03-17
JEDDAH — As many as 166,848 Saudi women are employed by the private sector, according to a report released by the General Authority for Statistics (GaStat).
The report said some 69,763 Saudi women, representing about 41.81 percent, are working in the education sector.
It said the total number of the women employed by the private sector was 308,766, including 147,978 expatriate women.
Saudi women represent about 54.4 percent of females employed by the private sector while the ratio of the expatriate women is 45.96 percent.
The report said health and social service with 20,422 women employees, or 12.24 percent, was the second largest employer of women in the private sector.
A total of 90,185 Saudi women, representing 54.05 percent, are employed in the two sectors.
The retail and wholesale sector is the third largest employer of Saudi women with 14,051 female employees, representing 8.42 percent of the total.
The fourth largest employer of Saudi women is the hotel and catering sector where 13,784 women (8.26 percent) work.
According to the report, there are 51,125 non-Saudi women employed in the health and social service sector, representing 36.2 percent of the total number of expatriate employees, while the education sector employs 35,930 foreign women or 25.32 percent of them.
Saudi women employed in manufacturing industries number 8,515 or about 6 percent of the total.
Meanwhile, the Saudi Supreme Judicial Council and the Institute of Public Administration (IPA) signed a memorandum of understanding for training and development.
The agreement was signed in the presence of Justice Minister Waleed Al-Samaani and Civil Service Minister Sulaiman Al-Hamdan.
The MoU will introduce judges and trainee judges to IPA's legal programs, especially the Higher Diploma of Legal Studies, and will help them acquire necessary expertise in legal careers.
The two sides agreed to form a joint team of experts to implement cooperation in various areas.
The Higher Diploma of Legal Studies has recently been approved, and will be launched at the beginning of the next academic year. It consists of six terms in a span of three years, and includes courses in administrative, international, criminal, and business law.
http://saudigazette.com.sa/article/561388/SAUDI-ARABIA/166000-Saudi-women-find-jobs-in-the-private-sector
--------
Special Muslim Marriage Court in Malaysia to Begin Operations in May
March 17, 2019
KUALA LUMPUR: A special court dealing with marriages, hadhanah (child custody) and nafkah (maintenance) will take off in May.
It will have the authority to confiscate the property of any man who fails to provide for his ex-wife.
Minister in the Prime Minister's Department (Religious Affairs) Mujahid Yusof Rawa said the court was now in the final process of getting the views of various parties on its administration before it is tabled to the Cabinet.
"It is in the final stages. The attorney-general, finance ministry, and women, family and community development ministry have given their views.
"Maybe in two weeks' time, it would be ready to be presented to the Cabinet.
"After that, it would take two to three weeks before it is approved," he told reporters after officiating the Women's Day 2019 Seminar at the Institute of Islamic Understanding Malaysia (Ikim).
He said setting up the court was a reflection of the commitment by the Pakatan Harapan (PH) government to protect women neglected by their ex-husbands.
The seminar, in conjunction with International Women's Day 2019, was organised by Ikim and Pertubuhan Ikram Malaysia (Ikram). It discussed issues relating to women, including their participation in society and organisations.
Present at the launching of the one-day seminar were Ikim director-general Prof Azizan Baharuddin and Ikram president Mohd Parid Sheikh Ahmad.
https://www.freemalaysiatoday.com/category/nation/2019/03/17/special-muslim-marriage-court-to-begin-operations-in-may/
--------
Husband of Slain Woman Forgives New Zealand Mosque Gunman
March 17, 2019
CHRISTCHURCH, New Zealand: Farid Ahmad loved his wife — and he loves and forgives the terrorist who killed her.
"The best thing is forgiveness, generosity, loving and caring, positivity," said Farid, 59, confined to a wheelchair since a car accident in 1998.
His wife Husna, 44, was one of 50 people killed in Friday's terrorist attack at Al-Noor mosque and Linwood Islamic Centre in Christchurch, New Zealand. Brenton Tarrant, 28, an Australian white supremacist, has been charged with murder.
Ahmad says that if he could speak to Tarrant: "I would tell him that inside him he has great potential to be a generous person, to be a kind person, to be a person who would save people rather than destroy them.
"I want him to look for that positive attitude, and I hope and I pray for him, that he will be a great civilian one day. I don't have any grudge."
Ahmad and his wife moved to New Zealand from Bangladesh in 1990, and they have one daughter.
When the gunman opened fire at Al-Noor mosque, Husna helped people escape from the women's and children's hall. "She was screaming 'Come this way, hurry up,' and she took many children and ladies toward a safe garden," Ahmad said.
"Then she was coming back to check on me, because I was in a wheelchair, and as she was approaching the gate she was shot. She was busy saving lives, forgetting about herself."
As massive piles of flowers were laid near the mosques on Sunday and crowds of people of all faiths gathered to pay respects, more stories emerged of courage and grief.
Friends mourned Atta Elayyan, 33, originally from Kuwait, the goalkeeper for New Zealand's futsal team. Ghassan Alaraji, 35, from Iraq, said he had seen footage of Atta trying to stop the gunman.
"That was my friend Atta," he said. "He was trying to help and protect others from being shot. He was very, very brave."
New Zealand Football chief executive Andrew Pragnell said: "My heart goes out to the futsal community. They are a very tight-knit group and Atta's death will be devastating for all involved in the game. We feel their pain and their grief."
Abdul Aziz, 48, from Afghanistan, confronted the gunman at the Linwood center and picked up a shotgun that he had dropped. "I chased him," Aziz said. "He sat in his car and with the shotgun in my hands, I threw it through his window like an arrow. He just swore at me and took off."
http://www.arabnews.com/node/1467871/world
--------
Mumbai: Hindu And Muslim Woman Donate Kidneys to Each Other's Spouses
Mar 18, 2019
MUMBAI: A Hindu and a Muslim woman donated kidneys to each other's husbands at a city hospital, stressing that religion didn't matter when the lives of their loved ones were at stake.
The families from Thane and Bihar were brought together about six months ago by their nephrologist. Absolute strangers till that day, the families worked as a team to overcome all legal tangles and make the transplants happen last week. After the surgeries were done at Saifee Hospital on March 14, also World Kidn-ey Day, Thane residents Nadeem (51) and Nazreen Patel (45) forged a life-long bond with Bihar's Ramswarth Yadav (53) and his wife Satyadevi (45).
Nadeem, a father of three children, was on dialysis since four years and a transplant had become imminent to arrest his failing health. Ramswarth, who was forced to make Nalasopara his home after his kidney disease, also wanted to undergo a transplant. Both had looked in their families for donors but to no avail. That's when Dr Hemal Shah, head of nephrology at Saifee Hospital, discussed the option of swap transplant. He said Ramswarth's blood group (A) matched with Nazreen's, while Nadeem's (B) matched with Satyadevi's. About a month after the first discussion, both families agreed to it.
"Despite dialysis, my father led a painful life for the past two years. The only way out was a transplant. And in matters of life and death, religion doesn't matter," said Ramswarth's son Sanjay, an MCA graduate. "Relatives extended financial help, but nobody was willing to give a kidney. We can never thank Nazreen enough," he said. Sanjay said his father also convinced Nadeem to shift his dialysis centre to a Bhuleshwar place that he visited. Over the months, Nazreen and Satyadevi, who often accompanied their husbands to the centre or for paperwork, became friends. "They would discuss their fears and even find solutions to procedural obstructions together," the son said.
Mumbai is not new to interfaith swap transplants. In fact, the city is home to the country's first successful swap transplant in 2006, coincidentally involving a Hindu and a Muslim family. "In swap transplants, timing, health, fitness and finances of two families need to run in tandem. Religion is not an issue," said Dr Shah, adding that the Yadavs patiently waited for Nadeem to heal from a gall bladder surgery that delayed the transplants by a month. On the day of the transplant, surgeons Dr Vinit Shah and Dr J Lalmalani removed the donor kidneys as the recipients were prepared in adjoining operation theatres by Dr Phiroze Soonawala and Dr Aashiq Raval. "Time management is crucial as anxious families often worry about consent being withdrawn at the last minute," he said. Dr Shah added that swap transplants are a suitable answer to India's situation, where 1.5 lakh are waiting for kidneys at any point.
Since the Apex Swap Transplant Registry was formed in 2008, 60 transplants have been carried out. "There is more acceptance of swap transplants as it's a good alternative with a legal backing," said Dr Jatin Kothari, a trustee of Apex Kidney Foundation.
https://timesofindia.indiatimes.com/city/mumbai/mumbai-hindu-and-muslim-woman-donate-kidneys-to-each-others-spouses/articleshow/68456775.cms
--------
OIC Women's Council Expresses Solidarity with New Zealand Muslim Community
18.03.2019
The Organization of Islamic Cooperation's (OIC) Women Consultative Council, chaired by Esra Albayrak, daughter of Turkish President Recep Tayyip Erdoğan, on Sunday extended a letter of solidarity with New Zealand's Muslim community to Prime Minister Jacinda Ardern.
The council strongly condemned the "atrocious and appalling" terror attacks on worshipers at Al Noor and Linwood Mosques in Christchurch.
"Our hearts, support and solidarity go out to the families of the 49 whose lives were taken before their time, and to those who continue to fight the life-threatening injuries brought about by senseless brutality," the letter read, wishing God's mercy on the deceased, a speedy and full recovery to the injured and healing for the community as a whole. The death toll in the terrorist attack rose to 50 on Sunday.
The council called the attacks an "assault on our shared humanity," emphasizing that the massacre was not an isolated event by an individual, but arose out of an "environment of hatred, bigotry and Islamophobia that has been ignored and fed for years."
The letter, which was signed by nine members of the council, commended Prime Minister Ardern for her strong leadership and work to bring unity amid difficult circumstances.
Turkey currently holds the rotating OIC presidency, which includes term presidency of the Women Consultative Council, chaired by Albayrak.
The OIC has called an emergency meeting for Friday in Istanbul to discuss causes, impacts and steps forward in the aftermath of the New Zealand terror attacks. Iran and Pakistan's foreign ministers held phone calls with Foreign Minister Mevlüt Çavuşoğlu over the weekend in which they agreed to summon a meeting.
In a statement, the Iranian Foreign Ministry said Javad Zarif called for "appropriate reaction of Muslim states to this heinous crime."
Çavuşoğlu and Vice President Fuat Oktay are currently on a two-day visit to New Zealand to underline Turkey's firm stance against anti-Muslim ideology and xenophobia, as well as to show its solidarity with New Zealand upon the terror attacks.
https://www.dailysabah.com/asia/2019/03/18/oic-womens-council-expresses-solidarity-with-new-zealand-muslim-community
--------
Over 166,840 Saudi women employed in kingdom's private sector
18 March 2019
Saudi nationals account for more than half of the women employed in the kingdom's private sector, according to official data.
While the total number of the women employed by the private sector stands at 308,766, up to 54.4 per cent – 166,848 – are Saudis, local daily Saudi Gazette reported, citing figures from the General Authority for Statistics (GaStat).
The report said 69,763 Saudi women, representing about 41.81 per cent, are working in the education sector.
Health and social services employs 20,422 women, accounting for 12.24 per cent.
The third largest sector for Saudi women was found to be the retail and wholesale sector, with 14,051 female employees, representing 8.42 per cent of the total.
That was followed by the hotel and catering sector, which employed 13,784 women – accounting for 8.26 per cent.
A total of 8,515 Saudi women – about 6 per cent – work in manufacturing industries, the report added.
Among expatriates, the report found that 51,125 women work in the health and social service sector, representing 36.2 per cent of the total, followed by the education sector, which employs 35,930 foreign women – accounting for 25.32 per cent.
Saudi Crown Prince Mohammed bin Salman's Vision 2030 reform strategy is looking to increase the participation of women in the workforce and provide them with greater opportunities.
A decades long ban on female driving was lifted on June 24, while Saudi also awarded licences to its first female pilots last year.
https://gulfbusiness.com/166840-saudi-women-employed-kingdoms-private-sector/
--------
Empowering Egyptian Women to Be At Forefront of Entrepreneurship
Mar 18, 2019
SHECAN, the women's entrepreneurship event in the MENA region, founded by Entrepenelle, hosted its 3rd edition at the Greek Campus days ago, under the headline theme 'Successful Failures.'
The event saw a diverse range of talks, workshops, and panel discussions on women's experiences in the entrepreneurship ecosystem, and invited a number of successful women entrepreneurs and community leaders to engage in conversations about their personal journeys toward empowerment.
Bringing together more than 50 partners, including UN Women, the Swedish embassy, the National Council for Women, Nahdet Masr, Avon, Orange and the Export Development Bank of Egypt, the event was attended by more than 5,000 participants and focused on showcasing the activities of Entrepenelle alumni, and aimed to also offer opportunities to women interested in entrepreneurship in Egypt with talks featuring tips on pitching ideas, mentorship as well as multiple competitions.
Farida Salem, founder of Empower, a women's only football school in Cairo, discussed the challenge of playing football, a sport dominated by men, and her belief that physical activity can empower women to reach for their goals.
"Getting up again after falling is what really makes the difference. And having more women as role models, this is what will change the world."
Discussing her own leadership journey, alongside the goals of her post as Deputy Ambassador of the US Embassy in Cairo, Dorothy Shea said: "As far as I am concerned the sky is the limit. Women should be able to achieve whatever their dreams are. What I was struck by was this idea of 'successful failures', we need to not fear failure, it is not a destination, it is a stepping stone to success. Sometimes there can be a fear of failure, but as part of this entrepreneurship ecosystem, they are really trying to move that inhibition away. We learn from our failures and then we take our plans to the next level. I was really inspired by this theme."
Entrepenelle is a mission driven social enterprise – that focuses on awareness, education, and resources accessibility in order to empower women economically. With more than 360 projects conducted in 9 different governorates including: Cairo, Alexandria, Mansoura, Minya, Assiut, Sohag and Aswan, Entreprenelle has managed to affect over 5,000 beneficiaries in Egypt.
https://dailynewsegypt.com/2019/03/14/empowering-egyptian-women-to-be-at-forefront-of-entrepreneurship/
--------
URL: https://www.newageislam.com/islam-women-feminism/afghanistan-first-all-female-orchestra/d/118059
New Age Islam, Islam Online, Islamic Website, African Muslim News, Arab World News, South Asia News, Indian Muslim News, World Muslim News, Women in Islam, Islamic Feminism, Arab Women, Women In Arab, Islamophobia in America, Muslim Women in West, Islam Women and Feminism