New Age Islam News Bureau
20 May 2019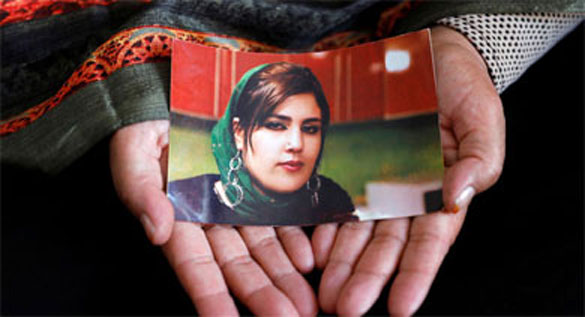 Anisa Mangal holds a photo of her daughter Mena Mangal, an Afghan journalist and parliamentary adviser, who was recently killed in Kabul, Afghanistan May 14, 2019. Picture taken May 14, 2019. REUTERS/Mohammad Ismail
------
• Two Kot Momin, Pakistan, Girls Say Chinese Husbands Running Brothel
• Kimono-Inspired Hijabs Prove Culture Mashup Hit with Muslim Tourists
• Muslim Women Concerned Over Growing Antifeminist Movement
• U.S. School Fails Christian Student for Refusing Islamic Prayer
• Six Arab Women Achievers To Know
• First-Ever Dubai Women's Cycling Tour Takes Shape
Compiled by New Age Islam News Bureau
URL: https://www.newageislam.com/islam-women-feminism/afghan-working-women-still-face/d/118651
--------
Afghan Working Women Still Face Perils At Home And Office
MAY 20, 2019
KABUL (Reuters) - Minutes before Mena Mangal, a prominent Afghan journalist and parliamentary adviser, was shot dead by two men in Kabul, she had slammed the door of her parent's home after reminding them to pay the neighborhood shopkeeper 15 Afghanis (20 cents).
"Mena never forgot her duty towards our home and work. After years of struggle she had achieved success and happiness," said Anisa Mangal, Mena's mother, told Reuters, as she sat surrounded by her husband, four daughters, a son, grandchildren at her two-story home in eastern Kabul.. "She did the right things ... worked very hard to become a professional woman."
No-one has been arrested over the broad daylight killing, but police officials said Mangal's family had filed a case against four men, including her ex-husband. "These four people are on the run but the police are trying to arrest them," said Kabul police spokesman Firdaws Faramarz.
Mangal's mother believes it was her dedication to home and career that got her killed. She accuses her daughter's ex-husband of involvement in the murder because Mangal would not give up her job and continued to appear on television.
Reuters was unable to contact Mangal's former husband. Calls to family members went unanswered.
The brazen attack on Mangal has drawn widespread condemnation — including from U.S. officials and Canadian Prime Minister Justin Trudeau — and highlighted what activists say is the continuing plight of Afghan women, who still suffer high levels of sexual and domestic violence and discrimination.
Educated Afghan women, the torchbearer's of a drive to improve women's rights since the overthrow of the Taliban in 2001, say they still face hostility, be it from conservative family members or hardline Islamist groups, for pursuing professional and financial independence.
Earlier this month, for example, the Taliban, launched a deadly attack on the head office of U.S.-funded aid group Counterpart International in Kabul, citing the "intermixing" of women and men working at the site and its promotion of "western activities". https://www.reuters.com/article/us-afghanistan-attacks-women/afghan-working-women-still-face-perils-at-home-and-office-idUSKCN1SQ01D
--------
Two Kot Momin, Pakistan, Girls Say Chinese Husbands Running Brothel
May 20, 2019
SARGODHA: Two girls belonging to Kot Momin have alleged that two Chinese men married them and attempted to smuggle them to China, but they managed to escape after realising that their 'husbands', who claimed to be Muslims, were running a brothel in Lahore on the pretext of a marriage bureau.
Samina and Tasawur Bibi of Kot Momin tehsil, some 50 kilometres from here, told the media that they belonged to poor families and their parents married them off to Chinese men, who assured their parents they will keep the girls in Lahore and arrange business for the families. But, the girls said, they realised that the men were neither Muslim nor honest. They also alleged that the Chinese were running a brothel and using the cover of a marriage bureau in Lahore's DHA Phase I. They said that as soon as they found out the reality, they escaped.
Samina and Tasawur also approached a lawyer for dissolution of marriage and appealed to the Punjab inspector general of police to take action against the culprits.
Some Christian families are also eagerly waiting for any information on their daughters, who were married to Chinese men and later taken to China.
https://www.dawn.com/news/1483347/two-girls-say-chinese-husbands-running-brothel
--------
Kimono-Inspired Hijabs Prove Culture Mashup Hit with Muslim Tourists
May 20, 2019
Colorful kimono-inspired, patterned hijabs are the latest hit with tourists in Kyoto, as fashion-conscious Muslim women look to fully embrace local culture on their Japanese holidays.
Yumeyakata, a kimono rental shop in Kyoto, for example, began making available "wagara" hijabs with traditional Japanese designs in February in response to the increasing number of Muslim tourists looking to complement their rented kimono with a matching head covering.
Shahnaz Daphne, a 25-year-old Indonesian woman who joined the company last year, played a central role in the company developing its hijab product line.
While most hijabs consist of square cloth folded and wrapped around the head, those offered at Yumeyakata are pre-sewn into a three-sided shape, making them easier to wear.
Attention is given to details, such as using a cotton lining, while kimono fabric bearing cherry blossom or chrysanthemum motifs frame the face. The company currently offers a selection of 40 to 50 kinds of wagara hijabs.
"Just like clothes, hijab are an important way to show one's personality," said Shahnaz.
Meanwhile, Yoshiya, a Kyoto cuisine and souvenir shop in the popular Arashiyama tourist area on the ancient capital's outskirts, has been selling wagara hijabs for a few years.
It all started when Sachiyo Tsukuda, the company's 53-year-old vice president, gifted a Muslim friend a handmade hijab. The hijab apparently proved a hit when her friend returned to Indonesia, and people began searching for similar headscarves when in Japan, prompting the company to start selling them.
Winda Suci Pratiwi, a 29-year-old Indonesian staff member at Yoshiya, said, "Matching glamourous hijabs with simple fashion is in the trend right now, and wagara is very popular."
Customers "can enjoy dressing up with the image of Japan in mind," said Tsukuda, who has also built a tatami-floored prayer room at the store as a show of hospitality to her Muslim clientele.
https://english.kyodonews.net/news/2019/05/9f08a0bd46a7-kimono-inspired-hijabs-prove-culture-mashup-hit-with-muslim-tourists.html
--------
Muslim Women Concerned Over Growing Antifeminist Movement
May 14 2019
The rise of a religiously conservative women's movement has raised concerns among a few prominent Muslims who believe that feminist principles do not contradict Islamic values.A relatively new campaign, calling itself the Indonesia Without Feminists movement, has recently been rolled out, promoting illiberal messages to challenge budding feminist thoughts in the predominantly Muslim nation. The movement's members generally promote the belief that feminism is a Western ideal that is not compatible with Islamic values.Renowned feminist Muslims were quick to refute this notion, arguing that Islam is actually a "feminist religion" that endorses gender equality.Muslim intellectual and women's rights activist Musdah Mulia explained in a discussion recently that Islam strongly promoted gender equality as Prophet Muhammad once fought for equal treatment between men and women in the&nbs...
https://www.thejakartapost.com/news/2019/05/14/muslim-women-concerned-over-growing-antifeminist-movement.html
--------
U.S. School Fails Christian Student for Refusing Islamic Prayer
May 20, 2019
The declarations could have been made by an imam in a mosque sermon.
"Most Muslims' faith is stronger than the average Christian."
"Islam at heart is a peaceful religion."
Jihad is a "personal struggle in devotion to Islam, especially involving spiritual discipline."
"To Muslims, Allah is the same God that is worshiped in Christianity and Judaism."
"Men are the managers of the affairs of women" and "Righteous women are therefore obedient."
The problem is that those statements were part of the instruction in a public school in Maryland, and one of the students in the classroom now is asking the U.S. Supreme Court to condemn such religious lessons funded by taxpayers.
The Thomas More Law Center has submitted a petition asking the high court to take up the case of student Caleigh Wood.
"As a Christian and 11th-grader at La Plata High School in Maryland, Caleigh Wood was taught that 'Most Muslims' faith is stronger than the average Christian.' She was also required to profess in writing, the Islamic conversion creed, 'There is no god but Allah, and Muhammad is the messenger of Allah.' Ms. Wood believed that it is a sin to profess by word or in writing, that there is any other god except the Christian God. She stood firm in her Christian beliefs and was punished for it. The school refused her request to opt-out or give her an alternative assignment. She refused to complete her anti-Christian assignment and consequently received a failing grade," the legal team explained Wednesday.
Lower courts have given a free pass to the school district to teach Islam, and so TMLC filed the request with the Supreme Court to decide "whether any legal basis exists to allow public schools to discriminate against Christianity while at the same time promote Islam."
"Under the guise of teaching history or social studies, public schools across America are promoting the religion of Islam in ways that would never be tolerated for Christianity or any other religion," said Richard Thompson, TMLC's president.
"I'm not aware of any school which has forced a Muslim student to write the Lord's Prayer or John 3:16: 'For God so loved the world, that he gave his only begotten Son, that whosoever believeth in him should not perish, but have everlasting life,'" he said.
"Many public schools have become a hot bed of Islamic propaganda. Teaching Islam in schools has gone far beyond a basic history lesson. Prompted by zealous Islamic activism and emboldened by confusing court decisions, schools are now bending over backwards to promote Islam while at the same time denigrate Christianity. We are asking the Supreme Court to provide the necessary legal guidance to resolve the insidious discrimination against Christians in our public schools," he said.
Unresolved include whether or not schools can make preferential statements about one religion over another, and whether students may be required to assert religious beliefs with which they disagree.
And how do those concepts align with "Congress shall make no law respecting an establishment of religion, or prohibiting the free exercise thereof"?
The Charles County public schools and officials are defendants.
The filing explains the lower courts, despite the First Amendment's requirements, "upheld the ability for [the school] to denigrate Petitioner Caleigh Wood's faith and require her to write out statements and prayers contradictory to her own religious beliefs."
The lessons "taught Islamic principles as if they were true facts, while Christian principles were treated as mere beliefs," the filing states.
For example, students were told the "Quran is the word of Allah" but Christians believe the Gospels were revealed to the New Testament writers.
Wood refused to write that the Muslim god is the only god, and was failed for her faith.
The lower courts discounted Wood's religious convictions and gave the school the go-ahead.
But instances of mandatory faith training, such as orders to recount a Muslim prayer in contradiction to the student's own beliefs, conflicts with Supreme Court precedent, the filing said.
WND has reported in just the past few weeks on a legal team that dispatched cease-and-desist letters to several Washington state school districts that were promoting Islam through a Ramadan policy of giving Muslim students special privileges.
One district ordered employees to greet Muslim students in Arabic.
But in recent months the resistance to Islam indoctrination has been growing.
One group that has fought it, the Freedom of Conscience Defense Fund, regularly has opposed Islamic teachings in public schools.
'The true faith, Islam'
Among the cases that have developed:
In May 2017, in Groesbeck, Texas, a couple moved their sixth-grade daughter to a new school after they discovered her history homework assignment on Islam.
In late March 2017, as WND reported, a middle school in Chatham, New Jersey, was using a cartoon video to teach the Five Pillars of Islam to seventh-grade students, prompting two parents to obtain legal services to fight the school district, which has ignored their concerns.
Teaching the five pillars of Islam also created an uproar in Summerville, South Carolina, and in Loganville, Georgia, last year.
WND also reported in March 2017 a high school in Frisco, Texas, set up an Islamic prayer room specifically for Muslim students to pray on campus during school hours. The same type of prayer rooms have been set up in high schools in St. Cloud, Minnesota, and other school districts.
In 2015, parents in Tennessee asked the governor, legislature and state education department to investigate pro-Islam bias in textbooks and other materials.
WND reported in 2012 ACT for America conducted an analysis of 38 textbooks used in the sixth through 12th grades in public schools and found that since the 1990s, discussions of Islam are taking up more and more pages, while the space devoted to Judaism and Christianity has simultaneously decreased.
In 2009, Gilbert T. Sewall, director of the American Textbook Council, a group that reviews history books, told Fox News the texts were "whitewashing" Islamic extremism and key subjects such as jihad, Islamic law and the status of women.
Also in 2009, WND reported the middle school textbook "History Alive! The Medieval World and Beyond," published by Teachers' Curriculum Institute, said an Islamic "jihad" is an effort by Muslims to convince "others to take up worthy causes, such as funding medical research."
In 2006, WND reported a school in Oregon taught Islam by having students study and learn Muslim prayers and dress as Muslims.
WND reported in 2003 a prominent Muslim leader who eventually was convicted on terror-related charges helped write the "Religious Expression in Public Schools" guidelines issued by President Bill Clinton.
In 2001, shortly after the 9/11 attacks, seventh graders in Byron, California, were taught a three-week course on Islam that required them to learn 25 Islamic terms, 20 proverbs, Islam's Five Pillars of Faith, 10 key Islamic prophets and disciples, recite from the Quran, wear a robe during class, adopt a Muslim name and stage their own "holy war" in a dice game.
Parents went to court to uphold their right to reject the class for their children, but a federal judge ruled against them, and in 2006, the U.S. Supreme Court refused to consider their appeal.
https://www.wnd.com/2019/05/u-s-school-fails-student-for-refusing-to-recite-islamic-prayer/
--------
Six Arab Women Achievers To Know
March 07, 2019
Jumana Al Tamimi
Across Arab countries, there are myriad stories of successful women in different fields. Some are already known regionally and internationally, while some others are following suit to become under the spotlight.
With the world celebrating International Women's Day on March 8, Gulf News tabloid! puts together stories of Arab women, young and old, who have achieved great heights in the creative field. These women feel hopeful of more accomplishments for themselves and their compatriots in the Arab region.
1. Aysha Al Hemrani (UAE)
A rising star in arts and in serving her community and country, Aysha Ak Hemrani was born in 1991 in Ajman.
The young Emirati artist is well-known for her caricature drawings posted on social media, especially on Instagram under the name of 'Mnawrah' since 2006.
Using social media deepened her passion to art and drawings, said Al Hemrani in an interview published few years earlier. She has 17.7 thousands followers on her Instagram account.
"These applications offered me the opportunity to show my work and communicate with people. And when people expressed their admiration to my artistic work and offer encouragement, my desire to develop my skills and zeal grows further," she was quoted as saying. Her talent in drawing appeared at a very young age, she said.
"I will use my talent in helping my society and show the Emirati identity. Because using this identity in an effective manner will boost the image of our society, as an Arab, Gulf and an Emirati society," she said.
Today, Al Hemrani is known among many Emiratis of the cause she is using her skills in. She sells bags and purses with drawings inspired by the heritage of the UAE. Those products are assembled by a group of students at the Ajman Rehabilitation Centre for Disabled.
Hemrani obtained her degree in communications and media from Zayed University.
2. Annemarie Jacir (Palestine)
A Palestinian producer, writer and poet, Annemarie Jacir needs little introduction having won international recognition for her work.
Born in the West Bank city of Bethlehem in 1974, Jacir has been working in independent cinema since 1998, and her name was included in the lists of the 25 new faces of Independent cinema filmmakers.
When her movie 'Wajb' (which literally means duty in Arabic) was shown in Cannes Film Festival last year, it left the festival with the Arab Cinema Centre Critics' Awards. It also received awards for best film, best actor and best screenplay. This was after the same film was awarded the Muhr awards for best film and best actor at the 2017 Dubai International Film Festival, and the best film award at the Kerala International Film Festival in the same year.
An alumna of the Columbia University in New York, Jacir also produced several other films. Her short film, 'like twenty impossibles', produced in 2003, was the first Arab short film to ever be an official selection of the Cannes International Film Festival and went on to be a Student Academy Awards Finalist, and won later more than 15 awards at international festivals.
Jacir taught courses at the Columbia University and in both West Bank universities of Bethlehem and Birzeit as well as in refugee camps in Palestine and Lebanon.
3. Iman Al Dabbagh (Saudi Arabia)
A Saudi woman who captured the lives of people in Saudi Arabia with her lenses, and did it very in a very smart manner.
"Her pictures are not necessarily pretty, but they are true depictions of people's lives one story at a time," wrote one Saudi newspaper on Al Dabbagh.
Her passion for photography and clear respect for the subjects in the centre of her lens paved the way to build a level of trust with people, which enabled her to come closer to their lives and capture some moments in a way that any other visitor couldn't, the press report said.
The turning point in Al Dabbagh's photography, from a hobby to a more professional one, happened in 2006, when she met French photographer Alexandra Boulat, who encouraged her to go back to Saudi Arabia, a country that was not open for many.
After graduation, she took a job at a commercial print production for two years, but resigned afterwards, and decided to get professional advice on photography.
Between the years 2007-2010, AL Dabbagh participated in workshops. It was then when she realised that she had a particular passion for raw imagery, and this is what she became known for.
4. Joumana Haddad (Lebanon)
A powerful Lebanese author, a public speaker, a journalist and a women's rights activist. The 49-year-old Haddad is also a mother of two sons: 26 and 19 years old.
She grew up in Beirut during the darkest days of the Lebanese civil war in the 70s and 80s. However, dreaming and planning for the future proved to be the best support to survive tough days, she said in an interview last year.
"Even if the present is completely dark and calling for desperation, dreaming big, planning well and educating yourself will ultimately give you a better tomorrow," she said.
Today, Haddad encourages young women to continue to be "thirsty for knowledge", saying reading books at a very young age helped made her the person she is today.
Haddad was chosen in October 2009 as one of the 39 most interesting Arab writers under the age of 39.
After publishing several poetry books, she released her book 'The Seamstress' Daughter' in late 2018.
5. Ahdaf Soueif (Egypt)
A novelist with a long impressive list of publications and achievements.
Born in Cairo in 1950, Soueif received her education in both Egypt and English, where she obtained her Ph.D. from the University of Lancaster. She lives in both Cairo and London.
She wrote two collections of short stories: Aisha, which was published in 1983 and Sandpiper in 1996. She also wrote two novels; 'In the Eye of the Sun' and 'The Map of Love', the latter was shortlisted for the Booker Prize for Fiction.
In 2004, she published her book of essays, 'Mezzaterra', and in 2012, she published 'My City, Our Revolution', which is a personal account of the 2011 Egyptian Revolution.
Soueif is a political commentator on Egyptian and Palestinian issues. She is the founder of the Palestine Festival of Literature, Pal Fest.
She is a member of several societies, committees and organisations, including the international Prize for Arab Fiction, and the Edward Said Annual Lecture, and the Royal Society of Literature, all of which are based in the UK.
6. Sara Jadallah (Sudan)
First Sudanese woman to work in the Cinema and TV production, an extra achiever and a grandmother.
Born in Khartoum in 1956, Jaddallah suffered from polio at the age of two.
But her illness didn't stop her from becoming a swimmer, after her family was advised to teach her swimming as physical therapy.
At the age of eight, she won her country's championship, and at the age of 14, she represented Sudan in competitions abroad.
Jadallah, who is the daughter of late prominent filmmaker Jaddallah Jubarah, travelled to Cairo to study film production and became later the first Sudanese women to work in the field.
In one of her interviews, she praised her father and his encouragement saying her success came because she is his daughter.
"It is very important to have somebody next to you who makes you optimistic. Until today, I live through the strength he gave me", she said in an interview published in 2015.
Jadallah, with a little help from German experts, has started digitising her father's entire film collection.
Her father's career spanned for more than five decades in which nearly 100 documentaries and four feature films were produced.
https://gulfnews.com/entertainment/arts-culture/six-arab-women-achievers-to-know-1.62507895
--------
First-Ever Dubai Women's Cycling Tour Takes Shape
May 19, 2019
Dubai: The face of women's cycling is headed for a total transformation with the scheduled organisation of the first-ever Dubai Women's Tour at the end of the year.
A part of the UCI's Asia Tour, the inaugural edition of the four-stage cycling race was confirmed by Noura Al Jasmi, Board Member and Member of the Higher Organising Committee of the Dubai Women's Tour that is scheduled to be held from December 11-14.
"Everything is slowly falling in place for the first-ever tour for women in the region and we are more excited as our national team cyclists will get an experience of a lifetime competing against the best from across the globe," Al Jasmi told Gulf News on the sidelines of the NAS Ramadan Sports Tournament, late on Saturday.
To be held over four days, the first stage called the 'Burj Al Arab Stage' (90km), followed by the Burj Khalifa Stage (93km), the Dubai Frame Stage (110km) and the Dubai Expo 2020 Stage (115km) for a total distance of 408km in and around the emirate.
Joining the UAE national team will be top international invited sides such as Astana, Canyon-Sram Racing (Germany), Team Tibco-SVB (US), Cogeas-Mettler Pro Cycling (Switzerland), Doltcini-Van Eyck Sport (Belgium), China Liv Pro Cycling (China), Moviestar Women (Netherlands), Parkhotel Valkenburg (Spain) and FDJ Nouvelle Aquitaine (France), among others.
"This tour is a historical event and we didn't want to leave anything to chance, and that's the reason why we have deliberately invited some of the best teams from around the world for our inaugural competition," Al Jasmi said.
"Our final aim is the development of our young national squad, who will eventually be in a position to compete at the highest level."
To be held under the patronage of Shaikha Hind Maktoum Bin Juma Al Maktoum, the UCI-sanctioned event will see riders compete for the overall leader's jersey (yellow), the best sprinter jersey (green), the best climber jersey (polka dot) and the young leader jersey (white).
"Under the wise leadership of our president Osama Al Shafar we have made enough progress to not only organise a race of this stature but also ensure we have a strong participation. We have a pool of eight cyclists at the moment and the final six to make up the UAE squad will be announced shortly," Al Jasmi added.
"Everyone from the federation and the cycling fraternity is excited to have such a high-level event in Dubai in the near future. I am convinced that this tour will have a far bigger impact on women's cycling, not just in the UAE but in the Gulf and Arab regions as well."
https://gulfnews.com/sport/uae-sport/first-ever-dubai-womens-cycling-tour-takes-shape-1.64049907
--------
URL: https://www.newageislam.com/islam-women-feminism/afghan-working-women-still-face/d/118651
New Age Islam, Islam Online, Islamic Website, African Muslim News, Arab World News, South Asia News, Indian Muslim News, World Muslim News, Women in Islam, Islamic Feminism, Arab Women, Women In Arab, Islamophobia in America, Muslim Women in West, Islam Women and Feminism