New Age Islam News Bureau
25 December 2020
• 26 Muslim Women Featured In the BBC's 100 Women List
• Detention Centres In UAE Mass Graves For Female Inmates, Right Organization Warns
• Germany: Police Cuff Muslim Woman for Not Wearing Mask
• Singapore President Hails Saudi Initiatives to Empower Women
Compiled by New Age Islam News Bureau
URL: https://www.newageislam.com/islam-women-feminism/afghan-women-rights-activist-freshta/d/123879
--------
Afghan Women's Rights Activist Freshta Kohistani Assassinated
25th December 2020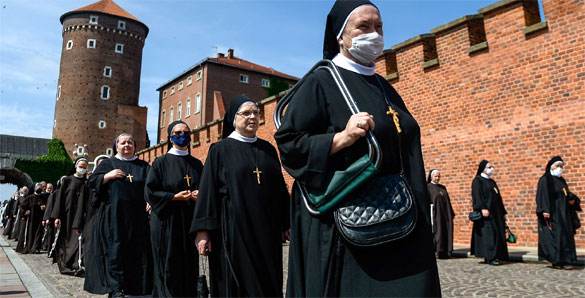 Afghan women's rights activist Freshta Kohistani — Picture courtesy of facebook.com/Freshta-Kohistani
-----
KABUL: An Afghan women's rights activist was shot and killed by unknown gunmen in northern Kapisa province Thursday, an Interior Ministry official said.
Tariq Arian, a spokesman for the Interior Ministry, said Freshta Kohistani was assassinated by unknown gunmen in the Kohistan district of Kapisa. Kohistani's brother was wounded in the attack, he said.
Kohistani, a former provincial council member, organized protests and raised awareness on social media about violence against women in Afghanistan.
The attack was the latest amid relentless violence in Afghanistan even as Taliban and Afghan government negotiators hold talks in Qatar, trying to hammer out a peace deal that could put an end to decades of war.
No one immediately claimed responsibility for Thursday's attack, but the Islamic State group has claimed responsibility for multiple attacks in Kabul in recent months, including on educational institutions that killed 50 people, most of them students.
Violence in Afghanistan has spiked even during Taliban and Afghan government peace negotiations, which began in September. The talks, after some recent procedural progress, have been suspended until early January and there is speculation the resumption could be further delayed.
At the same time, Taliban militants have waged bitter battles against IS fighters, particularly in eastern Afghanistan, while continuing their insurgency against government forces and keeping their promise not to attack U.S. and NATO troops.
https://www.newindianexpress.com/world/2020/dec/25/afghan-womens-rights-activist-freshta-kohistani-shot-dead-2240786.html
--------
26 Muslim Women Featured In the BBC's 100 Women List
25th Dec 2020
Elham Asaad Buaras
Twenty-six Muslim women from 20 countries are featured in the BBC's 100 Women List of the most inspiring and influential women from around the world.
This year's list includes Hollywood actress and climate activist Jane Fonda and Sanna Marin, who leads Finland's all-female coalition government. The first space on its list, titled Unsung Hero, is left vacant in memory of 'those who have lost their lives while making a difference.'
Among the Muslim women recognised is an award-winning film-maker, a robotics team leader, a geneticist, a poet, several women's rights and peace activists as well as a chair of a space agency.
One of several African women to make the list is Nigerian civil rights activist and co-convener of #BringBackOurGirls movement, Aisha Yesufu. Yesufu has also been at the forefront of the #EndSARS movement, a campaign that gained traction on social media globally against the excesses of a deadly police unit called the Special Anti-Robbery Squad.
Numerous policymakers have also been acknowledged; among them the UAE's Minister for Advanced Technologies and current chair of the country's Space Agency Sarah Al-Amiri. She was previously science lead and deputy project manager for the Emirates Mars Mission, which is set to be the first interplanetary venture of any Arab nation. The orbiter, known as Hope (or Amal in Arabic), is expected to land on the red planet in February 2021 and collect data on, for example, its climate and weather.
At 82, India's Bilkis Bano is the oldest woman on the list. The protest leader was part of a group of women who peacefully protested against a controversial citizenship law, which discriminates against Muslims. She became the face of a long-running protest at the capital's Shaheen Bagh, the Muslim area where the protests were held. Indian journalist and author Rana Ayyub described her as "the voice of the marginalised."
Bilkis is quoted as saying: "Women should feel empowered to step out of their homes and raise their voice, especially against injustice. If they don't leave their homes, how will they showcase their strength?" Her fight against the Citizenship Amendment Act had already led to her being included in Time magazine's 100 Most Influential People in September.
In contrast, 17-year-old environmental campaigner, Salsabila Khairunnisa, is the youngest woman on the prestigious list. The Indonesian student from Jakarta is recognised for leading a school strike every Friday against deforestation in front of the office of the Ministry of Environment and Forestry.
Khairunnisa is not the only teenager to score inclusion; she is joined by 18-year-old Somaya Faruqi who made headlines earlier this year when she led an all-female Afghan robotics team in designing low-cost ventilators to treat coronavirus patients.
The seven-woman "Afghan Dreamers" team took four months to finalise the design of the ventilator, which is partially based on an MIT design, and they received guidance from experts at Harvard University. The device is easy to carry and can run on battery power for 10 hours and costs $700 to produce, compared with the $20,000 price of a traditional ventilator, and the team's design could provide much-needed and affordable support to medical professionals.
The arts and media world is also represented in the list in the form of Syrian film-maker, activist and journalist Waad al-Kateab. The award-winning film-maker has received numerous accolades, including an Emmy for her news reports in Aleppo. This year her first feature documentary, For Sama, bagged a Bafta win and an Oscar nomination.
Other Muslim women featured
Afghanistan: Women rights activist Laleh Osmany was unhappy with the omission of women's names from official documents in Afghanistan. Osmany started the WhereIsMyName campaign. After a three-year fight, in 2020 the Afghan government agreed to allow mothers to have their names printed on their children's national identity cards.
Bangladesh: Women rights activist Rina Akter and her team of helpers have served around 400 meals a week to sex workers in Dhaka who have found themselves without clients and are thus struggling to feed themselves.
Bangladesh: Teacher Rima Sultana is a member of Young Women Leaders for Peace in Cox's Bazar. This programme, part of the Global Network of Women Peacebuilders, aims to empower young women from conflict-affected countries to be leaders and agents of peace.
Egypt: Campaigner Nadeen Ashraf is a philosophy student who believes in social media as a tool for change. She is passionate about spreading knowledge in a way that's accessible to the general population.
Exiled Uyghur from Ghulja: Writer Muyesser Abdul'ehed Hendan began making a name for herself as a poet and essayist while studying medicine. By the time she completed her master's degree in public health, she had resolved to focus on writing.
France: Writer/illustrator Nadine Kaadan is an award-winning children's book author and illustrator from Syria. She has published in several countries and languages. Her mission is to champion empowered and inclusive representation in children's books so that every child can see themselves in a story.
Indonesia: Activist Febfi Setyawati is the founder of Untukteman.id, an organisation that helps vulnerable people – especially ill people with financial difficulties and those affected by Covid-19.
Iran: Computational geneticist Pardis Sabeti is a professor at Harvard University, the Broad Institute of MIT and Harvard, and the Howard Hughes Medical Institute. She has contributed to human and microbial genomics, information theory, and rural infectious disease surveillance and education efforts in West Africa.
Iran: Human rights activist Nasrin Sotoudeh is a lawyer advocating for the rule of law and the rights of political prisoners, opposition activists, women and children in Iran. She is on temporary-leave from a lengthy prison sentence for standing up against the country's justice system.
Iraq/UK: Public health expert Nisreen Alwan is a public health doctor and academic in the UK who researches the health and wellbeing of women and children, focusing on pregnancy.
Kyrgyzstan: Disability activist Gulnaz Zhuzbaeva, founder of the Kyrgyz Federation of the Blind has been working tirelessly to make many important government documents available in Braille and improve access to those with visual impairment.
Lebanon: Activist Hayat Mirshad is co-founder of Fe-Male, a pioneer feminist collective. Unapologetic and uncompromising, her mission is to ensure girls and women have access to justice, information, protection and human rights.
Morocco: Rapper Houda Abouz known for her unique style and lyrical songs. She stands up for women's rights and gender equality in a male-dominated industry; she considers her music a tool for change.
Pakistan: Actor Mahira Khan is outspoken against sexual violence, refuses to endorse skin-lightening creams and supports the fight against racism. She wants to tackle social issues in her native Pakistan by changing the narrative in films and on TV.
Pakistan: Global health leader Dr Sania Nishtar is a leader in global health and sustainable development. Since 2018, she has been spearheading the transformative Ehsaas Poverty Alleviation programme, which has improved the livelihoods of millions by providing mobile banking and savings accounts, and other basic resources.
Somalia: Peace activist Ilwad Elman is a young female leader at the forefront of the Somali peace process and a global authority on ending the conflict.
Somaliland: Educator Ubah Ali is a co-founder of Solace for Somaliland Girls, a foundation committed to eradicating all forms of female genital mutilation across communities in Somaliland, through education and empowerment.
Syria: Plant virologist Dr Safaa Kumari looks for solutions to epidemics that destroy crops. After discovering seeds that could safeguard food security in Syria, she risked her life to rescue them from Aleppo.
Turkey: Social justice activist Gülsüm Kav is a doctor, academic and co-founder of We Will Stop Femicide. Over the past year, high femicide rates and parliamentary debates over whether to repeal the Istanbul Convention (a legal framework designed to protect victims of domestic violence) have drawn widespread criticism in Turkey.
Yemen: Microgrid manager Iman Ghaleb Al-Hamli manages a group of 10 women who set up a solar microgrid, offering clean and low-impact energy, just 20 miles from the front line of the devastating Yemeni civil war.
http://muslimnews.co.uk/newspaper/home-news/26-muslim-women-featured-bbcs-100-women-list/
--------
Detention Centres In UAE Mass Graves For Female Inmates, Right Organization Warns
24 December 2020
An international human rights group has warned about the appalling condition of women being held behind bars across the United Arab Emirates, describing detention centers in the Persian Gulf country as "mass graves" for female detainees.
The Arab Organization for Human Rights in the UK (AOHR UK), in a series of posts published on its official Twitter page, stated that inmates suffer from "extremely poor conditions of detention that pose a grave danger to their lives."
The organization described the UAE prisons as "mass graves in which female detainees are subjected to slow and systematic killing at the hands of security authorities, who are proficient in mental and physical torture."
According to testimonies of the women, Emirati security forces enjoy harassing them as sick detainees fight their illnesses without any medical care.
The AOHR UK said the UAE is holding hundreds of detainees inside its prisons.
It cited the case of Alia Abdel Nour, a cancer-stricken Emirati woman imprisoned on terrorism charges for raising money online for Syrian refugees, stating that she died on May 4 last year as UAE forces denied her adequate medical care and mistreated her for more than three years.
The organization added that such examples are "conclusive evidence of the extent of a decline in human rights conditions in the UAE," highlighting that female detainees in the country are forced to sign papers without reading their contents that include unsubstantiated accusations.
It launched a campaign under the Arabic hashtags "We will not forget" and "Female inmates in the UAE" to express solitary with the detainees and demand their release.
The organization called on all media outlets, journalists, politicians, jurists, civil society institutions and human rights advocates to join the initiative.
International organizations have on occasions criticized UAE authorities for arresting, torturing and forcibly disappearing dissidents, as well as suppressing any voice denouncing the Abu Dhabi regime's behavior at domestic and regional levels.
They have also condemned the harassment suffered by human rights activists in the country, and obstruction of their work to investigate the situation on the ground.
https://www.presstv.com/Detail/2020/12/24/641440/Detention-centers-in-UAE-are-mass-graves-for-female-inmates-right-organization-warns
--------
Germany: Police cuff Muslim woman for not wearing mask
Mesut Zeyrek
24.12.2020
COLOGNE, Germany
Police in a Western German city handcuffed a woman in a Muslim headscarf in front of her toddler and put her on the ground for not wearing a mask, as seen in video that recently went viral.
According to the video taken by eyewitnesses in the city of Wuppertal, there were seven police officers outside of the building the woman left after visiting the dentist.
The video shows two police officers handcuffing the woman in front of her toddler, putting her on the ground, and pressing on her body while she screams for help.
When police tried to stop bystanders from filming, one said: "You have no right to stop me from shooting this video. The phone is mine. I can give my lawyer's number."
Police leave amid backlash
The video also shows a staffer from the dentist's office seeing the scene while leaving the office, saying that what the police are doing is a crime.
As bystanders in the video make their opposition to the scene clear, the police remove the woman's handcuffs and release her and leave as if nothing happened.
German convert to Islam
According to information obtained by Anadolu Agency, the woman seen handcuffed in the video was born in Germany and converted to Islam.
The woman, evidently shocked by the incident, is reportedly set to file a criminal complaint against the police.
https://www.aa.com.tr/en/europe/germany-police-cuff-muslim-woman-for-not-wearing-mask/2087838
--------
Singapore president hails Saudi initiatives to empower women
December 24, 2020
RIYADH — Singapore's President Halima Yaqoub extended her country's support for the transformation plans under Saudi Arabia's Vision 2030 and hailed the Kingdom's bold initiatives for the empowerment of women. She expressed hope that Custodian of the Two Holy Mosques King Salman and Crown Prince Muhammad Bin Salman would visit Singapore soon.
In an interview with the magazine of the Saudi Embassy in Singapore, Halima emphasized the commitment of the two countries to strengthen and deepen their bilateral relations and continue to support and facilitate cooperation between the people and business sectors of the two countries.
She noted that her first state visit to the Kingdom in November 2019, in response to an invitation from King Salman, was a milestone that shed light on the warm, long, and diverse relations between the two countries. "It was also a strong indication of our commitment to further bolstering bilateral relations," she said.
Halima stated that during the visit, she had an excellent exchange of ideas with King Salman on how to deepen bilateral cooperation, including two concrete proposals calling for the establishment of a joint committee at the ministerial level for economic cooperation, and to revitalize the Saudi Singapore Business Council.
She explained that the Kingdom and Singapore have enjoyed regular exchanges between the two governments since the establishment of diplomatic relations in 1977, and frequent exchanges at the people-to-people level even before that date. Considering that her visit to the Kingdom last year was an important milestone to revive what has been accomplished so far, she expressed confidence that more reciprocal visits will follow over the coming years, especially since the international community is working together to combat COVID-19.
Halima expressed her happiness at the progress made at the Saudi Singapore Joint Committee, which was proposed by King Salman during their joint meeting, noting that business associations in her country look forward to revitalizing the Saudi Singapore Business Council as soon as the situation permits. She stressed that the governments of the two countries will continue to support and facilitate cooperation between the people and their companies, especially at a time when they overcome the COVID-19 pandemic.
She emphasized that apart from the transport and logistics sector, Singapore companies are also keen to explore more opportunities in the Kingdom, in areas such as tourism, digital solutions, education, and oil and gas sectors, in addition to looking forward to more such partnerships in the future.
The president welcomed Saudi companies interested in establishing their business in Singapore to communicate with the Economic Development Board in Singapore and Enterprise Singapore, which has an office in Riyadh, that can put companies in contact with the relevant agencies to start the process of establishing businesses.
Halima said that Singapore had the honor to receive an invitation for her to attend the G20 summit in Riyadh, which was held virtually due to the pandemic. She thanked King Salman for the invitation, stressing that just as Singapore did in the previous G20 summits to which she was invited, she worked closely with the Kingdom to achieve a successful outcome at the G20 summit.
This included helping to foster stronger engagement between the G20 and the Global Governance Group (G3), which Singapore chairs, as well as with more United Nations members. She commended the Kingdom's efforts — during its presidency of the summit — to reach members from outside the G20, and thus creating an impression that it is a comprehensive group representing international concerns and perspectives.
Halima said: "With regard to Singapore, the COVID-19 pandemic has made the slogan of G20 under the Saudi presidency "Seizing the opportunities of the twenty-first century for all" more relevant. As the international community grapples with the impact of the COVID-19 pandemic, international cooperation has become more important than ever before, and Singapore commends Saudi Arabia for its leadership role in mobilizing international efforts to face the challenges posed by the epidemic, which included holding the virtual summit of G20 leaders in March 2020, and commended the Kingdom for ensuring the important work of the G20 through virtual meetings, as travel is still not possible during this period."
Apart from the urgent priority of addressing the health and safety consequences of COVID-19, Halima stressed that it was important for the G20, as the premier international economic forum, to send a strong message of support for the rules-based multilateral order as well as global trade.
In the interview, the president also touched on the Kingdom's initiatives and opportunities for empowering women. "For Singapore, empowering women and supporting them in the pursuit of their dreams and aspirations is crucial to the country's success," she said while expressing at the same time her happiness to see Saudi women keen to work and contribute to the success of their country, and easily assume jobs in all levels of society, including the government.
For this, she cited the example of Princess Reema Bint Bandar, the ambassador of Saudi Arabia to the United States, who is also the first Saudi woman to be elected as a member of the International Olympic Committee. The president also expressed happiness over the fact that one of the officials who coordinated and facilitated her visit to the Kingdom in 2019 was an able young woman.
Halima observed that during her visit to Riyadh last year, she was pleased to visit the King Abdulaziz Historical Center, saying that the visit provided her with a detailed practical view of the Kingdom's development. "In view of its rich history and cultural diversity, Saudi Arabia is an archaeologist's dream come true. I look forward to more work being done to showcase the rich and beautiful history of the Kingdom and its people over the coming years," she added.
https://saudigazette.com.sa/article/601805/SAUDI-ARABIA/Singapore-president-hails-Saudi-initiatives-to-empower-women
--------
URL: https://www.newageislam.com/islam-women-feminism/afghan-women-rights-activist-freshta/d/123879
New Age Islam, Islam Online, Islamic Website, African Muslim News, Arab World News, South Asia News, Indian Muslim News, World Muslim News, Women in Islam, Islamic Feminism, Arab Women, Women In Arab, Islamophobia in America, Muslim Women in West, Islam Women and Feminism