New Age Islam News Bureau
11 March 2021
• Afghan-Based Rights Group Condemns Ban on Afghan Schoolgirls Singing In Public
• With No Peace in Sight, Afghan Women Are Losing Hope for Change
• 13-Year-Old Hindu Girl Forcibly Converted and Married to Abductor in Pakistan's Sindh
• Iran: Women and Girls Treated As Second Class Citizens, Reforms Urgently Needed, Says UN Expert
• Mandela's Granddaughter Likens Iran's Oppression of Women to Apartheid South Africa
• Lebanese Artist Nourie Flayhan Partners With US Fashion Label In Celebration Of Women
• Meet the Iraqi Para-Athlete Inspiring Confidence in Women Everywhere
• Female Saudi Rally Competitors Set Their Sights on Dakar Rally 2022 In Jeddah
• Women Are Better Drivers than Men, UAE Survey Says
Compiled by New Age Islam News Bureau
URL: https://www.newageislam.com/islam-women-feminism/afghan-women-leave-journalism-droves/d/124518
--------
Afghan Women Leave Journalism in Droves, Citing Wave of Targeted Killings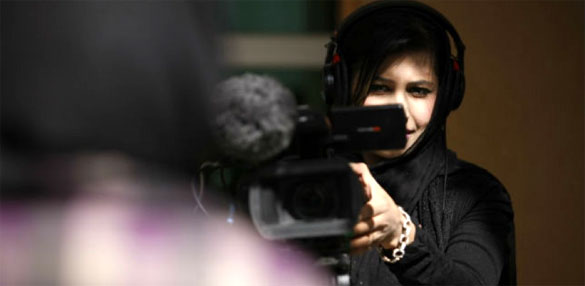 Nearly 20 percent of Afghan women journalists have quit or lost their jobs in the past six months
------
MARCH 08, 2021
'300 women left the industry in recent months, citing wave of targeted killings'
Nearly 20% of Afghan women journalists have quit or lost their jobs in the past six months, a media watchdog group said Monday, as a wave of murders targeting the press has intensified in the war-torn country.
The Afghan Journalists Safety Committee said that more than 300 women had left the industry in recent months, citing the "wave of targeted killings" as one of the main reasons — along with financial difficulties caused by the coronavirus pandemic.
The report comes as the world marks International Women's Day and less than a week after three female media workers from Enikass TV were gunned down by militants in the eastern city of Jalalabad in an attack claimed by the local Islamic State group affiliate.
Another woman working for the station was murdered in December. On Monday, Enikass said it had asked all remaining women staffers to stay home until security improves.
"I love journalism but I also love to live," Nadia Momand, a presenter at Enikass, said.
"I'm not going to go out again unless they send me an armoured vehicle."
"There is no protection for them," said Zalmai Latifi, the broadcaster's director.
"We also decided not to hire any additional women employees," he added.
The watchdog noted in a statement that "Afghanistan is celebrating International Women's Day this year at a time where security threats against journalists and media workers, especially women in the media, have intensified".
Rights crushed
Journalists, religious scholars, activists and judges have all been victims of a recent wave of political assassinations across Afghanistan, forcing many into hiding and some to flee the country.
The killings have been acutely felt by women, whose rights were crushed under Taliban rule from 1996 to 2001 — which included a ban on them working.
Intelligence officials have previously linked the attacks against women to demands at ongoing peace talks in Doha — between the Kabul government and the Taliban — for their rights to be protected.
https://www.thehindu.com/news/international/afghan-women-leave-journalism-in-droves/article34022550.ece
--------
Afghan-Based Rights Group Condemns Ban on Afghan Schoolgirls Singing In Public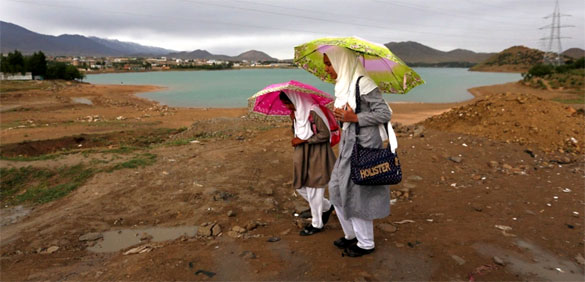 A spokesperson for the Ministry of Education said the decision was made after parents complained that students had too much schoolwork [File: Mohammad Ismail/Reuters]
-----
11 Mar 2021
An Afghan-based rights group has condemned a decision by authorities to ban schoolgirls from singing at public events, saying they should "not promote gender discrimination".
Afghanistan's Ministry of Education said in a letter, leaked to the media on Wednesday, that female students over the age of 12 would no longer be allowed to sing in public ceremonies unless the event in question was all-female. It also said that the female students would not be taught by male music teachers.
"Education, freedom of speech and access to artistic skills are the basic rights of all children, regardless of age or gender. Children, girls and boys can exercise their rights equally and freely within the framework of the law," Afghanistan Independent Human Rights Commission (AIHRC) said in a statement on Twitter.
Najiba Arian, a spokesperson for the Ministry of Education, confirmed the ban to local news outlet TOLONews, saying the decision applies to all 34 provinces of the country.
She added that "the decision was made following complaints by families over the high burden of studies on the shoulders of the students in high school and middle school".
The ministry, however, did not explain why the ban only applied to girls or why all-female events were exempt.
The statement by the AIHRC further said the education ministry should support freedom, equality and protection of children and "not promote gender discrimination".
Schoolchildren in Afghanistan often sing at ceremonies or official events.
Ahmad Naser Sarmast, founder and director of the Afghanistan National Institute of Music also condemned the ban, saying the decision is a "clear violation of national and international legislation and laws in areas of basic human rights, child rights, women's rights, musical rights, and the universal right to freedom of expression".
"The Afghanistan National Institute of Music … openly calls upon supporters and members of the Afghan and international community to join us in solidarity so that young females and women of Afghanistan, in music and in voice, may never be silenced again," he said in a statement on Thursday.
During the Taliban regime between 1996 and 2001, singing and listening to music and writing poems or songs were strictly banned by the armed group.
Since the overthrow of the Taliban in an invasion by US-led forces, Afghan women have gained a number of rights that they are worried will now be eroded as the Afghan government tries to negotiate a peace agreement with the armed group, which has fought the government and foreign forces for 20 years.
Last year, the education ministry faced a backlash for decreeing that students receive all lessons during their first three years of schooling in mosques to help inject an "Islamic spirit" into the students.
The decision was reversed.
https://www.aljazeera.com/news/2021/3/11/rights-group-denounce-ban-on-afghan-schoolgirls-public-singing
--------
With No Peace in Sight, Afghan Women Are Losing Hope For Change
Abubakar Siddique
March 11, 2021
HERAT, Afghanistan -- Jamila Azimi says her hopes of seeing an end to her country's four-decade war are fading a year after the peace agreement between the Taliban and the United States led many to believe that peace in Afghanistan was around the corner.
"All our hopes have been dashed," she told Radio Free Afghanistan while reflecting on how during last year's International Women's Day celebration on March 8 last year in hometown Herat, a city in western Afghanistan, women were brimming with expectations.
"We had just witnessed the signing of a peace agreement and were very hopeful and there was some enthusiasm to celebrate it," she added, alluding to the February 29, 2020, agreement that requires Washington to withdraw troops in return for Taliban counterterrorism guarantees, power-sharing talks with the Afghan government, and discussions on a comprehensive cease-fire.
"But once again, we are in a state of war and crisis," Azimi noted. She vividly remembers life under the hard-line Taliban, which closed schools for girls and severely restricted mobility for Afghan women after overrunning Herat in September 1995.
"I was a fourth grader but had to comply with restrictions imposed on adult women," she said of life under the Taliban. "When I went to the market with my mother, I was constantly stared at and repeatedly threatened. After several trips, my mother stopped taking me outside the house."
Like many Afghan women, Azimi was married off as a teenager and soon became a mother. Today, she feels the Taliban's closure of schools denied her key opportunities in life.
Manizheh Bahareh, another Herat resident, was also deprived of education during the Taliban rule in the late 1990s. But she returned to school soon after the demise of the Taliban regime in late 2001 and never looked back. She now holds a master's degree in sociology from Turkey and represents the educated middle class that has thrived since the fall of the Taliban thanks to international aid and government support for education and women's rights.
Bahareh is also worried about the increasing violence against targeted professional women. She hopes the Afghan government and the Taliban can find a way to reduce violence and preserve the achievements of the past two decades.
"The right to education, employment, key freedoms, and other political and social rights of women are part of our red lines that should not be crossed," she told Radio Free Afghanistan. "We would also like to see more attention to the empowerment and development of women."
While the Afghan government celebrates women's empowerment, education, careers, and rights as its key achievements, the Taliban has offered only vague promises of granting women rights in accordance with Islamic injunctions. The hard-line Islamist movement has no female leaders, and no women work at its political office in Qatar or as field commanders. Likewise, its shadow government in Afghanistan and vast network there and in Pakistan -- where the movement has largely sheltered since being routed from Afghanistan in late 2001 – solely comprises men.
This deeply troubles Afghan women's rights advocates who fear their achievements and rights will be sacrificed for the sake of making peace with the Taliban, whose military machine has made large territorial gains since 2014 but has showed little interest in abandoning its ultraconservative worldview.
Maria Bashir, a lawyer and rights defender in Herat, says she is optimistic about the progress Afghan women have made during the past two decades but peace should not come at the cost of abandoning them.
"If a [new] government is formed hastily and does not take into account half of the Afghanistan's population, it is likely that our achievements will be reversed," she told Radio Free Afghanistan.
Amid a stalemate in peace talks between the Taliban and the Afghan government, Washington now appears to be pushing to jump-start the peace process. But its new alleged peace proposals, outlined in a reported plan distributed to Afghan leaders and an alleged leaked letter by U.S. Secretary of State Antony Blinken to Afghan President Ashraf Ghani, calls for the formation of an interim power-sharing government with the Taliban, a cease-fire, and a conference of Kabul's neighbors and regional powers.
Kabul has strongly opposed the proposals while Western diplomats and independent experts have questioned whether they can really help restore peace in Afghanistan or will serve to further complicate the worsening conditions of a possible U.S. military withdrawal by May 1 as stipulated by Washington's agreement with the Taliban.
Shaharzad Akbar, head of Afghanistan's Independent Human Rights Commission (AIHRC), says sustainable peace in Afghanistan will require that women be heard and given a say in the peace process.
"Everything affects women. The economy, politics, the fate of the political system, the proposed cease-fire, and a reintegration of the insurgents all impact the lives of women," she told a gathering in Kabul on March 8.
One year after the landmark deal, Afghans and women in particular have not seen a respite from violence. In recent months, female journalists, activists, and government workers have become the main target of an insurgent assassination campaign that officials and observers say aims to weaken the media and civil society.
With high-profile diplomatic conferences expected to be held in Turkey and Moscow this month, Afghanistan will be at the center of heightened international diplomacy. The prospects for preserving the rights of Afghan women now loom large over such diplomatic initiatives and the larger peace process aimed at ending the Afghan war.
Abubakar Siddique wrote this story based on reporting by Radio Free Afghanistan correspondents in Herat and Kabul.
https://gandhara.rferl.org/a/afghan-women-fear-losing-rights-taliban-peace-process/31145009.html
--------
13-Year-Old Hindu Girl Forcibly Converted and Married to Abductor in Pakistan's Sindh
Geeta Mohan
March 11, 2021
Another minor Hindu girl has been abducted, forcibly converted and married off in Pakistan.
A 13-year-old Hindu girl named Kavita Bai was allegedly kidnapped by a man of Bahalkani tribe, forcibly converted to Islam by Barelvi cleric Mian Mithoo, and then married off to her abductor.
A video of the conversion ceremony has also gone viral on social media.
The incident took place in the Tangwani Taluka of Kashmore district in Sindh.
According to local media, the girl was kidnapped by five men from her home on March 8. Her father said that five armed men dragged his daughter from their home to a white vehicle and sped away.
An FIR has been filed in the matter.
However, the teenager reportedly appeared before a court on Wednesday and claimed that she was over 18 years old.
After her statement, she was shifted from Kashmore to Ghotki as she alleged that she had married against the wishes of her parents. She has also sought protection from the court.
Despite her claim, the police have filed a case under the Sindh Child Marriage Restraint Act which makes a marriage between an adult and a minor punishable by upto three years of imprisonment
A medical examination is likely to be ordered to determine her real age.
https://www.indiatoday.in/world/story/13-year-old-hindu-girl-forcibly-converted-and-married-to-abductor-in-pakistan-s-sindh-1777947-2021-03-11
--------
Iran: Women and girls treated as second class citizens, reforms urgently needed, says UN expert
March 11, 2021
GENEVA (8 March 2021) – Women and girls continue to be treated as second class citizens in Iran, a UN expert says in a report to the Human Rights Council, citing domestic violence, thousands of marriages of girls aged between 10 and 14 each year and continuing entrenched discrimination in law and practice.
"One of the most concerning issues in Iran today when it comes to the rights of women and girls is the issue of child marriage," Javaid Rehman, the Special Rapporteur on the situation of human rights in the Islamic Republic of Iran, said in the report to be presented to the 47-member body on 9 March.
"The Government and other leaders in the country must raise the marriage age now and introduce further policies and programmes to reduce this practice in the country."
By law, a girl as young as 13 years can marry, while girls even younger can legally marry with judicial and paternal consent. In the first half of the current Iranian calendar year, over 16,000 girls aged between 10 and 14 years have married, according to official Government figures.
"The current legal marriage age is simply unacceptable. It is clear that child marriage is harmful for the development and well-being of girls, including in terms of education, employment and to live free of violence. While I note previous attempts to amend the law, pressure must now be brought to raise the marriage age, in line with Iran's obligations under the Convention on the Rights of the Child," Rehman said.
The report also highlighted serious concerns regarding domestic violence. Some positive steps are noted, such as a law against acid attacks, but the Special Rapporteur pressed the Iranian Government to do more.
"Existing protections against violence are insufficient to comprehensively safeguard women and children. I acknowledge that the anti-violence bill before parliament provides some positive measures, but as my report details, it does not go far enough. I urge for further improvements to the bill before it is enforced and to extend support services for women and children who experience domestic violence," Rehman said.
While finding some progress, such as in education and citizenship rights, his report details how gender discrimination permeates almost all areas of law and practice, treating Iranian women as second-class citizens. He has provided the Government with recommendations to ameliorate these issues, including ratification of the Convention on the Elimination of All Forms of Discrimination Against Women. Iran is one of only a few states not to have signed the Convention.
"Blatant discrimination exists in Iranian law and practice that must change. In several areas of their lives, including in marriage, divorce, employment, and culture, Iranian women are either restricted or need permission from their husbands or paternal guardians, depriving them of their autonomy and human dignity. These constructs are completely unacceptable and must be reformed now," he said.
The Special Rapporteur also called on the Government to implement concrete measures to end the culture of impunity for serious human rights violations and to hold those responsible for violations accountable. Rehman specifically raised the Government's failure to properly investigate the security forces' bloody crackdown on the November 2019 protests, which killed over 300 people. He remained concerned at the high death penalty rate, especially the execution of child offenders, and those executed in relation to protests and freedom of expression, such as Navid Afkari and Ruhollah Zam, as well as reports of the widespread use of torture to extract forced confessions.
Rehman raised his concerns that sanctions have hindered Iran's response to COVID-19. He echoed calls by the Secretary-General and High Commissioner for Human Rights for States to at least ease sanctions in support of the fight against COVID-19. However, the Rapporteur said that the Government's opaque and inadequate Coronavirus response had resulted in excess deaths, including those of medical professionals working without sufficient protective equipment.
He also underlined deep concerns that arbitrarily detained human rights defenders, journalists, labour rights activists, dual and foreign nationals and lawyers continue to be imprisoned despite the COVID-19 risks. State targeting of these individuals for exercising fundamental freedoms also continues, including Yasaman Aryani, Monireh Arabshahi and Mojgan Keshavarz, who are imprisoned for protesting against compulsory veiling laws on International Women's Day 2019, and other women human rights defenders, like Nasrin Sotoudeh, Atena Daemi and Golrokh Iraee.
The Special Rapporteur repeated his dismay at human rights violations perpetrated against Iran's religious, ethnic and sexual minorities. Since his report was finalized, further disturbing incidents against Iran's minorities have emerged, including more than 20 executions of Baluch death row prisoners, the suspicious death of imprisoned Gonabadi Dervish follower Behnam Mahjoubi, excessive use of force against protesters in Sistan and Baluchistan province, the detention of over 100 Kurdish activists, and house raids and land confiscations against members of the Baha'i faith.
The Special Rapporteur is scheduled to present his report to the Human Rights Council in an interactive dialogue on 9 March 2021. The interactive dialogue will be live on UN Web TV. An unofficial Farsi translation of the report is also available.
https://www.ohchr.org/EN/NewsEvents/Pages/DisplayNews.aspx?NewsID=26862&LangID=E
--------
Mandela's granddaughter likens Iran's oppression of women to apartheid South Africa
CHRISTOPHER HAMILL-STEWART
March 08, 2021
LONDON: Nelson Mandela's granddaughter has compared the plight of women in Iran to that of black women living under apartheid in South Africa.
Speaking at an event on Monday hosted by the National Council of Resistance of Iran and attended by Arab News, Zamaswazi Dlamini-Mandela lauded the integral role that women have played for years in opposing the regime and its theocratic dictatorship.
"It's indeed paradoxical to imagine that while the Iranian constitution adopted following the Islamic Revolution in 1979 proclaims equality for men and women under Article 20, the reality is since the revolution, Shariah laws have been used to oppress, subjugate, humiliate, abuse, undermine and strip the women of Iran of their dignity — just like apartheid did to the black women of South Africa," she said.
Dlamini-Mandela, following in her grandfather's footsteps, has become a campaigner for human rights both within South Africa and globally. The plight of Iranian women specifically "is close to my heart," she said.
"More than 150 notable women feminists are languishing in prison (in Iran) simply because they're demanding equal rights for the women in their struggle against apartheid," she added.
"Their sacrifice has contributed to the fight against the regime, but earned them the same brutal treatment as the men received at the hands of the apartheid government, such as 90-day detentions, house arrests and exposure to emotional trauma."
The Iranian regime "finds its toughest enemies amongst women," she said. "I'll speak on behalf of all the women who fought, struggled and suffered to rid South Africa of apartheid: Women of Iran in their fight for freedom, justice and gender equality — thank you."
https://www.arabnews.com/node/1822081/world
--------
Lebanese artist Nourie Flayhan partners with US fashion label in celebration of women
March 09, 2021
DUBAI: Lebanese artist Nourie Flayhan has partnered with Los Angeles-based fashion label House of Aama on a tote bag that honors women in North Africa and southwest Asia.
The bag, which is available on US e-tailer Shopbop, features an illustration of a woman holding a cup of Arabic coffee, fig trees and gold jewelry — things that Arab women are famous for.
As part of the collaboration, 20 percent of proceeds will be donated to TBD, an organization that promotes gender equality and supports women.
The partnership came right in time for International Women's Day.
Flayhan is a well-known advocate of women's rights.
She often draws colorful sketches of women in the region. Most of her illustrations feature multiple hands or eyes.
In 2020, the artist collaborated with Italian luxury label Gucci Beauty for artworks that featured imaginary characters pictured at home.
In an interview with the brand, she spoke about her vision of wanting to change the narrative about being Arab and a woman of color.
"The women of color, the diaspora around me that I grew up and the lack of representation in the media, books and magazines always inspired me. I never saw myself in them, and could never connect," she told Gucci.
She added: "I am using my voice to share the stories that need to be shared about our communities, and create conversation around topics that may seem taboo in our cultures or ones that might be sensitive to talk about among our societies or patriarchal systems that need to end."
https://www.arabnews.com/node/1822591/lifestyle
--------
Meet the Iraqi Para-Athlete Inspiring Confidence in Women Everywhere
March 07, 2021
DUBAI: When Iraqi sports enthusiast Zainab Al-Eqabi was seven years old, a bomb went off near her Baghdad home. Al-Eqabi, now 30, lost one of her legs as a result of the explosion.
"It hasn't been an easy journey," the pharmacist-turned-athlete told Arab News. It was the support of family and friends, as well as her own inner strength, that got her through. And despite the odds stacked against her, Al-Eqabi has taken her athleticism to a new level and has gone on to compete in several sports competitions in the UAE.
However, the 30-year-old admits that she has not always been an athlete — it was not until a doctor recommended that she should start swimming to ease her back pain, which was induced by her prosthetic leg, that she took up sports.
Al-Eqabi says that it "was a turning point" in her life.
"Swimming was not as difficult and scary as I thought at all, and it kind of opened up the doors to other sports," she said. She competed in two triathlons as a cyclist in the UAE, and in 2020 joined the Dubai Fitness Challenge, during which she hauled a 2,000kg Jeep.
On top of an intense training schedule, a full-time job as a pharmacist and giving motivational speeches, Al-Eqabi makes a point of posting inspiring photographs of herself on Instagram — where she has accrued 1.5 million followers — with the aim of breaking stereotypes, combatting prejudices and contributing to a more confident society.
"In the Middle East, there's this stigma on people with special needs or any kind of disability," she said. "When I used to tell people that I have a prosthetic leg, they wouldn't understand. They didn't understand that I have an amputation. So, I decided to create a Facebook page called 'Disabled and Proud' and just started to note down stories from my daily life," she said.
She recalled one instance when a woman confided in her that her disabled son had become more social and confident since he started following Al-Eqabi on social media.
"There are so many people with disabilities who feel shy or embarrassed, or they just choose not to integrate into society. They limit their activity and involvement, just because of what they're going through," she said. "I hated that. So that's what made me start posting on social media."
Naturally, Al-Eqabi was the perfect fit when The Body Shop was searching for regional faces to represent its new Global Self Love Movement campaign, which promotes self-esteem and body positivity.
"I can really relate to this campaign. Self-love is a treasure that we all need to keep developing so that we can have the best relationship with our own self. I'm honestly so proud to be a part of this campaign," she said.
When it comes to her own beauty routine, she follows a diligent skin care regimen because she believes that taking care of our bodies is important. Most days, she goes bare-faced, simply applying moisturizer and sunscreen and using a face mask once a week. On the days that she is not swimming, she will swipe a few coats of mascara on her lashes.
Ultimately though, Al-Eqabi's secret to feeling her best is getting plenty of sleep and exercise. "Working out just makes you really feel good," she said.
Al-Eqabi has had to put many of her plans on hold due to the pandemic. However, she continues to be a beacon of body positivity.
"I want to tell the person with a disability, don't let it stop you, because at the end of the day you need to live your life. It doesn't make sense to be excluded and to go through that by yourself. This is your life. You deserve to live it and enjoy it."
https://www.arabnews.com/node/1821536/lifestyle
--------
Female Saudi Rally Competitors Set Their Sights on Dakar Rally 2022 In Jeddah
ALI KHALED
March 10, 2021
Dania Akeel is fast becoming one of the most recognizable faces in Saudi Arabian motorsports.
The 32-year-old was one of the presenting guests at the 2021 Dakar Rally in Jeddah at the start of the year. In 2022, she will herself be taking part in the world's most famous desert race.
Akeel is today already mixing it with the world's best rally drivers, having taken part in the recent Sharqiyah Baja 2021, the third round of the World Cup for Cross-Country Bajas, under the supervision of FIA and Saudi Arabia Motor Federation (SAMF).
"The Sharqiyah International Baja Toyota Rally is my personal first race," Akeel told Arab News. "It is an incentive for me to participate in the 2022 Dakar Rally and a race that introduces me to the future world of racing."
She has also taken part in the Hail and Northern Region Rally, which is a stage of the International Motorsport Federation's world rally championship.
Initially it was Akeel's talent in riding motorcycles that caught the attention of SAMF, which awarded her a Speed Bikes Competition license.
She was keen to thank SAMF Chairman Prince Khalid bin Sultan and Sports Minister Prince Abdul Aziz bin Turki for the opportunity and for generally supporting Saudi women's progress in motorsports.
After gaining her license, her progress was rapid. Riding a Ducati 899, she went on take part in the UAE National SportsBike Super Series grid against more than 15 racers for five rounds.
Unfortunately for Akeel, who holds a master's degree in international business, an accident in which she suffered several pelvic fractures and an injury to her spine, forced her to put her biking career on hold.
Now she is back and excelling in rally, and having had her big break previously, Akeel is hoping to see more Saudi females embrace car and motorcycle racing, which until recently were a domain exclusive to male drivers.
"I didn't think that it is only a men's sport because we live in an era of empowering Saudi women and all opportunities and fields are available for them to prove their capabilities and competence," she said. "I have not been exposed to any challenges or problems in this regard."
Having competed in the Sharqiyah rally, she is now set to take part in the Abu Dhabi Desert Challenge on Nov. 6-12, 2021, before starting preparation for the Dakar Rally 2022.
Akeel is not alone in raising the profile of Saudi female rally drivers. Also present at the Sharqiyah Baja was Mashael AlObaidan, who started her motorsporting journey as a dirt bike rider.
"I say this message not only to girls but to boys and everyone in the world, every human, if you love something just go for it," she said in a video by Reuters taken at Sharqiyah rally. "If you see obstacles, just push, push, push until you do the things you love, and enjoy life."
AlObaidan last week told Arab News that, as a child, her love of motorsports was sparked by watching women ride motorbikes in Hollywood films. Now she is living the dream herself.
"Adrenaline just rushes in my blood when I race, it is pure happiness," she said. "Saudi Arabia is doing a great job in a lot of sectors, especially motorsports," AlObaidan said. "We have the biggest races and that shows you where we are heading. It is a bright future for the sector and I love it."
Akeel and AlObaidan now have their eyes set on the Dakar Rally 2022, where they will enter as part of a team dubbed the "Sheroes."
In every sense, they are blazing a trail for other Saudi women to follow.
https://www.arabnews.com/node/1823166/sport
--------
Women Are Better Drivers than Men, UAE Survey Says
March 7, 2021
Women don't tailgate as often as men, and speed less.
Women drivers in the UAE cause fewer accidents than their male counterparts; they indicate more; and understand, own and use child seats better, a recent study has revealed.
Data extracted from the UAE Road Safety Monitor, a six-year-long perception and attitude research project, stated that women tailgate less, speed less, and fall less often, but more severely, into road rage.
On the occasion of International Women's Day, celebrated on March 8, RoadSafetyUAE shared these UAE-specific insights and put to rest the age-old argument – which gender drives better?
Thomas Edelmann, founder and managing director of RoadSafetyUAE, said: "Women drivers often don't receive the due appreciation for their driving behaviour. Gender prejudice still seems to play a role; however, an overall, more careful attitude can be observed while analysing the behaviour of UAE lady drivers in most of the critical dimensions of safe driving."
However, Edelmann also said women drivers could improve, especially regarding time management, and to a lesser extent, seat-belt use, road rage, and mobile phone use.
Accidents and tailgating
Women drivers were less involved in road accidents than men in 2020. Last year, survey data showed a 4 per cent drop in women meeting with accidents over six months. Only 21 per cent of women responded 'yes', compared to 26 per cent of the male respondents.
"Over the last six years, we have witnessed significantly lower levels for women, with a maximum of eight per cent-points difference between female and male UAE drivers," said Edelmann.
About 67 per cent female drivers 'never' tailgate, as compared to men (56 per cent). 'Running late' is the main reason for ladies to tailgate, and they also get very nervous while they are being tailgated, Edelmann added.
Indicator use and road rage
A total of 71 per cent of the women use their indicators when changing lanes, taking an exit, merging onto a highway and turning at a junction; compared to 65 per cent of men.
"We always must use our indicators, as lane swerving remains the number one cause of death on UAE's roads and as this act of reckless driving goes hand in hand with the non-use of indicating," he explained. Also, women are less prone to road rage than males.
Seat belt usage and attitude
A total of 94 per cent of women drivers better understand the importance of using seat belts on the front seat than men (91 per cent). However, fewer lady drivers 'always' use their seat belts versus men (women 70 per cent, men 72 per cent) even though the law mandates seat belts.
Mobile phone usage and speeding
More women drivers (36 per cent) 'never' use their mobile phones versus 23 per cent of their male counterparts. However, when they use them, by far the leading cause for accidents is incoming calls (women: 78 per cent, men 73 per cent).
"As the police have said, women drivers seem to be more prone to be distracted while driving. We must stop the use of mobile phones while driving," advised Edelmann.
Also, less ladies received speeding fines than males.
Key findings
> 79 per cent of women own proper child restraint systems compared to 75 per cent of men.
> 84 per cent of females use child restraint systems more often than men (70 per cent)
> 12 per cent of women are less confused about which child seat is the correct one for their children than 34 per cent of the men.
> 19 per cent of women think less that child seats are too expensive than 26 per cent men.
> 7 per cent of the women respondents think less it is less safe to keep children on laps of adults while 26 per cent of the men think it is safe to keep kids on their laps in cars.
> 7 per cent of women are much more realistic than men when it comes to the statement 'no child seats are needed, as I am a safe driver' compared to men (25 per cent).
https://www.khaleejtimes.com/news/women-are-better-drivers-than-men-uae-survey-says
--------
URL: https://www.newageislam.com/islam-women-feminism/afghan-women-leave-journalism-droves/d/124518
New Age Islam, Islam Online, Islamic Website, African Muslim News, Arab World News, South Asia News, Indian Muslim News, World Muslim News, Women in Islam, Islamic Feminism, Arab Women, Women In Arab, Islamophobia in America, Muslim Women in West, Islam Women and Feminism