New Age Islam News Bureau
29 Jul 2017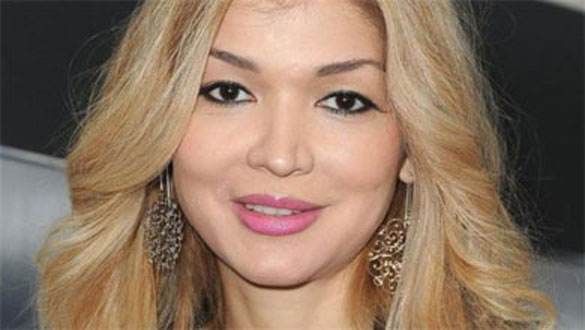 Gulnara Karimova, the elder daughter of late Uzbek ex-president Islam Karimov
----
• Afghan Women Launch Social Media Campaign To Fight for Their Identities
• Yemeni Women Break Taboos to Join Police
• HRW Calls for Funding To Implement Law on Violence against Women in Tunisia
• Woman Embraces Muslim Women She Threatened, Apologizes
• California Man Accused of Throwing Coins at Muslim Women
• Role of Young Saudi Businesswomen Lauded
• Iraq's Female Police to Be Focus of New Canada Training Effort
• A Welsh Woman Has Become the First Female Barber in Dubai
Compiled by New Age Islam News Bureau
URL: https://www.newageislam.com/islam-women-feminism/afghan-women-launch-social-media/d/112017
--------
Afghan Women Launch Social Media Campaign To Fight for Their Identities
Jul 29, 2017
In Afghanistan's patriarchal society, a woman's name should not be revealed, even on her grave.
"Mr X's" mother, daughter or sister, the headstone might read, rather than the name of the deceased.
Openly using the names of women is regarded as inappropriate and even an insult in the conservative Muslim nation.
On a birth certificate there is no sign of the mother's name. On a wedding invitation the bride's name is not mentioned - only the names of her father and husband-to-be.
But a women-led campaign on social media is starting to challenge the old Afghan tradition.
#WhereIsMyName, recently launched by a small group of women's rights activists, wants to bring women's given names to official documents and to the lips of Afghan people.
"Our society is full of injustice for women, basically everything is taboo for women," activist Bahar Sohaili, a prominent member of the campaign, told the Thomson Reuters Foundation.
"With this campaign we aim to change many things for women and social media has opened a new window to Afghanistan's young generation."
Popular Afghan singer Farhad Darya has supported the campaign, posting a picture of himself with his wife and the caption "Farhad and Sultana Darya".
Thousands of Afghans, including authors, journalists and musicians have backed the movement on Facebook and Twitter, aided by widening access to the internet in the country.
"I went to a private bank office to fill up the form, when the manager asked my mother's name; I paused for few seconds, because I had actually forgotten my mother's name. Nobody in all these years asked or called her by her name," said Batool Mohammadi, a member of the campaign.
The practice of erasing women's names is rooted in Afghan customs, rather than Islam, the dominant religion.
It is a symbol of women's second-class status in society, where decisions about their education and marriage are left to the men of the family.
Since the ultra-conservative Taliban was overthrown in 2001, Afghan women have regained the right to go to school, to vote, and to work. But violence against women in the home is widespread, and often goes unpunished.
#WhereIsMyName aims to challenge attitudes that allow men to make all decisions and leave women invisible and powerless.
"Many times I meet wonderful women with bright thoughts and opinions during my work trips, but when I want to interview them or take pictures they say to me, 'Let me ask my husband, father or brother if they allow me to talk or be pictured,'" said Farzanah Wahidi, a female photojournalist from Kabul.
Bahar Sohaili and her friends are fighting for the day that a woman's name and her identity will no longer be shameful.
"We aim to put pressure on the government to enact laws to protect women's rights. Whenever we demand our rights before a court or in parliament they (officials) use the pretext of religion to put us down," she said.
According to Afghan law a mother's name should not be recorded on a birth certificate. Abdullhah Atahi, a spokesman for the High Court in Kabul told the Thomson Reuters Foundation that Afghan society wasn't ready for change.
"We don't have a problem mentioning the mother's name on the birth certificate or on other relevant documents, but in Afghanistan's culture people aren't ready for such a modern step," he said. "It may invite unwanted chaos."
But Shahgul Rezaie, a lawmker and women's right activist said the battle for women's rights would continue.
"There are some radical elements in the parliament who are against these steps for women," she said by phone from Kabul. "But we are trying hard for amendments of existing laws and to formulate new laws to protect the rights of women."
http://www.independent.co.uk/news/world/afghanistan-women-social-media-campaign-names-sexism-first-names-birth-surname-a7864861.html
--------
Uzbekistan Jails Ex-President's Daughter, Gulnara Karimova
Jul 29, 2017
MOSCOW - Uzbekistan said Friday it has jailed the eldest daughter of late President Islam Karimov, Gulnara Karimova - once a prominent socialite, fashion designer and singer - after charging her with massive fraud and money laundering.
In a statement the Uzbekistan Prosecutor-General's Office said that "Gulnara Karimova has been charged" with crimes including fraud, money laundering and concealing foreign currency "and she has been held behind bars".
The statement also said she was a member of an "organised criminal group" that controlled assets worth more than $1.3 billion in 12 countries.
It said these included London properties worth £22.9 million ($29.95 million) and hotels in Dubai worth $67.4 million.
Karimova, 45, is the eldest daughter of the late authoritarian president of the secretive ex-Soviet Central Asian state, who died last year.
She has been reportedly under house arrest in the country since 2014 after publicly feuding with her mother and her younger sister Lola on Twitter. She did not attend her father's funeral in September.
In the first official statement on her current status, the Prosecutor-General's Office said that in 2015 she was handed a five-year non-custodial sentence.
Karimova was once a high-profile figure tipped to succeed her father, serving in diplomatic posts including as ambassador to Spain and Uzbekistan's permanent representative to the United Nations in Geneva.
She also organised a fashion week, had her own jewellery line and released pop singles under the name Googoosha as well as running entertainment television channels.
Russian journalist and Central Asia expert Arkady Dubnov told Echo of Moscow radio on Friday that the public announcement after years of secrecy surrounding Karimova was due to "the necessity for the new Uzbek authorities to show results in the investigation ahead of the first anniversary of Islam Karimov's death."
It is also intended to show the government is making real attempts to recover assets abroad connected to Karimova and her allies, he said.
Properties that prosecutors claim are controlled by Karimova and her "criminal group" include a penthouse in a Hong Kong residential complex that is reportedly one of the most expensive in Asia as well as a villa in the glamorous Rublyovka suburb of Moscow.
The statement noted that investigators had sent orders to authorities in the relevant countries to seize the assets with the aim of "returning them to Uzbekistan."
Among the long list of allegations against Karimova are that she fraudulently acquired assets worth $595 million and received $869.3 million in kickbacks that were paid into offshore accounts.
The statement said that Karimova's 2015 conviction and the current charges she faces are based in part on testimony from other members of the alleged criminal group, including Rustam Madumarov, once widely believed to be Karimova's boyfriend.
Karimova has two known children, a son, Islam Karimov Jr born in 1992, and a daughter, Iman Karimova, born in 1998, both from her former marriage to US businessman Mansur Maqsudi.
In an interview with the BBC in December, her London-based son called on authorities in Uzbekistan to prove that his mother was alive and well.
Karimova is also the subject of a multi-year corruption probe targeting Western telecoms firms that US and European investigators say paid her billions of dollars to secure access to the national market.
Swiss prosecutors reportedly questioned her in Tashkent in December, quashing rumours of her possible death.
http://nation.com.pk/international/29-Jul-2017/uzbekistan-jails-ex-president-s-daughter
--------
Yemeni Women Break Taboos To Join Police
Jul 25, 2017
TAIZ, Yemen — Asmaa al Sharabi, 28, is an accounting graduate who worked in Taiz's Dubai Mall as a shopping assistant for two years, selling women's clothing. When the war broke out in the southwestern city in March 2015, the mall was closed. That was when she took up arms, joining the pro-government forces — which go by the name of the Popular Resistance — as a female fighter.
Sharabi started her work with the pro-government forces writing news from the frontlines for a local pro-government newspaper, The Sound of the Resistance. When the leader of the pro-government forces in Taiz, Sheik Hamoud al Mikhlafi, asked women to join the Popular Resistance Forces (PRF), loyal to Yemeni President Abd Rabbu Mansour Hadi, she was among the first to join in August 2015. War had come to Taiz five months earlier, when Houthi rebels tried to take over the city.
Sharabi and her friends received basic training for two months in the Zaid al Moshki School, originally a state-run school that, like many Yemeni schools, has been transformed into barracks or training grounds. Now the women, most of whom are in their twenties, can all use different kinds of assault rifles and have basic fighting skills.
The female fighters then went straight to work, raiding households suspected of aiding the Houthis where women were present — something their male colleagues were not able to do because of local customs. They also did investigative work, which includes arresting women suspects and handing them in for questioning by the Taiz police force. Though originally recruited by militia leaders, the women have become increasingly professionalised.
"We worked shoulder-to-shoulder with men on the frontlines, storming houses, because the Houthis were disguising themselves as women to flee," Sharabi said. "Having women fighters is crucial."
She spent eight months working as a fighter without her family knowing anything about her new line of work. Only when her photos were published in local media was her secret revealed.
"My family thought I was still working at the mall, but when they discovered the truth, they were upset and tried to stop me from doing this work," Sharabi told TRT World.
"I insisted on continuing with my work and persuaded them that I'm fighting for the sake of Taiz, providing them with religious arguments so that they would allow me return to fighting. Finally they agreed.
Volunteers at first, the female fighters officially became part of the police force eight months ago when the Taiz police chief assigned them to each of the police stations in Taiz city to work on investigations involving female suspects, and to perform the arrests of women.
Not receiving salaries
In early July, some of the policewomen blocked the main roads in Taiz city, protesting after the Yemeni government stopped paying their salaries. They were reacting after the government announced that some of the female officers' names had been deleted from payrolls. Protests lasted for several days, until the government promised to examine their grievances and give salaries to those who were really working.
Most of the women employed in the security forces have official police ID cards, yet they only received pay for December 2016. Their male colleagues, however, are continuing to receive their regular salaries.
"Earning a salary was not the reason why we joined the [PRF], we joined for the sake of liberation [from the Houthi rebels], but we need the government to pay our salaries in recognition of our efforts," Sharabi said. "I was shocked to know that our names were deleted from the payroll."
Some people think that male officers can replace the women, so there is no real need for policewomen.
"It is not fair that the government wants to get rid of us after the all work that we did over the last two years. We appeal to the coalition countries, the government and the [the police and military leadership for the southern governorates] to take our issues into consideration and make them a priority," Sharabi added. "I don't want to hear the officials tell us 'we no longer need your services', as there is no real justification for such a decision."
Sharabi stated that she would not leave her work even if the government ignores the existence of female fighters and officers, and she will continue her work, demanding recognition from the government.
Following Sharabi's enlistment with the first batch of women fighters, which numbered 27, more than 2,000 women are believed to have joined the security forces, although the exact number is difficult to confirm.
Unpaid salaries
Amal al Wafi, 30, the leader of the policewomen unit for the whole of Taiz city, is the mother of two children and a qualified secretary. When the war arrived to her neighbourhood in the north of the city, she fled her house to seek refuge in the heart of the city.
Wafi joined the PRF at the same time as Sharabi. Now they work together in Al Modhafar police station and deploy female officers to the other police stations as and when needed.
"When the Houthis exiled me from my house, I decided to leave my children with my mother and join the [PRF]. I am lucky that most of my family members supported me doing that."
Wafi agreed with Sharabi that the government was marginalising the women officers. She says that she won't keep silent about being sidelined, "the government deleted our names from the payrolls. Why did the government delete them? Does the government not accept women in Taiz being police officers?"
"If it does not accept us as policewomen, then this means Taiz women are being marginalised," she says.
Wafi confirmed that she will continue her work as the head of the policewomen unit in Taiz, despite not receiving any salary since December. She will keep demanding that the government give women officers the same status as men, she says.
"I am a public employee and will demand my legal rights, just like other employees. The women of Taiz have supported the government since the first day of war, so I appeal to President Hadi to look into our predicament," Wafi says.
Ad-hoc recruitment process
Although Wafi is the leader of the policewomen in Taiz, she doesn't have a clear idea of the total number of policewomen in Taiz because most of the militia brigades in Taiz recruit women randomly, without first informing the government. So although the payrolls include more than 2,000, even Wafi can't confirm whether or not this number is accurate.
An official in the Yemeni government told TRT World on condition of anonymity because he is not authorised to speak to the media that there is a misunderstanding about the policewomen. The government is not against the policewomen per se, he says, but they are a novelty in Taiz, and the recruitment process has been chaotic.
"The government is not against the policewomen, actually we encourage them to continue," the source told TRT World. "But the main problem is that most of the militia brigades in Taiz recruit women themselves and we've received lists including more than 2,000 policewomen, even though Taiz doesn't need more than 300 policewomen."
The other issue, he says, is that some of the names of policewomen are fake — they are ghost employees, according to the source — so the government had to delete all names from the payrolls to audit the new policewomen and prepare new lists of verified female officers.
Some of the women in the security forces are working in the conflict zones at checkpoints to inspect and frisk women, and the government appreciates their service, according to the source.
"No one can deny the role female fighters played in Taiz during the war; we appreciate that and promise to pay their salaries. The women in the security forces in Taiz are an example that the other provinces should imitate," the source added.
Society slow to accept
Yemeni society is a conservative one, unaccustomed to women working as police officers. Many of the policewomen in Taiz have faced criticism from members of the public who object to women working in the police force or military.
Mamoon Mohammed, a professor of sociology, stated that society can accept women working as policewomen inside buildings, but it is difficult to accept them at checkpoints or on the frontlines.
"It is a good step by the pro-government forces to break the Yemeni traditions and establish policewomen in Taiz, but they should take into consideration the culture of the society and not to ignore criticism," Mohammed told TRT World.
"I advise the [female security officers] to limit their work on investigation and dealing with female suspects inside buildings and stop working at checkpoints or on the frontlines, as this will trigger a negative reaction from people."
He agrees that the policewomen are needed, and that the government should encourage them.
Sharabi, the policewoman, disagrees with Mohammed that they should only work inside buildings, saying that she doesn't care about the criticisms from conservatives about whether or not women should do such work.
"I believe in my work, whether it's on the frontlines or at the police station. If society does not accept my work that is not my problem," Sharabi says.
"My example is the friends of our Prophet Muhammad, who as women participated in the battles against unbelievers," she says, referring to famous battles in the early seventh century in Arabia , where Muslim women fought alongside men.
http://www.trtworld.com/magazine/yemeni-women-break-taboos-to-join-police-408570
--------
HRW calls for funding to implement law on violence against women in Tunisia
29 July 2017
TUNIS: Human Rights Watch (HRW) on Thursday hailed a new law to fight domestic violence in Tunisia as a "landmark step" toward protecting women's rights but called for funding to fully implement it.
The law, passed Wednesday and expected to enter into force next year, provides for help to victims of domestic violence and removes a controversial article that allows rapists to escape punishment if they marry their victim.
The law also criminalizes sexual harassment in public places and the employment of children as domestic workers, as well as fines employers paying women less than their male counterparts, HRW said in a statement.
"Tunisia's new law provides women with the measures necessary to seek protection from acts of violence by their husbands, relatives, and others," HRW's Amna Guellali said.
"The government should now fund and support institutions to translate this law into genuine protection."
The New York-based group said: "While the law requires authorities to refer women to shelters if they are in need, it provides no mechanisms for funding either governmental or nongovernmental shelters."
The law recognizes "physical, moral and sexual" violence, lawmaker Bochra Belhaj Hmida told AFP after Wednesday's vote.
Tunisia is seen as a pioneer of women's rights in the Arab world but rights groups say women are still discriminated against, and around half say they have been subject to at least one form of violence in their lives.
http://www.arabnews.com/node/1136226/middle-east
--------
Woman embraces Muslim women she threatened, apologizes
July 28, 2017
FARGO, N.D. - Authorities say a North Dakota woman has met with two of the Muslim women she was shown threatening in an online video, giving all the opportunity to express "their sincere regrets" and apologize.
Fargo Police Chief David Todd posted a photo on Facebook Thursday of Amber Hensley of Mapleton with her arms around Leyla Hassan and Sarah Hassan, with Todd in the background.
Todd said the women "have come together and talked through this incident."
"This process has also allowed them to gain understanding and respect for each other," he wrote.
Hensley had said she was upset that the car the women were in was parked too close to her car. One of the women who was threatened recorded video of Hensley shouting at the women, "We're going to kill all of you" and posted it on Facebook.
After the video went viral, Hensley was fired from her job as a part-time secretary at an accounting firm.
She has since said she lost her cool and wishes she could take those comments back.
However, the comments in response to the video also created some divide -- something Chief Todd said shows they, as a community, need to continue to work on.
"Not everything is perfect in this resolution. We have some ugliness in our community that needs to be addressed and worked on. Social media shows us that," he wrote. "However, perhaps we can all take a lesson from what was an ugly unfortunate interaction and how even despite words being said that cannot be taken back, forgiveness and understanding can still be achieved."
http://www.kare11.com/news/woman-embraces-muslim-women-she-threatened-apologizes/460185709
--------
California man accused of throwing coins at Muslim women
JULY 28, 2017
IRVINE, CALIF.
A Southern California man is facing hate crime charges after he allegedly yelled a religious slur and threw coins at two Muslim women — one wearing a hijab.
The Los Angeles Times says (http://lat.ms/2v6mfLL) Brandon Ricardo Pascual was arrested Wednesday and charged with two felony counts of assault-hate crime with ability to cause injury. It wasn't immediately known if the 35-year-old Irvine resident has an attorney.
Investigators say the women had just left a store and were walking to their car in March when Pascual drove up and berated them.
A few minutes later, while the pair had stopped at a red light, Pascual pulled beside them and threw coins at them through an open window.
Irvine police used surveillance footage to identify Pascual.
http://www.mercedsunstar.com/news/state/article164141687.html
--------
Role of young Saudi businesswomen lauded
29 July 2017
Mohammed Rasooldeen
RIYADH: During a meeting with young Saudi businesswomen, Prince Ahmad bin Fahd bin Salman bin Abdul Aziz, deputy governor of the Eastern Province, commended their determination to forge ahead.
The prince made his comments when he met with young Saudi women based in Dammam and Al-Ahsa to encourage them on the path toward women's empowerment.
Wishing them every success in their efforts, the Saudi women were told of their responsibilities toward the nation in line with the Vision 2030.
During the audience, the deputy governor was briefed on efforts to empower women, developing their skills for self-employment, and the infrastructure needed to build up their enterprises.
Prince Ahmad also took the opportunity to discuss ways and means of enhancing the role of women and develop their work in his region.
http://www.arabnews.com/node/1136316/saudi-arabia
--------
Iraq's female police to be focus of new Canada training effort
Jul 29, 2017
ERBIL, Kurdistan Region – Canada reportedly plans to increase the number of police trainers it has in Iraq with a focus on training female police, a move welcomed by Nineveh officials and Mosul's women.
Canada's national broadcaster CBC reported this week that the Canadian government will soon announce a plan to increase the number of police they have in Iraq from four to 20 and they will prioritize training female Iraqi police to improve policing efforts related to domestic violence and human trafficking.
"As military operations to recapture Mosul progress, the government of Iraq is looking beyond immediate security needs and toward the sustainable reform of its security institutions, including the rebuilding of Iraq's police forces," read a briefing note for Canada's Foreign Affairs Minister Chrystia Freeland and International Development Minister Marie-Claude Bibeau, as seen by CBC.
The Canadian police would reportedly be committed in Iraq until March 31, 2019.
The chair of Nineveh's provincial council welcomed the news. Bashar Hameed Mahmood al-Kiki told Rudaw that they need more female police officers to help with inspecting women at checkpoints and the like.
In the final days of the Mosul offensive, tens of women suicide bombers blew themselves up in the city.
Kiki said Iraq will soon announce it is hiring 2,000 new police for the province of Nineveh. Applications will be open to women, he said.
For the women of Mosul, they are confident that more female police officers will help keep their city safe.
A former school principal from Mosul, who asked to remain anonymous, told Rudaw she believes the women of Mosul can provide security for other women. They proved that during military operations in the city, she said, when women bravely removed books from the university library to protect them. The library was burned by ISIS and bombed by the coalition, destroying many of the rare books housed there.
ISIS abuse of Yezidi women is well-documented, but much less is known of their crimes against Sunni Muslim women, Human Rights Watch stated in a report in February.
Experts told the rights monitor that it is difficult to assess acts of violence committed against women, "victims and their families remain silent to avoid stigmatization and harm to the woman or girl's reputation."
The few women who spoke to Human Rights Watch reported torture, forced marriage, rape, and ill-treatment.
Not enough is being done to support victims of gender-based violence and address the stigma that the women face.
Of the more than 600,000 police in Iraq, just 10,000 to 12,000 are women, CBC reported.
http://www.rudaw.net/english/middleeast/iraq/280720171
--------
A Welsh woman has become the first female barber in Dubai
Jul 29, 2017
It is a place synonymous with stunning seven-star hotels, oil-rich sheikhs, and sprawling desert landscapes that go on forever.
But for all the glitz and glamour of Dubai it's never been possible to have a woman cut your hair – until now.
Samantha Lloyd, from Aberdare , has overcome a generations-old ban on women barbers to become the first female barber in the United Arab Emirates.
The 29-year-old has received special approval to cut men's hair in the exclusive Dubai Design District.
"I'm overwhelmed, it still hasn't sunk in," said Samantha.
"When I applied for the job I didn't think I would get it because when I googled it I saw that there were no female barbers.
"I had a short interview and they told me it would be tough because I would be the first female barber."
Women are usually barred from working in barbershops in the United Arab Emirates under laws which affirm strict Middle Eastern traditions.
The government's health and safety requirements for barbers says that "females are not allowed to work/be present in barbershops".
But managers at Chaps & Co, where Samantha now works, were keen to challenge the custom and give a unique edge to their new premises.
Samantha said it had been challenging trying to win over sceptical men who aren't used to having women cut their hair.
"I can't just stand there and not talk to them because I have to win a bond with them," she said.
"But because I love my job I find it easy.
"I have been here for five weeks and I have had only one person that wasn't happy. They were like: 'I can't believe this is a lady cutting my hair!'
"But afterwards they rang up the owner and said it was the best service they had ever had."
Samantha grew up in Aberdare and began her hairdressing training at Coleg Morgannwg in Rhondda Cynon Taf .
Although she qualified at 21 Samantha didn't pursue hairdressing as a career path until she moved to Australia, where she met her partner.
The pair moved back to her partner's home in Ireland when Samantha was 26, where her career really began to flourish.
Her barbershop team competed in the Irish Hairdresser's Federation Championships, winning several awards.
"I was progressing but I knew I wasn't getting to the level I wanted to get to so I applied for this job."
Social media has made hairdressing into an industry where profile is very important.
Samantha hopes that all the publicity she's getting as the first female barber in Dubai will go a long way towards progressing her career.
"Most of the top barbers are in London and I love following what they are doing," she said.
"You have to stand out and hopefully this will be a good step for me being the first female barber."
http://www.walesonline.co.uk/news/wales-news/welsh-woman-become-first-female-13394475
--------
URL: https://www.newageislam.com/islam-women-feminism/afghan-women-launch-social-media/d/112017
New Age Islam, Islam Online, Islamic Website, African Muslim News, Arab World News, South Asia News, Indian Muslim News, World Muslim News, Women in Islam, Islamic Feminism, Arab Women, Women In Arab, Islamophobia in America, Muslim Women in West, Islam Women and Feminism