New Age Islam News Bureau
21 Apr 2019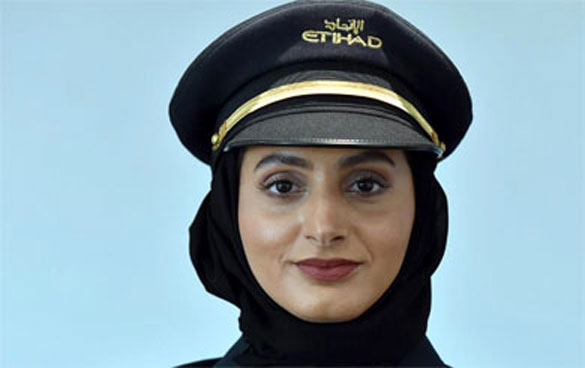 Aisha Al Mansouri (UAE) Senior First Officer of Etihad airways.
Image Credit: Ahmed Kutty/Gulf News
------
• Malaysia Probes Talk On Muslim Women Giving Up Headscarves
• Meet The Emirati Female Pilot Who Flies A380s, One Of The World's Largest Passenger Aircraft
• Former ISIS Bride Blames Islamophobic Bullying At Her British School For Driving Her To Marry A Syrian Jihadi Like Shamima Begum
• French Court Rules Company To Pay 23,000 Euros To Muslim Woman Fired For Refusing To Take Headscarf Off
• Women Scouts Team Created In Taif University
• Amnesty International: Stop Crackdown on Women's Rights Defenders
Compiled by New Age Islam News Bureau
URL: https://www.newageislam.com/islam-women-feminism/afghan-women-go-online-set/d/118381
--------
Afghan Women Go Online To Set #Myredline For Peace
Apr 21, 2019
KABUL: Kobra Samim, who rides for Afghanistan's national cycling team, wrote on Facebook that women's participation in sport is her "red line" as the US tries to forge a peace deal with the Taliban.
Former politician Farkhunda Zahra Naderi tweeted that the protection of female leadership roles should be non-negotiable. And activist Samira Hamidi is demanding that women be included in the peace talks.
Across Afghanistan, women have taken to social media to join a campaign dubbed #MyRedLine that aims to pressure the government, the Taliban and the United States into ensuring women's hard-won advancements are not tossed aside in a rush for a peace accord.
"If the Taliban come back, we won't have the right to education, sports, and we will even be banned from coming out of houses," Samim, 23, told AFP as she adjusted the saddle on her mountain bike before setting off along a run-down Kabul street.
"We want peace, but also we want to continue our sports and cycling."
Farahnaz Forotan, a journalist and activist who started the #MyRedLine campaign with support from UN Women Afghanistan, said her own red line was "my pen and my freedom of expression".
"If peace doesn't bring social justice to all victims of war in every corner of the country, then it won't be a stable peace," Forotan told AFP.
She said the #MyRedLine hashtag had been shared or retweeted thousands of times since the social media campaign was launched last month, with even President Ashraf Ghani tweeting that women's rights were the government's "red line" in the peace process.
The campaign is also being shared on Facebook, in English, Pashto and Dari.
Before being toppled by the US invasion of 2001, the Taliban governed Afghanistan for nearly five years with a strict interpretation of sharia law.
Women were confined to their homes, forced to wear burqas and forbidden from going to school. Some were publicly stoned to death on flimsy allegations of adultery.
"Women were more vulnerable than anyone during the Taliban regime," Forotan said.
The United States is holding direct talks with Taliban leaders — all men — in a bid to forge a peace deal.
Two Afghan women were invited to informal talks in Moscow in February between the Taliban and Afghan representatives, but their presence was very peripheral.
A second, similar summit between Afghan delegates and the insurgents that was to take place in Doha this weekend and had been set to include more women has been postponed indefinitely.
International observers have blasted the talks, led on the US side by peace envoy Zalmay Khalilzad, for their lack of female inclusion.
Other social media hashtags such as #afghanwomenwillnotgoback have also gained traction, and Khalilzad appears to have taken note.
On a trip to Afghanistan this month, the Afghan-born American envoy met with locals from all walks of life and with women's groups.
The Taliban, however, appear unmoved. Spokesman Zabihullah Mujahid recently tweeted to deny reports that women were being included in the Taliban negotiating team and "neither do we believe it is necessary".
Heather Barr, the acting co-director of the Women's Rights Division at Human Rights Watch, said the online campaign was encouraging.
"They're up against tough odds at the moment, but their efforts are a sign that Afghan society is changing in fundamental ways, regardless of the outcome of these talks," Barr told AFP.
In the United States, powerful women are lending their voices to the Afghan campaign.
Senator Jeanne Shaheen, who sits on the influential Senate Armed Services Committee that oversees the US military, said such a move is key.
"Women's interests, as well as the interests of a broad segment of Afghan society need to be included as part of any negotiation," Shaheen told a group of journalists on a visit to Kabul this week.
"It is vital for women to be included in talks with the Taliban."
American actor and United Nations special envoy Angelina Jolie brought some celebrity power to the campaign last week, penning an opinion piece in TIME magazine calling for women to be included in "significant" numbers.
"Afghan women must be able to speak for themselves," Jolie wrote.
https://timesofindia.indiatimes.com/world/south-asia/afghan-women-go-online-to-set-myredline-for-peace/articleshow/68973896.cms
--------
Malaysia Probes Talk On Muslim Women Giving Up Headscarves
April 17, 2019
Islamic officials in Malaysia have launched an investigation into a public event that discussed women who stop wearing the hijab, according to a group of female activists who spoke at the forum.
The probe into Saturday's "Malay Women and De-hijabbing" talk is the latest sign of growing Muslim conservatism in the multi-ethnic nation, which critics say is chipping away at a traditionally tolerant brand of Islam.
The forum took place at a book shop outside Kuala Lumpur to mark the launch of a book called "Unveiling Choice", about author Maryam Lee's decision to stop wearing the headscarf.
At the three-hour event, Lee and two other Muslim women shared their experiences about giving up the hijab.
The number of women from the country's ethnic Malay Muslim majority wearing the headscarf has been increasing, in line with growing conservatism, but it is also common to see Muslim women without their heads covered.
Following a social media backlash, the religious affairs minister called for an investigation, and officers from the Islamic affairs department visited the shop to get copies of the book and talked to a staff member, the women said.
"We condemn this unnecessary investigation as abuse of power to harass and intimidate women activists," said the trio in a statement late Tuesday.
"We are ready to give full cooperation to the authorities however we are unequivocal that there has been no transgression of Malaysian laws."
The Islamic affairs department in central Selangor state, which is reported to be probing the incident, did not immediately respond to requests for comment.
In a statement on Facebook, Religious Affairs Minister Mujahid Yusof Rawa had expressed concern about the event and called on Islamic authorities to probe it in a "fair and just manner".
About 60 percent of Malaysia's 32 million inhabitants are Muslim Malays and the country is also home to substantial minorities of ethnic Indians and ethnic Chinese, who do not typically follow Islam.
Members of different races and religions generally live side by side harmoniously but critics say that influential Muslim hardliners are pushing an increasingly conservative form of Islam.
https://www.thejakartapost.com/seasia/2019/04/17/malaysia-probes-talk-on-muslim-women-giving-up-headscarves.html
--------
Meet The Emirati Female Pilot Who Flies A380s, One Of The World's Largest Passenger Aircraft
April 19, 2019
Abu Dhabi: Regularly flying across the world, traversing different time zones and flying the world's largest passenger aircraft — the Airbus A380 — is all in a day's work for Emirati pilot Aisha Al Mansouri, a senior first officer with Etihad Airways.
It all started when her sister, who was already a pilot, took her to an air show in Al Ain.
"While visiting the event there were some people working there who told me that a national cadet programme was opening at Etihad, so I looked into the programme and decided to join, and within eight months I was hired."
Her first flight on the job was on an Airbus A320 to Ammam, Jordan.
"I had already done so much flight training — including flying a Cessna 172 — but once I was in the cockpit it was a very different feeling."
She flew the A320 for five years before eventually moving up to bigger aircraft like the A330 and, the biggest of all, the A380.
"I currently fly medium to long haul flights on the A380, so it's to destinations like Sydney, New York City, Paris and London," said the pilot of nine years. "When I started with the A380 I was in awe of its size. I trained beforehand in a simulator, but once you see the aircraft up close for yourself you realise the size of it — it's like flying a small building.
"Flying the A380 is amazing, it's a huge plane, but it handles like an A320, it reacts very well and is really enjoyable to fly."
Describing her job as more of a lifestyle than work, she added: "One of the unique things about being a pilot is that it is more than just a job, as a pilot you need to manage your lifestyle accordingly to be able to handle all of the long haul flights and the different time zones that come with it.
"The thing I try to concentrate on before I have long flights is to make sure that I am well rested, that's the most important thing for me. The night flights are usually the tricky ones, for example if I have to fly at 3am I have to basically sleep during the day or afternoon."
Stringent regulations mean pilots must rest a minimum of 24 hours before flights.
"Other than making sure I am well rested, everything else I do is to maintain a positive health style, this involves eating right and working out."
As for the flights themselves, Al Mansouri says her favourite is the manual take offs and landings.
"It doesn't matter which destination I am flying to, the most enjoyable part is flying the aircraft. My favourite moments are during take off and landing. Having all the high-end technology is great for things like navigation and troubleshooting, but when it comes to the take offs and landings, I like to have a hands-on manual approach."
And what exactly does Al Mansouri do during those long flight hours? Unlike passengers, pilots don't have the luxury of television sets to keep them entertained.
"The manufacturers and companies make very good checklists for us to be doing during the flight, so we're not just sitting there doing nothing," she said. "We are doing constant checks on things like fuel, time, navigation and also just checking that all the instruments are functioning correctly. As you fly more regularly you get used to the long hours as well, at first I thought it would be really difficult, but it's really normal for me now."
Socialising with the co-pilot, she said, was another good way of passing the time.
"One of the good things is that we are a very multi-cultured airline and so we talk about each other's countries and our cultures, and so it's a very enlightening to learn about your work colleague."
And as for long haul flights, Al Mansouri said that pilots are allowed to get some sleep.
"We go in two crews for ultra long flights, one crew starts the flight and halfway through the flight the other crew will take over, and so you can get rest during the first part of the flight or when the other crew takes over."
Commenting on her role as a female senior officer, Al Mansouri said she is happy to be a positive example for other women and young girls.
"Women can be whatever they want to be, that's what I think my example shows. All women should follow a career path that inspires and makes them happy.
"Within the UAE all fields are accessible as long as you really want it, and so if there is a woman out there who believes she is capable of being a pilot and has the necessary skill-set, then go for it."
Working as a flight attendant
Alina Galat, from the Ukraine, who works with Etihad Airways as a stewardess said that her passion for travelling the world is what attracted her to the role.
"I always wanted to travel and see the world, when I first moved to the UAE I started working for a hotel and became a flight attendant later on when my friend advised me to go and join a training programme that was open. I loved the training and I was lucky enough to get the job. It's been an amazing experience for me so far, I've been a flight attendant for three and a half years now and I still enjoy everyday."
Galat says the job does have its many challenges despite the glamour that comes with travelling.
"It requires a lot of work. For long haul flights we are usually busy for most of the flight looking after the passengers and so I don't really feel the long hours of work until the flight is over and I am off the plane. It's important to look after your body to be able to do this job properly.
"Constantly travelling into different times zones is also another big challenge and so your sleep patterns are always changing. To do this job successfully you need to have a really big passion for it," she added.
Keeping passengers happy is another big challenge according to Galat, who recalls some of the strange requests she's been given during flights.
"There was a passenger who didn't like the brightness of the on-board television screen and so the passenger requested if I could move the screen a little bit to the left side. I kindly told the passenger I wouldn't be able to do that as I wasn't an engineer.
"The difficulty is when some passengers don't understand that I can't do everything for them, they see us in uniform and think that we can solve every problem, we are obviously trying our best, but there are some things that are beyond our control," she added.
"As a flight attendant I think it's also important to be understanding of passengers as well, they might be going through an issue so we need to listen to them and not be rude, it's always good to be kind and to have a positive attitude," she said.
https://gulfnews.com/uae/meet-the-emirati-female-pilot-who-flies-a380s-one-of-the-worlds-largest-passenger-aircraft-1.63352632
--------
Former ISIS Bride Blames Islamophobic Bullying At Her British School For Driving Her To Marry A Syrian Jihadi Like Shamima Begum
18th April 2019
A FORMER ISIS bride has blamed Islamophobic bullying at her British school for driving her to marry a Syrian Jihadi like Shamima Begum.
Thirty-year-old Fatima spent two years in Syria before cutting all ties with the caliphate, only now opening up about the reality of life with the "liberation army".
She revealed how as an 11-year-old a gang of girls pushed her into a corner of their playground and ripped off her headscarf , pulling out handfuls of her hair.
"The whole time, they were screaming that I was a P**i b***h", she told the Stylist.
"Men would come up behind me, groping me, threatening to pull off my headscarf and jeering that I would be a sl** without it. I have also been punched and kicked. I never felt safe".
SEEDS OF RESENTMENT
Fatima says it experiences like these that formed her resolve to marry a Syrian jihadi.
Her revelations come after Begum, who left East London as a 15-year-old schoolgirl to join ISIS and marry a Dutch jihadi, was refused entry to the UK after begging to return.
Fatima says that on arrival in Syria in 2015 she was immediately given books justifying the murder of children, imprisonment of "sex slaves" and beheadings.
Anything that destroyed the enemy or aided their terrorism was "fair game", she was told.
For months she was filled with so much resentment that she overlooked the horrors taking place directly before her.
"You hear about attacks on British people on the news, but then compare that to the women who threatened to kick an innocent baby to death just for being a Muslim and suddenly you don't feel so sorry for them anymore," she said, referring to her own experience of a friend being violently assaulted during her pregnancy.
Eventually, Fatima says saw beyond her own resentment and awoke to the extreme violence before her - abandoning both her husband and ISIS.
Unlike Begum, Fatima managed to return to the UK and to her family, who welcomed her back on the condition that she cut all ties with extremists.
'TOO FAR IN'
But she claims her own case has parallels with that of the Bethnal Green schoolgirl, who lost a third child while with the group.
Fatima believes it's "possible" that Begum has been threatened with consequences "if she dares to be publicly disloyal to the Islamic State".
"Once you're too far in," she added, "for some, it can be difficult to get out."
Fatima says she blames Islamophobia in Britain for helping create an environment where female terrorists can thrive.
"When someone ties you to a stereotype for years, eventually you get tired of trying to prove people wrong, and out of anger, you start living up to that stereotype," she relates. "People thought we were bad anyway – in my mind at the time, we might as well just match their expectations."
Fatima claims she wasn't brainwashed into supported ISIS - and compared her former admiration for her husband as that of British women for the Duke of Sussex.
https://www.thesun.co.uk/news/8889151/isis-bride-islamophobic-british-school-shamima-begum/
--------
French Court Rules Company To Pay 23,000 Euros To Muslim Woman Fired For Refusing To Take Headscarf Off
19.04.2019
The Versailles Court of Appeals ruled on Thursday against a company for firing an employee in 2008 for refusing to take her headscarf off, saying she was let go without a just cause.
The court said Asma Bougnaoui had the right to wear the Islamic veil at work, and there weren't any regulations or laws that forbade her from doing so in the private sector.
Despite the decision coming 10 years late, the court also annulled the dismissal, and ordered the computer consulting company Micropole to pay her 23,000 euros in back-pay and damages.
Bougnaoui had been working as an IT consultant at Micropole's office in Levallois, Hauts-de-Seine for a year when she was fired. According to court documents, the dismissal came after French insurer Groupama, a client Bougnaoui was working with in Toulouse at the time, complained that her presence in the premises as a headscarf-wearing woman created discomfort among employees. Company officials had asked her to take off her headscarf the next time she visits, but she protested, and the row ended with her being fired from the company.
Bougnaoui had complained to an employment tribunal about the sudden termination of her contract but it ruled in favor of her bosses. However, she then lodged an appeal and her case ended up before the European Court of Justice.
The ECJ said her firing constituted "unlawful direct discrimination," and was illegal, saying customers and employers should get used to her wearing the headscarf at work.
The court underscored that her headscarf did not directly interfere with or hinder her ability to carry out her assigned duties. In a preliminary opinion, Eleanor Sharpston, the advocate general at the European court, said companies can request specific clothing only if there is a "genuine and determining occupational requirement," according to EU laws.
France has the largest Muslim minority in Europe, estimated at 5 million or more out of a population of 67 million. The place of religion and religious symbols worn in public can be a matter of controversy in the staunchly secular country. For years, rights groups have argued that France's secular laws foster Islamophobia and discriminate against Muslim women.
It was also the first country in Europe to ban Islamic face veils, such as the burqa and the niqab, in public places in 2010. In 2014, the European Court of Human Rights upheld the ban but said the law could appear excessive and encourage stereotyping. France was also embroiled in a row over bans on the burkini, a full-body Islamic swimsuit, in resorts around the Riviera.
https://www.dailysabah.com/europe/2019/04/19/french-court-rules-company-to-pay-23000-euros-to-muslim-woman-fired-for-refusing-to-take-headscarf-off
--------
Women Scouts Team Created In Taif University
2019-04-20
TAIF — The first batch of women scouts, 48 in number, came into being at Taif University. They paraded in front of the university President Dr. Hossam Zaman, president of the university and other university officials.
On the occasion of the formation of the scouts wing, the university launched the first tent for the introduction of the women's Scouts movement. The members of the team offered the Scout greetings and took a pledge in front of the guests.
The university president was briefed by the members of the Scouts team about the rules and regulations of the Scouts Movement, and presented the initial skills that the team members need to acquire during the training period.
Dr. Bandar Al-Baqami, dean of students affairs at the university, stressed the importance of the role of the scouts in serving the Haj and Umrah pilgrims during the peak season of Ramadan. "This is one of the most important aspects in which the university is proud to participate effectively, as part of its religious, national and social duty," he said while commending the women's altruism and readiness to offer voluntary services in general and serving the pilgrims in particular. — SG/SPA
http://saudigazette.com.sa/article/563827/SAUDI-ARABIA/Women-scouts-team-created-in-Taif-University
--------
Amnesty International: Stop Crackdown on Women's Rights Defenders
Apr 20, 2019
Amnesty International issued a statement urging the Iranian regime to stop harassing, arresting and imprisoning women's rights defenders peacefully protesting against Iran's degrading and discriminatory forced veiling laws.
Following decrees for the re-arrest of civil activists, Yasamin Ariani and her mother, Monireh Arab-Shahi, and another decree to sentence a compulsory veil protester, Vida Movahedi, to one year in jail (she is jailed since mid-fall 2018), Amnesty International called for immediate and unconditional release of these jailed women's rights activists.
Amnesty International also reiterated in its statement, "Iran's intelligence and security bodies have also subjected several other women's rights defenders to threatening telephone calls, warning them that they will be arrested if they continue to campaign against forced veiling. Some have been summoned for questioning and fear imminent arrest."
Magdalena Mughrabi, Deputy Middle East and North Africa Director at Amnesty International, said, "Iran's authorities appear to be lashing out in response to the increased defiance displayed by Iranian women and the growing peaceful popular movement against forced veiling laws in a bid to intimidate them into silence and submission."
Another part of the statement reads, "The criminalization of women and girls for not wearing the veil is an extreme form of gender-based discrimination and cruel, inhuman and degrading treatment that deeply damages women's dignity. Instead of persecuting and jailing women who are standing up to this outrageous injustice, Iran's authorities should immediately and unconditionally release all women's rights defenders detained for their peaceful activism."
On April 10, 2019, Yasamin Ariani was re-arrested by security forces at her family home in Tehran. Yasamin Ariani's mother, Monireh Arab-Shahi, was arrested the next day after she went to the Vozara detention center in Tehran to inquire about her daughter's whereabouts. She was then transferred to the notorious Qarchak Prison.
On Tuesday, April 16, 2019, Mrs. Arab-Shahi was informed of her charges, namely, "encouraging and preparing the grounds for corruption through publicizing against and removing the veil," "spreading propaganda against the system," and "association and collusion against national security."
https://women.ncr-iran.org/2019/04/20/amnesty-international-stop-arresting-imprisoning-womens-rights-defenders/
--------
URL: https://www.newageislam.com/islam-women-feminism/afghan-women-go-online-set/d/118381
New Age Islam, Islam Online, Islamic Website, African Muslim News, Arab World News, South Asia News, Indian Muslim News, World Muslim News, Women in Islam, Islamic Feminism, Arab Women, Women In Arab, Islamophobia in America, Muslim Women in West, Islam Women and Feminism