New Age Islam News Bureau
14 Apr 2017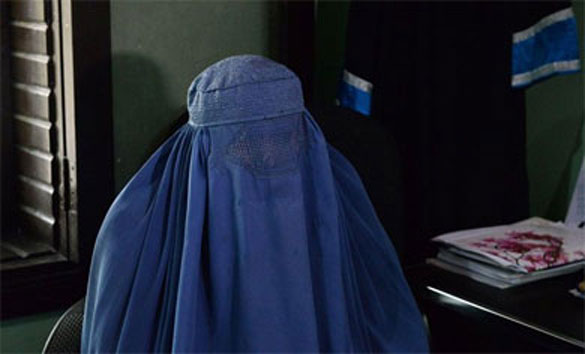 This photograph taken on January 16, 2017, shows Afghan woman Nadia, 22, who is trying to get divorced from her husband, during an interview with an AFP .
-----
• Join Hinduism, Get Justice, Says Hindu Mahasabha To Women Given Triple Talaq
• First Bay Area Women-Led Mosque Opens In Berkeley
• Three Things About: Child Marriages In Malaysia
Compiled by New Age Islam News Bureau
URL: https://www.newageislam.com/islam-women-feminism/afghan-women-embrace-divorce-new/d/110767
--------
Afghan Women Embrace Divorce As New Form Of Empowerment
14 April 2017
JALALABAD: When Nadia's heroin addict husband began assaulting her with a metal rod, she did something unthinkable for many women in Afghanistan — she left him.
Domestic abuse is endemic in the deeply patriarchal country, but for the first time a growing number of Afghan women are embracing divorce as a new kind of empowerment.
Divorce is Islamically deemed as Halal (a permissible act) but is more taboo than the abuse itself in some areas of Afghanistan where the culture remains unforgiving to women who part with their husbands.
"He is a drug addict and an alcoholic. I cannot live with him anymore," Nadia said of her husband of two years as she sobbed quietly behind the billowing folds of her Burqa.
Her father, sat next to her, also welled up with tears.
Tribal elders from Nadia's community attempted to intervene, cajoling her to go back to her abuser. Instead, she became the first woman in her family to ask for divorce.
"God has given rights to women — divorce is one of them," said Nadia, who is seeking legal separation with the help of Legal Aid Grant Facility (LAGF), part of a UNDP project established in 2014.
Her husband has since left home, his whereabouts are unclear.
National statistics are hard to come by, but in a sign of the upward trend LAGF says it has handled a 12 percent increase in divorce cases across Afghanistan over a period of three years.
"Divorced Afghan women who have the chance to start a new life are becoming models for other women, showing that an unhappy or abusive marriage does not have to be a life sentence," Heather Barr, a Human Rights Watch researcher, told AFP.
Afghanistan has been a battleground for women's rights since the misogynistic Taliban were ousted from power in 2001, but divorce cases illustrate how gender parity remains a distant dream.
It is relatively easy for men to initiate divorce, often just by verbally relaying the decision to their wives. But women must go to court, and can only seek separation based on specific complaints such as abuse or abandonment.
Retaining a lawyer is no easy task even for those who can afford one: death threats against those representing women in divorce cases are not uncommon.
"Divorce is one of the clearest examples of discrimination still written into law in Afghanistan," Barr told AFP.
"Given the difficulty in finding a lawyer, corruption and misogyny in the courts, and the low rate of literacy among women, the result is that for many women divorce is all but impossible."
Some like 22-year-old Nafisa are stuck in limbo as her husband refuses to divorce her.
After being engaged for 11 years, he married her in absentia. Based in London, he authorized an Islamic guardian to solemnize their marriage ceremony in Jalalabad.
But he has since refused to return to Afghanistan or take her with him, prompting Nafisa to leave her father-in-law's house and demand divorce.
Nafisa's male relatives refused to let her talk to AFP, with her uncle only saying that the acrimonious divorce proceedings in court had brought great shame to the family and made her remarriage prospects difficult.
It is partly for this reason that divorce is strongly discouraged.
Divorced women living independently are rare in Afghan society, and are often viewed with suspicion and become targets of abuse.
Mediation is often the last hope to prevent the split — and women are almost always encouraged to compromise.
AFP sat through one mediation session in Kabul at the organization Women for Afghan Women, where 24-year-old Zahra met with her estranged husband and mother-in-law.
The mother-of-four is seeking divorce on the grounds that he is a drug addict and took a second wife after falling in love with their neighbour's daughter.
"He takes drugs in front of our baby. Then he starts abusing me," Zahra said as her children hung around her.
"Don't ruin your life. Think about the kids," her mother-in-law demurred before adding: "His other wife says it is your fault that he married another woman."
The husband sat impassively nearby as recriminations flew.
"People say you live in a shelter and do bad things," the mother-in-law insisted.
Since moving out, Zahra has been living in a women's shelter for battered women, which conservatives liken to a "whore house."
"One day he beat me so much that I went to my brother-in-law and begged him to give him money for drugs," Zahra said, tears streaking her face.
The mother-in-law changed tack, attempting to coax Zahra home.
"Come back," she said, later insisting: "He won't beat you again."
http://www.arabnews.com/node/1084306/art-culture
--------
Join Hinduism, Get Justice, Says Hindu Mahasabha To Women Given Triple Talaq
Apr 14, 2017
AGRA: In a statement that could generate political heat, General Secretary of Hindu Mahasabha, Dr Pooja Shakun Pandey urged all Muslim women who have gone through triple Talaq or made to go through the practice of 'Nikah Halala' to join Hinduism instead if they wanted justice.
"If our government and law can't give you justice, we will ensure you do," Pandey said, after completing a 'Muslim Nari Utthan Yagya', where the activists took an oath to fight against triple Talaq.
She said that she would treat all such women as her daughters and ensure self-respect and dignity to them.
She said she will organise their marriage and do the "Kanyadan" on her own. "They will get safe and secure life", she told the audience that also included some victims of Triple Talaq.
However, disagreeing with Dr Shakun, UP state President of All India Muslim Women Personal Law Board, Dr Sheerin Masroor said conversion of religion for marriage is not correct. "If they really want to do something they should counsel them, educate them, boost their morale and make them self-dependent", she said adding the solution to triple Talaq wasn't that simple.
Social activist, Maria Alam said before preaching such solutions, the "Hindu protagonist" should first eradicate customs of dowry, female foeticide and physical harassment of women in their religion. She said we have been fighting against triple Talaq for many years and will continue till we get justice.
"We are also inviting Hindu women who are victim of dowry or harassment to convert to Islam," she said adding that if changing religion was the solution to this problem then it would have started years ago.
http://timesofindia.indiatimes.com/india/join-hinduism-get-justice-says-hindu-mahasabha-to-women-given-triple-talaq/articleshow/58169675.cms
--------
First Bay Area Women-Led Mosque Opens In Berkeley
Apr 14, 2017
In the East Bay Thursday, a new mosque is getting ready to hold its first prayer services, but this one is unique -- it's a women's mosque, led by all women.
Rabi'a Keeble is boldly going where few women have gone before -- Friday, she will open the first women-led Mosque in Northern Calif.
She's a graduate of Berkeley's Starr King School for Ministry.
She converted to Islam in 2006. Keeble says she's been frustrated by the way Muslim women are treated in mosques, often sidelined -- their voices never heard.
"In Islam, there doesn't seem to be a clear track for women who have that calling," she said.
Keeble decided to open Qal'bu Maryam Women's Mosque in Berkeley to give Muslim women a voice, in a religion often dominated by men.
Keeble says everyone is welcome at services, even men despite pushback from fellow Muslims who like things the way they are.
She's not worried but says the move is daunting. "I feel like a troublemaker in some way."
http://abc7news.com/news/first-bay-area-women-led-mosque-opens-in-berkeley/1871598/
--------
Three things about: Child marriages in Malaysia
BY IDA LIM
April 14, 2017
KUALA LUMPUR, April 14 — For better or worse, Tasek Gelugor MP Datuk Shabudin Yahaya's recent remarks in Parliament has cast a spotlight on child marriages in Malaysia.
With the country aiming for first world nationhood, should marriages of minors be allowed to continue? There have been arguments for and against this practice, with child development advocates heavily in favour of ending it.
To help you understand this issue better, Malay Mail Online has compiled a list of the facts and figures that you should know:
1. What does the law say?
Malaysians are only considered an adult by law when they turn 18, but the legal age applicable on matters like when they can have sex and get married is a different thing altogether.
The age of consent for sexual intercourse in Malaysia is 16, which makes sex with any woman below age 16 a crime, regardless whether they consented to it or not, and punishable by law. However, marital rape is not a crime in Malaysia.
Children are actually allowed to marry under existing Malaysian laws. The legal age to marry also depends on whether you are Muslim or non-Muslim.
Under the Law Reform (Marriage and Divorce) Act's Sections 10 and 12, non-Muslims can only be legally married if they are aged at least 18 and will require parental consent for marriage if they are still below 21. Under this law, they are considered minors if they have yet to turn 21 and are not widows.
But the same law provides for an exception, where a girl aged 16 can be legally married if the state chief minister/ mentri besar or in the case of the federal territories, its minister, authorises it by granting a licence; as are ambassadors, high commissioners and consuls in diplomatic missions abroad.
As for Muslims, the minimum legal age for marriage in the states' Islamic family laws is 18 and 16 for a male and female respectively, but those below these ages can still marry if they get the consent of a Shariah judge.
Local Islamic family laws do not list the factors that Shariah courts need to consider before approving underage marriages or impose a limit on how young a Muslim can be married under this exception.
But Shariah Lawyers Association of Malaysia deputy president Moeis Basri told Malay Mail Online that Shariah courts are bound by Shariah laws regardless of whether they are codified.
In practice, he said this means that Shariah judges will exercise their wide discretionary powers to consider all relevant factors before deciding whether or not to approve underaged marriage. This includes looking at physical signs showing puberty such as menstruation in the girl, and also the level of maturity in both the child bride and groom to be.
"Under the Shariah law, only (a) person that has attained age of puberty can get married. The age of puberty may differ from one person to another. This is one of the things that any application for underage marriage needs to prove. Of course there are other factors that need to be considered by the court before allowing or rejecting the application," he said, adding that applications for Muslim underage marriages are not automatically approved but have to be shown to have merits.
2. Women marry young
For the past 40 years, Malaysian women have tended to marry at a younger age than men.
Even as the average marriage ages for both genders have been rising from 25.6 and 22.1 in 1970 to 28 and 25.7 in 2010 for men and women respectively, Malaysian children have still been marrying at a young age and in some cases also ending their marriages at an equally young age.
According to the 2000 census, there were 10,267 out of 2,411,581 children aged between 10-14 who were married, while 229 and 75 children in this age group were widowed, divorced or permanently separated. Girls who were married outnumbered boys in this age group at 58 per cent to 42 per cent.
When broken down according to gender, 4,334 out of 1,237,519 boys aged 10-14 were married as of 2000, while 71 were widowed and 17 were divorced or separated. As for the girls, 5,933 out of the 1,174,062 in this age group were married, while 158 and 58 were respectively widowed and divorced or separated.
The 2010 census oddly does not show any figures for those in the 10-14 age group who were married, widowed or divorced. Instead, it records all 2,733,427 children in this age group as falling under the Never Married category.
As the overall population grew from 22,198,276 in 2000 to 28,334,135 in 2010, the number of those married in the 15-19 age group more than doubled from 65,029 to 155,810, while those who were widowed at these ages went up from 594 to 1,451, and those divorced or permanently separated from their spouse by then increasing from 849 to 1,071.
In 2000, those in the 15-19 age group who were married was overwhelmingly female at 53,196 as opposed to male at 11,833. In 2010, it was split between females at 82,382 and males at 73,428.
3. Demand for child marriages
The census figures reflect what appears to be sustained demand for child marriages in Malaysia.
On March 7, 2016, Women, Family and Community Development Minister Datuk Seri Rohani Abdul Karim told Batu Kawan MP Kasthuri Patto in a written parliamentary reply that the number of applications for Muslim child marriages between 2005 to 2015 was 10,240. The figure for the approved applications was not provided.
The annual average of applications for Muslim child marriages recorded by the Department of Shariah Judiciary Malaysia between 2005 to 2010 is 849, while the annual average for 2011 to 2015 is 1,029, Rohani had said.
As for non-Muslim child marriages recorded by the National Registration Department during the 2011 to September 2015 period, there were 2,104 girls aged between 16 and 18 involved, Rohani said.
The majority of these teenage girls (68 per cent) or 1,424 of them were married to men aged 21 and above, while the remaining 32 per cent or 680 of them were married off to those closer to their ages at 18-21.
Amid calls for child marriages to be banned in law in Malaysia, civil society groups have also advocated recently for the inclusion of what they dub a "sweetheart defence", where young couples with small age gaps, such as teenagers are spared prosecution. Critics of child marriages have highlighted high-profile cases such as where a 40-year-old man married a 13-year-old girl that he had raped and a man in his 20s marrying a girl he had raped at the age of 14, while others have raised the chain of problems linked to child marriages such as high-risk pregnancies, greater risk of maternal death and domestic violence, as well as disrupted education.
http://www.themalaymailonline.com/malaysia/article/three-things-about-child-marriages-in-malaysia
--------
URL: https://www.newageislam.com/islam-women-feminism/afghan-women-embrace-divorce-new/d/110767
New Age Islam, Islam Online, Islamic Website, African Muslim News, Arab World News, South Asia News, Indian Muslim News, World Muslim News, Women in Islam, Islamic Feminism, Arab Women, Women In Arab, Islamophobia in America, Muslim Women in West, Islam Women and Feminism