New Age Islam News Bureau
7 May 2012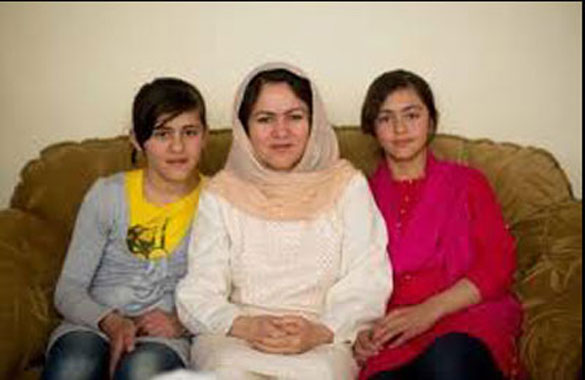 • Kuwait: Court Victory for Women's Rights
• "More Islamic than the Islamists": Claiming the Female Body for a Nation
• Hindus: Pakistanis kidnap teens, force marriages
• Pakistan: Forced marriage threat made to NGO women
• UK Rights groups protest forced marriages in Pak
• Curtailing 'immodesty': Ex-lawmaker 'decrees' against female education
• Mothers worry about sons who fast in Israel jails
• In the Name of Honour: The Free Aafia Siddiqui Campaign in South Africa
Complied by New Age Islam News Bureau
Photo: Afghan woman sets sights on presidency in a man's land
URL: https://newageislam.com/islam-women-feminism/afghan-woman-sets-sights-presidency/d/7252
--------
Afghan woman sets sights on presidency in a man's land
By Lawrence Bartlett
May 7, 2012
KABUL — Leading Afghan women's rights champion, author, lawmaker and presidential hopeful, Fawzia Koofi, has a revealing anecdote about life as a woman in a man's land.
As she walked out of the Presidential Palace in Kabul recently, a conservative male parliamentary colleague approached her and said: "'Ms Koofi, if you would really like to live in a palace -- because you are running for the presidency -- why don't you get married to a president'?"
Even now, weeks later, Koofi's steady brown eyes flash at the memory.
"It really made me feel angry, because that's how they see it," Koofi told AFP in an interview in her Kabul home.
"If a woman would like to become a president it's not because she's qualified for it, it's because she would like to live in a palace!"
In a riposte, she told her colleague pointedly that, unlike some men with dubious pasts in Afghanistan's 30 years of conflict, she had no need to hide in the security of a palace.
"I'm happy sometimes when they oppose me because it means I'm something to them, they feel I am strong -- and I also give them the required punch, I think."
Named this year as one of the world's "150 Fearless Women" by US website The Daily Beast, Koofi, 36, is a widow with two young girls who are addressed in her memoir "Letters to my Daughters".
It is a tale of courage and passion in the face of the overwhelming challenges faced by a girl growing up in a country sometimes called the worst place in the world to be a woman.
She was left in the sun to die immediately after her birth by her exhausted and depressed mother -- one of seven wives in a family of 23 children -- who knew that another girl would not win her husband's approval, she writes.
The baby Koofi lay alone, screaming and sunburned, for almost a day until pity prevailed and she was returned to her repentant mother -- to start a close and loving relationship.
The sunburn scars lasted into her teens, but they -- and any psychological scars -- are undetectable in this elegant and confident woman in a pale pink headscarf and cream tunic over matching trousers.
Pictures of two men find space on the walls of Koofi's rented home near parliament: one a portrait of a stern-faced father, the other shows her and President Hamid Karzai.
Her father -- a politician murdered when Koofi was just three -- spoke directly to her only once, and that was to tell her to go away, she writes in her memoir.
And she is not a fan of Karzai.
She accuses the president -- who is backed by 130,000 NATO troops -- of being prepared to compromise on women's rights for political gain among conservatives, including Taliban insurgents.
The Taliban, ousted from power in a US-led invasion in 2001, banned girls from going to school, whipped women in the street if they wore anything other than the all-enveloping burqa and stoned to death those accused of adultery.
Even now there are more guns than women on the streets of Kabul.
But Koofi -- who managed to get a good education against the odds -- says the past 10 years have provided "golden opportunities" for women.
Her biggest fear is that these gains will be the first to be sacrificed in efforts to bring the Taliban into reconciliation talks, and perhaps even a sharing of power after NATO troops pull out in 2014.
"Compromise is happening already. Talibanisation is a process, people within government are already promoting Taliban ideology and Taliban thinking," she said.
"There is great uncertainty and confusion about the future, and worry and concern among women."
In March, Karzai indicated support for an edict by the Ulema Council, the nation's highest Islamic authority, saying "men are fundamental and women are secondary".
The edict went on to list a series of prohibitions against women, including working in the same offices as men and travelling without a male companion, and suggested that in some circumstances wife-beating was appropriate.
Karzai "openly supported this, he said this is what the people of Afghanistan want", said Koofi, who chairs parliament's women and human rights committee.
"I don't think this is what they want. It is true we are all Muslims, but our understanding of Islam is different from the understanding of the Taliban.
"Lots of things have changed for the good for women. There has been lots of progress for women in the political arena, girls in school and higher education, laws providing protection for women.
"Having said that, Afghanistan is still the worst place in the world to be a mother, and there are still a lot of women suffering from domestic violence and torture even."
Koofi urges the West to continue its support for Afghan women's rights even after the withdrawal -- and is committed to doing all she can herself, even if it means risking her life.
"Being a woman in politics in Afghanistan and a woman who stands for what she believes in, there is always risk, it is always dangerous," she said.
"I have already been so many times a target for assassination and even kidnapping. But I think somebody has to take the risk."
Koofi said she is determined to run for president in the 2014 elections, when Karzai is due to complete his limit of two five-year terms, if there is a chance that they will be free and fair.
She dismisses forecasts that she would be trounced in such a male-dominated country, saying there is a strong desire for change among young people, women, the educated elite -- and even in rural villages.
She was elected as a member of parliament for remote and rural Badakhshan, her home province, "where people 10 years back would have been strongly against women -- now they voted for me".
"So change is possible, it's just a matter of some political and moral support from our international friends."
As the interview draws to a close Koofi proudly brings her daughters in for a final photograph: the girls, aged 12 and 13, have been playing tennis, one of the many simple pleasures banned for Afghan women just a decade ago.
Copyright © 2012 AFP. All rights reserved.
http://www.google.com/hostednews/afp/article/ALeqM5iNpfuskDQD7YEFm4nIOfVz5Pq5Kg?docId=CNG.be8246607583f283984fe009b7e8890b.851
--------
Kuwait: Court Victory for Women's Rights
May 7, 2012
(Beirut) -A court decision on April 22, 2012, cancelling a ministerial order barring women from entry-level jobs at the Justice Ministry is an important victory against legally-sanctioned discrimination in Kuwait, Human Rights Watch said today. Human Rights Watch urged the Kuwaiti government to act on the decision, to guarantee women equal access to all public jobs, and to amend or repeal gender-based discriminatory provisions from all its legislation.
In July 2011, the Justice Ministry announced in local newspapers that it would accept applicants for "entry level legal researcher" - a first step to becoming a prosecutor. The advertisement specified that the positions were only open to male candidates, without providing any rationale for the restriction.
"This important ruling reaffirms the principles of equality between men and women that are guaranteed in Kuwait's constitution and international laws," said Joe Stork, deputy Middle East director at Human Rights Watch. "The court ruling shows the important role that Kuwaiti courts can play in protecting equality in the face of efforts to restrict it."
At least six recent female graduates of law schools had applied for the Justice Ministry jobs following the July 2011 advertisement, but ministry officials refused to accept their applications, Marwa al-Seirafi, one of the applicants, told Human Rights Watch.
In August, al-Seirafiand at least five other female applicants separately filed lawsuits at the Administrative Court, contending that the ministry's decision to consider only male applicants was unconstitutional.
The court, in ruling for the plaintiffs, ordered the ministry to cancel its requirement that candidates be male. The court said that the decision violated the Kuwaiti constitution and international treaties that Kuwait has ratified. The ministry has a month to appeal.
Candidates accepted by the ministry for the positions take a nine-month training course at Kuwait Institution for Legal Studies. If they successfully complete the course, they become prosecutors.
"The issue is not whether I'm accepted or not," Dhuha al-Azmi, another female applicant, told Human Rights Watch. "What is important is I have a chance to compete with the other applicants for the positions."
In a similar case in April 2010, an administrative court rejected a lawsuit by a female Kuwaiti law graduate who contended that her application to work for the public prosecution unit was unconstitutionally rejected because of her gender. The judge found that article 2 of Kuwait's constitution, which cites Islam as the state religion and Islamic Sharia as "a main source of legislation," prevented women from holding prosecutorial positions.
Article 29 of the Kuwait Constitution says: "All people are equal in human dignity and in public rights and duties before the law, without distinction to race, origin, language, or religion." The Convention on the Elimination of All Forms of Discrimination against Women (CEDAW), which Kuwait ratified in 1994, calls for taking measures to "eliminate discrimination against women in the field of employment."
"This is a great historic achievement for all women in Kuwait," al-Seirafitold Human Rights Watch following the decision. "We are fighting for the rights of women in this country and if the ministry appeals the ruling we will keep challenging them."
Women's rights in Kuwait took a step forward in 2005, when Kuwaiti women won the right to vote and to become candidates for election, paving the way for the election of four women to parliament in May 2009. However Kuwaiti women continue to face discrimination on many legal levels. Kuwait's nationality law denies Kuwaiti women married to non-Kuwaiti men the right to pass their nationality on to their children and spouses, a right held by Kuwaiti men married to foreign spouses.
In cases of alleged domestic violence or marital rape, under Kuwaiti regulations, courts provide lawyers to the accused but not to the victims. Furthermore, Kuwait's laws do not specifically prohibit domestic violence or marital rape, and there are no government-run or funded shelters or hotlines specifically for survivors of domestic violence.
In its concluding observation in October 2011 the CEDAW committee expressed concerns about many discriminatory provisions of Kuwait laws and called on Kuwait to "systematically review its laws and regulations ... in order to amend or repeal sex- and gender-based discriminatory provisions of its legislation with the aim of ensuring full compliance with the provisions of the Convention."
http://www.trust.org/alertnet/news/kuwait-court-victory-for-womens-rights
--------
"More Islamic than the Islamists": Claiming the Female Body for a Nation
May 7, 2012
In the past few weeks, Chechnya has been in international news after the president of the independent republic, Ramzan Kadyrov, made few remarks supporting and justifying honor killings. After years of war in the region, including the First and Second Chechen wars, Chechnya has undergone a challenging road to reconstruction. Although it seems that Kadyrov's alliance with the Kremlin has appeased Russian-Chechen relations, occasional bombings and clashes between federal troops and separatist militants are still common. In addition, Kadyrov has been accused of human rights abuses in his attempt to fight the insurgents and incorporate religion into government policies.
It is in this environment that Kadyrov's recent comments have come under fire in the Western (particularly North American) media. Yet this is not new. Since 2007, Chechen women (Muslim and non-Muslim) are required to wear headscarves to enter government buildings, which has been said to violate the Russian constitution. Moreover, in 2011 Kadyrov's regime requested models' hair to be covered in advertisement pictures. Kadyrov's ideal, as he has publically explained, is to make Chechnya "more Islamic than the Islamists." This project has also been backed up by Kadyrov's wife, Medni Kadyrova, and her engagement in the fashion industry through her Islamic clothing line, called Firdaws.
The focus on women in Chechnya either from a policy side or a media one is not uncommon this days. Some of us recall the famous images of Chechen female suicide bombers labeled as Black Widows. These women's motivations, intentions and actions are sometimes seen as both as symbol of rebellion but also subservience to a male-dominated insurgency, which may be in itself a sexist way to look at women's involvement in conflict. Yet, the Muslim women dressed all in black and holding weapons are constantly identified as symbols of the Chechen insurgency.
Similarly Kadyrov's comments and restrictions on women's agency and sexuality are an attempt to "re-appropriate" the female body for the "good" side of the conflict. Women's bodies continue to be appropriated in Muslim and non-Muslim settings. In the case of Chechnya, Kadyrov's comments are concerning because they endanger Muslim women's agency in terms of their own sexuality and jeopardizes the lives of those who do not comply with Kadyrov's understanding of Islamic law. This is a typical approach to conflict. Women are considered to be the keepers of morality (where men seem not to play a role), reproducers of the "nation" and cultural gate-keepers.
The situation in Chechnya, regardless of whether or not one supports the development of an Islamic republic, makes women's agency dependant on the personal views a desires of a strong male figure. Yet we cannot say that Kadyrov is the only supporter of such a restriction of women's sexual behaviour. His wife seems to align with his "Islamization" project, either by choice or due to her political position. Her involvement in the fashion industry seems to have just the right amount of female Muslim "agency" to appease those concerned about women's situation under Kadyrov's regime, but yet, it still holds his political stands and aims for a closer relationship with Middle Eastern regimes. Women's involvement in the restriction of other women's rights is one of the main successes of some patriarchies and indicates that some women benefit from this environment.
Now left to wonder is what is the future of gender and sexuality in Chechnya? Will the Russian constitution play a role in curbing Kadyrov's restrictions or will Chechen women have to look elsewhere?
http://www.patheos.com/blogs/mmw/2012/05/%E2%80%9Cmore-islamic-than-the-islamists%E2%80%9D-claiming-the-female-body-for-a-nation/
--------
Hindus: Pakistanis kidnap teens, force marriages
May 7, 2012
JACOBABAD, Pakistan — Rachna Kumari, 16, was shopping for dresses in this city's dust-choked bazaar when it happened.
The man who her family says abducted her was not a street thug. He was a police officer.
Nor was he a stranger. Rachna's family knew and trusted him. He guarded the Hindu temple run by her father, an important duty in a society where Hindus are often terrorized by Muslim extremists, and he had helped Rachna cram for her ninth-grade final exams.
After she disappeared from the market, he did not demand a ransom. According to her family, he had an entirely different purpose: to force her to convert to Islam and marry him.
In a country where Hindu-dominated India is widely reviled as Enemy No. 1, Pakistan's Hindu community endures extortion, disenfranchisement and other forms of discrimination.
These days, however, Hindus are fixated on a surge of kidnappings of teenage girls by young Muslim men who force them to convert and wed. Pakistani human rights activists report as many as 25 cases a month.
Most occur in the northern districts of Sindh province, on the border with India and home to most of Pakistan's 2.5 million Hindus. The Hindu community is shrinking as families flee the area, which is run largely by Muslim feudal chiefs who own vast tracts of farmland and wield wide influence over politics, law enforcement and the courts.
Hindus say the forcible conversions follow the same script: The victim, abducted by a young man related to or working for a feudal boss, is taken to a mosque where clerics, along with the prospective groom's family, threaten to harm her and her relatives if she resists.
Almost always, the girl complies, and not long afterward, she is brought to a local court, where a judge, usually a Muslim, rubber-stamps the conversion and marriage, according to Hindu community members who have attended such hearings.
Often the young Muslim man is accompanied by backers armed with rifles. Few members of the girl's family are allowed to appear, and the victim, seeing no way out, signs papers affirming her conversion and marriage.
"In court, usually it's just four or five members of the girl's family against hundreds of armed people for the boy," says B.H. Khurana, a doctor in Jacobabad and a Hindu community leader. "In such a situation when we are unarmed and outnumbered, how can we fight our case in court?"
Prominent Pakistani Muslims have joined Hindu leaders in calling attention to the problem.
President Asif Ali Zardari's sister, lawmaker Azra Fazal Pechuho, told parliament last month that a growing number of Hindu girls are being abducted and held at madrasas, or Islamic religious schools, where they are forcibly converted. She and other lawmakers have called for legislation to prohibit the practice.
The issue was thrust into the spotlight by the case of Rinkle Kumari, a 17-year-old Hindu girl from the town of Mirpur Mathelo in the southern province of Sindh. The case was one of three that recently went before Pakistan's Supreme Court.
Kumari's parents, who are not related to Rachna's family, allege that five men broke into their house in late February, subdued Rinkle with a chloroform-soaked cloth and took her away. The parents say the girl was forced to convert to Islam and marry Naveed Shah, a neighbor.
Shah contends Rinkle acted willingly.
"She was not forced at all," said Shah's lawyer, Malik Qamar Afzal. "She embraced Islam freely, and afterward agreed to marry."
The day after the alleged abduction and conversion, Rinkle was allowed to meet with her mother at a district court.
"She told me, 'I have been kidnapped and I want to go with you,' " recalled her mother, Sulchani Kumari. "She was sobbing as she told me, 'For God's sake, take me away from that hell.' "
Hindu community leaders acknowledge that in some cases, Hindu girls convert and marry Muslim men willingly. Determining which cases involve coercion has been difficult for authorities.
In the case of Rachna Kumari, police themselves stand accused.
Pakistani authorities have periodically assigned police officers to Hindu temples as a precaution since the 1992 demolition of a mosque in Ayodhya, India, triggered unrest between Indian Hindus and Muslims.
Barkat Talani, an officer at the Jacobabad temple run by Rachna's father, began helping her with her studies as a favor to the family.
After she was abducted in August, Talani was arrested and suspended from his job.
At a court hearing a month later, Rachna appeared in a black burqa, surrounded by about 100 of Talani's supporters, many of them armed, said the girl's uncle, Rakesh Kumar. The judge accepted a statement written by Rachna that indicated she had willingly converted and married. Her family contends the document was drafted by Talani's lawyer.
A few weeks later, while out shopping with her new husband's female relatives, Rachna appeared at her grandmother's door and asked for a drink of water.
"I asked her, 'Why did you leave us?' " the grandmother, Maharajni Andhrabai, recalled. "She said, 'I was forced to.' She was weeping."
Later, Talani reported that Rachna had disappeared. Talani and her family both say they do not know where she is.
Talani is back at work, according to Jacobabad's police chief, Jam Zafrullah Dharejo, who said the allegations against the officer were unfounded.
Now the Kumari family has a singular focus: safeguarding Rachna's 13-year-old sister, Bharti.
"We're so sad about what happened to Rachna," the grandmother said, "but we're also worried about what else could happen."
http://www.sentinelsource.com/news/national_world/hindus-pakistanis-kidnap-teens-force-marriages/article_1c9ed685-86fb-58ee-ad78-8666357dc811.html
--------
Pakistan: Forced marriage threat made to NGO women
May 7, 2012
MANSEHRA, May 5: Former Muttahida Majlis-i-Amal MNA from Kohistan Maulvi Abdul Haleem on Saturday warned women working in nongovernmental organisations against entering his district and said violators of the warning would be forcibly married off to locals.
"I issued a decree during Friday sermon that getting education for degrees by women is repugnant to Islamic injunctions because if a woman gets degree, she may use it for job, an act which Islam doesn't allow in absence of mehram (close relatives)," he told reporters here.
Mr Haleem said: "If women working in NGOs enter Kohistan, we won't spare them and solemnise their nikkah (marriage) with local men."
Maulana Haleem, who remained MNA during the Musharraf regime, said if a woman got education and used it for job, then it was against the teachings of Islam.
"That's why girls are not going to schools in Kohistan and girl schools are used as cattle pen," he said.
Full report at:
http://dawn.com/2012/05/06/forced-marriage-threat-made-to-ngo-women-2/
--------
UK Rights groups protest forced marriages in Pak
May 7, 2012
London: Members of many rights organisations held a demonstration in front of the residence of British Prime Minister David Cameron on Sunday, protesting the kidnapping and forced marriages of Hindu girls in Pakistan.
Members of the World Sindhi Congress, Balochs, human rights organisations, Hindu Forum of Britain and Hindu Cultural Society, UK, held the demonstration in front of 10 Downing Street, protesting against human rights violations of Hindu girls in Pakistan.
In a petition submitted to the office of the British Prime Minister, the demonstrators urged the British Government to intervene in the matter as the Pakistani Government was showing "apathy" on the issue.
The petition pointed out that the Hindus constituted 15 per cent of the total population in Pakistan at the time of the partition in 1947 but it has now dwindled to less than 2 per cent.
The petition claimed that in the recent past there were as many as 25 cases of Hindu girls being kidnapped and forcibly converted to Islam and married to Muslims youths in Pakistan.
http://zeenews.india.com/news/south-asia/uk-rights-groups-protest-forced-marriages-in-pak_773644.html
--------
Curtailing 'immodesty': Ex-lawmaker 'decrees' against female education
By Muhammad Sadaqat
May 7, 2012
A former lawmaker and cleric from Kohistan district, Maulana Abdul Haleem, termed formal education for women un-Islamic and asked parents to pluck their daughters from school, or else they would be 'doomed'.
The nonagenarian, who was elected to the National Assembly from Kohistan on the now-defunct Muttahida Majlis-e-Amal's ticket in 2002, also railed against non-governmental organisations (NGOs) working in the region in his Friday sermon, calling them 'hubs of immodesty'.
Nestled in the Himalayas, the Kohistan district is picturesque, but also one of the least-literate and least developed in the country.
Fiery sermon
Maulana Haleem, who was an office-bearer of the Jamiat Ulema-e-Islam-Fazl until recently, was delivering a Friday sermon, at Jamia Masjid Komila, on who is dayoos, or those liable to be condemned to hell.
Full report at:
http://tribune.com.pk/story/374754/curtailing-immodesty-ex-lawmaker-decrees-against-female-education/
--------
Mothers worry about sons who fast in Israel jails
May 7, 2012
Ramallah Motasser Abd Al Haleem was barely out of his teens when the Israeli army took him away. Now the fresh-faced Palestinian stares out from a framed portrait clutched to his mother's chest.
"When they arrested him, he was only 20 years old," she says in the centre of Ramallah, the capital of the West Bank, just miles from the barbed wire barrier that divides Israel from Palestine.
" When they arrested him, he was only 20 years ol. He has now been gone for eight years. There have been no charges "
"He has now been gone for eight years," she adds through a young translator and sits alongside a dozen other mothers and fathers in a downtown protest tent. When asked what for, she claims: "There have been no charges."
Al Haleem is one of the estimated 2,500 Palestinians currently on hunger strike in Israeli prisons. Inspired by Khader Adnan, a prisoner who secured his release with a high profile hunger strike, they have adopted the same tactic. They are protesting against conditions in jails and an end to detention without trial.
Citing security reasons, Israel is able to imprison any Palestinian without charge.
Full report at:
http://gulfnews.com/news/region/palestinian-territories/mothers-worry-about-sons-who-fast-in-israel-jails-1.1019183
--------
In the Name of Honour: The Free Aafia Siddiqui Campaign in South Africa
By safiyyah
May 7, 2012
Earlier this year, South African Muslim media was abuzz with the story of Dr. Aafia Siddiqui, an American-educated Pakistani cognitive neuroscientist who was convicted and sentenced to 86 years in prison for assault with intent to murder her U.S. interrogators in Afghanistan. The media campaign served to raise awareness about Siddiqui's alleged abuse at the hands of the U.S justice system, and to assert her complete innocence. Her story is a difficult one, spanning the vastness of two continents and the complexity of terrorism politics in both of these. This post is not meant to cover the Siddiqui case, or to make any judgement claims as to her innocence or guilt. I would like to add that I sincerely advocate for justice for Siddiqui, who has no doubt suffered tremendously – whatever her political inclinations.
Full report at:
http://www.patheos.com/blogs/mmw/2012/05/in-the-name-of-honour-the-free-aafia-siddiqui-campaign-in-south-africa/#comment-12831
--------
URL: https://newageislam.com/islam-women-feminism/afghan-woman-sets-sights-presidency/d/7252