New Age Islam News Bureau
3 May 2015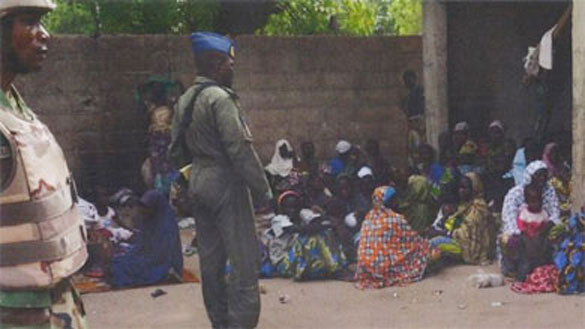 The Nigerian army has claimed the release of several groups of captives from Boko Haram
----------
• Afghanistan: Woman Narrowly Escapes Beheading Attempt by Her Mother-in-Law
• Guantanamo Bay: Muslim Inmates Object to Female Guards
• Iran Woman with No Arms Helps Others to Live With Disability
• Labour Figures Face Backlash after Segregating Women from Men at Rally in Birmingham
• 1,000 Nigerian Girls Working As Prostitutes in Libya - Police
• South Africa: Xenophobia - Women, Children Hit Hardest
• Why We Need Gender Equality In Order To Tackle HIV
• Boko Haram: 300 Girls and Women Taken To Safety
• Egypt to Open Investigations into Porn Star's Pictures at Giza Pyramids
• South African Women Narrate Discrimination Faced For Being Married to Nigerians
• Africa: State's Russell on Gender, Violence, Power of Education
Compiled by New Age Islam News Bureau
URL: https://newageislam.com/islam-women-feminism/afghan-trial-begins-live-tv/d/102791
------------
Afghan trial begins live on TV in mob killing of woman
03 May, 2015
The first trial of suspects in the mob killing of an Afghan woman has begun in the capital Kabul.
The trial, which is being broadcast live on TV, opened Saturday and charges 49 suspects, including several police officers, in relation to the March 19 killing of a 27-year-old woman named Farkhunda.
Prosecutors allege she was beaten to death in a frenzied attack sparked by a bogus accusation that she had burned a copy of the Quran.
The killing shocked many Afghans, though some public and religious figures said it would have been justified if she in fact had damaged a copy of the Muslim holy book.
The incident sparked a civil society movement to limit the power of clerics, strengthen the rule of law and improve women's rights.
http://english.ahram.org.eg/NewsContent/2/9/129149/World/International/Afghan-trial-begins-live-on-TV-in-mob-killing-of-w.aspx
----------
Afghanistan: Woman Narrowly Escapes Beheading Attempt by Her Mother-in-Law
03 May, 2015
A woman has been traumatized as she narrowly escaped a beheading attempt by her mother-in-law, in a rare case involving a woman inflicting violence on another woman.
Identified as Gul Sima, the woman has recently recovered from state of coma and is currently being treated in Ibn-e-Sina hospital in capital Kabul.
The incident took place in Andar district in restive south-eastern Ghazni province of Afghanistan.
Gul Sima quoted in a report by Tolo News said she was suffering from domestic violence and was beaten and tortured on numerous occasions by her husband's family.
Unable to properly speak due to injuries she suffered from failed beheading attempt, the woman said she was also forced to swallow nails.
The husband of the victim has reportedly been arrested by police but the relatives of the victim insist that their daughter should divorce.
The doctors in Ibn-e-Sina emergency hospital have said the woman is improving as compared to the first day when she was admitted to the hospital as she was in a critical condition.
https://www.khaama.com/woman-narrowly-escapes-beheading-attempt-by-her-mother-in-law-1057
-------------
Guantanamo Bay: Muslim inmates object to female guards
03 May, 2015
A brawl between female soldiers and Muslim inmates has led to a standstill at the lockups in Guantanamo Bay, Cuba.
A judge banned female guards from shackling and escorting the five Muslim men being tried for the September 11 attacks. The soldiers have in turn filed complaints against the judge with regards to Equal Opportunity.
Walter Ruiz, the lawyer of one of the detainees explains that in the past six years only male guards had escorted and shackled his client. Since last fall, female guards have become part of the team. His client refuses to vacate his cell in the company of female guards because a Muslim man can only touch a woman he's related to.
"It means that we are not able to meet, we are not able to speak with each other on legal issues, and therefore I'm not able to provide the legal services that I am required to provide and the advocacy that I'm required to provide on his behalf," Ruiz says. "It's an access to counsel issue."
The judge presiding in the trial has refused to lift the restraining order barring female officers from escorting the September 11 attacks detainees.
The decision of the judge has received criticism by New Hampshire Republican Kelly Ayotte. "When the 9-11 attackers don't want women guarding them, it's absurd, and I don't think we should be accommodating that," she said.
Directed towards the matter by Ayotte, the head of the US Southern Command, who's in charge of Guantanamo, Gen John Kelly suggested that the judge had been misled.
David Nevin, who represents another September 11 attacks detainee, explains it is a matter of showing respect for well-established belief in Islam.
"There's a problem, a religious problem, protected under the First Amendment to the US Constitution, with having women touch men," Nevin says. "It's just something that's not done."
"So while it is, you know, completely desirable and understandable for women to have a greater role in the military, there's no explanation for why it absolutely has to be applied in this way, in this place, and that's the problem," he adds.
The US Southern Command has investigated the Equal Opportunity complaints filed there by unidentified National Guard members, some of which are file by women. No conclusion have yet been revealed.
http://tribune.com.pk/story/880165/guantanamo-bay-muslim-inmates-object-to-female-guards/
-------------
Iran woman with no arms helps others to live with disability
03 May, 2015
Zohreh Etezadossaltaneh was born without arms, but that hasn't stopped her from excelling in many activities, ranging from painting to table tennis.
Now 52 years old, the retired Iranian teacher has dedicated herself to helping others with similar disabilities live full and satisfying lives.
Her story is one of personal triumph and indomitable spirit.
"Each body might have some limitations and deficiencies. But if you have a pure, elevated soul I think the body won't matter," she said.
After receiving her primary education at a special school for disabled children, Etezadossaltaneh moved into the mainstream Iranian education system and eventually earned a degree in psychology.
Now she works with young people with similar disabilities. Among her students is 9-year-old Roohollah Jafar, who lost his hands in an accident and is now learning from Etezadossaltaneh to paint and do calligraphy using his feet.
At the start of their lesson, Etezadossaltaneh skillfully massages the boy's feet with her own feet and guides him on how to hold and control a pen between his toes.
Etezadossaltaneh's feet have become dexterous enough to hold a pingpong paddle or a paint brush. She has staged multiple exhibitions and supplements her retirement pension by selling some of her artwork.
"She works so easily that I've totally forgotten she paints with her feet," said her painting instructor, Parisa Samavatian.
Etezadossaltaneh's skill at table tennis has led to her being featured in public exhibition matches. But she insists that she wants to be more than just a symbolic figure of inspiration.
"I want to play seriously and get a name," she said. "I want to represent my country in competitions overseas."
http://english.alarabiya.net/en/perspective/features/2015/05/01/Iran-woman-with-no-arms-helps-others-to-live-with-disability.html
------------
Labour Figures Face Backlash after Segregating Women from Men at Rally in Birmingham
03 May, 2015
Parliamentary candidates Tom Watson, Liam Byrne, Khalid Mahmood and Jack Dromey, along with MEP Sion Simon, attended the political rally in Birmingham.
Pictures posted on Twitter showed Muslim women sitting in a small cluster on one side of what looked like an Islamic community centre with the men seated opposite.
The meeting took place yesterday morning in Hodge Hill, an inner city district with a large Muslim population.
When challenged by the Sunday Express Mr Mahmood, candidate for Perry Bar admitted he attended but said: "And?"
When asked whether he thought it appropriate to address a segregated audience, he appeared flustered and said: "I didn't organise it. You'll have to speak to the organisers".
He made no further comment.
Mr Watson, Mr Dromey and Mr Byrne were unavailable for comment last night.
Mr Simon uploaded the photos on to Twitter with the message: "Last weekend before the election? Must be Hodge Hill rally time."
He was soon inundated with tweets criticising his apparent disregard for sexual equality.
Former Conservative MP Louise Mensch left a sarcastic tweet that read: "I see a woman there!"
Other Twitter users were more scathing.
One fumed: "Gender apartheid and votes at any cost the party of equality should hang its head in shame".
Another asked the West Midlands MEP: "Seriously, @sionsimon would you be prepared to speak at a rally where the audience were segregated by race? Or sexual orientation?"
http://www.express.co.uk/news/politics/574616/Labour-Left-speakers-segregated-rally
-------------
1,000 Nigerian Girls Working As Prostitutes in Libya - Police
03 May, 2015
Lagos — Police authorities said yesterday that over 1,000 Nigerian girls are currently working as prostitutes in Libya. Lagos State Commissioner of Police, Kayode Aderanti, said this at a press conference held.
Aderanti said the discovery was made after the kidnap of a 15-year old girl, Precious Okoro, who fell victim to a prostitution syndicate in April, last year.
He said the girl's kidnap was allegedly masterminded by her mother's cousin, simply identified as Kelvin.
Aderanti said Kelvin's gang operates between Nigeria and Libya, and that most of the gang's victims are between the ages of 13 and 15.
http://allafrica.com/stories/201504290787.html
---------
South Africa: Xenophobia - Women, Children Hit Hardest
03 May, 2015
For decades, African women have been active in agriculture, trade, and other economic pursuits. Amajority of them have remained in the informal labour force and always played a supporting role to their spouses. In other words, they carry the social burden; are guardians of their children's welfare and have explicit
responsibility to provide for them materially.
Furthermore, they are the household managers, providing food, nutrition, water, health, education and family planning to an extent greater than elsewhere in the developing world.
The recent spate of xenophobia motivated attacks that broke out in Durban, South Africa, left over 4 000 immigrants, mainly those from Malawi, Mozambique, Zimbabwe, Kenya, Botswana and Tanzania displaced.
The onslaught claimed seven lives and left several others badly injured.
A total of 112 suspects were arrested in connection with the violence.
The majority of victims of these brutal attacks were women who worked as housemaids or supported their husbands employed in and around Durban.
From the different homes the xenophobia victims were forced to seek shelter at two transitional camps at Chatsworth and Phoenix suburbs in Durban.
Some of the camps have closed down but some are still operational.
The traumatised women at the two transitional camps had very sad tales to tell.
They were forced out of their homes in a huff without clothes and blankets and even sanitary wear.
It was a matter of life and death.
They had to vacate the suburbs or face death from the marauding xenophobes.
"The situation here is unbearable. I fled my house with my one-year-old toddler in my arms. I had no time for anything else," said Ms Talent Nyoni from Zhombe.
"I only managed to take a bag of clothes and my child and hid in the bush when the mob came looking for foreign immigrants in Ntomba area.
"I was at the camp for five days where I could not bath. There was inadequate shelter, controlled meals and the threat of further attacks," Ms Nyoni said.
"I endured the same food daily. My child was used to a different diet and he was also traumatised. We had limited toilets and they filled up. Above all, we were overcrowded and lacked freedom," she added.
Ms Nyoni, who was employed as a maid in Phoenix suburb, said most of her property was stolen as she fled from the house.
She was the sole breadwinner for her family back home.
Another Zimbabwean woman, Mrs Elta Zephaniah who was visibly sick, said she was having challenges accessing medication at the sole Red Cross Clinic at Phoenix Camp.
"I was sick for three days and was having challenges in accessing medication at the clinic because there were a lot of people there including those who were assaulted and injured.
"I could not leave the camp because the situation in the suburb was tense. My husband, who is employed as truck driver, was away and there was no one to help me. The conditions at the camp were inhuman. We could not bath and there was no adequate water. Generally everything was controlled and we were not used to that," she said.
Mrs Zephaniah had been staying in South Africa for two years.
She vowed never to go to back to South Africa after escaping the vicious overnight attack.
She and her neighbours were only saved by their landlord who alerted them to the impeding attacks after getting word from a friend.
"We escaped with a few bags leaving behind electrical gadgets which we could not carry. We slept in the bush. On the following day we sought refuge at the police station before being taken to a camp (Phoenix)," she said.
She said there were challenges with sleeping space and nationalities of different countries were also quarrelling because of different cultures and way of life.
A Mozambican woman, Mrs Martha Chauke, said her stay at in the transitional camp was nothing short of torture because of limited space.
"I wanted to go home. Life was difficult. We had to scramble for food and the little water for bathing and drinking. Some people were even sleeping in the cold and I was worried that many children would be affected by the cold weather," she said.
Mrs Chauke had been staying with her husband in the 1104 area of Durban where he was employed as a builder.
In the camps, women and children had to stand in long queues three times a day to get food.
Sometimes the queues were made up of more than 600 people.
There were fears of disease outbreaks at the centres as they also slept in crowded tents where other immigrants smoked at night.
The area around most of the ablution facilities was littered with human waste including diapers and produced a stench of urine amid fears of an outbreak of diseases.
The business community around Durban and other civic groups provided food to the displaced immigrants.
"We were sitting on a time bomb. We were overcrowded and struggled for everything including water, food, sleeping points," said Andrew Shumba, a Zimbabwean.
Other immigrants also complained about the unavailability of decent meals and electricity.
"Women and men were bathing in the open, there were no proper sanitary facilities for both women and children.
"The toilets were filled up and life inside the camp was just not normal. We felt vulnerable," said a Mozambican man who preferred anonymity.
Zimbabwe's Ambassador to South Africa, Mr Isaac Moyo, described the conditions at the camps as a humanitarian challenge.
"The conditions at the camps are difficult considering that they are staying in the open where it is drizzling and cold during the night.
"We are doing our level best to ensure that our people are repatriated to Zimbabwe. You will note that people there are enthusiastic about going to their respective homes where they can leave a decent life," he said.
Zimbabwe, Malawi and Mozambique have since last week been evacuating their citizens from the volatile areas of Durban.
Zimbabwe has since repatriated 830 people from Durban in hired buses via Beitbridge Border Post. Among those repatriated were 105 children and 324 women.
South Africa's Minister of Social Development, Mrs Bathabile Olive Dlamini, told journalists during a tour of the Primrose Camp in Johannesburg recently that they had agreed with community leaders to re-integrate some of those who had been displaced.
"The leadership in various communities has taken it upon themselves to ensure the safety of the immigrants and we want to warn those involved in criminal activities that the law will take its course," she said.
She added that they had engaged people from the Nelson Mandela Foundation to help with the training of people from local government level on issues around conflict resolutions.
"This is a process we need to approach collectively and we have taken the necessary steps to prepare our communities to co-exist with immigrants. We don't want to push people to communities which are not ready to integrate them.
"As a government we have made commitments to ensure the safety of all the people within our communities and we will stick to that," said Mrs Dlamini.
She said the SA government would work with the International Organisation for Migration "as we escalate the facilitation and involvement of the communities in this process (integration)".
http://allafrica.com/stories/201504300212.html
----------
Why We Need Gender Equality in Order to Tackle HIV
03 May, 2015
Recently the world let out a small sigh of relief when it emerged that at least 293 women and girls who had been captured by the Islamist group Boko Haram in Nigeria had been freed and were now receiving care at a university hospital. An adjunct to that news though was that the women were all being tested to see if they were pregnant and, also, to see if they had sexually transmitted infections like HIV.
The Islamist group represents an extreme example of an ideology that gives little value to the lives or autonomy of women and obviously puts them at a very high risk of contracting and spreading HIV. However, the more persistent gender disparities present in many cultures across the world continue to put women at risk.
This is a problem that major health bodies like the World Health Organization (WHO) specifically recognize, and yet national strategies have in the past failed women in a variety of ways.
For instance, and as noted above, culturally acceptable violence against women–whether physical, sexual or emotional–increases the likelihood of women being subject to unsafe sex and contracting HIV. Women who are living in fear cannot make responsible sexual health choices, nor can they ask for preventative care like having access to condoms. Forced marriages and cultures that demand women marry as a matter of female propriety also exacerbate this problem because they make young women into commodities, something that means that a woman even finding out her HIV status becomes incredibly taboo because, in the end, it could be a barrier to a successful pairing.
Yet, many governments have often failed to even broach that subject, instead opting for even more rules surrounding how women should conduct themselves such as Uganda's ridiculous anti-pornography law that made it an offence for women to have skirts that are deemed too short and ultimately ended in women being attacked in the streets.
Fortunately, various national programs have been brought into force in recent years that try to educate women how to access sexual health care, how to safely disclose their HIV status to new partners, as well as creating better legal frameworks that make eliminating violence against women a priority, but again those efforts can be severely hampered by laws like another proposed by Uganda and laws already instituted by countries like Russia, that impede the work of non-governmental organizations.
It's not just violence that can stop women from accessing HIV prevention services and care, though. Stigma and ingrained gender roles can profoundly impact what women feel they are able to do for themselves. If a society places an emphasis on male roles and, for instance, makes it difficult for women to go far from the family home if unsupervised or gives them limited decision making abilities, they will be less likely to access health care services. This can be implemented somewhat more subtly than overt policing by a patriarchy that, for instance, deprives young women of the same level of education as their male counterparts which in turn creates a barrier that means women, if they are allowed to work at all, are less likely to have the financial resources to access sexual health care services. For example, they may lack the money they need to travel to said services.
Unsurprisingly, it also appears to matter how women think about themselves as to whether they will take the steps needed to protect themselves and others from HIV. Recently, researchers at the University of Southampton released a study in which they report that South African HIV-positive women under the age of 26 were more likely to have used a condom during their previous sexual encounters if they themselves had more gender equal views, as opposed to a view that said men should be more dominant. The study, which is published in the journal PLoS One, found that women over the age of 26 years did not display this difference, suggesting, as one interpretation, that gender norms among younger women in South Africa are less entrenched than they once were but that they do play a role in HIV prevention.
"Gender norms are social and cultural constructions of the ways that women and men are expected to behave," Dr. Nuala McGrath of the University of Southampton is quoted as saying. "For women, gender norms can reinforce their unequal position in a relationship and in wider society – this could reduce their ability to refuse sexual advances and to negotiate safer sexual practices, including condom use."
The study, which involved interviewing over 500 sexually active women and men about their sexual health choices, also found that there was a strong correlation between higher levels of education and the likelihood of women using condoms. What's more, it quickly became apparent that condom use appears to tally with knowing a partner's HIV status. As such, women who feel they can talk to men about their HIV status–and, indeed, that they deserve to know that status–are more likely then to take precautions that protect not just themselves but their partners, too. The only way this can happen is by ensuring women are treated equally to men in terms of societal standing.
What also becomes apparent though in a wider context is how gender equality issues impact men, too. Men inherit roles that suggest they must act in particular ways, and if they do give ground to the women in their lives they may feel pressure from external forces telling them that this is unmanly. Levels of education play their part, too. When we talk about gender equality and empowering women against HIV, we also must talk about empowering men to be strong enough to turn their backs on social standards that say they must deprive women of their rights, and that of itself is an important step that is often missed in this discussion.
The United Nations has said that one of the most powerful things that we can do in the fight against HIV, particularly in Sub-Saharan Africa, is to recognize and guarantee women's rights because it is by doing this that we give women, and indeed the men in their lives, the framework for responsible sexual health decisions.
http://www.care2.com/causes/why-we-need-gender-equality-in-order-to-tackle-hiv.html#ixzz3Z4tS2Z5B
----------
Boko Haram: 300 girls and women taken to safety
03 May, 2015
A group of nearly 300 women and girls, who the Nigerian army says were freed from Boko Haram militants earlier this week, have been taken to a refugee camp in north-eastern Nigeria.
They had travelled for three days from the vast Sambisa forest where they were rescued, according to the army.
The group arrived in trucks and jeeps at a school converted into the camp in the city of Yola.
Earlier, the military said another 234 women and children had been rescued.
It said that operation took place on Thursday in the forest, a militant hideout.
Reports suggest nearly 700 women have been rescued from Boko Haram over the past week as the army continues its operation against militant strongholds.
Identity screening
But it is still not clear if any of the more than 200 girls abducted from a school in Chibok in April 2014 were among those freed.
The case caused international outrage and triggered a major campaign to get the Nigerian government to work for their release.
The military said the freed hostages were being screened to establish their identities.
Some analysts are sceptical of the army's claims - querying the the use of the term "rescue", says BBC Africa Editor Richard Hamilton.
They say the women were probably picked up by the military after the militants had fled.
While the army says the latest group freed were Boko Haram captives, a local senator says the women and children previously released may have been residents of the area.
The military earlier said it had destroyed 13 camps belonging to the Islamist insurgents in the Sambisa forest, which surrounds a reserve in Borno.
Thousands have been killed in northern Nigeria since Boko Haram began its insurgency in 2009 to create an Islamic state.
In February, Nigeria's military, backed by troops from neighbouring countries, launched a major offensive against the Islamist fighters, recapturing Boko Haram territory taken in the previous year.
http://www.bbc.com/news/world-africa-32570835
---------
Egypt to open investigations into porn star's pictures at Giza pyramids
03 May, 2015
Egypt's Ministry of Antiquities said on Friday that it will open investigations into the surfacing of "indecent pictures" of an American-based porn star in front of Giza's pyramids.
The ministry quoted the porn star Carmen De Luz's Facebook account saying that she only took pictures of herself and denied media reports that a pornographic video was shot in the area surrounding the pyramids and sphinx.
The ministry's statement added that "by thoroughly examining the pictures it is clear that there were no individuals or tour busses in the background, meaning that De Luz stayed in the area past the permitted hours".
The statement added that the tourism police should have evacuated all visitors in the area before 5 pm.
On her Twitter account, De Luz, who visited Egypt earlier this week, issued a statement in Arabic saying "I did not shoot a porno in Egypt for the sacredness of its people," and "…only went to visit because I love Egypt."
One of the pictures shared by the actress showed her wearing a black cloak covering her body, while another picture showed her riding a camel and revealing her bottom with the pyramids in the background.
Meanwhile, De Luz re-tweeted a number of mostly sarcastic Egyptian tweets welcoming her to the country.
Amr Ahmed (@GoldenMayoo), tweeted to De Luz saying "thanks for supporting tourism in Egypt . :count me (as) one of your big fans."
While @Knight_egyptian tweeted to the actress saying, "welcome to egypt and we are not upset and a i love (you) very much keep it up you are the best."
At least two pornographic videos have been shot at the pyramids- one of them this year- by foreign visitors, prompting an outcry from Egyptian conservatives, and promises from the government that the incidents will be investigated.
http://english.ahram.org.eg/NewsContent/1/64/129137/Egypt/Politics-/Egypt-to-open-investigations-into-porn-stars-pictu.aspx
-------------
South African women narrate discrimination faced for being married to Nigerians
03 May, 2015
A group of women who have named themselves as The United Nigerian Wives in South Africa, UNWISA, has opened up on the kind of treatment they get from their fellow kinsmen for being married to Nigerian men in South Africa.
Speaking on the issue of the xenophobic attack, the chairman of the group, Mrs Lindwela Uche who is in her early 40s told AFP that they were aware of the recent attacks and had warned their foreign husband but that they took their warning for granted.
"We saw this thing coming and that's why we formed this association. If only they (the authorities) had listened to us… they would have known that there's a fire burning slowly and they would have seen how to tackle it." She narrated.
Another woman in the association,Lufunu Orji who is married to a Nigerian Resources Consultant, Ogbonnaya Orji, narrated that being married to a foreign husband is not an easy life to live.
"Being married to a foreigner is very challenging. You often spend your time defending yourself and then you defend your foreign husband for being himself. Just before I got wed to my husband, I lost two very best friends of mine. They thought I was out of my mind" she said.
Another woman- Mrs Uche disclosed that her 13-year-old daughter, few days back had returned from school complaining of being discriminated because of her nationality, adding that her daughter's teacher had told her "not to bring that Nigerian mentality here" after she and classmates were noisy in class.
"We need to be protected, we need our children to be protected… and our husbands to be treated with dignity," Uche said
Another woman -Thelma Okoro disclosed that the attitude towardS South African women who are married to Nigerian men are negative everywhere they go, adding that wearing Nigeria traditional attire on the street attracts negative comments.
The 37-year-old lady also spoke on the danger her child faces at school, saying she is being mocked because of her name which is Ngozi which means blessing in Igbo, but means Danger in Zulu.
http://dailypost.ng/2015/04/30/south-african-women-narrate-discrimination-faced-for-being-married-to-nigerians/
----------
Africa: State's Russell On Gender, Violence, Power of Education
03 May, 2015
Remarks by Catherine M. Russell Ambassador-at-Large for Global Women's Issues at the 2015 Open Square Summit Carnegie Library
Thank you so much for that very kind introduction, Sanan, and thank you to Esta and her team at Futures Without Violence, as well as the Open Square Foundation, for gathering us all here today. This is an impressive crowd of people committed to advancing women and girls, and I'm honored to be here.
One of the very best things about my job is that I get to meet some truly courageous, innovative, and extraordinary people.
One of those people is a young woman from Malawi named Memory Banda. I just saw Memory in New York at the Commission on the Status of Women in March. And I'm always excited to hear the latest about how she's working to empower girls--both in her community in southern Malawi and her country as a whole.
Memory is a powerful example of how education can change lives. As an advocate for girls, she offers free writing lessons to adolescent moms in her neighborhood. She visits the families of girls who are in danger of being married, and she encourages them to change their minds. And she's part of a grassroots campaign to build networks for girls and end child marriage once and for all.
But that's not the whole story. Memory became an activist because, for her, gender-based violence is personal. Her younger sister Mercy was just 11 years old when she got pregnant during a so-called "sexual initiation" ceremony. During these ceremonies, girls are forced to have sex with an adult man to prepare for marriage. These ceremonies are horrific, and their consequences are lasting. Like many other girls, Memory's sister ended up pregnant and had to drop out of school.
Memory and Mercy's stories illustrate how education and gender-based violence can determine whether a girl becomes a powerful advocate or an adolescent mother.
That's why as Ambassador for Global Women's Issues, one of my top priorities is gender-based violence--both how we can address it and, even better, how we can prevent it. Violence influences so much else in a woman's life--her ability not only to survive but thrive. So this issue is directly linked to our other foreign policy priorities.
For example, the United States is focused on increasing women's full participation across the board. From the corner store to the corner office, from the peace table to Parliament, women deserve the opportunity to fully participate in society.
And when they do, we all benefit. Our economies are better when women are in the work force. Our societies are stronger when women are in politics and on police forces. And our progress is greater when girls have the same opportunities as boys, whether that's in school or at home.
So I'm glad this summit is focused on gender-based violence and also on education. It recognizes that women and girls have tremendous capacity to be powerful engines of economic growth and leaders for change.
Everywhere I go I meet girls with this capacity. Girls from Mexico City or Marrakech who, just like Memory Banda, deserve the opportunity to reach their full potential.
For these girls, adolescence is a critical moment. Their decisions--or their inability to make decisions for themselves--can determine the rest of their lives. And gender-based violence is one of the biggest factors at play. On any given day, there are many vulnerable moments for a girl.
It starts when she wakes up in the morning, and gets ready for school. If she lives in a developing country, she may not have a bathroom in her house. Whether she's walking to a public toilet far from home, or making her way to school, she is at risk of harassment or sexual violence.
When she gets to school, she's greeted by her teacher. Again this can be a moment of risk. Her teacher may try to force her into having sex with him in exchange for improved grades. He may even view sex with his students as compensation for his low salary.
But he's not the only potential threat. She also has to be on guard against sexual violence from her fellow students. A recent study in Cameroon, for example, found that 30 percent of sexual violence experienced by girls in school was committed by a male peer.
If she lives in a country or area plagued by conflict, her journey home can also be fraught with the potential for violence. It can come from a soldier, an armed rebel, a gang member, or a sexual predator.
If she gets home safely, in many places she spends hours doing work around the house before she finishes her day.
But what if it's a holiday and she doesn't have school? If she lives in one of the 29 countries where we know female genital mutilation/cutting is prevalent, the time off from school may actually be when she undergoes FGM/C. Now she's at risk for a lifetime of health consequences: hemorrhaging, recurrent infections, increased risk for HIV infection, complications in child birth, and even death.
And FGM/C might be the way her parents are preparing her for marriage. If she does get married as an adolescent girl, she's at risk for increased violence--and her young marriage will likely put an end to her education.
The good news is that we're not powerless to stop this. We can play important roles in addressing these problems. We can expand women's economic opportunities--like the Akilah Institute for Women does in Rwanda and Burundi. We can build girls' confidence and leadership, and transform gender norms--like the Inter-American Development Bank has done with a girl-centered sports program in Bolivia. We can teach men and boys to be champions for gender equality--like Plan International's program for adolescent boys does in Brazil. And we can make sure we have a strong research foundation to help with decision making--like the Clinton and Gates Foundations' No Ceilings report does for all of us here.
In the face of these tremendous challenges, everyone here is doing powerful work to promote education and end gender-based violence. I'd like to talk for a minute about the work of the United States in this effort.
Last month President Obama and the First Lady launched the Let Girls Learn initiative. This is a whole-of-government approach to reach girls around the world at this critical juncture in their lives and help them stay in school until they finish--ready to contribute to their economies. Over the coming months, we will provide every U.S. embassy with concrete tools they can use to advance girls' education.
Now we know education is critical. But it's most powerful when it's part of a comprehensive approach. That's why in addition to Let Girls Learn, we also have programs like the DREAMS partnership. Through DREAMS we're working to reduce new HIV infections in adolescent girls and young women--with the ultimate goal of an AIDS-free generation.
And of course we're always looking at local solutions to these problems. Last July, as Ebola spread across West Africa, my office launched our biggest grant ever to end FGM/C in Guinea. In Bolivia, we're funding radio campaigns to end the silence around intimate partner violence. In Papua New Guinea we're funding trainings that empower survivors of gender-based violence with business skills. And in Benin, we're working to reduce early and forced marriages and expand services to survivors.
All of these efforts--not just those of the United States government, but the efforts that you represent--all of these are critical. And they take place at a critical time. In a few short months, the world's governments will come to an agreement around a shared global vision, one that will shape our development investments for the next 15 years. Many of the world's development challenges hinge on investing in--and including--girls and women. So it's exciting that for the first time, the global community will likely recognize gender-based violence as an impediment to unlocking this potential and achieving the future we want.
But this will happen only if we raise our collective voices loudly enough. I know that's exactly what you're doing here today, and I wish you all the best.
So I'd like to end with a few words from Memory that I think are appropriate. "Let girls be valued... their issues be prioritized... their voices be heard. What we need is action."
http://allafrica.com/stories/201505011349.html
------------
URL: https://newageislam.com/islam-women-feminism/afghan-trial-begins-live-tv/d/102791