New Age Islam News Bureau
4 Dec 2019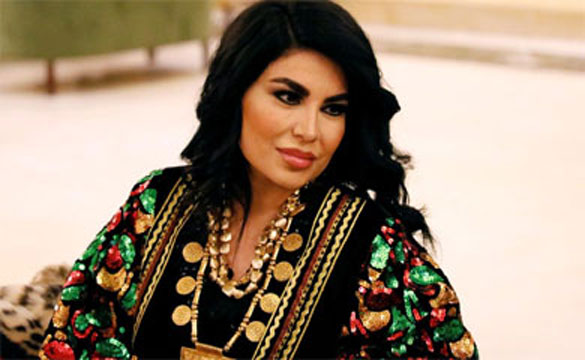 Afghan singer Aryana Sayeed
------
• A Muslim Female Passenger in a Hijab Was Kicked Off a Turkish Airlines Flight at London Gatwick Due to A Suspicious Chat
• Sexual Harassment on Indonesia's Public Transport
• Boris Johnson Cannot Criticise Us over Racism After Calling Muslim Women Letterboxes, UEFA President Says
• Kyrgyz Naked Art Performance Sparks Row
• Hala On Apple TV Plus: A Missed Opportunity To Shatter Muslim Stereotypes
Compiled By New Age Islam News Bureau
URL: https://www.newageislam.com/islam-women-feminism/afghan-singer-aryana-saeed-fear/d/120436
------
Afghan Singer Aryana Saeed Is In 'Fear Of' The Taliban's Return As Afghan Peace Talks Resume
Wednesday, 04 Dec 2019
Popular Afghan singer Aryana Saeed spoke as a Human Rights Defender thru 'Music' at the 'NATO Engages', a side event to NATO Leaders Meeting in London, expressing her concerns and fear of returning 'The Taliban' back in power.
Aryana Saeed, welcomed the Afghanistan peace talks, but said is in 'fear of' women's losing achievements and rights if the Taliban is back in power.
"There are discussions about the international community to walk away and leave Afghanistan or to potentially reach a deal or a compromise with Taliban, even-though I personally support the peace like everyone else, but i do not want us to sacrifice or risk the rights of Afghan women or all those achievements and the progresses that have been made in the country for the past twenty years." said Aryana Saeed.
She expressed concerns about NATO forces leaving Afghanistan, thinking that violence and civil wars can resume in the absence of the international community.
"If you leave and walk away from Afghanistan, I think that Afghanistan will return to civil war, where all those warlords are waiting to attacking and fighting each other for money and for power and they will not care about all those millions innocent souls and lives that will be lost in the process and Afghanistan will again go back to be the home of terrorism.", she said.
Aryana praised the role of NATO in empowering the Afghanistan National Security Defense Forces through training and providing supports.
"One of the major challenges I took about myself was to perform in the heart of the Kabul city, at a football stadium where the Taliban used to openly execute women by shooting them in the head, in the crowd. It is interesting to see a nightmare turned in to hope in the same place and of course all these performances would not have been possible without the the major security an partial 'peace of mind' provided by the Afghan forces who were actually trained and supported by NATO.", Aryana said.
The 3 days 'NATO's 70th anniversary and the leaders meeting' is held on the 3-5 December 2019 in London.
Twenty Nine leaders from the NATO alliance countries gather in London on Wednesday to celebrate the organization's 70th year anniversary and discuss the NATO's role in the fight against terrorism, arms control, relationship with Russia and the rise of China.
https://www.khaama.com/afghan-singer-aryana-saeed-is-in-fear-of-the-talibans-return-as-afghan-peace-talks-resume-98534/
------
A Muslim female passenger in a hijab was kicked off a Turkish Airlines flight at London Gatwick due to a suspicious chat
December 3, 2019
By Melanie Kraft
A female passenger is claiming she was kicked off a Turkish Airlines flight after a white man reported her for being suspicious.
The female passenger wearing a hijab claims a white man reported her for being suspicious after reading a conversation she was having with a friend over her shoulder.
The police forced her to disembark after she messaged a friend "anything could happen" because she was worried to be flying alone because she said.
She tweeted: "I was shouted at on the plane, refused to explain the conversation and removed from the flight and the airport police treated me like absolute shit, I wasn't searched but told to go home."
"All because a man, who just like me is afraid of flying read my messages where I was confiding in my friend and took it apon himself to cause problems."
As she was flying to Somalia, she had to pay £500 on top of the £725 for a second ticket before she went to the airport but she was refused to embark at the gate.
A staff woman said she was banned from getting on a Turkish Airlines flight ever.
https://www.airlive.net/a-muslim-female-passenger-in-a-hijab-was-kicked-off-a-turkish-airlines-flight-at-london-gatwick-due-to-a-suspicious-chat/
------
Sexual harassment on Indonesia's public transport
Sheith Khidhir
3 December 2019
The media in Indonesia recently revealed that the Coalition for Safe Public Space (KRPA) had conducted a survey regarding women's safety on public transportation in Indonesia. The results of the survey showed that public transportation could be considered a very dangerous public place for women, with the frequency of sexual harassment occurrences coming in second place. In first place was the streets.
The coalition, which consists of civil society groups concerned about violence against women, interviewed 62,000 people across Indonesia for the survey which was held to commemorate the 16 Days of Activism to Eliminate Violence Against Women, and highlighted how women are 13 times more vulnerable to sexual harassment on public transportation than men.
It was noted that most cases of sexual violence reported to the National Commission on Violence Against Women (Komnas Perempuan) happen in private. Nevertheless, Anindya Restuviyani, administrator of Hollaback! Jakarta (part of the coalition) said that sexual harassment on public transportation is the form of harassment that is most frequently ignored.
"This happens because sometimes people don't understand what they have experienced is sexual harassment, so they ignore it and people around them who witness the incident ignore it too. This will only strengthen the rape culture in our nation," Anindya was quoted as saying.
Most of the female respondents said buses (35.45 percent) and angkot or public minivans (30 percent) were the means of transportation where most sexual harassment took place. This was followed by the commuter line train service (KRL) with 17.79 percent.
"The harassment is not only physical - like being groped or having a man rub his genitals against a woman - but also verbal. There were 19 forms of harassment that the respondents experienced on public transportation," said Rastra, an activist with Lentera Sintas, which is also part of the coalition. Rastra, like most Indonesians, only goes by a single name.
He said female respondents also revealed that men masturbated near them on public transportation, stalked them, made racist comments, or secretly took their pictures.
Dangerous country for women
The coalition's survey is not the only one which has revealed Indonesia as an unsafe place for women. Earlier this year, Singapore-based research company, ValueChampion also conducted a survey which placed Indonesia as the second most dangerous country for women in the Asia Pacific region after India. The Philippines is the third most dangerous.
This makes Indonesia the most dangerous country for women in ASEAN.
According to ValueChampion, all of these countries were found to have subpar access to healthcare, lax laws regarding women's safety, poor access to family planning resources and overall inequality.
"Despite government interventions and attempts to enact laws that protect women's safety, deeply entrenched patriarchal attitudes either due to cultural or religious beliefs led to women fearing for their well-being more often than in other countries on our list," the report noted.
In Indonesia, despite laws prohibiting rape, domestic abuse and other forms of violence, a 2016 government survey found that around 33 percent of women between the ages of 15 and 64 experienced some form of violence.
Indonesia also continues to remain in the limelight due to its treatment of women.
In November last year, school teacher Baiq Nuril Maknun's name was in the news after she was allegedly sexually harassed by her superior, principal H Muslim.
Baiq Nuril had recorded conversations between her superior and herself to be used as legal evidence. To the shock of many, the Indonesian Supreme Court in Jakarta overturned a 2017 acquittal from a lower court and convicted Baiq Nuril of recording and spreading indecent material under the country's electronic information and transactions law. In September, Baiq Nuril was sentenced to six months in jail and fined IDR500 million (US$34,000).
The case sparked criticism from activists and the public who argued that Baiq Nuril was the actual victim of sexual harassment. Executive Director of Amnesty Indonesia, Usman Hamid, said that instead of looking at the abuse carried out by Muslim against Baiq Nuril, the system focussed on criminalising her actions to redress the abuse. On 25 July, Baiq won a parliamentary pardon.
Incidences of sexual harassment have long been a plague in Indonesia. Data from the Indonesian National Commission on Violence against Women (Komnas Perempuan) shows that of the 259,150 cases of violence against women in 2016, some 3,495 were domestic sexual harassment and 2,290 were sexual abuse in the community or at the workplace.
It is hoped that the Indonesian government will look into all these statistics and surveys and realise that it is facing a serious issue that needs to be tackled immediately. Indonesia must become safer for its sisters, mothers, and daughters.
https://theaseanpost.com/article/sexual-harassment-indonesias-public-transport
------
Boris Johnson cannot criticise us over racism after calling Muslim women letterboxes, UEFA president says
Rob Merrick
The head of European football has accused Boris Johnson of hypocrisy for criticising racism in the game given his notorious comments about Muslims.
Aleksander Ceferin, the president of governing body UEFA, admitted it needed to do more to tackle abusive fans – but said he would not take criticism from the prime minister.
"When a politician that calls women with burkas post boxes or mailboxes, then says publicly that he condemns UEFA, do you reply to that? Do you believe it's honest? Come on," he protested.
Speaking to the Mirror, Mr Ceferin said: "When you see high politicians, prime ministers, when you see presidents of republics who are racists, who were sexist, who were homophobes, you see that something is wrong.
"Because if you see an idiot from the streets shouting you say, 'okay, put him in prison' and that's it.
"But when politicians start speaking, they are not punished. And we have that in Europe more and more."
In October, Mr Johnson told UEFA to get tough on racism after monkey chants were directed at England's footballers during a European Championship qualifier in Bulgaria.
Yet, during an election TV debate, he refused to apologise for describing Muslim women wearing the veil as looking like letterboxes and bank robbers.
Instead, he denied that newspaper column had been offensive – claiming it could only be "made to seem offensive" if taken out of context – and said: "I defend my right to speak out."
The prime minister faced a hostile audience over his past newspaper columns, with the accusation that he had "personally contributed" to rampant racism in Britain.
During the special BBC Question Time, he was also reminded of his descriptions of black people as "tribal warriors with watermelon smiles" and "flagwaving piccaninnies".
Mr Johnson has been dogged by the articles he wrote as a journalist, including the recent revelation that he wrote that seeing "a bunch of black kids" scared him.
There was loud applause when the prime minister was accused of contributing to the problem of "racist rhetoric" being "rife in this country".
Mr Ceferin was interviewed to the backdrop of the anger of footballers and fans, who have accused it of failing black players by not punishing clubs and countries with racially-abusive fans.
Black players have started walking off the pitch in protest at the officials' inability to protect them.
Mr Ceferin has promised to make UEFA more accountable, and its 10-man, all-white disciplinary committee more diverse, to better stand up for footballers enduring racist abuse.
"Everything is ready, so we can put in additional members of the disciplinary committee, as now it's a fixed number," he said.
"It will happen in March. The statutes will be changed. Then, a week later, we can do it."
https://www.independent.co.uk/news/uk/politics/boris-johnson-racism-football-hypocrisy-uefa-president-aleksander-ceferin-a9230391.html
------
Kyrgyz naked art performance sparks row
3 December 2019
A feminist art exhibition involving naked women in the Kyrgyz capital Bishkek has ignited a public row that's cost the director of the venue her job.
The culture ministry condemned the event for using the "language of provocation" and for "disorientating visitors", according to Kyrgyz news agency 24.kg.
The Minister of Culture, Azamat Jamankulov, said a special commission would examine the "scandalous exhibition", which he described as a "campaign with naked women under the flag of feminism".
You may also be interested in:
Kyrgyz debate renaming capital
Kyrgyz mayor tours city in disguise
Kyrgyzstan profile
Mr Jamankulov said the director of the venue - the National Museum of Fine Arts - had been relieved from duty over the event.
But Mira Dzhangaracheva shared "the truth" about her departure on Facebook. She quit voluntarily, she wrote, following the "aggressive reaction from the national patriotic forces" and after receiving threats to her and other museum staff.
"It is a pity this has been initiated by people who have never been to a museum," she wrote.
'Unconventional fight'
Speaking to journalists following her resignation, Mira Dzhangaracheva explained that the exhibition was timed to coincide with an annual international campaign against gender-based violence "to show what is happening in our country today".
The exhibition, which involves work by 56 artists from 22 countries, is scheduled to run for 17 days. Organisers dedicated it to 17 women who died in a warehouse fire in Moscow in 2016 - most of them Kyrgyz migrants.
Organisers say the event seeks to show the social ills that stand in the way of gender equality and life without violence.
"This is violence against women. This is pain. This is fear. Artists from all over the world express their feelings, but we are forbidden," said organiser Altyn Kapalova. "As always they try to shut us up but it won't work. Art is uncensored."
Visitors to the exhibition were confronted with a female body presented as a punchbag and exhibits allowing them to repeat chores that form a daily part of life for Kyrgyz women in the countryside, where thousands of young women are kidnapped for marriage every year.
But it was the nude performance by Danish artist Julie Savery, which intended to highlight the plight of sex workers, that caused particular offence among defenders of traditional values in the majority Muslim country.
'Propaganda of pornography'
MP Makhabat Mavlyanova declared on Facebook that museum staff who allowed this event to take place "have no moral right to work".
"Our Kyrgyz women should get traditional education", she wrote. "Kyrgyz people have lost their ethnic identity over the past 30 years, using globalisation as a justification for these kinds of events."
Others, like activist Aybek Busurmankulov, called for the prevention of such events in future.
"They have slogans about gay marriage at the exhibition. We believe that these slogans are anti-constitutional. We should check whether minors entered the museum when a naked woman was giving a performance. If minors entered the building then it will be considered as propaganda of pornography," Mr Busurmankulov said.
One woman asked on Facebook: "What have women's rights got to do with getting naked in an exhibition hall?"
"It's about the stigmatisation of sex workers," another woman replied. "They are not seen as people, as members of society, but merely as objects to satisfy physiological needs."
MP Elvira Surabaldieva offered her support: "To all of you, dear gender experts, a big thank you for your long-standing struggle for the rights of women in Kyrgyzstan."
In a blunt address to current leaders, former Kyrgyz president Rosa Otunbaeva condemned Mira Dzhangaracheva's dismissal.
"Stop, gentlemen!" she said. "You may have administrative power, but there is also a public voice and female solidarity: the exhibition is dedicated to the fight against violence against women. What have you done to solve this problem?"
https://www.bbc.com/news/blogs-news-from-elsewhere-50645155
------
Hala on Apple TV Plus: A missed opportunity to shatter Muslim stereotypes
Abrar Al-Heeti
December 3, 2019
Anytime a movie with a Muslim protagonist comes out, the Muslim community collectively holds its breath. Will this film perpetuate misconceptions about us that have run rampant in media for decades, or will it offer a fresh perspective showing the complexity of being a Muslim in the 21st century?
These are some of the questions I had when I first heard about the new movie Hala, streaming on Apple TV Plus Dec. 6. Written and directed by Minhal Baig, it's a film about a 17-year-old Pakistani American girl struggling to balance her Muslim upbringing with her social life and identity as a high schooler. As a Muslim American who started wearing a hijab at age 11, I was initially excited to see a young Muslim woman take center stage -- looking badass with a skateboard, no less. At the same time, I had the usual apprehension I feel when a new movie or TV show comes out. Will Islam and autonomy be made to appear mutually exclusive? Will this be yet another film where characters of color are burdened with pleasing everyone but themselves?
There's no shortage of one-dimensional, stereotypical depictions of Muslims on TV and in movies. In the rare event we're even represented in the first place, we're often portrayed as oppressed or, worse, the oppressors. Homeland and 24, for example, have been widely criticized for depicting Muslims as the enemy.
Streaming platforms like Apple TV Plus, Netflix and Hulu, with their openness for new kinds of content (and lots of it), offer an opportunity to present fresh stories and diverse perspectives. That's what I hoped Hala would do: tell a story about a girl exploring her identity without leaning into stereotypes. Instead, the film delivered a story in line with the oft-repeated narrative that Muslim women are shackled to tradition and must break free to attain peace and happiness.
Hala's titular character (played by Geraldine Viswanathan) struggles with something all teenagers grapple with: identity. The film specifically explores whether one's true identity can coexist with religious and cultural background. As an Arab-American Muslim with immigrant parents, balancing seemingly contradictory traditions and expectations is something I've navigated practically my whole life. Figuring out which ideas and practices tie into who I am is an ongoing challenge. One thing I regularly deal with, for example, is trying to maintain strong familial ties while also upholding American values of independence. I know that keeping harmony with yourself, your family and your community can often be a complicated task because of conflicting ideals.
Hala, who wears a hijab, struggles to connect with her mother, who's constantly berating her for missing prayers and hanging out with boys at the skatepark. There's an overarching pressure from her parents to marry a "good Muslim man," and she must contend with minor inconveniences like having to change for gym in a bathroom stall instead of among other girls in the locker room (something neither I nor my hijab-wearing friends ever did in high school, by the way).
Much of the film focuses on Hala's desire to be with Jesse Ross (Jack Kilmer), a blond, white classmate who brings excitement, joy and understanding into her life. With him, Hala can joke around, hang out at the skatepark and run around a playground. She doesn't have to take on the persona of an obedient Muslim girl or follow outdated rules simply for the sake of tradition, as is the case at home.
These struggles are real for many young people growing up with immigrant parents, particularly in the West. It can be difficult to contend with cultural differences and balance personal needs and desires with what will please family. This film does a good job portraying the nuances of familial relationships, especially given the differences in upbringing between Hala and her parents, through believable dialogue and realistic scenarios. They don't see eye to eye on issues like marriage and autonomy, but we see Hala try to overlook those differences to keep the peace.
Unfortunately, though, so much of this film is built around the idea that happiness rests on abandoning tradition that viewers are ultimately left with a one-dimensional perspective of what it's like to balance tradition and modernity. We're presented with the notion that being a practicing Muslim and being happy are at odds, and that the only way to achieve personal peace is to leave certain elements of faith and tradition behind.
That narrative can be dangerous in a world where misconceptions of Muslim women's (lack of) autonomy are frustratingly pervasive. For decades, we've been inundated with portrayals of women who were forced to cover up and sit quietly on the sidelines. The hijab is often linked to oppression. Rarely do we see Muslim women who fearlessly tackle obstacles and keep external forces from defining them. A few recent mainstream films and TV shows have taken steps to change this, including NCIS: Los Angeles and Blindspot, which present more nuanced portrayals of Muslim women who aren't oppressed. But it was disappointing to see Hala fall into the same trope we've seen far too often: Muslim women lacking agency so long as they are confined by faith.
Given today's often divisive political and cultural climate, it's important to consider the impact these representations can have on viewers' interpretations of the faith. Will a general audience know arranged marriages aren't mandated in Islam? Will they know that forcing someone to follow the tenets of the religion is forbidden? Many people already struggle to separate cultural practices from religious ones, and this film, tragically, doesn't make those distinctions any clearer.
The film has already sparked criticism on Twitter from some Muslims, who are upset with its plotline and its depiction of women.
"Here comes yet another film about the poor brown Muslim woman who only finds happiness through the white man's gaze because God forbid her faith & culture play any role other than giving her parents accents and a life she feels stuck in," tweeted Huffington Post reporter Rowaida Abdelaziz. "FIRE EVERYONE AND BRING ON THE HOT TAKES."
Some people suggested examples of women defying stereotypes, like a personal trainer and a politician, who should be featured in a movie.
While I'm glad there's a film like Hala that places Muslim characters at the forefront, I can't help but worry it'll reinforce misconceptions about Islam so many of us have been fighting our whole lives. It's one thing to show the struggles of a Muslim American teenager -- those experiences are raw and real and relatable. But it's another to paint a black and white picture that suggests being a typical American teenager and a practicing Muslim are so at odds.
Of course, it's impossible for one film to capture the varied experiences of all Muslim women, and Hala tells an important story that surely resonates with many. But I would've hoped we'd moved on from the repressed-Muslim-American trope by now.
Still, I'm optimistic. Perhaps this film is a stepping stone to one day seeing more Muslim protagonists who aren't defined -- or restricted -- by their faith.
https://www.cnet.com/news/hala-on-apple-tv-plus-review-a-missed-opportunity-to-shatter-muslim-stereotypes/
------
URL: https://www.newageislam.com/islam-women-feminism/afghan-singer-aryana-saeed-fear/d/120436
New Age Islam, Islam Online, Islamic Website, African Muslim News, Arab World News, South Asia News, Indian Muslim News, World Muslim News, Women in Islam, Islamic Feminism, Arab Women, Women In Arab, Islamophobia in America, Muslim Women in West, Islam Women and Feminism