New Age Islam News Bureau
19 Jan 2020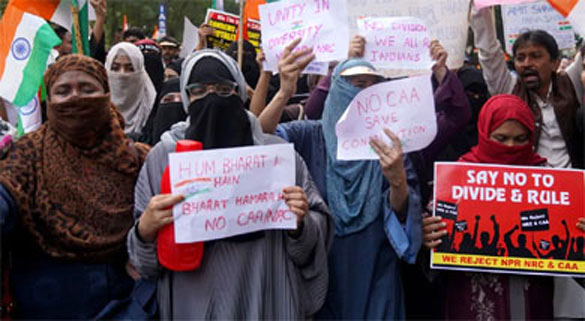 Shaheen Bagh CAA, NRC and NPR protest
------
• Portrayal of women's societal role in advertisements discussed
• Fearless Delhi women protest at Shaheen Bagh against a bitterly disputed citizenship law inspire national movement
• Muslim women, kids stage peaceful protest at clock tower, Lucknow
• 'It's do-or-die battle': Women protesters at Kolkata's Park Circus Maidan to continue anti-CAA stir till favourable outcome
• 'Jabba the Jihadi' played major role in enslaving Yazidi women
• Another teenaged Hindu girl abducted, forcefully converted to Islam in Imran Khan's 'Naya Pakistan'
Compiled By New Age Islam News Bureau
URL: https://www.newageislam.com/islam-women-feminism/afghan-religious-clerk-warns-punish/d/120830
--------
Afghan religious clerk warns to punish women who disregard Islamic Hijab
15 Jan 2020
An Afghan religious clerk in western Herat province has started a widespread campaign, urging women to wear Islamic Hijab – a large headscarf – and has ordered his followers to punish those who disregard it.
Mujeeb Rahman Ansari, a popular Islamic extremist and a religious clerk in the western Herat province installed dozens of billboards and signboards around the city, targeting Afghan women, urging them to wear Islamic Hijab.
During several public speeches, Ansari called on his followers to apply Sharia rules on anyone who disregards the rules determined by him and his followers and 'not to wait for the government' in such instances.
Abdul Qayoum Rahimi, the governor of Herat was earlier questioned by a local media outlet about Ansari's movement in Herat province, wherein Rahimi said he is not going to confront Mawlavi Mujeeb Rahman Ansari as they are being good friends.
The recent statements of Mawlavi Mujeeb Rahman Ansari have sparked mixed reactions among Afghan residents in social media, some condemn the messages spread by Malwavi Ansari, while on the other hand, another group and individuals endorse him.
"Any man who thinks he has ownership of women is a coward. A real man is the one who considers his wife to be his counterpart, not a commodity!", Waheed Omar, a government official tweeted in response to a billboard message by Malawvi Ansari where it says 'A man is a coward whose woman disregard Hijab'.
Shabir Shirzad, a Facebook user seemingly connected to the Mujahideen sector has endorsed Mawlavi Mujeeb Rahman Ansari's messages and has regarded them as 'guidance' that is needed for a community to survive in good.
But the provincial Directorate of Hajj and Religious Affairs said the campaign by Ansari has not been conducted in collaboration with the government, and that Ansari's teachings go against Islam.
"Speeches by Mr. Mujeeb Rahman Ansari are in contravention of the religious teachings. Islam has always insisted on preaching," an official of the directorate, Fazl Mohammad Hussaini said.
Mujeeb Rahman Ansari has studied 'Islamic religion studies' in Saudi Arabia and is currently running a local radio station beside being an Imam for Gozargah Mosque in Herat city.
https://www.khaama.com/afghan-religious-clerk-warns-to-punish-women-who-disregard-islamic-hijab-8878975r/
--------
Portrayal of women's societal role in advertisements discussed
Oonib Azam
January 19, 2020
You must have watched the new ad of a packaged spice mixes producer in which a man is cooking for his daughter because his wife is dead. "But, like I said, his wife had to be dead," said Bond Advertising CEO Seema Jaffer. The room bursts into laughter.
Seema, who is associated with the Pakistan Advertising Association, then referred to the campaign of a laundry detergent manufacturer in which the workload of washing clothes was divided between men and women.
"It did affect the norms. People started thinking," she said, and gave an example of how cricketer Sana Mir stresses not on smooth skin but on the fact that she can play.
Seema was addressing the launch of a diary, titled 'Women of Pakistan: Time to See and Be the Change', by the Uks Research Centre in the Defence Housing Authority neighbourhood on Saturday. Uks works on media monitoring as well as advocacy, especially on gender issues. Every year the research centre launches a diary on a different theme.
Uks Director Tasneem Ahmer, who also moderated the discussion at the launch, shared the theme of this year's diary, which is regarding advertisers and how they portray women's role in society.
She asked everyone if they had seen the ad of an electronic home appliances maker that touches on dowry. In the ad a father and his daughter and son-in-law stop at a shop to buy furniture.
When the son-in-law sees his father-in-law paying for the furniture, he stops him and asks, "Why would you pay for the commodities of my home?"
"The way the father says 'beti ka baap hoon' [I'm the father of a daughter]," said Tasneem, "it was like torture to watch that ad repeatedly," she frowned. Objecting to the spice mixes ad, she asked why we have to have a sad story for a man to cook.
Priorities
Senior journalist Afia Salam shed light on how all the products that have some health benefits are for boys. The ads of butter, energy supplements, et cetera, she pointed out, clearly give the message that the diet or health of a boy is important.
"It is proven that not [only] in this city but in most of the other places the diet of a girl is compromised," she said. "Her health is also compromised for the same reason because she's not given the same diet. She's someone who needs more nutrition than a boy because of her reproductive function."
She explained how the marketing regions of our products are either Middle East or South Asia. "We are not doing what India is doing as far as the social message is concerned," she stressed.
She asked not to look at European models for advertisement. "For Pakistani media people, the Indian media, as far as journalism is concerned, is something we should not be looking at. But advertising is something we definitely should be looking at."
She then gave the example of Indian actor and director Nandita Das, who has a dark complexion. "It was a beautiful campaign for dark skin with her," she pointed out, saying that in India there is a social impact, for those who do not have fair skin are considered inferior. That stereotype in India was broken in a beautiful manner and with great sensitivity with Nandita. Still, said Afia, in Pakistan we have campaigns like 'Pakistan will have fair skin'.
Changes
Clinical psychologist Dr Asha Bedar, who specialises in violence against women, stressed that the whole idea of an advertisement is to sell a product. If the trends and demands are generally changing society, she said, the ads will change accordingly.
"We cannot see that significant change in society as yet because [the ads] are still reflecting, exactly, either what society wants or stereotypical things that society has," she said, and added that the trends are not going to change, as it's a cycle.
She then gave the example of how most of the ads these days are focusing more on feminism and encouraging gender equality. She believes that the reason of this is because there is much talk of feminism. "Feminism is selling. So the idea is that since the product needs to be sold, the new idea [of feminism] needs to be shown," she said.
Men in ads of tea can be seen serving the drink to their wives. Even though it's just dipping a teabag in a cup of water, she said, a man does it in the ad. "Though it's nothing complicated," she laughed.
She then pointed out the washing powder ad in which a man comes home angry because his collar is dirty and he feels embarrassed and throws a tantrum at his wife. "It reinforces the anxiety in women, and particularly in a certain social class."
https://www.thenews.com.pk/print/600735-portrayal-of-women-s-societal-role-in-advertisements-discussed
--------
Fearless Delhi women protest at Shaheen Bagh against a bitterly disputed citizenship law inspire national movement
January 19, 2020
NEW DELHI: Defiant women who have been blocking a New Delhi highway for more than four weeks in protest against a bitterly disputed citizenship law have inspired thousands across India to copy their challenge to the Hindu nationalist government.
Supported by volunteers who bring biryani meals, chai and blankets, groups have started occupation protests in about 20 cities across the country of 1.3 billion people to demand the repeal of the law that opponents say is anti-Muslim.
Nearly all pay tribute to the 200 grandmothers and housewives and students who sit and sleep across the main road in the Shaheen Bagh district of Delhi, fighting a law that would give passports to "persecuted" religious minorities from three neighbouring countries but only non-Muslims.
Hundreds of thousands of people have taken part in rallies across India since parliament passed the Citizenship Amendment Act on December 11.
Many of India's 200 million Muslims fear the government is getting ready to draw up a national citizenship register that could strip them of their nationality, though New Delhi denies this and calls the law a "humanitarian" gesture.
Though at least 27 people have died in violence around some demonstrations, protesters have taken over parks and streets in Bihar, Uttar Pradesh, West Bengal, Kerala and Madhya Pradesh states as well as two new occupations in Delhi.
Srijan Chawla, a student protest leader in Mumbai, said "Shaheen Bagh has inspired a lot of women in this country to go on the streets and protest. Be it Kolkata, be it Delhi, be it here in Mumbai."
Hundreds of protesters have spent nearly three weeks on public land in Gaya in Bihar. A huge poster of Mahatma Gandhi hangs over one entrance.
More than 10 other non-stop protests are taking place in the eastern state, including at Sabzi Bagh near the capital Patna.
"It is like another Shaheen Bagh," said Afzal Imam, a former mayor of Patna.
"We cannot sit silent at home when the government is hellbent on stealing our citizenship," said Shagufta Amin an activist at Sabzi Bagh, where weekend crowds swell to thousands.
The government in neighbouring Uttar Pradesh state is fiercely loyal to right wing Prime Minister Narendra Modi and has cracked down on protesters. Many of the 19 people killed there were allegedly hit by police bullets. Some 6,000 people were detained for taking to the streets.
Hundreds of women camped in a park in Varanasi, Modi's constituency, face eviction notices after police filed a case for "disobedience."
"This protest is like a mountain, we will not move from here until our demands are met," Nasreen Zafar, one of the women, told reporters.
In the central city of Indore a protest by hundreds of people in a central park has also faced police attempts to evict them.
Some opposition ruled states have quietly encouraged the protesters though.
In West Bengal, hundreds of supporters of the ruling Trinamool Congress party camp out on a road in the capital Kolkata. Police protect some 150 women occupying a park.
Political commentator Manisha Priyam said the protests signalled that Indians wanted to defend the equality and justice enshrined in the constitution and shattered stereotypes about Muslim women.
"Muslim women would not normally come out on streets to protest but now they are leading the fight for equality and justice," Priyam told AFP.
While Hindus and other religions have joined the protests, the public has not always appreciated the disruption to their lives however.
Delhi commuters increasingly complain about the Shaheen Bagh women who have caused huge morning and evening traffic jams.
"We are for the right to protest but blocking a road and holding up commuters for over a month is as obnoxious as the condemned law," said Delhi resident Mihir Tripathi.
https://www.arabnews.com/node/1615146/world
--------
Muslim women, kids stage peaceful protest at clock tower, Lucknow
Jan 17, 2020
A number of Muslim women and children staged a peaceful protest against the Citizenship Amendment Act and the National Register of Citizens (NRC) at Clock Tower in the Old City here on Friday.
Describing CAA as a black law, the women said it was discriminatory. "We have assembled in solidarity with protesters at Shaheen Bagh (Delhi)," they said.
"We, along with our children, came out of our homes to stage a peaceful protest. The government is taking unilateral decisions," a protester said. She alleged administration had switched off the lights at the clock tower to quell the protest.
"We have to give a message to the government that we can no longer be divided on the basis of religion. That is why we went there and prayed for our country's peace," said a woman, who was spearheading the anti-CAA protests.
All Indian Democratic Women Association (AIDWA) president Madhu Garg said it was commendable that women were leading the protest, be it at Shaheen Bagh (Delhi), Prayagraj or in Lucknow.
"Women are out to oppose the draconian law. It shows how hard this anti-people act of the government has hit the public," she said.
https://www.hindustantimes.com/lucknow/muslim-women-kids-stage-peaceful-protest-at-clock-tower/story-fWnNtDhTUZ9rNvPhEMKb3M.html
--------
'It's do-or-die battle': Women protesters at Kolkata's Park Circus Maidan to continue anti-CAA stir till favourable outcome
Jan 18, 2020
Kolkata: About 60 Muslim women are determined to carry on with their demonstration indefinitely at the Park Circus Maidan in Kolkata to protest against the Citizenship Amendment Act (CAA), and the proposed nationwide National Register of Citizens (NRC) till there is a "favourable judgement".
The sit-in by the women, ranging from homemakers to professionals, against the CAA, and the proposed NRC on the lines of the Shaheen Bagh protest in Delhi, entered its 12th day in Kolkata on Saturday.
One of the protesters Nauseen Baba Khan, a young research scholar, speaking to PTI at the dharna site, said, "It is a do-or-die battle. We will peacefully squat here till there is a judgement in our favour."
Referring to the Supreme Court having fixed a bunch of 59 petitions on CAA, including those filed by the Indian Union Muslim League (IUML) and Congress leader Jairam Ramesh, for hearing on 22 January, she said, "Let us see. Don't want to comment on judicial matters but if the situation does not turn in our favour, we will continue to sit here."
Another woman participant Farhat Islam, a homemaker, said, "We have been sitting in the open, braving the cold, using the ladies toilet in the nearby mosque located 100 metres away, for the past 10 days, but did not ever think about quitting."
The prime minister had said 'Sabka Saath Sabka Vikas' and now the BJP wants to turn bonafide Indians into second class citizens in the name of the CAA, she said.
"It is a challenge to the right to life, right to livelihood, and we can't take this. When your citizenship is gone — your money, property and job — everything becomes useless. It is another way of killing us. We are happy that the civil society is here to support us," Farhat said.
After 10 days of the sit-in, the Kolkata Municipal Corporation Authorities have provided three-four bio-toilets and other basic amenities for the women at the sprawling Park Circus Maidan on 17 January, she added.
Nauseen said, "We don't want cash, we have strictly asked everyone not to chip in with monetary help. We ask everyone to come physically and we are happy that thousands of Muslims, Hindus, Sikhs, Christians and members of other communities are turning up at the spot daily."
To a question about the hardship being faced by them for sitting in the open since 7 January, Farhat said, "Doctors from different hospitals visit us regularly to monitor our condition.
"Students from schools, colleges and universities such as Aliah University, Calcutta University, Presidency University, Jadavpur University and Surendranath College, have provided sanitary napkins while people in the area are extending every possible support."
A fruit-seller by profession, Arjun Tewary, said, "Our sisters are enduring so many difficulties to secure our rights."
"Isn't it our duty to be of help to them?" he asked.
Muzaffar Ali, a businessman from Beniapukur area, said that he rushes to the venue every evening with his friends to express solidarity.
Various personalities such as singer Kabir Suman, social activists Umar Khalid and Yogendra Yadav and former home minister P Chidambaram have already visited the venue to express their support to the protesters.
https://www.firstpost.com/india/its-do-or-die-battle-women-protesters-at-kolkatas-park-circus-maidan-to-continue-anti-caa-stir-till-favourable-outcome-7925621.html
--------
'Jabba the Jihadi' played major role in enslaving Yazidi women
By Isabel Vincent
January 18, 2020
The morbidly obese ISIS militant who was captured by Iraqi forces last week is one of the main architects of the enslavement and sexual exploitation of Yazidi minority women, according to a French military journal.
The 560-pound Abu Abdul Bari — nicknamed "Jabba the Jihadi" by Iraqi forces after Jabba the Hutt, the slug-like gang leader in "Star Wars" — was known as the Mufti of Mosul, one of the main leaders of ISIS, known for his incendiary religious decrees or fatwas, Iraqi security officials said.
Bari, also known as Shifa al-Nima, provided the religious justification for the enslavement of hundreds of Yazidi girls and women after ISIS forced thousands of the religious minority group to flee their home in August 2014.
"Above all, this 'mufti' gave religious justifications for slavery and for the torture and ethnic cleansing of certain ethnic minorities in Iraq, including the Yazidi," said a report in Zone Militaire.
Months after the 2014 attack on the Yazidis, "Dabiq," a digital magazine published by ISIS on the dark web, ran an article saying that female members of the Yazidi, an ethnically Kurdish minority, could be enslaved and treated as spoils of war.
"One should remember that enslaving the families of the kuffar — the infidels — and taking their women as concubines is a firmly established aspect of Shariah or Islamic Law," according to the October 2014 report in the magazine titled "The Revival of Slavery Before the Hour" or judgment day.
The article continued that "after capture, the Yazidi women and children were then divided according to the Shariah amongst the fighters of the Islamic state … to be divided as spoils of war."
https://nypost.com/2020/01/18/jabba-the-jihadi-played-major-role-in-enslaving-yazidi-women/
--------
Another teenaged Hindu girl abducted, forcefully converted to Islam in Imran Khan's 'Naya Pakistan'
Jan 18, 2020
Islamabad: In Imran Khan's 'Naya Pakistan', another teenaged Hindu girl has been kidnapped, forcefully converted to Islam and married to a Muslim. Mehak was abducted from the Jacobabad district in Sindh province on January 15.
Every year, hundreds of girls from the minority community in Pakistan are kidnapped and forced to convert to Islam
Reacting strongly to this incident, Akali MLA Manjinder Singh Sirsa said that the same thing was done by Mughal emperor Aurangzeb and Lahore's viceroy Zakariya Khan.
Manjinder S Sirsa
✔
@mssirsa
पाकिस्तान में अल्पसंख्यक परिवारों की बच्चियों का अपहरण,बलात्कार और ज़बरन धर्म परिवर्तन का सिलसिला जारी है
यही काम पहले औरंगज़ेब और जाकरिया ख़ान करता था और आज उनकी मजार पे कोई दिया जलाने वाला नहीं है और यही हाल अब आप लोगो का होगा@TimesNow @republic @thetribunechd @PTI_News @ANI
Embedded video
539
5:37 PM - Jan 18, 2020
Twitter Ads info and privacy
220 people are talking about this
"In Pakistan, the process of kidnapping, raping and forcibly converting the girls of minority families continues. The same thing was done by Aurangzeb and Zakariya Khan. However, today no one is going to burn diya on their tomb and the same thing will happen to you all," Sirsa tweeted.
Recently, a senior official of the Pakistan High Commission in New Delhi was summoned by the Ministry of External Affairs to lodge a strong protest and share serious concerns about the recent cases of abduction of minor girls belonging to the minority Hindu community of Pakistan.
This came after two minor girls, Shanti Meghwad and Sarmi Meghwad, were abducted on January 14 from Umar Village in Sindh, Pakistan.
As per the official sources, Pakistan has been conveyed the grave concerns as expressed by the Indian civil society over such deplorable incidents involving minor girls belonging to the minority Hindu community in Pakistan.
India further asked Pakistan to ensure that these girls are returned to their families.
While PM Imran Khan talks about inclusion and protecting the rights of the minorities such incidents are reported on a regular basis. The people involved in this despicable act are protected by the Pakistani Army and Islamic fundamentalists.
Last year in July, Imran Khan had said that Islam did not allow forced conversion and his government was committed to protect the rights of minorities.
The PM gave this statement while speaking at a minorities-related event saying that minorities would be protected and their religious structures restored.
It's being said people in Sindh are being forcibly converted. Those who are doing this don't know about Islam, Imran Khan had reportedly said.
https://www.timesnownews.com/international/article/another-teenaged-hindu-girl-abducted-forcefully-converted-to-islam-in-imran-khans-naya-pakistan/541946
--------
URL: https://www.newageislam.com/islam-women-feminism/afghan-religious-clerk-warns-punish/d/120830
New Age Islam, Islam Online, Islamic Website, African Muslim News, Arab World News, South Asia News, Indian Muslim News, World Muslim News, Women in Islam, Islamic Feminism, Arab Women, Women In Arab, Islamophobia in America, Muslim Women in West, Islam Women and Feminism