New Age Islam News Bureau
1 May 2012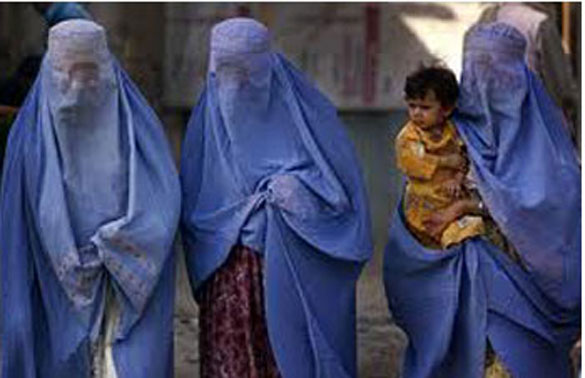 • A Bosnian Muslim, First woman convicted of war crimes
• Woman should be preferred over husband for Haj: Supreme Court of India
• Attack on Girls School Marks Pivotal Moment for Women in Afghanistan
• Pakistan: Govt girls' school blown up in Swabi
• Amnesty International Condemns European Burqa Bans
• Restrictions on Islamic dress for women continue to tighten in Iran
• Islam promotes equality, American Muslim woman says
• Meethaq Sharia board endorses RO 150m capital for Islamic banking window
• Reconstruction efforts supported women, but discrimination persists
• Egyptian Islamists unlikely to stifle women rights
• Human rights and democracy must not come through war: Iranian born human rights advocate
• Pakistan: 'Blood Money' Linked to Widow's Killing, Police Say
• AMU elects its first woman in teachers association
Complied by New Age Islam News Bureau
Photo: Afghan president endorses 'code of conduct' that allows wife-beating
URL: https://newageislam.com/islam-women-feminism/afghan-president-endorses-shocking-code/d/7188
---------
Afghan president endorses 'code of conduct' that allows wife-beating
May 1, 2012
Afghanistan (AP) — Afghanistan's president on Tuesday endorsed a "code of conduct" issued by an influential council of clerics that activists say represents a giant step backward for women's rights in the country.
President Hamid Karzai's Tuesday remarks backing the Ulema Council's document, which allows husbands to beat wives under certain circumstances and encourages segregation of the sexes, is seen as part of his outreach to insurgents like the Taliban.
Both the U.S. and Karzai hope that the Taliban can be brought into negotiations to end the country's decade-long war. But activists say they're worried that gains made by women since 2001 may be lost in the process.
When the Taliban ruled Afghanistan prior to the 2001 U.S. invasion, girls were banned from going to school and women had to wear burqas that covered them from head to toe. Women were not allowed to leave their homes without a male relative as an escort.
The "code of conduct" issued Friday by the Ulema Council as part of a longer statement on national political issues is cast as a set of guidelines that religious women should obey voluntarily, but activists are concerned it will herald a reversal of the trend in Afghanistan since 2001 to pass laws aimed at expanding women's rights.
Among the rules: Women should not travel without a male guardian and women should not mingle with strange men in places like schools, markets or offices. Beating one's wife is prohibited only if there is no "Shariah-compliant reason," it said, referring to the principles of Islamic law.
Asked about the code of conduct at a press conference in the capital, Karzai said it was in line with Islamic law and was written in consultation with Afghan women's groups. He did not name the groups that were consulted.
"The clerics' council of Afghanistan did not put any limitations on women," Karzai said, adding: "It is the Shariah law of all Muslims and all Afghans."
Karzai's public backing of the council's guidelines may be intended to make his own government more palatable to the Taliban, or he may simply be trying to keep on the good side of the Ulema Council, who could be valuable intermediaries in speaking to the insurgents.
But either way, women's activists say that Karzai's endorsement means that existing or planned laws aimed at protecting women's rights may be sacrificed for peace negotiations.
"It sends a really frightening message that women can expect to get sold out in this process," said Heather Barr, an Afghanistan researcher for New York-based Human Rights Watch.
Shukria Barikzai, a parliamentarian from the capital Kabul who has been active in women's issues, said she was worried that Karzai and the clerics' council appeared to be ignoring their country's own laws.
"When it comes to civil rights in Afghanistan, Karzai should respect the constitution," Barikzai said. The Afghan constitution provides equal rights for men and women.
The exception for certain types of beatings also appears to contradict Afghan law that prohibits spousal abuse. And the guidelines also promote rules on divorce that give women few rights, a real turnaround from pledges by Karzai to reform Afghan family law to make divorces more equitable, Barr said.
"This represents a significant change in his message on women's rights," she said.
Afghan women's rights activist Fatana Ishaq Gailani, founder of the Afghanistan Women's Council, said she feels like women's rights are being used as part of a political game.
"We want the correct Islam, not the Islam of politics," Gailani said. She said she supported negotiations with the Taliban, but that Afghanistan's women should not be sacrificed for that end.
Hadi Marifat of the Afghanistan Human Rights and Democracy Organization, which surveyed 5,000 Afghan women for a recent report on the state of women's rights in Afghanistan, argued that the statements show Karzai is shifting more toward the strictest interpretations of Shariah law.
"In the post-Taliban Afghanistan, the guiding principle of President Karzai regarding women's rights has been attracting funding from the international community on one hand, balanced against the need to get the support of the Ulema Council and other traditionalists on the other," Marifat said.
"The concerning thing is that now this balance is shifting toward the conservative element, and that was obvious in his statement."
http://www.theblaze.com/stories/afghan-president-endorses-shocking-code-of-conduct-for-women-that-allows-wife-beating/
----------
A Bosnian Muslim, First woman convicted of war crimes
May 1, 2012
SARAJEVO: A Bosnian Muslim former soldier on Monday became the first woman to be convicted of war crimes by a local court after admitting killing Croat civilians and prisoners during the 1990s war.
"Rasema Handanovic participated with other members of her unit in the executions of three civilians and three soldiers. The tribunal sentences her to five-and-a-half years in jail," war crimes court judge Jasmina Kosovic said.
The verdict is the first of its kind by the Bosnian war crimes court which has only indicted three women on charges stemming from the 1992-95 inter-ethnic war so far. The crimes were committed on April 16, 1993, in the village of Trusina, in southern Bosnia. A total of 18 Croat civilians and four prisoners of war were killed at the time.
Handanovic pleaded guilty last week and agreed to testify against other former members of her unit under a plea bargaining agreement, which saw her get a lighter sentence of just five and a half years.
"I committed a crime, but at the time I did not know that it was a crime," Handanovic, who was 21 when she took part in the killings, told the court as she entered her guilty plea last Friday.
Her lawyer emphasized that she herself had also been a victim of war crimes at the start of the bloody conflict in Bosnia. "She was raped by Serb soldiers, while her partner and other family members were killed," lawyer Senad Kreho told AFP.
After the war she emigrated to the United States and holds both US and Bosnian passports. The 39-year-old was extradited to Bosnia in December.
http://www.dailytimes.com.pk/default.asp?page=2012\05\01\story_1-5-2012_pg4_4
----------
Woman should be preferred over husband for Haj: Supreme Court of India
May 1, 2012
NEW DELHI: A woman should get preference over her husband when it comes to Haj pilgrimage, the Supreme Court said on Monday while reserving its interim order on the Centre's new Haj policy.
Scrutinizing the 2012 Haj policy, subsidy and role of tour operators to make it pilgrim-friendly, a bench of Justices Aftab Alam and Ranjana P Desai said, "If there is one seat available, and an eligible couple applies, then the woman should get preference over her husband for the Haj pilgrimage."
Attorney general G E Vahanvati in principle agreed to this suggestion as well as another from senior advocate P S Narasimha that the government must accept online submission of application forms by pilgrims intending to be part of the annual Haj.
However, the AG, assisted by advocate Haris Beeran, said the proposal to select private tour operators (PTOs) to conduct Haj pilgrimage for a five-year term would create problems as the government would not be able to strike their names off the list of recognized PTOs even if the pilgrims complained of inadequate service.
The bench, which reserved its order, came down hard on PTOs which left pilgrims in a lurch and were only profit-oriented. "Our concern is about individual pilgrims and not whether PTOs remain in business or not. It is not a commercial contract. This court has repeatedly held that public interest must outweigh private interest."
On signing of a bilateral agreement with Saudi Arabia, India got a quota of 1.7 lakh Haj pilgrims for 2012 against 3.02 lakh applications from Muslims intending to go on Haj. Of the 1.7 lakh quota, 1.25 lakh pilgrims would go to Mecca and Medina through Haj Committee of India and the rest 45,000 through PTOs.
Of the 1.25 lakh Hajis to be sent through the Haj committee, the government retains a quota of 11,000 of which 3,061 would be allotted on recommendations from dignitaries and eminent persons, the court was informed.
The bench questioned the rationale behind recommendation based allocation of quota. "Our constitutional scheme and recommended allocation of seats for Haj do not go together," it said. It also intends to seek answer from the Haj committee on how it conducts the Qurrah (a draw of lot) to select Hajis.
http://timesofindia.indiatimes.com/india/Woman-should-be-preferred-over-husband-for-Haj-SC/articleshow/12944775.cms
----------
Attack on Girls School Marks Pivotal Moment for Women in Afghanistan
May 1, 2012
More than 170 girls and women became ill at a school in northern Afghanistan after opponents to women's education allegedly poisoned the school's water supply, according to local health officials. The incident highlights the dangers women face in the country after American and NATO forces leave.
The Afghan girls and women between the ages of 14 and 30 were hospitalized after losing consciousness, becoming dizzy, and vomiting. No deaths were reported.
"Looking at the health condition of these girls, I can definitely say that their water was contaminated by some sort of poison," said Dr. Hafizullah Safi, the provincial health department director, according to CNN. The police questioned the school employees in the small northern town of Rostaq and blamed the act on extremists.
"It is the work of those who are against girls' education and peace and stability in Afghanistan," district administrator Moelam Hussain said.
http://www.pbs.org/newshour/extra/features/world/jan-june12/afghanistan_04-30.html
----------
Pakistan: Govt girls' school blown up in Swabi
May 1, 2012
SWABI: Unidentified terrorists blew up a government girls' school with explosives late on Sunday. According to details, some unidentified terrorists had planted explosives in a government-run girls' primary school located in Mian Dheri area of Swabi, which exploded on Sunday night. As a result of the blast, the school building was partially damaged. However, no casualty or injury was reported in the explosion as the building was vacant at the time of the incident. It should be mentioned that most parents in troubled areas of Khyber Pakhtunkhwa avoid sending their children to schools owing to terror threat.
http://www.dailytimes.com.pk/default.asp?page=2012\05\01\story_1-5-2012_pg7_6
----------
Amnesty International Condemns European Burqa Bans
May 1, 2012
A new report from Amnesty International, an influential human rights group, condemned European countries for denying Muslim women jobs and education by banning full-face veils or neglecting to enforce anti-discrimination laws. In addition to bans on the burqa (traditional Muslim robes that cover women's faces and bodies) in France and Belgium, Amnesty alleged that other countries like Switzerland and the Netherlands were failing to take action against employers who discriminate against women wearing traditional religious dress. Schoolchildren have also been prevented from wearing religious or cultural clothing in the classroom. This report follows a long trend showing that these types of bans on religious clothing are deeply harmful to Muslim women.
"Women should be able to wear whatever they prefer…States have focused so much in recent years [on] the wearing of full-face veils as if this practice were the most widespread and compelling form of inequality that women have to face," the report explained.
Full Report At:
http://www.care2.com/causes/human-rights-group-condemns-european-burqa-bans.html#ixzz1tc7QtMGV
----------
Restrictions on Islamic dress for women continue to tighten in Iran
May 1, 2012
Tehran, IRAN: With an increased crackdown on regulations for conservative Islamic dress codes for women in Iran, female security officers, known as the 'morality police' have been told to step up their efforts to enforce what Tehran Police Chief Hossein Sajedinia says is "bad headscarves, bad dress, and model-type women in vulgar dress."
Worries about women wearing seasonal summer dress in Tehran as the weather becomes warmer may be part of the problem that has caused worries that 'less clothing' means 'less morals' for women. Tightening of the dress code for women will be heralding more police surveillance of women at major intersections in Tehran. Security officials, as well as religious administrative leaders, who are intensifying and updating restrictions for women's dress in the region are stating that the weather and the upcoming sessions in Iranian Parliament have brought an added push to the already existing policy on women's dress in throughout the region.
Full Report At:
http://womennewsnetwork.net/2012/04/30/restrictions-on-islamic-dress-for-women-continue-to-tighten-in-iran/
----------
Islam promotes equality, American Muslim woman says
May 1, 2012
Aisha Rahman is a American-born Muslim raised in a small town in Tennessee, where her father was a doctor at a small hospital. Her family had emigrated earlier from Pakistan, and from the sixth grade until college, she followed "hijab," dressing modestly and covering her hair with the traditional headscarf that women of her Muslim faith often wear.
Her first year of college was in 2001 – and after 9/11, she and her family decided her safety was more important than wearing the headscarf, so she reluctantly took it off.
Rahman went on to law school and is now executive director of the Washington, D.C.-based organization known as Karamah: Muslim Women Lawyers for Human Rights. She was in Missoula recently to participate in the annual Mansfield conference on women's leadership and development held at the University of Montana.
Full Report At:
http://missoulian.com/news/state-and-regional/sally-mauk-islam-promotes-equality-american-muslim-woman-says/article_fa3c6d0e-90c5-11e1-b5f9-0019bb2963f4.html#ixzz1tcGSjUm0
----------
Meethaq Sharia board endorses RO 150m capital for Islamic banking window
May 1, 2012
MUSCAT — The Shariah board of 'Meethaq' Islamic banking has approved RO 150 million capital assigned by Bank Muscat for its Islamic banking window operations awaiting regulatory approval. The board from Shariah perspective endorsed the authenticity of capital allocation from Bank Muscat shareholders' fund for operations of independent Meethaq Islamic banking. Sheikh Dr Ali Qaradaghi, Chairman of Shariah board, explained that the capital allocation is in line with injunctions of al-Quran and as-Sunnah and the fact that various contemporary Shariah scholars have endorsed the usage of shareholders' fund for Sharia compliant transactions.
Shaikh Dr Ali Qaradaghi, Chairman of Shariah board, Shaikh Essam Muhammad Ishaq, Sheikh Majid Al Kindi, board members, and Sulaiman Al Harthy, Group GM — Islamic Banking, addressed the media yesterday (Monday 30 April 2012) to highlight the strategy for the proposed 'Meethaq' Islamic banking operations.
Full Report At:
http://main.omanobserver.om/node/93157
----------
Reconstruction efforts supported women, but discrimination persists
May 1, 2012
Many of the American-led reconstruction efforts were aimed at ensuring that women could play a greater role in public life by getting an education, access to health care, the right to vote and other basic human rights.
Today, more than 3 million Afghan women attend schools and universities in their country and 27 percent of the seats in parliament are reserved for females.
But even though they are no longer banned from the classroom, Afghan girls and women still face discrimination in some places. According to international aid group Oxfam, more than 85 percent of Afghan women said to have suffered from physical, sexual or psychological abuse or been forced into an arranged marriage. Female politicians and social workers face routine threats and intimidation from the Taliban.
http://www.pbs.org/newshour/extra/features/world/jan-june12/afghanistan_04-30.html
----------
Egyptian Islamists unlikely to stifle women rights Send to a friend
Shaimaa Behery and Tian Dongdong
May 1, 2012
The Islamists' domination over key powers in Egypt will not stand against women's rights if they apply the Shariaa (Islamic law) in a moderated, not exaggerated way, head of the Egyptian National Council for Women told Xinhua in a recent interview.As Islamists swept the seats of the People's Assembly (Lower House) and Shura Council (Upper House) by more than 70 per cent, fears about the situation of women's roles and rights in the Egyptian society loomed.
"There is no contradiction between women's rights and the Islamic Shariaa. On the contrary, Islamic Shariaa is the greatest supporter for women's rights," said Mervat al-Tallawi, head of the National Council for Women.
"The fear lies in the way to apply instructions of the Shariaa, " she added, pointing out that some extremists misunderstand the Shariaa and apply it in an exaggerated way.
Full Report At:
http://thecitizen.co.tz/editorial-analysis/20-analysis-opinions/21927-egyptian-islamists-unlikely-to-stifle-women-rights.html
----------
Human rights and democracy must not come through war: Iranian born human rights advocate
May 1, 2012
Stockholm, SWEDEN: For me, who has experienced the ugliness of the Iran and Iraq war, I know that war is an inhumane phenomena and its use uncivilized and unnecessary. The occurrence of war stems from 'pure human evil' and the incomplete growth of [all of] us as human beings. Unfortunately more millenniums have to pass before true change will take place.
To be able to stop the augmentation of military power in the [Iranian] region, with a repeat of other tragedies that will affect Iran, one must act like a two edged sword.
Full Report At:
http://womennewsnetwork.net/2012/04/18/iran-human-rights-democracy-war/
----------
Pakistan: 'Blood Money' Linked to Widow's Killing, Police Say
May 1, 2012
The widow and mother-in-law of a Pakistani man killed by a C.I.A. contractor last year were killed Monday, apparently by the widow's father, who may have feared that she would remarry and take the money she received as compensation with her, the police said. The families of the two men killed by the contractor, Raymond A. Davis, in January 2011 received hundreds of thousands of dollars of "blood money" in exchange for pardoning Mr. Davis, a common legal practice in Pakistan. Mr. Davis said he shot the two men because they tried to rob him. The United States denied paying compensation to the families, but many believe it was simply routed through Pakistani officials. Zohra Haider, the widow of one of the men, wanted to remarry and was supported by her mother, said a police officer, Athar Waheed. But her father, Shahzad Butt, apparently killed the two women because he was outraged that his daughter planned to remarry and take her money to a new household, Mr. Waheed said. He is still at large, the police said.
http://www.nytimes.com/2012/05/01/world/asia/pakistan-blood-money-linked-to-widows-killing-police-say.html?ref=asia
----------
AMU elects its first woman in teachers association
May 01, 2012
After being in the news for alleged gender bias, the Aligarh Muslim University (AMU) has for the first time elected a woman to its influential teacher's association. S Chandni Bi, assistant professor of history, has been elected to the powerful executive council of the AMUTA (Aligarh
Muslim Unversity Teachers Association), officials said.
"It's a significant development and I hope to further the cause of women's emancipation, a cherished wish of the founder of the AMU, Sir Syed (Ahmed Khan). I would say the university is evolving and gradually responding to changing demands and perceptions. The AMU teachers association is an important body and can effect significant changes," Chandni Bi told IANS.
Perhaps the time has now come for a major push to reforms to change the profile of this great institution, she added.
Full Report At:
http://www.hindustantimes.com/India-news/UttarPradesh/AMU-elects-its-first-woman-in-teachers-association/Article1-848800.aspx
URL: https://newageislam.com/islam-women-feminism/afghan-president-endorses-shocking-code/d/7188