New Age Islam News Bureau
20 Dec 2013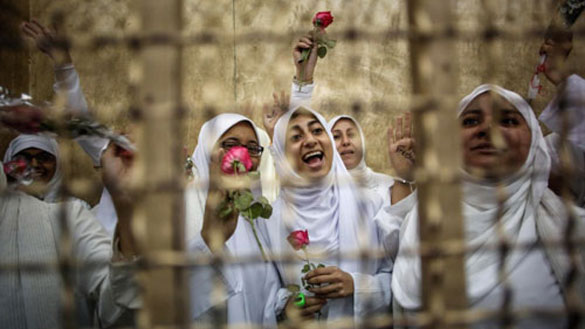 In this Dec. 7, 2013 file photo, Egyptian women supporters of ousted President Mohammed Morsi stand inside the defendants' cage in a courtroom (AP Photo/Eman Helal, File)
-------------
• Afghan Policewoman, Pregnant Teacher Hanged
• Winner of College Pageant faces Shia leaders' Wrath
• Ugandan MPs Pass Law to ban Miniskirts
• Egypt's Muslim Sisterhood Put At Forefront of Protests in Bid to Gain Public Sympathy
• Mohammad Most Popular Name for Glasgow Babies In 2013
• Sri Lankan Maid's Daughter Gets College Scholarship in Dubai
• Fawzia Koofi, the Female Politician Who Wants To Lead Afghanistan
• Hijab: A Woman's Rite Of Passage in Iran
• Turkish Women Wear Hijab in Parliament after 14-Year Ban
• UN-Arab League Peace Envoy Urges Release of Syrian Women Rights Activists
• Brighton High School students embrace diversity by wearing Islamic headscarf for whole day
• Inter-Marriages: Rare Disease Causes Family of 8 to Lose Sight in Pakistan
Compiled by New Age Islam News Bureau
URL: https://newageislam.com/islam-women-feminism/afghan-policewoman,-pregnant-teacher-hanged/d/34934
-------------
Afghan Policewoman, Pregnant Teacher Hanged
December 20, 2013
KABUL: An Afghan policewoman and a pregnant teacher were hanged and their bodies dumped within a few kilometres of a foreign military base recently handed over to Afghan control, officials said on Thursday.
The two women, policewoman and mother of two Feroza and teacher Malalai - like many in Afghanistan the pair use only one name - were kidnapped on Monday in the conservative southern province of Uruzgan, said Abdullah Hemat, a spokesman for the provincial governor.
"A post mortem examination shows that both were hanged," he said.
Successive, often deadly, assaults on women working in state institutions are fuelling concern that hard-won women's rights promoted by the United States and its allies are eroding ahead of the end of the NATO-led combat mission next year.
Several female police officers have been killed in southern provinces in recent months.
The Taliban are known to target female officials working for the US-backed government, although some attacks have been linked to family feuds and male relatives outraged that the women are going out to work.
The bodies were found in an area of provincial capital Tirin Kot on Wednesday, said provincial police chief Matiullah Khan. He believes both killings were linked to family feuds.
Australian and US forces had managed security in the province since 2005. That ended on December 11 when they formally handed over control of the province to Afghan security forces.
The place where the women's bodies were found is only a few kilometres from the Tirin Kot base where the hand-over ceremony occurred. Australian forces left the province on Sunday.
http://www.nation.com.pk/international/20-Dec-2013/afghan-policewoman-pregnant-teacher-hanged
---------
Winner of college pageant faces Shia leaders' wrath
Dec 20 2013
Meerut: A girl who won a beauty pageant in her girls' college has earned the ire of the Shia community she belongs to, particularly as the sect is is in a state of mourning over killing of Shias in Syria, Egypt, and Pakistan. The mourning period, according to the Maulvis, would end on January 10 during which no one is allowed to participate in such events or allowed to use even cosmetics.
The girl, a final year Bachelor of Arts student at RG Girls degree college, won the Miss RG contest but protests from Maulvis forced her family to go into hiding.
Principal Manju Singh told The Indian Express that the girl participated in extra-curricular activity in the college in which the administration never discriminated on the basis of caste or creed. She said, "She did participate, and won. Why then anyone should have objection to it?"
Asked if any Shia religious leader lodged any protest, she said none of the leaders met her. She reiterated it was an event held within the college.
Syed Binte Janab Naqvi, a religious leader and resident of Abdullahpur in Meerut, said, "We are in a state of mourning. Faria despite being a Shia Muslim participated in the event in which she should not have taken part. Her participation is condemnable."
Maulana Wasi Ahmed Zaidi said during the mourning even use of cosmetics is prohibited. General secretary of the Uttar Pradesh Urdu Teachers Association, Ali Haider Rizvi said it should have been avoided during the mourning period. "We cannot get competition banned but the girl should not have participated in the event. We are shocked by her demeanour and will take up the issue with her family," he said.
Deobandis, who react to almost every controversial issue concerning the minority community, however, distanced themselves from the event. "We have nothing to do with which event the girl participated and won. This is an issue concerning Shias and they should react to anyone violating state of mourning norms," said Ashral Usmani, PRO of the Darul Uloom, in Deoband.
http://www.indianexpress.com/news/winner-of-college-pageant-faces-shia-leaders--wrath/1209843/
---------
Ugandan MPs pass law to ban miniskirts
Dec 20 2013
Ugandan MPs have passed a controversial bill that will ban miniskirts.
The anti-pornography bill, which also outlaws overtly sexual material including music videos, was voted through after a short debate.
When Simon Lokodo, Uganda's ethics and integrity minister, proposed the legislation earlier this year, he said that women who wore "anything above the knee" should be arrested.
The bill needs to be approved by the president before becoming law.
Uganda is a socially conservative country - it is also considering legislation to increase the punishment for homosexual acts, including the death penalty in some cases.
According to Uganda's private Monitor newspaper, the new legislation will outlaw material which shows parts of the body including breasts, thighs and buttocks, or any erotic behaviour intended to cause sexual excitement.
It will also ban anything that shows indecent acts or behaviour intended to corrupt morals, the paper reports.
The BBC's Catherine Byaruhanga in the capital, Kampala, says the new rules could affect Uganda's popular tabloid papers.
http://www.bbc.co.uk/news/world-africa-25451709
---------
Egypt's Muslim Sisterhood Put At Forefront of Protests in Bid to Gain Public Sympathy
The Associated Press
20 December 2013
CAIRO – They tirelessly hold rallies, whether at night or under cold rain, chanting for the return of Egypt's ousted Islamist President Mohammed Morsi. They clash with police, hurling back fuming tear gas canisters and getting dragged by their veils and thrown behind bars. At protests in universities, they get into fistfights with rival female students.
Women supporters of the Muslim Brotherhood have stepped into the front line of Islamist protests, once of the few branches of the organization not crushed by a heavy crackdown since Morsi's removal in a July 3 coup.
Former group members say it's an intentional survival tactic by the Brotherhood, aiming to keep its street pressure alive and betting that security forces are less likely to strike heavily against women — and that if they do, it will win public sympathy for the Islamists' cause.
It's a major change in role for the Muslim Sisterhood, as the women's branch is known. Like the Brotherhood's male cadres, its women are highly disciplined and undergo years of indoctrination instilling principles of obedience — often from childhood — but in the women's case, they have largely been trained to play a mostly backseat, family-centered part.
In daily protests the past months, they have proven determined and ferocious.
"We are protecting our religion. I came out for the sake of Islam," said a slim veiled 13-year-old Souhidah Abdel-Rahman, who was arrested along with her mother during a pro-Morsi protest in October in the Mediterranean city of Alexandria. Abdel-Rahman was immediately released because of her age, but her mother remained in detention.
"They want to break our back but we are not going to back off," she said, speaking to The Associated Press as she visited her mother earlier this month at a prison in the Nile Delta city of Damanhour.
A male Brotherhood youth leader from the southern city of Assiut said he and many members are "hibernating" in the face of the crackdown. But he said the group is betting that the public, which largely backed Morsi's ouster, will eventually turn against the military and interim government under pressing economic conditions. He spoke of the "butterfly" tactic of swift, snap demonstrations organized by the group's surviving lower cadres.
Women and students, he said, play an important role. "The women are hardly harmed because no one knows them. Security authorities don't have files for them," he said, speaking on condition of anonymity because of security concerns. Also, women help heal the relationship between the Brotherhood and the public, he added, acknowledging that "the group is hated in the street now."
The attempt to win public sympathies appears to be having mixed success.
One win for the group came when 21 women arrested in the October Alexandria protest, including seven juveniles, received heavy sentences of up to 11 years in prison for protesting. The harshness of the sentences — along with images of the handcuffed women and girls in their white robes in the courtroom's defendants cage — shocked even some opponents of Islamists. The sentences were reduced to one-year suspended prison terms on appeal and the women have been released.
Tarek el-Beshbeshi, a former senior Brotherhood member who defected this year from the group, said the Brotherhood is waging a "war of attrition" with constant protests to wear down state resources. Along with university students, women "are making the biggest impact because they are the most zealous and enjoy a societal immunity from prosecution to some extent."
Still, another ex-Brotherhood member, Ahmed Ban, noted that the heavy sentences against the women were a message from authorities "that there are no red lines in the confrontation. If you wave the women card in my face, I will deal with them as if they are men."
At the same time, the Brotherhood women have at times faced a public backlash during the protests.
Sisters at the Islamic Al-Azhar University, including the "Al-Azhar Girls Ultras," have been among the most aggressive. In past weeks, their protests at the women's dormitories in the university's Cairo campus have turned into clashes, with police blasting women with water cannons as girls throw volleys of stones from the dorm balconies. When police fired tear gas, women picked up the smoking canisters and hurled them back.
Speaking to an AP reporter on a recent visit to the campus, one pro-Brotherhood woman, Walaa, recalled with pride how their "steadfastness astonished the world." The 20-year-old engineering student and several other Brotherhood backers with her spoke on condition they be identified only by their first names for fear of arrest.
As they spoke, they were interrupted by other female students angry over the protests. Minna Mohammed, a 20-year-old student with her face covered by a conservative veil, snapped that their protests forced the entire university to stop classes.
"I don't want to skip my classes because you want to hold protests," she said angrily. "They are cutting the roads, interrupting classes, irritating police. Police warned them several times before firing tear gas but they don't listen."
Another student, Hanan Mohammed, showed bruises she said were from pro-Brotherhood women who beat her when she flashed a V-for-victory sign from her balcony in support of police cracking down on the protesters. She said the women threw broken glass in the face of her roommate, leaving her bleeding.
"Are you from the traitors' room? Room 106?" a pro-Brotherhood woman, Esraa, shouted at her as she showed the bruises.
Gen. Hani Abdel-Latif, a spokesman for the Interior Ministry, which is in charge of police, said the leading role of Brotherhood women and students show the group is "using its last reserves."
For decades, the Sisterhood played a largely subordinate role in the male-dominated organization. They held weekly meetings to report on potential new recruits and ran charities, schools and kindergartens in the group's crucial grassroots network, a source of funding and recruits. During elections, they go house-to-house, knocking doors of housewives garnering votes that helped the group score major victories in post-Mubarak elections.
As part of their indoctrination, Sisters learn by heart the diaries of Zeinab el-Ghazali, an iconic female Brotherhood member who was imprisoned in 1960s and sentenced to death, though the sentence was commuted to life in prison. In the Sisterhood, she is elevated to near sainthood because of her descriptions of abuses in prison. In her diaries, she says jailers put hungry dogs in her cell to attack her but she survived without shedding a drop of blood and that when they let in mice, the rodents fled from her.
But Sisterhood members are not included in the decision-making hierarchy or leadership bodies. While male members have rankings defining their missions, women only hold the titles of "lover" — as in, of God — or "Sister." The founder of the 83-year-old Brotherhood, Hassan al-Banna, underlined that women are for "housekeeping and children" and that extra education is "unnecessary."
Sisters are not permitted to marry non-Brotherhood members. A former sister, 42-year-old Azza Afifi, said when her Brother husband quit the group, she was told by Brotherhood officials to either divorce him or quit with him. She chose the latter.
"I was very obedient, blindly following them. Unlike my husband, I never argued or expressed opposition," she said. "They exploit the young women and men. They knew how to press the right buttons ... Now I see the women are used."
http://www.ctvnews.ca/world/egypt-s-muslim-sisterhood-at-forefront-of-protests-in-bid-to-gain-public-sympathy-1.1600158
-------------
Mohammad most popular name for Glasgow babies in 2013
Stewart Paterson
20 December 2013
MOHAMMAD is top name for babies born in Glasgow for the first time.
It was the most popular boys' name in the city last year, with 71 being given the name. The previous year it was the third most popular behind Riley and Daniel.
The most popular girls' name in Glasgow was Olivia, with 63.
Across Scotland, Jack and Sophie were the top names for the sixth year in a row.
Glasgow follows London where the combined spellings of the name Mohammad have been the most popular in the city for the past three years.
Many other European cities have recorded Mohammad as the most common boys name in recent years, particularly in France and Belgium and as the most popular Islamic forename it is estimated to be the most common given name in the world.
However, many Muslims who have Mohammad as their first name are known by their second forename, making its popularity less obvious.
Mohammad, the prophet of Islam, is the most famous example of the name and there have been many others people with the name using various spellings.
Some 561 boys across Scotland were named Jack in the first 11 months of this year, while 474 girls were given the name Sophie.
Jack has been in the top spot for six years in a row and represented 2.1% of the boys' names registered in 2013. Sophie - the first name of 1.9% of newborn girls registered this year - has held first place for nine consecutive years.
The statistics, published by National Records of Scotland (NRS), show that while the leading names remain constant, there are some notable fluctuations within the table of the top 100 most popular names.
For boys, James became the second most popular boys' name for the first time in this century, pushing Lewis into third.
Oliver rose six places to fourth, and Daniel is up one at fifth.
The two new entrants to the boys' top 10 were Lucas and Charlie, while Logan, Alexander and Harry completed the list. Ethan and Riley dropped out of the boys' top 10, but names such as Harris, Jacob, Noah and Thomas have pushed their way into the top 20.
For girls, Olivia climbed two places to become the second most popular name this year and, being registered 465 times, was just nine behind Sophie in numbers.
Emily fell from second to third, and Isla rose from sixth to fourth.
The girls' top 10 also had two new entrants in the shape of the names Ella and Millie, with Lucy, Ava, Amelia and Jessica making up the list. Lily and Mia fell out of the top 10 into the top 20, sitting alongside top 20 new entrant Erin.
Big climbers in the 2013 top 50 list included Leo and Kai for boys and Poppy and Daisy for girls.
Overall, the NRS registered the births of around 26,700 boys and 25,200 girls in the first 11 months of this year. The top 50 boys' first names accounted for 42% of all those registered while the top 50 girls' first names represented 40% of all names registered. During the period from January until the end of November, parents chose more than 7400 different first names for their children and around 4800 were unique.
http://www.heraldscotland.com/news/home-news/mohammad-most-popular-name-for-glasgow-babies-in-2013-x.22999534
-------------
Sri Lankan Maid's Daughter Gets College Scholarship In Dubai
20 December 2013
Dubai: The smiles are back on Shahra Jafar Ali's face. Until last week the Sri Lankan housemaid's daughter was staring at an uncertain future as lack of funds had put her dream to study further in doubt. But an XPRESS report highlighting her plight has changed her life.
Ever since the December 12 report, Shahra, 17, has been contacted by hundreds of people offering financial assistance.
Not just that, Australia's Murdoch University Dubai has given her a free seat in a three-year graduation course in Computer Science.
"Having read Shahra's plight in XPRESS, we at Murdoch University Dubai felt compelled to take action to help this promising student. Murdoch University in Perth, Western Australia was founded with the belief that everyone should have access to higher education.
"In the spirit of Sir Walter Murdoch, our namesake, we would like to offer Shahra a full tuition scholarship for a Bachelor of Science in Computer Science and Business Information Systems to attend Murdoch University's Dubai campus," said Dan Adkins, Academic Director — Murdoch University Dubai, Executive Vice-President — Global Institute Middle East.
On December 17, Shahra registered at Murdoch University to begin her studies from January 12 — a sweet gift for the New Year.
If she had had to pay from her own pocket she would have had to fork out Dh140,000.
Her transportation cost, which amounts to Dh4,000 for three years, has been taken care of by a Good Samaritan.
"I cannot thank XPRESS enough for helping me fulfil my dream. All my school friends had started college and I was sitting at home doing nothing. But now I too would be going to college," Shahra said fighting back tears.
"Within hours of the XPRESS report, I got hundreds of calls. People called from as far as China. Some even came to my doorstep with money," she said.
An Indian man even took her to a university and got her registered for a scholarship.
Shahra, who lost her father when she was 10 years old, had studied till Grade 12 with the help of her Emirati sponsor. She lives with her mother and two younger brothers in a one-bedroom house provided by her sponsor in Nad Al Sheba.
http://gulfnews.com/news/gulf/uae/society/maid-s-daughter-gets-college-scholarship-1.1268648
-------------
Fawzia Koofi, the female politician who wants to lead Afghanistan
20 December 2013
Afghanistan remains one of the most dangerous places anywhere in the world to be a woman, or to be a politician, and Fawzia Koofi, a deputy speaker of its national assembly, is both.
At least once a week, she receives a death threat from the Taliban or a warning from the security services about plots to assassinate her. In 2010 her convoy came under attack by gunmen as she was travelling with her two teenage daughters near Tora Bora. Although one of her guards was injured, Koofi was unharmed and she sounds remarkably unfazed.
"We'll all die one day, and if we die doing something good, that's a big achievement," she tells me when we speak on the phone. Despite the risks, she plans to run for the Afghan presidency in 2018.
Koofi had been hoping to join the 2014 presidential race, but the minimum age to run for the post is 40, and she was still only 39 when candidates registered earlier this year. She thinks this isn't fair, but is determined to put a positive spin on it: she says she believes that Afghan society will be more tolerant by 2018.
There are signs, however, that life could be becoming harder for Afghan women. Although Afghanistan's national assembly boasts a greater proportion of women than the UK parliament (28 per cent against our 23 per cent), the quota for women has been decreased from a quarter to a fifth. The International Crisis Group reports that since responsibility for law and order moved from Isaf troops to Afghan national security services, attacks on women have been increasing. Already, 87 per cent of Afghan women have suffered psychological, sexual or physical violence, a UN survey says.
Insurgents have targeted women's rights activists. In July – and again in September – the most senior policewoman in Helmand was shot and killed. In August, two MPs were attacked; another was kidnapped by the Taliban for three weeks. In July, the MP Noor Zia Atmar moved into a shelter to escape her abusive husband.
The odds have been stacked against Koofi since birth. When she was born, her disappointed relatives, who wanted a boy, left her out in the sun to die until her mother was well enough to rescue her. Her father was an MP who built the first school in the village but forbade his daughters to study there. When Koofi was three he was assassinated by the mujahedin. She persuaded her family to allow her to study and would have become a doctor, if the Taliban hadn't taken control in her first year in medical college and banned women from it. Her husband, a university professor, was arrested by the Taliban and died in 2003 from tuberculosis he contracted in prison.
"The discrimination and the injustice I faced during the Taliban gave me the strength and the motivation to want to change something," she says. When the Taliban fell in 2001 she launched a political campaign to promote girls' education and four years later she won her first seat in parliament.
She wants to improve the lives of Afghan women as president, and to clamp down on corruption, strengthen the rule of law and help define a "moderate Islam, with which we can create a longer-term strategic partnership with the world, and create an atmosphere and environment in which people can enjoy their lives". Koofi's greatest fear now is that, after international troops withdraw in 2014, the Taliban will regain the upper hand.
She hopes above all that her work will allow her daughters to have an easier life. "I always tell them to be brave and to make sure they are educated, because a girl's education is the most important thing in her life," she says. "I wouldn't be where I am now if I wasn't educated, and whatever happens to me, they must continue their education."
http://www.newstatesman.com/2013/12/just-ticket
-------------
Hijab: A woman's rite of passage in Iran
20 December 2013
The Islamic dress code - or hijab - is a game for 25-year-old Tahereh, who feels perfectly comfortable letting her headscarf fall off her shoulders as she covers the distance from her car to a friend's apartment building on a residential street in central Tehran. The same cannot be said for the Basij militiamen who regularly cruise through this part of town on their motorcycles, stopping to reprimand pre-teen girls for stepping out of their home without a headscarf and a loose coat, or manteau. Typically, this is the minimum level of covering tolerated by an Islamic establishment whose official line is that "hijab is protection from sin."
Despite the official hard line, the scale of covering up in Iran varies by region and neighbourhood, and many women agree that in terms of their rights, hijab is low on the list of their immediate worries. Nevertheless, it remains a universal topic of public discourse among the secularising middle class that helped elect the moderate President Hassan Rouhani into office this summer. Though the enforcement of public dress code has remained largely unchanged during his first three months in office, the government has indicated an imminent change in the current policy on "hijab and chastity."
One recent signal is the announced plan to transfer the responsibility for hijab enforcement from the police force to the interior ministry, which would free the police to focus on more pertinent "security" issues. Another indication are the statements of Rouhani himself, which have been in line with his pre-election promises to lift the restrictions on personal freedoms young people experienced under the previous administration.
At a recent government meeting, the president advised the police force to approach the hijab issue "with respect for human dignity and refrain from excessive measures," according to a 13 November front-page article in the reformist Shargh daily analysing the signs of a potential change in the official stance on hijab enforcement. At the same time, the newspaper highlighted Rouhani's message to the public, in which he asked the people to treat "the topics of character, chastity and hijab" with sensitivity and to respect "societal norms."
While many of his supporters view these overtures as a welcome reinstatement of personal rights, most find it difficult to discern their practical implications. The interpretation of proper hijab and its relation to chastity is not only different for each government office, but also for each family and social grouping. For members of the younger generation, who've spent their lifetimes under the rules of the Islamic republic, hijab is an everyday reality resulting from both official and social pressures. While many are opposed to the concept of mandatory dress code, the consensus is that much needs to change before hijab becomes a truly personal decision.
For Azadeh, 59, the imposition of hijab is more about social control than Islamic values. When it first became mandatory for office workers to cover their hair in 1981, two years after the Islamic revolution, she and her colleagues dug through their grandmothers' wardrobes to find something suitable to wear. Over the next two years, the women were gradually directed to wear manteaus and slacks in one of three shades (black, grey or brown, all available at an official shop) and to exchange their headscarf for the maghnae, which envelopes the neck as well as the face.
"We were uncomfortable, but we also decided that the priority was to keep our jobs and remain active in society," Azam says. "At the time, that was a very important issue" for women's rights.
Gradually, the strict guidelines were imposed in public places as well. Azadeh recalls a particularly "bad time" in 1982, when revolutionary forces would round up women in Tehran's Valiasr Square and shave off any hair peaking from under their headscarf with an electric razor. "It was never clear what the rules were -whether it was OK to show your fringe or not," she says. "I still have dreams sometimes about finding myself in the middle of the street without my headscarf."
Such nightmares are conspicuously absent for younger women like Leila, 28, who grew up learning about hijab from her female family members. "My mom is religious and always took good care of her hijab. I would always ask to borrow her headscarf to play dress-up," she says. "My two older sisters were not like Mom, though. They would leave their hair out, and when I'd go out with them I understood that I shouldn't act serious about my hijab around them the way I did with Mom. That's when the paradox started."
At school, nine-year-old girls are typically ushered into public life through a special ceremony called "Taklif" in which they are initiated into Islamic society. Mariam, 29, who grew up in a secular family, describes it this way: "They give you a chador, tell you what a big girl you are, teach you how to pray and what it means to be a Muslim. Then they say, 'Dear girl, if you don't pray or wear bad hijab, you will go to hell."
Leila remembers the ceremony more fondly: "It was something really exciting, better than a birthday party. I remember that my mom sewed me a white chador. I can't remember exactly what I thought, but I remember feeling very happy and grown-up."
Despite their varying backgrounds, both Leila and Mariam experimented with wearing a chador - the traditional sheet-like garment Shia women wear to disguise their figures - in their teenage years. Both women say they were influenced by role models such as their sisters or TV show characters rather than religious factors, and both outgrew the practice by the time they reached adulthood.
"The older I got, the more I got out of the family mindset of asking what I can do to make Mom happy, thinking that it's very good to read the Quran, behaving a certain way," Leila says. "By the time I graduated high school, Mom's explanations for doing these things became meaningless. Still, it was hard. What if bad hijab is a sin and I go to hell? I remember losing sleep over that."
Today, both Leila and Mariam wear colourful headscarves and chic, tailored manteaus that at times draw unwanted attention from both the moral police and members of the public. Though both try to dress in a way that conforms to the status quo without compromising their personal tastes, they say the feeling of personal security is an important factor in their fashion choices.
"I'm a bit cowardly," says Mariam. "When I'm returning home at night, I often wish I had a chador, I wish I wasn't wearing makeup. There's always the threat of getting sexually harassed in a taxi, or worse."
Adds Leila: "Even if hijab becomes a free choice, I will go out covered up down to my ankles, because this society will not be ready day-to-day."
Curiously, both the slightly younger Tahereh and pension-age Azadeh reject the issue of personal security as a reason to wear proper hijab. Asked how she would behave if hijab rules were lifted, Azadeh says she would "take her headscarf off immediately."
"I'm not afraid of people," she adds. "Maybe it would take them a week to adjust, but I don't believe that someone would be so sexually affected by a woman's lack of a headscarf. It's just a rule imposed from above."
On the issue of sexual harassment and groping taxi drivers, Tahereh, too, has a more assertive take. "If I'm in a situation when a man is making me feel uncomfortable because of the way I'm dressed, I'm not thinking 'if only I had a chador,'" she says. "I'm thinking, 'if only his eye sockets were empty.'"
http://www.theguardian.com/world/iran-blog/2013/dec/19/iran-hijab-islamic-veil
-------------
Turkish Women Wear Hijab in Parliament after 14-Year Ban
20 December 2013
For the first time in 14 years, four female lawmakers sat in a parliament session in Turkey last month wearing the Hijab, the headscarf. This was a triumphant move for women's rights in Turkey: the right to religious freedom, to be elected to political office based on qualifications, and the right to choose to wear the headscarf or not.
Rather than being shunned, the women donning the headscarves were welcomed and saluted by fellow members of parliament who gathered around their colleagues to take pictures with. Supporters of the women said that their bold move was another step towards normalizing wearing of headscarf in public institutions.
"I will no longer take off my headscarf and I expect everyone to respect my decision," Gonul Bekin Sahkulubey, one of the four women, was quoted as saying by Turkey's Milliyet newspaper.
The achievements of these women are deserving of celebration as one of them was even elected as the head of the municipality in one of the regions in the province of Sakarya, a Northwestern state in Turkey.
This is a far cry from a previous attempt by their predecessor who was rebuked in the Turkish parliament 14 years ago for walking into the parliament with a scarf on her head. In 1999, Turkish American lawmaker Merve Kavakci arrived in parliament wearing a headscarf for her swearing-in ceremony but she was booed out of the house and then had her Turkish citizenship revoked. Then Prime Minister, Bulent Ecevit, told members of parliament to "put this woman in her place"; as she left, her colleagues chanted, "Get out!"
Kavakci fled Turkey, only to go on to become a global spokeswoman for religious freedom, particularly for the rights of Muslim women to express their faith free from government coercion. That includes the right to wear or not wear religious attire.
"When a government forbids Muslims, Jews, Sikhs or anybody else who wears religious attire from doing so in public - that is unacceptable," says Kavakci.
Ever since Turkey's present Prime Minister, Recep Tayyip Erdogan, came to power in 2002, he ushered in democratic reforms, advocating women's rights, and he has brought relative economic and political stability to Turkey.
On September 30th, the ruling Justice and Development Party (AKP) lifted a decades-old ban on headscarves in the civil service as part of a package of reforms meant to improve democracy and freedoms. The deep-seated ban was one of the most controversial laws in Turkey, pitting backers of the secular constitution against those who favor Islamic rights.
The measure to rescind the ban was hailed by Prime Minister Recep Tayyip Erdogan, whose wife wears a headscarf, as a "historic moment".
"The will of the people has prevailed in parliament. Women who do wear headscarves and women who do not are full members of this republic," said Erdogan to the press after the four women wearing headscarves in parliament broke a taboo in the staunchly secular country.
The reversal of the ban on headscarves in governmental offices was part of major political reforms, including providing equal opportunities to women in the workforce and new Kurdish rights, announced last month by Erdogan.
Women wearing the headscarf in Turkey have the right to equal opportunity and the right of representation in public office. According to a 2006 survey conducted by the Turkish Economic and Social Studies Foundation, the prevalence of hair covering among Turkish women is about 60%, or two-thirds of Turkish women, but of course there are regional variations.
It was when Erdogan was in office that female students attending universities gained their right to wear the headscarf in class. Banning the headscarf is an infringement of women's rights to freely practice their religious beliefs.
However, the headscarf ban remains in place for women judges, prosecutors, police officers, and members of the armed forces.
The government is currently under fire from critics from the secularists in the country who claim that this move was part of creeping efforts to force Islamic values on the predominantly Muslim country. Once again, the heated headscarf debate is brought to the forefront of public discourse in Turkey.
http://www.saudigazette.com.sa/index.cfm?method=home.regcon&contentid=20131220190076
-------------
UN-Arab League Peace Envoy Urges Release of Syrian Women Rights Activists
2013-12-20
GENEVA: UN-Arab League peace envoy Lakhdar Brahimi on Thursday demanded the release of leading Syrian women's rights campaigner Razan Zeitouneh and three fellow activists, abducted last week by unknown kidnappers.
"We have all got to demand that they be released," Brahimi told activists from Syria and other countries as well as diplomats at a meeting at the UN's Geneva offices.
"Zeitouneh should have been here today, and I hope that she will be here on the 12th of January," he added, referring to a gathering of Syrian women campaigners planned ahead of long-awaited peace talks between the government and rebels starting in Switzerland on Jan 22.
Zeitouneh was among the 2011 winners of the European Parliament's top human rights prize for their role in the Arab Spring.—AFP
http://www.dawn.com/news/1075229/brahimi-urges-release-of-syrian-women-rights-activists
-------------
Brighton High School students embrace diversity by wearing Islamic headscarf for whole day
12.20.2013
BRIGHTON - Students at Brighton High School embraced diversity recently when they decided to wear Islamic headscarves for a whole day.
The students were from an AP language course. Earlier this fall they were required to read a memoir by Iranian author Azar Nafisi. The memoir discusses the experiences of women during Iran's religious revolution. During that period, Iranian women dealt with new standards of modesty in the way they dressed.
To get a better idea of what Iranian women experienced during the revolution, many girls in the class chose to wear the Islamic headscarf for a whole day.
Through the experience, the teens had the opportunity to learn about an unfamiliar culture.
According to a report, there are no Muslim students at Brighton High School and only one Muslim teacher. Students who dressed in the headscarf attracted questions about the religion from others.
http://www.arabamericannews.com/news/index.php?mod=article&cat=Community&article=7997
-------------
Inter-Marriages: Rare Disease Causes Family of 8 to Lose Sight in Pakistan
20 December 2013
KARACHI: A family of eight, living in Goth Niaz Malah of Sindh, is suffering from a rare disease. Small blisters appear on the hands and feet, gradually affecting the eye. The patient, eventually, loses the eyesight, fingers and toes.
Talking to the Express News, the family said that the babies are normal at birth, and the symptoms appear by the age of seven.
An affected family member, Abdul Majeed, complained that despite repeated attempts to seek help he could not meet the officer concerned as "the officer's peon turns me away at the door every time, telling me that my feet would infect the office carpet."
Radiologist Dr Saad, who accompanied the Express team, opined that the disease could have been a result of inter-marriages in the family. He added that the condition was a genetic problem and continued to pass on to generations.
Chairman of the Pakistan Relief Foundation Haleem Adil Shaikh lamented that the health department failed to help the family.
"The health department officials could have used the Zakat or other charity funds to help the affected families," he added. "At least, the officials should have visited them, examined them and provided them with some sort of treatment."
http://tribune.com.pk/story/647578/inter-marriages-rare-disease-causes-family-of-8-to-lose-sight/
-------------
URL: https://newageislam.com/islam-women-feminism/afghan-policewoman,-pregnant-teacher-hanged/d/34934