New Age Islam News Bureau
11 Jun 2013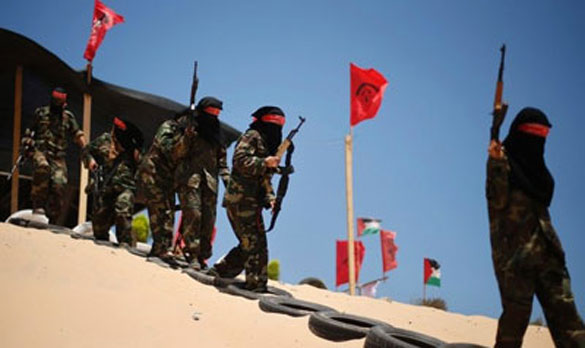 Photo: Palestinian Women Take Up Arms
-----------
• No cell phones for girls, no jeans for women: BJP MP
• Pakistani Woman 'Auctioned By Her In-Laws' Recovered
• Breaking All Barriers, Kashmiri Woman Singer to Make Bollywood Debut
• Emirati Woman Public Relations Officer Accused of Torturing and Starving Maid to Death
• Baby Can't Go Home Until SR400, 000 Hospital Bill Is Settled
• Absence of Maids Causes Panic Ahead Of Ramadan in Saudi Arabia
• Palestinian Women Take Up Arms
• Kuwaiti Court Gives Woman 11 Years in Jail for Insulting Emir
• No Women Ministry in KP under PTI Govt
• Parkour Life: Iranian Women Get Physical
• Woman Who Risked Jail in Egypt to Fight against NGOs Crackdown
• Victory for Israel's Women of the Wall after 25 Year Campaign
Compiled by New Age Islam News Bureau
URL: https://newageislam.com/islam-women-feminism/afghan-parliament-rejects-un-islamic/d/12017
------------
Afghan Parliament Rejects 'Un Islamic' Proposal Banning Men from Marrying Minor Girls
Jun 11, 2013
The Afghanistan parliament has rejected a proposal that would have stopped men from marrying girls younger than 16 years.
Parliamentarians said that the proposal ran counter to Islamic ideology.
The measure would have banned the practice of buying and selling women to settle disputes called 'baad,' [the] traditional practice of buying or selling women to settle disputes.
The measure would also have stopped criminal law imposed on the rape victims who are slapped with adultery, The Washington Times reports.
The decision comes at a time when elections are round the corner, and will be held on April 2014.
http://www.dnaindia.com/world/1846499/report-afghan-parliament-rejects-unislamic-proposal-banning-men-from-marrying-minor-girls
------------
No cell phones for girls, no jeans for women: BJP MP
Anuraag Singh, TNN | Jun 11, 2013
INDORE: Joining the ranks of 'self-appointed' guardians of public morality, BJP's Rajya Sabha member and Madhya Pradesh party vice-president Raghunandan Sharma has come up with bizarre suggestions to check crime against women: Girls shouldn't be allowed to use mobile phones before marriage and women shouldn't wear jeans.
Sharma's gave vent to his thoughts while addressing a meeting of Brahmins in Ratlam district on Sunday. He termed cellphone usage by students, particularly young girls, as a big menace and the genesis of other evils. The BJP leader lambasted girls wearing jeans, saying it was the attire of American cowboys and in no way gelled with the Indian culture.
When contacted by TOI over phone on Monday, Sharma stood by his statements, but said these were his individual views and in no way reflected the BJP's official line.
The Congress and National Commission for Women have condemned the statements. Commission's chairperson Mamta Sharma said it seems that the politician still wants women to live in the ancient era. "This leader must be deplored by all women."
The Congress demanded a public apology from Sharma as well as the BJP. "These statements have once again proved beyond doubt the double standards in the ruling party in MP. While chief minister Shivraj Singh Chauhan tom-toms his pro-women schemes, senior leaders of his party like Vijay Shah, Babulal Gaur, Kailash Vijayvargiya and Raghunandan Sharma by their statements have revealed the anti-women face of the party. We demand a public apology not only by Sharma, but even his party over his statements," state Congress spokesperson Narendra Singh Saluja said.
http://timesofindia.indiatimes.com/india/No-cellphones-for-unmarried-girls-no-jeans-for-women-BJP-MP/articleshow/20529791.cms
-----------
Pakistani Woman 'Auctioned By Her In-Laws' Recovered
By Owais Jafri
June 11, 2013
MULTAN: Police on Monday recovered a woman allegedly 'auctioned' on the orders of a panchayat in Dera Ghazi Khan on Sunday and arrested the man who had bought her. Fifteen others, including the woman's husband and panchayat members, were also arrested.
Kot Chutta DSP Nadeem Butt said the 25-year-old woman, a resident of Darkhawast Jamal Ghuzar- an area along the tribal belt of the district- was accused by her in-laws of immoral activity. The DSP said that her husband and brothers-in-law had claimed of catching her with a man from the neighbourhood several times.
On Sunday night, the DSP said, her husband called a panchayat.
Witnesses told police that the panchayat had ordered the man who she was accused of having an affair with to leave the area.
The man was told he would be stoned to death if he returned to the area.
DSP Butt said the panchayat had ordered the woman's husband to confine her inside the house, but he had refused to accept her.
"He told the panchayat that he did not want to keep her because she had damaged his 'honour'. The panchayat then ordered him to sell her," the DSP added.
He said the woman was sold for Rs350,000 in an open auction. The man who bought her was told not to bring her back in the area.
He was also told that he could not sell her in the same tribal area.
The DSP said after the news of the woman's auction reached the police, the buyer's home was raided. The woman was recovered and taken to an undisclosed place.
The buyer was arrested. He told police that he was planning to sell her in Balochistan. He said he was not aware of any panchayat decision.
He said, "I just came to know that a woman was being sold in Kaloi area and went to buy her."
DSP Butt said 15 other men, including the woman's husband, two brothers-in-law and panchayat members, had been arrested.
He said an FIR had been registered against them with the Darkhawast Jamal police under Sections 371 (human trafficking) of the Pakistan Penal Code.
http://tribune.com.pk/story/561506/aint-no-commodity-woman-auctioned-by-her-in-laws-recovered/
------------
Breaking All Barriers, Kashmiri Woman Singer to Make Bollywood Debut
Ishfaq-ul-Hassan
June 11, 2013
Srinagar: Forget the recent controversy over the all-girls band Praagaash that was disbanded under threats, now a 27-year-old Kashmiri singer is set to make a debut in Bollywood, breaking all barriers.
Mehmeet Syed will be singing two songs for a Bollywood movie making her perhaps one of the first Kashmiri women to make a debut in tinsel world.
The 27-year-old singer had recorded one song for the film in the winter but due to a technical snag the track was cancelled. She will leave for Mumbai in mid -June to complete the paper work and record the songs.
"I will be singing two songs — one solo and another duet. The film staff met me in Mumbai and then in Srinagar, though the paper work is yet to be done. I will be going to Mumbai where Insha Allah I will record the songs," Mehmeet told dna.
Breaking away from the stereotype Kashmir-centric subjects, this film will be a love story set in the Valley. "There is no hulla-gulla, Hungama or turmoil in the film. It is just a love story set in Kashmir," she added.
Daughter of a doctor-turned-politician, Mehmeet has topped the charts since she made her music debut in 2004 with her first Kashmir video album Chulhama Roshay Roshay. The album was a hit with 50,000 VCDs and 75,000 audio cassettes being sold in the first year.
"Since then I have made more than 100 albums. It excludes three video albums. In
between I got many chances to sing for movies but they did not materialise somehow.
Sometimes my exam came between, sometimes I did not believe it," she said.
This time, however, Mehmeet is serious about making a debut in Bollywood. "I had lost interest in music after my mother passed away in August 2011. I rarely sang after that. Now this Bollywood offer came my way and it will be my comeback to the world of music," she said.
After doing her masters in journalism and mass communication, Mehmeet is currently pursuing masters in the public administration. "I also completed my B Ed. This year I will complete my masters in public administration. I am also preparing for the civil services because music is not the end of the world," she said.
Mehmeet will be the second Kashmiri to make a debut in Bollywood in the last few years. Earlier, Saim Bhat had sung two songs in Emran Hashmi starrer Murder 2.
http://www.dnaindia.com/entertainment/1842232/report-kashmiri-singer-to-make-bollywood-debut
------------
Emirati Woman Public Relations Officer Accused of Torturing and Starving Maid to Death
Marie Nammour 11 June 2013
A woman allegedly tortured her two housemaids, beat them regularly and denied them food and medical treatment, which later resulted in the death of one of them, a court heard.
The victim weighed just 37kg at the time of her death and a friend of the woman, who testified against her, said that the suspect tried to bribe one maid with money so she would not talk to the police.
The 45-year-old Emirati, R.A., who works as a public relations officer, allegedly subjected her Ethiopian and Filipina maids to daily beatings as well as physical and mental torture, with both maids sustaining severe injuries, leading to infection because of not providing medical treatment. This, along with other factors, led to the Ethiopian maid's death.
R.A's husband, a 42-year-old policeman, A.A., allegedly watched as his wife physically abused the maids and deprived them of their freedom by locking them up in the bathroom. He tightly secured his villa in Nad Al Hamar area so the two maids could not escape.
The couple denied in the Court of First Instance charges of illegal imprisonment, deprivation of freedom with the use of force, physical and mental torture, leading to death, and causing bodily harm. However, the Public Prosecution is seeking life imprisonment for the duo.
The Filipina maid, 29, who survived the torture, which lasted for a couple of months, told the prosecutor that her employer used to beat her and deny her food. She also forced her to drink a mix of detergents when she was not satisfied with her cleaning duties.
The maid said that R.A. would threaten her with jail and intimidate her by saying that her and her husband had respectable jobs and connections with the police and immigration.
On several occasions, the two maids were brought into the villa and locked in a bathroom, where R.A. had a camera fixed to the wall so she could watch them while she was away from the villa.
She would also threaten to circulate nude pictures of them which she took after forcing them to take their clothes off.
The Filipina also claimed that R.A. would assault them and bang their heads against the wall while cleaning the house. R.A. fed the deceased only a piece of onion, sugar and salt for five days.
After losing consciousness, due to the constant beatings and malnutrition, the couple were forced to feed the victim better.
When the victim's injuries became infected, R.A. refused to take her to a hospital as she was afraid she might be held accountable for the abuse.
A maid of the employer's friend testified to the beatings and said that she herself was subjected to abuse by R.A. She claimed the latter threw detergent on her face and forced her to sniff her underwear to humiliate her as she laughed.
R.A.'s Emirati friend, a 35-year-old manager, testified that she saw R.A. beating the victim with a stick and that the latter was often bruised. She said that she heard R.A., on January 16, beg the maid not to speak to the police and offered her money and anything she wanted.
A forensic expert said the victim weighed only 37kg when she died. Torture, malnutrition and negligence of injuries all contributed to her death. Her blood sample contained traces of a pesticide.
http://www.khaleejtimes.com/nation/inside.asp?xfile=/data/courtroundup/2013/June/courtroundup_June11.xml&section=courtroundup
------------
Baby Can't Go Home Until SR400, 000 Hospital Bill Is Settled
June 11, 2013
JEDDAH — The parents of a baby boy born prematurely almost three months ago have been unable to take him home because they cannot settle the SR400,000 bill their hospital has demanded they pay.
Dexter Mateo, 31, did not expect that when he rushed his wife Candy, 30, to the nearest hospital on March 12, she would give birth to baby Eshan so soon because she was only six months along at the time.
Neither did they expect that they would end up saddled with an enormous debt as they had planned for her to give birth at a "lower-class" hospital in Riyadh.
Candy was supposed to go back to the Philippines last December, but decided to stay and give birth in the Kingdom when she found out she was pregnant.
They were expecting a delicate pregnancy because she was diabetic.
Mateo was prepared to pay the SR10,000 fine before she could obtain an exit visa.
What they did not anticipate was that Candy would give birth that day and that the charges would amount to a minimum of SR8,000 a day.
Mateo brought Candy to a private hospital only because he had no choice, as she was already in extreme pain and her waters had broken.
Upon the doctor's suggestion, Mateo attempted to have the baby transferred to a government hospital the day after Eshan was born.
However, the government hospitals he went to refused to accept a transferee patient because Mateo was not a Saudi.
Mateo told Saudi Gazette: "They insisted that the hospital where the baby was born make an official request for the transfer but the hospital where my wife delivered has not taken any action to that end and we were still trying to find a solution.
"In despair, we have given up the possibility of a transfer. Instead, our focus is on solving our problem with the hospital bill, which is swelling by the day."
Mateo was able to pay for the delivery so Candy could be discharged from the hospital.
However, the baby had to be incubated for two months and required intensive, but expensive, medical attention due to his premature birth.
Doctors also told Mateo the baby now needs to undergo laser treatments so he would not go blind.
As the current hospital is not sufficiently equipped for such a treatment, it asked Mateo to look for a specialist eye hospital to which the baby could be transferred.
The initial bill after 13 days stood at around SR130,000 but even then, Mateo could not have afforded to pay the bill in full.
Mateo, who hails from Sarangani province in southern Philippines, has been working as an office assistant for an event organizer in Riyadh for eight years and receives SR4,875 a month.
Mateo said he approached the Emir's office in Riyadh last month to ask for assistance with his case.
The office referred him to the Ministry of Health, which "unfortunately rejected my documents (because) I am not a Saudi national," Mateo said. He said he wrote to various Saudi government agencies but is yet to hear back from them.
He had also written to the Office of the President in Manila, which referred his case to the Overseas Workers Welfare Association (OWWA). He was then referred to the Philippine Overseas Labor Office in Riyadh and had tried to follow up on his case at the embassy. He is still awaiting a response from these channels.
On June 1, the hospital told him he had a week to settle the outstanding dues. "Otherwise they will hand over my case to their legal department and I am not aware what the legal department will do," Mateo said.
It has been more than a week since and Mateo does not know what awaits him. He is now appealing for any assistance.
Mateo said readers can get in touch with him by calling (00966) 535787425 or emailing dexter.mateo@yahoo.com or candysvillanueva@yahoo.com.
http://www.saudigazette.com.sa/index.cfm?method=home.regcon&contentid=20130611169444
------------
Absence of Maids Causes Panic Ahead Of Ramadan in Saudi Arabia
June 11, 2013
JEDDAH — As the holy month of Ramadan approaches and illegal expatriate domestic helpers frantically rush to correct their statuses, the apparent lack of housemaids has caused a wave of panic among housewives in the Kingdom.
"Every year, there is a frantic rush to find housemaids before Ramadan, but this year the situation is worse," said a worried housewife who wished to remain anonymous.
"My Indonesian housemaid promised to come back after getting her Iqama but it's been a month now and I have no clue where she has disappeared to."
Several housewives have complained that their maids are running away either to sort out their Iqamas or in search of better salaries, and the few that are available to work in Ramadan are charging exorbitant salaries and have a long list of demands.
Full report at:
http://www.saudigazette.com.sa/index.cfm?method=home.regcon&contentid=20130611169353
------------
Palestinian Women Take Up Arms
June 11, 2013
A Palestinian militant from the Democratic Front for the Liberation of Palestine (DFLP) adjusts the headband of her comrade as they get ready ahead of a training session, in the central Gaza Strip June 10, 2013. (Reuters)
http://english.alarabiya.net/en/photo-gallery/2013/06/10/Palestinian-women-take-up-arms.html
------------
Kuwaiti court gives woman 11 years in jail for insulting emir
June 11, 2013
KUWAIT: A Kuwaiti court sentenced a woman teacher to a total of 11 years in jail on Monday for insulting the emir, inciting regime change and insulting a religious sect via Twitter, two sources close to the case said.
Huda al-Ajmi, 37, is the first woman known to have been convicted for criticising the US-allied Gulf Arab state's ruler, described as "immune and inviolable" in the constitution.
The sources said the court had given Ajmi two consecutive five-year terms for insulting the emir and one year for insulting an unspecified religious sect.
Full report at:
http://www.dailytimes.com.pk/default.asp?page=2013\06\11\story_11-6-2013_pg4_5
------------
No Women Ministry in KP under PTI govt
ZAHIR SHAH SHERAZI
June 11, 2013
PESHAWAR: The Pakistan Tehrik-e-Insaaf (PTI) government in Khyber Pakhtunkhawa is mulling over a controversial plan to merge the Social Welfare and Women Development Ministry with the Zakat and Ushr Ministry, with the slot likely to be given to its coalition partner Jamaat-i-Islami, an official source told Dawn.com.
The official announcement is still anticipated in this regard. Given that the party is already facing internal wrangling over the distribution of ministries among its MPAs and a tussle with Jamaat-i-Islami over the issue of Education Ministry, the said move is bound to earn criticism.
However, sources said that PTI is under severe pressure from civil society as well as party leaders to retain the women's ministry.
Full report at:
http://beta.dawn.com/news/1017319/women-ministry-to-be-remerged-in-kpk
------------
Parkour Life: Iranian Women Get Physical
11 June 2013
On any given Friday, groups of young women across Iran can be seen jumping from rooftops, scaling the graffitied walls of apartment blocks, and catapulting themselves over stairways. They are not being chased by riot police, but merely practising their parkour moves, especially the ground roll, tricky to execute while wearing a headscarf.
Parkour's popularity among young women in Iran is soaring, despite the bulkier clothing and head coverings Islamic dress codes require them to wear. The outdoor sport, a fast-paced hybrid of gymnastics and martial arts, seems designed to get you out of a fix quickly, which perhaps explains its appeal to young Iranians, whose social lives in the strict Islamic republic often require considerable agility. Iran's female practitioners are running their own threads on Persian-language forums and posting films online to showcase their skills. Unlike the men's scene, with its heavy rap culture overtones and emphasis on group rivalries, the girls' movement comes across as more athletic and purposeful, despite the greater challenges women face practising outdoors.
Full report at:
http://www.guardian.co.uk/lifeandstyle/the-womens-blog-with-jane-martinson/2013/jun/10/parkour-iranian-women-get-physical
------------
Woman Who Risked Jail In Egypt To Fight Against NGOs Crackdown
Patrick Kingsley
11 June 2013
Early last February, 26-year-old Hafsa Halawa was visiting her sister in the UK when she finally found out what she had dreaded for weeks. Back in Egypt, where Halawa worked as an election observer, she had been sent to trial – along with 42 other democracy advocates – ostensibly for being employed by a foreign NGO that had not been properly registered.
British-born, raised in Plymouth, and the daughter of a retired NHS surgeon, Halawa could have stayed put; the charge was clearly politicised. The 43 had taught parliamentary candidates how to campaign, or monitored poll counts. But that day investigators claimed they were foreign spies, and sought to jail them on an administrative technicality. Previously an MP had called for them to be executed. Under earlier interrogation, Halawa herself had been accused of flouting the Geneva conventions.
Full report at:
http://www.guardian.co.uk/world/2013/jun/09/egypt-ngos-hafsa-halawa-ndi
------------
Victory for Israel's Women of the Wall after 25 Year Campaign
Phoebe Greenwood
11 June 2013
The first women arrived at the Western Wall as the dawn mist cleared, deftly binding their arms with black leather straps that fixed Torah scrolls to their fingers and heads. By 7am, there were 300 women clad in white prayer shawls and skull caps drawing stares of amazement as their singing swelled in a loud chorus.
A group of teenage schoolgirls praying nearby burst into fits of giggles. One wailed tunelessly, mimicking the women's enthusiastic songs. Another shook her head at the group of women praying like men. "You're crazy!" she shouted across a line policewomen, half amused, half outraged. "This is against the Torah!"
Sunday's service celebrating the first day of the Jewish month of Tamuz marked an historic moment in modern Jewish history. Since Israel reclaimed the Western Wall in 1967, one of the most sacred sites in Judaism has been run in strict accordance to ultra-Orthodox protocol. Women and men have been segregated. Only men have been allowed to sing from the Torah, don white prayer shawls and apply the black leather t'filin straps.
Full report at:
http://www.guardian.co.uk/world/2013/jun/09/victory-israel-women-western-wall-pray
------------
URL: https://newageislam.com/islam-women-feminism/afghan-parliament-rejects-un-islamic/d/12017