New Age Islam News Bureau
24 March 2022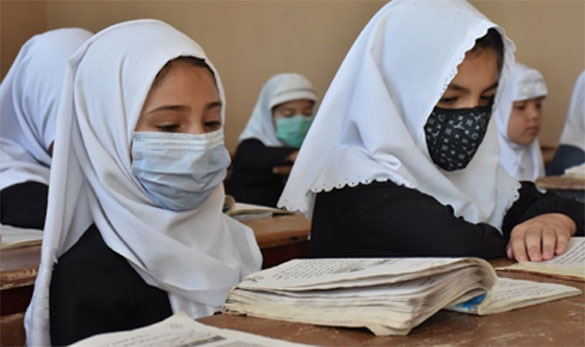 Photo: Tolo News
----
• Turkey's Fancy Women Bike Ride awarded by UN
• First Instructor to Teach Driving To Saudi Women Awarded Gender Equality Prize
• L'Oreal Paris Holds Celebration of Women's Empowerment in Riyadh
• Assistant Speaker of Shoura Council Tells International Event About Saudi Empowerment Of Women
• UAE Jiu-Jitsu Women 'Ready to Shine' At Asian Championships, Says Coach Polyana Lago
• Turkey Steps Up Efforts to End Violence against Women
• Manchester-Turkey Flight Diverted As Woman Passenger Gets Into Ugly Fight With Crew
Compiled by New Age Islam News Bureau
URL: https://www.newageislam.com/islam-women-feminism/afghan-girls-school-education/d/126642
------
Afghan Girls Recount Experience Of Being Turned Away From School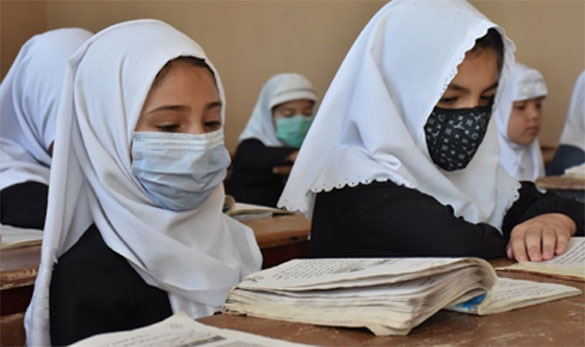 Photo: Tolo News
----
March 24, 2022
Despite official pledges to the contrary, Afghan girls and young women in grades 7-12 were not allowed to attend their classes on Wednesday, the first day of Afghanistan's new school year.
The Ministry of Education had previously announced that all schools, grades 1 to 12, would be reopened for both male and female students across the country on Wednesday.
However, female students beyond grade 6 were prohibited from entering their schools, or were ordered to leave their classes hours after the schools reopened.
"When I came to school in the early morning, I was so happy, I saw our principal was crying, I did not know the reason. After that, all the students were crying," said Uranus, a student.
Officials referred to issues related to female dress as a reason for the closed schools.
"We are wearing Hijab, We do not know what kind of Hijab they are talking about?" said Malalai, a student.
TOLOnews spoke with female students from Kabul and other cold climate provinces who were banned from attending classes.
"They claim to be an Islamic country, they say we are the Islamic Emirate; so, they have to act based on the sayings of the Great Messenger of Islam, as he says, both women and men have the right to learn," said Malika, a student.
They urged the Islamic Emirate's leadership to let female students continue their education.
Without naming a clear date, the Ministry of Education announced Wednesday that girls' secondary schools would remain closed until further notice.
Meanwhile, the Ministry of Education's prohibition of female students over grade 6 to attend school has provoked reactions from the public and some former government officials.
Hamid Karzai, former president of Afghanistan, Abdullah Abdullah, chairman of the former government's reconciliation council, and a number of politicians and former government officials have criticized the Education Ministry's decision to not allow girls to attend school after grade six, and called on the Islamic Emirate to provide education to all students.
Former president Hamid Karzai said it is deplorable that girls' schools remain closed, and he called on the Islamic Emirate to not help the agenda of those who want a "needy" and "subordinate" Afghanistan. All girls' schools should be opened, he said.
Abdullah Abdullah, former HCNR chairman, said on Twitter that access to education is a fundamental Islamic and civil right. He urged the Islamic Emirate to reopen all girls' schools across the country.
"Education and access to education is a fundamental Islamic and civic right of all our compatriots. School doors should be open to all girls and boys at the beginning of the academic year," Abdullah said.
Meanwhile, some teachers and residents of Kabul say the decision of the Ministry of Education shows a double standard toward students and will have negative consequences.
"Unfortunately, in this Emirate, threats, oppression … are used against women and girls. How much can we tolerate? Our daughters cry at university and we cry at home, our daughters cry at school and we cry at home," the mother of one of the students said.
"What can we do? We ask them to let our children go to school," said the mother of one of the students.
"It was promised that in the month of Hamal girls could go to school. If we do not keep our promise we are deceiving and lying, which is not allowed in Islam," said Habiba Sarabi, a member of the former peace talks.
"Like any of them , I'm heartbroken today. "I want to make it clear that learning and getting an education is not just a right for an Afghan woman, it is a duty," said Fatema Gailani, a member of the former peace talks.
Human rights activists believe that the leaders of the Islamic Emirate should not neglect the education of girls.
"In a situation where girls are deprived of education it means that a generation is gradually being deprived from the political, social, cultural and economic scene in Afghanistan," said Fawzia Kofi, women's rights activist.
Allowing all girls to go to school and ensuring women's rights in Afghanistan is one of the preconditions for the international community to recognize the Islamic Emirate.
Source: Pak Observer
https://pakobserver.net/afghan-girls-recount-experience-of-being-turned-away-from-school/
---------
Turkey's Fancy Women Bike Ride awarded by UN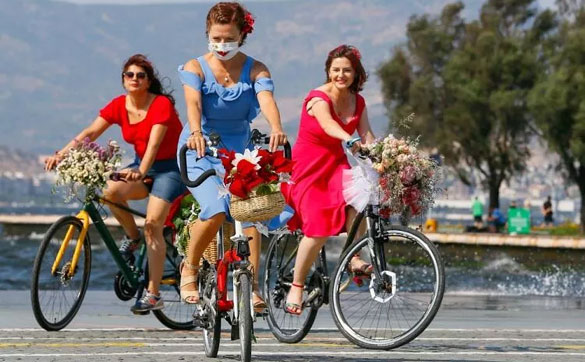 Fancy Women Bike Ride
----
MAR 23, 2022
Sema Gür and Pınar Pinzuti were not as hopeful as they are now when they started the "Fancy Women Bike Ride" in 2013. The two women from the western Turkish province of Izmir are astounded by how far they have come now as their unusual campaign not only attracted a large number of fellow women but also earned them an award from the United Nations. Gür and Pinzuti are the latest recipients of a special award bestowed to people promoting bicycle riding. They proudly displayed their awards as they rode their bicycles in Izmir's Atatürk Square, where they started the first ride.
The idea was simple when they conceived the event: Promoting bicycle riding among women and hence, contributing to a healthier lifestyle. "Fancy" in the title refers to the required attire, "their best dresses." Over the years, the annual ride inspired other women in 30 countries and 155 cities, creating a success story for the duo.
The duo was supposed to receive the award at an event in New York but the COVID-19 pandemic led to the cancellation of the event this year and instead, they received their awards by mail. They are the first Turkish recipients of the award. It is given to people promoting cycling on World Bicycle Day on June 3, a day designated by the U.N. thanks to the efforts of Leszek Sibilski, a Polish American sociologist and track cyclist, in 2018. Women are recognized for their leadership in promoting cycling.
The ride is the brainchild of Gür, a history teacher, while Pinzuti is credited with spreading it to the world. Gür herself is a late fan of cycling and actually learned how to ride in 2013, the year she started the ride. "I noticed there were fewer women riding bicycles here, and I felt the need to do something about it," she told Anadolu Agency (AA) on Wednesday, in front of an iconic clock tower where she joined other riders nine years ago. She consulted her friends and decided to put a spin on what would be a rather ordinary gathering of bicycle riders: a dress code. She was not expecting a big turnout when she posted ads promoting the ride on social media. "We weren't expecting even five people," she said, but when the day came, some 200 women showed up. Today, about 50,000 people attend the annual Fancy Women Bike Rides across the world, and the campaign has received awards from several organizations. "The greatest award is still hearing a woman telling me that she started riding bicycles after seeing our campaign," Gür said.
"This award motivates us to continue the rides. Our purpose is to encourage more women to ride bicycles and pave the way for a reassessment of transportation options for a sustainable world," she said. Gür invites women with their "fancy" outfits to join them in this year's ride, scheduled for Sept. 18.
For her part, Pınar Pinzuti, who was among the first riders, said she has been telling others about the benefits of bicycle riding and joined her friend Sema when she heard the idea. "I later moved to Italy and lived in Milan. There, I organized the first Fancy Women Bike Ride in 2017 and saw immense interest. Since then, other countries and cities have adopted the event," she said. "We never thought it would grow that much, but it encourages us to contact more people get our message out there. We now have Turkish expatriates around the world organizing the rides and spreading our success story. This also helps them integrate into the countries they live in (through socialization)," she said.
Source: Daily Sabah
https://www.dailysabah.com/turkey/turkeys-fancy-women-bike-ride-awarded-by-un/news
---------
First instructor to teach driving to Saudi women awarded gender equality prize
March 23, 2022
ROME: The first instructor to teach driving to women in Saudi Arabia has received a prize in her country for her contribution to "the achievement of gender equality and women's emancipation in the world."
Francesca Pardini, an Italian former Formula 3 racecar pilot, won the "#FORUMAutoMotive Character of the Year 2022" award, organized by an Italian think tank focusing on a responsible and sustainable automotive industry.
The recognition is awarded annually to an individual who, during the previous year, distinguished him or herself "in carrying out tangible initiatives for the benefit of sustainable mobility as a whole."
After concluding her career in the world of car racing, Pardini began working as a senior instructor at the Yas Marina Circuit in Abu Dhabi. She has been a driving instructor for women in Saudi Arabia since June 2018.
"My students, who mostly were Saudi young girls, had great curiosity for cars and a huge desire to be behind the wheel. Now women in KSA are buying their own cars and [have become] much more independent than in the past. They prefer to drive Japanese brands," Pardini said at the event in Milan, which was remotely attended by Arab News.
The Italian instructor also explained that it was "a pleasure working with Saudi young girls as they showed that [they] really want to learn how to drive and were already into cars and safe driving."
Pierluigi Bonora, FORUMAutoMotive chairman, explained that Pardini received this year's award "for having contributed to the achievement of gender equality and women's emancipation in the world," teaching the women of Saudi Arabia how to drive and promoting "full social inclusion and the removal of any residual barrier."
Source: Arab News
https://www.arabnews.com/node/2048856/saudi-arabia
---------
L'Oreal Paris holds celebration of women's empowerment in Riyadh
RAHAF JAMBI
March 23, 2022
RIYADH: Global beauty brand L'Oreal Paris celebrated women's empowerment with a series of activities in Boulevard Riyadh City on Monday and Tuesday.
The private event gathered over 100 female influencers from the region and opened with an impressive projection across 82 screens to display the brand's manifesto and a "Lessons of Worth" testimonial from its Saudi spokesperson, singer and actress Aseel Omran.
Omran, together with two regional L'Oreal managers, held a panel discussion on women's empowerment.
Her personal empowerment path, her connection with L'Oreal Paris, and what the company's famous "Because You're Worth It" tagline meant to her were all topics of conversation.
"Everything I said in this campaign was genuinely from my heart because, in each one of us as women, we faced that one situation that hurt us the most yet taught us so much and made us stronger," Omran told the audience, as she expressed her happiness about being a part of the event.
"The slogan is changing its meaning inside me year by year because my perspective of myself is changing as I grow older. At one phase of my life, it was about the number of followers on Instagram, or if a guy tells me I am beautiful. But, honestly, today it is about how I see myself and how I reflect on myself. The real value is what I see in myself when I'm without makeup and with messy hair in my home and I look at myself in the mirror. Do I love myself with my dark circles and messy hair? It's normal to have pimples, cellulite, and you should value yourself the way you are without filters."
She also gave people her definition of a strong woman.
"Some people think a strong woman is a woman with a loud voice who curses and walks around being rude to people, but that's not the real definition of a strong woman to me. She's not the one being rude to others or wearing a bold outfit. She is the one that has a style in her attitude and can adapt to the changes around her and find what is suitable for her without being rude or mean to others."
"Lessons of Worth" are testimonials from the brand's global ambassadors sharing their personal views on the "Because You're Worth It" tagline.
Maya Ghantous, the manager of L'Oreal's product division in the MENA region, said the tagline had recently marked its 50th anniversary and was the first in the world to emphasize the importance of self-worth.
It was created in 1971 by Ilon Specht, a 23-year-old female copywriter at the ad agency McCann.
It was revolutionary at the time because of its bold message and it featured a woman's voice. Most advertisements for women's products featured a male voice as it was thought to be more authoritative.
"The slogan is empowering women of all ages and backgrounds to believe in their beauty and sense of worth," Ghantous added.
The event had other activities like engraving guests' names on products, a corner for introducing L'Oreal products, and a photoshoot booth.
Source: Arab News
https://www.arabnews.com/node/2048646/saudi-arabia
---------
Assistant speaker of Shoura Council tells international event about Saudi empowerment of women
March 23, 2022
RIYADH: Women in Saudi Arabia are benefiting from legislation that was introduced to support their empowerment, assistant speaker of the Kingdom's Shoura Council told an international gathering on Wednesday.
Hanan Abdel Rahim Al-Ahmadi, a prominent former student of the University of Pittsburgh, was appearing as keynote speaker at a virtual symposium organized by the university under the title Prospects for Global Leadership.
She said that the leadership of the Kingdom provides support for Saudi women with attention and care to raise their roles and participation in society and business.
The symposium, held under the direction of Professor Anne E. Code, the vice president of the university, reviewed the progress of efforts to empower women in Saudi Arabia, in particular in relation to politics and leadership requirements in the era of globalization.
Al-Ahmadi discussed the experiences of women in the Shoura Council following the royal order about a decade ago that granted them the right to participate and set a minimum representation of 20 percent of members. She noted that the roles filled by female members cover all aspects of the council's work, including membership of specialized committees, participation in friendship committees, the chairing of committees, membership of union committees, and as participants in the legislative process.
She also highlighted her appointment as the first woman to hold the position of assistant speaker of the Shoura Council as evidence of a shift in the course of parliamentary work in the Kingdom, and the keenness of the leadership to find new ways to ensure women can contribute to the renaissance and development of the country in keeping with the aims of Saudi Vision 2030.
Al-Ahmadi said that the great and continuing work to develop legislation that guarantees women's rights in Saudi Arabia and provides them with safe work environments has helped to fuel a rapid increase in their participation in workplaces in the public and private sectors.
She also pointed out that three quarters of the population of Saudi Arabia are under the age of 35 and so the country's youth represents more than half of its workforce. Noting their positive effects on the development of society, she said the Saudi youth is a driving force behind Saudi Vision 2030.
Source: Arab News
https://www.arabnews.com/node/2048981/saudi-arabia
---------
UAE jiu-jitsu women 'ready to shine' at Asian championships, says coach Polyana Lago
March 24, 2022
ABU DHABI: After a prolonged high-intensity training camp, the UAE national jiu-jitsu team are entering their final phase of preparation for next week's sixth Asian Championships in Manama, Bahrain.
Set to compete on Monday and Tuesday (March 28 and 29), the team of 26 — 14 women and 12 men — have been winding down this week to ensure they arrive injury-free and in optimal condition to repeat the medal-winning performances of last year and cement their dominance on the mat.
Ahead of the continental tournament, Polyana Lago, the Brazilian coach of the UAE national women's team, says she has high expectations for her squad as they prepare to take on the best athletes from across Asia.
"Training started for some of the participants back in January," said Lago. "The fully fledged camp started a few weeks ago and is coming to a head. Our players were put through a rigorous training camp and were putting in 100 percent effort. Now is the moment to ease off and train at a lower intensity to avoid injury ahead of the event.
"We have several young and talented players competing in the tournament and are certain that these players will be the team's mainstay over the next few years. I'm sure their dedication and hard work will pay off."
The key takeaway from last year's Jiu-Jitsu World Championship in Abu Dhabi, according to Lago, was to improve the power of the athletes.
"For the Asian championships, we are putting increased efforts into improving our team's physical strength," Lago added. "The authorities and the coaches are always working on developing a new generation capable of taking on the best in the world and winning the medals, so we are focusing on improving them on a daily basis so they can reach their potential quicker and successfully represent the UAE on an international stage."
This month's successful AJP Tour Dubai International Pro served as the ideal warm-up for next week's Asian championship, with several of the female athletes putting in impressive performances.
"The Dubai Tour was undoubtedly a terrific warm-up session for our elite athletes," Lago said. "The players put some incredible performances down on the mat, demonstrating what they will bring to Bahrain this weekend."
At last year's Asian championship in Abu Dhabi, the UAE produced excellent performances to finish top of the medal table, taking home four gold, four silver, and 10 bronze medals.
Source: Arab News
https://www.arabnews.com/node/2049471/sport
---------
Turkey steps up efforts to end violence against women
MAR 23, 2022
Three ministers and the head of Turkey's Presidency of Religious Affairs (Diyanet) met on Wednesday in the Turkish capital Ankara to introduce a new action plan for 2022 to tackle violence against women, a complex issue highlighted by domestic violence and femicide committed by their former or current spouses or other family members. Ministers hailed progress in reducing the disturbing number of "femicides" but also acknowledged the need for more collaboration on the issue as they signed a cooperation protocol between their ministries.
The protocol covers increased coordination between the Interior Ministry, which handles the criminal side of the issue, the Family and Social Services Ministry, which is at the forefront of efforts to provide shelter and awareness to women in danger, and the Education Ministry, which aims to educate people at a younger age to raise awareness on the issue that is still largely tied to a patriarchal mindset.
The action plan focuses on five aspects – access to justice for victims, policies and coordination, preventive and protective measures, public awareness and collecting accurate data on the issue.
Family and Social Services Minister Derya Yanık said at the meeting that successive governments of the incumbent Justice and Development Party (AK Party) implemented numerous regulations and measures to curb violence against women on the principle of "zero tolerance" in the past two decades but the process was not "complete" yet. "We will work to ensure the implementation of privacy rulings for women (to protect the identity of domestic violence victims), we will work for efficient implementation of health measures and consultation services for victims," she said.
Yanık said the violence has become "diverse" now. "Apart from physical, psychological, economic and sexual violence, we now have virtual violence, something we need to work to prevent," she highlighted, referring to cybercrimes targeting women, including stalking and bullying. The minister also dismissed the claims that restraining orders were scarce or not implemented well in domestic violence cases. "This is not something which can be simply prevented by implementing restraining orders for perpetrators. Unfortunately, we have seen in the past five years that about 81% of women's murders were committed by perpetrators they did not seek restraining orders for earlier," she said.
Interior Minister Süleyman Soylu said they had plans underway to tackle the different aspects of the issue and among their priorities is increasing the number of women with access to KADES app from 3.4 million to 5 million. KADES, which stands for Women's Emergency Support App, is a smartphone app that allows potential domestic violence victims to alert security forces, basically, a "panic button" with a short emergency response time.
Soylu said they were also working to make it easier for domestic violence victims at risk by protecting their identity, especially in legal procedures or formal transactions where they have to provide proof of ID. He said their IDs will be protected by a new privacy regulation. He said they would also increase the number of Electronic Monitoring Centers by 500 to 1,500 across the country, "within a month." The centers track the movements of perpetrators, if they are convicted or have a restraining order against them, or under suspicion of committing such acts and/or have a criminal complaint filed against them. The minister said they were also seeking to increase the number of shelters for women fleeing their violent partners and called upon the municipalities in charge of those shelters to boost their capacities.
"We achieved progress in the fight against violence toward women but unless we have zero cases, we don't consider having achieved comprehensive progress. As of March 22, the number of women's murders decreased by 29% compared to last year but this is not enough," he said.
For his part, Education Minister Mahmut Özer said the robust solution to the issue would be educating children from the pre-school level. "Studies show that the more children are educated, the less they have criminal tendencies in the future. Thus, starting the education at an early age is important," he said, noting that they were planning to open 3,000 more nursery schools in the coming years. He said they employed some 60,000 counselor teachers, providing psychiatric consultancy services at schools and all of them were trained on raising awareness to violence against women among students.
Ali Erbaş, head of Diyanet, said they were delivering sermons at mosques to help bring down violence targeting women and the sermons would continue this year as well to bring the issue to the attention of the male mosque congregation. He said they were also offering spiritual counseling to women staying in shelters escaping domestic violence.
Source: Daily Sabah
https://www.dailysabah.com/turkey/turkey-steps-up-efforts-to-end-violence-against-women/news
---------
Manchester-Turkey Flight Diverted As Woman Passenger Gets Into Ugly Fight With Crew
March 23, 2022
A Manchester-Turkey flight was diverted to Vienna after a woman started shouting at the crew mid-air and reportedly even slapped fellow passengers.
The woman was said to be complaining about babies crying on the British carrier, Jet2, but she soon turned aggressive towards the staff. All efforts to calm her down failed and the crew had to divert the flight to Vienna to offload her.
The incident took place on Monday. An eyewitness told Manchester Evening News that the woman had become disruptive "about an hour and 20 minutes" into the flight. "There was lots of noise," the passenger said.
"Then she came to the front of the plane. She was really angry towards the staff and wouldn't calm down. Her voice was getting louder and more aggressive - she was shouting in people's faces."
Jet2 had sent a text message to passengers onboard the flight informing them that the flight was being diverted to Vienna and apologising for the delay caused by the incident.
The airliner said it was "sorry" for the disruptive behaviour. "We are working on a situation to get you on your way as soon as possible," Jet2 added.
The Yorkshire Live added that armed police officers had escorted the woman out of the plane after landing in Vienna. Several passengers cheered as the woman was being escorted out of the aircraft. The plane then took off from Vienna to Antalya, Turkey.
Source: ND TV
https://www.ndtv.com/world-news/flight-diverted-as-woman-passenger-gets-into-ugly-fight-with-crew-2838890
---------
URL: https://www.newageislam.com/islam-women-feminism/afghan-girls-school-education/d/126642
New Age Islam Islam Online, Islamic Website, African Muslim News, Arab World News, South Asia News, Indian Muslim News, World Muslim News, Women in Islam, Islamic Feminism, Arab Women, Women In Arab, Islamophobia in America, Muslim Women in West, Islam Women and Feminism