New Age Islam News Bureau
18 Jan 2018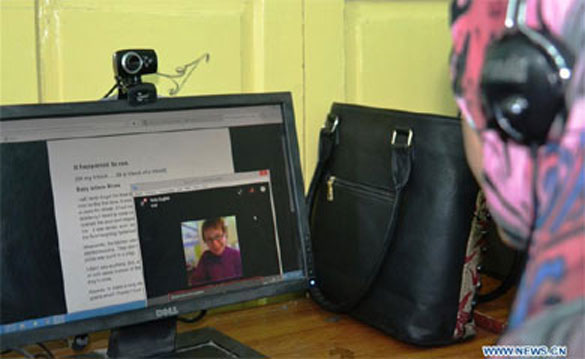 A girl attends class at an education center in Kandahar Province, south Afghanistan, Jan. 3, 2018. The Kandahar Institute of Modern Studies is a private education center that has been operating over the past couple of years in the Taliban birthplace of Kandahar. It facilitates the education of women and girls through online tuition from teachers in the U.S. and Canada. (Xinhua/Arghand)
------
• Shoura Female Members Call For Equal Pay for Saudi Women in Private Sector
• Immigration Department Starts Recruiting Saudi Women
• Iran: Women Musicians Deprived Of Going on Stage in Isfahan
• Women Protesters Rise Above Party Lines for Justice for Zainab, Model Town Victims
• Committed To Reform Age of Marriage for Muslim Girls: SL
• Public Prosecution to Hire Women Trainees
• Saudi Women "Exposed To Double Vulnerability", Say Rights Group
Compiled by New Age Islam News Bureau
URL: https://www.newageislam.com/islam-women-feminism/afghan-girls-receive-online-education/d/113979
--------
Afghan Girls Receive Online Education in Former Taliban Stronghold
2018-01-18
By Abdul Haleem
KANDAHAR, Afghanistan, Jan. 18 (Xinhua) -- Sitting behind a computer in a classroom and communicating in English with her tutor thousands of miles away in Canada, Anahita whispered with pride that she receives online education from teachers in the United States and Canada every day.
"The times have changed and it is a fact that education for women is vital for Afghanistan's development," Anahita told Xinhua in her classroom recently.
Dressed in traditional female attire, 19-year-old Anahita, who uses the Skype application to talk to her overseas tutors, called upon all girls in Kandahar and Afghanistan at large to be allowed to learn and serve the nation.
"I come here every day and regularly attend classes with the online education center to develop my knowledge and I am calling upon all girls to do so, because Afghanistan's development and progress depend on women's education," she said, adding that she and her classmates are thankful to the Kandahar Institute of Modern Studies (KIMS).
KIMS is a private education center that has been operating over the past couple of years in the Taliban birthplace of Kandahar. It facilitates the education of women and girls through online tuition from teachers in the U.S. and Canada.
Taliban militants, who emerged in the southern Kandahar province in the 1990s and extended their reign across 90 percent of Afghanistan until their dethroning in late 2001, had outlawed education for girls and confined women to their houses.
Without doubt, it was a dream of every girl and boy in Kandahar, the former stronghold of the Taliban, to go to school one day, said 20-year-old Hassina, another student of KIMS.
"No doubt, it was a dream for us to see a peaceful Kandahar and go to school one day. Thank God that today we have peace in Kandahar and can learn online using Skype and other internet facilities," Hassina said.
"We now live in peace and foreign teachers from thousands of miles away teach us online at international standards," the joyful Hassina asserted.
Kandahar, once the spiritual capital of Taliban militants, experienced bloody terrorist attacks ranging from suicide car bombings, targeted killings including attacks on civilians, and girls suffering acid attacks, for more than a decade.
However, the situation has changed over the past few years and Kandahar has come to be regarded nowadays as one of the relatively more peaceful provinces in insurgency-plagued Afghanistan.
Teachers from Canada and the U.S., according to Ahsanullah Ahsan the head of KIMS, have been teaching the girls via online facilities in Kandahar free of charge and so far 550 girls have benefited from the project.
The online education center of KIMS in Kandahar is looking forward to expanding its activities in the future, Ahsan said with optimism.
http://www.xinhuanet.com/english/2018-01/18/c_136904767.htm
--------
Shoura female members call for equal pay for Saudi women in private sector
18 January 2018
JEDDAH: Two female Shoura Council members have called on the Ministry of Labor and Social Development to use its supervisory role in the Kingdom's private sector to close the pay gap between men and women.
The Shoura Council is looking into the recommendation made by Dr. Mody AlKhalaf and Dr. Latifah Ashaalan.
AlKhalaf told Arab News: "We are hoping the committee will include the recommendation in their next report to the Ministry of Labor."
"It's our right," she said. "The law says employees doing equal work should get equal pay. The wage gap based on gender in the private sector has tripled in the last few years, and according to the World Economic Forum Saudi women make 56 percent of what their male peers are making."
The recommendation compares women's wages in the Arab World, as well as internationally. Compared to Gulf Cooperation Council (GCC) countries, Saudi ranks last in wage parity. Internationally, the Kingdom ranks at 107 out of 140 countries listed.
"Something needs to be done about it, otherwise that gap will keep growing: 21 percent of citizen account's registered users are women who are supporting their households, and they deserve equal pay — especially since that is the case in government jobs. The private sector needs to conform to labor laws."
"Unlike most countries Saudi has a law that protects women's equal pay rights. In governmental jobs, women get paid the same as their male counterparts without discrimination when holding the same positions/job title. A Saudi male professor is paid the same as a female professor, and so are doctors, teachers, etc. So why aren't women in the private sector treated the same way?"
The Shoura member is hoping the recommendation, as well as spreading awareness through social media, will help women to realize that they can fight wage inequality and demand equal pay by law. "If nothing else, I'm hopeful it will bring awareness of the issue and make employers and employees more aware of the 'equal pay for equal work' law."
http://www.arabnews.com/node/1228206/saudi-arabia
--------
Immigration department starts recruiting Saudi women
18 January 2018
RIYADH: Saudi females will be recruited at the rank of private to work in airports and land border-crossing points, the General Directorate of Passports has announced.
Registration and admission applications will be received from Jan. 21 to 25.
The directorate has set some conditions for the recruitment.
Female applicants must be born and raised in Saudi Arabia and between 25 and 35 years old (according to the identity card upon presenting the applications).
They should have a good reputation and be free of any breach of trust and integrity. They cannot be government employees, nor have served in the military field.
Applicants cannot be married to non-Saudis. The directorate will only accept candidates who fall into a specific height range (a minimum of 155cm) and whose weight is proportionate to their height.
They must be holders of a high-school diploma or equivalent, must agree to be interviewed according to the specified conditions, must be medically qualified for the military service and must commit to the specified shifts in any region, province or border-crossing in the Kingdom, under any circumstances.
Any applicant who presents information that turns out to be false will be excluded. The registration process does not mean a final approval. Applicants must attend training even if it is outside the city they work in.
http://www.arabnews.com/node/1228196/saudi-arabia
--------
Iran: Women musicians deprived of going on stage in Isfahan
17 January 2018
Isfahan's Department of Culture and Guidance prevented women players of the National Orchestra of Isfahan from going on stage in their concerts on January 12 and 13, 2018.
Shahrooz Baluchistani, player of flute in this orchestra, told the media, "The National Orchestra of Isfahan was formed in 2014. Women always take part in the orchestra's rehearsals but they are not granted permission to participate in the actual performances."
He added, "Women musicians of Isfahan have not had the permission to go on stage for years. Why they cannot perform on the stage in their own hometown, is a question that has not been logically answered… There are many skillful players among women who are educated in music and have been playing for years." (The state-run ILNA news agency – January 15, 2018)
http://www.women.ncr-iran.org/iran-women-news/4683-iran-women-musicians-deprived-of-going-on-stage-in-isfahan
--------
Women protesters rise above party lines for justice for Zainab, Model Town victims
BY WAJIHA HYDER
January 18, 2018
LAHORE: A large number of female workers belonging to Pakistan Tehreek-e-Insaf (PTI), Pakistan People's Party (PPP) and Pakistan Muslim League-Quaid (PML-Q) joined the Pakistan Awami Tehreek-led (PAT) protest at Lahore's Faisal Chowk with one "unanimous" demand: justice for Zainab and the victims of the Model Town carnage.
The united opposition gathered in a bid to mount pressure on Punjab Chief Minister Shehbaz Sharif and Law Minister Rana Sanaullah to resign from their posts for their alleged involvement in the 2014 Model Town incident which resulted in deaths of 14 PAT members.
Speaking to Pakistan Today, PPP Gujrat Women Wing member Tanzeela said that she had come to the rally to get justice for the victims of the Model Town incident. "These people [government] are traitors and they're looting the country. They should just resign," she demanded.
She was attending the rally along with a small group of women led by Gujrat District President Wazirun Nisa.
"We believe that it's time now to make a change," she further said.
Refuting the rumours that the attendees were paid money to attend the rally, Tanzeela said, "We are here out of our own free will, and only transport was provided by the women wing president."
A PTI worker Rabia, while talking to Pakistan Today, said that the country is in shambles and it is time that somebody stood up for it. "Everyone in this country is corrupt. Everything is just wrong," she added.
Referring to the development projects undertaken by the Chief Minister Shehbaz Sharif, she said that the traffic is in a state of mess due to mismanagement and citizens are facing difficulties left, right, and centre. "This is just the beginning, and if we stick to it, we will manage to topple the government," she exclaimed.
Another PTI worker, Saba Butt, told Pakistan Today that she lives just half an hour away from Kasur where Zainab was brutally murdered. "I was deeply touched by the incident," she said.
Referring to the infamous Kasur pornography scandal, she said, "We're here not only for Zainab but for all those boys in Kasur who never got any justice."
She said that citizens have not yet forgotten Kainat, who in a case similar to that of Zainab was raped and then left in a dump to die. "We're here to get justice for that poor girl Kainat who is now living her life in a state of coma," Saba said.
She further said that all these tragedies prove that the government has failed completely. "The victims will only get justice if the government goes. All the parties now stand united because we all want the corrupt PML-N government to resign."
"They should all resign and should be replaced by PTI because Imran Khan deserves to be in power," she further said. "We will stay here for as long as it takes for us to get justice, and even if this protest turns into a sit-in, we are ready for that as well," she resolved.
She said that the "protestors do not care about any court orders". "We are with the judiciary but in matters like this, we won't abide by any court orders," Saba further said, adding, "We won't stop because we are here for a good purpose."
Another PTI worker said that the PML-N government should resign because it is obvious that "they cannot manage the country". She said that it is ridiculous that former prime minister Nawaz Sharif is still serving as the PML-N leader.
"Why don't they just let him go? He's served as a prime minister thrice. It is now time for the party to let him go," she said.
A PAT worker, while speaking to Pakistan Today, said that she was protesting to get justice for her relative Shazia Murtaza, who was one of the victims of the Model Town carnage. "We will only leave when the government resigns, not before."
A few PAT workers who had come all the way from Gujranwala to attend the rally said that they want justice for the Kasur and the model town incidents, and will not leave unless and until they get justice.
"We are here to pressurise Shehbaz Sharif into resigning," one of the workers said.
They said that they were there with all their belongings, and ready to change the protest into a sit-in on one call of their leader, Dr Tahirul Qadri. They said that they had done this before at the Islamabad sit-in and were ready to do this again, because "justice delayed is justice denied".
"We will make an example out of this government so that no other girl in our country ever faces the torture Zainab did. This time we are united and we know we are going to win," she concluded.
https://www.pakistantoday.com.pk/2018/01/17/women-protesters-rise-above-party-lines-for-justice-for-zainab-model-town-victims/
--------
Committed to reform age of marriage for Muslim girls: SL
2018-01-17
Sri Lanka remained committed to reform the minimum age of marriage for girls under the Muslim law, with the active participation of the concerned community, the government told the Committee on the Rights of the Child (CRC) in Geneva yesterday.
The Sri Lankan delegation expressed these views as a response to the concerns raised by the experts of the Committee which concluded its consideration of the fifth to sixth periodic report of Sri Lanka under the Convention on the Rights of the Child.
When questioned about reforming the minimum age of marriage under the Muslim law, Sri Lanka said a committee had been set up under the aegis of the Justice Ministry to carry out the necessary legal reform.
"The Government is following a two-pronged approach to the issue, namely sensitization of the concerned community and discussions with community leaders, while respecting the Convention's provisions," the delegation said.
In a statement, the UN said experts also voiced concern that the amendment to remove exception for Muslim girls to the statutory rape provision in the Penal Code seemed to be planned only after the amendment to the Muslim Marriage and Divorce Act was completed.
They asked whether it would be possible for the Government to take a comprehensive approach to rectify all existing discriminatory laws against Muslim girls as a package.
Meanwhile, Committee Expert and Rapporteur for Sri Lanka Kirsten Sandberg commended the positive steps taken by Sri Lanka with respect to children's rights
However, she inquired about general measures of implementation of the Convention, noting that children were not really understood as rights holders and fully prioritized in Sri Lanka.
The Sri Lankan delegation was led by Women and Child Affairs Secretary Chandrani Senaratne.
http://www.dailymirror.lk/article/Committed-to-reform-age-of-marriage-for-Muslim-girls-SL--144109.html
--------
Public Prosecution to hire women trainees
By Fatima Al-Dibaisi
January 18, 2018
DAMMAM — The Public Prosecution has announced that it will be hiring Saudi women under certain conditions.
It said candidates should 22 years old or above with a degree in Islamic Studies or equivalent degrees from a Saudi university or an accredited institution.
Candidates will also undergo an aptitude test in order to be employed at the prosecution offices. They shall be of good health and good conduct and must not have any criminal records.
The probation period for the positions is a year, during which an employee can be terminated without giving a reason. The position will be confirmed only after the probation period is over.
Accepted candidates will undergo an intensive training program that will last at least six months.
Candidates applying for the job of investigators must have at least a C in their undergraduate degree.
Candidates applying to the post of assistant investigators must have three years' experience in any relevant field and those applying to become second investigators must have served as assistant investigators for at least a year or have four years of experience in a relevant field.
Candidates applying to be first investigators must have served a minimum of four years as second investigator or eight years' experience in a relevant field. Relevant fields include teaching Islamic jurisdprudence or law in college or working in legal, investigative or consultation offices.
A master's degree in the field or a diploma in systems studies from the prosecution's institute will be considered equal to four years of experience. A doctorate will be equal to six years of work experience.
http://www.saudigazette.com.sa/article/526387/SAUDI-ARABIA/Public-Prosecution-to-hire-women-trainees
--------
Saudi Women "Exposed To Double Vulnerability", Say Rights Group
January 18, 2018
PARIS: Despite enjoying some newfound freedoms such as the right to attend a football match, Saudi women, particularly rights activists, continue to be silenced, two rights groups said Wednesday.
The Paris-based International Federation for Human Rights (FIDH) and the World Organisation against Torture (OMCT) said the "scandalous" treatment of women activists in the Islamic kingdom raised questions about the monarchy's "genuine willingness" to modernise.
"On the one hand, since 2016, there have been momentous announcements on the societal reforms to come; on the other, since 2011, there has been an ongoing and unprecedented wave of repression directed against human rights defenders," they said in a joint report released in the French capital.
Last week, Saudi Arabia allowed women to enter a football stadium for the first time to watch a game. The move came four months after King Salman announced an end to a longstanding ban on women driving -- a major change to the country's ultraconservative social order.
The FIDH and OMCT said that largely "symbolic" move had detracted attention from the plight of women activists.
"Although in recent years the government has given indications of more openness, especially since the arrival of a 'new generation' of leaders represented by Crown Prince Mohammas Bin Salman, women are still exposed to a double vulnerability," they said.
Like all women they are still subject to a guardianship system, meaning they have to obtain permission from a male family member to study, travel and engage in a host of other activities.
And as activists, the report added, they risk being jailed under terrorism, religious and other laws used to detain dozens of rights campaigners, bloggers and lawyers.
Under new counterterrorism legislation, those who defame or insult the king or crown prince risk up to 10 years' imprisonment.
'Most activists silenced'
Addressing a Paris press conference by Skype, US-based Saudi activist Hala Al-Dosari, a researcher at Harvard University's Radcliffe Institute for Advanced Study, said the modernising image the Saudi crown prince was trying to project abroad contrasted with the repressive climate at home.
"Most of the (female) activists have been silenced," she said.
The report profiled seven women, including 28-year-old Loujain Al-Hathloul, who spent 73 days in jail in 2014-15 for driving a car, and Maryam al-Otaibi who spent more than 100 days behind bars last year for leaving her male guardians.
Dozens of princes, ministers and businessmen were also arrested last year in a purge billed as a crackdown on corruption.
https://www.ndtv.com/world-news/saudi-women-exposed-to-double-vulnerability-despite-reforms-says-rights-groups-1801473
--------
URL: https://www.newageislam.com/islam-women-feminism/afghan-girls-receive-online-education/d/113979
New Age Islam, Islam Online, Islamic Website, African Muslim News, Arab World News, South Asia News, Indian Muslim News, World Muslim News, Women in Islam, Islamic Feminism, Arab Women, Women In Arab, Islamophobia in America, Muslim Women in West, Islam Women and Feminism