New Age Islam News Bureau
3 Oct 2014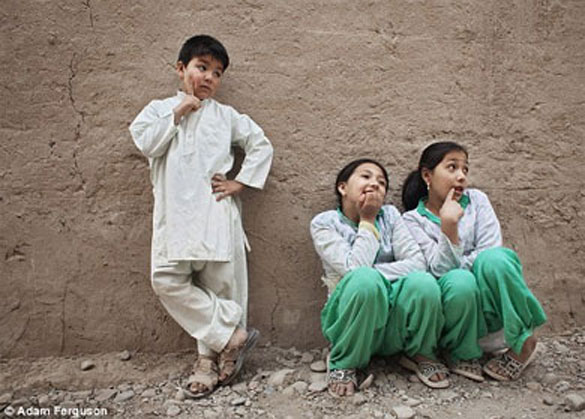 Seven-year-old Mehran Rafaat is actually a girl but lives as a little boy with her family's blessing
--------
• Hindu-Muslim Girls Unite To Organise Durga Puja
• Exchange Programme: Sri Lankan Girls Feel At Home in Pakistan
• US Supreme Court to Hear Islamic Headscarf Case
• Jammu and Kashmir Woman Police Officer Creates History
• 10 Things About: Melati, DAP's Niqab Activist
• 11 Years Pak Dalit Girl Converted Into Islam Allowed To Go With Parents by Court
• 'No-One Sits Next To Me Anymore': Australian Muslim Women
• Women Invited For Eid at Open Mosque in Cape Town
• Egyptian Women's Council Offers Sex Harassment Hotline for Eid Holiday
Compiled by New Age Islam News Bureau
URL: https://www.newageislam.com/islam,-women-and-feminism/new-age-islam-news-bureau/afghan-girls-forced-to-live-as-boys/d/99369
----------
Afghan Girls Forced To Live As Boys
October 03, 2014
With regular football matches to enjoy, a posse of cheerful sisters and a successful mother making a name for herself in the Afghan parliament, life for Mehran Rafaat, seven, is good.
But though he might look like a happy little boy, Mehran is actually a girl and, like many others, has been made to live a lie in order to spare his family's blushes, Daily Mail reported.
And his story is by no means unique, with family turning their girls into boys for fear of being shunned thanks to their inability to have sons and to create a useful pair of extra hands in a society where girls are kept behind closed doors at all times.
Now the story of Afghanistan's Bachcha posh has been turned into a book, The Underground Girls of Kabul, which author Jenny Nordberg hopes will make the world sit up and take notice of their plight.
'This is a universal tale of oppression and one that resonates deeply with me,' she explained in an exclusive interview with MailOnline. 'The Underground Girls of Kabul and the practice of Bachcha posh offers a window into one of the most closed and secretive parts of Afghan society and culture.'
Until recently, the very existence of Afghanistan's girl-boys was virtually unknown, a silence only broken by a newspaper article written by Nordberg in 2010. Shortly after arriving in 2009, she was interviewing local politician Azita Rafaat whose gaggle of daughters revealed that their youngest brother was, in fact, also a girl.
'I was astonished, and didn't quite believe them at first,' she remembers. 'But it was true.'
Intrigued, she began searching for more Bachcha posh and soon discovered that the phenomenon of families with sons who were actually daughters was more common than she realised.
'These girls are brought up as boys by their parents for several reasons but at the core of it is that in Afghanistan, only boys count.
'In a deeply patriarchal society, where only men inherit property and can support their families by working, a family without sons is seen as weak, incomplete and the parents are pitied.
'So as strange as it may seem at first, it's a way for people to get around that injustice, and it's not uncommon for a family with only daughters to just dress a daughter as a boy, and present her as such to the outside world.'
Families who do turn their girls into boys benefit from higher status and are also allowed to send their Bachcha posh out on errands - something that no girl is allowed to do.
'In Afghan society, a boy can roam around freely, play outside, ride a bike and hang out with other boys and adult men,' explains Nordberg.
'A girl is much more sheltered and restricted at all times. The Bachcha posh get to see more of the sky and what life on the side of privilege and rights is like. It can also mean a chance of going to school, in areas where it may be more difficult for girls to do so.'
But while the Bachcha posh enjoy more freedom during their time spent as boys, the transition back to female life can prove almost unbearable.
'The Bachcha posh are expected by society to revert back to being girls, and young women, around the time of puberty,' explains Nordberg.
'That is when the small window of freedom closes, and a girls is put in a headscarf and a skirt, to prepare for marriage to a man of her parents' choice.'
Among those to find it impossible is Zahra, a 15-year-old who appears in the book, and who says she never wants to go back and be a woman in Afghanistan.
Others, such as Shukria Siddiqui, a 36-year-old mother of three, make the transition. More still, Nordberg's friends Nader and Shahed among them, never make the switch and continue to live disguised as men.
Nordberg is clearly heartbroken for them. 'I think it's upsetting that this practice needs to exist to this day,' she says, passionately.
'To disguise yourself as a boy or a man is something that women have done throughout history when they have been denied basic human rights, such as the right to an education, or the right to choose when and if she gets pregnant.
'These girls are not so much a gender story but a symptom of an extremely dysfunctional society that inevitably has to change.'
http://www.dailytimes.com.pk/region/03-Oct-2014/the-afghan-girls-forced-to-live-as-boys
----------
Hindu-Muslim Girls Unite To Organise Durga Puja
October 03, 2014
As a symbol of Hindu-Muslim unity, a group of girls from both the religions are organising a Durga Puja inside a shelter home for trafficked women here.
Rescued earlier this year after being trafficked to Mumbai from West Bengal's Murshidabad, two Muslim girls are not only taking part in the festivities at NGO Sanlaap's shelter home in Narendrapur, but are also worshipping the goddess of power and cooking the 'bhog' that would be offered to the deity.
Following all the traditions, 23-year-old Shabana Begum (name changed) wakes up early each morning during all days of the 'Navratri' and spearheads the puja preparations for the day. She fasts till 'anjali' is offered to Goddess Durga.
"I had been to Durga Puja pandals before but never participated in it. This is the first experience for me where I am doing it by following all rituals and traditions. We are enjoying it and have accepted it as one of our festivals," she said. Besides her, there are around 20 other girls, mostly followers of Islam, who decorated the pandal and are taking care of daily activities. Sanlaap director Indrani Sinha says the Hindu priest was also surprised when he found Muslim girls cooking the 'prasad' that is offered to the Goddess. "Durga puja is not just religious but it is also a part of our cultural traditions. The festival has also become a part of our process to rehabilitate and integrate them into the mainstream society. It helps the inmates in building bonds with each other and the whole shelter home becomes like a family," she says. At present around 133 girls are staying in the shelter home for girls who have been trafficked, rescued from prostitution and other vulnerable girls. Chandranath Nag, in-charge of the centre, says when girls see the idol of Durga killing the buffalo-demon 'Mahishasura' they get motivated thinking that they can also fight the evil forces in their own lives. "It is very symbolic for them as they have been trafficked and now they can fight for their rights. Our Durga Puja is about empowering them," he points out. Just like Durga Puja, all inmates come together to celebrate Eid, Christmas and all other festivals.
http://indianexpress.com/article/cities/kolkata/hindu-muslim-girls-unite-to-organise-durga-puja/#sthash.3UuZ9muL.dpuf
----------
Exchange programme: Sri Lankan girls feel at home in Pakistan
October 3, 2014
Six girls have come from the Ladies College, Colombo, to the CAS School as part of the Nelson Mandela Peace Fellowship programme. Each year, class nine students from Sri Lanka come to this school. PHOTOS: ATHAR KHAN/EXPRESS
KARACHI: "We don't feel like we are away from home," said nine-grader Tahani Lenagalia.
"Yeah, the people are so friendly and the food is so good, too," chipped in her classmate, Harithi Nandasena.
Six girls have come from the Ladies College, Colombo, to the CAS School as part of the Nelson Mandela Peace Fellowship programme. Each year, class nine students from Sri Lanka come to CAS School. Students from the school accommodate the visiting students, with their families serving as hosts.
On September 28, six girls came to stay with different host families. Their teacher, Ms Kaanthie de Silva, has also come with them and is staying with a CAS schoolteacher. All of them will go back to Sri Lanka on October 5.
"The food here is spicy and different," said de Silva, while speaking to The Express Tribune. She was particularly inspired by the vibrant colours of the women's clothes here. "This country is very colourful," she said. "From clothes to vehicles, I see a variety of colours which I don't find like this back home. Even the garbage trucks in Karachi are so beautifully decorated."
The children were also quite fascinated by the art on wheels. "The lorries and the buses are so beautiful with colours, such as red, orange, green, etc," said Shanya Sadanandan.
When asked what they liked best in Pakistan, the children shared an unusual fascination. "Camels," said Sadanandan without a thought. Her friends agreed.
"We were travelling that day when suddenly a camel came in our way and we were all so excited," she said. "Now, every day we go out we wish that we see the camel again as we don't have any camels in Sri Lanka."
The students seemed to be enjoying a lot. "The culture here is not similar but it's easy to adjust to," said Sadanandan. "You know, we have a Muslim community in Sri Lanka as well so we know a bit about it. We really enjoy seeing the sacrificial animals here."
The girls were very happy with the extracurricular activities of the CAS School. "We don't have a photography module at Ladies College and it's really exciting to see it here," said Lenagalia. "I would surely come to this school if I visit Pakistan again," said Suashi Tissaaratchy.
All six girls are going to a school here. "At home, we get up at 5 in the morning for school," said Sadanandan. "Here, it's so nice to wake up with the sun out."
Replying to a question on the places they are eager to see during their visit, the teacher and the children counted historical places, such as mosques, Mohatta Palace, and Sunday Bazaar on their list.
South Asian harmony
While many people like to talk about harmony and relations between Pakistan and other South Asian countries, CAS School teacher Maha Jafarey has taken some practical steps. "The CAS students who are hosting these exchange students will go to Sri Lanka in February," she said. "Since Ladies College is a girls' school, I'm looking for another school to send the male students of CAS to."
She said that she believes that such exchange programmes help promote harmony and an exchange of cultural values. "If these girls were staying at a hotel, they would have never gotten to know as much," said Jafarey. "Staying with a host family is more of an experience as there is nothing like meeting people."
Speaking about the programme, she said that she has focused on class nine. This is because after class nine, children become busy preparing for their O' level exams, she said.
"This is the third exchange programme with Sri Lanka," said Jafarey. "Also, I have had a two-way exchange programme with an Indian school and I took my students to one in Bangladesh as well. Soon, we will have students from Bangladesh here."
http://tribune.com.pk/story/770514/exchange-programme-sri-lankan-girls-feel-at-home-in-pakistan/
----------
US Supreme Court to Hear Islamic Headscarf Case
October 03, 2014
The US Supreme Court will hear the case of a Muslim woman who was denied employment due to her headscarf, Reuters reported Thursday, taking the issue of religious dress to the national scale.
The Equal Employment Opportunity Commission (EEOC) filed a complaint against popular teen's clothing outlet Abercrombie & Fitch - which is [in] famous for its policy of only employing sales associates which reflect its trendy image - after the Tulsa, Oklahoma branch of the outlet rejected then-17-year-old Samantha Elouf in 2008 for employment due to her religious dress.
A federal judge initially found Abercrombie & Fitch liable for discrimination, but the decision was later appealed.
"Before her interview, Ms. Elauf knew the position required her to model the Abercrombie style, knew the style of clothing that Abercrombie sold, and also knew that Abercrombie did not sell headscarves," Abercrombie said in its court brief.
However, religious rights groups and US President Barack Obama have rallied to appeal the decision, despite a ruling from the 10th US Circuit Court of Appeals in Colorado that the 1964 Civil Rights Act only applies if employees provide "explicit notice of the need for a religious accommodation."
In filing the complaint, the EEOC noted that religious garb cases have doubled over the past fifteen years.
The legal ruling could have ramifications for other religious groups who wear headscarves - including not only Muslim women, but married Orthodox Jewish women and some Christian women as well.
A federal-level investigation into the legality of religious garb is being brought to the table amid similar discussions in France, where religious symbols are banned in public institutions.
Last year, a Paris appeals court upheld the right of a kindergarten to fire a Muslim woman for wearing her headscarf in light of its policy of providing a secular education.
http://www.israelnationalnews.com/News/News.aspx/185780#.VC5xh2ddU4U
----------
Jammu and Kashmir Woman Police Officer Creates History
October 03, 2014
A 38-year-old woman police officer of Jammu and Kashmir has earned a rare honour by winning the prestigious International Female Police Peacekeeper Award-2014 at the 52nd International Association of Women Police Conference, Winnipeg, Canada.
Inspector Shakti Devi of Jammu division is currently serving the United Nations mission in Afghanistan wherein she has contributed to the improvement of the status of female police and has effectively helped the Afghan Police move towards achieving their goals of fully adopting democratic principles of policing.
"Shakti has shown high professional determination in empowering female police officers in Afghanistan despite safety and security risks. She held a critical role in leading the establishment of Women Police Councils and made it fully operational," a J&K government spokesman said.
According to UN the International Female Police Peacekeeper Award is a competitive award given to an outstanding female police peacekeeper serving in a United Nations peacekeeping mission.
Inspector Shakti was selected by a committee comprising IAWP, UN DPKO and the Office of Rule of Law and Security Institute, New York.
With 14 years of service in Jammu and Kashmir Police, the 38-year-old officer has earlier served in the UN peace mission in Timor-Leste in 2012.
"Her capacity to advocate at all levels of police hierarchy and act as effective trainer to impart knowledge and skills has tremendously helped in ensuring marked improvement in the police service delivery in Afghanistan. In particular, she convinced local police leadership to undertake safety outreach programs in schools that provide safety to girl students," said the spokesman.
The news of Shakti winning the prestigious award has created waves across the restive Jammu and Kashmir. Shakti's brother Rajesh Kumar said it was a rare honour for the country, state and the family that she was honoured for her role in UN mission.
"From her student days she wanted to join police. Her dream came true in 1999. Today we can't express our joy and feeling in words. She has made her family, her state and her country proud," Kumar said.
"She called me just half an hour before and broke the news. I informed my sisters since our parents have passed away. Our joy knew no bounds. Shakti is an inspiration for others", he added.
http://www.dnaindia.com/india/report-jammu-and-kashmir-woman-police-officer-creates-history-2023150
----------
10 Things About: Melati, DAP's Niqab Activist
October 03, 2014
SHAH ALAM, Oct 3 — Jamila Rahim, a young Muslim woman who wears a black veil that leaves only her eyes visible, has been called a whore for joining the DAP.
However the plucky 22-year-old novelist and activist, better known as Melati, shrugs off the attacks and says she's fine. In her own words: "Saya biasa je."
Melati, who graduated from Selangor University with a diploma in Teaching English as a Second Language (TESL), has also written a novel titled Pelacur Kelas Pertama (First Class Prostitute) about mistreated women; a prostitute, an abused wife and a kidnapped bride.
The young woman from Johor is currently working at a welfare home in Teluk Intan, Perak, that houses 70 residents, including senior citizens, people with physical and mental disabilities and orphans, and just four workers.
Here, the vivacious Melati talks about her passion for disability rights and gender equality, what the veil—or niqab—means to her, and why she chose to join the DAP, a predominantly-Chinese secular political party.
In her own words:
Just because I joined the DAP doesn't mean I converted; I'm still a Muslim.
I love writing and I love to talk. I want to be a journalist. In five years' time, I want to open my own welfare home for children with disabilities and children of single parents.
I was threatened at the protest for free education at Dataran Merdeka last year. They threatened to rape us, beat us. I was scared. But I thought then that if I died, at least I'd die in glory.
It's up to you to wear the Niqab or not. I chose to wear it because non-Muslims are wary of approaching you if you're wearing it, and I wanted to break that barrier. Whether we wear it or not, we're all the same… for the past two years, I feel that I've broken down those barriers.
Those who wear the "Tudung" (headscarf) are not necessarily good. And those who don't wear the tudung are not necessarily evil. That's an individual right.
I believe that my religion is beautiful and full of love. It's not true that it says wives can be beaten. About the four wives bit, I have two mothers myself. I'm the daughter of the first wife. If men want to help widows and marry them for that purpose, it's fine. He must really want to help. He must be able to afford it and he must be fair. But those who are simply horny should not practise polygamy. It's wicked.
God has never given us the right to insult prostitutes or any of His servants… don't call women that. It tarnishes not just my honour, but my family's honour. It affects everyone around me, even my friends. My best friend's friends told her not to be friends with me. I pity my friends. Of course, they're trying to protect me.
I've been following the DAP's programmes since GE13. I feel that the DAP is very professional. They don't publicise their internal party problems. Why would we want to show our weaknesses to our enemies?
The DAP has values that Islam fights for. All Malay and Islamic parties must reflect and find out why young people are choosing the DAP instead of them. Malaysia doesn't just comprise the Malays. There are other races. So they must look at their weaknesses and mistakes in reaching out to a multi-racial population.
Islam has never labelled anyone. In the Quran, there are no conservative or liberal labels. I don't want to label myself. I'm a Muslim. That's it. We don't have to label ourselves conservative or liberal to be Muslim.
http://www.themalaymailonline.com/malaysia/article/10-things-about-melati-daps-niqab-activist#sthash.KxKboddG.dpuf
----------
11 Years Pak Dalit Girl Converted Into Islam Allowed To Go With Parents by Court
October 03, 2014
Today, it's a landmark decision of the Session Judge Mirpurkhas in the history when 11 years old Dalit Hindu girl from Kolhi clan was allowed to go with her parents after her forceful conversion into Islam a month ago. The Islamist mob gathered outside the court toharass the victim family and court but the Judge gave his judgment in favor of the victim family. The girls went with her parents with protection of police but there was no any action being taken against abductors particularly Mr. Akbar Khokharand his allies who claimed that she is married with four weeks pregnancy.
11 years old girl NeelanKolhi daughter of NemoonKolhi residence of Bheel Colony KotGhulam Muhammad was kidnapped one month ago from nearby her residence by Mr. Akbar Khokhar with the help of two other person Mr. JavedKokhar and Mr. DalhoKolhi. After kidnaping they brought her at Madina Mosque/ Madrasa at Mirpurkhas and converted into Islam where she got here new religious name Ms. Fatima. The perpetrator Mr. Akbar Khokhar a truck driver (age…) got marriage with her.
Mother of Neelan was in search of her daughter but she was no idea about her daughter conversion and marriage into Islam. Neelan, few days after her forceful conversion got chance of fleeing. She came to her own original village at Garibabad KGM where she cried and told loudly to her parents and relatives that she was kidnapped, and converted in to Islam. She appealed for a shelter to save her life. Meantime, Islamist perpetrators followed her and came to her parent's village where they tortured little Neelan in front of her mother and other neighbors.
Police reached on the spot and brought her at police station. She was kept in in police custody and abductors were also arrested. Today/ October 2, 2014, she was appeared in the court where more than hundreds Molvis gathered outside the courts but the Session Judge gave his judgment in favor of 11 years old Hindu girl. They culprits of the case were not charged in any case however the Hindu Community particularly Neelan and her family fells fear and insecurity. The situation is tense in the village.
-----------
'No-One Sits Next To Me Anymore': Australian Muslim Women
October 03, 2014
Muslim Australians have reported an increase in discrimination and abuse in the wake of counter-terrorism raids in major Australian cities and the raising of the national terror alert to "high".
Women who wear traditional Islamic headscarves have been the targets of numerous hate attacks.
Fears of Islamic extremism have led to debate about Islamic full-body veils, such as Burqas, with Liberal Senator Cory Bernardi and Palmer United Senator Jacqui Lambie among those calling for bans, and new rules at Parliament House prohibiting the clothing from certain areas.
The ABC spoke to five Muslim women on the streets of Sydney about what they choose to wear and their experiences in the current political and social climate.
Manaya Chaouk, 27, social worker and mother, Guildford
"What happened to freedom of expression? Freedom of religion? We're already a target. Now the Prime Minister is helping the bigots and bogans take their anger out on us. He's trying to instil fear in people. People look [at] me the wrong way. They say silly things. I've heard a lot of stories and seen a lot of stories. For any woman to be attacked, that's not right. There's still a lot of racism. Now the bigots have come out of hiding. I'm afraid now, I'm looking over my shoulder whenever I leave my local area. That's wrong. I shouldn't feel like that. No-one should feel like that."
Randa Jada, 32, accountant and mother, Granville
"I was born here. Now that all this is happening, I've been getting a lot of dirty looks. I find it very concerning. They're ignorant. What's their reason to hate us? No-one sits next to me anymore, people move their kids away from my kids, people don't communicate as much. It's sad."
Name withheld, 33, mother and former secretary, Auburn
"I wear [the niqab] because I love it. I do this to please Allah [God]. It's my choice. I've been wearing it for one and a half years now. The Prime Minister has to be very careful what he says. It's very divisive. It's all fear-mongering. He's ruining any chance of bringing the Muslim community and wider community together. Why do we get prosecuted for wearing this? We're productive citizens of Australia. For any woman who is attacked, it's disgusting. Veil or no veil. Muslim or non-Muslim."
Maryam Ali, 56, grandmother of eight, Berala
"Everybody has got a choice. It shouldn't be a problem what others choose to wear. I have been discriminated [against] because of my head covering. Australian culture is accepting. Let's respect that."
Hayfa Bakour, 17, student, Greenacre
"[The reported targeting of Muslim women] is a bit scary. It actually makes me more scared to walk around. Nothing has happened to me directly. Now my mum always says make sure you're never alone, always leave the library with someone, with one of my girlfriends. When I was younger I thought I was lucky to live in Australia. But now hearing all these terrible stories of woman being abused is really confronting.
https://au.news.yahoo.com/a/25171507/no-one-sits-next-to-me-anymore-australian-muslim-women-on-how-their-lives-have-changed/
----------
Women Invited For Eid at Open Mosque in Cape Town
October 03, 2014
Cape Town - The controversial Open Mosque has invited Muslim women "to celebrate the end of the hajj pilgrimage on Sunday", in the latest volley in the saga.
Dr Taj Hargey opened the mosque, at 4 Lester Road, Wynberg, on September 19 - and has since been involved in debate within the local Muslim community around the status of women in Islam.
He said: "The Open Mosque warmly welcomes all female worshippers as full and equal participants. While it is common for most Muslim women throughout South Africa to remain at home and not attend Eid al-Adha prayers, this pernicious form of gender apartheid was not sanctioned by the Prophet Muhammad himself.
"For the first time, Muslim women will be at the centre stage and heart of Eid devotions in a mosque."
Hargey said contrary to "blatant misrepresentation", his mosque had been open since September 19 - "despite attempts by the Muslim Judicial Council-supporting people in the city council trying to close us down on technicalities"..
The MJC declined to comment on the matter on Thursday.
http://www.iol.co.za/news/south-africa/western-cape/women-invited-for-eid-at-open-mosque-1.1759241#.VC5y0WddU4U
----------
Egyptian Women's Council Offers Sex Harassment Hotline For Eid Holiday
October 03, 2014
Egypt's state council for women said Thursday it will specify a hotline for females to report cases of sexual assault during the Islamic feast of Eid Al-Adha, which starts on Saturday.
The hotline will operate from 10am to 10pm during the four days of the Eid holiday.
Mervat El-Talawy, head of the National Council for Women, said the council will collaborate with the police's department of combating violence against women to quickly interfere in cases of harassment and to arrest harassers.
Egypt has long suffered from sexual harassment, a problem that has gone unreported and hasn't been tackled for years. Eid celebrations usually witness the worst cases of sexual violence, with large numbers of young men on the streets.
In 2006, several girls were brutally harassed and stripped of their clothes by a mob in downtown Cairo for Eid Al-Fitr celebrations marking the end of Ramadan.
The event played a major role in bringing the issue of harassment in Egypt to light.
A United Nations survey from last year said that over 99 percent of Egyptian women have been exposed to some kind of harassment, from minor incidents to rape.
Campaigners have also reported dozens of incidents of mob sexual assaults and rapes during public gatherings since 2011, and have complained of a failure by authorities to respond to the spread of assaults.
Until May, there was no specific law banning sexual harassment in Egypt – three articles in the penal code were sometimes applied instead.
But in recent months authorities have passed a new anti-sexual harassment law and sentenced assailants to lengthy jail terms.
The law punishes sexual harassment with a prison sentence, a fine or both.
http://english.ahram.org.eg/NewsContent/1/64/112269/Egypt/Politics-/Egyptian-womens-council-offers-sex-harassment-hotl.aspx
---------
URL: https://www.newageislam.com/islam,-women-and-feminism/new-age-islam-news-bureau/afghan-girls-forced-to-live-as-boys/d/99369