New Age Islam News Bureau
06 December 2020
• Afghan Female Bikers Smash Stereotypes in Daykundi Show
• Neera Tanden's Unremorseful Bullying Should Disqualify Her From Biden's Cabinet
• How Expo Live Is Helping Low Income African Women Escape The Rental Trap
• Around The World, Older Women Have Confronted Fascists With Calm Authority
• UN Women Australia — Carrying The Heavy Load For Women
• Recognizing Unpaid Care Work Will Reduce Violence Against Women
• National Emergency Service 999 Prevents 3,685 Child Marriages In 2020
Compiled By New Age Islam News Bureau
URL: https://www.newageislam.com/islam-women-feminism/afghan-female-bikers-smash-stereotypes/d/123676
-------
Afghan Female Bikers Smash Stereotypes in Daykundi Show
By Mohammad Haroon Alim
06 Dec 2020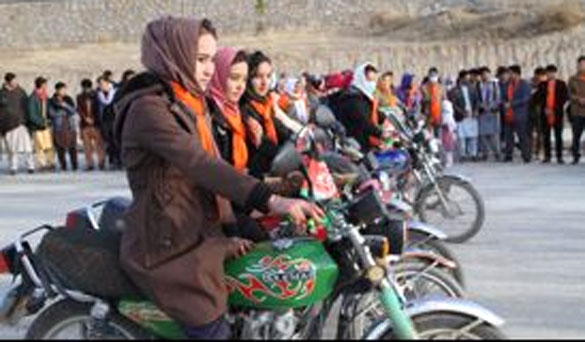 At least 10 #Female_motor_bikers from Shahristan, Miramor, and Nili districts participated the show.
------
An all-female motorcycle show was held Wednesday in Nili, the capital of Daykundi province, on the occasion of the 16-day campaign to end violence against women.
At least 10 Female motor bikers from Shahristan, Miramor, and Nili districts participated the show.
Marzia Hamdard, head of provincial gender department, told the press, "this play was organized by the provincial administration in cooperation with Oxfam in support of girls who ride motorcycles."
"By doing this, women in Daikundi said no to the negative customs and traditions of the society and showed that they have the best capacities."
"Women have the right to access a better, safer, and more open space and to participate in all matters", Marzia added.
Meanwhile, female bikers welcomed the program and called for motorcycling competitions."
The girls also asked other families to allow their daughters to join motorcycling sports.
Mohammad Dad, father to one of the female participators, said that girls' motorcycling is not a disgrace, families should leave their daughters to ride a motorcycle like boys.
In recent years, women have been able to achieve relative freedom through their ongoing struggles, but they still face unsavory customs and traditional beliefs.
Experts believe that in order to improve the livelihood of women and reduce violence, the government should undertake programs to improve the economic situation and self-sufficiency of women and increase the level of awareness in families.
https://www.khaama.com/female-bikers-smashed-stereotypes-in-dykundi-88687686/
---------
Neera Tanden's unremorseful bullying should disqualify her from Biden's cabinet
Arwa Mahdawi
Sat 5 Dec 2020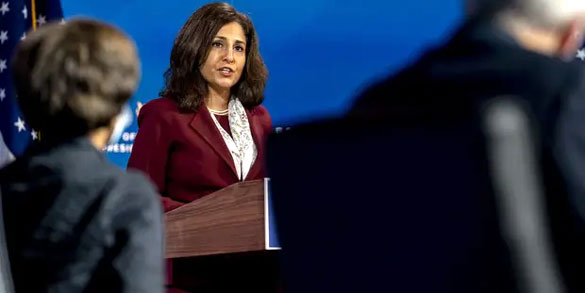 Joe Biden nominated Neera Tanden to serve as director of the Office of Management and Budget. Photograph: Andrew Harnik/AP
-----
Imagine this: a high-powered white man pushes a female journalist after she asks a question he doesn't like.
So why isn't there more outrage about the fact Neera Tanden, Joe Biden's nominee to lead the federal Office of Management and Budget, once assaulted a journalist? In 2008 Tanden was a senior aide on Hillary Clinton's first presidential campaign and accompanied Clinton to what she thought would be a softball interview. Faiz Shakir, then the chief editor of ThinkProgress, asked Clinton about her support for the Iraq war. Tanden didn't appreciate this and, according to one witness, punched him in the chest. "I didn't slug him, I pushed him," Tanden unapologetically clarified to the New York Times last year. As if that somehow makes things better.
There has been a lot of controversy around Tanden's nomination. However, most of this has revolved around her tweets: the woman really likes to tweet. Her social media activity appears to have caused more upset and outrage than the fact she once pushed a journalist because he asked her boss an insufficiently deferential question.
Why aren't people more outraged? Well, because there's still an assumption that women can't really hurt men, for one thing. Particularly brown and Asian women, who are often stereotyped as meek, passive and docile. If Tanden was a black woman who had punched a white man, I think the reaction would have been very different. I think a lot of racist tropes about Angry Black Women would have raised their head. Serena Williams, for example, can't hit a tennis ball without someone accusing her of being violent and aggressive. And, of course, if it had been a white man pushing a brown woman, liberals would be up in arms.
As it is, the punching incident is being treated as something of a punchline and the real attention is on the Republican hypocrisy around Tanden's combative tweets. "We've had a president who has used his Twitter account like a battering ram," Claire McCaskill, a former Democratic senator pointed out on MSNBC. "Now all of a sudden it's a disqualification for someone to serve in the cabinet that engaged in her own opinion on Twitter?"
It's quite right to point out Republican hypocrisy, but the Democrats lining up to defend Tanden ought to think a little harder about their own double standards. If you think a high-powered brown woman pushing a brown man for no legitimate reason isn't a big deal, ask yourself why. Bullying should never be OK, no matter who does it. Particularly as Tanden doesn't seem remorseful about what she did. Indeed, she seems to think her combativeness is some sort of badge of honour.
Having said all that, I understand why some people are eager to give Tanden a free pass. Women don't often get to make mistakes. We have to work harder than men to get to the top and we have to work harder to stay there. There's very little room for messing up: a 2016 study, for example, found that women receive far harsher punishments than men for ethical violations at work. And a study commissioned by the Rockefeller Foundation found 80% of news reports about female CEOs involved in a crisis cited the CEO as the source of the problem. When a man was CEO, however, only 31% of stories blamed him for the company's issues.
It isn't fair that women are consistently judged more harshly than men. But we don't fix that by holding women to lower standards – we fix it by holding men to higher standards. I don't know about you, but I don't want a world populated with more female Donald Trumps, I want a world with more male Jacinda Arderns. Just because men get away with behaving badly doesn't mean Tanden's behaviour should be condoned. I don't care if she is, as Biden says, "smart as hell". I don't care how qualified she is; her unremorseful bullying should disqualify her immediately. If you can't manage your temper, you shouldn't be managing the budget.
https://www.theguardian.com/commentisfree/2020/dec/05/neera-tanden-bullying-joe-biden-cabinet
-----------
How Expo Live Is Helping Low Income African Women Escape The Rental Trap
By Gavin Gibbon
Sun 6 Dec 2020
Anne Kyomugisha, managing director, Smart Havens Africa.
-------
Expo Live was a promise that Dubai Ruler Sheikh Mohammed Bin Rashid Al Maktoum made when the emirate was bidding for Expo 2020, and he has dedicated a $100m fund to support projects with innovative, creative solutions to pressing challenges around the world – helping to improve people's lives, preserve the planet, or both.
The programme has an allocation of up to $100,000 per project, as well as expert advice and the opportunity to share their ideas with a global audience.
Expo Live projects look for solutions across 14 different sectors, including agriculture, education, environment, employment, energy and healthcare as organisers look for projects that would not reach their full potential without its support.
In the second of our series of articles, Arabian Business talks exclusively to Anne Kyomugisha, managing director, Smart Havens Africa, which aims to get low income women out of the rental trap by providing them with a secure, affordable home to bring up children and the key tools for a financially secure future that allows the whole family to flourish.
Smart Havens Africa (SHA) is a social enterprise founded in 2018 with a mission to provide a sustainable affordable pathway to home ownership for low-income families in Africa. SHA puts community needs at the heart of every project. The model is built on job creation and social impact through home ownership, financial inclusion and women's empowerment.
In Uganda, high housing demand and extremely limited affordable housing options have created a housing poverty trap that leaves people paying large portions of their income for inadequate housing that never results in ownership, often leads to health problems, and leaves many people vulnerable to having their houses taken from them.
SHA has created a solution to the housing poverty trap by providing low- to moderate-income households, especially female-headed households, with an environmentally friendly, off-grid home, through an affordable rent-to-own financing model, as well as training in financial literacy and property management.
SHA's solution is made possible by its sustainable, low-cost housing design, which uses locally available materials and doesn't require fire like traditional brick.
When my father died leaving no will, my family were kicked out of our home by relatives. For many years, we were practically homeless. My mum fought for her rightful ownership of our home, but eventually gave up. It affected our education, health and feeding. This inspired me to become a female civil engineer, to create housing opportunities for people like my mum. Despite qualifying to study civil engineering at Uganda's prestigious Makerere University, I couldn't afford the fees because my mum was spending most of her earnings on rent. To spare my already over-worked mother, I settled for a government-sponsored degree in industrial design. Although I never fulfilled my dream of becoming a female civil engineer, it gave me a passion and desire to help women like my mother, and this led me to found Smart Havens Africa. I want my story and experience to inspire others to follow their passions and drive change in the world.
In most African countries, owning a home is nearly impossible for women earning less than $8 a day. High costs and low incomes shut these women out of the formal financial markets and limit their access to finance and land tenure, making it hard for them to buy or build a home. Many pay a high proportion of their income in rent and are trapped in poverty as a result. Our founders have experienced first-hand how housing poverty affects all spheres of life and are on a mission to change this for the 48 million women in Africa who don't own a home. We do this because affordable homes not only provide a fundamental human right, they also unleash unimaginable human potential to shape a future of gender parity and climate resilience.
Smart Havens Africa's mission is to provide an affordable pathway to home ownership for low-income women in Africa. It aims to help these women out of the rental trap by providing them with a secure, affordable home to bring up children, and the key tools to a financially secure future to allow the whole family to flourish, while creating social and environmental impact.
Our target customer segment is urban households, especially those headed by women between the ages of 25-45, earning between $2 and $8 per day. They typically live in slums and urban centres, have between one and five young children, are educated, and employed or entrepreneurs. Neither the public nor private sectors meet their housing needs. They are dissatisfied with their current home because of lack of space, poor conditions, expensive and uncertain rents. They want a solution such as ours that delivers savings and income stability; improves health; leads to asset ownership, enhanced personal image, personal growth and job opportunities; reduces carbon emissions; and improves the environment in which they can safely raise their children.
The Expo Live funding will be used to conduct targeted, advanced market research that will help SHA to scale its impact. By conducting market research, SHA will attract more legitimate customers to be able to scale its housing development activities and increase its social impact by providing more low- to moderate-income Ugandans with ownership of an affordable, quality home.
Also, SHA is beginning to scale very rapidly and has plans to increase the number of houses it builds in the next three years. We will create a social-impact evaluation report that will provide data-driven insight into SHA's existing social impact, so it can assess how well it is currently meeting its organisational goals around providing quality, affordable homeownership for low- to moderate-income earners and make informed decisions about how to best meet those goals in the future as it scales.
Finally, with the help of the grant, we will also enhance our designs and develop a targeted marketing strategy, strengthening organisational management in terms of people and systems, so that we can operate at a greater scale and improve our offering to customers.
In the next two years, we will build more than 625 homes, impacting 3,125 lives, while creating more than 15,575 jobs for young women. We intend to scale our model into other regions, impacting more lives – working at scale can mean impacting 50,000 lives by building 10,000 homes per year.
https://www.arabianbusiness.com/culture-society/455347-how-expo-live-is-helping-low-income-african-women-escape-the-rental-trap
-----------
Around The World, Older Women Have Confronted Fascists With Calm Authority
Amulya Gopalakrishnan
December 6, 2020
After many days of Twitter ruckus, Kangana Ranaut was forced to walk back her charge that the same elderly woman "available for 100 rupees" had been propped up by both the farmers agitation and at Shaheen Bagh.
Shaheen Bagh's 82-year-old Bilkis Bano recently featured in Time magazine's most influential people, for the long sit-in against the CAA and NRC. The photo shared by Ranaut was of Mohinder Kaur of Bathinda, who has now become an iconic face of the farmer's march. Through the agitation, we have seen images of elderly women marching with their yellow banners, or hunched over in a ring, cooking for the other protestors.
Special as our dadis and nanis are, this is not a uniquely Indian phenomenon. In many parts of the the world, powerful strongmen and fascist-leaning movements are confronting the most unlikely adversaries — frail old women telling them exactly where to get off.
In Belarus, 73-year-old Nina Baginskaya became a memorable face of opposition protests, holding her flag, pushing back riot police, blocking armoured vehicles. In the US, the pushback to Trump rallied grandmothers for reproductive rights (GRR!). In Germany, Omas gegen Rechts (Grannies against the Right) in their signature woolly caps have been demonstrating against the AfD. They remember Nazi horrors, and hear the reverberations when words once wielded against Jews are now turned on Muslims. In Austria and Poland, angry grandmothers are gathering for human rights, marching against right-wing populists. Hong Kong's 'Grandma Wong' was a galvanising figure for protestors.
Cynics would say this is a strategic choice, that grandmothers make for especially arresting visuals. Media is to crucial to activism these days, and an image of a traumatised child or a gallant grandmother can wrench attention to a cause, go viral, and stir some soft part of our hearts. We feel both protective and moved.
Grandmothers call up all the virtuous associations of motherhood, and magnify them. If mothers stand for a moral centre, "mere paas ma hai", grandmothers stand for a greater wisdom and experience. They are the storytellers, the loving keepers of memory. This is why their resistance has such righteous power. If mothers are allowed to be fierce when their children are threatened, grandmothers have even greater authority in their indignation for the brood, their bodily vulnerability only makes their voices ring stronger. In Shaheen Bagh, generations of women sat together under a tent. The security of their families and the future of their children and their passionate defence of Indian citizenship were not separable, the personal and the political blended as one.
In Argentina, the abuelas of the Plaza de Mayo organised to demand accountability, to find the children systematically stolen during the military dictatorship. In Kashmir, mothers and grandmothers have waited, and waited, for disappeared persons. In Manipur, after Thagjam Manorama's killing, 12 imas disrobed in public, and stood there naked, stubbornly dignified, unbearably powerful, saying "Indian army, rape us" — a protest seared into the memory of anyone who saw it.
But for all the persuasive power of the grandmother figure, does women's political action need to be framed in terms of family? In a man-made world, women are allowed to be angry for someone else's sake, but not to rage and transgress their roles. Compassion must drive their action, not their own fury. We understand Antigone's defiance of the king's law for her brother's sake, we see the chaste widow Kannagi as a warrior for justice. But women are not just wives and mothers and grandmothers, they are also workers and farmers, citizens with direct stakes in their country.
In fact, many older women are often politicised by life itself. It is only when women age that they finally see through their own eyes, cast a cold clear eye on our social arrangements. They are past the snares of patriarchy, whether it's romantic love or domestic duty. Many women have written and spoken of the mental freedom and self-possession they find only in the last third of their lives.
Knowing this makes men particularly anxious about older women. It is the shame of a patriarchal culture that is displaced into the fear of the crone, the malevolent powers attributed to them in folklore. It's plain to see that not every elderly woman brings out our society's tender feelings. In India, homeless older women outside the family fold have often been attacked or even lynched, suspected of being child-stealing witches.
So let's not exaggerate their heart-melting powers either. Repressive state forces and militias are discomfited by the sight of grandmothers in the streets, and briefly unable to counter with force. But beyond a point, as in Belarus today, security forces make no distinction between young or old, male or female.
Older women are complex political agents, like everybody else. Bilkis Bano or Mohinder Kaur are not shields or disarming cover stories for other 'real' activists. They are massing on the streets with the same concrete goals as their comrades. If anything unites them, it is perhaps that they know what is to be on the other side of power. And having been on a long journey to get here, they care urgently about where we're headed.
https://timesofindia.indiatimes.com/blogs/to-name-and-address/why-granny-power-works-around-the-world-older-women-have-confronted-fascists-with-calm-authority/
-----------
UN Women Australia — Carrying the heavy load for women
BY PAUL WALLIS
06-12-2020
UN Women may have one of the hardest tasks in history – Saving women from global insanities. It's a long list of atrocities, and this is the organization carrying the load.
There's a bit of back story to this. I spoke to someone from UN Women after having supported one of their Facebook initiatives. It was a very interesting chat but came with the truly grim spectre of the realities faced by women every day worldwide.
Put it this way – In that 10-minute conversation, we were talking about a virtual global disaster on multiple fronts. Being a guy, of course, is no great help to understanding basic issues. What the hell would we know about it?
So I decided to find out. I contacted UN Women Australia, and Executive Director of UN Women Australia Janelle Weissman was kind enough to answer a few questions for me. Gender equality is one of the most basic of all issues. It's at the heart of the core issues, and it's an ancient problem. As long as women are second-class citizens, it's basically depriving half of humanity of fundamental needs. That needs to go, and soon.
Janelle's answers are very clear and very thorough. Note the unavoidable terminology, however – Violence, abuse, inequity. The issues in gender equality aren't simple, or nice. They're brutal. They relate directly to basic human rights.
Exactly why the world is creating such obstacles for 51% of the human race isn't clear. Is this a civilization or a Stone Age culture? Hard to tell on this level. The obstruction is systemic, it's primitive thinking, and it's highly destructive.
The good news is you can get involved. You can donate and you can partner with UN Women. You can help end the horrors, and assist with productive solutions. Check it out.
Ten years ago, on 2 July 2010, UN Women was born. The General Assembly voted to merge four parts of the UN system and establish UN Women – which is the United Nations Entity for Gender Equality and Women's Empowerment.
Since then UN Women has been the global champion for women and girls, working to promote women's empowerment and gender equality in over 100 countries.
UN Women works to accelerate progress in the gender equality agenda, ensuring that everyone everywhere, regardless of gender, is given the same opportunity to lead, to learn, to earn a decent living and to live a life free from violence and discrimination.
Gender equality is not only a basic human right, but its achievement has enormous socio-economic impacts. Empowering women fuels thriving economies, spurring productivity and growth. Yet, still today, gender inequalities remain deeply entrenched in every country in the world.
UN Women is working to change that by partnering with grassroots organisations, community leaders, the private sector, governments and across the UN system to collect and disseminate evidence to implement transformative policies and programs to promote women's leadership, end violence, advance women's economic empowerment and ensure women are central to peace and humanitarian processes.
The response to COVID-19 is a reminder of the essential contributions women make to society, but it has made clear the many inequalities women and girls around the world face.
Women make up 70 per cent of workers in the health and social sectors, while are also doing three times as much unpaid work as men. They are hit harder by the economic impacts, due to the disproportionate number of women working in insecure labour, with women suffering higher rates of wage loss and unemployment.
There is also a looming Shadow Pandemic – that of violence against women. Since the outbreak of COVID-19, all types of violence against women and girls, particularly domestic violence, has increased.
UN Women is working to mitigate the impacts of COVID-19 on women and girls by addressing gender-based violence, supporting women-owned enterprises, encouraging the equal share of care work, promoting women's leadership and providing direct technical support to governments and partners to ensure national response strategies include the needs to women and girls.
Despite progress made in recent years, COVID-19 is rolling back progress in the gender equality agenda. We need to build back momentum and we know that this can only be achieved by working together.
Companies can explore opportunities to partner with UN Women globally. Businesses can also consider becoming a signatory to UN Women's Empowerment Principles to support the advancement of equality in your workplace.
If you are in Australia, consider becoming an Empowerment Champion and give a regular gift to provide invaluable support to promote gender equality in Australia and across the globe.
Lastly, with the festive season approaching (and any time of year), consider giving a gift with purpose. Empowered Gifts are unique and meaningful gift cards that support UN Women programs in over 100 countries across the globe. Each Empowered Gift represents a donation to UN Women and is a real item that UN Women uses in our work advancing gender equality and women's empowerment worldwide – enabling women and girls to build brighter futures for themselves, their families and their community.
http://www.digitaljournal.com/news/world/un-women-australia-carrying-the-heavy-load-for-women/article/581751
----------
Recognizing unpaid care work will reduce violence against women
Kohinur Khyum Tithila
December 6th, 2020
People here in Bangladesh are still not familiar with the idea that household work and care work has monetary value, said Prof Mofizur Rahman of Dhaka University
Speakers at a webinar has said if women's unpaid care work is recognized, it will not only dispel gender inequality but also help reduce violence against women as women will be empowered.
Nobonita Chowdhury, director of Gender, Justice, and Diversity (GJD) and Preventing Violence Against Women Initiative at BRAC, said about 65% work of rice milling and processing are done by women but their work is not recognized at all.
"People in this society tend to think that what women do at home does not have any monetary value and women are obligated to do care work and household chores. If we cannot break this vicious cycle we cannot free them from violence, child marriage, and injustice," she said.
She also said elderly members of a family need extra care and most of the time the woman of the family has to take the responsibility.
"Old homes are portrayed as something bad on social media and the entertainment industry but these people need a place to be taken care of," she said.
Meghna Guhathakurta, executive director of Research Initiatives, said women multitask, like teaching their children and cooking at the same time, but they do not really get any credit for it.
Reaz Ahmed, executive editor of Dhaka Tribune, said addressing this issue will not only dispel gender disparity, but also recognize the work women do for their family.
"Women and men both look after children and elderly members of a family but a woman's contribution is not really recognized and deemed important," he said.
Minara Begum, a beneficiary of ActionAid Power Project, a project that mobilizes and organizes rural women to raise awareness of and claim their rights as farmers and carers, said she never knew the work women do all day long at home has a value until she became a part of this project.
"My husband now helps me with cooking and many other household chores but it was not the case a few years back. We had meetings with our spouses under this project and made them understand that housework is not just women's responsibility," she said.
Adiba Anjum MP, member of Parliamentary Standing Committee of Ministry of Planning, said in many countries men and women do the housework themselves but here in Bangladesh even children are not taught to do their own work as their parents hire a maid for them if they can afford it.
Helal Uddin, South Asia Advocacy coordinator of ActionAid International, said the government needs to upgrade the section of the eighth Five Year Plan where the unpaid care work issue has been addressed.
Prof Mofizur Rahman of Dhaka University said people here in Bangladesh are still not familiar with the idea that household work and care work has monetary value.
https://www.dhakatribune.com/bangladesh/law-rights/2020/12/06/recognizing-unpaid-care-work-will-reduce-violence-against-women
------------
National Emergency Service 999 prevents 3,685 child marriages in 2020
Nawaz Farhin Antara
December 5th, 2020
National Emergency Service 999 has prevented 3,685 child marriages in 2020.
The number of calls at 999 for preventing child marriage was 45% higher this year compared to that of 2019.
According to the National Emergency Service, they have prevented 3,685 child marriages between January and October, of which 426 were in the month of October. In 2019, the number was 2,542, 147% higher than that of 2018 which was 1,028.
Since school and colleges were announced to be closed down for the pandemic, the number of calls suggest that child marriages were on the rise, said officials of the National Emergency Service.
On information, they called up the local police station. Police then went to the spot and solved the majority of the cases through mutual understanding amid the pandemic and lockdown.
In several cases, the victim's family was pressurized to get their child married off while in others the family tortured the victim to get married.
Mohammad Tabarak Ullah, additional deputy inspector general (DIG) of police at National Emergency Service, told Dhaka Tribune that after the lockdown started in April, the number of child marriages increased as well. During the lockdown period, they were able to prevent 2,317 marriages.
"We received calls from neighbours, sisters, friends, boyfriends, teachers, and even from grooms' relatives as well. In some cases, the girl who was the victim of the child marriage called and informed us," he added.
Advocate Salma Ali, executive director of Bangladesh National Woman Lawyers´ Association (BNWLA), said: "We provide advocacy over the phone for all the cases of child marriage we get information about, from across the country.
"However, our experience in the lockdown is that victims usually do not complain until they are brutally beaten by family members or groom.
"Through consultancy, we solve 50% of the problems and have been able to prevent some child marriages during this pandemic. We cannot even reach the rest of the victims; however, they now make more calls to the emergency helplines."
People also called to ask for relief assistance following the pandemic, to report corruption during relief distribution and to complain about risky movement of Covid-19 patients.
Helpline officials said people could not get out of their house due to the lockdown, as a result domestic violence has increased. People have made more calls during the lockdown period seeking police assistance.
In the last eight months, they received 4,956 calls reporting violence against women and children incidents. The number of calls is 2,220 higher compared to the same period in 2019.
In the last three years, 79% of the calls received by National Emergency Service were blank, crank, or prank calls from all across Bangladesh while the other 21% sought for services.
The assessment of statistics of calls to 999 between December 12, 2017, and November 18, 2020, shows that the helpline received 25,644,382 calls, of which only 5,448,338 calls sought for services, said authorities of National Emergency Service.
However, no action has been taken yet against these blank, crank, and prank callers. At least 467 people work for the emergency service, who receive 33,000 calls,on an average, every day. Maximum of the calls received are blank while 3000-4000 are prank calls.
Specific policies for 999 will be formulated soon. The matter will then be dealt with in accordance with the law, said Mohammad Tabarak Ullah.
Meanwhile, in the same time period, CFS received 424,582 calls in total, of which 77% sought police service, 12% fire service and 11% ambulance.
The National Emergency Service is there to provide emergency services to people all across Bangladesh. However, people still do not understand what kind of service they should call 999. Therefore, calls seeking services are less in numbers, according to sources.
Numbers making blank, prank, or crank calls are never blocked as at some point the people who are doing these might need emergency service as well, sources added.
"The number of fake calls is not just high in Bangladesh, it is a worldwide problem for helpline service providers. We have not taken any measure yet to prevent this, rather we receive the calls and say we cannot provide this service," said Tabarak Ullah.
"People of our country are still not aware of the helpline services, it will take more time for them to understand. We have to build awareness in all parts of our country," he added.
https://www.dhakatribune.com/bangladesh/2020/12/05/national-emergency-service-999-prevents-3-685-child-marriages-in-2020
-------
URL: https://www.newageislam.com/islam-women-feminism/afghan-female-bikers-smash-stereotypes/d/123676
New Age Islam, Islam Online, Islamic Website, African Muslim News, Arab World News, South Asia News, Indian Muslim News, World Muslim News, Women in Islam, Islamic Feminism, Arab Women, Women In Arab, Islamophobia in America, Muslim Women in West, Islam Women and Feminism