New Age Islam News Bureau
21 Jul 2020
• Three Arab Female Directors Make Cannes 2020 Official Selection
• German Woman Who Was Active During Anti-Government Protests in Baghdad Kidnapped: Friend
• 70 Pregnant Women Infected with Coronavirus Hospitalized in Oman
• Pandemic: 56% Of Women Prefer Child Birth At Home
• Mandatory Face Masks in Quebec Are Making Some Who Wear Face Coverings Full-Time Feel Safer and More Accepted
• Generations Project Celebrates Diversity of Muslim Women in Canada
• Honor Killing Sparks Protest in Jordan
• Missing for Three Days, Minor Sikh Girl In Afghanistan Reunited With Family
Compiled by New Age Islam News Bureau
URL: https://www.newageislam.com/islam-women-feminism/afghan-all-girls-robotics-team/d/122429
--------
Afghan All-Girls Robotics Team Designs Low-Cost Ventilator To Treat Coronavirus Patients
Jul 21, 2020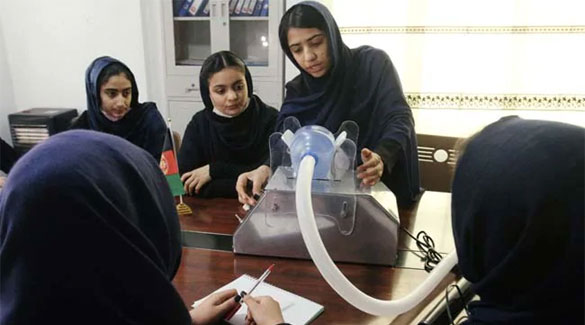 Members of an Afghan all-female robotics team working on an open-source and low-cost ventilator (Reuters)
----
HEART: In the eastern Afghan city of Herat, 18-year-old high school student SomayaFaruqi adjusts a suction cap as she puts the finishing touches before unveiling a low-cost, lightweight ventilator created by her and six other young women.
The all-female Afghan Robotics Team, which has won international awards for its robots, started work in March on an open-source, low-cost ventilator as the coronavirus pandemic hit the war-torn nation.
It took the team almost four months to finalise the ventilator, which is partly based on a Massachusetts Institute of Technology (MIT) design, and they received guidance from experts at Harvard University.
The device is easy to carry, can run on battery power for 10 hours, and costs roughly $700 to produce, compared with the $20,000 price of a traditional ventilator.
"We are delighted that we were able to take our first step in the field of medicine and to be able to serve the people in this area as well. All members of our team feel happy because after months of hard work, we were able to achieve this result," Faruqi told Reuters.
Although the ventilator still has to undergo final testing from health authorities before it can be used, officials welcome it in a country with only 800 ventilators to treat the fast-growing number of coronavirus cases in a health system damaged by decades of war.
Health Ministry spokesman Akmal Samsor said once the ventilators were approved they would be rolled out in Afghan hospitals and the design shared with the World Health Organization.
"We appreciate the initiative and creativity in Afghanistan's health sector...after they are approved, we will use these ventilators and we are determined to contract with companies so we can also export them," he said.
Afghanistan has recorded around 35,500 Covid-19 cases and 1,181 deaths, though experts warn the true count is probably far higher due to low testing rates.
https://timesofindia.indiatimes.com/world/south-asia/afghan-all-girls-robotics-team-designs-low-cost-ventilator-to-treat-coronavirus-patients/articleshow/77079516.cms
--------
Three Arab Female Directors Make Cannes 2020 Official Selection
JEAN GROGAN
June 26, 2020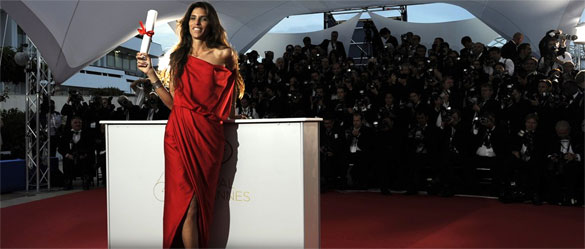 Maïwenn has now made six feature films. (AFP)
----
PARIS: The physical version of this year's Cannes Film Festival may have been cancelled due to the COVID-19 pandemic, but on June 3, Thierry Frémaux, the Festival's General Delegate, released its Official Selection of 56 shortlisted movies, each of which will receive a Cannes 2020 endorsement label to encourage their promotion on release.
"No one knows what the second half of the year may bring and whether it will be possible to organize major film events again in 2020, including the Festival de Cannes," said Frémaux. "Cannes has therefore decided to adapt its format for this peculiar year."
Of the record 2,067 Cannes Film Festival submissions, 532 of the movies were made by female directors, and of the 56 selected movies, 16 are by women. While this is a long way from the goal of Collectif 50/50 — the association for gender equality and diversity in cinema launched in 2018 — it's a good start.
Three of those 16 shortlisted female directors have Arabic heritage; Danielle Arbid from Lebanon, Ayten Amin from Egypt, and French-Algerian director Maïwenn. All three explore facets of female identity, sexuality, and adolescence and family respectively.
'Passion Simple' by Danielle Arbid
Lebanese filmmaker Danielle Arbid's fourth feature is based on a 1992 novel by Annie Ernaux. It stars French actress Laetitia Dosch and Russian-Ukrainian former ballet dancer Sergei Polunin in the leading roles. Dosch plays a reclusive academic who has a highly-charged affair with a Russian diplomat (Polunin), with a narrative that follows her journal entries as her whole existence focuses on their next erotic rendez-vous. After "Parisienne, Peur de Rien" (2016), "Beirut Hotel" (2011) and "Un Homme Perdu" (2007), this is the first of Arbid's films without an obvious link to Lebanon.
"Maybe this is because I've been living in Paris for 30 years and I finally consider myself as French as Lebanese," Arbid told Arab News. "I've been making films long before the whole #metoo movement. I don't believe there is a feminine or a masculine cinema, but I am really happy that women are finally being taken into consideration. No one helped me professionally because of my Lebanese origins or because I am a woman — certainly not in Lebanon, where most of my work is censored, or in the Arab world. Being a woman hasn't proved a hindrance in filmmaking. The female representation at Cannes is still not entirely satisfactory, but at last we're moving in the right direction."
'Souad' directed by Ayten Amin
Ayten Amin's second feature — co-written by Mahmoud Ezzat — focuses on Souad and Rabab, teenager sisters of an ultra-conservative family. Nineteen-year-old Souad leads a secret life on social media. When Souad commits suicide, 12-year-old Rabab travels to Alexandria to find Ahmed, the key figure in Souad's online life, seeking answers to her death.
"Cinema is difficult for both men and women in Egypt, but I have to admit that it's a lot more difficult for women," Amin told Arab News. "I have to prove myself every time, as though every project is my first. I've had more successes than several of my male colleagues, but they've had more opportunities than me and — despite my track record — they're much better paid. So, I guess being a woman in cinema is definitely a hindrance. Cinema is male-dominated everywhere. However, I'm always on the side of a good film regardless of gender. In making 'Souad,' I was supported by my friend, SamehAwad, who became its producer because he was enthusiastic about it, even though he isn't involved in cinema."
What does she need to redress the balance?
"I need public funding to support cinema in Egypt, as well as European funding. We need to start assessing projects in the Middle East according to the talent and artistic values of the films, and not just as hot topics to serve the European point of view of Arab societies."
'DNA' by Maïwenn
Franco-Algerian filmmaker and actor Maïwenn is no stranger to moviemaking. Her actress mother, Catherine Belkhodja, brought her to castings from the age of three. "My mother only loved me on the silver screen," Maïwenn told Arab News.
When she was 15, Maïwenn met director Luc Besson, 31, at the César Awards ceremony. A year later, they married and moved to LA. They split in 1998 after Besson began a relationship with Milla Jovovich, who was playing the lead in his film "The Fifth Element," in which Maïwenn also had a role.
In a manifesto she publicized as the #metoo movement gained traction, Maïwenn wrote.
"I reclaim the right to have power in my work without frightening men." Her statement ended with, "We'll get there."
Maïwenn has now made six feature films, winning the Prix du Jury at Cannes for 2011's "Polisse," which she also starred in and wrote. In her latest, "DNA," Maïwenn plays the lead role of Neige, a woman deeply attached to her Algerian grandfather, who provided a buffer against her toxic parents. When Emir dies, tensions escalate between Neige's extended family members, triggering a dramatic identity crisis.
https://www.arabnews.com/node/1695621/lifestyle
--------
German Woman Who Was Active During Anti-Government Protests In Baghdad Kidnapped: Friend
20 July 2020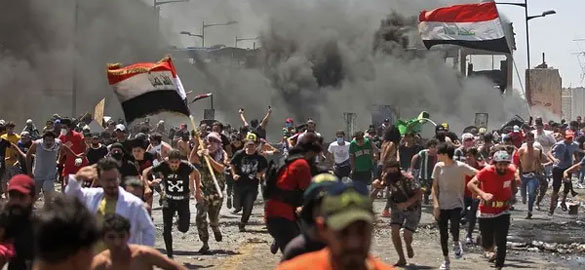 Iraqi protesters run for cover as they clash with security forces on Al-Jumhuriyah bridge in the capital Baghdad, during an anti-government demonstration on May 10, 2020. (AFP)
-----
A German national was kidnapped late Monday, outside her office in central Baghdad, a security source and a friend told AFP.
Hella Mewis, a who ran arts programs at the Iraqi art collective Tarkib, had left her office and was "riding her bicycle when two cars, one of them a white pickup truck used by some security forces, were seen kidnapping her," the security source said.
For all the latest headlines follow our Google News channel online or via the app.
Police officers at the local station witnessed the kidnapping but did not intervene, the source added.
Mewis's phone was unreachable on Monday and the German Embassy in Baghdad had no immediate comment.
A friend of the German national told AFP she had been worried following the killing of Hisham al-Hashemi, an Iraqi scholar who had been supportive of anti-government protests last year.
"I spoke to her (Mewis) last week and she was really involved in the protests too, so she was nervous after the assassination," said the friend DhikraSarsam.
Widespread demonstrations erupted in Baghdad and Iraq's Shiite-majority south last year, railing against a government seen as corrupt, inept and beholden to Iran.
Around 550 people died in protest-related violence, including two dozen activists who were shot dead by unidentified men, usually on motorcycles.
Dozens more were kidnapped, some of whom were later released near their homes. The whereabouts of others remain unknown.
This year has seen a worrying spike in abductions of foreigners, who had not been targeted in several years.
On New Year's Eve, two French freelance journalists were taken hostage for 36 hours and three French NGO workers were held for two months.
In both cases, neither the kidnappers nor the conditions of their releases were revealed.
https://english.alarabiya.net/en/News/middle-east/2020/07/21/German-woman-who-was-active-during-anti-government-protests-kidnapped-Friend.html
--------
70 pregnant women infected with coronavirus hospitalized in Oman
July 20, 2020
MUSCAT — In Oman, a total of 70 pregnant women infected with coronavirus were hospitalized, including nine in the intensive care units, local media reported on Sunday citing a top official at the country's Ministry of Health.
According to Dr. Moza Abdullah Al-Sulaimani, director of gynecology and obstetrics at Oman's Royal Hospital, three critical cases went into premature labor in order to improve their response to treatment in which one case was before the 24-week of pregnancy and the fetus died, and two cases were after 28-week of pregnancy and the premature newborns were admitted to the neonatal intensive care units.
In a statement, Dr. Moza said: "Pregnant women being infected with COVID-19 is as usual as the rest of the community."
"However, the physiological changes in their bodies, especially on the immune system, that occur in the pregnant woman's body, may affect her resistance to viral infections in general. The pregnant woman is immunocompromised due to her body's attempt to adapt and accept the existence of the fetus inside her," Dr. Moza explained.
"The pregnant woman is expected to suffer from mild to moderate symptoms, nonetheless, because of the increase in the size of the uterus during the advanced stage of pregnancy that causes pressure on the chest and the lungs, may affect the interaction of the body if the inflammation of the lung occurs," she added.
Dr. Moza also said that the department faces some challenges as some pregnant women refrain from informing the medical staff that one of their family members is infected before being admitted. "The increase in cases brings pressure on the hospital's beds and the medical staff," she said.
Therefore, all pregnant women are urged to report to the staff any case of coronavirus infection in their family, or herself or if showing any COVID-19 symptoms. The WHO suggests, pregnant women with symptoms of COVID-19 should be prioritized for testing. If they have it, they may need specialized care.
However, there is no evidence to date that a pregnant woman with the disease can pass the virus to her fetus or baby during pregnancy or delivery. The active virus, though, has not been found in samples of amniotic fluid or breast milk, according to the WHO. — Agencies
https://www.saudigazette.com.sa/article/595735/World/Mena/70-pregnant-women-infected-with-coronavirus-hospitalized-in-Oman
--------
Pandemic: 56% of women prefer child birth at home
July 7, 2020
By Muhammad Al-Shahrani
DAMMAM — A questionnaire on whether pregnant women would like to give birth at home with the help of qualified midwives got a positive response from 56.1 percent of those approached, while 43.9 percent rejected the idea.
The initiative was organized by a scientific group representing midwives in the Kingdom. A total of 6,136 respondents participated in the survey.
Those rejecting the idea of giving birth at home showed their concern over developing some complications during the process. Furthermore, many respondents said they won't like their family members to be anxious.
The inability to have proper anesthesia method was another concern. Some of those who rejected the idea said unavailability of proper instruments, lack of their sterilization and cases of high-risk pregnancies were the main factors.
Meanwhile, the response of the non-pregnant women revolved around the health staff's readiness. Responding men said the environment in hospitals is more suitable.
Replies of those who encouraged home delivery by nonprofessionals focused on reducing the risk of coronavirus infection; and the availability of privacy, safety and low financial costs. The response from health staff focused on reducing unnecessary medical intervention, and the availability of qualified midwives.
The response of non-pregnant women focused on the availability of support from husband and family, and creating intimate memories. In this connection, the response of men revolved around fears of child swapping or kidnapping in the hospital. They also preferred to stay at home because of the safety of the family.
Most of the women respondents were of low-risk pregnancy with 79.2 percent, and 29.4 percent decisively supported home birth, while 5.24% of them said they may choose home due to several considerations such as the spread of coronavirus. They said the medical team supervising home birth should be competent and experienced.
https://saudigazette.com.sa/article/595202/SAUDI-ARABIA/Pandemic-56-of-women-prefer-child-birth-at-home
--------
Mandatory Face Masks in Quebec Are Making Some Who Wear Face Coverings Full-Time Feel Safer and More Accepted
Jul 20, 2020
MONTREAL (CityNews) – Mandatory face masks in Quebec are making some who wear face coverings full-time feel safer and more accepted.
"Despite the fact that we are in a pandemic, I've never felt more safe walking in the streets in the last four years since I started wearing the niqab."
Fatima Ahmad – a niqabi woman – says she feels she's more socially accepted now that Quebecers are also covering their faces due to the pandemic.
"People's perceptions and attitudes are changing because, before, almost daily I used to receive Islamophobia comments, strange looks, some people trying to take off my niqab but then in the last three, four months since the pandemic that just disappeared."
In 2019, CityNews first did a story involving Ahmad, after she said was verbally and physically attacked because of her niqab. We spoke to her again in February when she says she was attacked once more.
Ahmad now says she's surprised by recent interactions she's had with the public over the last few months.
"I don't feel awkward in front of them and they don't feel awkward in front of me," she said.
"It's just ironic that now we're being mandated to cover our faces, especially in places of giving and receiving services. So, what was the real rationale behind Bill 21? Because it seems the security and identification rationales have just melted away in the context of COVID," said Fondation Paroles de Femme vice-president Idil Issa.
Bill 21 was enacted in March 2019 and prohibits Quebecers who work in a position of coercive authority, such as teachers, police officers and judges, from wearing religious symbols.
The bill also states Quebecers must have one's face uncovered when giving or receiving specific public services, with the exception of health reasons.
"I'm the one that can't teach because I cover more. As a teacher, or anything else, you can fulfill your work. (It) doesn't matter if you're showing your face or not," said Ahmad. "I hope Quebecers realize that it is very hypocritical in what the government is saying and doing."
But some believe the pandemic normalized religious face coverings.
"People are understanding, they have valid reasons for doing it. Muslim women don't dress the way they do to antagonize anyone," said Issa.
For Ahmad, progress has been made but she wants the respect she's seeing now to be permanent.
"I really hope that people have the same view. But people's perceptions change very fast and forget what the situation was."
https://www.660citynews.com/2020/07/20/mask-versus-niqab-how-are-those-impacted-by-bill-21-affected-during-the-pandemic/
--------
Generations Project Celebrates Diversity Of Muslim Women In Canada
July 21, 2020
When a young photographer struggled to find authentic portrayals of Muslims in the media, she decided to take matters into her own hands.
Alia Youssef, a freelance photographer based in Toronto, has created two projects over the past four years with the aim of diversifying the representation of Muslims in Canadian media.
Youssef has been in Canada since she was eight years old. A few years after she came to Vancouver from Egypt, she found her passion.
"I fell in love with photography when I was 14 and started photographing my mom and sister," she said.
Youssef's love for photography took her to Toronto, where she continued to pursue her passion as a student and freelancer.
While focusing on photography through her undergraduate degree, Youssef created The Sisters Project. The project, which was completed in 2017, profiled Muslim women from across the country.
"Talking about the issues I really care about with photography is what lights the fire under me," she said.
Her journey took her to 12 Canadian cities, where she got to not only meet and photograph the women, but also learn about the communities they came from.
"I was really inspired," she said. "I realized I didn't know very much. I certainly didn't know the first mosque was built in 1938, or that (the Muslim community) in Edmonton had such a long history."
Complicating the narrative
When Youssef looked at how Muslim communities were historically represented in Canadian media, she didn't find any colourful narratives.
Instead, all she found were one-dimensional stereotypes that were used repeatedly.
"A very common one is Muslim men are terrorists," she says. "And with Muslim women, it's usually that they're oppressed."
Youssef didn't believe the answer to this problem was in portraying Muslims in a positive light. Instead, she wanted to complicate that narrative.
"It's (about) creating a space for people to illuminate the different aspects of their lives that don't fall into the categories of negative and positive."
The idea for her new project, Generations, was born from this realization.
In Generations, Youssef handed the microphone over to Muslim families in Canada so they can tell their stories. For the project, Youssef took family portraits that included multiple generations from each family.
"I thought family portraits offered this wonderful opportunity to learn about each generation's perspective," she said.
The families featured in her project talked about how they came to Canada, what accomplishments they are proud of, and what their hopes are for future generations. Four of these families are in Halifax.
"Canada is so young and the things that people are experiencing throughout Canada's history can change so rapidly."
Diversity in the photo industry
In Generations, which was launched in July 2020, Youssef featured only the women of the family.
"I wanted to combat the idea of the Muslim woman being a suppressed silent person who's at the will of her counterpart, because that was a stereotype that was really bothering me," she said.
Youssef also wanted to bring attention to how different Muslim women can be, including their views, experiences and even how they look.
She said she believes so many marginalized communities haven't historically had the opportunity to decide how they want to be represented in photographs.
That's why it's important to have photographers from different communities. They are the only ones able to truly understand how their community prefers to be portrayed.
"It's just such a gaping hole in the industry," said Youssef. "You can't have true representation of diversity if the people behind the lens are not diverse, too."
A jump back in time
All the photos in the project were taken using film photography.
Youssef said she chose the older format because the project depended on revisiting the experience of previous generations and researching the archives for depictions of Muslim communities.
"I wanted the photographs to have that feeling that you were getting a glimpse into the past and that you could find these photos in the archives if you were looking for them."
When Youssef sent the film photographs to the families, she also included the same photos, but taken using a digital camera.
"Often the participants were telling me that they actually preferred the film photographs because the colours are so much richer," she said. "My hope is that people will notice the difference, even if you can't pinpoint (it.)"
Generations was supposed to launch through an exhibition in Toronto, but COVID-19 put a wrench in Youssef's plans.
With the help of her husband, who is a web developer, Youssef was able to publish the project through an online exhibition.
"We built it from scratch," she said. "I wanted the website to look like you're walking through a gallery."
In addition to exploring film photography and website development, Youssef said Generations helped her learn more about communicating with her subjects and understanding their needs.
"A camera holds a lot of power," she said.
"I'm trying to be part of the change in the photo industry that's more considerate of … our position in regard to the people we're photographing and to always include their voices so they're not being tokenized."
Youssef said she hopes the project would be a chance to gain an understanding of the shared history that Muslim communities have across Canada.
"I hope the project is a way for people to diversify their thinking and come out of this time in history with a broader sense of empathy and connection."
People can view the exhibition and read about the stories shared by Muslim families in Halifax and across Canada on the project's website or instagram.
https://www.saltwire.com/news/local/generations-project-celebrates-diversity-of-muslim-women-in-canada-475544/
--------
Honor killing sparks protest in Jordan
July 21, 2020
DUBAI: Dozens of protesters gathered outside the Prime Ministry building in Amman to condemn the death of a Jordanian woman, in what has been described as an honor killing, national daily Jordan Times has reported.
The father of the 40-year-old woman is accused of her premeditated murder. It is claimed the 57-year-old attacked her with a rock near her home in the capital's Ein Basha region.
Jordanians condemned the incident and urged the government to end the violence, demanding better protection for women in the country.
"Women need to be treated equally in Jordan and we should regard any woman who is subjected to violence as a victim that needs support and protection," a protester said.
https://www.arabnews.com/node/1707781/middle-east
--------
Missing For Three Days, Minor Sikh Girl In Afghanistan Reunited With Family
by Divya Goyal
July 21, 2020
A 15-year old Sikh girl, who had gone missing from Baba Sri Chand gurdwara in Kabul's Shor Bazar Friday, was 'reunited' with her family Monday, local community leaders told The Indian Express. Her family claimed that she was 'taken away' Friday by a local Muslim youth who "brainwashed and threatened" her to marry him and "convert to Islam".
Sikh community members said that with the efforts of government and local Sikh MP Narinder Singh Khalsa, the girl was "convinced to return". A police complaint has been registered over an attempt to forcefully marry a minor girl, they said.
"The girl was influenced and taken away on the pretext of marriage. She is a minor. We have rescued her and brought her back. She is at my home and safe. People who influenced and took her away are in police custody. Police is helping us," MP Khalsa told the The Indian Express over phone.
In the wake of the fresh incident, the Sikh community in Afghanistan has reiterated its demand for immediate evacuation to India. After another kidnapped Afghan Sikh, Nidan Singh Sachdeva (55), was released Saturday, the Ministry of External Affairs had hinted that he can use the CAA to get Indian citizenship.
Meanwhile, the girl's 22-year-old brother who along with his mother and another brother lives in a room at the gurdwara premises, told The Indian Express over the phone, "My sister is just 15. She doesn't know anything about the world and atrocities that are inflicted on Sikhs here in Afghanistan. A local Muslim youth, who is 18-19 years old and lives in a house opposite gurdwara, brainwashed and threatened my sister and took her away. She was taken to Panjshir from where we brought her back today. They tried to marry her forcibly. She was instigated against her own family."
He added: "She said that she was threatened, she was forced to embrace Islam and marry that man. We have still not brought her to our own home as it is unsafe. Useydhamkiyan di gai kituapne bhai kekhilaafbol, usey bola gayaki tera bhai tujhemaaregapitega, wo bachhihaiabhi, kuchsamajhnahihaiusey (She was threatened to speak against her own brother. She was told that her brother will thrash her if she returns. She is a child, she doesn't know anything)."
About how she was taken away Friday, he said: "A car came and picked her up. The neighbours informed us. Soon we started looking for her. She had stopped going to school. She is an innocent child who was easily misled and brainwashed."
The girl had lost her father in the Islamic State (IS) terror attack at Gurdwara Har Rai Sahib in Kabul on March 25. At least 25 members of the Sikh community were killed in the attack.
The girl's brother, who runs a medicine and cosmetics shop in Kabul, said: "Each day here is now a punishment. You don't know when you will be targeted again the next minute and you will die. Since the gurdwara attack in March, things are getting just worse. We want immediate evacuation to India. We even lost our father in the attack in March," he said.
Harinder Singh Soni, sewadar and managing committee member of Guru Har Rai Sahib gurdwara who lost his wife, father and three-year old daughter in the March attack, said that the minor girl was 'influenced, brainwashed and forced' to embrace Islam. Harinder, who was a part of the team that went to "rescue" her, said, "The local Muslim youth lied to her that he will marry her. We have brought her back safely and she has accepted that she got influenced. They told her 'saadedharammein aa jao' (convert to our religion). A police complaint has been filed against the accused as they tried to forcefully marry a minor girl. She was instigated against her own family because that's what local goons here want. They want to wipe out Sikh community. All 600 families here now want immediate rescue and evacuation to India. We had submitted applications immediately after March attack but process was stalled due to coronavirus. We request Indian government to restart the process."
On Monday, a group of Sikh community leaders in Kabul visited the Indian Embassy to enquire about status of their applications seeking immediate visas for India. The Sikh community in Afghanistan at present is less than 700-strong.
Gurnam Singh, president of Gurdwara Dashmesh Pita Sri Guru Gobind Singh ji Darbar KarteParwan, Kabul, said, "We again visited the Embassy of India in Kabul today and we have been given some forms to fill. The plan is that first family members from 'shaheed parivaar' who lost one or more members in recent attacks, will be evacuated. Our lists are ready on who will be sent in the first batch. Embassy has assured us that there will be fruitful developments by July 31. We had applied for visas to India immediately after March 25 attack but coronavirus stalled everything and international flights stopped.."
He added: "Here young girls are now not going to school, there is no education, no knowledge… they can be easily brainwashed. It is all ignorance and illiteracy which plays a part. This girl too went on her own will after she was brainwashed."
The Indian Express had first reported on April 4, that Sikhs from Afghanistan wrote to the Indian Embassy in Kabul and Union Home Minister Amit Shah, seeking "immediate evacuation of Sikh families and refuge in India" citing a threat to their lives from the Islamic State (IS).
https://indianexpress.com/article/india/missing-for-three-days-minor-sikh-girl-in-afghanistan-reunited-with-family-6515650/
--------
URL: https://www.newageislam.com/islam-women-feminism/afghan-all-girls-robotics-team/d/122429
New Age Islam, Islam Online, Islamic Website, African Muslim News, Arab World News, South Asia News, Indian Muslim News, World Muslim News, Women in Islam, Islamic Feminism, Arab Women, Women In Arab, Islamophobia in America, Muslim Women in West, Islam Women and Feminism