New Age Islam News Bureau
12 Dec 2016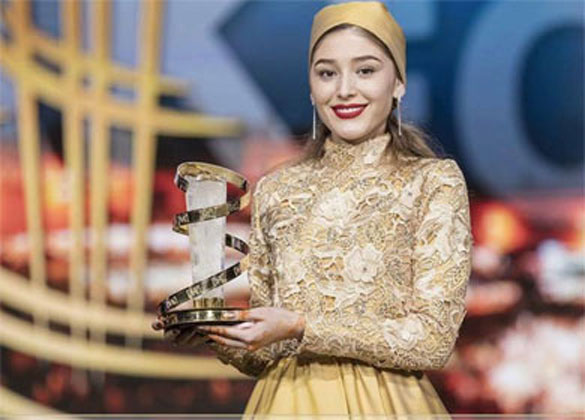 Afghan actress, Fereshteh Hosseini, has won the Award for the best performance by an actress in Marrakech International Film Festival,
--------
• Tripura Governor Bats for Human Rights for Muslim Women
• Global Summit of Women Speakers of Parliament Kicks Off In Abu Dhabi
• Anti-Child Marriage Law to Protect Girls: Bangladesh Minister
• Girls 'Aged 7' Stage Suicide Attack in Nigeria
• Indonesia Police Say Arrest of Woman in Bomb Plot Points to New Militant Tactic
• This Female Muslim Politician Is Risking Her Freedom to Fight Malaysia's Corruption
• Free Training Courses to Empower Saudi Women
• African American Muslim Women Share Stories at Book Reading
• As A Muslim Woman, I Support Angela Merkel's Ban on Niqabs in Germany
• Shaikha Lubna, Dr Raja Easa amongst World's Most Powerful Women
Compiled by New Age Islam News Bureau
URL: https://www.newageislam.com/islam,-women-and-feminism/new-age-islam-news-bureau/afghan-actress-wins-marrakech-international-film-festival-award/d/109358
--------
Afghan Actress Wins Marrakech International Film Festival Award
Dec 12 2016
An Afghan actress has won the Award for the best performance by an actress in Marrakech International Film Festival, it has been reported.
The award was given to Fereshteh Hosseini during the 16th Marrakech International Film Festival on Saturday.
The 19-year-old Fereshteh appeared in 'Parting' movie jointly produced by the Afghan and Iranian filmmakers.
Directed by Navid Mahmoudi, the film is based on the story of two young Afghans, Fereshteh (played by Hosseini) and Nabi, who are in love, according to Financial Tribune.
The movie also focuses on the issue of Afghan refugees as the showcases the lives of those who are forced to stay and the ones in transit.
It depicts the uncertain situation of the young couple after they leave Afghanistan with an hope to find a better life by heading towards Europe via Turkey.
Hundreds of thousands of Afghans were forced to leave the country due to the growing instability in the country and headed mainly towards the European countries by going through some of the most dangerous routes that claimed the lives of scores of immigrants.
The Marrakech International Film Festival was created in 2001 by His Majesty King Mohammed VI to PROMOTE arts and the film industry in Morocco.
http://www.khaama.com/afghan-actress-wins-marrakech-international-film-festival-award-02459
--------
Tripura Governor Bats for Human Rights for Muslim Women
December 12, 2016
Tripura Governor Tathagata Roy praised the functioning of Tripura Human Right commission (THRC) and asserted that different active commissions in Tripura have now become instances for other states of the country. Roy was addressing in a seminar on celebration of 68th anniversary of the universal declaration of human rights, organized by Tripura Human Rights Commission (THRC).
"Since 1993, the country has formed the human rights law and now its active in the country," said the governor, adding "Human rights for WOMEN specially the women from Muslim community are the worst affected in the country."
Supporting the recent verdict delivered by the Allahabad High Court declaring triple talaq as unconstitutional he urged all section of people should raise their voice against such inhuman provision. "Time has come for all of us to think over this."
He went one step ahead and said due to the prevalence of such provision in their personal law a SECTION of Muslim man are ill treating their wives. "These must be stopped and expressed hope that abolition of triple talaq will ensure containing such cruelty at least to some extent. Women commission has a special responsibility to keep WATCH on incidents of human rights violations against women."
He told the police officers to remain alert so that the state never becomes the human rights violator.
Meanwhile justice Kalyanjyoti Sengupta urged the people to inform the commission of any kind of incidents of human rights violation. "A complain in white paper will do, we will act within our jurisdiction."
http://www.northeasttoday.in/tripura-governor-bats-for-human-rights-for-muslim-women/
--------
Global Summit of Women Speakers of Parliament kicks off in Abu Dhabi
DECEMBER 12, 2016
The Global Summit of Women Speakers of Parliament launched this morning in the United Arab Emirates capital city of Abu Dhabi.
The summit, which involves two days of forward-looking panels and debates in collaboration with the Inter-Parliamentary Union is themed: 'United for Shaping the Future'.
The summit brings together 50 women speakers of parliament representing countries AROUND THE WORLD, as well as government officials, diplomats, corporations, civil society organisations, academia, and media from around the world.
In her opening speech, Dr. Amal Al Qubaisi, speaker of the Federal National Council of the UAE highlighted the progress made in the UAE and around the world and honoured the patrons, partners and participants of the Summit, celebrating the IMPORTANCE of having 50 female speakers of national parliaments representing countries around the world. "The Women Speakers Summit held in Abu Dhabi is rooted in the same values as the UAE model of unity," said Dr. Al Qubaisi
IPU President Saber Chowdhury expressed highlighted the path to today started with only twelve WOMEN in these positions one decade ago.
Sheikh Saif Bin Zayed Al Nahyan, Deputy Prime Minister and Minister of Interior (UAE) keynoted the event with an inspiring TED-style talk which examined technological advancement and how it has changed modern societies. Talking about the IMPORTANCE of the Summit, Sheikh Saif Bin Zayed Al Nahyan quoted a poem saying "A woman is a school, if you teach her, you teach an entire generation. If a mother never learns how can she teach the next generation."
The Deputy Prime Minister discussed the value and dangers of social media, praising companies like Twitter for shutting down more than one hundred thousand accounts of Daesh before ending his keynote with the ever-important message of family and unity.
Outgoing Secretary-General of the United Nations, Ban Ki-Moon sent a video address to the Summit.
The Summit is the first of its kind in the world, addressing political, social, economic, environmental, and demographic issues, as well as political, technological, and economic developments that are poised to transform the world. The event will also discuss the effectiveness of policies, regulations, and social will in facing, or benefiting from, these developments. In addition, the high-level event will shed LIGHT on issues pertaining to WOMEN empowerment, gender balance, legal and legislative challenges posed by great technological transformations to existing laws and regulations, as well as avoiding and mitigating conflicts to which they might lead. Furthermore, an effort will be made to identify scientific and technological possibilities to overcome pressing issues such as global warming, climate change, water scarcity and low biodiversity.
Notably, the panellists will focus on values of tolerance, co-existence, peace, and moderation, in addition to reinforcing the international message embedded in the 'Abu Dhabi Declaration for Shaping the Future' that will be released during the final ceremony of the summit.
The Declaration will demonstrate the vision of women speakers of parliament to address issues of global interest. The report will also offer a compilation of the summit's outcomes and final recommendations to global priorities, reflecting regional and international political, economic, social, and environmental trends.
The 'Abu Dhabi Declaration for Shaping the Future' supports the efforts of political and parliamentary organizations in enhancing security and stability, as well as building a better future where the governments and organisations of the world adopt regulations and policies that PROMOTE sustainable development, resolve armed conflicts, and mitigate political extremism.
As part of the Global Summit of Women Speakers of Parliament, a 'Future Exhibition' will be held in collaboration with prestigious UAE entities and organisations. The exhibition will aim to stress the IMPORTANCE of having an outlook for the future, supporting scientific research, promoting innovation, and creating an environment that fosters creativity to build smart cities. It will also spotlight success stories of innovation, and showcase young inventors' latest achievements. The exhibitions will focus on nuclear energy, clean and renewable energy, transportation, communications, technology, education, health, and water.
Furthermore, the summit will address key topics related to the legislative and regulatory role of parliaments. It will also concentrate on the IMPORTANCE of the collective role of women speakers of parliament, and their efforts in addressing current and future obstacles facing quality of life and projects to create sustainable wellbeing around the world.
https://www.neweurope.eu/article/global-summit-women-speakers-parliament-kicks-off-abu-dhabi/
--------
Anti-Child Marriage Law to Protect Girls: Bangladesh Minister
December 12, 2016
State Minister for Women and Children Affairs Meher Afroze Chumki yesterday said the draft law to prevent child marriage is a strict law, which is time befitting, realistic and effective.
Addressing a programme in Manikganj district council auditorium she said there is a provision in the law for which it will be possible to bring those responsible to book who will help arrange a child marriage.
"I'm sure that girl children will get protection through the proposed law," she said.
Some organisations and women leaders are giving a wrong explanation of the law and creating confusion, she said.
The proposed child marriage prevention bill 2016 was placed in parliament on December 8 suggesting strict punitive actions against marriage between boys and girls who are below 21 and 18 years respectively. However, the proposed law has a provision for "special circumstances" under which girls below the age can tie the knot.
The state minister distributed sewing machine to 100 poor women and distributed certificates to 250 students who received training on computer, under the ministry's project.
http://www.thedailystar.net/city/anti-child-marriage-law-protect-girls-1328800
--------
Girls 'aged 7' stage suicide attack in Nigeria
12-Dec-16
KANO: Two young girls approximately seven or eight years old blew themselves up in a northeastern Nigerian market on Sunday, killing themselves and one other person and wounding 18 others, sources said.
The girls were "seven or eight", a local militia member in Maiduguri, Abdulkarim Jabo, told a news agency.
The attack was not immediately claimed by Boko Haram but bore the hallmarks of the jihadists, who routinely use women and girls to carry out suicide attacks, often in Borno state, the epicentre of their insurgency.
Borno Governor Kashim Shettima, visiting victims in the hospital, confirmed the toll in the attack.
http://dailytimes.com.pk/world/12-Dec-16/girls-aged-7-stage-suicide-attack-in-nigeria
--------
Indonesia police say arrest of woman in bomb plot points to new militant tactic
December 11, 2016
Indonesian police on Sunday were hunting for more suspects linked to a foiled plot to bomb targets in Jakarta, with the arrest of a woman among a trio detained a day earlier pointing to a new recruitment tactic by Islamist militants, they said.
Authorities are also concerned about smaller cells being formed by militants in Muslim-majority Indonesia, which is grappling with a resurgence in homegrown militancy, inspired in part by Islamic State.
Counter-terrorism police were looking for two more suspects after the arrests on Saturday of a woman and two men near Jakarta on suspicion of planning a bomb attack on vital national assets, national police spokesman Awi Setiyono said.
He did not elaborate, but on Saturday police said targets in Jakarta included the changing of the guard at the presidential palace.
"It is possible that their method to recruit new actors is not just limited to men," Setiyono told a news conference, noting previously recruitment had been limited to men. "The point is they are looking for people who want to wage jihad."
Police said they had intercepted a letter the woman had intended to send to her parents stating her intention to carry out jihad.
Later an unexploded bomb was found in a room the woman had rented in Bekasi, about an hour outside Jakarta, police said.
The suspects had been communicating with and received money from Bahrun Naim, an Indonesian militant known to be fighting with Islamic State in Syria, Setiyono said.
"On the orders of Bahrun Naim, they formed small cells and assembled bombs with other suspected militants," he said.
Naim has been linked to a number of failed attacks in Indonesia this year, including a July suicide bombing in the Javanese city of Solo, which killed the bomber but only wounded one other person.
He was also linked to a suspected militant arrested during a raid last month where police said they found enough chemicals to build a bomb twice as powerful as the one used in the Bali bombing of 2002, which killed 202 people.
Among the chemicals found then were TNT and RDX, both military-grade explosives, and a peroxide-based explosive TATP – also known in militant circles as the "mother of satan", which was used in the Brussels attacks this year.
Indonesia suffered its first Islamic State-linked attack earlier this year, when a gun-and-bomb assault in central Jakarta killed four people.
Security is usually stepped up in Indonesia at this time of year after attacks in previous years during Christmas and New Year celebrations.
http://nation.com.pk/international/11-Dec-2016/indonesia-police-say-arrest-of-woman-in-bomb-plot-points-to-new-militant-tactic
--------
This female Muslim politician is risking her freedom to fight Malaysia's corruption
Dec 12, 2016
Nurul Izzah Anwar's political career began at age 18, when her father, the then deputy prime minister of Malaysia, was sacked and imprisoned over trumped-up sodomy charges.
Malaysia has undergone countless threats to its 60 year old democracy. This includes, most recently, the world's largest financial scandal: Investigators are involved in a multi-billion dollar money laundering probe of the country's 1MDB state development fund. The US Department of Justice has filed lawsuits in the case, implicating Malaysia's prime minister Najib Razak.
Anwar's father, a vocal opposition leader, has been in and out of jail for the last 18 years, and she herself was imprisoned briefly this year.
Watch the video above to hear why she's willing to risk her own freedom for the sake of her country's democracy.
http://qz.com/859502/this-female-muslim-politician-is-risking-her-freedom-to-fight-malaysias-corruption/
--------
Free training courses to empower Saudi women
12 December 2016
JEDDAH: The Technical and Vocational Training Corporation (TVTC) on Sunday announced free training courses for Saudi WOMEN, especially in mobile technical and electrical maintenance, with the aim of empowering Saudi women in the labor market.
Fahad Al-Otaibi, spokesman for TVTC, said a number of Saudi women are professionally working in the fields of electrical and technical maintenance of MOBILE DEVICES and many other technical fields.
He explained that on the sidelines of 8th Saudi Technical Conference and Exhibition (STCEX), that opens on Wednesday, a number of workshops and free short training courses for men and women will be held, especially mobile technical and electrical maintenance courses, and other technical courses for women. Interviews for job opportunities will also be held.
Al-Otaibi said STCEX 2016 will provide a platform for bringing together a select group of distinguished international and local experts to exchange ideas, experiences and initiatives about 21st-century skills and their associated new developments and future trends in the field of technical and vocational education and training (TVET).
The conference encompasses lectures covering all topics, as well as developmental workshops whose topics are determined in accordance with the developmental needs of TVTC employees, including management staff and trainers at affiliated training units. Moreover, the conference will be accompanied by an exhibition to showcase TVTC's activities and initiatives, as well as its joint programs with public bodies relating to training and employment and with international TVET providers working in the Kingdom.
He further said that the aim of the conference is advancing ongoing TVET development efforts in the Kingdom and enhancing their contributions to the achievement of Vision 2030, increasing awareness about the IMPORTANCE of TVET, improving its image in society by highlighting its pivotal role in training for the 21st century and qualifying for future jobs. It will also highlight the Kingdom's role and contributions to international efforts directed toward TVET development, and increase an organizational sense of belonging and team spirit among employees of the TVTC and its affiliates.
Through specialized courses of the TVTC, more than 10,700 women have already graduated in the majors of mobile maintenance, SALES MANAGEMENT skills, customer service skills and advanced mobile services in various regions of the Kingdom.
The TVTC aims to establish more programs for Saudi women to provide them with various basic skills and qualify them to take advantage of the job opportunities available in women's facilities, to contribute to these sectors.
http://www.arabnews.com/node/1022896/saudi-arabia
--------
African American Muslim women share stories at book reading
Dec 12, 2016
ABSECON — Turiya S.A. Raheem became a Muslim in her 20s. The Atlantic City native was working in classifieds at The Washington Post at the time. Her mother, who was living in Boston, asked her why she would choose the triple whammy.
"'You're already black and a woman in America. Now, Muslim?" she said her mother asked her.
Raheem, 62, sought to answer that question in her newest BOOK, "Why We Chose This Way."
On Sunday, she was the guest speaker during a book talk at Wadiya's on New Jersey Avenue in Absecon.
Raheem said she interviewed about 30 black Muslim women about their experiences and then reduced the interviews into ten stories to provide anonymity to her subjects.
"If we don't tell our stories, nobody's going to tell our stories," she said.
That same thread was the subject of her first BOOK, "Growing Up in the Other Atlantic City," which told stories of the black men and women who helped build the resort.
Raheem said she asked participants why they continue to practice despite all the negative press about Islam. The WOMEN ranged in age from 50 to 80 years old, she said.
"I was surprised everybody didn't come to Islam looking for God," she said. "Some of them thought this was the best solution to all of society's ills.
"A lot of those experiences were revelations to me," Raheem said.
Hoping to help outsiders understand the religion, Raheem has been speaking about her BOOK at several events over the last year.
"I just think people have misconceptions about who we are," she said.
She said there was a distinction between the Muslim faith and cultures that practice Islam. Raheem said that for Muslims in America, black WOMEN are not often the face of the community despite making up such a large portion of it.
"When do you see any of us being called up to be the expert on Islam," she said.
Raheem said this leads to misconceptions about who Muslims in America are.
According to the Pew Research Center's Religious Landscape Study, 28 percent of Muslims in America are black. In the United States, the number of Muslims has grown to nearly 1 percent of the total population, the survey says. And in New JERSEY, the survey estimates that Muslims make up 3 percent of the state's population.
A group of about 10 women gathered in a circle Sunday to discuss their experiences and read from Raheem's BOOK.
Mary Wadiya Jones of Atlantic City said she converted when she was 19 years old.
"I went against the grain of everything 19-year-olds would do," she said, cutting out drinking and drugs, clubs and Christmas.
She said she found common ground with a lot of stories in Raheem's BOOK.
"A lot of people just don't know," she said. "But the reality is, in our hearts we're just searching for the truth."
Desiree Barimah, of Galloway Township, said part of being Muslim is feeling a connection with strangers through faith.
"It doesn't matter that we're not family, but we are," she said.
For Bashira Khan, of Atlantic City, she said that she hopes that people refrain from prejudice just because she is Muslim.
"Remember what it is you know about a person before you judge them," she said.
http://www.pressofatlanticcity.com/news/press/atlantic/african-american-muslim-women-share-stories-at-book-reading/article_e7e8c7c8-01bc-579c-9493-a63fec577605.html
--------
As a Muslim woman, I support Angela Merkel's ban on niqabs in Germany
December 12, 2016
Accepting her party's nomination for what would be her fourth four-year term as Germany's chancellor, Angela Merkel announced that Germany must ban the niqab (full face veil) "wherever legally possible." Smacking of political expediency, the timing of this announcement underlines her need to draw hard-right nationalists critical of her Syrian refugee policy away from the populist and far-right political parties gaining strength in Germany.
Yet Chancellor Merkel's ban is one I support as an observant Muslim woman. In 2011, I argued that then-President Nicolas Sarkozy's legislating of France's burka ban was a brave step. Merkel's announcement, while politically opportunistic, is to be commended.
Angela Merkel calls for burqa ban in Germany
Any ban on wearing the niqab in public is one that defends secular society. In Germany today, secularism and the perceived integrity of the nation are strained with the influx of 1.2 million Syrian refugees, the rise in Islamist terrorism, and the looming threat from the so-called Islamic State. Germany is a fragile state within a fragile post-Brexit Europe. In this climate, niqabs become a direct challenge to national cohesion, connote a neo-orthodox expression of Islam, and are often associated with Islamist ideologies: IS, al Qaeda, the Taliban, and others.
Predictably, liberals, others, and The Council on American Islamic Relations, a prominent American Muslim advocacy group, have already launched a backlash claiming this burka ban violates the rights of Muslim WOMEN like me—a uniquely Islamist, and not Islamic, claim. Being de facto political totalitarianism, Islamism, also known as "radical Islam" or "political Islam," centers on absolute domination of the individual, forcibly imposing a perversion of Islam through the concept of Islamic statehood.
While some Muslim women may not be in a position to choose within the confines of their family, in secular societies where women are free to choose their DRESS, rote ritualism and de novo rituals including the wearing of the niqab indicate neo-orthodoxy. Women who choose to adopt the niqab in secular society may do so in solidarity with today's militancy du jour: Islamism. Wherever neo-orthodoxy flourishes, Islamism, not Islam, thrives near by.
UK police force considers allowing burqa-clad policewomen
Literal, inflexible interpretations of the veil are a hallmark of Islamism. Because so many Muslims are ignorant of the true dictates of Islam, and so many live under Islamist governments (Iran, Pakistan, Turkey, among others), rituals founded on cultural mores, rather than Islamic ideals, are co-opted as "Islamic." These rituals then work to reinforce misogyny in some societies: the infantilisation of WOMEN in Saudi Arabia as legal minors, their immobilisation both within their society and internationally (banned from travel without the permission of designated male guardianship), and a strict gender segregation of the public space, all penalise women.
Problematically, these cultural mores come to pass as manifestations of Islam, when they are clearly counter in every way to the egalitarian spirit that Islam holds for both genders. Denying that these traditions are steeped in misogyny deprives Islam of its true identity. Certainly, living in these societies under such confines as I have in Saudi Arabia, women who must enter the public space do veil themselves, because they must. In this way, the legally mandated veil, whether hijab or niqab, also liberates: Women can leave the home if they are veiled to earn, to study, to work.
Merkel's ban, therefore, like Sarkozy's previously, does not confine religious freedom but instead rejects cultural traditions that truly repress women—whether in our mobility, or freedom to choose our DRESS, and our literal visibility and interaction as members of society.
Many Muslim women in Muslim-majority countries agree that face veiling is not required, according to a fascinating survey by the University of Michigan examining Muslim attitudes to female DRESS. Even among Muslim women, the face veil is not widely supported. Yet reaction to a burka ban can be guaranteed to reveal the enormous ignorance surrounding Islam, an ignorance of which both Muslims and non-Muslims are guilty.
Egyptian MP backs burqa ban, terms garment 'un-Islamic'
Certainly, legislating DRESS, and thereby self-expression, smacks of draconian states like Iran and Saudi Arabia (where I lived from November 1999 to November 2001 and was forcibly veiled by law). How could secular democratic societies permit legislation of dress, you may ask? The answer: Dress can, and indeed must be, legislated when societal integrity is threatened and the resulting polarization fuels the development of parallel societies within nationhood. It is exactly within such fragmentation that Islamism takes root as a form of rebellion and rejection of the host society.
Germany is an intensely secular society, which not only tolerates, but celebrates diversity, though recently it has become more jaded where multiculturalism is concerned. Six years ago, in a rising anti-immigration climate, Chancellor Merkel declared multiculturalism as dead, giving way to RENEWED German nationhood and national identity.
Yet anti-immigration sentiment, however repellant, may have some basis in reason. In many European countries, secular pluralistic democracies have been exploited by insular, Islamist neo-orthodoxy. Following the ghettoisation of some Muslims in Britain, Britain has struggled with homegrown Islamist terrorism. In France, where ghettoisation and marginalisation of Muslims is much more marked, lethal outcomes have been borne from such ghettoization, most recently in the Charlie Hebdo massacres and the Bataclan attacks.
Certainly, the opportunist exploitation of tolerant democracies by Islamism comes at the expense of the pluralistic Muslim, who is imperiled both by the actions of Islamist terrorists and subject to retaliatory xenophobia often triggered by Islamist attacks. Criminalizing wearing the niqab in all public places, sparked cries of Islamophobia in Sarkozy's France and is likely to do the same in German, even as legislation to follow SUIT in many European countries—such as Belgium and France, as well as regions in Spain (Barcelona) and Italy (Lombardy)—is already either enacted into law or being proposed as legislation.
But here in Europe, Muslims, and German Muslims in particular, have a role to play in explaining the true meaning and NATURE of veiling in Islam.
Germany's top court rules Muslim schoolgirls must join swimming lessons
From Islam's origins, the word khimar, "veil," did not necessarily connote face covering. In the Holy Quran, Sura 24:31, referring to the "khimar" reminds Muslim WOMEN of the need to "draw… [it] over their bosoms" as integral to female modesty. Similarly, the verse of the veil commanded only the Prophet Muhammad's (PBUH) wives, as a mark of high distinction, to speak from behind a "hijab," meaning a curtain (Holy Quran Sura 33:53).
Traditions asserting "khimar" specifically meant "niqab" may have been exaggerated. Records show Bibi Aisha—one of the Prophet's (PBUH) wives and among the foremost teachers of early Muslims—provided great detail on the khimars in her day, yet no record exists as to how exactly they were worn.
Make no mistake, secular liberal democracies can overstep the mark. This summer, SHORTLY after the Bastille Day attacks in Nice, France lost its bearings, criminalized the burkini and forcibly stripped a Muslim woman on the beach in a shocking assault. The event rightly triggered international outrage and despite strong local support, France's highest courts ruled the actions to be a breach of democratic values, reversing the legislation. Hearteningly, despite being in a state of emergency ongoing since Charlie Hebdo, France found a way to reason with itself and preserve its vital democracy.
Germany must walk a similar tightrope, between asserting national identity and championing secularism while resisting temptations to demonize all Muslims. To walk this fine line, Chancellor Merkel will need the support of the German Muslim intelligentsia as well as the established German Muslim clergy. Merkel truly has an opportunity to strengthen Germany's civil Islam and thereby Europe's. Both communities have the chance to empower and embrace Germany's Muslims who are as European and as German as they are Muslim; Muslims, who like me, observe Islam as they repudiate Islamism; and Muslims who value the shared nationhood secular liberal democracy affords them, a national identity within which pluralistic Islam can truly thrive.
Certainly in the short term, Merkel's proposal will trigger intensely inflammatory reactions but as Germany and Chancellor Merkel tangle with the veil, public discourse surrounding Islam may in fact deepen and yield opportunities for European Muslims to SAVE not only the veil, but Islam, from the Islamists.
http://tribune.com.pk/story/1261183/muslim-woman-support-angela-merkels-ban-niqabs-germany/
--------
Shaikha Lubna, Dr Raja Easa amongst World's Most Powerful Women
December 11, 2016
While Shaikha Lubna is ranked at number 43, Dr Raja Easa stands at number 91.
Bringing pride to the UAE, two WOMEN for the country have fingered in the Forbes 100 Most Powerful Women of 2016.
Shaikha Lubna bint Khalid Al Qasimi, and Dr Raja Easa Saleh Al Gurg, have maintained their positions in the list of the most powerful women this year as well. While Shaikha Lubna is ranked at number 43, Dr Raja Easa stands at number 91.
Minister of Tolerance of the United ArabEmirates,Shaikha Lubna was formerly the Minister of International Cooperation and Development and helped to lead the United Arab Emirates into a period of unprecedented philanthropy. In 2004, she became the first woman in the country's history to assume a cabinet position.
Dr Raja Easa was ranked at number two in the Most Powerful Arab Woman by Forbes Middle East in 2015. As Dubai-based business leader, she has been an INSTRUMENTAL figure in the support and encouragement of Arab women entrepreneurs. She is the first Emirati woman on the board of HSBC Bank Middle East Limited. Additionally she is also on the advisory board of Coutts Bank.
According to the Forbes, five Most Powerful Women of 2016 include:
1: Angela Merkel
2: Hillary Clinton
3: Janet Yellen
4: Melinda Gates
5: Mary Barra
http://www.khaleejtimes.com/nation/dubai/shaikha-lubna-dr-raja-easa-amongst-most-powerful-women--of-2016
--------
URL: https://www.newageislam.com/islam,-women-and-feminism/new-age-islam-news-bureau/afghan-actress-wins-marrakech-international-film-festival-award/d/109358
New Age Islam, Islam Online, Islamic Website, African Muslim News, Arab World News, South Asia News, Indian Muslim News, World Muslim News, Womens in Islam, Islamic Feminism, Arab Women, Womens In Arab, Islamphobia in America, Muslim Women in West, Islam Women and Feminism, Moderate Islam, Moderate Muslims, Progressive Islam, Progressive Muslims, Liberal Islam