New Age Islam News Bureau
31 Aug 2019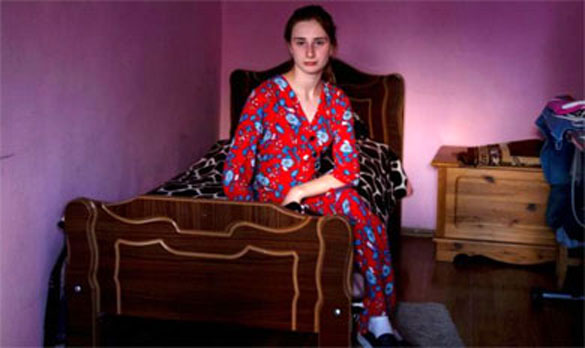 Mariam Kebadze, 16, dreams of her own room where she would have privacy: Photography by Ekaterina Anchevskaya
------
• Bangladesh: Muslim Women Celebrate Removal of Word 'Virgin' From Marriage Certificates
• Malaysian Women Deserve Better, Advocacy Group Says After Civil Court Shuts Door On Sisters In Islam
• FIR against Delhi Lawyer after Wife Alleges Triple Talaq
• Saudi Women's Struggle for Emancipation and Rights at the Venice Film Festival
• Empowering Arab Women Scientists for Leadership Roles
• Pakistan Association Dubai Launches Forum to Empower Women
• War-Scarred Women Battle Tradition In Fiercely Patriarchal Northeast Georgia
Compiled by New Age Islam News Bureau
URL: https://www.newageislam.com/islam-women-feminism/adopted-islam-own-free-sikh/d/119620
--------
Adopted Islam Out Of My Own Free Will: Sikh Girl After Family Alleges Forced Conversion in Pakistan
Hamza Ameer
August 30, 2019
Sikh girl Jagjit Kaur made headlines recently when it was reported that she was forcibly converted to Islam and made to marry a Muslim guy in Nankana Sahib area of Lahore, Pakistan.
However, Jagjit Kaur's latest statement given in a court has provided a new twist to the incident.
In her statement, Jagjit Kaur said, "I am an independent individual. I am 19 years old. I contracted marriage with one Muhammad Hassaan on August 28, 2019, of my own free will and consent. My Sikh name was Jagjit Kaur and it was mentioned in an FIR as well whereas after the conversion to Islam, I adopted the new name Ayesha."
"Neither anybody abducted me nor committed zina [Islamic legal term meaning illicit sexual relations] with me. I left my parent's house with three pairs of clothes, without any gold ornaments or cash. The accused persons in the FIR are innocent. The story narrated in the FIR is false, frivolous and baseless."
Jagjit Kaur's (now Ayesha) statement has given a new twist to the case as her family has alleged that she was abducted and forcibly converted to Islam. On the other hand, Jagjit Kaur has filed a case in Lahore High Court accusing her family of giving her death threats.
Jagjit Kaur is currently housed in Darul Aman, a shelter home for females in Lahore.
Jagjit Kaur's family believes that the whole issue is in fact a case of forced conversion. Jagjit Kaur's family has threatened of self-immolation outside Governor house in Pakistan's Punjab on August 31 if Jagjit Kaur is not sent back home.
In a video message shared on social media, the family shared how they are being threatened of a similar conversion if they do not take the FIR back.
"We are being threatened to take back the FIR. I demand [Pakistan] Prime Minister Imran Khan and Governor of Punjab to get Jagjit Kaur back to us. If our demands are not met, we will immolate ourselves outside the Governor house in Lahore on August 31, 2019," Jagjit Kaur's family said.
WHAT HAPPENED EARLIER
According to past reports, Jagjit Kaur, resident of Sail Muhalla Balila, Nankana Sahib, which is about 50 kilometres from Lahore, was allegedly abducted by a Muslim family and was later married off to a Muslim boy. Jagjit Kaur was allegedly forced to convert to Islam and her name was changed to Ayesha.
The incident happened on August 28, 2019, when at least six people, including one female, barged into the house of Bahgwan Singh and allegedly kidnapped Jagjit Singh in front of her parents, sister and brother.
As per the First Information Report (FIR) filed by Bhagwan Singh (father of Jagjit Singh) on July 28, 2019, the accused namely Ahsan, Yasir, Arsalan, Aslam, Bilal and Ruqiya Bibi, who had come to the house in a white van and a motorbike, burst into Bhagwan Singh's house.
The accused were allegedly carrying arms and threatened the family as well. The accused then kidnapped Jagjit Singh and fled from there.
The victim's brother said, "Our family has faced a tragic incident as some goons forcibly entered our house and abducted my younger sister. They tortured her and forcibly converted her to Islam."
CHIEF MINISTER OF PUNJAB IN PAKISTAN TAKES NOTICE
After the issue created an uproar, the matter was picked up by the Sikh community in Nankana Sahib. Punjab Chief Minister Usman Buzdar took notice of the incident and deputed the law minister Raja Basharat to look into the matter.
Raja Basharat, who is the law minister of the Punjab province, constituted a high-level committee which was assigned to engage with Pakistan's Sikh community.
The high-level committee comprised of 30 members who looked into the allegations of Jajit Kaur's forced conversion to Islam.
JAGJIT KAUR'S ADVOCATE FILES WRIT PETITION IN LAHORE HIGH COURT
Sheikh Sultan, Jagjit Kaur's advocate, maintained that she had embraced Islam of her own free will.
"Jagjit Kaur has embraced Islam and has been given the name Ayesha. She has then contracted marriage with Mohammad Hassan of her own free will."
Jagjit Kaur's lawyer has field a writ petition in the Lahore High Court against her accusing them of harassment.
Jagjit Kaur's family believes that the whole issue is in fact a case of forced conversion.
https://www.indiatoday.in/india/story/forced-conversion-sikh-girl-islam-pakistan-lahore-jagjit-singh-1593657-2019-08-30?utm_source=JioXpressNews&utm_medium=JioXpressNews&utm_campaign=JioXpressNews
--------
Bangladesh: Muslim Women Celebrate Removal of Word 'Virgin' From Marriage Certificates
By Sumon Corraya
August 31, 2019
Dhaka (AsiaNews) - She only discovered at her wedding that she had to indicate if she was a virgin: "I didn't know, and it was a shame. Virginity is a physical matter; it has nothing to do with a nuptial document ".
This is the story of Monira Parvin, a 38-year-old Bengali from Razabazar (Dhaka). Speaking to AsiaNews she described the moment of her marriage as humiliating, when she had to write if she was a virgin or not, unlike her husband for whom there was no such obligation.
This is why she is celebrating the decision of the country's highest judicial body to remove the word "virgin" from the wedding certificate. "Thanks to the Court's verdict - she says - now Muslim women have the same rights as men".
With a historic ruling, on August 25th the Bangladesh High Court eliminated the obligation in force only for Muslim women. Previously, they had to write if they were "kumari" (virgins), widows or divorced. Men were not required to indicate marital status at the time of the wedding.
Monira, who married 10 years ago, recalls: "I was really surprised to have to write the word" virgin ", while my husband didn't. I thank those who campaigned for this momentous change ".
The obligation to indicate marital status was foreseen only for women of the Muslim community, not for those of other religious communities (Hindu, Christian and Buddhist). The norm dates back to the period of Pakistani domination, before the independence obtained in 1971. The High Court has established that from now on both spouses will have to fill in the document with the indication "not married", "widow/er" or " divorced ".
The change of law is an initiative of the Bangladesh Legal Aid and Service Trust (Blast), Naripokko and Bangladesh Mahila Parishad associations. Ayshya Akter, Blast's lawyer, says: "We wanted the same rights and we got them. We won. Discrimination was removed from the marriage certificate, considered sacred for married life. At the same time, now the groom will also have to provide his own information on his marital status".
Jhumu Akter, a student at Dhaka University, says: "Even though I'm not married yet, I know that Muslim women were discriminated against. The certificate form was old, so I thank the applicants and the High Court that granted the change ".
On the other hand, not everyone enjoyed the sentence. Some men express dissatisfaction. Among them, the young Palash Islam who says: "Now women will lead a disordered life. For me, the verdict is wrong."
http://www.asianews.it/news-en/Muslim-women-celebrate-removal-of-word-%27virgin%27-from-marriage-certificates-47871.html
--------
Malaysian Women Deserve Better, Advocacy Group Says After Civil Court Shuts Door On Sisters In Islam
30 August 2019
By Soo Wern Jun
KUALA LUMPUR, Aug 30 — The Asian Pacific Resource and Research Centre for Women (Arrow) today urged the civil courts to review the recent judgment on Muslim women rights advocacy group Sisters in Islam (SIS).
Arrow said the High Court's dismissal of SIS' challenge against a five-year fatwa labelling it an Islamic "deviant" organisation has severe repercussions for Malaysia in the advocacy and protection of women's rights and their dignity.
"To reiterate what SIS has already said — after 62 years of independence, Malaysian women deserve better than this," Arrow executive director Sivananthi Thanenthiran said in a statement.
Arrow, a Malaysia-based NGO which advocates women and youths rights, asked how SIS is considered to be "deviant" by pushing for policies that are today being implemented in other Islamic countries like Morocco and Tunisia as well as famed Islamic institutions like the Al-Azhar University in Egypt.
"SIS is a civil society working towards advancing the rights of Muslim women in Malaysia within the framework of Islam, universal human rights principles, constitutional guarantees as well as live realities and experiences of women.
"SIS has also been advocating issues in relation to end child marriage, female genital mutilation (FGM), promoting gender equality in Muslim marriages and Islamic Family Laws, and taking a stance against gender based violence and moral policing," Sivananthi said.
"By saying that the civil court has no jurisdiction relating to Shariah law, it is setting the stage for increasing crackdown on women's rights organisations by fundamentalist and conservative groups," she added.
Last Tuesday, High Court judge Datuk Nordin Hassan threw out SIS' challenge of the fatwa saying the civil courts have no jurisdiction to decide on the case.
He said SIS should instead go to the Shariah courts to challenge the fatwa.
The judge also said on the Selangor fatwa applies to SIS Forum (Malaysia) even if it was a company.
Companies and their directors are usually considered separate legal entities, but the judge said justice in this case requires this corporate veil to be lifted.
While acknowledging the company SIS is an "artificial legal person", the judge said its directing minds are Muslims and their activities touch on Islamic law which the fatwa is applicable on.
https://www.malaymail.com/news/malaysia/2019/08/30/malaysian-women-deserve-better-advocacy-group-says-after-civil-court-shuts/1785853
--------
FIR against Delhi Lawyer after Wife Alleges Triple Talaq
by Somya Lakhani
August 31, 2019
An FIR has been registered against a 31-year-old lawyer after his 26-year-old wife alleged that he gave her triple talaq on Thursday afternoon, outside Parliament Street police station. A case under Section 4 of the Muslim Women (Protection of Rights on Marriage) Act has been registered.
Additional DCP (New Delhi) Deepak Yadav said, "An FIR was filed Friday; no arrest has happened so far. We are collecting evidence and investigating the matter. This is the first case of triple talaq in the New Delhi district."
The Muslim Women (Protection of Rights on Marriage) Bill, 2019, which makes the practice of instant triple talaq a penal offence, had received the approval of the Rajya Sabha on July 30.
The woman told The Indian Express, "On Thursday, we were both at the mediation cell at Parliament Street police station. When we stepped out, I told my husband that he's ruined my life, and after some time he said 'talaq, talaq, talaq'."
She also alleged her husband beat her and her father, who was accompanying her at the time.
The woman said she got married to the lawyer in February 2018, and alleged he pressured her for dowry, including a car. She claimed, "In May this year, I filed a complaint under matrimonial dispute and we were at the mediation cell over this matter."
The woman's husband denied her claims. He alleged, "She orchestrated an attack on me. I never said 'talaq, talaq, talaq' to her. I am not aware of an FIR filed against me."
In her FIR, the woman claimed she is an advocate practicing at a lower court in the city, and that on Thursday she said to her husband, "Please settle the matter and you be happy at your home and let me be happy at my home." She also stated: "On this, my husband outrightly uttered 'talaq, talaq, talaq'. I objected and became angry… and I said to him 'do you know the effects of triple talaq?'"
Several cases of triple talaq have been registered in the capital this month, including one in which a 38-year-old man allegedly served triple talaq to his wife over speed post in South West Delhi. In Central Delhi's Kamla Market, a 26-year-old man was arrested after allegedly saying talaq thrice to his wife, earlier this month.
https://indianexpress.com/article/cities/delhi/fir-against-delhi-lawyer-after-wife-alleges-triple-talaq-5952572/
--------
Saudi Women's Struggle for Emancipation and Rights at the Venice Film Festival
August 31, 2019
Venice (AsiaNews) – A young Saudi female doctor seeks to change conservative mindsets in The Perfect Candidate, a cinematic tale of a woman tackling gender-based obstacles now in competition at the Venice Film Festival.
The movie by Saudi Arabia's first filmmaker Haifaa al-Mansour illustrates changes in Saudi society and gender roles at a time of timid opening towards greater freedom and rights, as evinced by the end of the driving ban on women and the easing of male guardianship rules.
Despite male prejudices and harsh opposition in the Wahhabi-imbued society, the movie's main character, Maryam, decides to run for office with her sisters' help, thus sending a message of empowerment to Saudi women, which is what the filmmaker wants.
The movie screened at Venice's Lido, one of only two by women out of 21, reflects recent changes in the kingdom, such as Maryam driving in her car. When a planned trip to Dubai falls apart, she decides to run for a spot in the municipal council, pledging to get a road paved to facilitate access to her medical clinic.
"I personally want more women to participate in politics and be active members in society," Mansour told a press conference.
Although she knows it is an uphill struggle in a conservative society; nevertheless, she sees "a momentum change in Saudi Arabia now" and women should "take advantage of it."
In her view, "Our womanhood should transcend race, gender and countries. We should come together as women and really support each other and believe in each other".
Many activists and intellectuals do believe that women will lead the fight against fundamentalisms and archaic models that prevail in various Arab and Muslim societies.
For Al-Mansour, this is not her first time in Venice. In 2012, her Wadjda, the story of a 10-year-old girl who flouted the rules and rode a bicycle like any boy, competed in the Orizzonti (Horizons) section
Born in 1974 and eighth of 12 children of poet Abdoul Bahman Mansour, she graduated in literature at the American University of Cairo and obtained a Master in Film Studies from University of Sydney, Australia.
For some years, she, her husband, an American diplomat, and their two children, lived in Bahrain.
As a result of her work, the Saudi filmmaker has been harshly criticised, with a panoply of threatening letters and accusations of being is anti-Islam.
She dismisses her detractors, stating that she is not interested in the political use of her work, but rather in making observations on aspects of culture and society that should change.
For her, "No matter what the political situation is … art should always prevail and be given top priority, because it is … what pushes civilisation to grow".
Hopefully, unlike "Wadjda," Al-Mansour is confident that her new film will actually be screened in her native country, even though she does expect some opposition.
http://www.asianews.it/news-en/Saudi-women%E2%80%99s-struggle-for-emancipation-and-rights-at-the-Venice-Film-Festival-47873.html
--------
Empowering Arab Women Scientists for Leadership Roles
August 13, 2019
DUBAI: Imagine a program that aims to develop a pool of Arab women researchers who can make a positive impact in their workplaces, communities and countries. Next, imagine a program that seeks to utilize the talents of these researchers to achieve agricultural prosperity and also addresses the career challenges they face.
Now imagine a single program that combines those two objectives plus advances the UN's goal of achieving "a more sustainable future for all." Established recently by the International Center for Biosaline Agriculture (ICBA), Dubai, the program is called Arab Women Leaders in Agriculture (AWLA).
Funded by the Bill and Melinda Gates Foundation, the Islamic Development Bank (IsDB) and the CGIAR Research Program on Wheat, AWLA seeks to develop a cadre of Arab women researchers equipped with the knowledge and leadership skills to advance the goal of agricultural sustainability and food security in the Middle East and North Africa (MENA) region.
Far away from the glare of the media, a cohort of 22 women scientists from Algeria, Egypt, Jordan, Lebanon, Morocco and Tunisia recently became the first AWLA fellows. As members of the region's first networking platform for female researchers working in various agricultural and food security-related disciplines, they will address pressing regional challenges.
"We believe women in management will understand the challenges better," Dr. Ismahane Elouafi, ICBA's director general, told Arab News. "The fact that very highly educated women get stuck in lower positions doesn't give a country the full advantage of female education.
"Once you have a woman at the helm of an organization, you have what I call 'soft leadership'. It's about engagement."
Elouafi said the idea of AWLA began two years ago, designed based on data from the Arab world.
The numbers showed that female representation was strong regionally at university level — around 50 percent — but made up less than two percent at the management level in the workplace. On average, just 17 percent of scientists across the region are women, the lowest rate in the world.
"Agriculture employs a large number of women, mainly at factory, food-processing and farming levels," Elouafi said.
"Yet we see very few women in the upper management of scientific organizations, specifically in agriculture. This means there is something wrong."
She said the name AWLA — which means "I am worthy" in Arabic — was chosen because "we wanted an Arabic word that meant that every Arab woman should be invested in to provide her with the opportunity to advance her career."
The first phase of AWLA commenced with an eight-day workshop on June 30 in Tunis, involving mentoring, orientation classes and positive leadership sessions. The 10-month program will be conducted in Tunisia and the UAE, and will include three face-to-face learning modules and 12 research and development online courses.
A critical element of the program is team-based academic "capstone projects," which will give the participants an opportunity to apply the skills, tools and knowledge they will have gained during the 10-month fellowship. To encourage diversity and inclusion, the teams comprise fellows from different countries and backgrounds. The idea is to encourage interaction between the team members.
At the end of the program, the fellows will have to present their projects and hold discussions with potential funders.
"Through this first workshop, I have started to find myself," said Dr. Hasna Ellouzi, an assistant researcher at the Biotechnology Center of Borj Cedria in Hammam-Lif, Tunisia.
"Now I believe that every step, every second of my journey depends on me. I now see my goals. They are in my hands and I am sure that through AWLA, I will be able to achieve them."
To meet the expectations of Ellouzi and other fellows, AWLA will facilitate their access to leadership roles; promote research excellence and impact; encourage gender-responsive working cultures and enabling environments; and provide a platform for highlighting their intellect, capability and contribution.
Elouafi, the ICBA head, has few illusions about where the problems lie. "We have still a male-dominated leadership in this region, not just in agriculture and science," she said. "And the reasons behind this phenomenon are both cultural and biological. Many women want to have a family."
At the same time, according to Elouafi, women have an edge over men in the way they lead. "It's not only about rules and responsibilities, hours and deliverables, or being tough," she said. "It is much more about engagement, fulfilling yourself and delivering.
"I don't see it much with male leaders because it takes a lot of emotional intelligence, an area where women have a natural advantage."
The difference AWLA could make at an individual level is obvious to Dr. Mounira Azouz, a fellow from Algeria who works as a food scientist at Algeria's National Institute of Agricultural Research. "The fellowship is a huge opportunity for me," she said, "to improve my skills and learn new tools to enhance my capability for leadership roles in the food and agriculture sector."
On a broader scale, AWLA is aligned with four of the UN's Sustainable Development Goals (SDGs) — on gender equality (SDG 5), climate action (SDG 13), life on land (SDG 15), and partnerships for the goals (SDG 17).
As AWLA's website puts it, the program's "long-term goal goes beyond capacity development and includes improved food security and nutrition, a better research and development landscape, and economic and social benefits of a narrowed gender gap in the region."
According to Dr. Mouldi El-Felah, a professor of agronomy and genetics from Tunisia, "The program is very important and very innovative. What I found during the workshop is that the approach is very clear and helpful for women fellows who will take on leadership roles in agriculture in the future.
"In this way, AWLA works to address an important issue, namely the gender gap in the region."
Ultimately, AWLA is about giving female Arab scientists the equal opportunity they deserve, Elouafi said.
"We believe that every woman who is given an opportunity to go through the mentorship and leadership program, can eventually acquire the skills necessary for advancing her career.
"Most of these women didn't get the opportunity to develop their leadership abilities. So we are hoping that once they get the opportunity, they will see how enjoyable the job and experience could be. This will make them interested in managerial positions."
https://www.arabnews.com/node/1539331/middle-east
--------
Pakistan Association Dubai Launches Forum to Empower Women
Saman Haziq
August 31, 2019
Samina Nasir, head of the education committee at PAD, advised the women to support each other and to believe in themselves.
Eminent women personalities - Laila Al Jassmi, former CEO of health policy and strategy sector at the Dubai Health Authority, and Naghmana Ahmed Amjad Ali, wife of Pakistani Consul-General in Dubai - attended the launch of the Ladies' Wing of the Pakistan Association Dubai (PAD).
Skill development workshops, educational and Islamic courses, charity bazaars and fun gala events are some of the events in pipeline under the women's wing, said Sadaf Ather, vice-president of the PAD. The community platform will showcase women's creativity, talents and help them overcome challenges through discussions.
"We, women living in the UAE, are in dire need of coming together and sharing our feelings, ideas, skills and talents. To learn what we need and teach what we know. That's why our primary goal is to connect so that you can galvanise the community and work on social causes together. There is already a vibrant community of female leaders and entrepreneurs in the UAE. We want all of them to join us," Ather said addressing the audience during the launch.
"'Calligraphy and henna designing classes are offered under the summer programme. In October, the forum will host a one-day workshop titled 'Living Healthy In A Sunnah Way'. Professional health coaches will be conducting the workshop exclusively for women. The forum will host a Ladies' gala day on November 23. It will also conduct a two-day family conference on March 7 and 8 next year to help deal with domestic issues and promote a peaceful home environment," she added.
"We believe women are the 'real architects' of society and play a pivotal role in making it a productive society. Hence, we formed the ladies forum not only to socialise but also will give them space to hone themselves with new talents. It will serve as a training ground to unleash hidden talents and polish old talents. It will also be a safe haven for women who are struggling or in doubt," said Dr Aiza Ali Khan, president of the forum.
Samina Nasir, head of the education committee at PAD, advised the women to support each other and to believe in themselves. "Learn to appreciate each other, believe in your potential and trust God. You all have great talents and this is the platform where you can display it so make use of this opportunity. Stay determined, consistent and work hard and the world will come to your feet," she said.
The membership of the forum is open to all nationalities with a minimal charge that one can make at PAD office in Oud Maitha.
https://www.khaleejtimes.com/uae/dubai/pakistan-association-dubai-launches-forum-to-empower-women
--------
War-Scarred Women Battle Tradition In Fiercely Patriarchal Northeast Georgia
August 31, 2019
Fending for herself after leaving a husband who kidnapped her and then losing two sons in Syria's war, Leila Achishvili has fought hard to secure her independence in fiercely patriarchal northeast Georgia. She has settled in Jokolo, a village in the Pankisi Gorge, a conservative, mainly-Muslim enclave in the majority-Christian country.
"I'm happy I'm not married now, I feel free and can do everything by myself. I got a driving licence and opened a guesthouse," the 53-year-old says.
She relies on the business, which she set up in 2016, to make ends meet without interference from the male family members who are the community's traditional breadwinners – and to provide a future for her surviving child. "I want to support my daughter in everything and try to send her to study abroad because there is no development for her in Pankisi," Achishvili says.
The gorge is linked by mountain passes to the southern Russian region of Chechnya, and many of its inhabitants are ethnic Chechens.
When she was growing up, Achishvili dreamt of becoming an actress, but a visiting Chechen businessman fell in love with her and, she says, abducted her and took her back to his country to be his wife. "I had different plans, I wanted to study and work, not marry," she says.
Before she left him, the couple had two sons, who moved to Austria. Achishvili lost touch with them and only learnt through a friend that they had been radicalised by Isis and killed while fighting in Syria. "When I found out my children were dead, I fell down, I could no longer walk," she says.
The Syrian war has directly affected at least one other woman in the valley, who has also faced prejudice in trying to raise a family alone. Sumaya's husband was killed there. Fearing her four children's prospects could be damaged if their name was associated with the conflict, she declined to be identified by her family name.
She has opened a gym, which is one of the few public places where women can meet. She says many are too fearful to attend. But Achishvili and her daughter Mariam, 16, plan to go, hoping to show others that practising sport is nothing to be ashamed of.
https://www.independent.co.uk/arts-entertainment/photography/georgia-women-tradition-independence-syria-war-conflict-chechnya-russia-a9021301.html
--------
URL: https://www.newageislam.com/islam-women-feminism/adopted-islam-own-free-sikh/d/119620
New Age Islam, Islam Online, Islamic Website, African Muslim News, Arab World News, South Asia News, Indian Muslim News, World Muslim News, Women in Islam, Islamic Feminism, Arab Women, Women In Arab, Islamophobia in America, Muslim Women in West, Islam Women and Feminism