New Age Islam News Bureau
05 November 2021
• Policies of Openness in Saudi Arabia: Saudi Couples Flock to Pure Beach, North of Jeddah's City Centre
• Two 21-Year-Old Emirati Female Pilots On Carrying Out Air Missions For Dubai Police
• Saudi Women Enter Workforce In Changing Kingdom
• Entire Group of Female US Senators Call On Biden to Protect Afghan Women's Rights
• Dates Harvest Season Helps Gaza's Women Become Breadwinners
Compiled by New Age Islam News Bureau
URL: https://www.newageislam.com/islam-women-feminism/amirah-sackett-empowered-hip-hop-dubai-expo/d/125715
--------
Activist Amirah Sackett Urged Women and Girls to Feel Empowered Through Hip-Hop Dance, at Dubai Expo 2020
(Supplied: Twitter)
-----
05 November, 2021
Muslim American hip-hop dancer, choreographer and activist Amirah Sackett urged women and girls to feel empowered through hip-hop dance, and explore the art form in a way where they are not objectified, she said after a stage performance at the USA Pavilion at Expo 2020 Dubai.
Sackett explores and embodies her Muslim American identity through hip-hop movement and Islamic themes and is widely known for her creation of the choreography and performance group known as, "We're Muslim, Don't Panic", which reached viral video fame.
For all the latest headlines follow our Google News channel online or via the app.
Speaking to the Expo media team, Sackett said: "I want girls to feel powerful and strong."
"To express themselves in dance without being overly sexualised."
"By teaching a girl breaking, which is really an athletic endeavor, [or] teaching her popping, which is theatrical and creative, she has a power that is not just based on her looks – or how she can attract men … For young girls especially, I think seeing me is a powerful reminder that dance can be something that is beautiful and powerful – and you can be a woman doing it, but you can also do it without being objectified."
She continued: "It's all a choice. I'm not hating on anybody; you're an adult, you can do what you want. But when it comes to young people, I worry about the images they're being fed through social media versus what they're being told [such as]: 'Love yourself, embrace yourself'."
Trained in classical ballet at a young age, and with a jazz musician father, Sackett said she fell in love with hip-hop from an early age: "The first part of the [hip-hop] culture I fell in love with was definitely rap. And then I got into dancing a little bit later, but I was always dancing. I loved all kinds of dance."
Sackett, who currently teaches breakdancing in a Chicago studio and uses her voice to combat negative stereotypes about Muslim women, said her work also focuses on addressing misconceptions around hip-hop culture, particularly within the Islamic community.
"When the average Muslim hears 'female hip-hop dancer', the idea that comes to their mind is not what I'm doing. There is an educational aspect [in] letting people understand hip-hop culture, letting them know the root dances of hip hop, understanding [its] underground culture.
"There's a competitive part of our dance, too. I battle people and compete. It builds a lot of self-confidence and has all these great outcomes, [especially] for young people."
Expo 2020 Dubai runs until March 31, 2022, inviting the world to join a celebration of unity, opportunity, creativity and sustainability that will help to shape a better, brighter future for everyone.
Expo organizers have declared the first month of the world's biggest cultural gathering as a huge success, with more than 2.35 million visits recorded to date.
Source: Al Arabiya
https://english.alarabiya.net/News/gulf/2021/11/05/Expo-2020-Dubai-Female-Muslim-US-hip-hopper-urges-girls-to-feel-powerful-
--------
Policies of Openness in Saudi Arabia: Saudi Couples Flock to Pure Beach, North of Jeddah's City Centre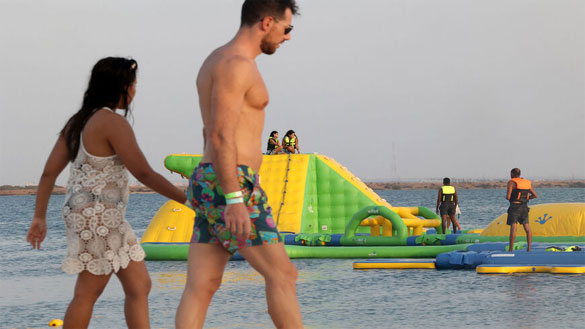 Beachgoers are seen at the floating water park at Pure Beach in King Abdullah Economic City, Saudi Arabia, Sept. 17, 2021. - Fayez Nureldine/AFP via Getty Images
-----
Hussein Nagah
November 1, 2021
News reports over the last week cast doubts and sent contradicting signs about the new policies of openness in Saudi Arabia, through which the kingdom seeks to ease some of its conservative restrictions, aiming to attract investors and help its private sector.
The first was about the opening of a new beach in the Jeddah area, which is considered the modern commercial and tourism hub in Saudi Arabia. Pure Beach is located in King Abdullah Economic City, about 125 kilometres (78 miles) north of Jeddah's city centre.
After paying 300 Saudi riyals ($80), a visitor can enter Pure Beach, enjoy music, dancing and a floating water park; no gender restrictions are in place and marital status for couples is not checked. Women wear bikinis and both sexes can smoke the hookah. For decades, these scenes were not allowed in the kingdom, but since Crown Prince Mohammed bin Salman came to power in 2017, Saudi Arabia, the birthplace of Islam, has slowly opened up.
The emerging story about Pure Beach sends the message that Saudi borders are open for visitors, tourists and even businesses to explore investment opportunities in the kingdom.
Saudi analyst Ahmed Alibrahim told Al-Monitor that the kingdom's leadership started these measures a few years ago, but the coronavirus pandemic has caused a delay. He said that Saudi Arabia aims also to use these developments to promote its soft power abroad and to tell the world that the kingdom is changing.
"Hosting international events, launching entertainment activities and easing some social restrictions in some places are tools to help Saudi Arabia improve its image in the United States and Europe, instead of using lobbying campaigns," he told Al-Monitor.
Just a few days later, reports claimed that the Saudi government imposed a dress code for visitors to the first Saudi Grand Prix that will be held in Jeddah in December.
According to the Spanish platform Marca, Formula 1 event organizers received a list of rules from the Saudi Ministry of Sports on what is acceptable attire and what isn't for the event.
Pure Beach and the racetrack are located in the same area of Jeddah — at the beach resort women can wear bikinis, while at the racetrack women can't wear transparent clothing, skirts or shorts above the knee, backless dresses or tight clothes.
Men can't wear shorts, tank tops or tight pants to the racetrack.
Neither the Saudi Ministry of Sports nor the Formula 1 media office replied to a request sent by Al-Monitor for a comment on the Marca report.
However, a representative who is working for Experiences, the exclusive sales agent for the Formula 1 in Dubai, who asked not to be named, confirmed the dress code requirements, noting that it is a gender rule applied in the kingdom in all public places.
Alibrahim said, "There are no contradiction here. … What is acceptable in places such as private beaches might not be acceptable in public places."
He noted, "It's normal for the Saudi authorities to impose a dress code as the Formula 1 will be held in a public place … in line with the culture and traditions in Saudi Arabia."
Alibrahim added, "In many countries around the world public places have rules. Visitors to the kingdom are aware of those rules and many of them come and respect it. The United Arab Emirates is a role model for Saudi Arabia in this regard as there is freedom but at the same time there is respect for the country's traditions."
Abdullah al-Ulomi, a young Saudi man studying aviation abroad, told Al-Monitor that the majority of Saudis under the age of 30 crave a different living environment, and the country's leadership seems to have realized this.
Saudi Arabia has a population of around 35 million, two-thirds of whom are under the age of 35, according to the Saudi General Authority of Statistics.
"We can all see how happy young people are when they participate in social events such as the opening of Riyadh Season 2021."
Riyadh Season 2021, which started Oct. 20 and will run until March 2022, is part of an initiative that aims to promote diversity in the kingdom and to attract audiences from all over the country and abroad.
The initiative, which is held for the second time, includes more than 7,000 events at 14 entertainment zones, ranging from music concerts, art exhibitions and auctions to food and local and international sports games.
More than 750,000 people in Boulevard Riyadh City zone attended the opening ceremony Oct. 20, according to the General Entertainment Authority.
Videos on social media showed thousands of young people flooded into the festival arena, dancing to Western music with fireworks in the background.
Ulomi said, "I travel and study abroad and I want to have some freedom in my country. My family also travels every year for vacation, but when we have things like this in Saudi Arabia it is better for us to spend a vacation in our own country."
In 2016, Saudis spent 97.3 billion Saudi riyals ($26 billion) on tourism overseas, but this amount declined by 20% the following year to around 78 billion riyals ($21 billion), according to a report by the Saudi Gazette, coinciding with the coming to power of Prince Mohammed and the start of his new policy to modernize the kingdom.
However, some Saudis are not happy with the changes that are taking place in their country. On social media they criticize the country's transformation, considering it a waste of money and a violation of religion and Saudi traditions.
Ola, who preferred not to disclose her last name, is a media professional who believes that the pace at which Saudi society is opening up is very fast and does not commensurate the long-standing conservative system. She told Al-Monitor that these new policies may be associated with social problems.
"There were incidents of harassment [in September] during the kingdom's National Day celebrations and Riyadh Season 2021, which confirms the need for measures to be taken in accordance with these changes [openness that the kingdom is witnessing], such as increasing awareness among the youth through education, the media and special arrangements to protect women during these events," Ola said.
She concluded, "The decision to impose a dress code during the Formula 1 might have been taken due to these incidents."
Source: Al Monitor
https://www.al-monitor.com/originals/2021/10/saudi-couples-flock-beach-kingdom-deals-fast-pace-social-change
--------
Two 21-year-old Emirati female pilots on carrying out air missions for Dubai Police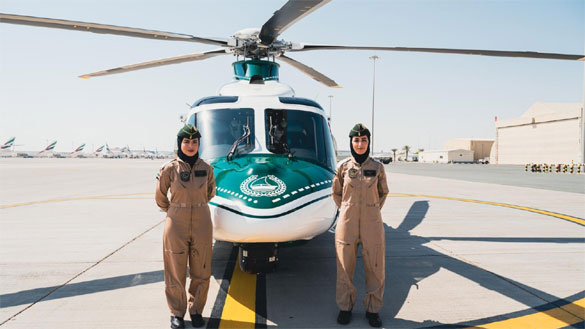 Photos by Neeraj Murali
-----
By Somya Mehta
4 Nov 2021
According to a recent survey for Women, Peace and Security Index by Georgetown University, women feel safer in the UAE than any other country. This research comes amidst the nation's rapid progress in fostering a gender-inclusive space — one that allows women of the country to thrive.
With several such breakthroughs in the last year, where women have been at the forefront of battling gender stereotypes, leaving their mark in male-dominated industries, a particular feat that stood out was an image of two young Emirati women walking through the passageways of the Dubai Police Air Wing. Defying gender roles and making news ahead of Emirati Women's Day on August 28, two 21-year-old female pilots, Mahra bin Hammad and Dana Al Mazmi, officially began their air missions with the Dubai Police with the one and only dream — to fly.
In a conversation with wknd., we caught up with the two lieutenant pilots at the place that gave wings to their dreams. Catching them in action in the early hours of mid-operations at the bustling Al Maktoum International Airport, one cannot help but wonder when the seed of these fearless ambitions had been planted in the young pilots' lives.
For Mahra, this had been the only dream she's ever had. "For as long as I can remember, I've wanted to pursue and join the aviation industry. It contributes directly to my passion and interests," she says. On the other hand, Dana, who now cannot imagine her life without flying, admits it wasn't really a childhood dream. "It was something that I discovered late, in my teenage years, which led me to pursue aviation for higher studies," says Dana. "This was a turning point in my life. The idea of becoming a part of such a diverse field, where women can fly, literally, was very appealing. It made me realise that my place was in the aviation field," she adds.
It was in 2019 that the Dubai Police made an announcement for the very first time, requesting female pilots to join the Police Air Wing. "I considered it a golden opportunity to join a distinguished government. I've always wanted to be a part of the Dubai Police's achievements and history," says Mahra. And it all started with a social media call to action. "There was a post on Instagram that mentioned the Dubai Police was looking to recruit cadet female pilots. It felt like a golden ticket for us to apply right away and show them what we've got — a dream come true," adds Dana.
Undergoing intensive training over the course of two years to now carrying out critical air missions for the Dubai Police, Mahra and Dana have been trained in undertaking search and rescue missions for people who may have lost their way in the desert or the mountainous regions. Recounting the hands-on journey of training with the Air Wing, Mahra mentions, "We have received the highest level of training associated with the highest standards of safety and quality in the region. It not only improved my knowledge and skills but also made me confident in my abilities to carry out air missions efficiently."
Other domains of the Emirati pilots' responsibilities include transmitting live images from scenes of accidents to the Dubai Police control rooms. "We learned from the best academic facilities in the region, with high-ranking instructors from the UAE and abroad, making our training journey a delightful one," says Dana. "One we'll cherish for the rest of our lives."
The two pilots who've dedicated their lives to show unwavering support for the safety and protection of their nation, being at the forefront of important missions, also acknowledge how fear plays a pivotal role in furthering their ambitions. "Fear pushes me to my limits and shows me my strength. And at the end of the day, it's an honour to serve my country despite what the risks might be," says Mahra. Especially so, in an environment that demands undeterred resilience and commitment. "Fear is a very powerful driving force in my life. Fearing to be in a male-dominated environment made me realise this is what I want to do and this is where I want to be," says Dana who aspires to become a captain in the coming years.
"I get my strength from my government. Our leaders have shown tremendous trust in us and this is our chance to give our best for them," says the Emirati pilot, adding that there's no such word as "risk" in her dictionary. "They've given us all the opportunities to show the world, not just the UAE, that women are capable of being in male-dominated industries. This is what gives me my strength," she adds further.
Amidst the support of the UAE government and colleagues at the Dubai Police Air Wing, the young Emiratis mention that the encouragement from their parents has been an unparalleled catalyst for their accomplishments. "They were my first source of inspiration and motivation in this journey," mentions Mahra. "Despite it being a male-dominated industry, my parents were the first people to believe in me, encouraging me to push myself to my limits," adds Dana.
In their two-year-long training journey, there were no obstacles big enough to throw them off course, the pilots reveal. "There were no challenges that could make me feel like I can't go through with this. If anything, I got more courage to push forward and turn the challenges into my strengths. I wanted to show people that women are capable of being in any field they want, not just aviation," says Dana, adding that the thrill of flying amid Dubai skyscrapers and giving the leaders of the country a reason to trust young women superseded all temporary pit stops that came their way.
Having no apprehensions setting foot in a male-dominated environment, Mahra adds, "The UAE has always empowered and supported women in various fields, which is why we've seen so many different women shine in a variety of industries."
Recently, several Emirati women have been making headlines for achieving various "firsts" in many fields. However, it was Mahra's mother who inspired her to embark on this journey.
"My mother Dr. Amal Buharoun has always inspired me to be selfless in my aspirations because most of her projects have been dedicated to giving back to her community, all throughout her leadership at Dubai Healthcare Authority," says Mahra. "It's from her that I've learned how to believe in myself and transform my goals into reality," she adds.
"Growing up, my role model was Mariam al-Mansouri, who was a military air force pilot and the first female fighter pilot of the UAE," says Dana. "When I came across her in the headlines and saw her accomplishments, I knew that I wanted to become like her."
There was never a feeling of being a misfit for the female pilots at the Dubai Police Air Wing. "The men here in the Dubai Police have welcomed us as though it's a female-dominated environment. They gave us their trust, time and effort to make us reach where we are today," add the Emirati pilots.
Hoping to see more young women participate actively in the aviation field in the coming years, Dana mentions, "It's such a diverse field. We need more and more women to be a part of it — you can never have enough! And I think women are more than capable of becoming pilots, aviation maintenance staff and so much more," she adds.
As a message to all the young girls who dream of flying, Mahra says, "Take advantage of every possible opportunity without any hesitation. The best investment you can make is in yourself," she adds.
"I want to tell all the young girls that even when no one believes in you, believe in yourself. Push yourself to your limits and you will shine in any field you choose," adds Dana. "Everything is achievable. Any young girl who wants to be an astronaut can be an astronaut, or wants to be a pilot can be a pilot. There are no limits," the young pilot signs off. And with a journey that is testament to this very notion, the pilots continue to embody this spirit, of there being no limits (not even the sky).
Source: Khaleej Times
https://www.khaleejtimes.com/uae/exclusive-two-21-year-old-emirati-female-pilots-on-carrying-out-air-missions-for-dubai-police-air-w
--------
Saudi women enter workforce in changing kingdom
Nov 05, 2021
Stepping out of a shared taxi in central Riyadh, Reham Al-Ahmed walked into the shopping mall where she works four days a week selling cosmetics.
Al-Ahmed, a high school graduate, is the first woman in her family to have a job. Her parents had never wanted her to work but they eventually relented as life in the capital became too expensive. With steep new taxes and cuts to government subsidies, many families are increasingly relying on women to work. In so doing, women are negotiating a new place for themselves in their country's delicate social fabric – a trend celebrated by some and watched suspiciously by others in a country still tethered to its conservative traditions.
Al-Ahmed, who lives at home with her parents and five younger siblings, chose a shop with mostly female clients to allay her parents' concerns about mixing with men. "I used to feel guilty asking my father for anything," the 24-year-old said. "But since I started working, I'm proud I can help out my family."
Showing up to work across the country every day are thousands of women like Al-Ahmed – unimaginable just a few years ago but now increasingly the norm under reforms led by Crown Prince Mohammed bin Salman to modernise the kingdom. Saudi Arabia is highlighting its progress on women at a time of scrutiny in the West over its human rights record, including a crackdown on dissent that ensnared dozens of women's rights activists and the 2018 murder of journalist Jamal Khashoggi. An absolute monarchy, it permits no political parties or elections.
Men still have a tight grip on power. There are currently no women in King Salman's cabinet or in senior advisory roles, and the advisory Shura Council has only 30 women members out of 150. But women now make up 33% of Saudi's labour force – nearly double what it was five years ago. Across age brackets and education levels, they are taking up jobs previously restricted to Saudi men and migrant workers in restaurants, supermarkets, accounting and graphic design firms.
As part of the reforms, women have been allowed to drive since 2018. But Al-Ahmed, who earns 4,500 riyals ($1,200) a month, cannot afford driving lessons, let alone a car. "I spend nearly a third of my salary on taxis," she said, and is saving up for a car. "But I'm really happy to have a job, to earn my own money finally. I never thought this would be possible for me."
A small number of women had long worked in Saudi Arabia but typically held public sector jobs as teachers or medical workers, in keeping with once-strict gender segregation rules. But with looser restrictions on mixing, driving and some aspects of the male guardianship system, firms are hiring more women than ever.
This is particularly true in retail and hospitality, sectors in which the government launched a scheme in 2011 to replace cheaper foreign workers with citizens to tackle Saudi unemployment, currently at 11%. "A lot of jobs that are going to women were traditionally occupied by non-Saudis," said economist Jennifer Peck. New laws have made it easier for women to work in client-facing jobs.
According to her research, the number of Saudi women in the private sector jumped to 935,508 in 2021 from 56,000 in 2010, and continues to climb.
SOCIAL MORES
The changes are not just happening in Riyadh. In Unaizah, a city in the conservative heartland of Qassim, attitudes are shifting and more women are working despite wariness among some about upending decades of tradition.
After graduating from university, Ghada al-Salman, 33, struggled to find a job in Qassim, where women's unemployment still hovers at 18%, more than three times the rate for men. She turned to baking, eventually opening three stores that employ 45 people. At a recent date festival, she promoted her Rose Ribbon Bakery, one of few women-owned businesses in Qassim.
"Without my parents, I wouldn't have been able to do any of this," she said, serving customers slices of date cake. "Most fathers here would still not be okay with their daughters working all day alongside men; even if they're the boss, even if they're wearing the niqab."
Salman, like most women in public spaces in Unaizah, wears a full-face covering and long black abaya. But she still faces admonishment from older conservatives. Happily eating one of her cupcakes, a man in his 60s complained about the fast pace of social change.
"(The government) is telling us women must work – but that goes against our traditions. In Islam, men take care of women," he said, requesting anonymity.
GENDER PAY GAP
For others, the changes are overdue. Rana Alturki, 45, who joined her father's oil and gas firm in 2000 as one of its first female hires, worked for years in a gender-segregated office. "Back then, the men were not even polite: no one would say good morning or get in the elevator with me, they wouldn't even stand in the same room as me," said Alturki, now an owner and manager at Rawabi Holding Co.
"Thankfully, things have changed," said Alturki. "In my day, we were too scared to even ask for a salary. But girls these days – they come in and negotiate hard. They know their worth." Despite this, the gender pay gap in Saudi Arabia stands at 49%, according to research by NGO Al Nahda.
"Social attitudes still govern women's access to the labour market," said Hala al-Dosari, a U.S.-based Saudi women's rights expert, who notes the bulk of new jobs for women are low-paying. Although laws were introduced against harassment and discrimination, they are not systematic and women are still being harassed and denied their rights, Dosari said.
Some employers still ask women for their male guardian's approval during hiring, the economist Peck said, despite recent reforms giving women greater control over their lives. One employer at a large company told Reuters he prefers to hire women because "they work twice as hard, for half the pay". Nearly all 400 firms interviewed by Peck's research group said Saudi women's wages were lower, while a third said women were more productive.
But for many Saudi women, these are just growing pains. "Young women ask me all the time how they can do what I do," said bakery owner Salman. "I tell them: 10 years ago, it would have been impossible. But now, the future is yours."
Source: Business Today
https://www.businesstoday.in/latest/world/story/saudi-women-enter-workforce-in-changing-kingdom-311398-2021-11-05
--------
Entire group of female US senators call on Biden to protect Afghan women's rights
Michael Hernandez
04.11.2021
WASHINGTON
The entire contingent of US female senators called on President Joe Biden on Thursday to "preserve the political, economic, social, and basic human rights" of Afghanistan's women and girls as the country grapples with hardline Taliban rule.
The bipartisan group of two-dozen lawmakers urged the president to "develop an interagency plan to preserve the political, economic, social, and basic human rights of Afghan women and girls."
"American disengagement from Afghanistan puts at risk hard-won gains for Afghan women and girls," they wrote in a letter to Biden. "Lacking a legitimate Afghan government and military forces to protect them, women and girls are now suffering the predations of a Taliban regime with a track record of brutalizing, isolating, and denying them life and liberty."
The letter was led by Republican Senators Joni Ernst and her Democratic colleague, Dianne Feinstein.
The US under Biden withdrew from Afghanistan at the end of August after the Taliban led a lightning offensive against the internationally-recognized government, taking the capital Kabul on Aug. 15 as former President Ashraf Ghani fled the country.
Prior to the Taliban's takeover, an estimated 3.5 million girls were attending schools and 100,000 were enrolled in universities, the senators wrote. The former Afghanistan Women Chamber of Commerce and Industry further reported about 1,000 new female entrepreneurs in 2020.
The Taliban promised to preserve the rights of women and girls, but their nascent rule has been repeatedly criticized for failing to accomplish that pledge.
UN Secretary-General Antonio Guterres said Oct. 11 that he was "particularly alarmed to see promises made to Afghan women and girls by the Taliban being broken."
"Broken promises lead to broken dreams for the women and girls of Afghanistan," he said, maintaining that Afghanistan's women and girls "need to be the center of attention."
Guterres said 80% of Afghanistan's economy is informal with women playing "a preponderant role" there as the economy collapses without the robust international aid seen during the US occupation.
Source: Anadolu Agency
https://www.aa.com.tr/en/americas/entire-group-of-female-us-senators-call-on-biden-to-protect-afghan-womens-rights/2412299
--------
Dates Harvest Season Helps Gaza's Women Become Breadwinners
03 November, 2021
Amira Ibrahim, from Deir al-Balah in the central Gaza Strip, gathers with six of her neighbours in the early hours of the morning to pick a considerable amount of dates that she then sells in the local markets.
The women spend at least twelve hours a day sorting out the dates by cleaning them and then preparing them for manufacturing.
The 45-year-old mother of eight told The New Arab that during the dates season most non-educated women of the Strip become the only breadwinners of their families.
Each woman produces about 900 kg of pressed dates. Two-thirds of that amount is sold to local markets, the rest is usually used in traditional cake making. They are also used to produce jam, juice and many other products.
"Personally, I earn about $400 during the season. To put that in proportion, I earn about $80 a month during the rest of the year," the woman said, adding that it is enough to keep her family afloat amid the economic crisis.
Sara Salama, Amira's neighbour and one of her workmates, joined her teamwork six years ago when her husband passed away and left her with five children without any breadwinner.
To avoid sinking into poverty, the woman decided to take matters into her own hands and pursue work in various agricultural projects, including picking dates.
"It is hard to become the only breadwinner of a family with children," the 36-year-old complained, saying what made matters worse was that she couldn't find a job despite her business administration education.
Dates season has solved that problem for her. "Whether they are educated or not, women can adapt to the reality by finding alternatives that can prevent them from poverty and deprivation. Most Palestinian women, especially in the coastal enclave, can make and prepare hand-made dates' products. And this way, they can turn their hobby into a profitable business," she explained as she flashed a smile.
Apart from making some money, Amira and Sara are also aiming to revive Palestinian folkloric songs, which have become their source of strength and a way to cope with Israel's occupation of their lands.
Israel has been imposing a tight blockade on the Gaza Strip since Hamas forcibly seized control of the enclave in the summer of 2007 from the security forces of Palestinian President Mahmoud Abbas.
As a result, about 85 percent of Gazans have been pushed into poverty with an individual income of only $2 per day. Currently, 300,000 people are unemployed in the coastal enclave, according to data issued by the Palestinian Central Bureau of Statistics (PCBS).
Helping around 40 women from the Khan Younis city, the Maan Development Center has funded a local project for the second year in a row encouraging those from poor households to make products from dates and sell them in the local markets.
Each woman earns about $30 a day, according to Hiba al-Falit, the supervisor of the project. She said that because of the dire economic situation in the coastal enclave, such sums of money could be enough for poor women who are struggling to feed their children.
She added that hundreds of women eagerly await the dates' season every year to earn money and support their families even though they know that the profits would be low and that they are only limited to several months.
Hasnah Qudaih from the Khan Younis city in the southern Gaza Strip started working in hand-made agriculture products in 2008 when she lost all her family members in the 2008 Israeli war.
The 60-year-old tells The New Arab that since then she has been forced to earn money by herself and that has kept her alive, giving her an escape route to forget all her personal catastrophe.
Meanwhile, Samih Qudaih, a local coordinator from the Maan center, says his team came up with the idea of launching the initiative after studying the local market conditions.
"Our markets depend on imports, including dates. In the past year, we have targeted women based in remote areas, but currently, we are targeting more women even if they live in cities," Samih explained.
Sally Ibrahim is a Palestinian reporter with The New Arab based in the Gaza Strip
Source: The New Arab
https://english.alaraby.co.uk/features/gazan-women-produce-dates-products-make-money
--------
URL: https://www.newageislam.com/islam-women-feminism/amirah-sackett-empowered-hip-hop-dubai-expo/d/125715
New Age Islam, Islam Online, Islamic Website, African Muslim News, Arab World News, South Asia News, Indian Muslim News, World Muslim News, Women in Islam, Islamic Feminism, Arab Women, Women In Arab, Islamophobia in America, Muslim Women in West, Islam Women and Feminism