New Age Islam News Bureau
23 Jul 2013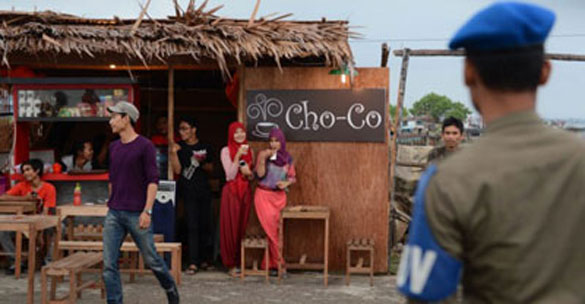 Photo: Morality Police Target Women in Indonesian Shariah Stronghold
--------
• Report Finds Gradual Fall in Female Genital Cutting in Africa
• 400 Women and 300 Children Arrested Begging During Ramadan in Jeddah
• I Was Seen Only As a Commodity: Acid Attack Survivor Haseena Hussain
• Malala Vows to Defeat Terror with Power of Pen Speaking to Afghan Students in London
• Dutch Woman Arrested For 'Recruiting Syria Jihadists'
• Egypt Army Blocks Pro-Morsi Women Marches in Cairo
• Lebanese Panel Approves Draft Law on Domestic Violence
• Swindled Out: Woman Flees After Depriving Three Husbands Of Cash
• Pakistan: Girls Take a Lead over Boys in AKU-EB HSC Result As Well
• UAE frees woman sentenced after reporting rape
• 30 million girls risk genital mutilation: UNICEF
Compiled by New Age Islam News Bureau
URL: https://www.newageislam.com/islam,-women-and-feminism/new-age-islam-news-bureau/aceh-women-hounded-by-sharia-police-denounce-male-chauvinistic-controls/d/12724
--------
Aceh women hounded by sharia police denounce male chauvinistic controls
23 July 2013
As the sun sets over Aceh province on the westernmost tip of Indonesia and the call to prayer blares from mosque speakers, five policemen leap onto the back of a patrol truck, ready to round up lawbreakers. (pictured, sharia police watch young women at a local store)
Dressed in khaki uniforms and black boots, the men circling the town of Lhokseumawe are sharia police who ensure no one breaks the Islamic law of the land.
The police swoop in on a young woman, buying food at a sleepy street stall.
Her crime? She is exposing her hair, so she is sent home to fetch her headscarf, as men in T-shirts look on silently, eating cobs of corn, AFP reports.
Rights activists complain that Islamic sharia regulations in Aceh are becoming increasingly sexist and unreasonable, and that the sharia police are picking on women.
But headscarves are the least controversial of issues in Aceh, the only province to implement sharia law in Indonesia, home to the world's biggest Muslim population.
In Lhokseumawe, the mayor has called on women passengers to sit side-saddle on motorbikes, claiming straddling is sexually suggestive, unfeminine and un-Islamic.
"If a woman straddles, the sensitive parts of her body will push up against the man driving,'' Lhokseumawe government secretary Dasni Yuzar told AFP, making hand gestures in front of his chest to signify breasts.
"This is not allowed under Islam and is not in accordance with our local customs,'' he said.
A woman passenger riding with a female driver too should side-saddle, he said, while women riding with men should never drive.
While an official regulation is yet to be issued, police are already pulling women over and forcing them to sit sideways, with their legs dangling by the rear wheel.
Heri Mutti, one of the sharia policemen, said women who sat "in a feminine way'' on motorbikes were more beautiful than others.
"And it's our job to make sure they stay like that,'' he said.
Most women are complying, with streams of colorful headscarves atop motorbikes flowing through the streets. While some women are not bothered by the mayor's call, many say they are being treated like puppets.
"We're just trying to get on with life, drop our kids at school, go to the shops,'' said 36-year-old Fauzia, who goes by one name.
"Why should the government care how women sit? It's annoying,'' she said at the helm of a motorbike with her young son in front of her.
Rinawati, an activist from the Indonesian Women's Commission in Lhokseumawe who goes by one name, said the mayor's side-saddle call and comments like Yazar's were examples of how male-dominant governments were hijacking sharia to control women.
"We're seeing a trend in Aceh where local governments are carrying out acts of injustice against women. Islamic sharia here is not considering the female perspective,'' she said.
Women in the district of West Aceh have been banned from wearing tight trousers and jeans, while several in the province have been arrested for prostitution for being out alone at night or with men who are not relatives.
A teenage girl attending an outdoor concert with male friends last year committed suicide after police accused her of prostitution.
Rinawati fears that women could even be banned from dancing after North Aceh district chief Muhammad Thalib said recently that women dancing in public was against Islamic teachings.
His comments have caused confusion in Aceh, which has a world-famous tradition of dance, raising questions about whether a decade of sharia law in the province gels with Aceh's culture.
Yuzar said the two go hand in hand, adding that regulations such as the straddling ban would take the Acehnese back to its roots, as in the 12th century when Islam first entered the region.
"Many other cultures from both the East and West have come into Aceh. And the young are adopting Western culture in particular to the point they are feeling an identity crisis,'' Yuzar said.
Women's rights activists bemoan suggestions that Aceh should return to the 12th century, but so too does the Aceh government's sharia council chief, who fears that local governments are going too far with sharia regulations and that Aceh has lost its way.
Aceh was given the power to implement sharia law in 2001 under a special autonomy agreement with Jakarta, aimed at quelling a separatist movement.
How exactly sharia law was included in the deal is shrouded in mystery, with many Acehnese saying they never wanted it and the rebels never requesting it.
Most historians say that the deal was made between an elite few.
``At the time, the feeling was that sharia would bring a standard of ethics to help the province develop and prosper. That is the Islamic way,'' sharia council chief Syahrizal Abbas said.
"But sharia in Aceh hasn't moved with the times,'' he said, adding that a movement of Acehnese against sharia was brewing.
"We want Aceh to move forward, and if sharia is implemented fairly, it can help us achieve a better place for all Acehnese, for women as much as men.''
http://www.thestandard.com.hk/breaking_news_detail.asp?id=39023
--------
Report Finds Gradual Fall in Female Genital Cutting in Africa
By CELIA W. DUGGER
July 22, 2013
A comprehensive new assessment of the ancient practice of female genital cutting has found a gradual but significant decline in many countries, even in some where it remains deeply entrenched.
Teenage girls are now less likely to have been cut than older women in more than half of the 29 countries in Africa and the Middle East where the practice is concentrated, according to the assessment by the United Nations Children's Fund. In Egypt, for example, where more women have been cut than in any other nation, survey data showed that 81 percent of 15- to 19-year-olds had undergone the practice, compared with 96 percent of women in their late 40s.
The report's authors stress that the tradition still has a tenacious hold in many places, but they say the fledgling declines may foreshadow more generational change. In almost half of the 29 countries, young women were less likely to support the practice than older women. The difference in Egypt was especially stark: only a third of teenage girls who were surveyed thought it should continue, compared with almost two-thirds of older women.
"The fact that young women are against the practice in places like Egypt gives us hope that they will be able to stop the cutting of their daughters," said Claudia Cappa, lead author of the Unicef report. "We need to create conditions so they can act on their beliefs."
Over all, Unicef estimates that more than 125 million girls and women have undergone the practice and that 30 million girls are at risk of it over the coming decade. The report, released Monday, is the first in which Unicef assessed the practice among all age groups based on household survey data from all of the 29 countries. Its last report, issued eight years ago, was based on 30 surveys in 20 of the countries; the new study includes 74 surveys done in 29 countries over two decades.
The report depicts progress against female genital cutting as halting and uneven. It also offers a portrait of nations where its prevalence is still stunningly high. In addition to Egypt, where 91 percent of women 15 to 49 have undergone the practice, countries with the highest percentages of women who have been cut include Somalia, at 98 percent; Guinea, at 96 percent; Djibouti, at 93 percent; Eritrea and Mali, at 89 percent; and Sierra Leone and Sudan, at 88 percent.
Unicef found that the steepest declines in the prevalence of the practice, also known as female genital mutilation, have occurred in Kenya, one of Africa's most dynamic and developed nations, and — most surprisingly — in the Central African Republic, one of its poorest and least developed.
Researchers now say the prevalence of the practice in these two countries began to fall four or five decades ago. They said the progress made sense in Kenya, where efforts to stop female genital cutting stretch to the early 1900s, but they were at a loss to explain why it had plunged in the Central African Republic, to 24 percent in 2010 from 43 percent in the mid-1990s.
"We have no idea, not even a guess," said Bettina Shell-Duncan, an anthropology professor at the University of Washington who was a consultant on the report. Professor Shell-Duncan said researchers needed to get to the Central African Republic soon to figure out what was happening there.
The country has received no significant foreign aid to combat the practice that Unicef researchers knew of, and it has been the subject of no scholarly study that they could find.
While experts were amazed about the Central African Republic, they were disappointed that no significant decline had been detected in Senegal between the surveys done in 2005 and 2010-11. Tostan, a human rights group whose name means "breakthrough," has led a much-hailed and growing social movement there to stop the practice, with support from Unicef and other donors. Thousands of villages working with the group have declared their intent to abandon genital cutting.
Molly Melching, Tostan's executive director, said in an e-mail that the momentum in Senegal had accelerated in the past five years and that changes would probably become visible only in 2020, as girls who would otherwise have been cut grow old enough to be interviewed in household surveys. She also noted that the national surveys had not specifically sampled the villages where Tostan worked or evaluated the group's impact.
Mrs. Cappa, of Unicef, acknowledged Ms. Melching's points but said "the real surprise for Senegal" was that support for the practice among women and girls had not noticeably declined.
The new report is based on data from the Demographic and Health Surveys and the Multiple Indicator Cluster Surveys; women ages 15 to 49 were questioned about their own status and that of their daughters.
This self-reported data should be treated with caution because women may be unwilling to disclose having undergone the procedure because of the sensitivity of the topic or the illegality of the practice. And some women may be unaware that they had been cut or the extent of the cutting, especially if the procedure was done at an early age.
Nonetheless, it identifies intriguing trends in who is performing the cutting, its severity and people's attitudes toward it.
In most countries, traditional circumcisers still do the cutting. But in Egypt, a troubling shift has occurred as people have become more aware that girls can die from the procedure: the number of girls and young women cut by medical professionals, mostly doctors, has risen to three out of four from just over half in 1995.
"Women know more about the harms, but there is still social pressure to conform, and so they medicalize the procedure," said Francesca Moneti, a senior child protection specialist at Unicef.
Across all countries, one in five of the women and girls genitally cut has undergone the most severe form, known as infibulation. It usually involves cutting and stitching together the vaginal labia, nearly covering the urethra and the vaginal opening, which must be open later for intercourse and childbirth.
But a trend toward less radical forms of genital cutting has taken hold in some countries, including Djibouti, where 83 percent of women in their late 40s report being infibulated — sewn closed — compared with 42 percent of 15- to 19-year-olds.
Female genital cutting includes a range of practices from pricking or piercing female genitals to amputating some or all of the external genitalia, including the clitoris. The practice can diminish women's sexual pleasure and increase the risk that they and their babies will die in childbirth.
The Unicef report also found that while the practice is sometimes seen as a patriarchal effort to control women's sexuality, it is often women who carry it out, and in a few countries, including Guinea, Sierra Leone and Chad, more men than women support its abandonment. Significant numbers of women also do not know what men think about the practice and often underestimate the proportion of them who want it to end, survey data show.
"In the United States, how many husbands and wives talk about sex?" asked Stanley Yoder, a researcher with ICF International, a consulting firm, who has been involved in surveys in Africa for 15 years. "Some do, but many don't. There are things people don't talk about."
The most common reason women give for continuing genital cutting is to gain social acceptance. United Nations researchers for the first time cross-tabulated data on women's views and learned that many mothers opposed to the practice reported having had their daughters cut.
"This shows the gap between attitudes and behavior," Mrs. Cappa said. "What you think as an individual is not enough to put an end to the practice because of social pressures and obligations."
http://www.nytimes.com/2013/07/23/health/report-finds-gradual-fall-in-female-genital-cutting-in-africa.html?_r=0
--------
400 Women and 300 Children Arrested Begging During Ramadan in Jeddah
23 July 2013
More than 800 beggars, including 400 women and 300 children between the age of 10 and 15 years, have been rounded up since the beginning of Ramadan, said Saad Al-Shahrani, director of the Anti-Beggary Department in Jeddah.
Speaking to Arab News, Al-Shahrani said: "All the men apprehended were Africans and Asians who overstayed their residence permits. We are coordinating with government agencies to take action for their deportation."
He called upon the people to cooperate with authorities in trying to eradicate the nuisance of begging from the Kingdom, which increases manifolds during Ramadan.
In another development, Jeddah police intensified security campaign to help reduce traffic jams and to ensure the safety of both motorists and pedestrians. The purpose behind the campaign is also to address negative factors during Ramadan, including street begging.
Abdullah Al-Qahtani, chief of Jeddah police, said: "We will continue to apprehend beggars wherever they are. They are mostly found at traffic lights and intersections and at shopping malls and mosques. Most of those who make begging their profession are either people who overstayed following the expiry of their residence permits or people who came for Haj or Umrah and overstayed."
Al-Qahtani said: "Charity work can be done through legal welfare organizations across Saudi Arabia. Those who come to perform Haj or Umrah must understand that their best and only option is to leave the Kingdom once they have performed their religious duties."
Nawwaf Al-Bouq, spokesman for Jeddah police, said that 1,749 individuals were apprehended last Shaaban, of whom 829 were women, 759 children and 161 men.
http://www.arabnews.com/news/458888
--------
I Was Seen Only As a Commodity: Acid Attack Survivor Haseena Hussain
Naveen Ammembala
July 22, 2013
Beauty is only skin deep. Whoever came up with this line probably had never met an acid attack victim.
I had never imagined I would hear at 18 what grandmothers in their 60s or 70s get to hear: "She was beautiful." The past reference is generally to the days when their skin was wrinkle-free or, as in my case, not etched hideously by the acid of alcohol-induced anger.
April 20, 1999, was the day I was disfigured by a plastic jug full of sulphuric acid when a satanic man prevailed over God to rework my face — and fate. It was also the day my soul died to live in hell.
I lost everything that day, including my eyes. But after I could piece my thoughts together following 35 major surgeries on various parts of my body, I regained my faith in God. He had, after all, taken away my sight to save me the trauma of looking into a mirror.
Before my world turned dark, I had completed a computer course while studying for the first year of B.Com. I got a job at a software centre run by a former Indian Air Force employee, Joseph Rodriguez. After the centre incurred heavy losses, I left it and joined another office. Joseph wanted me to return and work at a computer set-up in his house but I rejected his offer.
http://www.hindustantimes.com/India-news/StopAcidAttacks/I-was-seen-only-as-a-commodity-acid-attack-survivor-Haseena-Hussain/Article1-1096561.aspx
--------
Malala Vows to Defeat Terror with Power of Pen, Speaks to Afghan Students in London
July 23, 2013
ISLAMABAD: Malala Yousufzai has repeated her resolve to fight violence and bloodshed with education and has reiterated to carry on her effort for the improvement of Afghan and Pakistani children.
Appreciating President Karzai's letter, Malala thanked all those who have supported her and said, "I have a new life now. They wanted to kill me but were not able to do so."
"I will continue struggling for the improvement of Afghan and Pakistani children's lives and education," the Afghan foreign ministry quoted her as saying.
Earlier, Afghanistan's ambassador to Britain, Mr Daud Yaar presented Afghan President Hamid Karzai's letter to Malala Yousafzai on Monday, in a gathering held by the Afghan Students Association in London. President Karzai praised Malala's speech at the United Nations, appreciated her courage and congratulated her on her sixteenth birthday wishing her health and success for her humanitarian objectives.
"Malala's voice is the voice of all those girls and it is heard now," the letter read. Karzai went on to say that Malala is an example for thousands of Afghan and Pakistani girls whose voices were unheard in the past. The Afghan president praised the global icon's efforts to raise her voice against the threats from the Taliban that have prevented Afghan and Pakistani children from going to schools.
Malala's father, Ziauddin Yousafzai, also appreciated the support of the Afghan President at the occasion saying that 'Talib' literally means student, but it no longer has the same meaning to the vast majority of the people of the world.
There is a negative connotation attached to this word, he said, adding "When people hear this word, they think of guns, killing, crime and calamity," the statement from the Afghan foreign ministry quoted him as saying at the function in London. He was hopeful that the war in Afghanistan and Pakistan will, one day, come to an end and the power of the pen will ultimately usher the "ultimate victory."
Others present at the occasion were Yousafzai's family, Afghan students in London, Afghan, Pakistani and British community members and staff of Afghanistan's embassy in London.
http://tribune.com.pk/story/580647/more-mail-malala-vows-to-defeat-terror-with-power-of-pen/
--------
Dutch woman arrested for 'recruiting Syria jihadists'
July 22, 2013
Agence France Presse
THE HAGUE: Dutch authorities have arrested a 19-year-old woman suspected of recruiting jihadists to fight alongside radical Muslim rebels in Syria, a prosecution spokeswoman said Monday.
"The woman was arrested and has been remanded for two weeks while an investigation is underway," Nicolette Stoel, spokeswoman for the Public Prosecutor's office in The Hague, told AFP.
There is growing concern in the Netherlands about young Dutch Muslims being enlisted to fight in Syria, with a British study in April saying at least 107 Dutch citizens were fighting President Bashar Assad's forces in the war-torn country.
Police arrested the woman Wednesday in Zoetermeer, a small city just east of The Hague, after families filed complaints with the authorities that their relatives had gone to fight in Syria.
"In some of the complaints people who are allegedly enlisting fighters are named," Stoel said.
The young woman will remain behind bars for a fortnight before a judge must decide whether the case against her can go ahead.
"At this stage she is only allowed contact with her lawyer," Stoel said.
"In the meantime, a broader investigation into the recruitment by radical Muslims of young people to fight in Syria is underway. First and foremost we have to ensure their safety as they want to travel to a dangerous area."
Public prosecutors have said that while authorities cannot stop would-be jihadists from leaving the country, they can combat recruitment, which is against the law and carries a sentence of up to four years in jail or a fine of 78,000 euros ($102,000).
Stoel declined to comment further on the case.
Amsterdam-based lawyer Bart Nooitgedagt, who represents other Dutch citizens accused of allegedly recruiting jihadists to fight in Syria, told AFP that such cases are difficult to prove.
"You have to have somebody who has returned from Syria saying: 'I have been recruited.' There must be objective evidence to support such a claim, like tapped telephone conversations or emails to prove that the person was recruited," he told AFP.
"Relatives simply filing complaints is not enough," he said.
Nooitgedagt said that as far as he could recall, there have been no successful prosecutions yet for jihadist recruitment in the Netherlands.
As many as 600 Europeans may have joined rebel forces in Syria since early 2011, according to research published in April by the International Centre for the Study of Radicalisation at King's College London.
It was estimated that 134 fighters from Britain have headed to Syria, along 107 from the Netherlands, 92 from France and 85 from Belgium.
Others came from Denmark, Germany, Ireland, Finland, Spain, Sweden, Albania, Austria, Bulgaria and Kosovo.
In November last year, Dutch police arrested three would-be jihadists who were about to leave the Netherlands.
They confiscated knives, a sword and a crossbow, as well as packed backpacks, farewell letters and a large quantity of jihadist literature.
http://www.dailystar.com.lb/News/Middle-East/2013/Jul-22/224613-young-dutch-woman-arrested-for-recruiting-syria-jihadists.ashx#ixzz2ZthJY5BD
--------
Egypt army blocks pro-Morsi women marches in Cairo
23 July 2013
The Egyptian Armed Forces have stopped two women's marches protesting the killing of at least three female protesters during Friday's clashes from reaching their destinantions in Cairo.
The army stopped one march headed to the defence ministry when they blocked Al-Khalifa Al-Ma'moun Street. They also stopped another march that was headed to the National Council for Human Rights in Giza when they blocked the road at the nearby Giza Security directorate.
The National Alliance for Legitimacy Support, led by the Muslim Brotherhood, had organised the two marches to protest the killing of three women in Mansoura, Nile Delta, when clashes erupted late Friday night between supporters of deposed president Mohamed Morsi and unknown assailants.
The Muslim Brotherhood, the group from which Morsi hails, has vowed to continue peaceful protests until Morsi is reinstated, rejecting the popularly-backed overthrow of the Islamist president by the army's general chief Abdel-Fattah El-Sisi on 3 July.
http://english.ahram.org.eg/NewsContent/1/64/77022/Egypt/Politics-/Egypt-army-blocks-proMorsi-women-marches-in-Cairo.aspx
--------
Lebanese panel approves draft law on domestic violence
23 July 2013
A draft law protecting women from domestic violence was approved Monday by a Lebanese parliamentary panel, after years of campaigning by rights groups who welcomed the move as a step forward.
The parliamentary committee's approval comes less than two weeks after 33-year-old Rula Yaaqub was beaten to death by her husband in northern Lebanon.
The killing of Yaaqub, mother of five girls, triggered an outpour of criticism by the media and civil society.
Lebanon is a country deemed more liberal than other Arab societies, but is still very patriarchal.
The bill has faced fierce resistance by Lebanon's Muslim religious authorities, in a country where there is no unified civil law on personal status.
The draft was approved by cabinet in 2010, but in Lebanon's parliamentary system it must be voted in by MPs.
Women's rights groups welcomed Monday's decision as a step forward, but said more needs to be done.
Titled "Draft law for the protection of women and all members of the family from domestic violence", the text "does not specifically protect women's rights," said Faten Abou Chacra of the KAFA campaign.
"Most cases of abuse concern women, according to studies by local and international experts, so this category must be given specific protection," said Abou Chacra, whose group's name means Enough in Arabic, and which has campaigned since 2008.
The draft law, however, recognizes the existence of marital rape, which has been a bone of contention pitting rights groups against the religious authorities.
But marital rape is not classed as a crime. The draft law deems it an offence.
"According to the text, only assault and battery are considered a crime," said Abou Chacra.
Lebanon's highest Sunni authority had previously slammed the idea of criminalizing marital rape as "a Western heresy".
The Shiite Hezbollah movement, meanwhile, said the bill "interfered in the affairs of husband and wife".
Abou Chacra said women's protection groups will continue in their struggle until parliament convenes again -- though it is unclear when that will happen.
Lebanon's legal system remains conservative overall.
In Lebanon, a rapist who marries his victim is exempt from punishment, while mothers cannot pass on their nationality to their children.
Fear of stigma and scandal are also to blame for silence on violence against women, activists say.
But thanks to lobbying efforts by civil society groups, parliament cancelled in 2011 the extenuating circumstances that had been used to give cover for honor crimes, or the killing of women who had "dishonored" their families.
As in other Arab countries, few women dare to file complaints about harassment or domestic violence, as the police will usually just deride them and send them home.
http://english.alarabiya.net/en/News/2013/07/22/Lebanon-panel-approves-draft-law-on-domestic-violence-.html
--------
Swindled Out: Woman Flees After Depriving Three Husbands Of Cash
July 23, 2013
MULTAN: Jahanian police are looking for a 25-year-old woman, who married three men in three months only to leave them, allegedly decamping with their cash and valuables.
She was set to marry the fourth time when the groom turned out to be a distant relative of the first, who later contacted the rest of the two husbands and informed the police. A complaint was filed by the four men on Monday.
Police said the woman, introduced as Tahira by a marriage bureau in Hansabaad Colony, had married Muhammad Obaid, a landlord in Jahanian, a few months ago.
Iqbal Bhatti, the owner of the marriage bureau in Khanewal, had first introduced Tahira to Obaid, who had visited the bureau looking for a prospective bride.
Obaid was told that Tahira was an orphan and had been brought up by her uncle.
After a few meetings, Obaid had later told the police, he had decided to marry Tahira.
He said he had met Tahira's uncle and he accepted his proposal. However, he said, Bhatti told him that her uncle wanted to be paid Rs50,000 before the marriage.
He said he paid the amount and later gave Rs60,000 to Tahira for shopping.
He said the marriage was organised in Multan. He said he paid for more than half of the expenses. The day after the wedding, he said, she went over to her uncle's house as is a tradition. Two days later, when he and his family went to bring her back, the house had been vacated.
He said he asked neighbours and was told that no one knew the family as they had rented the house two weeks ago and had left the previous night.
Police said she used a similar strategy with Muhammad Shabbir, a resident of Ahmed Nagar Colony in Khanewal and with Muhammad Abdullah, from Shujaabad.
However, her fraud was caught by the fourth groom Muhammad Qaisar, a resident of Chak 80/10- R, shortly before the wedding. Qaiser, a distant relative of Obaid, reported her to him.
On sharing the incidents, Qaiser told Obaid that he, too, had paid Rs50,000 to her uncle and more than Rs60,0000 for wedding shopping.
Police said Obaid was called and Tahira was forced to return with him. She was told to return all the money.
However, on Sunday night, she drugged Obaid in the food and fled.
Obaid said he had contacted Bhatti, the marriage bureau owner, who gave him contacts of the rest of the two husbands. Police say they went to look for Bhatti, but he was missing. Obaid said the bridegrooms were also looking for her.
http://tribune.com.pk/story/580527/swindled-out-woman-flees-after-depriving-three-husbands-of-cash/
--------
Pakistan: Girls Take a Lead over Boys in AKU-EB HSC Result As Well
July 23, 2013
KARACHI: After scoring higher in SSC, this year, girls have taken a lead over boys at Aga Khan University Examination Board (AKU-EB) in Higher Secondary School Certificate (Intermediate) results too. Followed by the SSC (Matric) results, girls not only remained at the top overall, but also secured the first two HSSC positions, as the results were announced on Monday.
Maleeka Mehmood of Habib Girls School obtained the first position with 93.33 percent marks. Komal Zehra Zaidi of Aga Khan Higher Secondary School stood second with 92.67 percent marks, while Muhammad Sameer Kayani of ETN High School secured the third position with 91.90 percent marks.
The overall passing rate in HSSC Part-I was 76.6 percent with 22.5 percent candidates scoring an A-Grade or above; however in HSSC-Part II, it was 84.6 percent with 29.5 percent candidates obtaining an A Grade or above.
Associate Director AKU-EB Karima Kara was very pleased with the overall results of all the students. "We are very happy with the overall performance of our candidates in the annual examinations," she said. "We appreciate the teachers and schools who prepared them well for these challenging examinations by facilitating an active learning environment in their classrooms."
Kara was excited to state that universities, both in Pakistan and abroad, are recognizing AKU-EB candidates as well-prepared students grasp new ideas with ease and are particularly good at applying concepts. "This reflects the value, popularity and currency of our qualifications particularly in HSSC," she added.
AKU-EB's annual alumni survey has also revealed a very high percentage of its alumni not only passing entry tests of renowned institutions, but also securing scholarships to pursue their studies there. According to the survey, 87 percent of the 2012 alumni interviewed have obtained admissions at diverse universities across Pakistan and abroad.
The survey further showed that AKU alumni are studying in over 160 institutions across Pakistan, and around 40 universities abroad. Complete survey results will be shared on AKU-EB's website, soon.
Abdul Rafay is one of the many alumni who have obtained admissions at renowned universities abroad. Anxiously waiting for the start of his first semester of undergraduate studies at the International University of Highlands and Islands in Scotland, he said that AKU-EB groomed his skills and enabled him to achieve the dreams of studying abroad.
"Meeting the university's admission requirements, writing personal statements and taking the tests became so easy and enjoyable with the training I received at AKU-EB. I wish to give back to the Board one day after completing my studies," he said.
http://www.dailytimes.com.pk/default.asp?page=2013\07\23\story_23-7-2013_pg12_2
---------
UAE frees woman sentenced after reporting rape
ATUL ANEJA
Jul 23, 2013
A Norwegian woman who had alleged rape in Dubai but was convicted of alcohol consumption and extramarital sex and had been facing a 16-month jail term, was "pardoned" on Monday.
"I was told that I've been pardoned," Marte Deborah Dalelv, the Norwegian interior designer, told reporters outside a Dubai court. She said her passport had been returned, and she would leave the United Arab Emirates (UAE) "as soon as possible".
Her case, which grabbed international headlines, has highlighted the clash in the rapidly modernising metropolis between western attitudes and a judicial system rooted in Islamic law. While Dubai is attracting international tourists in droves with its dazzling urban landscape, few seem aware of the legal regulations governing alcohol intake and sex outside marriage in the city. Alcoholic beverages are served in licensed hotels and restaurants in Dubai but drunken behaviour and public show of affection is frowned upon.
PARDON
In Oslo, Foreign Minister Espen Barth Eide confirmed that Ms. Dalelv had been allowed to leave the UAE. AFP quoted a ministry spokeswoman as saying that Dubai ruler Sheikh Mohammed bin Rashid al-Maktoum had pardoned Ms. Dalelv. "She hasn't been deported, she has been pardoned. She can remain in Dubai if she wishes. Her passport has been returned to her," said Ragnhild Imerslund, the spokeswoman.
GLOBAL PROMINENCE
The latest order has also freed Ms. Dalelv's alleged assailant, a co-worker, who had earlier been sentenced to 13 months in prison for extramarital sex and alcohol consumption. The incident apparently took place in March but acquired international prominence only after Ms. Dalely revealed her side of the story during a string of interviews that followed her conviction.
Ms. Dalely had been facing a 16-month prison term on charges of extramarital sexual relations, alcohol use and perjury after she told UAE police that she had been raped during a business trip to Dubai.
Her sentencing had raised a firestorm, especially in her native Norway, where the authorities, including Mr. Barth Eide, the Foreign Minister, had gone into overdrive in Ms. Dalely's defence. Mr. Barth Eide had earlier told reporters in Oslo: "We believe this is a completely unacceptable verdict, which is contrary to human rights and the basic sense of justice." On Monday after Ms. Dalely had been set free, he added: "The United Arab Emirates and Dubai is a rapidly changing society. This decision won't only affect Marte Dalelv, who can travel home now if she wishes to, but also serve as a wake-up call regarding the legal situation in many other countries."
http://www.thehindu.com/news/international/world/uae-frees-woman-sentenced-after-reporting-rape/article4941015.ece
-----------
30 million girls risk genital mutilation: UNICEF
23 July 2013
More than 125 million girls and women alive today have undergone female genital mutilation, and 30 million more girls are at risk in the next decade, UNICEF said Monday.
Although genital cutting is on the decline, the practice remains "almost universal" in some countries, said the UN Children Fund's report that spans 20 years of data across 29 countries in Africa and the Middle East.
The tradition involves removal of some or all of a female's external genitalia. It can include cutting out the clitoris and sometimes sewing together the labia.
Laws are not enough to stop the practice entirely, and more people must speak out in order to eliminate it among certain ethnic groups and communities, the researchers said.
Social acceptance is the most commonly cited reason for continuing the tradition, even though it is considered a violation of human rights, UNICEF found.
The practice "is becoming less common in slightly more than half of the 29 countries studied," said the report.
However, the tradition remains "remarkably persistent, despite nearly a century of attempts to eliminate it," it said.
"As many as 30 million girls are at risk of being cut over the next decade if current trends persist."
The ritual is practiced by various faiths, including Christians, Muslims and followers of African traditional religions. Some believe it improves a girl's marriage prospects, or that it is more aesthetically pleasing.
The report found the highest rates in Somalia, where 98 percent of females aged 15-49 have been cut, followed by 96 percent in Guinea, 93 percent in Djibouti and 91 percent in Egypt.
The amount of data for analysis varied from country to country, but some declines, even slight ones, were apparent over time.
"In Kenya and the United Republic of Tanzania, for example, women aged 45-49 are approximately three times more likely to have been cut than girls aged 15-19," said the report.
Prevalence of genital cutting among teenage girls has dropped by about half in Benin, the Central African Republic, Iraq, Liberia and Nigeria.
In parts of Ghana, 60 percent of women in their 40s have undergone cutting, compared to 16 percent of teenagers.
In Togo, 28 percent of older women have been cut, compared to three percent of girls 15-19.
However, there was "no discernible decline in countries such as Chad, Gambia, Mali, Senegal, Sudan or Yemen," it said.
The report also found that even though the genital cutting is often considered a form of patriarchal control, there is a similar level of support among men and women for stopping it.
"Overall support for the practice is declining," said the report.
"Social norms and expectations within communities of like-minded individuals play a strong role in the perpetuation of the practice."
UNICEF said it should be open to greater public scrutiny, and called for groups that still practice the ritual to be exposed more to those that do not.
"The challenge now is to let girls and women, boys and men speak out loudly and clearly and announce they want this harmful practice abandoned," said Geeta Rao Gupta, UNICEF Deputy Executive Director.
Last year, the UN General Assembly adopted a non-binding resolution to intensify global efforts to eliminate female genital mutilation.
http://english.ahram.org.eg/NewsContent/2/9/77115/World/International/-million-girls-risk-genital-mutilation-UNICEF.aspx
--------
URL: https://www.newageislam.com/islam,-women-and-feminism/new-age-islam-news-bureau/aceh-women-hounded-by-sharia-police-denounce-male-chauvinistic-controls/d/12724