New Age Islam News Bureau
14 January 2021
• The New Face Of Egypt's Parliament: Led By 83-Year-Old Female Lawmaker
• Mira Sethi and Ayesha Omar Talk What It Is To Be A Bold Woman In Pakistan
• Bosnian Minister Says More Women Needed In Government
• Afghan Taliban Chief Restricts Officials to One Marriage
• Turkish Cult Leader, Seen With Scantily Clad Women, Jailed For 1,000 Years On Sexual Abuse Charges
Compiled by New Age Islam News Bureau
URL: https://www.newageislam.com/islam-women-feminism/abrar-omeish-says-pepper-sprayed/d/124074
--------
Abrar Omeish Says She Was Pepper-Sprayed and Forced To Take Off Her Hijab - CAIR Files Lawsuit
January 13th 2021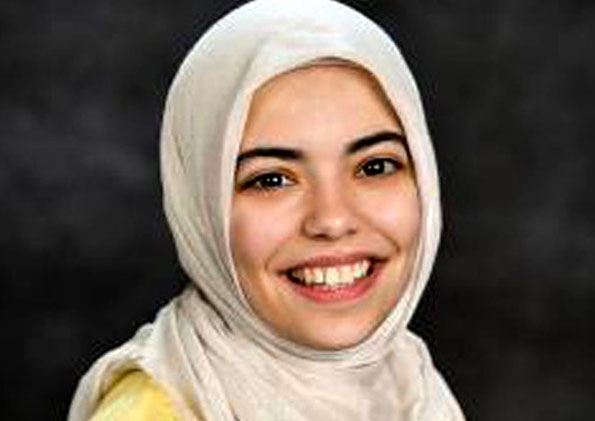 The Council on American-Islamic Relations (CAIR) announced it held an online press conference to declare the filing of a federal lawsuit in Alexandria for Abrar Omeish
(Fairfax County Public Schools){/p}
------
By Samantha Mitchell
WASHINGTON (WJLA) — The Council on American-Islamic Relations (CAIR) announced it held an online press conference to declare the filing of a federal lawsuit in Alexandria for Abrar Omeish, who says she was pepper-sprayed and forced to take off her hijab after being pulled over by a Fairfax County police officer in 2019.
CAIR asserts that the lawsuit on behalf of Omeish, who is a Virginia elected official, is meant to challenge police brutality, and to assist Omeish in launching the 'Fight for Five' colation for local and state reforms.
According to a press release sent out by CAIR, Omeish was pulled over by the Fairfax County officer after she turned right at a red light. She was then forced to remove her hijab, according to CAIR, and photographed in violation of federal law.
Gadeir Abbas, an attorney with the council, clarified that the incident happened in March 2019.
Abbas says the filing is supported by other community groups, leaders and activists to go "against the police brutality" in the case where he says Omeish was "illegally" forced to remove her hijab.
"Whether it's about what we're seeing now at the Capitol, and the conversations about race and policing in this country, what we saw this summer, what's been going on for many years, this was a situation that I never expected being in," Omeish said during the online press conference. "It's certainly not pleasant to have to imagine the prospect of a lawsuit, of what that's going to entail, on putting my privacy on public display."
She adds that she ended up with a concussion that night and she tried to explain the importance of her hijab, but she said it "didn't matter in that particular instance."
Omeish explains she's been wearing the hijab since the second grade, but says the "bigger picture is what's happening next."
She says she's been working for the past year to push for reform based on what happened, adding she says she hasn't seen much change in the aftermath, which is why she says she's calling for the lawsuit.
"The disproportionate impact that law enforcement has had on our community is untenable, it's unacceptable - and we're demanding something different, and I feel like this is my obligation to the community," Omeish explained.
According to Lena Masir, the CAIR Litigation Director, the lawsuit goes against the "egregious and senseless violation of [Omeish's] constitutional rights."
Masir adds that Omeish was pulled over for a minor traffic violation while she was on the way to a campaign rally for the Fairfax County School Board and says that the officer shouted at her, "forced her" out of her car and pepper-sprayed her. Masir clarified that the department investigated and said the officer used "excessive use of force" and Omeish "never presented any threat of danger."
"[Officers] forced Ms. Omeish to remove her hijab in plain view of male officers and detainees being held at that facility just to take her booking photo," Masir asserted. "Her photograph without her hijab was then uploaded to a statewide database that's available to all law enforcement in Virginia and the public, anyone who requests it, causing her to suffer from irreparable harm."
Masir also elaborated that out of any department of state and country-wide correctional facilities, "none of them require the removal of the hijab" or religious head coverings for identification purposes.
She adds that the hijab is "worn by many Muslim women around the world to safeguard their modesty," expressing the importance of it to Muslim women.
CAIR adds that Fairfax County Chief of Police's internal investigation found that the use of force in the case was "improper and in violation of departmental regulations."
"It's time Fairfax County joined other law enforcement agencies in respecting and protecting the rights of Muslim women and people of other faiths," Masir reiterated, adding that there are current 55,000 Muslims residing in Fairfax County.
She added that the council has been seeing a "rising trend" in cases of Muslim women being forced to remove their hijab, and there are currently pending lawsuits in Michigan, Florida and in California "challenging similar policies."
"We file this lawsuit on behalf of Ms. Omeish to both vindicate her rights, but also to impose a policy change that requires Fairfax County to respect the rights of Muslim women that wear the hijab," Masir explained.
In the press release, CAIR describes its organization as "America's largest Muslim civil liberties and advocacy organization. Its mission is to enhance understanding of Islam, protect civil rights, promote justice, and empower American Muslims."
https://wjla.com/news/local/lawsuit-to-be-filed-muslim-woman-says-fairfax-police-forced-remove-hijab
--------
The New Face Of Egypt's Parliament: Led By 83-Year-Old Female Lawmaker
By Menna A. Farouk
JANUARY 14, 2021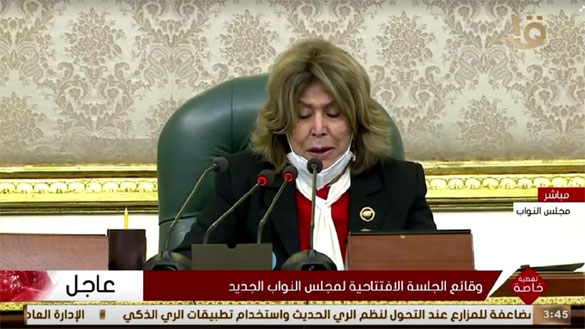 A screenshot showing Farida El Choubachy presiding over Parliament's opening session. Reuters
-----
CAIRO (Thomson Reuters Foundation) - When 83-year-old Farida El Choubachy ran for parliament in Egypt last year, she did not expect to win, let alone become the first woman in 42 years to preside over its opening session.
Her speech to parliament on Tuesday made history in Egypt for a second reason - more than a quarter of its 596 members were women, after a record number of female lawmakers were elected in last year's parliamentary polls.
"It was a historical moment. I never expected it, but it shows how the role of women in political and parliamentary life is being transformed," El Choubachy, a well-known journalist and political writer, told the Thomson Reuters Foundation.
"Now women are being well represented everywhere - in the parliament, in the cabinet - and that signals a turnaround in the political leadership's perspective on women."
A 2017 Thomson Reuters Foundation poll found Cairo to be the most dangerous megacity for women, and 99% of women in Egypt interviewed by the United Nations in 2013 reported sexual harassment.
Women are becoming bolder in the socially conservative, Muslim-majority nation, with hundreds of abuse victims taking to social media to denounce sexual assaults and debate gender inequality in last year's burgeoning #MeToo movement.
In a country where women have long felt disadvantaged, the election of 148 women to parliament in October and November suggests deep-rooted patriarchal attitudes are shifting.
Their number increased to 162 last week when President Abdel Fattah al-Sisi appointed 14 more female lawmakers, among them Doria Sharaf al-Din, a renowned TV anchorwoman who in 2013 became Egypt's first female information minister.
The previous legislature only had 89 women.
"We hope that having this record number of female parliamentarians will make more gains for women, especially amid recent momentum in society," said Randa Fakhr El Deen, head of the NGOs Union on Harmful Practices Against Women and Children.
There are a large number of women's rights bills that are waiting parliamentary debate, she said.
HUMBLE ORIGINS
When El Choubachy - as parliament's eldest member - was invited to chair its first meeting on Tuesday, she spoke about her humble origins.
"I am not of an aristocratic family. I am a daughter of a worker and I have been working since I was nine years old," she said, describing how she started teaching French to support her family after her father lost a lot of money in business.
"And I have always wanted to make money by myself," she added, before announcing her candidacy as one of parliament's deputy speakers, who manage parliamentary business.
El Choubachy has worked for decades as a newspaper columnist and hosted a current affairs show called Wanted for Comments on the government-owned Nile News Channel.
Born Christian, she later converted to Islam and has been strongly critical of the Muslim Brotherhood, which won Egypt's first free presidential elections after the 2011 uprising that overthrew President Hosni Mubarak.
The Muslim Brotherhood was toppled by then-army chief al-Sisi in 2013 following widespread protests and was outlawed soon after.
"In this era, there is no room for anyone saying that women are less or cannot enter political life or that their voices should not be heard," El Choubachy said, referring to comments by radical scholars during the Muslim Brotherhood's rule.
But women who want to enter politics still face formidable challenges, said Entessar El-Saeed, director of the Cairo Foundation for Development and Law, an NGO.
"Social stereotypes and perceptions of women politicians or parliamentarians still prevent many women from running for elections," she said.
"It is the courage of these women who enter the political life that is really making the change."
As a lawmaker, El Choubachy said she will seek to improve human rights for all Egyptians.
"I will work for the citizens, whether men or women, and I hope that they both get their legitimate rights," she said.
https://www.reuters.com/article/us-egypt-parliament-women/the-new-face-of-egypts-parliament-led-by-83-year-old-female-lawmaker-idUSKBN29I2XK
--------
Mira Sethi and Ayesha Omar Talk What It Is To Be A Bold Woman In Pakistan
14 Jan 2021
Longtime acquaintances and former schoolmates Ayesha Omar and Mira Sethi got together for an interview for the latter's show Hello! Mira Sethi, where the formidable industry duo, draped in sarees, discussed the negative connotations with the word 'bold' and what it means in a desi society.
"For me, the word bold means self-sufficient," said host Sethi, as she asked the Karachi Se Lahore actor what she believes is the reason behind its problematic connotations.
"From what I see [...] observing the mindset growing up in Pakistan, women are expected to be subdued. They shouldn't be too outspoken, confident or feel self-assured. What we see in our content and even in our dramas — bold means you're brave, you're speaking your mind and that goes against that mindset. If a woman is bold, she is considered rebellious, going against the values, and is a bad example.
"So it's a stereotype and I would definitely want to be bold rather than scared," she added, revealing that after her father's death, she was raised by her mom.
"My mother had to be extremely hands on and self-sufficient, because she had to juggle finances, housework, career and children altogether," Omar said, adding that she is her biggest inspiration to date.
"Even till now, we've never had domestic help in my mother's house in Lahore. She thinks it's also a great way to stay in shape," she laughed, adding that she does everything herself too.
"My reflex action first thing in the morning is to make my own bed etc. It's been there in me since childhood, so even if I have domestic staff, I still do everything myself," she said.
Omar also said she was also a vivid supporter of women's rights having seen her own mother's situation growing up.
"When my father passed away, my mother was too traumatised to stand up for what shares were his from the business, and that's why we lost everything. She had no idea what to do, she couldn't fight with two small children, and that is why we had to move and start a new life."
"She was so young [...] she didn't fight for her rights. I think that stuck in my head," Omar said, saying that contributed to her being so vocal about women's rights today.
Salute to single mothers and more power to bold women, we say.
https://images.dawn.com/news/1186391/mira-sethi-and-ayesha-omar-talk-what-it-is-to-be-a-bold-woman-in-pakistan
--------
Bosnian Minister Says More Women Needed In Government
Zlatan Kapic, Vesna Besic, Talha Ozturk
14.01.2021
BELGRADE, Serbia
Bosnia and Herzegovina's first headscarf-wearing minister said Wednesday that women should be more involved in government.
"There are four women in the current cantonal government, and this is a record. There should be more women in the administrations. We, as a society, are still on the way in encouraging more women to participate in decision-making and policy-making processes," said Sarajevo Canton Education Minister Naida Hota Muminovic.
Muminovic added that women should also be confident in themselves and not stay in the background.
"If women stand on the sidelines or become the voice of the minority, I worry that women's participation in politics will not be felt," said Muminovic, who was in education throughout her life.
"Education is the most important phenomenon for both the student and society. I believe that the problems in education stem from the lack of quality leadership," she added.
Speaking about the effects of the novel coronavirus pandemic on education, Muminovic said the pandemic may lose its effect in countries where vaccination studies started, but Bosnia and Herzegovina is not in that stage yet.
"As online lessons encourage information, teachers also developed new methods in this process. Other heroes of the pandemic were teachers and students," she said.
She underlined that while nothing can replace face-to-face lectures, online education is the only step to be taken in order not to interrupt education during the pandemic.
Muminovic is an English teacher and principal of the First Bosnian High School, one of the best schools in the country.
She was born in 1981 in the capital Sarajevo where she went to primary school but had to migrate to Austria due to the Bosnian War.
Returning to Sarajevo in 1996 after the war, Muminovic graduated from the First Bosnian High School with honors.
Muminovic studied English Language and Literature and Law simultaneously at the University of Sarajevo and worked as an English teacher after graduating from university.
https://www.aa.com.tr/en/europe/bosnian-minister-says-more-women-needed-in-government/2109311
--------
Afghan Taliban Chief Restricts Officials to One Marriage
By Tahir Khan
January 13, 2021
ISLAMABAD - In an unprecedented move, the head of the Afghan Taliban has restricted officials in the insurgent group from marrying more than once. Three Taliban officials who spoke to VOA on condition of anonymity said the move is aimed at easing financial burdens on the group, as officials have frequently sought money from the militant organization for multiple marriages.
"We instruct officials of the Islamic Emirate, in accordance with Islamic Sharia (Islamic jurisprudence), to avoid second, third, and fourth marriage if there is no need," said a written message dated January 9, from Taliban chief Mawlawi Hibatullah Akhundzada.
Two Taliban officials shared the Pashto-language statement with VOA and said the instructions have been distributed widely by the leadership among their ranks. Heads of various units of Taliban were instructed to share it with their subordinates.
One of the three VOA sources said the directive was in response to "many complaints." Some Taliban officials have approached their superiors for help in paying dowry or 'bride price.'
"Up-to two million Afghanis (nearly $26,000) are paid for dowry in some parts of Afghanistan and the Taliban officials would seek this money for their second marriage," the source said.
'Bride price' is a term used for money paid by the groom to the bride's family, a custom in some Pashtun tribes in parts of Afghanistan and Pakistan.
The source also said many Taliban with multiple wives keep them in separate houses and require additional money for their upkeep.
One of the other two Taliban officials said the top leadership was worried about bad publicity after Afghan media reported on weddings of some Taliban leaders, calling them "extravagant affairs."
The Taliban supremo's message indicated serious concerns for the reputation of its officials.
"Families of several officials of the Islamic Emirate do not have a lot of money. Therefore, more marriages could affect their prestige, trustworthiness, and personality," the message said.
The "Islamic Emirate" is a name the Taliban uses for themselves.
The written message went on to express worries over possible loss of credibility, or even an incentive for corruption, if money becomes central to a Taliban leader's existence.
"Protect yourself against accusation and disgrace," it said, adding that "transparency" and "gaining trust" were essential for a jihadi role.
The signed statement tried to affirm the message that abstaining from multiple marriages would protect Taliban from "accusations of bribery, misappropriation, or embezzlement in the 'Bait ul Maal' (public treasury)" and save them from seeking illicit sources of wealth.
Through this message, one of the Taliban sources said his supreme leader had conveyed to the public and his followers that "Taliban officials will not be allowed to use the movement's money for personal gains."
Taliban spokesman Zabihullah Mujahid did not directly comment when asked about the message, saying he was "gathering information on the subject." However, he did not deny the message's existence.
The move is considered extraordinary for a group that follows an extreme version of Islamic jurisprudence. Islam allows men to have up to four wives at once. However, the practice of keeping multiple wives is frowned upon in some Muslim communities that hold more progressive or liberal views on marriage.
The Taliban chief assured his followers in his message that the instructions are based on Islamic injunctions and have the support of religious scholars.
However, he said the restrictions are relaxed for two kinds of officials: those who spend their own money and resources, or those who have a "legitimate need."
Legitimate needs are described as not being able to produce a child from a first marriage, not being able to produce a male child, or those who need to marry the widow of a brother.
In addition, those who wish to marry any widow, without spending too much, are also shown leniency.
Taliban officials who spend their own resources still need permission from the leadership and would have to show that their financial status could satisfy people into believing that "they are spending their own money," say the sources.
The message from the Taliban chief says the leadership is trying to make marriages simpler for all.
"Young men and women and all the destitute should be able to perform simple marriages like the ones performed by companions of Prophet Muhammad," he said.
https://www.voanews.com/south-central-asia/afghan-taliban-chief-restricts-officials-one-marriage
--------
Turkish cult leader, seen with scantily clad women, jailed for 1,000 years on sexual abuse charges
January 13, 2021
ATurkish Muslim televangelist who surrounded himself with scantily-clad women on TV was jailed for more than 1,000 years on Monday for sex crimes, local media reported.
Adnan Oktar preached conservative views while women he called his "kittens" -- many of whom appeared to have had plastic surgery -- danced around him in the TV studio.
The 64-year-old was detained in June 2018 as part of a crackdown on his group by the financial crimes unit of the Istanbul police.
He was sentenced to 1,075 years for crimes including sexual assault, sexual abuse of minors, fraud and attempted political and military espionage, the private NTV broadcaster reported.
Some 236 suspects have been on trial in the case, 78 of whom are under arrest, according to the official Anadolu news agency.
The hearings have featured lurid details and harrowing sex crime allegations.
Oktar told the presiding judge in December that he had close to 1,000 girlfriends.
"There is an overflowing of love in my heart for women. Love is a human quality. It is a quality of a Muslim," he said in another hearing in October.
He added on another occasion: "I am extraordinarily potent."
Oktar first came to public attention in the 1990s when he was the leader of a sect that was caught up in multiple sex scandals.
His online A9 television channel began broadcasting in 2011, drawing denunciations from Turkey's religious leaders.
One of the women at his trial, identified only as CC, told the court that Oktar had repeatedly sexually abused her and other women.
Some of the women he had raped were forced to take contraceptive pills, CC told the court.
Asked about 69,000 contraception pills found in his home by the police, Oktar said they were used to treat skin disorders and menstrual irregularities.
He also dismissed any link to a group led by US-based Muslim preacher Fethullah Gulen, whom Turkish authorities accuse of orchestrating a coup attempt in 2016.
Oktar is a creationist who rejects the Darwinian theory of evolution and has written a 770-page book called "The Atlas of Creation" under the pen name, Harun Yahya.
https://www.indiatoday.in/world/story/turkish-cult-leader-seen-with-scantily-clad-women-jailed-for-1-000-over-sexual-abuse-charges-1758493-2021-01-13
--------
URL: https://www.newageislam.com/islam-women-feminism/abrar-omeish-says-pepper-sprayed/d/124074
New Age Islam, Islam Online, Islamic Website, African Muslim News, Arab World News, South Asia News, Indian Muslim News, World Muslim News, Women in Islam, Islamic Feminism, Arab Women, Women In Arab, Islamophobia in America, Muslim Women in West, Islam Women and Feminism