Age Islam News Bureau
6 Dec 2012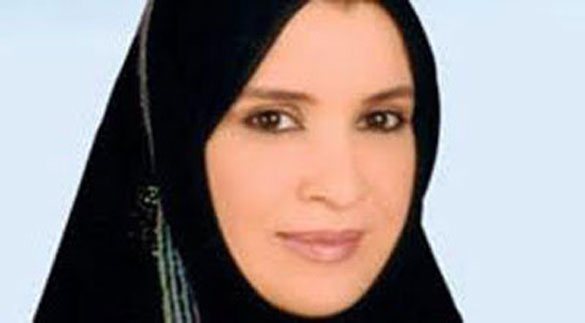 • Indian-Origin Mother in UK Awarded Lifer for Murdering Son over Failing to Memorise Quran
• Mali Islamists Give Teenage Girls 100 Lashes for Talking to Boys
• Women Depicted in Saudi Arabia's Schoolbooks, after 1926
• Paying For Sex: More Than 200 Women's Rights Call For EU-Wide Ban
• Sex-Crime Nun to Embrace Islam, To Marry Man She Accused of Rape
• Shaikha Fatima Underscores Importance of Empowering Woman in OIC
• Afghan Women Advance in Education and Business, Face Domestic Violence: Minister
• Police Start Investigation after Teenage Girl Found With Eyes Glued Shut
• Woman 'Threatened by In-Laws for Pursuing Daughter's Honour Killing Case', in Pakistan
• 'Dressing Girls as Boys Not Women's Lib'
• Mass Wedding in Dubai: When 65 Couples Said 'I Do'
Compiled by New Age Islam News Bureau
Photo: Shaikha Fatima Underscores Importance of Empowering Woman in OIC
URL: https://www.newageislam.com/islam,-women-and-feminism/new-age-islam-news-bureau/abortion-can-never-be-morally-justified--catholic-bishops/d/9560
--------------
Abortion can never be morally justified: Catholic Bishops
Dec 06 2012
London: The Catholic Bishops of Ireland have said three of the four options proposed by the expert group on abortion "can never be morally justified."
In their statement today, they said," Of the four options presented by the report, three involve abortion – the direct and intentional killing of an unborn child. This can never be morally justified."
They go on to say the judgement of the European Court of Human Rights does not oblige the government to legislate for abortion.
The bishops queried why the expert group's report on the European Court for Human Rights judgement in A, B and C versus Ireland did not propose a referendum to ban abortion or reverse the X-case judgement.
They also called for "sufficient time for a calm, rational and informed debate to take place before any decision about the options offered by the Expert Group Report are taken. Public representatives, they said,"must consider the profound moral questions that arise in responding to this report."
The bishops were attending their winter meeting in Maynooth.It concluded last evening.
In their statement, which they describe as an initial response by the Irish Catholic Bishops' Conference to the expert group report, they said, "the judgement of the European Court of Human Rights permits options on this matter of fundamental moral, social and constitutional importance that are not offered by this report."
Included, they said, was the option of introducing a constitutional prohibition on abortion or another form of constitutional amendment to reverse the X-case ruling.
According to The Irish Times, the report provided "no ethical analysis of the options available, even though this is first and foremost a moral issue and consideration of the ethical dimension was included in the terms of reference," they said, adding, that it "takes no account of the risks involved in trying to legislate for so-called 'limited abortion' within the context of the X case judgement. The X case judgement includes the threat of suicide as grounds for an abortion."
They continued, "international experience shows allowing abortion on the grounds of mental health effectively opens the floodgates for abortion".
They also noted that the report also identifies guidelines as an option.
It notes that guidelines can help to ensure consistency in the delivery of medical treatment.
"If guidelines can provide greater clarity as to when life-saving treatment may be provided to a pregnant mother or her unborn child within the existing legislative framework, and where the direct and intentional killing of either person continues to be excluded, then such ethically sound guidelines may offer a way forward."
They said current law and medical guidelines in Ireland allow nurses and doctors in Irish hospitals to apply this distinction.
"This has been an important factor in ensuring that Irish hospitals are among the safest and best in the world in terms of medical care for both a mother and her unborn baby during pregnancy. As a country this is something we should cherish, promote and protect."
Yesterday, Minister for Health James Reilly reiterated the Coalition's "firm commitment" to bring legal clarity to the issue of lawful abortion in Ireland, but said that would "not mean abortion on demand".
Five members of the Catholic hierarchy, joined thousands of anti-abortion protesters at a vigil outside the Dáil last night.
The protest was organised by Pro-Life Campaign, Youth Defence, the Life Institute, and Family and Life.
Following the death of Savita Halappanavar, the standing committee of the Irish Catholic Bishops Conference issued a statement last month saying the Church "has never taught that the life of a child in the womb should be preferred to that of a mother".
http://www.indianexpress.com/news/abortion-can-never-be-morally-justified-catholic-bishops/1041261/
--------------
Indian-Origin Mother in UK Awarded Lifer for Murdering Son over Failing to Memorise Quran
Dec 06 2012
London : An Indian-origin mother who beat her son "like a dog" for not being able to memorise passages of the Quran, has been found guilty by a British court of murdering him and setting his body on fire to hide evidence.
Sara Ege, 33, a mathematics graduate from India, was found guilty at Cardiff Crown Court yesterday of beating her son Yaseen Ege to death at their home in Pontcanna, Cardiff, in July 2010 and setting fire to his body.
She was also found guilty of perverting the course of justice at the Court. Sentence was adjourned, the BBC reported.
Sara also claimed at one point she believed the stick she used on her son had an evil spirit in it.
The boy's father, Yousuf Ege, 38, was acquitted of causing Yaseen's death by failing to protect him, the Daily Telegraph reported.
It was initially thought Yaseen had died in the blaze at the family home but tests later revealed he had died hours earlier.
Sara had pleaded not guilty to murder and claimed her husband was responsible for Yaseen's death. Sara said she feared her husband would kill her and target her family unless she confessed to the murder.
That confession, made to police days after the death of her son, was captured on video and played to the jury during the five-week trial.
During the hour-long harrowing footage, university graduate Ege described how the young boy collapsed after she had beaten him while still murmuring extracts of the Quran.
Sara said in her confession back then that she decided to burn his body and ran downstairs to get a lighter and a bottle of barbecue gel.
In police interviews she also confessed to beating her son for no reason and that her anger often led to her being out of control.
She and her taxi driver husband had enrolled Yaseen in advanced classes at their local mosque as they wanted him to become Hafiz, an Islamic term for someone who memorises the Quran.
The court heard Ege become more and more frustrated with her son's inability to learn the passages he needed to.
"I was getting all this bad stuff in my head, like I couldn't concentrate, I was getting angry too much, I would shout at Yaseen all the time. I was getting very wild and I hit Yaseen with a stick on his back like a dog," she told officers.
She later retracted her statement.
"Sara Ege made no attempt to seek the medical attention he so obviously needed," prosecutor Ian Murphy said.
"He clearly suffered terribly. She started the fire to hide what she had done," Murphy said.
http://www.indianexpress.com/news/muslim-woman-in-uk-awarded-lifer-for-murdering-son-over-failing-to-learn-quran-passages/1041329/
-----------
Mali Islamists Give Teenage Girls 100 Lashes for Talking to Boys
December 2, 2012
Islam. It's a religion of peace. So long as you ignore what happens when Muslims actually take over a country. And the non-stop Islamist party in Mali has been brought to you by the letter O, who decided to wage an illegal war for regime change in Libya that led to the rise of Al Qaeda allied militias across the region, the murder of 4 Americans in Benghazi and scenes like these from the new Taliban hard at work in Timbuktu.
Islamist extremists controlling the city of Timbuktu publicly whipped six young people, residents say. The victims, males and females aged between 16 to 22, each received 100 lashes for having talked to each other on the city streets.
Aboubacrine Yattara, who lives in Timbuktu and witnessed the whippings, said the young people were arrested last week. They were flogged today in Timbuktu's small market.
The head of the Islamist brigade responsible for customs in Timbuktu, Mohamed Ag Mossa Intoulou, did not deny the whippings but said he could not comment.
He said around a hundred people had turned out to watch the punishment, which was carried out under the Islamists' interpretation of Islamic sharia law.
That's a 100 lashes for talking to each other. Imagine if they had kissed. But don't worry. Obama and the UN are springing into action to clean up their own mess.
UN Secretary-General, Ban Ki-moon said. "A military operation may be required as a last resort to deal with the most hardline extremist and criminal elements in the north. However, before that stage is reached, the focus must be on initiating a broad-based and inclusive political dialogue."
Well that's solved.
The United Nations. If we had it in 1939, we would still be engaging in dialogue with Hitler.
http://frontpagemag.com/2012/dgreenfield/mali-islamists-give-teenage-girls-100-lashes-for-talking-to-boys/
-----------
Women Depicted in Saudi Arabia's Schoolbooks, after 1926
5 December 2012
Photos of women have been prohibited in schoolbooks since the Kingdom started formally educating its citizens in 1926. Recently, as an experiment, English textbooks for high school students showed some photos of women wearing a Hijab (headscarf). These photos depicted women according to traditions while they were working as nurses or standing by a telescope in the lab.
The exercises accompanying the photos explain much about the change in attitude about what would be considered traditional jobs for women and girls. The girl in the photo talks about the seriousness of this scientific work, adding that she enjoys life as well. She tells her friends that she aspires to go to university, and share her knowledge and experience with society.
In another lesson, entitled "Changes", shows a lady in niqab (face veil). She talks about the many benefits for mankind of changes that happened in the last 50 years.
The English textbook will be on trial until the end of this school year, and is subject to amendments if necessary.
http://www.arabnews.com/women-depicted-schoolbooks
--------------
Paying For Sex: More Than 200 Women's Rights Call For EU-Wide Ban
6 December 2012
More than 200 women's rights groups are calling for laws to make paying for sex a crime across the European Union.
Campaigners presented key policy recommendations for legislation to MEPs in Brussels on Wednesday.
"Prostitution is a form of violence, an obstacle to gender equality and an open door for organised crime to develop," a campaign spokeswoman told the BBC.
Full report at:
http://www.bbc.co.uk/news/world-europe-20591726
--------------
Sex-Crime Nun to Embrace Islam, To Marry Man She Accused of Rape
By Bassam Za'za', Legal
December 5, 2012
Nun who accused man of rape will embrace Islam to get married to him and avoid jail term
Dubai: A nun who accused a man of rape and then confessed to having consensual sex with him shocked a Dubai court on Wednesday by agreeing to marry him — and change her religion.
The woman, from a European country, was granted bail on Wednesday after her lawyer confirmed that she and the man she accused of rape would soon wed. And she will have to embrace Islam to marry him. In similar cases, the court usually decides to award a suspended jail term to parties involved.
Full report at:
http://gulfnews.com/news/gulf/uae/crime/sex-crime-nun-to-marry-man-she-accused-of-rape-1.1114772
-----------
Shaikha Fatima Underscores Importance of Empowering Woman in OIC
5 December 2012
Sheikha Fatima bint Mubarak, Supreme Chairwoman of the Family Development Foundation, Chairwoman of UAE General Women's Union and Chairwoman of the Supreme Council for Motherhood and Childhood has stressed the importance of supporting the efforts in empowering women at the Organization of Islamic Cooperation (OIC), as well as giving priority to women's issues and their comprehensive development programmes.
She said this, in a statement which was read on her behalf by Dr. Maytha Salem Al Shamsi, Minister of State, at the 4th OIC Ministerial Conference on Role of Women in Jakarta, being held under the theme 'Promoting women's participation and role in economic development of OIC members' states.'
Full report at:
http://www.khaleejtimes.com/nation/inside.asp?xfile=/data/nationgeneral/2012/December/nationgeneral_December85.xml&section=nationgeneral
-----------
Afghan Women Advance in Education and Business but Still Face Domestic Violence: Minister
5 Dec 2012
(Trust Law) - Women enjoy greater access to jobs, education and politics in Afghanistan 11 years after the ousting of the Taliban government, but they still face threats of violence, especially at home, the country's women's affairs minister said on Wednesday.
"Women have made great progress in the past 10 years in areas such as education, economy, health, security and entrepreneurship," Husn Banu Ghazanfar told TrustLaw in an interview on the sidelines of a conference on the role of women in development in the Organisation of Islamic Cooperation member countries.
Girls make up 40 percent of nine million Afghan children who go to school, compared with zero during the Taliban's rule, and 21 percent of university graduates are women, Ghazanfar said.
Full report at:
http://www.trust.org/trustlaw/news/afghan-women-advance-in-education-business-still-face-violence-minister
-----------
Police Start Investigation after Teenage Girl Found With Eyes Glued Shut
By Ahmed Nazeer | December 4th, 2012
Police have opened an investigation into an incident involving a 17 year-old girl who was held down and had her eyes glued shut on the island of Maduvvari in Raa Atoll.
While the Maldives Police Service has confirmed the incident occurred, it was not supplying further details on the case.
However the island council of confirmed to local media that the girl was found with her eyes sealed with a substance believed to be a strong adhesive at about 8:45pm last night. According to reports, the council said the girl was found abandoned on an uninhabited part of the island.
Full report at:
http://minivannews.com/society/police-start-investigation-after-teenage-girl-found-with-eyes-glued-shut-48365
--------------
Woman 'Threatened by In-Laws for Pursuing Daughter's Honour Killing Case', in Pakistan
December 6, 2012
BAHAWALPUR: A woman has claimed her in-laws have threatened to kill her if she continues to pursue an honour killing case against them.
Soorat Bibi, a resident of Chak 239-P, said her 12-year-old daughter, Saima Abbasi, had been declared karokari two months ago after she declined a marriage proposal. She said Saima was later murdered by her uncle, Shakoor Abbasi, and grandfather, Bhooral Abbasi.
She said they had asked her and her children to leave their house and forcefully seized of her cattle.
Full report at:
http://tribune.com.pk/story/475606/woman-threatened-for-pursuing-daughters-honour-killing-case/
-----------
'Dressing Girls as Boys Not Women's Lib'
December 6, 2012
ISLAMABAD: Dressing girls as boys, as in the case "bacha posh" — a cross-dressing cultural practice in Afghanistan and parts of Pakistan — may not be a catalyst for women empowerment.
This was the general consensus at a discussion on Wednesday at the Friedrich-Ebert-Stiftung (FES) office in Islamabad. The discussion followed the screening of the 2001 Iranian film Baran.
Full report at:
http://tribune.com.pk/story/475744/dressing-girls-as-boys-not-womens-lib/
-----------
Mass Wedding in Dubai: When 65 Couples Said 'I Do'
By Jay B. Hilotin
December 5, 2012
Dubai: A Filipino couple renewed their vows at a mass wedding in Dubai after eight years of separation. 
A love child had snuffed out whatever affection was left between Leonardo Blancio and Maria Dolores Leabres who were still minors when they had a son in 1996.
Technically, their marriage was invalid but they tried to make it work. But the pressure of raising a young family with little resources took its toll and the couple drifted away. During their lowest moments, they even contemplated committing suicide.
Full report at:
http://gulfnews.com/about-gulf-news/al-nisr-portfolio/xpress/mass-wedding-in-dubai-when-65-couples-said-i-do-1.1114941
-----------
URL: https://www.newageislam.com/islam,-women-and-feminism/new-age-islam-news-bureau/abortion-can-never-be-morally-justified--catholic-bishops/d/9560