New Age Islam News Bureau
22 April 2022
• Burger King Malaysia Denounces Staff's Shaming Of Three Women For 'Not Fasting'
• 'Like Football, Music Connects And Unifies...I Want To Inspire Girls And Women Across The Region': Qatari Artiste Aisha
• Qatar Seen To Witnesses Women's Increased Role In Financial Landscape
• Nigeria: Less Than 1 Million Nigerian Women Have Formal Employment - Report
Compiled by New Age Islam News Bureau
URL:
--------
Ableism Exists Online Amongst Iranian Women's Rights Activists On Social Media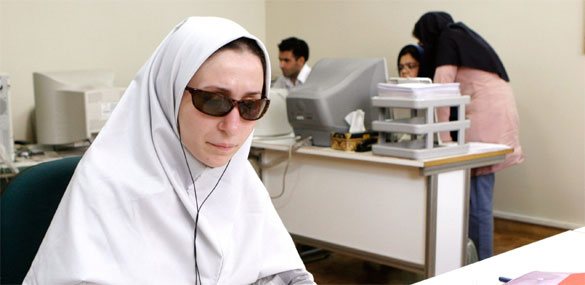 Photo: Atlantic Council
-----
By Ahou Koutchesfahani
April 21, 2022
Iranian women's rights activism is very much present and made visible on social media with countless hashtags, images, and videos circulating online and going viral to regularly draw attention to important causes, such as freedom of expression, sexual abuse by powerful men, and depicting harassment and abuse of women by security forces. However, in much of what is said and shared about Iranian women's plight online, disabled Iranian women's voices often go unheard.
This unequal dynamic within Iranian women's rights activism online is further compounded by social media algorithms, which favor posts that have a large audience engagement rate. Why then, are disabled women's voices marginalized online as they so often are offline?
Since the 2009 post-election protests known as the Green Movement, social media has provided a useful platform for activists, journalists, and ordinary citizens alike to highlight human rights issues and violations to a growing audience within and beyond the transnational Iranian public sphere. Of that group, a minority has focused on raising awareness on disability rights issues, such as the Kampayneh Maloolan (disability campaign), a platform that highlights the discrimination faced by disabled Iranians on the regular.
On Twitter and messaging app Telegram—both platforms are blocked by the Islamic Republic and must be accessed via circumvention tools—this campaign provides a window into the activism led by disabled Iranians, most notably through the hashtags #قانون_معلولان (#Disability_Law) and #تصویب_لایحه_معلولان (#Pass_Disability_Bill), a reference to Iran's Law to Protect the Rights of the Disabled. This was ratified by parliament in 2018 after a Twitter storm in 2017—led by the disability campaign—mobilized users to make the hashtag trend on Persian language Twitter with over 27,000 tweets. However, more than four years later, the bill has yet to be implemented. The campaign's discourse surrounds disability activism and stands in stark contrast to the lack of representation of disabled Iranians on the platforms of Iranian women's rights activists.
The intersection of disability and women's rights movements
It may be unclear from the outside how the disability and women's rights movements are connected, but the most recent law to be swiftly passed in parliament—notably, the Population Growth Plan (طرح_جوانی_جمعیت#)—is a good example of how the Islamic Republic undermines both Iranian women and disabled Iranians. The law, which passed in March 2021, criminalizes the use of contraceptives and abortion and is set to grant privileges to families with upwards of three children. It also aims to eliminate mandatory pregnancy screenings, raising the risk of mother/child complications and premature death. Financial support for disabled Iranians is already stretched but this law further significantly cuts disability allowance and curtails women's financial independence as it incentivizes childbearing and marriage.
Under the current economic hardships faced by Iranians due to punitive sanctions, mismanagement, and corruption, many young women will have no other choice but to marry early as a result. Additionally, many disabled Iranians will be left poor without adequate financial aid, leaving them more vulnerable to abuse and dehumanization, with them being considered financial "burdens" on families and the state. While the bill to Protect the Rights of the Disabled accounted for equal access to work, adequate healthcare, and at home support, the Population Growth Plan undermines all these demands by reneging on the rights of the disabled.
Disabled Iranian women face many barriers in their daily struggle within a patriarchal and ableist society. Theirs is an uphill battle to dismantle not just ableism but also misogyny. From poor accessibility to minimal welfare support and gender inequalities, disabled Iranian women face double the amount of discrimination as their non-disabled peers.
The social media link
Normalizing ableist attitudes contributes to the discrimination faced by Iranian disabled women, severely curtailing their ability to become active members of society. Social media is an opportunity to forge a link between different groups of Iranian women in the online sphere and to create solidarity through struggles to dismantle patriarchy and ableism. Unfortunately, little to no attempts are currently being made at forging allyship with the disabled community.
This is further compounded by the minimal coverage of the rights of disabled women in Iran. Within what goes viral, a narrow definition of "woman," which doesn't include the voices of the marginalized, is predominant. As a result, it plays a role in the erasure of disabled voices within the online depiction of women's rights issues in Iran and to the transnational public sphere and beyond. Thus, there is a contradiction in the attempt at being intersectional by influential Iranian women's rights activists.
To truly dismantle patriarchal assumptions in Iran, ableist notions that are steeped in patriarchy must also be addressed. Disabled voices must be heard, supported, and amplified. Their struggle is not unlike women's rights activists' and their rights to access dignified healthcare, equal access to work, and equal opportunities in society intersect with the rights of Iranian women to do the same. Understanding the intersectionality of the feminist and disabled causes is important in the struggle for an open society that countless activists are striving towards.
Ahou Koutchesfahani is a PhD candidate at the Department of War Studies at King's College London. Her research is concerned with feminist politics and social movements, with a focus on Iran. Follow her on Twitter: @ahou_doe.
Source: Atlantic Council
https://www.atlanticcouncil.org/blogs/iransource/ableism-exists-online-amongst-iranian-womens-rights-activists-it-needs-to-be-addressed/
--------
Burger King Malaysia Denounces Staff's Shaming Of Three Women For 'Not Fasting'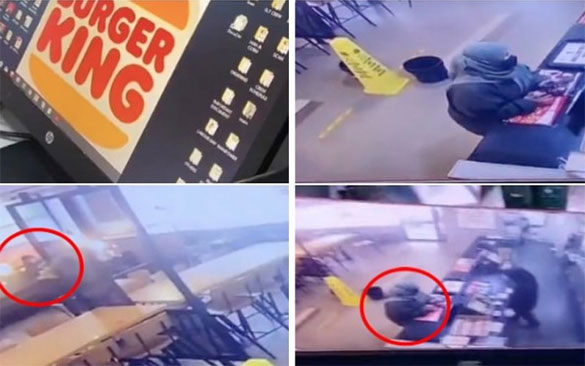 Following the video put up by a TikTok user, Burger King says it values the privacy of its customers.
-----
April 22, 2022
PETALING JAYA: Burger King Malaysia has denounced the actions of an employee who shamed three Muslim women for not fasting during Ramadan by uploading CCTV footage of the diners.
"It is with much regret that we confirm the post was made by an employee of Burger King Malaysia.
"However, we do not condone such behaviour and appropriate action will be taken," it said in a statement.
Burger King added that it valued and respected its customers' privacy and as such will take steps to prevent a repeat of the incident.
The fast food giant's statement comes after a TikTok user uploaded a video showing the CCTV footage with a caption that read, "To the three women wearing tudung that ordered nine pieces of nuggets, cheesy fries, ice lemon tea and dined it, don't you feel bad for customers who are fasting?"
The video has since been deleted.
Some social media users spoke out against the recording, saying the staff should have minded their own business.
One Twitter user, @snsalwa, said seeing other people eating during Ramadan should not trigger anyone (to act in such a manner), and that the women might have a good reason for not fasting.
Another user, @sehseh, questioned if Burger King Malaysia had fired the staff member, while @felixaBlueSky said she would not be going to any of the company's outlets any time soon due to its lack of privacy.
Source: Free Malaysia Today
https://www.freemalaysiatoday.com/category/nation/2022/04/22/burger-king-denounces-staffs-shaming-of-women-for-not-fasting/
--------
'Like Football, Music Connects And Unifies...I Want To Inspire Girls And Women Across The Region': Qatari Artiste Aisha
April 20 2022
Qatari artiste Aisha was one of the stars of the show during the Final Draw for the FIFA World Cup Qatar 2022. Along with Trinidad Cardona and Davido, she performed 'Hayya Hayya (Better Together)' – the first single from the tournament's Official Soundtrack.
The incredibly catchy song is being played throughout Qatar and beyond as anticipation for football's flagship event reaches fever pitch.
Aisha was proud to be part of a major milestone in Qatar's FIFA World Cup journey and showcase her talent to a global audience. The 25-year-old singer-songwriter has previously made headlining performances at the UN General Assembly and the grand opening of Doha Festival City mall.
The Supreme Committee for Delivery & Legacy (SC) caught up with Aisha to discuss her passion for music, her role in the track and what it means to be the first Arab female to be featured on a FIFA World Cup song.
* When did your passion for music first begin?
For as long as I can remember, I have always been a creative person and loved to sing, but it was only in 2018 that I started my music career. I started taking part in events around Qatar and focused on building a local audience on social media. The thing that I love most about music is that it is a universal language. That is exactly why I feel so honoured to be a part of this project – I truly believe that like football, music connects and unifies people. My own music draws from my personal experiences, so it's very intimate, and yet I feel that if you listen to it, there will be something there that resonates with you. That's my favourite part about all this, to be able to create bonds with so many people through the thing I am most passionate about.
* How did you feel when you were asked to be a part of the FIFA World Cup Qatar 2022 Official Soundtrack?
Insanely happy! It's not something that I ever thought would be possible. When I first started singing, I told myself that I wanted to make something that would be meaningful; something that would make an impact in this world. I never imagined that it would be this! I knew for a fact with the World Cup coming to Qatar, I wanted to be involved in some way, but this was far from my reality. It was a personal challenge that I had set for myself, but I didn't even know how it would be attainable. But here we are!
* How did you feel performing alongside Davido and Trinidad?
It was very surreal. I would say it was a dream come true, but I like I said, I never thought I would ever be able to sing with such big stars in the industry at such an early stage of my career. As you can imagine, everything has been very fast-paced and very unexpected, but it has been a blessing. I felt very proud and excited to be able to work with distinguished artists from the industry.
* Tell us about how you felt while performing during the Final Draw.
Performing in front of that many people, and this is excluding the people who were watching from around the world, is naturally scary for anyone. Leading up to the performance, I felt very nervous. What helped was the morning before the performance was the release of the song, so I was occupied with the positive reception we were getting. I was ecstatic and it made me feel calmer about the performance. It is my first song to ever be released so that made it even more meaningful for me. Before going on stage, as expected, my heart was beating fast. I was both nervous and excited. So I took a deep breath and let the adrenaline rush take over. When I got on stage, I just connected with the music and began feeling more confident. From there, it became a completely different experience. I was just enjoying every minute of it.
* What do you hope audiences from around the world learned about Qatar through your work?
I hope that this song starts a new narrative about Qatar being a hub of talent and a place where people can be and are creative. I also hope it shifts any negative perspectives people might have about the region and gives them a closer look into our culture and traditions, and also highlights the great strides we are making on the global stage. Everybody on stage that day was representing Qatar to the world. I am confident that this performance has made people more excited about coming here.
* What impact do you hope your involvement makes in the region and around the world?
Having a Qatari woman featured in a World Cup song is a huge step for the country as well as the whole world because it's something that hasn't been done before. An entire album for the World Cup is also something that hasn't been done before. This soundtrack is no exception to Qatar's promise to break the status quo and amaze the world. I hope that my involvement inspires girls and women in the region, or any other artist out there that might have the same aspirations as me, to reach upwards. I want girls and women around the world to look at my achievements and say: 'if it's possible for her, it can also be for me'. Additionally, I hope my contribution to the song will add a different flavour to the music industry. The song is definitely not something that the world is used to hearing, so I'm hoping that it opens up a new genre of music that includes Arabic voices and their stories.
* What has the reaction to the song been like?
It's been amazing. As I mentioned, because this is the first song I've ever been featured on, I was really curious to see how it was doing. I spent some time going through comments and I was thrilled to see how much people liked it. It was incredibly rewarding and it makes me more excited to share my own music soon. My family and friends have been also been very supportive and loving. It's funny because I couldn't disclose that I was doing this until the release, so many of my friends were very surprised to find out that I was a part of this project.
'Hayya Hayya (Better Together)', released by Def Jam Recordings and produced by RedOne, is streaming on all platforms. One can watch the full music video at https://www.youtube.com/watch?v=7X9UfcDj1gM
Source: Gulf Times
https://www.gulf-times.com/story/714880/Like-football-music-connects-and-unifies-I-want-to-inspire-girls-and-women-across-the-region
--------
Qatar seen to witnesses women's increased role in financial landscape
April 19 2022
Santhosh V. Perumal
Qatar has been witnessing increased role of women in key positions in the financial sector, especially in the Qatar Financial Centre (QFC)-based corporate entities, according to a top official of the QFC.
According to 2019 data, 13.5% of senior level positions in QFC companies were filled by women – compared to 8.5% in Qatar's financial sector as a whole, said Sheikha Alanoud bint Hamad al-Thani, deputy chief executive and chief business officer of the QFC.
This came in response to an interview at the World Economic Forum. She is one among the three Qatari Young Global Leaders who are playing their part in fulfilling their nation's future-proof vision.
"This number continues to grow – and at the same time, these companies are posting record profits," said Sheikha Alanoud, who has been championing the role of women, having hired and mentored numerous women over the course of her career.
About the ESG (environment, social and governance) framework, she said the QFC's firms are at the forefront of the ESG revolution", describing how 1,300 firms in the centre are currently tackling the ESG challenges from the energy transition to governance.
The QFC's sustainable sukuk and bonds framework integrates local requirements and features with International Capital Markets Association's globally accepted principles to create a harmonised financial market ecosystem locally, based on international standards.
It will promote appropriate disclosures, the flow of relevant information, reporting, and transparency and ensure that these instruments meet their objectives and minimise the risks of greenwashing.
In 2021, the Qatar Stock Exchange rolled out its first ESG-tradable index and announced plans to mandate ESG disclosures for publicly-listed firms.
This move reflects a broader global shift towards long-term value creation in the country.
Ahmed Ali al-Hammadi, the chief investment officer for Europe, Russia and Turkey at the Qatar Investment Authority (QIA), said the sovereign wealth fund has looked inwards building its vision and formulate the role that it will play as fiduciaries to Qatar's future generations.
In 2017, the QIA co-founded the One Planet Sovereign Wealth Funds initiative, working with other sovereign wealth funds and large asset managers, to examine how climate-related risks and opportunities are assessed.
He said in 2022, the QIA's progress will position it as a global sustainability leader.
"The actions we are taking show the commitment of our industry to shape the global effort on climate change," he said.
Abdulrahman Essa al-Mannai, the chief executive of Milaha Group, one of the Middle East's largest maritime and logistics companies, said high standards of corporate governance and transparency start at the top and penetrate all levels of the company.
Source: Gulf Times
https://www.gulf-times.com/story/714800/Qatar-seen-to-witnesses-women-s-increased-role-in-financial-landscape
--------
Nigeria: Less Than 1 Million Nigerian Women Have Formal Employment - Report
20 APRIL 2022
By Royal Ibeh
A new report has showed that less than a million women living in Nigeria are in formal employment while 95 per cent are engaged within the informal sector.
Workplace discrimination is also central to understanding women's economic outcomes. Although women constitute 70 per cent of agricultural labour in Nigeria and produce 90 per cent of food, they are more prone to lower wages due to limited access to land, skills, finance and low adoption of mechanisation.
Additionally, the Labour Act prohibits employers from hiring women for night work in sectors, such as manufacturing, mining, agriculture.
The report titled: 'Unmasking the Barriers to Women's Participation in Nigeria's Labour Market' published by Jobberman, the single largest job placement website in sub-Saharan Africa, showed a gender parity at the workplace.
For instance, the report revealed that entrepreneurship is increasingly becoming the economic haven for women primarily due to its low barrier to entry.
However, about 51 per cent of women surveyed across Lagos, Kano and Kaduna states indicated that they are more interested in formal work, compared to 12 per cent who are interested in entrepreneurship, the report added.
Other key findings from the report showed that about 70 per cent of employers in Lagos and Kano say domestic responsibility is a major barrier for women in the world of work.
"About 62 per cent of women surveyed across the three states say that having to relocate is an important factor that they consider when looking for work. Of the 56 million registered MSMEs in Nigeria, women account for over 23 million (41 per cent) in terms of ownership," the report added.
Source: All Africa
https://allafrica.com/stories/202204200403.html
--------
URL:
New Age Islam Islam Online, Islamic Website, African Muslim News, Arab World News, South Asia News, Indian Muslim News, World Muslim News, Women in Islam, Islamic Feminism, Arab Women, Women In Arab, Islamophobia in America, Muslim Women in West, Islam Women and Feminism