New Age Islam News Bureau
30 Jan 2019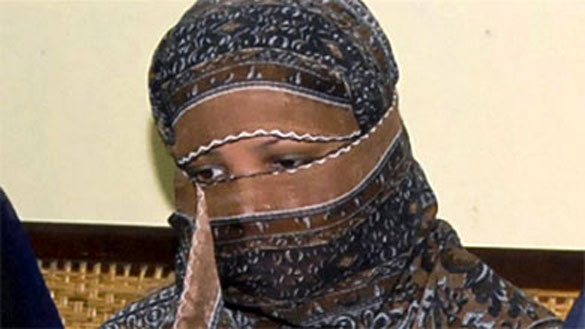 Pakistan's Supreme Court on Tuesday upheld its decision to acquit Asia Bibi, 47
-----
• He Divorced Her over the Phone Because She 'Came Home 10 Minutes Late'
• Baghpat Hindus Set Example, Lend Helping Hand In Poor Muslim Girl's Marriage
• Nigerian Women Embrace Family Planning Ahead Of Population Boom
• Afghan Women 'Too Emotional' For Leadership and Have Enough Rights, Domestic Survey Claims
• Kashmir's First Woman Wheelchair Basketball Player
• UK Police Arrest Racist Man Who Harassed Muslim Girls
• Experts Ask Red Crescent to Hire Female Paramedics
• Saudi Woman Wins Her Battle for Literacy at the Age Of 75
• The 'Just Divorced' Party: Egyptian Women Celebrate Their Freedom
• New Vice Patrols Launched In Qom To Further Crack Down On Women
Compiled by New Age Islam News Bureau
URL: https://www.newageislam.com/islam-women-feminism/aasia-bibi-free-last-supreme/d/117599
--------
Aasia Bibi Is Free At Last: Supreme Court of Pakistan on Tuesday Dismissed A Review Petition against Its October 2018 Verdict That Had Overturned Her Conviction
Jan 29, 2019
ISLAMABAD: Aasia Bibi, the Christian woman who spent nearly a decade on death row for a false blasphemy accusation, is free at last. The Supreme Court of Pakistan on Tuesday dismissed a review petition against its October 2018 verdict that had overturned the conviction of Aasia Bibi.
The blasphemy-related offence carries mandatory death penalty under Pakistani law.
A review petition was filed on November 1, 2018, by Qari Muhammad Salam, a cleric who had fabricated the alleged blasphemy case against Bibi in 2009, requesting the top court to reconsider its decision.
On Tuesday, Chief Justice Asif Saeed Khosa heading the three-member bench of the apex court said the review petition "is dismissed on merit."
The petitioner's lawyer demanded that a larger bench comprising Islamic scholars be constituted to hear the petition. However the chief justice rejected the plea saying, "We are not hearing the case again, the lawyer was unable to point out a single error in the judgment."
The rejection of the petition has removed the last legal hurdle in the years-long fake blasphemy case and potentially paved the way for Bibi to leave the country to join her family in exile in Canada.
Stringent security measures were taken a day ahead of the hearing with personnel of paramilitary force deployed at all sensitive areas of the capital city, including the residential complex of the Supreme Court judges.
The apex court had cleared Bibi of all blasphemy charges in October last year and ordered her immediate release from prison.
Her acquittal had sparked countrywide protests led by Khadim Hussain Rizvi, an extremist leader of Tehreek-i-Labbaik Pakistan (TLP), an Islamist party. The protests were called off after the religio-political party reached an agreement with the government, the foremost conditions of which were to prevent Bibi from leaving Pakistan ahead of the decision of review petition filed against the SC verdict.
Bibi, a Christian farm labourer and mother of four, was sentenced to death for blasphemy in 2010, after she had angered her fellow Muslim co-workers by sipping water from a vessel she fetched for them in June 2009 in Ithan Wali village of Sheikhupura division in Pakistan's central Punjab province. Prosecutors had alleged that two Muslim sisters, Mafia Bibi and Asma Bibi, accused Bibi of insulting Prophet Muhammad during a row followed by their refusal to drink water from the same cup.
She was later beaten up at her home during which her accusers, alongside the complainant Qari Salaam (who taught Asma and Mafia the Quran), claimed that she had confessed to blasphemy. She was arrested following a police investigation. In November 2010, she was convicted and sentenced to death by a trial court and the decision of her conviction was upheld by the Lahore High Court four years later. In July 2015, the Supreme Court admitted her appeal.
Shortly after her conviction by a trial court, prominent politicians, Punjab's governor Salman Taseer and federal minister for minorities Shahbaz Bhatti, were gunned down for speaking out in her support.
Mumtaz Qadri, Taseer's killer, was executed in 2016 but his death earned him a status not less than a saint. His supporters built a large shrine dedicated to him on the outskirts of Islamabad and later formed a political party, Tehreek-i-Labaik Pakistan (TLP), which gathered around two million votes in last year's general election.
https://timesofindia.indiatimes.com/world/pakistan/pakistans-aasia-bibi-is-free-at-last/articleshow/67742087.cms
--------
He Divorced Her over the Phone Because She 'Came Home 10 Minutes Late'
Jan 30, 2019
A woman in Uttar Pradesh's Etah has alleged her husband gave her the triple Talaq over the phone for not coming back home on time, weeks after the contentious bill that makes the Muslim practice of instant divorce a penal offence was passed in the Lok Sabha.
The woman said she promised her husband that she will return home within 30 minutes, according to news agency ANI.
"I went to my mother's house to see my ailing grandmother. My husband told me to return within half an hour. I was late only by 10 minutes. He then called me on my brother's mobile number and uttered "Talaq" thrice. I was completely shattered by his move," she was quoted as saying by ANI.
The woman also accused her in-laws of beating her as her family was not able to meet their demands of dowry at the time of their wedding.
"They beat me at times when I am home. I also had an abortion because of their moves. My family is very poor which is why they were unable to give anything to my husband's family," she said, according to ANI.
The woman has sought the government's help in the matter. "Now, it is the responsibility of the government to provide justice to me or else I will commit suicide," she said.
Area officer of Aliganj Ajay Bhadauriya said they will conduct a thorough investigation into the matter and take the necessary steps to resolve it.
The Muslim Women (Protection of Rights on Marriage) Bill, 2018, which was passed in the Lok Sabha on December 27 during the Winter Session, criminalises the practice and classifies triple Talaq as a cognisable and non-bailable offence, with three years' imprisonment and a fine. The bill is pending in the Rajya Sabha.
https://www.hindustantimes.com/india-news/man-gives-triple-Talaq-to-wife-over-phone-allegedly-for-reaching-10-mins-late/story-ZQFDSvBTyu0fdHCZSZgcMN.html
--------
Baghpat Hindus Set Example, Lend Helping Hand In Poor Muslim Girl's Marriage
Jan 29, 2019
BAGHPAT: At a time when inter-caste marriages have been creating tension between communities, the Hindus living in a village in Bahgpat have set a unique example by coming forward and lending a helping hand in the marriage of a Muslim girl from a poor family.
According to reports, the Hindus, who reside in large numbers in the Abdulpur village of Baghpat, came to know about the poor condition of a Muslim family living in the same village for years.
The family was facing extreme difficulties in getting its 28-year-old daughter Gulafshan getting married to a man called Ayyub who lives in Puja Colony of Loni township in Ghaziabad.
The girl's father Babu Khan, son of Jumma Khan, is missing for the past 28 years. Babu Khan left his home in search of a job nearly 28 years ago but never came back. Just two months back, the girl's marriage was fixed with Ayyub.
Extremely short of cash and with no help coming, the poor family was worried about the girl's marriage. It is when Gangeshwar Sharma, from a respectable Brahmin family, came forward to help them.
Soon, the entire village, especially the Hindu families, decided to help the needy family in whatever ways they could.
While some took upon them the responsibility to make necessary arrangements for the marriage and welcoming the bridegroom's family, some others bought gifts for the soon-to-be-married couple.
A Brahmin couple agreed to do the 'kanyadan' of the Muslim girl during her wedding.
Cleric Maulvi Mohammed Hasim of the Masuri village of Hasanpur, who solemnised the marriage, heaped praise on the Hindu families of the village for their hospitality, the respect they showed towards the bridegroom's family and the affection with which they treated the bride.
According to the girl's brother Shakir, the wedding was attended by no less than 150 people and all 'nikah' rituals were performed as per the Islamic traditions.
https://zeenews.india.com/uttar-pradesh/baghpat-hindus-set-example-lend-helping-hand-in-poor-muslim-girls-marriage-2175312.html
--------
Nigerian Women Embrace Family Planning Ahead Of Population Boom
January 30, 2019
LAGOS: Modupe Adegbite's grandfather had 22 children, while her father had nine. At the age of just 19, she has decided she wants no more than four.
"Why do you have so many children if you cannot feed them?" she asked.
It's a question many young Nigerians will face over the coming decades in Africa's most populous country, where a booming population combined with poverty, record unemployment and roiling ethnic conflicts have some fearing a demographic "time-bomb."
Nigeria's population is expected to leap from 190 million today to 410 million by 2050 — and to almost twice that number again by the end of the century — according to the UN's World Population Prospects.
That would mean that in just 30 years, Nigeria will be the world's third most populous nation, behind only China and India.
For young women like Adegbite, who was born in Bada, one of the poorest neighborhoods in the economic capital Lagos, getting access to sex education and birth control can be difficult.
However Bada, which lacks electricity and paved roads, does have a family planning center, which opened last year.
Condoms, the pill and hormonal implants are freely available at the local 9ja Girls center, run by the US-based non-profit organization Populations Services International.
"Most of the girls here are sexually active at 15, sometimes 14 years old," Naomi Ali of the 9ja Girls center told AFP.
"They start very early, whatever their religion. So they quickly become pregnant and they stop going to school."
At first teenagers and young women in the area were suspicious, but Ali said hundreds now openly talk in the street about once taboo issues such as sexuality and romantic relationships.
"It's difficult, sometimes they believe that contraception will make them infertile, or the parents categorically reject it," she said.
Nigerian women have an average of 5.53 children, according to the World Bank, but the rate fluctuates greatly between major cities like Lagos and rural areas, where it reaches up to eight children per woman.
Mabingue Ngom, the UN Population Fund's regional director for West Africa, said the situation in northern Nigeria was "urgent."
"If we do nothing, we are going to face major problems," Ngom said.
"Of the 20 million young Africans who enter the job market every year, only two to three million find work."
"That's what feeds into conflicts and terrorism," he added, referring to the Boko Haram Islamist insurgency that emerged from northern Nigeria, an area which, along with neighboring Niger, has the world's highest fertility rates.
Nigeria is fairly small compared to the world's other highly populous nations — at 923,000 square kilometers it's a 10th the size of the United States — and the fight for space is already causing conflict.
In the fertile center of the West African country, clashes between farmers and herders over access to land and water have left several thousand dead last year.
Efforts to encourage families to have fewer children have struggled in a country lacking a social safety net.
The idea that having more children means elderly parents will more likely be taken care of after retirement remains deeply rooted in Nigerian society.
But some analysts say large population growth could be an opportunity for the country, as foreign investors eye a rapidly expanding market.
Charles Robertson, global chief economist at Renaissance Capital, said population growth "should become a dividend for the next 20 years in Nigeria."
He said Nigeria's priority should be to develop "a high level of adult literacy with a steady supply of electricity, especially in large cities."
"It is the best way for young people to get better paid jobs and sustain their families."
Nigeria's Vice President Yemi Osinbajo seemed to agree at an economic forum last year.
"To avoid the time-bomb scenario, we must act with urgency to build an economy that can support that population, provide jobs and economic opportunity, education and health care, hope and optimism," he said.
http://www.arabnews.com/node/1444206/offbeat
--------
Afghan Women 'Too Emotional' For Leadership and Have Enough Rights, Domestic Survey Claims
Jan 30, 2019
Afghan men strongly oppose giving women more freedom — two in three think they have too much already — and young men are even more reluctant than their elders, according to a new survey released this week.
And women aren't fully on board with the idea of parity, either.
Almost one in three of the Afghan women surveyed think women already have a surfeit of rights and a similar proportion say they are "too emotional" to be leaders.
The male generational gap may be explained by younger men seeking rigid gender roles as they struggle to find work and stability in a country ravaged by war and poverty, according to gender equality group Promundo.
Religious teachings against women's rights under the Taliban regime also played a role in hardening views among younger men, said Gary Barker, founder of Promundo-US, which works with men and boys to promote gender equality.
The survey was organised by Promundo and UN Women, the United Nations equality agency.
"It is pretty concerning," Mr Barker told Reuters.
The survey comes amid peace talks between the United States and the Taliban — which controls nearly half of Afghanistan — that may help end war after nearly two decades of conflict.
Afghanistan is not an easy place to be a woman, with forced marriage, domestic violence and high maternal mortality rates, particularly in rural areas, according to equality advocates.
Between 1996 and 2001, under the Taliban government, women were banned from work, made to wear a full-length burqa that covered their face and not allowed out without a male relative.
Women's rights have improved in recent years under the Western-backed Afghan government, especially in cities such as the capital Kabul, where many women work outside the home and more than a quarter of the parliament is female.
The last available data from the Inter-Parliamentary Union in 2018 showed that Afghanistan's parliament had more female representatives than Canada, Ireland, and Israel.
However, the survey of 2,000 adults pointed to a gulf in attitudes between men and women.
About two-thirds of men thought women in Afghanistan had too many rights and that women were too emotional to become leaders, compared to less than a third of women.
And while nearly three quarters of women said a married woman should have equal rights with their partner to work outside the home, only 15 per cent of men agreed.
Mr Barker said investment in girls' education and empowerment would "hit a wall if we don't also worry about the hearts and minds of men".
The report's authors called for action, including education programmes promoting gender equality, work with progressive religious leaders and support for youth campaigns on the issue.
"Conflict, physical and financial insecurity, and lack of education act as drivers of harmful gender attitudes and practices in Afghanistan, and perpetuate the cycles of violence against women in Afghanistan," said Najia Nasim, executive director of Women for Afghan Women.
The civil society group urged more work at a grassroots level to drive forward gender equality.
https://www.abc.net.au/news/2019-01-29/survey-finds-that-afghan-men-oppose-more-womens-rights/10760728
--------
Kashmir's First Woman Wheelchair Basketball Player
January 28, 2019
By Ria Das
Beerwah, Jan 28, 2019: Inshah Bashir, who hails from Budgam district's area in Kashmir, recalls herself as a sober and patient child. Now 24, Inshah fell from a height of 40 feet in her own under-construction house in 2008 and lost the ability to walk.
However, she accepted the challenge that is life. She was interested in basketball and she qualified for the National Championship in Hyderabad, in 2017.
Inshah trains in a special training camp set up for specially-abled children and is looking forward to participating in the Sports Visitor Program 2019 in the US.
SheThePeople.TV catches up with her about her experiences at the national platform, avenues for differently-abled women sportspersons and she got her self-confidence back.
How was your basketball team formed?
Actually, there was no particular team for girls. I was the first among the girls to show an interest in basketball. I played with the boys' team and later at the national level in 2017, I got selected in a team as "Rest of India."
What inspired you to take up basketball?
At a rehabilitation center in the valley named Shafqat Rehabilitation Center, I saw some people like me and even in worse condition than me playing basketball. They suggested me to join them. At first, I felt I may not be able to do it, but then I did, and also felt this game is interesting and convenient to play on a wheelchair.
Tell us about the accident that changed your life and how did you overcome those times?
I was just 15, a 12th standard student, when I met with an accident. I fell in my under construction home from a height of 40 feet and my life shattered thereafter. In the beginning, it was tough. I suffered a spinal injury and underwent surgery but it was not successful. Not being able to walk on my legs and lack of medical care taught me the struggles of life. Wheelchair became my only support.
It took me a lot of courage to overcome that trauma. My family and friends supported me to fight back and encouraged me to find my lost will power. It is nine years of struggle which is paying off now as I got an invitation from the US Consulate to participate in the Sports Visitor Program 2019. It will definitely be a new height for me.
You are the first female wheelchair basketball player from the Kashmir and recently astonished everybody with your performance. When did you realize your passion for the sport?
There was always a sportsperson in me from childhood. I used to participate in games like cricket, volleyball at the district level in school. Then at the rehabilitation center after about eight years, I found out that wheelchair basketball will be my future. I got my enthusiasm back, but this time in wheelchair basketball, which I felt is interesting. I represent Jammu and Kashmir, and try to make the sport popular in the valley so that people like me are motivated to play the game.
Who was the inspiration behind the team?
It was Jammu and Kashmir boys' wheelchair basketball team. Their hard work inspired us. I am not a captain yet, but in the future, I would like to become one of my Women Wheelchair basketball team.
From battling accident to making it to the national sporting event, balancing a career, what drives you towards the sport? What does it mean to you?
I spent eight years in my room. Every day I felt I was getting deeper into depression. The silent sparks for sports got buried deep down due to that tragic accident. Eventually, it drove me towards sports when I got a chance in the rehabilitation center. For me, it is a life-changing move because it made me busy which in turn built my mental peace and also my physique up to an extent. It is my path which motivates me to prove my potential to the world.
Speaking of workouts, tell us about your fitness and exercise routine.
I go to the gym on a daily basis and follow a regular schedule. I follow a specific diet chart fixed by my coach. In addition, I practice my game every day.
What are the biggest challenges that come in your way?
The first challenge was to accept that I am wheelchair bound now. The second was to reinvent myself after the accident. The third challenge was the lack of infrastructure in our state as there are no accessible buildings, parks and basketball courts, etc. And the fourth one is what every disabled person faces in our country, lack of disabled-friendly environment.
Any deterrents?
Again, lack of facilities from the state as well as central government.
Does J&K have an academy where players get training? How many girls are there?
No, unfortunately not. Seeing me getting featured in the media, many girls now are embracing this game, but our state doesn't help in building any such academy.
What do you think India lacks in terms of appreciating all kinds of sports?
As far as India is concerned, we do have good potential in terms of talent, but the gap in infrastructure and coaching facilities are not properly addressed. I am hopeful that after our visit from the USA the government will take initiative regarding the same.
What is your core passion and long-term vision?
My core passion is to excel in this game. As far as my long-term vision is concerned, I want to become a ray of hope for those who have accepted disability as their destiny. I want to help bring out their hidden talents and give their will power a boost.
Do you face any struggles for sponsors to continue with your passion?
Yes, I do face. I have no sponsors. Well, sometimes it becomes very challenging to fulfil my basic necessity of day-to-day life.
How has sports liberated women in India? Do women now seek to take up this professionally?
Only if they get the facilities from the government, more women will try to take up sports as a profession. Sports is a new field for women, especially in the case of India. Be it wrestling in Haryana, be it boxing or shooting, badminton or tennis, etc.
The women of India have channelized new energy through sports. This new energy has generated a feeling of liberation.
What would be your advice for aspiring girls?
My advice to every aspirant girl is to never stop just because they think they are going to be judged. If it is what you really want to do, do it from your heart, and be an inspiration to others.
What are the chances for specially-abled girls from Kashmir to take up the sport? Do they get as much exposure and enthusiasm as they deserve?
Opportunities are there but not for people like us. Sometimes we feel ignored by the authorities, hence we have to struggle a lot. The government has not delivered on the promised facilities, accessible stadiums, buildings, ramps for the disabled. We definitely don't get the desired exposure and enthusiasm.
If the girls are properly trained and coached, they have a bright future in any sports and will not only make the state proud but the country as well.
http://mattersindia.com/2019/01/kashmirs-first-woman-wheelchair-basketball-player/
--------
UK Police Arrest Racist Man Who Harassed Muslim Girls
Jan 29, 2019
A man believed to be in his 60s has been arrested in the British capital after he hurled harsh racist abuses at a group of Muslim girls.
Police said on Tuesday they were investigating the hateful behavior of the man who was spotted in a video on the internet harassing Muslim girls outside Central Foundation Girls School, in Bow, east London on Friday.
The video shows the man hurling some unprecedented abuses at the girls, saying they should be made infertile and prevented from breeding.
He follows the school children and calls them rats who should be sterilized like prisoners of the Nazi Germany.
The Metropolitan Police said it was aware of the footage and called on witnesses to come forward.
"The footage is believed to have been captured in Tower Hamlets and shows schoolgirls, some of whom are wearing hijab head coverings," a Met spokesperson said, adding, "A male voice can be heard on the clip providing abusive and offensive commentary."
Tower Hamlets Mayor John Biggs and Councilor Asma Begum issued a joint statement condemning the abusive conduct against Muslims girls.
"We condemn the use of this inflammatory rhetoric. Tower Hamlets is home to people from all over the world and we are proud of our history which has been enriched by migration," said the pair in their statement, adding that they will continue to monitor the situation.
Hate crimes against Muslims have been on rise in the UK with many women suffering abuses and harassment over their hijab.
Muslims women in cities like Manchester have been specifically targeted since a terror attack in the city in May 2017 killed 22 people.
There was a renewed surge of hate attacks against Muslim women last year when Boris Johnson, a former foreign minister, wrote a controversial commentary in the Daily Telegraph, comparing women wearing burqa to "letterboxes" and "bank robbers".
https://www.presstv.com/Detail/2019/01/29/587121/London-Muslim-girls-harassment-police-investigation
--------
Experts Ask Red Crescent to Hire Female Paramedics
2019-01-29
JEDDAH — Many doctors have urged the Saudi Red Crescent Authority to employ female paramedics to work alongside their male counterparts.
Speaking to Al-Bilad Arabic newspaper, they said it was essential to follow up with cases of injured women who are moved to hospitals.
Given the fact that Saudi women are working in different fields with efficacy, they are definitely capable of making their way up in this field, which is a vital sector where their services are necessary to save the lives of thousands of women, the doctors said.
Many doctors agreed on the importance of involving Saudi women in this field.
Answering a question from Al-Bilad, some of them said they did not know why the Saudi Red Crescent Authority had failed to look into this matter.
Male paramedics sometimes find it difficult to handle injured females especially in fires and traffic accidents, they said adding that it would be much easier for their female counterparts to administer first aid to women victims at accident scenes and move them to hospitals if needed.
The doctors agreed that some paramedics hesitate to treat injured women in the absence of male guardians, which they said is a huge mistake because the situation may get critical in cases that require quick intervention to save lives.
This is why all women must be given first aid training and they should be given a role in attending to women patients along with male paramedics.
«Saudi women are capable of carrying out emergency work with men. They are only in need of training, guidance, and a suitable working environment,» one doctor said.
Many Saudi female doctors and nurses were able to adapt with the conditions of working at health centers in remote areas, he said.
«To them, being a female paramedic is nothing different and it is part of the nursing job. It›s only a matter of time before we see female paramedics working in Saudi Arabia. This is especially so in the backdrop of the great attention Saudi women are getting and the ways they are being looked at now to benefit from their expertise and devotion to work,» he added.
«Saudi women have been working in the field of nursing for about 40 years. They did an excellent job attending to many cases in the streets or shopping centers, helping save lives and reduce complications,» said another doctor.
Al-Bilad›s attempt to contact Yaseen Al-Shehry, spokesman for the Saudi Red Crescent Authority, to know about the constraints in employing female paramedics in the authority was unsuccessful.
His deputy Muhammed Manna›a said the decision of employing female paramedics must be taken by the higher authorities. «This subject has never been discussed with the authority and the Shoura Council is the pertinent body to study the matter,» he said.
The doctors agreed that some paramedics hesitate to treat injured women in the absence of male guardians, which they said is a huge mistake because the situation may get critical in cases that require quick intervention to save lives.
http://saudigazette.com.sa/article/557955/SAUDI-ARABIA/Experts-ask-Red-Crescent-to-hire-female-paramedics
--------
Saudi Woman Wins Her Battle for Literacy at the Age Of 75
2019-01-29
By Abdullah Al-Dahhas
MAKKAH — The bouquet of flowers and a certificate of appreciation from the Ministry of Education are not enough to describe the achievement of Noura Jazi Al-Baqami, a 75-year-old Saudi woman who won her battle for literacy by completing the second intermediate year after enrolling in an adult education school in the holy city of Makkah.
The school organized a party in honor of Al-Baqami to celebrate her success and give hope to other elderly women who are reluctant to go for education at an advanced age.
Al-Baqami said this academic year would be engraved in her memory because she was able to complete her second intermediate year amid many difficulties and ups and downs.
«Through perseverance and strong determination I was able to complete my second year and will proceed until I finish this stage,» she said.
She appreciated the efforts of the Education Ministry to provide free of charge education to young and old Saudis alike in government schools.
«The ministry is carrying the beacon of light for everyone who wants to walk down the tunnel to compete their education,» Al-Baqami said.
Amina Al-Ghamdi, assistant director general of the department of education who presented Al-Baqami with her appreciation certificate and the bouquet of flowers, said the ministry was determined to upgrade the educational level of Saudi males and females to help them cope with global changes and to meet the requirements of societal development.
She asked women to be inspired by the experience of Noura Al-Baqami and not to shy away from completing their education whatever their age.
http://saudigazette.com.sa/article/557954/SAUDI-ARABIA/Saudi-woman-wins-her-battle-for-literacy-at-the-age-of-75
--------
The 'Just Divorced' Party: Egyptian Women Celebrate Their Freedom
January 28, 2019
There is an old, but popular, Arabic saying that goes a little like this: "A shadow of a man is better than a shadow of a wall."
It was commonly said to young women by older family members, who believed that being married was the most important aspect of a woman's life.
Taken literally, it means that being a woman with a man, is better than being a woman on her own in an empty house sitting by the wall.
Back in the day, Arab societies considered divorce as the worst-case scenario and a terrible option for a couple.
The idea that a man and woman should officially separate their lives was never acceptable.
Socially, a divorced couple had a strong sense of taboo hanging over them. In both Islam and Christianity, divorce is known as a concept hated by God. It is even forbidden by most of the eastern churches as well. So if you are a Coptic Christian in Egypt, you have an even more difficult time to file for a divorce.
But today, the perception of divorce has slowly gone from extremely negative to slightly neutral.
As the cultural taboo of divorce has gone down, Arab countries are facing a dramatic spike in divorce rates, and new rituals are being adopted.
Women initiate divorce
According to William Doherty, a marriage therapist and professor of family social science at University of Minnesota, most divorces are initiated by women, because of the changes in women's expectations to what a "good life" is.
Women today generally expect an equal partner, who will carry the weight of marriage with her; someone who will support her pursuit of a career as well as the pursuit of motherhood.
But in many cases, men become very dependent on the woman, and that was not the intention going into the marriage.
In the Arab world, a country with one of the highest divorce rates is Egypt: On average, a divorce case is being recorded every 4 minutes in the country's courts.
A 2018 report issued by the Egyptian Central Agency for Public Mobilization and Statistics shows divorce cases in the country rose to 18,600 in August, from 18,100 at the same month the year before.
"Marriage is hard. It's a lot of work." Dalia, an Egyptian, told Gulf News. "As a woman in the Middle East, you are usually the one who draws the short string. Unless you end up with someone who actually will carry 50 per cent of the weight, which is rarely the case, you have to adjust your expectations. People make it seem so fun. It's so much more than people know."
The statistics confirm the existence of more than 4 million divorced women, and family courts face long daily queues of married women willing to make the difficult decision of leaving their husbands.
First signs of trouble?
Yasmeen, 37, a Egyptian (from Alexandria), got divorced recently. Talking to Gulf News, she said her marriage lasted for 6 years. But it didn't let her feel secure.
"My marriage was arranged. During my period of engagement, my ex-husband showed me a totally different person than who he really is." "After marriage, I saw he was fully dependent on his father, doesn't go to work, and just laid around the house playing PlayStation. He was lazy."
All these made Yasmeen feel insecure, and she couldn't stay in the relationship any longer. She had a different lifestyle. "I had a job, I was active and social and he was nowhere to be seen in the my circle."
Her husband would not accompany her in outings with their son. "It was as if I had the son on my own."
Yasmeen said she understands why many Egyptian women are getting divorced, now more than ever. From her conversations with friends and family, she figured out what the problem is.
"We are strong women, we take the lead, and we marry men who are not being responsible. Women's rights have ruined our eco-system, we wanted equal rights, but we only got extra burdens. No one taught our men to share the burdens of a family equally," she told Gulf News.
"Egyptian women work inside and outside the house, if you are the one who drops the children to school, the men will still be at home sleeping."
"After you finish work, you still have to pick the children up from school, do the groceries, cook, clean, help them with their homework, and tend to the lazy man who comes at the end of the day and expects superwomen to be looking fresh and with a wide smile."
"And, of course, if you complain about the burdens of handling work and the household, and request for him to step in and carry a bit of the weight with you, he will call you a nagger and go find himself a girlfriend who is free and can laugh and sing and dance all night with him."
Why do marriages break down?
Dr Monica de Sousa Mendes, a Dubai-based psychologist practising for 16 years, explained reasons behind the high divorce rates.
"A marriage doesn't just break, it erodes overtime," she told Gulf News. "A couple is a life system and like any other system both parties react to one another. What normally precedes divorce has much to do with how a partner acts and how the other partner reacts to it."
"From my experience, I would say the main triggers for divorce in this region are infidelities, getting married at a young age, lack of commitment or lack of responsibility from one partner, leading to too much conflicts and arguing. Also unrealistic expectations due to the cultural role of men and women."
"And these days, there are more acute and prolonged life stressors, lack of social support and a progressive perceived lack of concern, care or attention from both partners."
Divorce parties
As divorce rates are skyrocketing, women have recently started the trend of celebrating divorce to savour their freedom.
To them it is not perceived as a failed marriage; rather, it is now seen as a successful exit from an unhappy marriage.
Couples between the age of 29 and 36 see the highest divorce rates in this region, according to Dr Mendes.
Sawsan, 33, married for three years, decided to throw herself a party once her divorce papers were signed.
She invited all of her best friends over, had catering, cake, juices and music. It was a happy occasion. Instead of a cake that said 'Happy Birthday' or 'Happy Anniversary', this cake said 'Just Divorced' in bright pink icing.
Divorce parties are taking the shape of weddings from invitation cards, to hotel ballrooms, fancy dress for the divorcee and even a 3D cake specially done for the occasion.
In Mauritania, divorce parties are old and part of the culture, where women would throw a party at her home, three months after finalising the divorce.
She would dress up, put henna and dance with her friends all night.
Modern divorce parties have started in Japan with an event planner called Hiroki Terai, who now only plans divorce parties or ceremonies, in a special "divorce mansion" he found in Tokyo.
Even celebrities have embraced the trend.
Lebanese singer Maysam Nahas, Egyptian actress Hana Sheeha and the Syrian Joumana Hadad have celebrated their divorces by having big parties where many celebrities were invited.
In Egypt, many people are still finding the idea of a divorce party weird and a tad un-classy. Especially since divorce is still somewhat perceived as a failure and a collapse of a relationship.
So what exactly are these women celebrating?
"I think it's great," Hania, an Egyptian, 27, told Gulf News. "I'm so over the whole 'divorce is taboo' idea. I'm not saying these parties will save these women, but Egyptians and other Arabs need to accept that sometimes ending things is better than staying in an unhealthy relationship, and these parties normalise divorces. Even today, there's this idea that a woman can't survive without a man. You'd think that's in the past but it's really not. We still see it today."
Some people think it's an unnecessary display of a relationship status.
"Just no. You don't need to publicise to the world that you got divorced." Souha, 28, an Egyptian told Gulf News. "Honestly, just mourn the death of your marriage and say thank you, next."
Maii, another Egyptian, said: "I wouldn't throw a party, but I would go on a girl's trip with my friends and do all the things I couldn't do when I was married. I would enjoy my freedom."
So… is divorce a good solution?
Dr Mendes said divorce is better than staying in a bad marriage. Moreover, she said, divorce isn't the worst thing that can happen to the kids: Enduring a horrible home life is.
Of course, divorce should rarely be the first choice because, generally, the only thing keeping a "bad" marriage from being a "good" marriage is sustained mutual effort.
That being said, there are times that divorce is the best choice to allow both partners to grow and achieve the life they desire, and in some scenarios, the life they deserve.
For some people, divorce is a profound life change in terms of security, and the adjustment to it may lead to depression and severe anxiety. For others, it is a relief from fear and inertia and a new life opportunity.
https://gulfnews.com/world/mena/the-just-divorced-party-egyptian-women-celebrate-their-freedom-1.1548670278756
--------
New Vice Patrols Launched In Qom To Further Crack Down On Women
Jan 29, 2019
New vice patrols are launched in Qom to further crack down on women on the pretext of improper veiling.
Abdol-reza Akhani, commander of the State Security Force in Qom Province, announced that in cooperation with the Revolutionary Guard Corps (IRGC) of Qom, the new vice patrols have been launched.
On the role of the new vice patrols, the Akhani said on Sunday, January 27, 2019, "The two stages of activities of units of the new vice patrols have been successfully launched with the cooperation of the IRGC of Qom, the Executive Staff of Promoting Virtue, and the State Security Force."
Akhani said, "Everyone should know that Qom is not a place for such acts (i.e. improper veiling) and all the moral standards must be observed in Qom. To deal with the women who have out-of-norm appearance in observing the Hijab, which would lead to social ailments, the traffic police is determined to deal seriously with female drivers who do not observe the Islamic veil." (The state-run BORNA news agency – January 27, 2019)
On the treatment of women by the new vice patrols in Qom, Akhani said, "The vehicles of improperly veiled women are going to be impounded for a week and transferred to the parking in cooperation with the Judiciary. Also, those drivers who cause sonic pollution (i.e. play loud music in their cars) in the city will be seriously dealt with. Their cars will be impounded and towed to the parking and they will be fined."
In an interview with ISNA news agency, earlier in the year on May 23, 2018, the General Prosecutor of Ardabil, Seyyed Nasser Atabati, had announced the activities of new vice patrols in this northwestern Iranian city. He said the vice patrols were obliged to give verbal warning and guide women and take practical measures in educating them on the need to observe the veil, chastity and the related issues.
https://women.ncr-iran.org/2019/01/29/new-vice-patrols-launched-in-qom/
--------
URL: https://www.newageislam.com/islam-women-feminism/aasia-bibi-free-last-supreme/d/117599
New Age Islam, Islam Online, Islamic Website, African Muslim News, Arab World News, South Asia News, Indian Muslim News, World Muslim News, Women in Islam, Islamic Feminism, Arab Women, Women In Arab, Islamophobia in America, Muslim Women in West, Islam Women and Feminism