New Age Islam News Bureau
17 January 2022
• Taliban Pledge To Allow All Afghan Girls To Return To School After March 21, the Afghan New Year
• Taliban Fighters Pepper Spray Women Protesters Calling For Rights
• Saudi Female Billiards Team Prepares For International Tournament In Egypt
• Kabul Protest Calls Attention To Recent Killing Of Two Hazara Women
Compiled by New Age Islam News Bureau
URL: https://www.newageislam.com/islam-women-feminism/aafia-siddiqui-united-states-texas-siege/d/126176
URL:
---------
Aafia Siddiqui: Pakistani Prisoner in the United States At Centre Of Texas Siege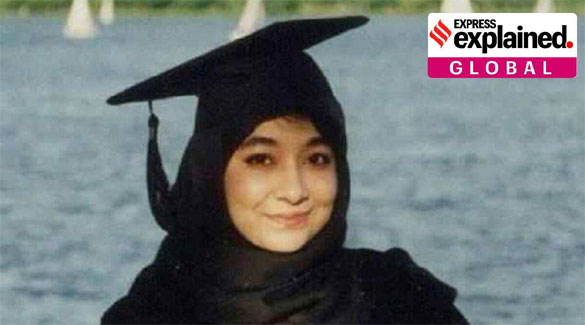 File photo of Aafia Siddiqui. (Facebook/Free Aafia Siddiqui)
----
Jan 16, 2022
ISLAMABAD: Aafia Siddiqui, a Pakistani prisoner in the United States whose release was reportedly demanded by a Texas hostage-taker this weekend, is serving an 86-year sentence for the attempted murder of American soldiers.
Four people were freed unharmed on Sunday following a more than 10-hour standoff at a synagogue in the US state. Their suspected captor was killed.
Media, quoting a US official briefed on the matter, reported that the man was calling for the release of 49-year-old Siddiqui.
Her lawyer said in a statement to CNN that she had "absolutely no involvement" in the hostage situation, and condemned the man's actions.
A US-educated Pakistani scientist, she was jailed in 2010 for attacking American soldiers in Afghanistan.
She was the first woman to be suspected of Al-Qaida links by the US, but never convicted of it.
At 18 years old Siddiqui travelled to the US, where her brother lived, to study at Boston's prestigious MIT, later earning a PhD in neuroscience at Brandeis University.
But after the 9/11 terror attacks of 2001, she came up on the FBI's radar for donations to Islamic organisations and was linked to the purchase of $10,000 worth of night-vision goggles and books on warfare.
The US suspected she joined al-Qaida from America, returning to Pakistan where she married into the family of Khalid Sheikh Mohammed -- an architect of the 9/11 attacks.
She disappeared in around 2003, along with her three children, in Karachi.
Five years later she turned up in Pakistan's war-torn neighbour Afghanistan, where she was arrested by local forces in the restive south-eastern province of Ghazni.
During her interrogation by US forces, she grabbed a rifle and opened fire, while screaming "Death to America" and "I want to kill Americans".
The soldiers escaped unhurt, but she was injured.
Her imprisonment sparked outrage in her home country and her supporters claim she was the victim of a secret Pakistan-US plot.
After she was sentenced, al-Qaida's then number two called on Muslims to "avenge" the decision.
Her release has previously been at the centre of militants' demands, including during two hostage crises in Pakistan as well as the capture of James Foley, an American journalist who was beheaded by the Islamic State in 2014.
Michael Kugelman, a South Asia analyst, tweeted: "Siddiqui isn't well known in the US, but in Pakistan she's a big name -- many view her as an innocent victim."
In a previous article, he described her as a cause celebre among Islamist militants, and said she was viewed as a "powerful symbol of how poorly Americans treat innocent Muslims in the global campaign against terror".
The issue has remained a matter of long-running tension between Pakistan and the US.
During his election campaign, Pakistan Prime Minister Imran Khan, an open critic of US action linked to the war on terror, vowed to get her released. He offered to free Shakeel Afridi, who is languishing in Pakistani jail over his role in helping Americans trace al-Qaida founder Osama Bin Laden in Pakistan.
Source: Times Of India
https://timesofindia.indiatimes.com/world/us/aafia-siddiqui-pakistani-prisoner-at-centre-of-texas-siege/articleshow/88930869.cms
--------
Taliban Pledge To Allow All Afghan Girls To Return To School After March 21, the Afghan New Year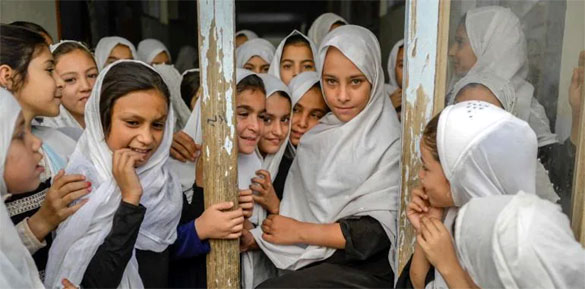 Since taking power, the Taliban has only allowed girls of primary age to attend school (Photo: AFP)
-----
January 16, 2022
Afghanistan's new Taliban rulers say they hope to be able to open all schools for girls across the country after late March, their spokesman told The Associated Press on Saturday, offering the first timeline for addressing a key demand of the international community.
Since the Taliban takeover in mid-August, girls in most of Afghanistan have not been allowed back to school beyond grade 7. The international community, reluctant to formally recognise a Taliban-run administration, is wary they could impose similar harsh measures as during their previous rule 20 years ago. At the time, women were banned from education, work and public life.
Zabihullah Mujahid, who is also the Taliban's deputy minister of culture and information, said their education departments are looking to open classrooms for all girls and women following the Afghan New Year, which starts on March 21. Afghanistan, like neighbouring Iran, observes the Islamic solar Hijri Shamsi calendar.
Education for girls and women "is a question of capacity," Mujahid said in the interview.
Girls and boys must be completely segregated in schools, he said, adding that the biggest obstacle so far has been finding or building enough dorms, or hostels, where girls could stay while going to school. In heavily populated areas, it is not enough to have separate classrooms for boys and girls — separate school buildings are needed, he said.
"We are not against education," Mujahid stressed, speaking at a Kabul office building with marble floors that once housed Afghan attorney general's offices and which the Taliban have adopted for their culture and information ministry.
The Taliban dictates so far have been erratic, varying from province to province. Girls have not been allowed back to classrooms in state-run schools beyond grade 7, except in about 10 of the country's 34 provinces. In the capital, Kabul, private universities and high schools have continued to operate uninterrupted. Most are small and the classes have always been segregated.
"We are trying to solve these problems by the coming year," so that schools and universities can open, Mujahid said.
The international community has been skeptical of Taliban announcements, saying it will judge them by their actions — even as it scrambles to provide billions of dollars to avert a humanitarian catastrophe that the UN chief this week warned could endanger the lives of millions.
With a breakdown of services and only sporadic electricity in the bitterly cold Afghan winters, most people rely on firewood and coal for heat. Among the hardest hit are some 3 million Afghans who live as refugees within their own country, having fled their homes because of war, drought, poverty or fear of the Taliban.
Earlier this month, the United Nations launched a $5 billion appeal for Afghanistan, the single largest appeal for one country.
Washington has spent $145 billion on reconstruction and development projects in Afghanistan since the 2001 US-led invasion that ousted the Taliban regime. Yet even before the Taliban recaptured the country, the poverty rate was 54 per cent —and a 2018 Gallup poll revealed unprecedented misery among Afghans.
Mujahid appealed for economic cooperation, trade and "stronger diplomatic relations." So far, neither Afghanistan's neighbours nor the United Nations seem ready to grant formal recognition which would help open up the Afghan economy. However, UN Secretary General Antonio Guterres has called for greater economic development, saying it's critical to rapidly inject liquidity into the Afghan economy "and avoid a meltdown that would lead to poverty, hunger and destitution for millions."
The international community has called for a more representative government that includes women as well as ethnic and religious minorities. While all members of the new Taliban Cabinet are men and most are Taliban members, Mujahid said there are exceptions, such as the deputy finance minister and officials in the economics ministry who are holdovers from the previous, US-backed administration.
Mujahid also said 80 per cent of civil servants who have returned to work were employees under the previous administration. Women are working in the health and education sector and at Kabul International Airport in customs and passport control, he added. He did not say if or when women would be allowed to return to work in government ministries.
He also told the AP that most of the new government's revenue will come from customs that the Taliban will collect at border crossings with Iran, Pakistan and the Central Asian nations to the north. Without offering figures, he claimed the Taliban have brought in more revenue in their first four months in power than the previous government in over a year.
He appealed to Afghans who have fled to return to their homeland. Since the takeover, there have been cases of opponents arrested, journalists beaten, rights workers threatened and demonstrations by women dispersed by heavily armed Taliban troops firing in the air.
Mujahid acknowledged incidents of Taliban members harassing Afghan civilians, including humiliating young men and forcibly cutting their hair.
"Such crimes happen, but it is not the policy of our government," he said, adding that those responsible were arrested.
"This is our message. We have no dispute with anyone and we don't want anyone to remain in opposition or away from their country."
Source: India Today
https://www.indiatoday.in/world/story/taliban-pledge-allow-all-afghan-girls-return-to-school-after-march-21-1900664-2022-01-16
---------
Taliban fighters pepper spray women protesters calling for rights
January 17, 2022
KABUL: Taliban forces on Sunday fired pepper spray at a group of women protesters in Afghanistan's capital demanding rights to work and education, three demonstrators told AFP.
Since seizing control of the country by force in August, the Taliban authorities have imposed creeping restrictions on Afghans, especially on women.
Around 20 women gathered in front of Kabul University, chanting "equality and justice" and carried banners that read "Women's rights, human rights," an AFP correspondent reported.
The protest however was later dispersed by the Taliban fighters who arrived at the scene in several vehicles, three women protesters told AFP.
"When we were near Kabul University three Taliban vehicles came, and fighters from one of the vehicles used pepper spray on us," said a protester, who asked not to be named for security reasons.
"My right eye started to burn. I told one of them 'shame on you', and then he pointed his gun at me."
Two other protesters said that one of the women had to be taken to hospital after the spray caused an allergic reaction to her eyes and face.
An AFP correspondent saw a fighter confiscate a mobile phone of a man who was filming the demonstration.
The hard-line Taliban group have banned unsanctioned protests and frequently intervened to forcefully break up rallies demanding rights for women.
The Taliban authorities have blocked women public sector employees from returning to work, many secondary schools have still not reopened for girls, and public universities are shut.
Long distance trips for women who are not accompanied by a close male relative have been banned.
The authorities have also issued guidelines that prevent television channels from broadcasting serials featuring women actors.
Meanwhile, many women are living in hiding, fearful of a regime notorious for human rights abuses during their first stint in power between 1996-2001, before being ousted by a US-led invasion.
Source: Arab News
https://www.arabnews.com/node/2005736/world
---------
Saudi female billiards team prepares for international tournament in Egypt
January 03, 2022
RIYADH — The Saudi women's team for billiards and snooker has started their preparations to participate in their first international tournament.
The team members are engaged in intensive practicing at their indoor training camps, which are being held in Riyadh and Dammam. Those who performed well in the camp will be selected to represent the Kingdom in the international friendly tournament, scheduled to be held in Egypt in the end of January.
Several training sessions and technical workshops are being held as part of the camps, which are directly monitored by Dr. Nasser Al-Shammari, chairman of the Board of Directors of the Saudi Billiards and Snooker Federation, and under the supervision of the first billiard team coach Mansour Al-Khanfari.
Source: Saudi Gazette
https://www.saudigazette.com.sa/article/615442/SAUDI-ARABIA/Saudi-female-billiards-team-prepares-for-international-tournament-in-Egypt
---------
Kabul protest calls attention to recent killing of two Hazara women
Jan 17, 2022
KABUL: The Kabul protest organised by Afghan women on Sunday called attention to the recent killing of two Hazara women.
"(The protest is) for the Sake of Zainab Abdulahi and Zainab Ahmadi, those who were killed in the night without committing any crime," said a protestor, reported Tolo News.
"While I am alive and have one drop of blood in my body, we will stand, we will fight. The bullet that hit the Hazara Girl's chest- hit my chest as well," another protestor said.
The Hazara minority in Afghanistan are regularly subjected to targeted killings, violence, and discrimination based on their religious and ethnic identity.
The targeted attacks have increased exponentially and the Hazara minority has been subject to daily violence by the Taliban.
Soon after the Taliban seized much of Afghanistan in a matter of days, the group destroyed and blew up slain Hazara leader Abdul Ali Mazari's statue in Bamiyan, a grim reminder of the destruction of Bamiyan Buddhas during its previous tenure.
The demonstration was launched in the Debori area of Kabul and ended in the vicinity of Kabul University, reported Tolo News.
The protestors expressed anger over the murder of two women in Kabul city. They also said that two women were "shot dead by the Islamic Emirate forces."
Protestors also said that three high-profile women have been taken into custody by the Islamic Emirate. According to the protestors, three women were taken into detention during a demonstration in the northern province of Balkh. The three women are yet to be released, the protestors said, reported Tolo News.
The protestors expressed alarm over spiking food prices amid high unemployment in the country and called on the international community to help Afghanistan.
"We want to raise our voices so that our voices could be heard by the international community, which is against injustice and oppression," said a protestor.
Earlier, a family claimed that Zainab, a young girl, was shot dead at a security checkpoint while she was on her way home from a wedding party along with other relatives.
The Islamic Emirate has repeatedly said that it is committed to ensuring women's rights based on Islamic and Afghan traditional values.
Following the Taliban's power grab in Kabul, Afghan women have repeatedly protested in a number of cities in the country, asking that their rights be respected and for representation in the government and local authorities.
Source: Times Of India
https://timesofindia.indiatimes.com/world/south-asia/kabul-protest-calls-attention-to-recent-killing-of-two-hazara-women/articleshow/88942260.cms
---------
URL: https://www.newageislam.com/islam-women-feminism/aafia-siddiqui-united-states-texas-siege/d/126176
New Age Islam, Islam Online, Islamic Website, African Muslim News, Arab World News, South Asia News, Indian Muslim News, World Muslim News, Women in Islam, Islamic Feminism, Arab Women, Women In Arab, Islamophobia in America, Muslim Women in West, Islam Women and Feminism