New Age Islam News Bureau
14 Jul 2015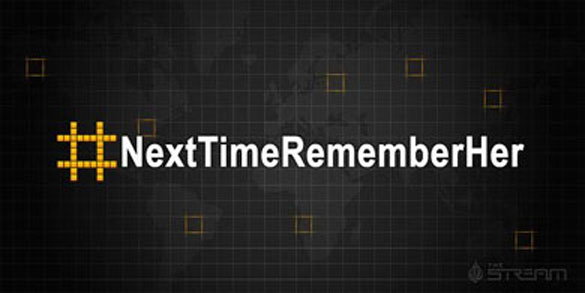 Muslim women demand gender balance with #NextTimeRememberHer
--------
• Muslim Women Say #NextTimeRememberHer to the Men Who "Forgot" To Include Them
• Tanveer Zamani Denies Rumours of Marriage with Zardari
• Uproar in Mumbai over Muslim Girls' Punishment
• Morocco Women Acquitted Of Indecency Charges
• Chad Bans Niqab, Arrests Those Wearing It
• 'We Want To Show Our Identity as Somali Muslim Women — but Also, We Want To Look Good'
• Retail Therapy: Feeha Jamshed Proves Good Things Are Worth The Wait
Compiled by New Age Islam News Bureau
URL: https://newageislam.com/islam-women-feminism/a-young-muslim-woman's-daily/d/103899
----------
A young Muslim woman's daily experience of racism in Australia
July 13, 2015
By Maryam Allami
With the recent rise of right-wing extremism in Australia, it's a no-brainer that Muslims are on the receiving end of some of the worst cases of Islamophobia to happen since the Cronulla riots in 2005. Of all these Muslims, it seems that Muslim women who choose to veil themselves suffer from these attacks the most.
As a Muslim woman who chooses to wear the hijab, my experiences with right-wingers along with the media who throw around Islamophobic statements on a daily basis have made me who I am today.
When I think back to some of the Islamophobic attacks I've experienced, I realise I haven't had it as bad as other Muslim women. The usual pushing and shoving, racial slurs being thrown about and dirty looks when I walk in public are nothing new for any Muslim woman.
It is the product of these microaggressions that is more concerning. It is one thing to be verbally and physically abused but when it starts to affect a person's mental health, a whole new problem arises in the Muslim community. Muslim youth who are going through mental health crises face a common stigma where they are told that mental illnesses don't exist.
I have had first-hand experience with this. My bad experiences have made me realise that dealing with Islamophobia is more complex than I initially thought.
During the September raids in Sydney last year, I didn't leave the house for three weeks straight. Living by myself at the time, my paranoia increased and my anxiety flew through the roof. I consumed all the propaganda on the news and the death threats sent to my community on social media sites.
I was weak enough to expose myself to all of this because I was suffering from a mental illness. I found there was no support from my community because we were already trying to cope with our own individual problems.
I looked to my Muslim sisters and I realised we were all suffering in similar ways. Muslim women who wear the hijab are religious markers that Islamophobic people target because we are visibly Muslim.
Similarly with Muslim men, their brown skin, ethnic sounding name, and full beards are all factors that racists consider when they decide to abuse Muslims and Islam in general. This stereotype is one of the worst things to be born out of Islamophobia.
Because of this stereotype, thousands of Muslims are stopped each year in airport customs —solely based on their appearance. This indicates that there is a deep seated racism and prejudice amongst law enforcement agents.
The government has a big role to play in setting a type of fear in the minds of the Australian people. The recent discussion of anti-terror laws as well as the implementation of laws that will revoke the Australian citizenship of known or potential terrorists are prime examples of the counter-productivity of the federal government.
If the government wants to ensure the safety of the citizens of this country as well as enforce an egalitarian and inclusive society, they should try to hide their racist and Islamophobic motives first, because honestly they are not fooling any socially aware person in this country.
I'm starting to realise that there is something lurking deep inside me — an internalised phobia or hatred of something. This is concerning to say the least. It could just be frustration aimed at the general Australian population or people who go out of their way to harass me because I'm Muslim. However, I like to think that I'm not as low as these people.
I believe that having this internalised hatred is counter-productive for any Muslim who wants to make changes in this society. Muslim women in particular have a difficult time gathering to talk about their experiences with Islamophobia.
I believe that among Muslim women there is a mutual understanding about all of this. We understand that we can't compare experiences and debate whose experience was the worst. At the end of the day we all have bad experiences. So basically: suck it up.
When Muslims publically voice their concern or complain about the Islamophobia they face on a daily basis, we are labelled as extreme. I can't really imagine a Muslim coming out and talking about the traumatising abuse they experience with a smiling face. Why is it that we are called extreme Muslims when we are seen with an angry face?
It's time to stand up to these racists and tell them that we won't tolerate this hatred and abuse. I have lived all my life staying silent about the Islamophobia I experience — but not any longer.
Speaking out against groups like Reclaim Australia has given me a confidence that would benefit many Muslims in my community. In this country we are constantly alienated and dehumanised by the right-wing media. This has to stop. We will not allow Islamophobic violence to silence us.
Like the article? Subscribe to Green Left now! You can also like us on Facebook and follow us on Twitter.
https://www.greenleft.org.au/node/59466
----------
Muslim Women Say #NextTimeRememberHer to the Men Who "Forgot" To Include Them
Jul 14, 2015
Muslim women are tired of men dominating the conversation — and they're doing something about it. On Sunday, Muslim women from all over the world took to Twitter to air their grievances through the hashtag conversation #NextTimeRememberHer. The Al Maghrib Institute was promoting a webinar they were hosting on the Rohingya Muslim crisis, titled "Earning the Love of Allah: A Plea to Help Those Suffering In Rohingya," when a few Muslim women noticed that all 16 of the speakers were men. This triggered a Twitter conversation, with the hashtag #NextTimeRememberHer being used more than 2,300 times and becoming one of the top Washington and New York trends on the site.
The conversation was masterminded by a coalition of highly accomplished Muslim women in the fields of media, social work, and entertainment: the leaders of MuslimGirl.net — a popular online publication for Muslim women by Muslim women — columnist Hind Makki, and comedy screenwriter M. Hasna Maznavi. And for the creators of this conversation, there was much more to the Al Maghrib event. This transcends into something deeper.
MuslimGirl Editor-in-Chief Amani Al-Khatahtbeh feels as if female voices within the Muslim community are either unheard or neglected. "It seems like whenever a significant discussion is taking place in the Muslim community, especially when it comes to more hard-hitting and substantive issues, women's voices are consistently neglected," the 23-year-old told Bustle. "It's not enough to tokenize a woman speaker or have women discussing 'women's issues,' but also to represent them in as varying degrees of discussions as they are active in different facets of society."
Al-Khatahtbeh hopes the conversation unleashes a new opportunity for Muslim women to take on speaking events at institutions. "We wanted to use the opportunity to uplift the names and accomplishments of Muslim women that are more than qualified to speak and that we hope institutions won't 'forget' to remember for their next events. We hope that this discussion really show that our community has higher standards when it comes to women's inclusion — that we have our eye on it, and we won't let organizations slide on it," she adds.
The hashtag conversation prompted one Muslim woman to take further action. An aerospace engineer, Zahra Khan, is launching a community of Muslim women to organize continued efforts to get more speaking time. After witnessing too many examples of Muslim women being underrepresented in areas in which they are qualified, she created the #addfemalespeakers Facebook group to start her mission.
Khan tells Bustle, "Though I've noticed a lack of female speakers at Muslim events in the past, I have recently started focusing on it more after seeing the excellent #allmalepanels tumblr and seeing the various ad-hoc efforts of Muslim women to call out Muslim events on social media for not having any representation of women. One of the most egregious and hilarious examples recently was a fundraiser for a social service organization to — wait for it — empower women!"
Khan adds, "I, along with many other women, complained on social media to the organizers and this resulted in a female speaker being added to the line up. Based on this success, I've participated in calling out other events as well."
Here are some of my favorite tweets from yesterday's #NextTimeRememberHer conversation:
Khan's #addfemalespeakers Facebook group will provide resources for Muslim women to take on speaking events. Group members are encouraged to contact event organizers on social media through the hashtags #wherearethewomen and #addfemalespeakers.
What if event organizers claim they weren't able to find female speakers? Zahra Khan already has that covered: "In case event organizers respond with the excuse of not being able to find female speakers, we will be sharing online resources with lists of female Muslim speakers and their areas of expertise in the group. Group members can use these to further pressure event organizers to include female speakers."
http://www.bustle.com/articles/96924-muslim-women-say-nexttimerememberher-to-the-men-who-forgot-to-include-them-and-its-a
----------
Tanveer Zamani denies rumours of marriage with Zardari
July 13, 2015
KARACHI: Dr. Tanveer Zamani once again refused the allegation of marriage with co-chairman of Pakistan People's Party (PPP) Asif Ali Zardari. Tanveer Zamani who claimed herself as President of PPP America, said that "Asif Ali Zardari is my leader and he is just like brother to me."
She said that she does not know any man named Sajawal Zardari. She also told that her husband is Tehseen Javed. Earlier, American surgeon Dr. Tanveer Zamani, in a TV talk show, clearly denied the rumors of marriage to former president of Pakistan Asif Ali Zardari.
President of Pakistan People's Party America denied all media reports regarding her marriage with former president, Asif Ali Zardari. While talking on the TV talk show, she said that she came to Pakistan on demand of PPP's supporters.
Dr.Tanveer said she does not care about the rumors being spread against her and Asif Ali Zardari.
http://nation.com.pk/national/13-Jul-2015/tanveer-zamani-denies-rumours-of-marriage-with-zardari
----------
Uproar in Mumbai over Muslim Girls' Punishment
Jul 14, 2015
AIMIM MLA Waris Pathan and former Congress MLA Yusuf Abrahni on Monday staged protests outside St Agnes School in Byculla after it punished 40 students for not attending school on Thursday by making them stand outside class from 8.30 am to 2.30 pm on Friday. Both Mr Pathan and Mr Abrahni said the punishment was harsh and unnecessary as the students were fasting in lieu of Ramzan and three of them broke their fast after it became unbearable for them.
According to a parent, Wednesday night was one of the important nights of Ramzan and the 40 students had stayed awake for worship, which is why they had skipped school the next day i.e. Thursday. They attended school on Friday only to be made to stand outside the classroom the whole day. "As they were fasting, three of them could bear the punishment no longer and hence, broke their fast by eating from the canteen after taking permission from Principal Sr Louisa," said the parent who did not wish to be named.
As news of the punishment spread among the Muslim community in and around Byculla, parents started getting support from various quarters. "How can the Principal mete out such a harsh punishment when the children are practising their religion. This is an attack on the religious freedom of students and by such an act, the Principal has brought disrepute to the school," said Mr Pathan.
He, along with some parents, went to Byculla police station to lodge a complaint against the Principal but refrained from doing so after the Vice-Principal apologised and assured the group that there would be no repeat of such an incident again.
Meanwhile, Mr Abrahni, along with some supporters and parents, sat on a dharna outside the school and refused to budge till the Principal apologised personally. "The Principal should resign for such an act and our protest will continue till she does not apologise to the parents," said Mr Abrahani.
http://www.asianage.com/mumbai/uproar-over-muslim-girls-punishment-895
----------
Morocco women acquitted of indecency charges
14 July 2015
A Moroccan court acquitted two women who faced charges of "gross indecency" for wearing dresses in public, their lawyer said Monday, after their case sparked a national outcry.
"This is a victory not only for these two women but for all members of civil society who mobilized," said defense attorney Houcine Bekkar Sbai.
Fouzia Assouli, head of the LDDF women's rights organization, confirmed the acquittals handed down by a court in the southern city of Agadir.
"This acquittal is positive and shows that wearing this type of clothing (a dress) is not a crime," Assouli told AFP.
The women, hairdressers aged 23 and 29, were arrested on June 16 as they strolled through the open-air market in Inezgane, a suburb of Agadir, on their way to work,
Merchants accused them of wearing flimsy and "immoral" clothes, surrounded and heckled them, media reported at the time.
Police intervened to wrest them away from the angry crowd but then drove them to a police station where they were charged with gross indecency.
Article 483 of Morocco's penal code states that anyone found guilty of committing an act of "public obscenity" such as "gross indecency" can be jailed for between a month and two years.
Their case sparked an outcry in Morocco, where supporters of the two women held rallies denouncing their arrest and demanding their release, requests echoed in a petition that circulated online.
Hundreds of lawyers also offered to defend them while rights organizations kept a close tab on the proceedings.
Assouli said that Monday's verdict should prompt lawmakers to revise Article 483 of the penal code and adopt a law criminalizing violence against women.
Earlier this month, police arrested of two men "accused of aggressing the women." They have been referred to trial and could face prison terms from one month to two years if found guilty.
https://english.alarabiya.net/en/News/middle-east/2015/07/14/Morocco-women-acquitted-of-indecency-charges.html
----------
Chad Bans Niqab, Arrests Those Wearing It
13 July 2015
N'DJAMENA, Chad – In a controversial decision, the Chadian police have warned that anyone wearing a full-face veil or niqab will be arrested to curb deteriorating security conditions and suicide attacks.
"This attack just confirms that a ban on the full-face veil was justified," national police spokesman Paul Manga told Agence France Presse (AFP), adding that "it now must be respected more than ever by the entire population".
"Anyone who does not obey the law will be automatically arrested and brought to justice," he warned.
The controversial decision followed an attack at a market in the capital, N'Djamena, last Saturday which left 15 dead and 80 injured.
Spreading panic across the city, the assailant detonated an explosives belt when he was stopped for security checks at the entrance to the city's main market.
Following the attack, which was claimed by Boko Haram militant group, security was tightened across the capital with police and soldiers deployed in all areas, including intersections, markets and mosques.
"What was happening elsewhere and what we heard about from media reports is now happening here," said Zenaba, a woman trader in her forties.
"I'm really scared for me and my children," she said.
Boko Haram, a Hausa term meaning "Western education is sinful", is loosely modeled on Afghanistan's Taliban.
The militant group says it is fighting enemies who have wronged its members through violence, arrests or economic neglect and corruption.
It has been blamed for a campaign of shootings and bombings against security forces and authorities in the north since 2009.
Boko Haram has escalated its six-year-old campaign to impose Islamic law on Nigeria, Africa's biggest economy and largest oil-producing nation.
The fighting has drawn in neighboring countries including Chad, Niger and Cameroon, as the militants broadened their border targets.
A four-nation coalition of Nigeria, Niger, Chad and Cameroon has reportedly pushed the armed group from captured towns and villages in an operation that began in February.
The conflict has killed at least 15,000 people since 2009 and left more than 1.5 million homeless.
More than a million people are displaced inside Nigeria and hundreds of thousands have fled across its borders into Chad and Cameroon.
http://www.onislam.net/english/news/africa/489821-chad-bans-niqab-arrests-those-wearing-it.html
----------
'We want to show our identity as Somali Muslim women — but also, we want to look good'
By Ibrahim Hirsi
07/13/15
Sofia Hersi broke out into a smile.
A pair of customers entered her small clothing store in the Karmel Square mall in Minneapolis last week, and Hersi rose from her stool to walk up to the two young Muslim women, who were shopping for the weekend Eid al-Fitr festival, which marks the end of the Muslim holy month of Ramadan.
Hersi welcomed the shoppers as they caught glimpses of an abaya — a loose, robe-like dress — hanging from the wall without a price tag.
"Where did you buy this from," one customer asked, "and how much is it?"
"Abu Dhabi," Hersi replied, "and that one is $70."
Hersi, 27, opened her shop, Modern Closet, in partnership with her friend Istar Mohamed in April. Their aim was to cater to young Muslim women who had a taste for the traditional — and for stylish clothing.
The store sells various items, including traditional dresses, scarves, handbags, clutches, sunglasses, rings and necklaces — some of them imported from the Middle East and others from New York and Los Angeles.
Older women have tended to dominate the female clothing market in the Twin Cities Somali community, Hersi explained. But in recent years, the industry has seen an increase in a new generation of entrepreneurs, who have joined the field to bring new, more stylish design ideas to young Muslim women.
Prior to opening Modern Closet, Hersi was a regular customer at Karmel Square. But she often came and went without buying anything, unsatisfied with what was around. "When I tried to find clothes in these stores, it was tough because most businesses were owned by older women like your mom and grandma," she explained. "They were having a hard time finding what young women wanted."
"Modern Closet is here to fill that void," she said. "We want to be fashionable, we want to represent our culture and we want to show our identity as Somali Muslim women — but also, we want to look good."
Since 1999, when Basim Sabri, Palestinian-born property developer, bought Karmel Square mall near Lake Street and Pillsbury Avenue, the building has been under constant expansion, with new parking ramp construction now underway.
"Karmel is growing literally fast," said Hersi, whose shop sits on the mall's third level. "This whole floor is owned by young people, mostly women."
Hersi exemplifies the growth of female entrepreneurs among the nearly 400,000 African immigrants in Minnesota. According to a new report by Concordia University economist Bruce Corrie, African immigrants — women in particular — have a "strong entrepreneurial spirit and presence" in the metro area.
Said Bruce in an interview: "Women play a big role in the national economics, too. So it's not surprising that they're playing a big role here."
One-stop shopping
Before she opened the shop, Hersi found it inconvenient to go to the Mall of America or Southdale, and then to a Somali mall, just to shop for one wedding event. In the American malls, she bought accessories and other things. In the Somali mall, she bought traditional dresses.
"In the American stores, it's hard to find the kind of dress that Muslim women would want to buy," Hersi said. "You want to be fashionable, [but] you want to be modest and covered up."
She added: "So what we did was that we merged the two together. We brought the fashion with the traditional outfits. So it's basically a one-stop shop for everything."
Modern Closet
MinnPost photo by Ibrahim Hirsi
Modern Closet opened in April to cater to young Muslims in the Twin Cities.
Hersi and her business partner Istar Mohamed pooled their savings to open the shop. And like many immigrant women who import products from overseas, Mohamed travelled to Abu Dhabi earlier this year to buy the clothes.
Hersi, on the other hand, traveled to New York City and Los Angeles to buy the accessories and the handbags.
'The scariest thing I've ever done'
Hersi came to the United States by herself from a Kenyan refugee camp about a decade ago. Once here, she had to learn to live without her mother and siblings, who sent her to the U.S. so she could assist them financially.
"I had to support myself, support my family, go to school," she said, as tears clouded her eyes. "I had to start out a new life here on my own. That was the scariest thing I have ever done."
Even as she underwent the shock of adversity both in the refugee camp and in in Minneapolis, Hersi never lost sight of her dream to become an entrepreneur.
Ten years later, that dream became a reality a few months ago, when Hersi opened Modern Closet. Today, she is most proud of two things she's achieved so far: a degree in human resources management from Metropolitan State University and Modern Closet.
"I've a lot of people supporting me today," she said. "'We're proud of you,' they tell me. This is just the beginning. I want to own my own empire before I reach a certain age."
https://www.minnpost.com/community-sketchbook/2015/07/we-want-show-our-identity-somali-muslim-women-also-we-want-look-good
----------
Retail therapy: Feeha Jamshed proves good things are worth the wait
MALIHA REHMAN
Jul 14, 2015
On a sweltering summer day in Karachi, designer Feeha Jamshed is trying hard to get stock ready for the opening of her store in Karachi tomorrow.
Some of her craftsmen are falling ill because of the ongoing heatwave in the city, others are simply functioning on low energy levels because it is the month of Ramadan and they are fasting.
"I have no choice but to prioritize the designs that absolutely need to get completed," she surmises. "My store is opening before Eid so I am probably going to stock more traditionally pretty designs at first with the funkier modern cuts following a few weeks later."
The soon-to-open store is located right next to the very 'it' Mews Café on the happening E-Street in Karachi and if the samples stocked at her office are anything to go by, it is going to be a fabulous retail haven.
There are silks, digitally printed with giraffes, myriad versions of roses and the 'FJ' logo, tie-and-dyed organza wraps, cotton capes, ruffles, collars and beautiful wedding-formals, with extensive hand-embroidered florals, geometric stripes and even a bridal entourage of elephants.
"All my embroideries are done by hand," says Feeha. "I don't believe in compromising quality through short-cuts."
These are words that ring true, particularly because they are being said by Feeha. For Feeha is something of an anomaly, having taken the longest time to venture into retail, at a time when a growing milieu of local designers have been quick to set up stores of their own.
So many others have sped ahead of her; enterprising young graduates with a knack for business and veterans with their eyes on retail, opening flagship stores in prime locations and spreading their wings with regular fashion week showcases.
"I am not part of a rat-race," says Feeha. "If I wanted to show at every fashion week, all I had to do was copy designs off international runways and present them as my own"
"What's the hurry?" asks Feeha. "I am not part of a rat-race and I am not on a quest to take over the market. If I wanted to show at every fashion week, all I had to do was copy designs off international runways and present them as my own. That's what so many others are doing, aren't they? It's not possible for a designer to showcase collections at successive fashion events, one month after the other, without compromising originality. I want to do things right even if it takes me longer to do it."
It's an applaudable sentiment but it still doesn't make business sense for a designer to be barely visible, especially at a time when social media has become a perpetual advertising platform for local fashion. When she debuted, Feeha was hailed as a bright young spark, emerging from an impressive legacy in design and winning rave reviews for innovative, trendsetting collections.
And then she retreated into the shadows, emerging only occasionally for the odd fashion week showcase or trunk show.
One had expected her to have inherited the marketing genius of her father, the remarkable Tanveer Jamshed, better known as Teejay. Polka dots and androgynous shalwar kameez, back in the '80's everybody who was anybody wore Teejays.
However, hardly anyone's been seen wearing 'Feejay' over the past year except for Feeha's friend and actress Mahira Khan, who carries the designs exceptionally well.
"We have been selling well over Facebook and through private orders," defends Feeha. But limited online orders don't have the same reach as retail standpoints and the designer knows it.
"We stopped stocking at multi-labels because payments often come late and it's a huge hassle," says Feeha of her recently low profile
"We stopped stocking at multi-labels because payments often come late and it's a huge hassle," explains Feeha. "The retail store should have opened late last year and I have been paying rent for its location throughout. Unfortunately, I fell ill and things got delayed."
It turns out that there's a very sad reason why Feeha had to slow down business.
"Late last year, I got diagnosed with chronic trigeminal neuralgia. I have been perpetually visiting doctors. For three months, I was restricted to complete bed-rest and given heavy doses of painkillers. I have tried out physiotherapy and taken doses of morphine in order to get through the day. There have been times when I haven't been able to stand and have had to get about in a wheelchair. I limp when I walk and I have also been diagnosed with arthritis."
At just the age of 31 – Feeha got married last year – the designer has fallen victim to a condition that generally occurs amongst people around the age of 50. Sensations of excruciating pain travel from the face down to the rest of the body, lasting from a few minutes to several hours. There is no absolute cure for the pain, although it can be managed through medication. "There were times when I would just sleep through the day," she continues. "I would try to give directions to my craftsmen and tailors over the phone, but I wasn't physically able to oversee things. It's why the shop's opening got delayed."
Sipping soothing cups of medication, Feeha says that she's opening up the shop through sheer willpower. "We're also going to launch our e-store over the next few months," she says. "I am not completely well and it may be difficult, but I feel that it's something that I have to do. And it keeps me going, makes me feel well, gives me a purpose."
She may just come through. At a young age, the designer has already seen more than her fair share of personal tragedy and like a phoenix, she's always managed to rise from the ashes.
Four years ago, she lost her elder sister to a sudden death and now she's battling health issues of her own. And yet, she's all set to launch a shiny new store with prêt, luxury-pret and off-the-rack wedding-wear. Feeha loves her craft earnestly and it shows in her designs. It's about time those aesthetics were available for walk-in customers to buy, whenever they please. Better late than never.
Maliha Rehman is a fashion and lifestyle journalist with a penchant for writing, all the time! Log on to Twitter for more updates @maliharehman
http://www.dawn.com/news/1192321/retail-therapy-feeha-jamshed-proves-good-things-are-worth-the-wait
----------
URL: https://newageislam.com/islam-women-feminism/a-young-muslim-woman's-daily/d/103899