New Age Islam News Bureau
24 May 2014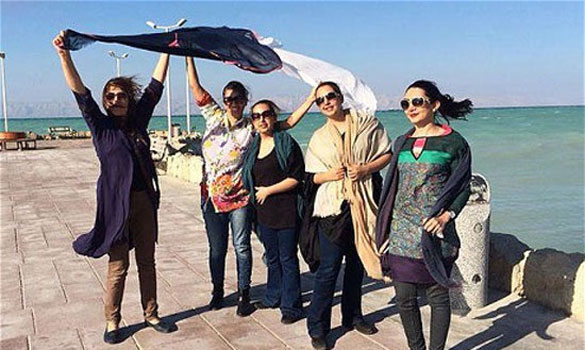 Picture of women posing without their Hijabs posted on the Facebook page
-----------
• After Cannes Kiss Storm, Iranian Actress Is 'Sorry'
• 'Kill List' Targets Afghan Women Who Speak Up For Human Rights
• France: Niqab Banned At Cannes Film Festival
• Swat Women's Jirga Demands Ceasefire
• Palestinian Women Will Again Play Decisive Role in Election
• Iranian Women Who Posted Photos without Hijabs Face Conservative Backlash
• Motorcycle-Riding Training for Women to Kick Start In Lahore
• Saudi Women Build Careers in Construction Industry
• Scalded Filipino Maid Files Charge against Employer
• Working Saudi Women Have a Role to Play
• Sultan of Sokoto Fires at Boko Haram: Forceful Conversion of Girls Is "UnIslamic"
• Religious Leaders Urge Obama to Allow Abortion Funding In Foreign Aid
Compiled by New Age Islam News Bureau
URL: https://www.newageislam.com/islam,-women-and-feminism/new-age-islam-news-bureau/a-sc-hindu-girl-among-madrasa-toppers-in-west-bengal,-india/d/87178
------------
A SC Hindu Girl among Madrasa Toppers in West Bengal, India
May 24, 2014
Kolkata: The West Bengal Board of Madrasa Education declared the result of High Madrasa, Alim and Fazil examination 2014 on May 20. Among the toppers is a Hindu girl, who comes from the Scheduled Caste Jiabandi village of Bankura district.
Mau Halder was a student of Bogdogra High Madrasa who got 719. She comes from the SC family and even her mother had studied in Madrassa. Mau has scored 90 marks in `Islamic Parichiti' subject and she now wants to be a doctor.
On 20th May the President of West Bengal Board of Madrasa Education Fazle Rabbi declared the result of High Madrasa, Alim and Fazil in a press conference. High Madrasa pass percentages were 77.86%, for Alim it was 76.97% and for Fazil 74.50%.
He said that the total number of students in this year High Madrasa, Alim and Fazil 53,808. Among them girls students comprised of 34234. The number of girls this year was higher than last year by 2750.
Marium Khatun, a teen age girl stood first in High Madrasa (Secondary) Examination 2014 in West Bengal. Among the 17 toppers, 7 are girls. Hafiz Mahmudulla and Abdus Salam ranked first in Alim (Secondary Standard, Old Model) and Fazil (12th standard) Examination.
Marium was a student of Battala Adarsha High Madrasa of Malda district and her father Habibur Rhaman is a carpenter. She has taken up Science and she too wants to be a doctor.
Zinat Arjuman and Rafiqul Ali have jointly ranked second. Zinat Arjuman is the daughter of a School Teacher Abdul Mukim of Maharajnagar High Madrasa of Ratua, Malda and she too wants to be a doctor. Rafiqul Ali of Kadamtala High Madrasa of Cochbehar district comes from a poor family, his father is a daily wage labour while his mother works as maid.
Hafiz Mahmudullah of Basuria Senior Madrasa of South Dinajpur has come first in Alim examination while Fazil Abdus Salam Molla of Furfura Fatehia Senior High Madrasa has ranked one in the Fazil examinations.
http://twocircles.net/2014may23/sc_hindu_girl_among_madrssa_toppers_wb.html#.U4BKkXJdU4U
------------
After Cannes Kiss Storm, Iranian Actress Is 'Sorry'
May 24, 2014
Iranian actress Leila Hatami Friday apologized for kissing the Cannes film festival's president on the cheek, an act which angered authorities in the Islamic republic, state news agency IRNA reported.
"I am so sorry for hurting the feelings of some people," she wrote in a letter to Iran's cinema organization, cited by IRNA.
She underlined her respect for Islamic rules of behaviour in public, but festival president Gilles Jacob, 83, "had forgotten the aforementioned rules, which comes with old age.
"My pre-emptive action of hand shaking was fruitless," Hatami wrote, explaining the kiss.
"Although I am embarrassed to give these explanations, I had no choice but to go into details for those who could not understand the inevitable situation that i was stuck in," she said.
"In my eyes, he is certainly like an old grandfather who was also my host."
A photograph carried by Iranian media showed Hatami kissing Jacob at the opening of the festival earlier this month, prompting a reprimand.
"Those who attend intentional events should take heed of the credibility and chastity of Iranians, so that a bad image of Iranian women will not be demonstrated to the world," Deputy Culture Minister Hossein Noushabadi said on Sunday.
"Iranian woman is the symbol of chastity and innocence," he said. Hatami's "inappropriate presence" at the festival was "not in line with our religious beliefs".
A group of female Islamist students are seeking legal action against Hatami, calling for her to be sentenced to a jail term and lashed, according to the Iranian website Tasnim News.
Born into a family with a background in cinema, Hatami gained worldwide fame for her role in Asghar Farhadi's "A Separation," which won the 2012 Academy Award for Best Foreign Language Film.
She was on the jury this year at the annual Cannes festival in southern France but lives in Iran.
According to Iran's interpretation of Islamic (Sharia) law, in place since the 1979 revolution, a woman is not allowed to have physical contact with a man outside her family.
http://english.alarabiya.net/en/life-style/entertainment/2014/05/24/After-Cannes-kiss-storm-Iran-actress-apologizes.html
------------
'Kill List' Targets Afghan Women Who Speak Up For Human Rights
May 24, 2014
Afghan women in positions of power who dare speak up for human rights are targeted by the Taliban as part of a "kill list," according to Women's E-News writer Sahana Dharmapuri.
Since 2006, at least 10 women have been killed who were named on the list, some of them politicians and some of them policewomen.
Safia Ama Jan, director of women's affairs for the Afghan government, was shot in the head four times in September 2006 as she left for work.
Lt. Col. Malalai Kakar, a policewoman who focused on crimes against women, was shot in September 2008 as she was leaving her home for work.
Sitara Achakzai, another government official, was gunned down in May 2011 as she was getting out of her car.
Hanifa Safi, a prominent Afghan politician who spoke up for women's rights, was killed with a car bomb in July 2012.
Najia Sediqi, the acting head of women's affairs in Afghanistan's Laghman Providence, was shot as she was getting into a rickshaw to go to work in December 2012. Sediqi had been promoted to replace Safi, who had died five months earlier.
In each instance, the Taliban was either suspected or claimed credit for the attack.
But not every attack was successful. Last August, Afghan senator Roh Gul Khairzad was critically injured in an ambush. Her daughter and bodyguard did not survive.
emale politicians in Afghanistan do not have access to the same security male politicians have, according to Dharmapuri, which makes them vulnerable to Taliban attacks.
"We haven't been paying attention to these women and this is a strategic mistake," Dharmapuri said. "We have to face the facts: obliterating the right to free speech and freedom from fear by killing off the frontline of human rights is a primary military objective of violent extremist groups. Women who work as journalists, human rights defenders, police, teachers and doctors are targeted exactly because they are on the frontline of this fight."
Afghanistan is still struggling with women's rights issues, but without outside help, women in the country will continue to struggle.
http://washingtonexaminer.com/kill-list-targets-afghan-women-who-speak-up-for-human-rights/article/2548852
------------
France: Niqab banned at Cannes Film Festival
World Bulletin / News Desk
May 24, 2014
The administration of the Cannes Film Festival in France is officially banning the niqab on the red carpet as well as inside the Festival Palace.
"In accordance with the [French]law of October 11 2010, it is forbidden to conceal your face in public places. Wearing a niqab is prohibited on the red carpet and in the Palace," the Festival's press office told Anadolu Agency on Thursday.
This decision comes after Danish director Charlotte Schioler, who is presenting a short film named "Slør" ["niqab" in English], attended the premiere of Mike Leigh's "Mr. Turner" on May 15, wearing said niqab, a cloth leaving only the eyes uncovered, on the renowned red carpet.
"I wanted to know if I could walk the red carpet and enter the Palace wearing the niqab, Schioler told French daily "Le Monde". So I made a request to the security service. […] An agent with years of experience told me that they had received orders by email to not discriminate against people wearing religious symbols, including the niqab."
But three days later, Charlotte Schioler, who is not a Muslim but is studying the reasons for wearing the attire, managed to go through two security checkpoints, with a friend, before being stopped by security guards as she reached the Festival Palace.
"[Security] asked me to remove the veil," recalls the Danish director. She then proceeded to climb the steps bareheaded before putting it back on once in the hall, away from the cameras. "Security guards and the police then wanted to verify our identity, she continues. They threatened to bring us to the police station."
When asked about the Festival's reaction, should Charlotte Schioler make another attempt – as she specifically declared she would - the press office replied: "The Festival management offers no specific response, but will simply apply French law concerning public places."
The French October 11, 2010 law prohibits the concealing of one's face in public. Those who break it are liable to face one year's imprisonment and a fine of up to 30,000 euros.
The law makes no mention of religious attire or signs because it would have been declared unconstitutional.
Iranian actress and Jury member, Leila Hatami, and Bosnian director Aida Begic walked on the red carpet with their headscarves on.
The 67th annual Cannes Film Festival will end on May 25. The winner of the Palme d'Or will be announced on May 24.
http://www.worldbulletin.net/muslim-world/137132/france-niqab-banned-at-cannes-film-festival
----------
Swat women's jirga demands ceasefire
May 24, 2014
MINGORA: The Swat women's jirga has demanded of the government and Taliban to announce ceasefire and initiate dialogue for restoring peace in the country.
The 25-member jirga was held here at Saidu Sharif, Swat, and presided over by Khwendo Jirga (sisters council) chairperson Tabasum Adnan.
The jirga showed concern over the present law and order situation in the country, particularly in Swat district.
Ms Tabasum said that operation and use of force were no solution to the prevailing situation in the country, adding that peace could be restored through dialogue.
Says peace can be restored through dialogue
"It is obvious that women are being affected by the worsening law and order situation in the country, particularly in the restive areas," she said and added that they wanted peace in their land.
She said that women of Swat were urging the government and militants to start dialogue for peace as early as possible.
The jirga chairperson said that it was the responsibility of the government and local administration to take steps for controlling incidents of targeted killing.
SEMINAR ON DENGUE: The University of Swat (UoS) on Friday arranged a seminar to create awareness among its students of the causes of dengue fever and ways for its prevention.
The seminar was held in collaboration with Relief International (RI), and attended by students and faculty members.
Speaking on the occasion, Dr Naeemullah, associate professor of Saidu Medical College, said that elderly people were more vulnerable to dengue mosquitoes and could easily be affected by dengue fever.
Dr Mujahid, RI project manager, said that his organisation was working for prevention of different diseases, including dengue, by focusing on public awareness as it could be effective in controlling epidemic diseases.
Speaking on the occasion Dr Rafiur Rehman highlighted the causes of dengue fever.
''We can effectively prevent dengue if each member of the society would volunteer to remove stagnant water in house or nearby area," he said.
A research conducted by a student of University of Peshawar was also presented on the occasion, according to which dengue mosquitoes found in Swat were more dangerous than other parts of the country.
http://www.dawn.com/news/1108321/swat-womens-jirga-demands-ceasefire
----------
Palestinian Women Will Again Play Decisive Role In Election
May 24, 2014
ABU DIS - Hala Kanaan recalls her disappointment at being one year too young to cast a ballot in the 2006 Palestinian election. A school girl at the time, Hala remembers arguing with her mother and older sister, both of whom failed to exercise their right to vote despite her exhortations that, "women represent more than 50% of the population."
In the end, Kanaan had it right even if she was unable to convince the other women in her family that the election was not "just a play" that is "decided before the election" as they argued, as the Bethlehem resident told The Media Line. Today, Kanaan, who works as a project coordinator for the Diabetes Friends Society, is looking toward the next election – now in sight since the Fatah-Hamas reconciliation deal – and encouraging women that "elections are not exclusive to the men."
Since the establishment of the Palestinian Authority in 1994, two elections have taken place. In 2006, the Islamic movement Hamas won control of the parliament and the government, but this did not last for long. In 2007, Hamas forcibly took control of the Gaza Strip and the Palestinians became bifurcated: the West Bank controlled by Fatah and Hamas-ruled Gaza. That remained the situation until last month, when after seven years of division and two un-implemented reconciliation agreements, the two largest Palestinian parties struck a unity deal which calls for the formation of a technocrat government within days followed by presidential and parliamentary elections as early as December of this year.
Palestinian activist Shireen Mohammad Abu Helal says that while women are becoming more politically aware, they are not yet at the stage where they wish to be. She argues that by default, Palestinian women face a number of challenges, including, "suppression from the Israeli occupation; and suppression from the society that we live in." Abu Helal told The Media Line that, "Those women who overcame these obstacles only did so because they took on the society," asserting that Palestinians are very "emotional people."
She explained that, "When it comes to the woman, she does not know who she wants to vote for. The husband is the one to tell her who to vote for. We faced this in 2006 with the legislative elections and we faced this in the 2012 local council elections, too."
Abu Helal believes that not all Palestinian women have reached full independence in their own lives. Referring to the 2006 elections, she said, "I know women whose husbands threatened to divorce them if they didn't vote for whom they wanted."
She says it was irrelevant that the woman might have had another opinion, blaming Arab society's cultural and traditional norms. In order to ensure a minimum participation by women in the parliament, Palestinian law requires that every party list must have at least one female among the first three candidates.
Yet, Abu Helal says that, "with all that is happening today with women, I'm not optimistic that the [situation for women] will change."
Twenty Palestinian women that have been killed this year alone, victims of honor killings, prompting Palestinian Authority President Mahmoud Abbas to announce plans to improve the enforcement of women's rights. For example, the present situation mirrors that of Jordan where the law demands that leniency be shown to defendants charged with committing crimes defined as "honor killings." Whether Abbas changes the policy remains to be seen.
It's this reason woman such as Abu Helal believes that female participation in the electoral process is so crucial. Yet, others agree that it's important for women's voices to be heard, but are more optimistic in their reading of how far women have come. Amneh Qurei, a member of Fatah, argues that more awareness exists today among women. "Freedom of personality exists for the women, the knowledge among the women is more, and she knows who to vote for," Qurei told The Media Line.
It is this belief, Kanaan says, that is the reason society is seeing more women in high places. "They have a very powerful influence in the present and in the future," Kanaan said, adding that she thinks this time around her mother and sister will vote in this year's elections.
http://www.jpost.com/Middle-East/Palestinian-women-will-again-play-decisive-role-in-election-353192
------------
Iranian Women Who Posted Photos without Hijabs Face Conservative Backlash
May 24, 2014
Women who posted pictures of themselves without their Hijabs on in the strict Islamic Republic are facing a growing online backlash
Iranian women who posted pictures online of themselves with their hair uncovered are facing a growing backlash from conservative sections of the Islamic Republic.
Dozens of women posted photos of themselves on a Facebook page flouting the Islamic dress code in parks, at the seaside and in the streets.
The My Stealthy Freedom group was set up by London-based Iranian journalist Masih Alinejad with the aim of sparking debate on whether women should have the right to choose what to wear.
Within the first two days of its creation, 30,000 women posted photos of themselves.
"This is Iran… The feeling of the wind blowing through every strand of hair, is a girl's biggest dream," the caption on the page read.
Ms Alinejad was inundated with international messages of support, but the reaction at home has been less positive.
Full report at:
http://www.telegraph.co.uk/news/worldnews/middleeast/iran/10851659/Iranian-women-who-posted-photos-without-hijabs-face-conservative-backlash.html
------------
Motorcycle-Riding Training for Women to Kick Start In Lahore
May 24, 2014
LAHORE-Lahore City Traffic Police (CTP) has announced motorcycle-riding training for women, Chief Traffic Officer Sohail Chaurdhry said.
The training will be initiated from Monday at CTP training Centre in Thokar Niaz Baig.
Chaudhary said that CTP has launched the training programme with the cooperation of Honda Atlus, owing to the increasing motorcycle riding trend among the women.
Expert female officers of CTP will conduct 15-day training for women, he added.
He said that three motorcycles have been provided to CTP by Honda Atlus.
The CTO directed the training centre administration and concerned officials to finalize all the arrangements in this regard.
Honda Atlas Manager Tasleem Shujah lauded the efforts of city traffic police for making comprehensive arrangements to facilitate the people and ensure smooth flow of traffic on roads.
http://www.pakistantoday.com.pk/2014/05/22/city/lahore/motorcycle-riding-training-for-women-to-kick-start-in-lahore/
------------
Saudi Women Build Careers in Construction Industry
May 24, 2014
Rising numbers of Saudi businesswomen have started entering the male-dominated construction industry, according to recent data.
More than 36 percent of all local businesswomen work as contractors in the field, with women-owned companies making up 4.3 percent of private sector firms, according to 2010 statistics.
Fawzia Al-Kerri, who is based in the Eastern Province, is the first Saudi woman to have registered a contracting business.
She told Arab News recently that many people now want to invest in her business.
Al-Kerri is proud to have challenged local traditions and started an independent firm.
She benefited from a government decision in 2008 allowing women to obtain contracting licenses.
She opened up her business that year and started out by building a hotel in Dammam.
With a background in art and design, Al-Kerri also provides significant input into exterior and interior designs of her projects.
She was not successful in winning a seat on the board of the Eastern Province Chamber of Commerce and Industry, but this has not deterred her from following her dreams and tackling large projects.
"I'm nicknamed the contracting ambassador," she told Arab News.
"I am not afraid to compete with men."
Al-Kerri has urged stakeholders in the industry to trust small companies, and also appealed to the government to ease licensing procedures.
Al-Kerri said businesswomen should form an organization to promote their interests.
"The aim would be to share experiences and discuss new projects and issues facing women."
She, however, said it is much easier for women to operate in the industry today.
"Women don't need an agent in most cases, particularly now that many government bodies have women departments to handle all the contracting procedures," she said.
Businesswoman Noura Fawz told Arab News recently that women have become competitive in the industry.
"We are trusted more than men and have proven our ability to meet deadlines."
More women are likely to become involved in industrial projects because of the feminization taking place in the sector, she said.
She said the business is rewarding because of the "high profits."
Some economists have estimated returns can be as high as 30 percent.
Maha Samman, a trainer certified by the Gulf Council for Human Development, said there should be more training for women entering the industry because they "need guidance as newbies."
Economist Mohammed Al-Wazeer praised government for opening up the business world to women.
"Women have been able to branch out, grow their small enterprises into medium-sized businesses and prove themselves." Many have successfully made the transition from the beauty industry into construction, he said.
http://www.arabnews.com/news/575996
------------
Scalded Filipino Maid Files Charge against Employer
May 24, 2014
The female Filipino domestic helper, who was scalded by her employer, has formally filed charges with the police, the Philippine Department of Foreign Affairs (DFA) said Thursday.
The Philippine Overseas Employment Administration (POEA) has issued preventive suspension against the Philippine and Saudi recruitment agencies in addition to her employer in Riyadh.
The 23-year-old Fahima Alagasi Palacasi, the overseas Filipino worker, was a victim of maltreatment. Her cousin in Riyadh, Normiah Alagasi, told Arab News on Friday that Fahima's injuries are healing now and she is much better after visiting Bahay Kalinga.
Her parents also travelled from southern Philippines to Manila to keep track of the case.
According to the DFA spokesman, Fahima was accompanied by Philippine Embassy representatives on May 20 to a police station where she filed her complaint.
"The police have subsequently issued an endorsement to a hospital in Riyadh to conduct a medical examination," said DFA spokesman Charles Jose.
He said the hospital will issue a medical report for use by the police in its investigation, adding that the case was also brought to the attention of Saudi Ministry of Foreign Affairs by the Philippine government.
"The Philippine government will give her whatever assistance she may require," Jose said.
Maria Embry, an activist against human trafficking, also took the case to the Department of Justice Secretary Leila De Lima, urging her to file human trafficking charges against the officers of the government licensing agency. She said the A-M Phil Professional Services that illegally deployed an under-aged maid has a history of human trafficking.
Embry said the same agency also has a record of providing fake birth certificates to under-aged workers and was suspended following its deployment of under-aged workers to Qatar last year. However, it was allowed to retain its license which expired on May 18 this year.
The two workers made joint statements regarding their complaints of falsification of travel documents, misrepresentation, illegal exaction of placement fees and other violations against the A-M Phil Professional Services Corp.
On Thursday, the POEA ordered the suspension of A-M Phil Professional Services Corporation, the Saudi-based Al-Motkasses Recruitment Office for General Services and the employer in Riyadh for violation of the 2002 POEA rules and regulations governing the recruitment and employment of land-based workers.
http://www.arabnews.com/news/576076
------------
Working Saudi Women Have a Role to Play
May 24, 2014
Muna Al-Madani is a consultant at the Ministry of Labour. She believes working women are just as important for the Kingdom as women who stay at home and finds it devastating that many women with academic degrees and immense potential are unable to find jobs.
Al-Madani obtained a bachelor's degree in sociology from King Abdulaziz University in 1985. She then took a few years off to raise her two children. She eventually completed her master's degree from Britain's Nottingham University. She received an honorary degree for her research topic, Child Abuse in the British Muslim Community. At the time, Britain was promoting a no-discrimination system and found her research paper a breakthrough in what the system was trying to achieve. The Saudi ambassador in London offered her a job and presented her a certificate of appreciation in 1992 for being the first Saudi woman to work voluntarily in England.
Family commitments made it hard for her to work fulltime so she volunteered at Saudi clubs in the UK, helped build a mosque for the Muslim community there and supervised two summer camp programs for children in 1995.
After her return from England, Al-Madani worked as an educational counsellor for orphanages at Albir Charity Organization for three months. Her next job was at Umm Al-Qura University in the Kingdom's only community service department. When Ghazi Al-Gosaibi returned to Saudi Arabia after serving as Saudi ambassador to the United Kingdom and became the labour minister, he immediately recognized Al-Madani from her stay in England.
Al-Gosaibi established three female departments at the ministry and employed 30 women in Dammam, Riyadh, and Jeddah. Al-Madani was appointed as the co-manager of the female office in Jeddah.
During her 10-year tenure in the Ministry of Labour, Al-Madani took on many different positions from the head of inspections to the head of IT. She eventually became a consultant for the ministry's branch in Riyadh.
In order to increase women's participation in the job market, Al-Madani has fought to implement a project that allows women to work from home. "I receive many CVs with impressive qualifications. But oftentimes, women do not want to work in a mixed environment and that puts me in a difficult position because I have to find the right job for the candidate," said Al-Madani.
"Women have greatly progressed from where they were around 30 years ago. Marriage was the only purpose and future a woman had during those times. However, women face many challenges even today.
"The private sector does not employ women in decision making positions, which brings up the question: Is this because women are not qualified for the position or is it due to the fact that traditions and cultural norms still oppose the idea? It is very important for women to understand that the position of a wife and a mother is her priority. She can work only if she can achieve a balance between the two," she said.
http://www.saudigazette.com.sa/index.cfm?method=home.regcon&contentid=20140524206203
------------
Sultan of Sokoto Fires at Boko Haram: Forceful Conversion of Girls Is "UnIslamic"
May 24, 2014
Sultan of Sokoto, Saad Abubakar has stated that Islamic virtue is against forceful conversion as being claimed by Boko Haram who reportedly converted over 200 abducted schoolgirls to Islam.
The Sultan described the sect misconduct as against the teachings of the Prophet who promoted peaceful co existence during his life time.
The Sultan stated this when he spoke in Ibadan on Friday during the commissioning of a mosque by the Islamic community in Bodija.
Abubakar, who condemned the abduction of the girls and their forceful conversion to Islam, described the action as "ungodly and unIslamic."
The Governor of Oyo state, Senator Abiola Ajimobi, in his remark, said the construction of the mosque has brought more Islamic presence to the community and its environs.
http://www.dailytimes.com.ng/article/sultan-fires-boko-haram-forceful-conversion-chibok-girls-unislamic
------------
Religious Leaders Urge Obama to Allow Abortion Funding in Foreign Aid
May 24, 2014
Religiously-based efforts to prevent girls from getting an education, like the kidnapping of Nigerian school girls by Boko Haram, have resulted in murder and attempted murder (the Malala case), as well as schools being forced to close or go underground. We're all for girls' education and everyone who's anyone, including Michelle Obama, has participated in the #BringBackOurGirls Twitter campaign. Even the Pope tweeted with prayers and the hashtag.
Violence against girls (and let's not forget women) worldwide goes far beyond denying them the ability to go to school—they're regularly raped by strangers and members of their family, and once raped are denied access to safe abortions. Several cases where Catholic bishops have influenced governments to deny abortion services to girls who had been raped were cited in the recent UN Committee hearings on the rights of the child and on torture.
Doctors and the mother of a nine-year-old Brazilian girl pregnant with twins, whose life was at risk if she continued the pregnancy, were threatened with excommunication. Beatriz, a 22-year-old Salvadoran woman was denied an abortion when her life was in danger, a move supported by the Salvadoran conference of bishops. One could go on. And of course, there was John Paul II's plea that Muslim women raped during the civil war in Bosnia-Herzgovina should carry those pregnancies to term and turn those rapes into "acts of love."
It is especially in situations of war and massive displacement that girls are subjected to rape. And, not only do religious views on abortion result in abortion denied, US foreign policy contributes to their suffering. According to Save the Children, 80% of war rape victims are children under 18; in the eastern Congo, 48 women and girls are raped ever hour. There is no outcry.
And, the little outcry that the Helms Amendment to the Foreign Assistance Act has, since 1973, prohibited US foreign assistance from paying for the "performance of abortion as a method of family planning" or to "motivate or coerce any person to practice abortions."
The US Agency for International Development (USAID) has interpreted this amendment to prohibit US funding of abortions that would preserve the physical or mental health of a woman, yet allow it for victims of rape or incest, or to save a woman's life. However, the US has never funded any programs that include abortion services, even in these legally-permitted cases.
In part, the absence of much needed funding in this area is fuelled by successive administrations' concerns about objections from the Catholic bishops and large evangelical health agencies like World Vision. Were USAID funding to include safe abortion services for victims of rape, these groups could stand to lose money.
A new effort to demonstrate to the administration that religious leaders support providing access to safe abortion for women and girls who've been raped may just shift that perception in government. Launched by the Centre for Health and Gender Equity (CHANGE) and the Religious Coalition for Reproductive Choice (RCRC), two dozen prominent religious leaders have written to the president urging him to issue an executive order that will interpret the Helms Amendment to permit funding for safe abortion services when women have been raped or their lives are in danger. The leaders call current US policy on safe abortion "immoral," and assert that "when a pregnancy is a result of rape or incest, or when a pregnancy is a threat to the life of a woman, safe abortion can and should be made available and accessible, and US foreign assistance should support such access."
While the usual progressive suspects are signers, the letter has garnered remarkable support from mainstream denominational leaders including The Most Rev. Katharine Jefferts Schori, Presiding Bishop and Primate, The Episcopal Church and Rev. Geoffrey A. Black, General Minister and President, United Church of Christ. The Catholic community is represented by Sr. Jeanine Grammick who signed for the National Coalition of American Nuns.
Serra Sippel, president of CHANGE, noted that "an executive order by the president that would allow US funds to be used in support of safe abortion services for girls and women who have been raped would go a long way toward restoring their dignity and prospects for the future—and even the ability of girls who have been raped to go back to school."
http://www.religiondispatches.org/dispatches/franceskissling/7879/
----------
URL: https://www.newageislam.com/islam,-women-and-feminism/new-age-islam-news-bureau/a-sc-hindu-girl-among-madrasa-toppers-in-west-bengal,-india/d/87178