New Age Islam News Bureau
17 November 2021
• Saudi Women To Examine How Reforms Have Enhanced Saudi Women's Role In Society
• 86-Year-Old Woman Named Israel's 'Miss Holocaust Survivor'
• US Consulate, University of Iowa & EFE to train Saudi women on entrepreneurship
• UAE Jobs: How New Labour Law Empowers Women; Equal Pay, Extended Maternity Leaves
Compiled by New Age Islam News Bureau
URL: https://www.newageislam.com/islam-women-feminism/newly-wed-triple-talaq-alimony/d/125789
--------
A Newly Wed Man in India Thrashed By Wife's Relatives Demanding Triple Talaq
Nov 17, 2021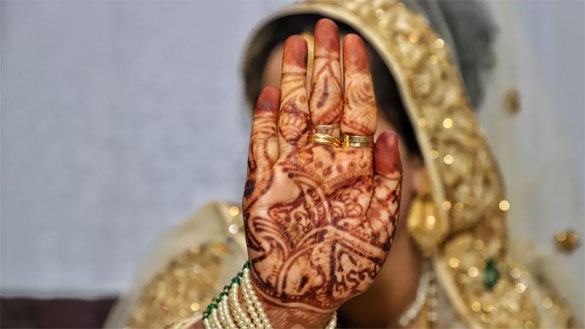 Triple Talaq Victim
----
Kozhikode: A newly wed 31-year-old youth was brutally beaten up by his wife's relatives demanding that he should divorce his wife by pronouncing triple Talaq at Kottakkal in Malappuram district.
Kottakkal police on Tuesday arrested six relatives of the woman, including her father, uncles and cousins, in connection with the attack which took place on Monday. Police identified the injured as Abdul Aseeb, hailing from Kottakkal who is currently admitted to a hospital with multiple injuries, including a broken nose.
The arrested are Cholappurath Majeed, 38, Abdul Jaleel, 34, Shafeeq 34, Kizhakkeparamban Shamsudheen, 45, the father of the woman, Shafeer Ali, 31 and Musthafa, 62. Police are looking for the remaining accused, Latheef, who is absconding. They have been booked under IPC Section 308 (attempt to commit culpable homicide), abduction, threatening, assault etc.
Kottakkal inspector of police M K Shaji said that the accused barged into the RTO consultancy office run by the Aseeb at Changuvetti and thrashed him and forcibly dragged him into their car and took him to the woman's house at Othukkungal where they beat him up demanding divorce by pronouncing triple talaq and asking him to give it in writing.
"Police reached the spot within 30 minutes and we rescued him from the custody of the accused. There were some issues between Aseeb and his wife and she didn't want to continue the relationship," the inspector said.
The nikah of the couple was held on April 5 and she was brought to Aseeb's house in August but following issues between them, the woman had returned to her house in October.
Aseeb said that his wife's relatives had beaten him up with an iron rod and they threatened him by placing a knife on his throat and threatened with acid attack if he refused to pronounce triple talaq. He added that the attackers also filmed the attack and they even had kept an ink pad read to affix his fingerprint after getting triple talaq in writing on paper.
He added that the attack happened even after he had agreed to amicably end the marriage and a mediation talk was scheduled to be held on Wednesday.
Meanwhile, the woman's family and their lawyer said that Aseeb had been torturing her and she even had to be admitted to a hospital recently.
The Supreme Court had in 2017 declared the practice of instant triple talaq as unconstitutional and the Muslim Women (Protection of Rights on Marriage) Act 2019 had made the practice a criminal offence.
Source: Times of India
https://timesofindia.indiatimes.com/city/kozhikode/man-thrashed-by-wifes-relatives-demanding-talaq/articleshow/87745840.cms
--------
Saudi Women To Examine How Reforms Have Enhanced Saudi Women's Role In Society
November 17, 2021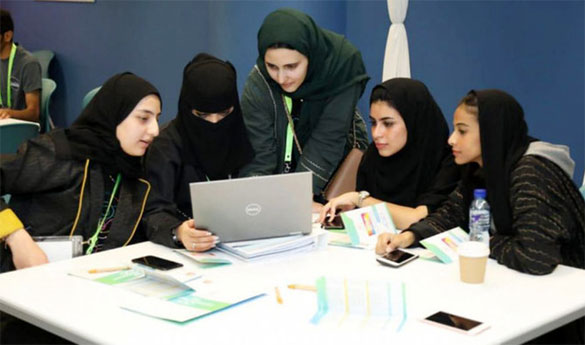 The three-day conference will shed light on government projects and initiatives that support the empowerment of Saudi women in various fields. (SPA)
-----
RIYADH: Sixty participants representing several governmental and private sectors will examine how reforms have enhanced Saudi women's role in society in an upcoming empowerment conference titled "Empowering women and their developmental role in the era of King Salman."
The conference will take place at the Imam Mohammed bin Saud Islamic University on Tuesday, Nov. 23. Under the patronage of Princess Fahda bint Falah Al-Hithlain, the conference aims to highlight how the legislative reforms in the era of King Salman have helped empower women and enhance their role in achieving the goals of Saudi Vision 2030.
The three-day conference will also shed light on government projects and initiatives that support the empowerment of Saudi women in various fields, the role of modern media in promoting the empowerment of women, and raising their profile in the development of society, especially in Saudi universities.
Other themes will include how offering Saudi citizenship has strengthened women and families, enhanced women's participation in education and training, and how this will prepare them to play a more prominent and influential role in society.
Dr. Nouf Bint Abdul Aali Al-Ajmi, the deputy rector of Imam Mohammad ibn Saud Islamic University for Female Student Affairs, said that in the past few years, the Kingdom had witnessed an expansion in the leadership role of Saudi women in all sectors "as women have assumed leadership positions and proved themselves after she had exercised limited executive roles," she told Arab News.
Al-Ajmi, who is also the university's vice president and chairwoman of the conference's organizing committee, stressed the importance of the role of women as an investment that will contribute to the achievement of sustainable development. One of the Vision 2030 strategies is to increase women's quota in leadership positions through training and leadership guidance for female cadres.
"The university seeks, in accordance with its strategic plan 2025, to enable women to work creatively and innovatively," she said. "Women should participate in decision-making, in addition to creating equal opportunities with men in assuming leadership positions, studying modern specializations, scholarship, and training."
Dr. Nuwair Al-Shammari, deputy dean of the Faculty of Information and Communication at the university and the conference's media committee chairwoman, said the indicators of the empowerment of women in the university had seen a qualitative leap over the past three years. The indicators are in line with the directives of King Salman in realizing the objectives of Vision 2030 under the leadership of Crown Prince Mohammed Bin Salman.
Al-Shammari told Arab News that the university achieved a great leap through nine key indicators in empowering women in university education. The most important of these are increasing leadership positions, as the university has enabled 120 academies to hold essential and new leadership positions in the university.
In addition, there is an upsurge in female academic participation in the decision-making process, strategic planning, and university committees. There has been an uptick in implementing quality training programs, which exceeded 3,000 that targeted all of its staff, including programs to qualify women leaders, in addition to introducing new specializations for female students in the media, medicine, and pharmacy. There has been an expansion of postgraduate programs for female students through the introduction of 47 new programs, which increased the proportion of female scholarship students continuing their studies.
Dr. Nasrin Al-Sayari, vice president of the conference's organizing committee, said that through its plans for the empowerment of women, the university worked to develop King Abdullah City for Female Students, which has become a distinguished academic and cultural landmark in the city of Riyadh.
Source: Arab News
https://www.arabnews.com/node/1969486/saudi-arabia
--------
86-year-old woman named Israel's 'Miss Holocaust Survivor'
November 17, 2021
JERUSALEM: An 86-year-old woman who survived mass roundups and massacres of Jews as a child in Romania was crowned on Tuesday Israel's "Miss Holocaust Survivor."
Ten women in their 80s and 90s took part in the special pageant, sponsored by a local foundation and meant to bring members of Israel's rapidly dwindling population of Holocaust survivors some joy and recognition.
The women were treated by professional makeup artists, hairdressers and stylists throughout the day before the evening competition. A number of local celebrities, including Miss Israel Noa Kochba, served as judges and provided entertainment to the crowd before Selina Steinfeld was crowned the winner.
According to the pageant organizers, Steinfeld moved to Israel in 1948, married and raised three children. She also has seven grandchildren and 21 great-grandchildren.
"I have no words to express my happiness," said Steinfeld. She said she had enjoyed the special day of pampering and that she hoped "to lead the people of Israel to beauty and goodness."
Israel was established in 1948 in the wake of the Holocaust as a refuge for Jews from around the world. The country is home to an aging population of some 175,000 people who survived the Holocaust, when an estimated 6 million Jews were killed by Nazi Germany and its collaborators.
The pageant is sponsored by "Yad Ezer L'Haver," or "Helping Hand," a local foundation that provides services to Holocaust survivors. It was the first time the event was held since 2018. Last year, it was put on hold due to the coronavirus pandemic.
"These amazing women, Holocaust survivors, are already in their twilight years and will not be here with us for much longer," said Shimon Sabag, the group's chief executive. "Holocaust survivors are the true heroines of us all and thanks to them, we are here today."
Source: Arab News
https://www.arabnews.com/node/1969521/lifestyle
--------
US Consulate, University of Iowa & EFE to train Saudi women on entrepreneurship
November 16, 2021
The US Consulate General in Jeddah, the University of Iowa, and Education For Employment, a nonprofit in the MENA region linking unemployed youth to job opportunities, have launched a one-year project to train Saudi women from the western region on entrepreneurship skills in new emerging sectors like IT, real estate and e-commerce. This project will focus on fast-growing sectors in Saudi Arabia, in line with Vision 2030 goals to support economic growth in the Kingdom.
The project will provide 50 young women with professional training and connections to local and international mentors that are necessary to start their businesses.
The Western Saudi Arabia Venture School for Women project is designed to "put new entrepreneurial tools into the hands of Saudi women," said Dimy Doresca, director of the Institute for International Business at the University of Iowa Tippie College of Business. "With the guidance of Iowa professionals, we will train aspiring innovators of business and social enterprise, through the startup process using methods that reduce risk and encourage ongoing innovation," said Doresca. "We will nurture and empower women in Saudi Arabia to become examples of social and economic success in their communities."
The women will participate in Venture School International, an entrepreneurial educational program that guides students through the startup process by teaching them how to identify a market need and build a business to meet it. The university is partnering with the nonprofit Education For Employment to teach the Venture School International training, which will be complemented by contacts at local financing organizations, government officials, and business support services. Doresca said Iowa women entrepreneurs will also work with the Saudi women as mentors, providing support and encouragement while serving as role models. As part of the program, university faculty and Iowa entrepreneurs will travel to Saudi Arabia to provide training and help develop mentor relationships.
"We are very pleased to partner with the University of Iowa and the US Consulate to enable young Saudi women reach their potential by empowering them with cutting-edge skills to compete in growing sectors, especially in the digital economy. The skills that these young women will acquire are based on a proven model that has enabled EFE in Saudi to connect over 5,000 people to the world of work, 52 percent of which are young Saudi women," said EFE in Saudi CEO Abdullah Al-Ghamdi.
Source: Arab News
https://www.arabnews.com/node/1969266/corporate-news
--------
UAE jobs: How new labour law empowers women; equal pay, extended maternity leaves
By Sherouk Zakaria
17 Nov 2021
Extended maternity leave, equal pay and anti-harassment provisions in the new labour law are part of UAE's efforts to empower women in the private sector.
Under the Federal Decree Law No. 33 of 2021 regulating labour relations, to be effective from February 2, 2022, employers are to provide women with an equal pay for the same job performed by men, with the value to be determined by the cabinet. Discrimination is also prohibited in terms of duties in the same workplace.
The new amendments in the law emphasize that all provisions regulating the employment of workers shall apply without discrimination to working women. In the anti-discrimination provisions, employers are prohibited to hire on the basis of race, colour, sex, religion, nationality, or disability that would weaken equal opportunity or impair equality in the workplace.
His Excellency Dr. Abdul Rahman Al Awar, Minister of Human Resources and Emiratisation, said the law aims to endorse equality in the workplace to support the skills and abilities of workers in the private sector, and ultimately increase labour market efficiency and productivity.
Extended maternity leaves
The new labour law extends maternity leave in the private sector to 60 days, including 15 days on half wage.
In cases of the mother or the newborn falling ill, the employee is eligible to receive additional 45 days without pay once the initial maternity leave is over, upon providing an official sick leave.
New mothers of infants with special needs are entitled to a 30-day paid leave after the completion of their initial maternity leave, renewable for another 30 days with no pay. This provision applies upon providing a medical report of the child's case.
Anti-harassment provisions
Article 14 of the new law expressively prohibits sexual harassment, bullying, or the use of verbal, physical, or emotional violence against employees by the employer, superiors or colleagues.
Under the same article, the employer may not use any means of coercion or penalty threat to force employees to perform a task against their will.
Source: Khaleej Times
https://www.khaleejtimes.com/jobs/uae-jobs-how-new-labour-law-empowers-women-equal-pay-extended-maternity-leaves
--------
URL: https://www.newageislam.com/islam-women-feminism/newly-wed-triple-talaq-alimony/d/125789
New Age Islam, Islam Online, Islamic Website, African Muslim News, Arab World News, South Asia News, Indian Muslim News, World Muslim News, Women in Islam, Islamic Feminism, Arab Women, Women In Arab, Islamophobia in America, Muslim Women in West, Islam Women and Feminis