New Age Islam News Bureau
21 Jan 2018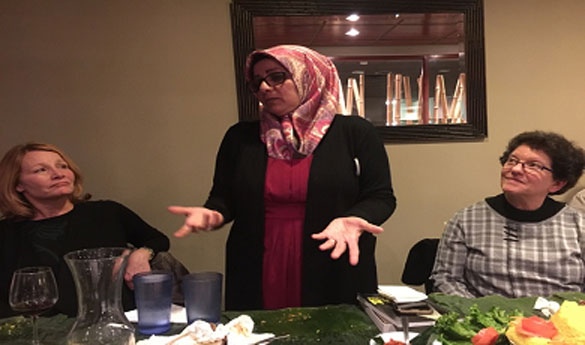 Photo: Moina Shaiq, center, speaks at "Meet a Muslim" dinner at the Indo Cafe in Seattle on Thursday, Jan. 18. The event was part of a series of talks Shaiq is giving over the weekend in an effort to educate people about the religion. (Nicole Brodeur/The Seattle Times)
---------
• Women's March: Thousands take to the streets from Los Angeles to New York against Trump
• Female Musician Prohibited From Performing on Stage in Isfahan, Iran
• Lebanese Women Look For Greater Role In Parliament Elections
• Second Day of Global Female Empowerment Marches Scheduled Across US
• Parents of 8 Girls Raped and Murdered In Kasur Appear Before SC Seeking Justice
• German Woman Sentenced To Death in Iraq for Joining Islamic State
• Muslim Woman Is 'Powerhouse of Lifesaving' As Israeli EMT
• Scare Tactics Won't Work On Jobless Women, Says Owwa
• British Woman Who Married Under Islamic State Regime In Syria Arrested In UK
Compiled by New Age Islam News Bureau
URL: https://www.newageislam.com/islam-women-feminism/a-muslim-woman-walks-coffee/d/114007
-----------
A Muslim Woman Walks Into A Coffee Shop … And Creates A Movement
January 20, 2018
Moina Shaiq created "Meet a Muslim," a series of gatherings in which people meet her for coffee and talk about the religion, with an aim to show that followers of Islam aren't all alike.
In 2015, Moina Shaiq took an ad out of her community newspaper inviting people to meet her for coffee. "Meet a Muslim," she called it. It was shortly after a Muslim couple opened fire at a San Bernardino office party, killing 14 and wounding 22, and Shaiq wanted to prevent prejudice before it took hold, and show that followers of Islam weren't all alike.
She went to the coffee shop with her laptop, expecting no takers; just to get some work done. But there were 20 people waiting for her. In all, 100 people would respond to her invitation, and Shaiq didn't leave until every question was answered.
"It showed me how much people were extending their arms, reaching out," she recalled.
It was the same the other night at north Seattle's Indo Cafe, where Shaiq met with more than 20 people who showed up hungry not only for dinner, but for an understanding of the religion that some Westerners still know little about. And what they do know is often seen through a suspicious lens.
The "Meet a Muslim" event was one of three being held over the next few days by Crooked Trails, a nonprofit focused on cultural exchanges.
"You can't know a country if you don't know the people," said executive director Christine Makay, who recalled Googling "Meet a Muslim" after the 2016 election and finding Shaiq. It took more than a year to get her to Seattle.
"I've been traveling the world for 40 years," she said, "and I don't know a lot about the Muslim religion."
On Saturday, Shaiq was at the Muslim Association of Puget Sound Mosque, where people were invited "to experience the truth" about Islam and those who practice it. The "Meet a Muslim" event included afternoon tea and a session with Shaiq.
And on Monday, Jan. 22, interested people are invited to learn about Islam and eat Malaysian food at the KedaiMakan restaurant. Registration is required and donations will be accepted at the event to cover Shaiq's travel expenses.
The Indo Cafe event was also sponsored by Project Feast, a nonprofit run by VeenaPresad, who helps refugees and immigrants succeed in the food industry by bringing new people to their tables. The nonprofit holds monthly dinners in culturally diverse restaurants for people with adventurous minds and appetites.
"We empower refugees to use food as a way to have intercultural exchanges," Presad explained.
And so people gathered around a table covered not with a tablecloth, but shiny green banana leaves and plates of Indonesian specialties and only serving utensils. After ceremoniously removing the top of a crown of yellow rice called tumpeng, people dug in, eating with their hands. A beef dish called rendangsapi, soybean cakes called tempemendoan, a salad made of collard greens, bean sprouts, green beans and cabbage.
About 15 minutes in, Shaiq stood and told the group her story: Born in Pakistan, she came to the United states in 1978 to marry her husband, who had attended college here. They raised three children in Fremont, California, where Shaiq still lives.
She told the story of the coffee shop, and how it has changed her life. She has spoken in churches, schools and private homes from California to Massachusetts, explaining the differences between Sunnis and Shias (the two main sects of Islam); the rights of women in Islam; the five pillars of Islam (faith, prayer, charity, fasting and a pilgrimage to Mecca).
Yes, it is a patriarchal religion, she said, but as a Muslim woman, she is not required to work. If she does, she can keep her own money, she said.
"Who would not like that?" Shaiq asked. One man raised his hand.
And she spoke about what it's like to be an American Muslim today, post-9/11 and postelection, when people feel more free to show themselves.
"For the most part, people are good," Shaiq said. "But since the election, they have become very vocal. They're not afraid. A guy said he would slash my throat if I offended him."
The woman beside her, who came from Portland, nodded along, recalling the two men whose throats were slashed after they defended a Muslim girl on a train. ("The hatred that some people have is scary.")
I mentioned that my gym has a night for Muslim women, when they attend spinning classes wearing hijabs. How do they bear the heat?
"It's conditioning," Shaiq said.
But is it rude, someone asked, to walk through a room where people are praying? Some Muslims pray five times a day.
"It's second nature," she said. "I don't think about it. Just because it's something we practice, we don't expect people to know everything. I apologize for not informing them. I don't expect them to know what I'm doing."
One daughter was once questioned by the FBI for four hours in an airport; another is moving to the Philippines "because she's sick and tired of everything." And after Trump's Muslim ban, Shaiq canceled a trip out of the country.
"There are religions that preach hate," she said. "But it's not the common experience."
She said she doesn't understand how it seems radical groups are allowed to represent the whole of Islam.
"It's like the gang mentality," she said.
Someone asked if Shaiq thought an American president could lead a peace process. Are there progressives in the Muslim world?
Shaiq couldn't answer that question, other than to say she is optimistic. But she does worry about her grandchildren "because every day, Muslims are being dehumanized."
"My hope is that you are all ambassadors, now," Shaiq told the group. "I can only go so far.
"So make the effort," she said. "Smile at people. A smile in itself breaks so many barriers. Make something for your neighbor. Go knock on their door and own it. I bet they won't slam the door in your face.
seattletimes.com/life/lifestyle/a-muslim-woman-walks-into-a-coffee-shop-and-creates-a-movement/?utm_source=RSS&utm_medium=Referral&utm_campaign=RSS_seattle-news
--------
Women's March: Thousands take to the streets from Los Angeles to New York against Trump
"In 2018, the women's march is a testament to the power and resilience of women everywhere," tweeted Hillary Clinton
Demonstrators from Los Angeles to New York marched in support of female empowerment and denounced President Donald Trump's views on immigration, abortion, LGBT rights and women's rights on Saturday, the anniversary of his inauguration.
People marched in Casper, Wyoming, and Cambridge, Massachusetts, and in Sioux Falls, South Dakota, and Houston. In Park City, Utah, where the annual Sundance Film Festival is in full swing, actress Jane Fonda and nationally known attorney Gloria Allred joined the women's march.
In Morristown, New Jersey, that state's new first lady told a crowd she was a victim of sexual violence while attending college.
Tammy Murphy, the wife of Democrat Phil Murphy, said the attack occurred while she was a sophomore at the University of Virginia. She said she was walking along a path when a man grabbed her and pulled her into some bushes. She said the man tried to take her clothes off and put a crab apple in her mouth to silence her but she bit his hand and fled half-dressed to a nearby fraternity house, where students called police.
In Los Angeles, Eva Longoria, Natalie Portman, Viola Davis, Alfre Woodard, Scarlett Johansson, Constance Wu, Adam Scott and Rob Reiner were among the celebrities who addressed a crowd of hundreds of thousands of demonstrators.
Longoria, who starred in TV's "Desperate Housewives," told marchers their presence matters, "especially when those in power seem to have turned their backs on reason and justice."
Portman, an Academy Award winner, talked about feeling sexualized by the entertainment industry from the time her first film, "Leon: The Professional," was released when she was 13 and suggested it's time for "a revolution of desire." In the 1994 film, Portman played a young girl taken in by a hit man after her family is killed.
Woodard urged everyone to register and vote, saying, "the 2018 midterms start now." And Davis spoke with the passion of a preacher as she discussed the nation's history of discrimination and her past as a sexual assault survivor.
The 2017 rally in Washington, D.C., and hundreds of similar marches created solidarity for those opposing Trump's views, words and actions. Millions of people around the world marched during last year's rallies, and many on Saturday talked about the news avalanche of politics and gender issues in the past year.
Critics of the weekend's marches said the demonstrations were really a protest against Trump. More rallies were planned at other cities on Sunday.
Meanwhile, Trump on Saturday tweeted that it was a "perfect day" for women to march to celebrate the "economic success and wealth creation" that's happened during his first year in office.
"Get out there now to celebrate the historic milestones and unprecedented economic success and wealth creation that has taken place over the last 12 months," the Republican wrote. "Lowest female unemployment in 18 years!"
Trump's main opponent in the 2016 presidential election, Democratic former U.S. first lady Hillary Clinton, said the Women's March last year was "a beacon of hope and defiance."
"In 2018, it is a testament to the power and resilience of women everywhere," she tweeted, urging people to show that power at the voting booth this year.
Demonstrators on Saturday denounced Trump's views with colorful signs and even saltier language.
Oklahoma City protesters chanted "We need a leader, not a creepy tweeter!" One woman donned a T-shirt with the likeness of social justice icon Woody Guthrie, who wrote "This Land Is Your Land."
Members of the group Missing and Murdered Indigenous Women of Seattle burned sage and chanted in front of Seattle's rainy march.
In Richmond, Virginia, the crowd burst into cheers when a woman ran down the middle of the street carrying a pink flag with the word "Resist."
The march in Washington, D.C., on Saturday took on the feel of a political rally when U.S. Sen. Kirsten Gillibrand and U.S. Rep. Nancy Pelosi, both Democrats, urged women to run for office and vote to oppose Trump and the Republicans' agenda.
"We march, we run, we vote, we win," Pelosi said, to applause.
People gathered from Montpelier to Milwaukee, from Shreveport to Seneca Falls.
"I think right now with the #MeToo movement, it's even more important to stand for our rights," said Karen Tordivo, who marched in Cleveland with her husband and 6-year-old daughter.
In Palm Beach, Florida, home to Trump's Mar-a-Lago estate, several hundred people gathered carrying anti-Trump signs before marching. A group of women wearing red cloaks and white hats like the characters in the book and TV show "The Handmaid's Tale" marched in formation, their heads bowed.
Cathy Muldoon, a high school librarian from Dallas, Pennsylvania, took her two teenage daughters to the New York rally and said marching gives people hope. She said this year's action is set against the backdrop of the Trump presidency, which "turned out to be as scary as we thought it would be."
"I've not seen any checks and balances," she said. "Everything is moving toward the right, and we have a president who seems to have no decency."
Earlier Saturday, dozens of activists gathered in Rome to denounce violence against women and express support for the #MeToo movement. They were joined by Italian actress and director Asia Argento, who made headlines after alleging in 2017 she had been sexually assaulted by Hollywood producer Harvey Weinstein in the 1990s.
Argento addressed the criticism she received once she spoke up about her abuse.
"Women are scared to speak, and because I was vilified by everything I said, I was called a prostitute for being raped," she said at the rally.
Argento, who's 42, was strongly criticized by many Italian media and Italian women for not speaking out earlier and was hounded on Twitter with accusations that she sought trouble.
Weinstein has apologized for causing "a lot of pain" with "the way I've behaved with colleagues in the past," but he has denied "any allegations of non-consensual sex."
images.dawn.com/news/1179301/womens-march-thousands-take-to-the-streets-against-trump
--------
Female Musician Prohibited From Performing on Stage in Isfahan, Iran
Source: Center for Human Rights in Iran
Iranian singer SalarAghili performed in the central Iranian city of Isfahan on January 12 and 13, 2018, without the female members of his band due to interference by local officials at the Culture and Islamic Guidance Ministry, the Center for Human Rights in Iran (CHRI) has learned.
ShahrouzBalouchestani, a female flute player at the Isfahan National Orchestra, told the semi-official Iranian Labor News Agency (ILNA) on January 15 that she had performed for years without any problems, including in Shiraz, Fars Province, two months ago. But this time officials in Isfahan prevented the orchestra's female musicians from appearing on stage.
"Women are engaged in many professions alongside men in this country. Women are active members of the musical community as well, but in Isfahan, I don't know why they can't perform side by side with men on stage," she said.
"It makes no logical sense that Isfahan's female musicians cannot go on stage in their own city," she added.
The following day, Culture and Islamic Guidance Minister Ali Salehi said he had "no problem" with females performing with an orchestra on stage.
"From our point of view, there is definitely no problem with female musicians playing with an orchestra on stage and this should be the case in all parts of the country," said Salehi on January 16.
"We need to put together a directive regarding various types of musical performances so that local officials in all cities act the same way," he said. "But, for the time being, our general rules need to be followed."
"Naturally, if mistakes are made, we should not repeat them," added Salehi.
Since 2013, when President Hassan Rouhani was voted into office promising a more open society, numerous musicians and vocalists saw their concerts canceled at the last moment. The vast majority of the canceled concerts had received licenses from the Ministry of Culture and Islamic Guidance.
Religious conservatives have justified their attacks on musicians by quoting vague statements and decrees by senior religious leaders. Iran's supreme leader, Ali Khamenei, has often warned about the alleged dangers of music, saying it will "lead people away from the path of God."
Cancelations of concerts featuring female vocalists and musicians have also been particularly frequent since 2013. In the Islamic Republic, women are prohibited from singing or playing musical instruments solo.
Musicians in Iran have long complained that conservative local officials, including prosecutors and the police, sometimes take matters into their own hands and disrupt or cancel concerts that have official permits from the Culture and Islamic Guidance Ministry.
Despite positive rhetoric by the Rouhani administration on the issue, female musicians continue to face discrimination on stage.
The Fajr International Music Festival this year, scheduled for January 10-20, 2018, includes fewer women musicians than in recent years. According to traditional female singer HengamehAkhavan, many women refused to play in the festival because they were only offered unfavorable time slots.
"Who sings at two or three in the afternoon? And who's going to go to a concert at that time?" Akhavan told Khabar Online on January 16.
Akhavan added that she has written to President Rouhani urging him to allow female singers to perform in cities other than the capital of Tehran.
"Last year I informed the president about this issue in writing and asked him to tell his directors to do something about this contradiction," she said. "After a long time, someone contacted me from his office and said my letter had been read and I should tell all my colleagues that there's no problem."
"I told them, who am I to make an announcement?" she said. "Why doesn't the president himself make an official announcement?"
On December 26, 2017, a concert by singer Benyamin in Tehran was only allowed to proceed after his female cellist was removed from his band.
"We had done all the usual official paperwork to have [our cellist] Melanie Avanessian on stage but unfortunately, minutes before the concert, she was prevented from performing," said Akhavan. "In her honor, and the people who had come to see her, we left her seat empty by her instrument," Benyamin's producer, Salim Ahmadi, told ILNA on December 27.
Some conservative clerics, most of whom oppose women performing on stage and sometimes musical performances in general, have pressured the Rouhai government to "clarify" its position on female musicians performing on stage.
"The state must clarify its position on such matters," said Ayatollah Hossein Mousavi Tabrizi, the secretary of the powerful Assembly of Qom Seminary Scholars and Researchers, on December 27, 2017.
"If concerts in certain cities are banned, the officials should come out and announce it," he added. "Then if something happens, it won't be blamed on the clerics and people won't lose faith in the clergy."
payvand.com/news/18/jan/1098.html
--------
Lebanese women look for greater role in parliament elections
ASSOCIATED PRESS | Published — Sunday 21 January 2018
BEIRUT: Lebanon is campaigning to get at least five times more women elected to parliament this spring in its first vote in nearly 10 years, the country's first women's affairs minister says.
It is a daunting task for a Middle Eastern country that may otherwise look like one of the most liberal in the region.
Despite a relatively free press, diverse religious groups and women in prominent positions in the business world and the media, Lebanon ranks surprisingly low when it comes to female representation in politics, and politicians have failed to act on a movement to institute a quota for women in parliament.
"Keeping women from public life is not only a loss for women. It is a loss for the parliament," Minister of State for Women's Affairs Jean Oghassabian told The Associated Press. "The main obstacles are mentality, a philosophy of life, and this needs time," he said.
There are only four women in the outgoing parliament elected in 2009, a flimsy 3 percent of its 128 lawmakers. It was a drop from 2005, when six women were elected. Since 2004, there have been one or at most two posts for women in government.
Compared to other countries in the region, Lebanon ranks as one of the lowest in terms of female representation in parliament, with only Oman, Kuwait and Yemen having fewer. Oman and Kuwait have one and two women representatives respectively. War-torn Yemen has none and is currently without a functioning parliament.
Even in ultraconservative Saudi Arabia, the monarch appointed 30 women to the consultative Shoura Council, giving them nearly 20 percent of the seats.
"In politics, there seems to be some kind of invisible barrier for women to really break through," Christina Lassen, European Union Ambassador to Lebanon, told The Associated Press at a conference held last week to promote women's representation.
Three months before the vote, the Women's Affairs Ministry in collaboration with the United Nations and the EU launched a campaign to boost women's numbers in the elections, with the slogan: "Half the society, half the parliament."
Billboards went up in several Beirut districts. Programs on local TV stations about women in politics are airing weekly and local groups say they are training women candidates on public speaking.
Oghassabian said last year's decision to appoint a man to the newly created portfolio was meant to send a message that it is also "a man's duty" to fight for women's rights.
Holding parliamentary elections in Lebanon is a feat in itself. Scheduled for May, these are the first elections in the country since 2009. Previous votes were delayed amid instability and haggling over a new election law.
Seats in the Lebanese parliament are allotted according to sects, with each community distributing them according to region and strongholds. In this complex confessional-based political system, adding a women's quota was too complicated for some to contemplate, said Nora Mourad, a gender researcher with the United Nations Development Program.
Last year, the politicians refused to even discuss a female quota in the new law. Members of the powerful Shiite group, Hezbollah, walked out of the room before the discussion began.
"We are against a quota. We are against imposing conditions from the outside on our policies and roles and work," said Rima Fakhry, a politician from the conservative Shiite group. "The women movement considers that women should reach decision-making positions. For them it is in parliament. We differ with those movements."
Although Fakhry herself is a senior member of the political bureau of Hezbollah, she told the audience at the conference that her group doesn't see the role of a lawmaker as befitting for a woman in Lebanon. Her group won't nominate women to run for office.
"For us, the woman is a woman. She must work to realize the main goals she exists for. These are not different from those of men. But the difference is in the details," she said. "She has a home. She is a mother and must bring up generations. This takes a lot of the woman's time."
Even though the country's civil war ended 28 years ago, its politics are still dominated by former warlords and family dynasties, and elections are often settled behind closed doors.
Most women in politics have their posts because they are related to influential male politicians. Of the four women currently in parliament, one is the aunt of the current prime minister, another is the wife of a party leader, and the other two are the daughters of an assassinated media figure and a former minister.
Still, Oghassabian said he expects at least 20 women to make it into parliament, and dozens more to run.
The new law introduced a complicated proportional representation system that would preserve the sectarian nature of the parliament. But some argue it will offer women and independents a better chance.
Local groups, along with the UN and EU, are encouraging political parties to have a voluntary quota for women on their lists. Women's groups are contemplating all-women lists as well as a campaign of "no-woman, no-vote" to pressure political parties to include women on their lists.
In Wednesday's conference, representatives from the political parties said internal deliberations are ongoing. One senior member of the Future party said he will recommend 20 percent women's representation. Another, from the Progressive Socialist Party, said it has commissioned a review of internal literature to ensure women's issues and requests are reflected.
Victoria El-KhouryZwein, a potential candidate with a new party called Seven, said she's skeptical that veteran parties would give women a winning chance. But she said with proportional representation, she's optimistic she needs fewer votes to make it.
"There must be 15 percent of the population who want a new political class," she said. "It is not an easy battle. But we can (do it)."
arabnews.com/node/1230216/middle-east
--------
Second day of global female empowerment marches scheduled across US
ASSOCIATED PRESS | Published — Sunday 21 January 2018
Actor Olivia Munn speaks during the Women's March Los Angeles 2018 on January 20, 2018 in Los Angeles, California. (AFP)
ST. PETERSBURG: Demonstrations in support of female empowerment are scheduled in cities across the country a day after hundreds of thousands of people across the globe marched, chanted and protested.
Marchers are expected to gather in several cities Sunday, including Miami, Melbourne and Munich.
On Saturday, many not only supported women's rights, but also denounced President Donald Trump's views on immigration, abortion, LGBT rights and women's rights on the anniversary of his inauguration.
Many of them talked about the news avalanche of politics and gender issues in the past year. They say the #MeToo movement, credited as countering widespread sexual abuse and misconduct, has galvanized them.
Critics of the weekend's marches say the demonstrations were really a protest against Trump.
arabnews.com/node/1230226/offbeat
--------
Parents of 8 girls raped and murdered in Kasur appear before SC seeking justice
Saifullah Cheema | Rana BilalUpdated January 21, 2018
The parents of eight girls who had been raped and murdered in Kasur since 2015 appeared before the Supreme Court on Sunday and pleaded for justice.
"Give us justice," the parents - including those of six-year-old Zainab whose body was found in a trash heap on January 9 - pleaded before a three-member bench of the apex court.
The bench, headed by Chief Justice of Pakistan MianSaqibNisar, was hearing a suomotu case on the grisly rape and murder of the six-year-old that shocked the nation this month.
Zainab's uncle was present in the courtroom for the hearing, which was conducted at the SC's Lahore registry.
During the hearing, the bench expressed its dissatisfaction over the progress of the investigation into Zainab's murder.
"An unspeakable crime has been committed against an innocent girl," the bench remarked.
Muhammad Idrees, the regional police officer of Multan and head of the joint investigation team probing the case, submitted to the court a report on the investigations.
He said that Zainab's case is the latest in eight similar incidents of assault and murder since 2015.
The bench remarked that if the police had taken the matter seriously in 2015, eight girls could have been saved.
When the RPO told the court that DNA tests of 800 suspects have been conducted, the bench remarked that the police is pursuing a one-track investigation and must widen the scope of the probe beyond simply using DNA testing to track down the culprits.
"The DNA tests of 21 million people will have to be conducted if the investigations continue in this way," the bench said.
The chief justice told Zainab's family that they should inform the court of any complaints they may have.
"The JIT is doing satisfactory work," the family members responded.
"We pray that the team is successful [in it's probe]," they added.
The bench summoned the JIT and other parties in the case to appear in the court chambers for the next hearing.
RPO recounts events of Zainab's 'disappearance'
During the hearing, RPO Idrees recounted the events of January 4, the day that Zainab went missing in Kasur.
He said that at 7pm that day, Zainab left her house to go to her aunt's house - located at a distance of 300 kilometres - for Quran lessons.
According to the RPO, Zainab's brother, Usman, would normally accompany her to their aunt's house but did not do so on January 4.
Find out more: 'How long will it take before you all forget about my sister?'
He added that when Zainab did not return home, her family began searching for her and informed the police at 9:30pm.
Zainab's body was recovered from a trash heap on Jan 9. The six-year-old's autopsy confirmed that she was strangled to death. It suggested that she had been raped before being killed.
He said that the culprit behind the seven cases of assault and murder of minor girls that preceded Zainab's is also responsible for this latest case.
He added that all incidents have taken place within the jurisdiction of three police stations, with the first two incidents having taken place in the remit of the Saddar Division police station.
"So many incidents have taken place, what was the police doing?" the court questioned.
"The incidents took place repeatedly in the remit of two police stations and no one conducted an inquiry," the chief justice observed.
No major headway has been made in the case since Zainab's body was found, despite the Counter-Terrorism Department, Intelligence Bureau, Special Branch and Punjab Forensic Science Agency each being tasked with investigating the case.
Kainat's medical treatment
During today's hearing, the court inquired after the medical treatment being administered to six-year-old KainatBatool, who went missing in Kasur in November 2017.
After an exhaustive search, Kainat was found alive in a trash heap and admitted to Lahore's Children's Hospital for treatment where doctors said that no evidence of sexual assault had been found on her body. However, Kainat's family denied this account, saying there were torture marks on the child's body.
A medical superintendent from the hospital, appearing before the bench today, recalled that Kainat had been admitted on Nov 13 last year and underwent treatment there for a month.
The chief justice asked the medical superintendent to inform the court about the possible treatments that could be provided to the child. He added that if required, Kainat should be sent abroad for treatment.
The medical superintendent told the court that a board meeting is scheduled to be held at the hospital tomorrow and a plan for Kainat's treatment will be formulated then.
dawn.com/news/1384341/parents-of-8-girls-raped-and-murdered-in-kasur-appear-before-sc-seeking-justice
--------
German woman sentenced to death in Iraq for joining Islamic State
Published time: 21 Jan, 2018
An Iraqi criminal court has ruled that a German woman of Moroccan descent should incur the death penalty for joining Islamic State (IS, formerly ISIS), according to the court's spokesman.
The case marks the first time a foreign woman has been sentenced to death in Iraq for joining the group, as Reuters reports.
The woman, whose name hasn't been disclosed, was guilty of "offering logistic support and helping the terrorist group to carry out criminal acts," as well as "taking part in attacks against security forces," the Supreme Judicial Council's spokesman, Abdul-SattarBayrkda, said, according to AP.
The defendant joined IS after she travelled from Germany to Syria and further to Iraq, along with her two daughters, who eventually married militants, Bayrkda said. The woman was captured by Iraqi forces last year during the battle for Mosul.
The sentence of death by hanging can be appealed, the spokesman added.
rt.com/news/416551-iraq-death-sentence-german-woman/
--------
Muslim woman is 'powerhouse of lifesaving' as Israeli EMT
By Abigail Klein Leichman JANUARY 21, 2018
Sanaa Mahameed, the first female Muslim volunteer in United Hatzalah, now is being joined by 13 Bedouin Muslim women fresh out of training.
On a recent Wednesday morning, volunteer emergency medical technician Sanaa Mahameed was the first responder on the scene as fire and rescue personnel extricated two injured people from their vehicles following a car crash.
Unfortunately, motor vehicle accidents aren't a rare occurrence. What was unusual about this scene is that the woman tending the wounded was a religious Muslim who modestly covers her hair and neck with a hijab.
Sanaa Mahameed holds the distinction of being the first female Muslim volunteer EMT in the United Hatzalah of Israel voluntary first-responder network, whose total volunteer force of 4,000 includes about 320 Muslims and 330 women.
United Hatzalah international spokesman Raphael Poch describes Mahameed as one of the most active volunteers in Umm al-Fahm, an Arab town in the Haifa district.
"Sanaa Mahameed is a powerhouse of lifesaving. She has spent the better part of her adult life dedicating her time to save the lives of others," Poch said.
In addition to her volunteer work with United Hatzalah, Mahameed drives an ambulance for the local EMS organization Kahol-Lavan (Blue-White) and works at a government health clinic in her town. She often serves as the EMT on duty at collegiate and high school sporting events and as the accompanying EMT on school field trips.
Sanaa Mahameed on the scene of a car crash in northern Israel. Photo courtesy of United Hatzalah
Mahameed, now 30 years old, explained that she decided to go into this type of work following a tragic incident in her own family when she was 16.
"I was home alone one night when my aunt called me and asked if there was an adult home. I told her I was alone. She had a sense of urgency in her voice and she sounded frightened. I told her to tell me what was wrong. She told me in a broken voice that her husband sat down on the sofa and was now unable to move. I threw down the phone and ran to their home as fast as I could go."
The alarmed teenager entered the house and saw her uncle sitting on the sofa, not moving. "His daughter was standing over him screaming at him, 'Daddy! Daddy! Please wake up!' I called for an ambulance and they came fairly quickly but it was still too late," she recalled.
"From that day onwards I knew that I would dedicate my life to saving other people by becoming an EMT so that I would know how to help people no matter what was occurring around me. That is precisely what I did," Mahameed said.
"I began training to be an ambulance driver. I took courses on how to respond to large-scale disaster incidents such as earthquakes." Someday she'd like to complete paramedic training and fly an emergency response helicopter.
Mahameed said her religious adherence has never gotten in the way of her work and she is respected by her fellow volunteers, including those who work together with her locally in the all-Muslim Shibli chapter, one of three Muslim chapters in United Hatzalah thus far.
And now, Mahameed is no longer alone. United Hatzalah, together with the government's Office of the Development of the Periphery, the Negev and the Galilee, recently trained 13 Bedouin women, all religious Muslims from Shibli and Umm al-Ghanam, to be EMTs.
A newly trained Bedouin volunteer practicing CPR on a training mannequin. Photo by Moshe Biton/United Hatzalah
"One of the main reasons why we felt that this project was important is because these women often stay at home or work in their towns during the day, much more than the men do," explained United Hatzalah Founder and President Eli Beer.
"Thus, these new volunteers will be able to provide emergency medical response in their towns during the daytime hours far more than their male counterparts. They will provide EMS services to their own towns and the Arab and Jewish towns in the vicinity."
In addition, the organization recently inaugurated a new 19-member team of volunteer first responders in the Mount Hebron region, 14 of whom are religious Jewish women.
israel21c.org/muslim-woman-is-powerhouse-of-lifesaving-as-israeli-emt/
--------
Scare Tactics Won't Work On Jobless Women, Says Owwa
January 21, 2018
CAGAYAN DE ORO CITY — Scare tactics were failing to keep women from Northern Mindanao from applying for jobs in countries where abuses against female overseas Filipino workers (OFWs) were rampant, according to a high ranking official of the government agency tasked with the protection of OFWs.
Leonor Mabagal, acting director of the Overseas Workers Welfare Administration (Owwa), said her agency had tried to discourage female job applicants, especially those seeking employment as domestic helpers (DHs), from going to Arab states—Saudi Arabia and Kuwait — and Malaysia, where abuses against women OFWs were commonplace.
'Migration realities'
Mabagal said Owwa personnel narrate tales of horror to the applicants to dissuade them from proceeding to those countries, but many of the jobless women persisted. She could not provide numbers, though.
"We told them all that we know about working as DH in the Middle East," said Mabagal.
She said the women were briefed on "migration realities" like culture and behavior of people "and what could possibly happen to them when they reach those countries."
According to Mabagal, Owwa personnel would even tell applicants that going to those places was like committing suicide.
"We tell them if you want to go to the Middle East and Malaysia to work as DH, it's like suicide," said Mabagal.
But many of the jobless women would just shrug off the warnings. "Their usual reply is they're leaving it all up to luck," Mabagal said.
"I tell them you'll be lucky if you are not maltreated," she said.
Abusive places
Saudi Arabia and Kuwait were among Middle Eastern countries identified by the Department of Foreign Affairs as areas where abuses—rape, maltreatment, nonpayment of salaries and torture—against DHs had been on the rise.
In April, Labor Secretary Silvestre Bello III said he wanted deployment of Filipino household workers to Saudi Arabia halted.
A few Filipino domestic helpers were even killed, with their employers as primary suspects. The employers simply report the cases as suicide and go scot-free.
One such possible case was that of 33-year-old LiezlTrusHukdong, a mother of two from Bukidnon, who allegedly committed suicide while working as a househelp in Kuwait in December last year.
Organs removed
Hukdong's relatives said they were not convinced she killed herself. They also expressed indignation when they learned that some of her internal organs were removed, including her eyes, tongue, lungs and kidneys.
"We doubted the cause of her death. They said she committed suicide. But why remove her organs? We want somebody to tell us the truth," Hukdong's niece, Grazel Ann, told the Inquirer.
Mabagal said her office always reminded job applicants of the risks they faced as domestic helpers in the Middle East. —Jigger Jerusalem
globalnation.inquirer.net/163513/scare-tactics-wont-work-jobless-women-says-owwa#ixzz54pCwzWj9
--------
British woman who married under Islamic State regime in Syria arrested in UK
World PTI Jan 21, 2018
London: A British woman who married and gave birth under the Islamic State regime in Syria has become one of the first so-called jihadi brides to be arrested on her return to the UK, a media report has claimed.
The 27-year-old, who cannot be named for legal reasons, was arrested at Heathrow Airport under terrorism laws when she landed from Addis Ababa, Ethiopia, earlier this month, The Sunday Times reported.
Representational image.ReutersRepresentational image. Reuters
Her two-year-old son, whose nationality remains unclear, has been taken into the care of the state.
Scotland Yard has released the woman on bail while it continues its investigation.
The UK authorities are working on a series of measures to tackle cases of such Islamic State brides and children returning to the UK following the terrorist group's defeats in its Syrian and Iraqi strongholds last year, the report said.
Aqsa Mahmood, a 22-year-old Pakistani-origin suspected Islamic State recruiter from Glasgow, has been stripped of her British citizenship to prevent her returning to Britain.
The UK Home Office argues that Mahmood has not been made "stateless" because she is eligible to apply for citizenship in the country where her parents were born, which is Pakistan.
A similar order has been made against another British woman who fled Syria at the end of 2016 after her husband, a prominent British figure in Islamic State, died in a battle.
The woman, who cannot be named for legal reasons, gave birth to two children, now aged one and three, in the war zone, which means they have no nationality, the report said.
All three remain stranded in Turkey.
The UK's social services departments have been drawing up plans to take into care British children known to have travelled to Syria and Iraq with their families, should their parents bring them back home.
More than 100 British women are thought to have travelled to Syria and Iraq to join the terror groups.
firstpost.com/world/british-woman-who-married-under-islamic-state-regime-in-syria-arrested-in-uk-4313021.html
URL: https://www.newageislam.com/islam-women-feminism/a-muslim-woman-walks-coffee/d/114007